A quick DIY tutorial: how to paint a vase in just an afternoon
Sometimes I feel kind of funny sharing these little small projects because it's basically just a few quick coats of paint.
But on the other hand, a lot of you have said you like these since they're so do-able – and usually in just an afternoon! And sometimes those projects are the best because when life is crazy busy, it feels good to still get some sort of DIYing done when you only have an hour or so.
Plus the power of paint is always awesome, and also why I have approximately a million things sitting in my basement from the thrift store just waiting to be painted …
This pretty vase is actually my parents', and my mom painted it during one of our painting / crafting afternoons when we get together and just paint all the things we have sitting around!
It started like this:
Definitely pretty, but she's phasing out the red decor like I am, so time for some paint. With that awesome texture on the vase, I told her she can never get rid of it!
And see it now: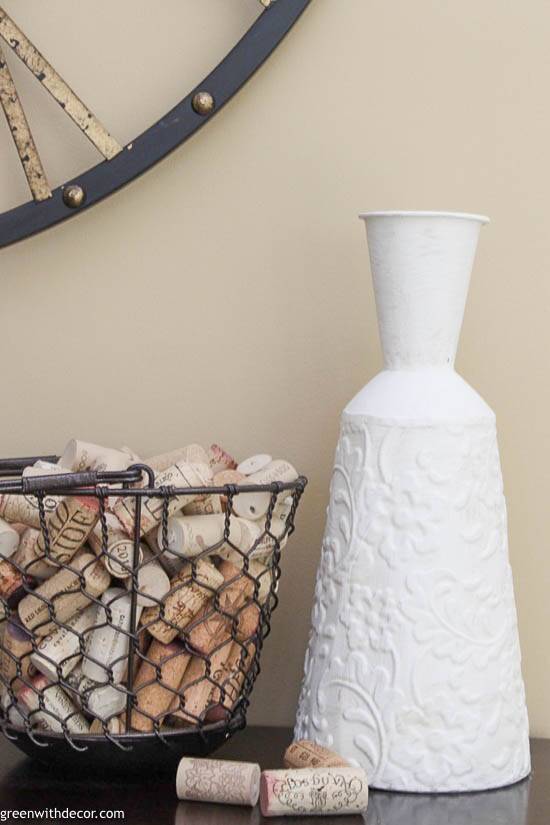 This post contains affiliate links. This means if you click the link and buy something, I may receive a small percentage of sales at no extra cost to you.
Supplies for painting a vase:
Paint stir stick
Primer (depending on your project – more on that below)
Paint: we used Country Chic Paint's Vanilla Frosting because of course we did (we both LOVE the color and use it probably way too often!)
How to paint a vase:
1. Clean any dust and dirt off your vase.
2. Do a coat of primer (maybe)
It's usually best to do a paint of primer whenever you're painting a light color over a dark color (like white over red here), but clay paint covers really well.
If this was a big furniture piece, we'd have done a coat of primer before jumping right into painting the vase. But since this vase is so small and the clay paint covers well, we skipped it.
If you're using another kind of paint and you see it slipping a lot/not sticking to the vase, then do a coat of primer first.
3. Paint your vase!
We did two coats of paint, letting the first one dry completely before applying the second.
Usually I always say to apply brushstrokes in the same direction, but since this vase has the raised flowers all over it, it really didn't matter. Just get coverage everywhere!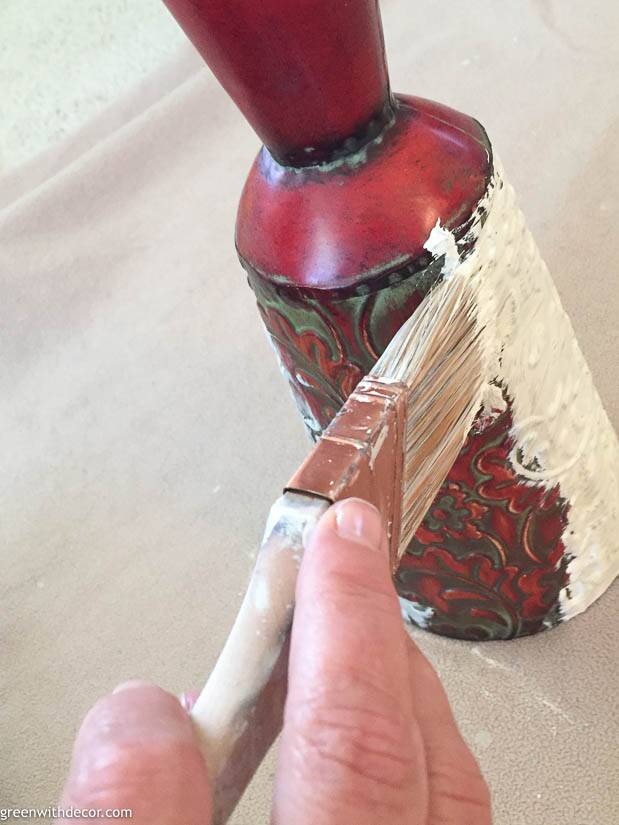 Texture like this lends itself really well to furniture glaze. We didn't use glaze on this vase since my mom wanted it all white, but if you want to see glaze in action, check out this painted tile or this painted picture frame. It's fun what you can do with glaze!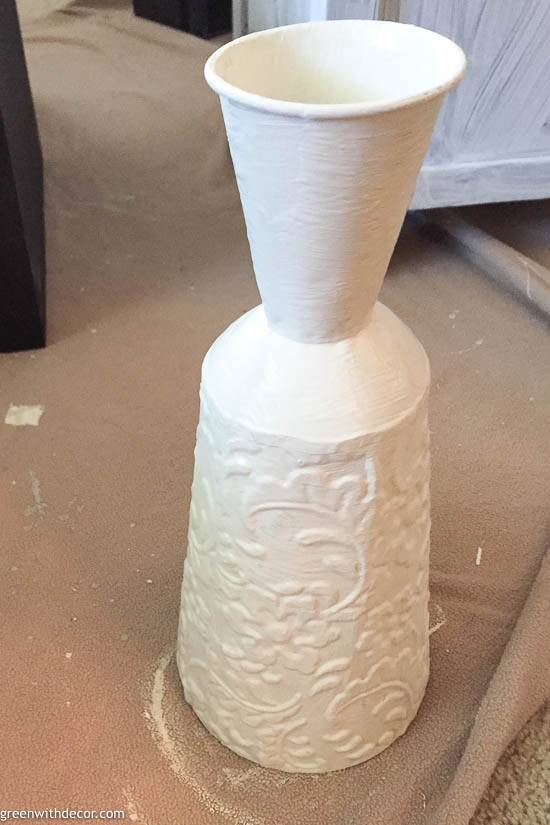 And just like that, the vase looks brand new and fits in with my mom's new decor colors. (Click to read more tips for swapping out colors on a budget.)
Gotta love paint!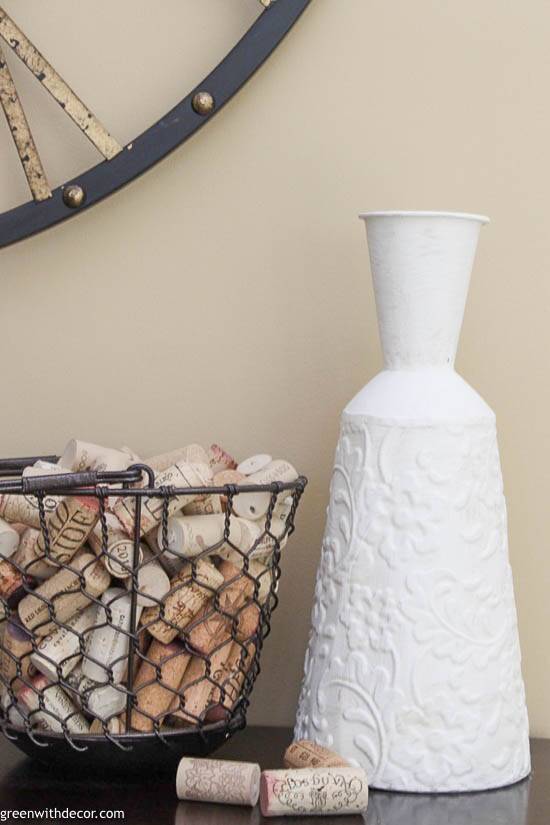 Have you painted any vases lately? Or anything else small?
If you want more quick afternoon painting projects, check these out:
Remember to bookmark or pin this post if you want to save it for later!

Pin it!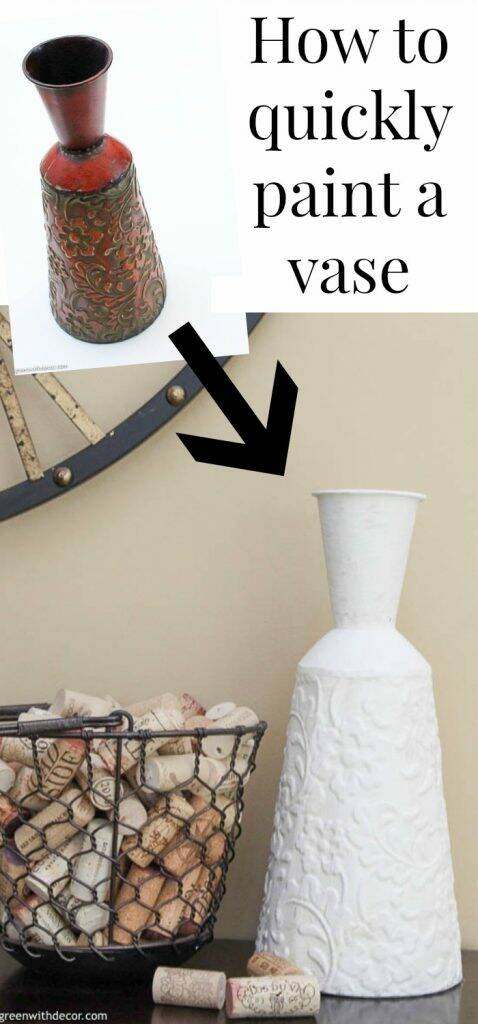 Want to read more posts like this?
Follow along: Get my emails | Facebook | Pinterest | Twitter | Instagram