If you're wondering how to paint pocket doors, follow this easy DIY tutorial.
Disclosure: This post is sponsored by Wagner. All opinions, images and love of DIY painting projects are 100% mine.
We have secret pocket doors in our house that I don't think I've ever shared on the blog.
They close between our dining room and family room, and we rarely use them. They were really helpful when Oakley was a puppy and when our daughter was just starting to crawl around since they force curious creatures to stay in the back family room!
Unfortunately our daughter has now figured out how to open them so they don't hold quite the power they did a couple months ago.
I've never loved closing them anyway though because the doors didn't get painted white when we did the rest of the trim and doors around here …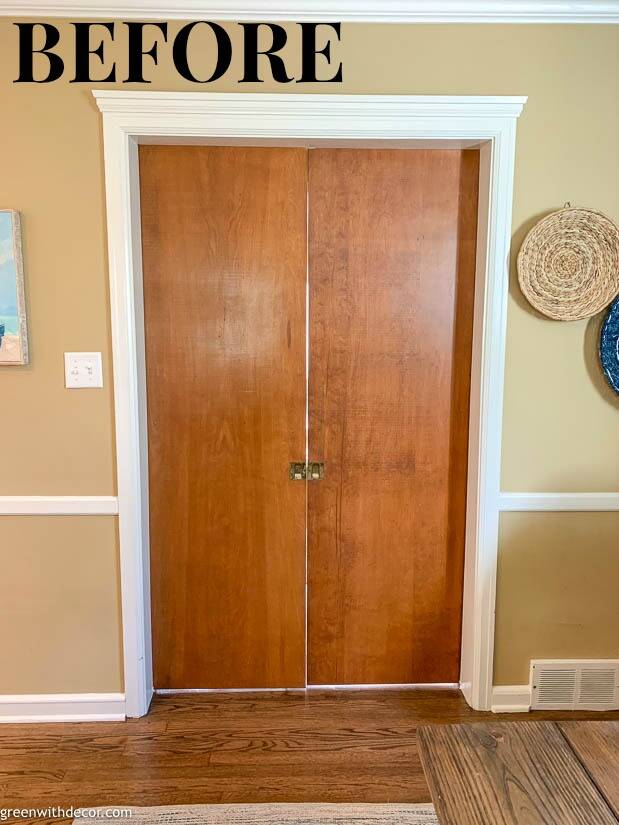 Until now: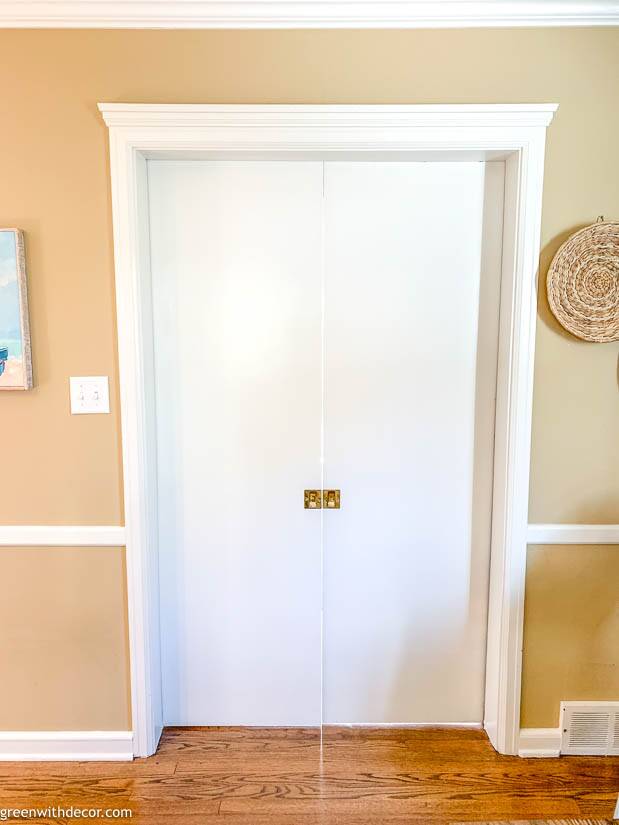 The white is so much brighter, right?! I just love white woodwork.
If we're sitting in the family room with the doors shut now, it doesn't feel as closed in as it did when the doors were dark.
Even when the doors are open (which they are 95% of the time), it's so nice not having the wood edge of the door hanging there between two pieces of white trim. See what I mean?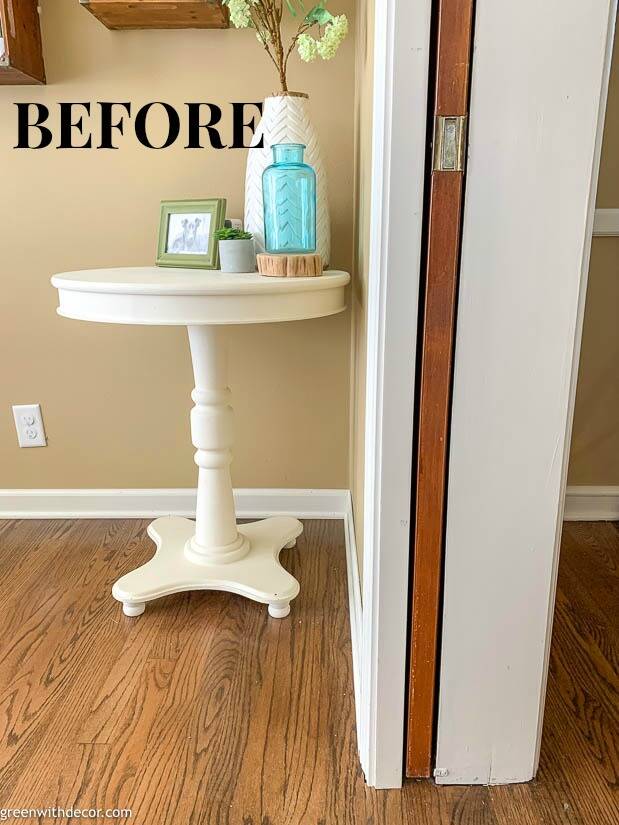 And now: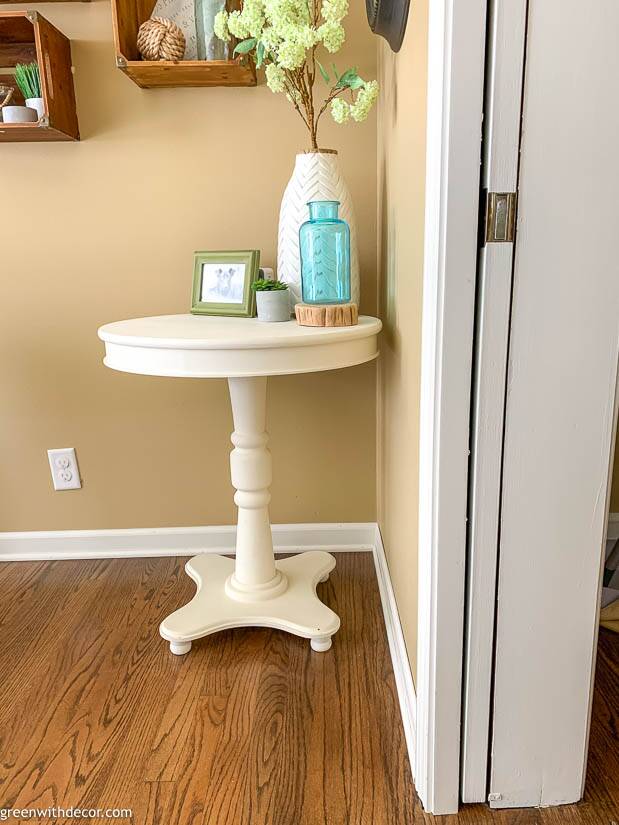 Since the doors are old and would be a mighty big pain to take off their tracks and put back on, I wanted to paint them in place.
And because the doors are flat without any paneling or detail (boring, but it did make the doors really easy to paint), I used a handy paint roller to paint them right in place: the Wagner SMART roller.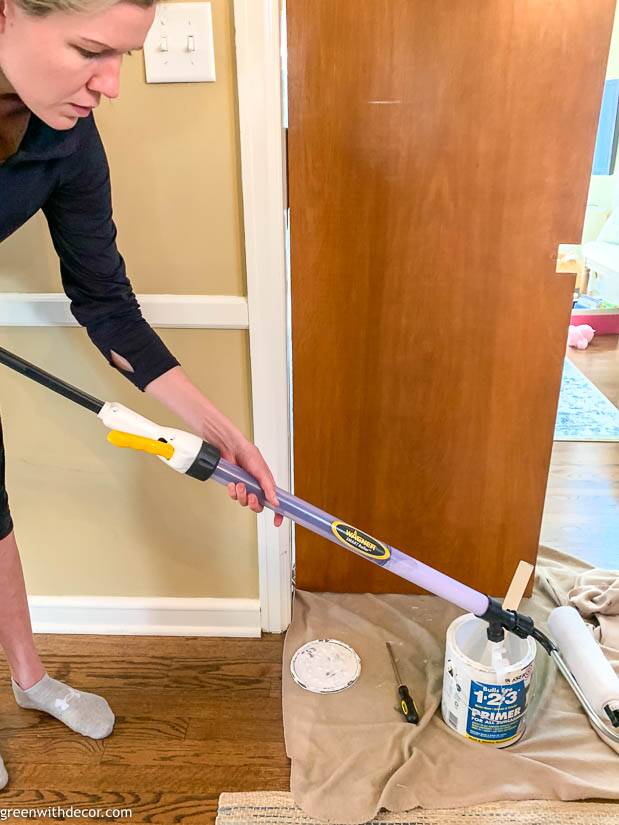 This post contains affiliate links. This means if you click the link and buy something, I may receive a small percentage of sales at no extra cost to you.
Supply list for painting pocket doors:
Paint roller (I used the SMART Roller from Wagner, also available here)
Paint tray (if using a regular roller – you don't need one with the Wagner SMART Roller)
Screwdriver
Sandpaper or sanding block (220 grit)
Door wedge (this will help keep your door in place while you paint)
Paint stir stick
Primer (if needed)
Paint (we use Benjamin Moore's White Dove color matched in Sherwin Williams for all of our trim and doors)
How to paint pocket doors:
1. Prep your door:
Set up your drop cloth.
Remove or tape off your hardware.
Use wood filler to fill in any scratches or holes.
Use 220 grit sandpaper (or a sanding block) to sand your door, then use a tack cloth to get rid of the sanding dust.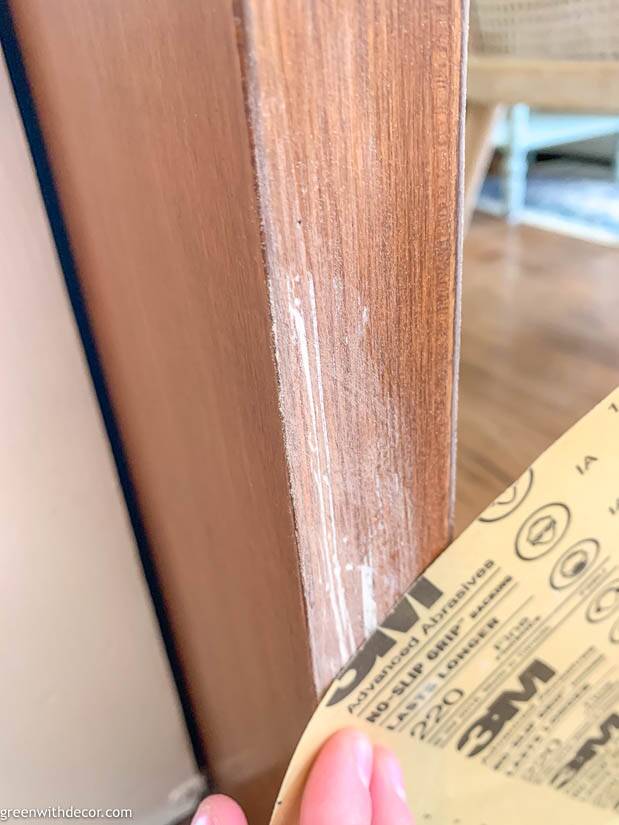 Tape off the trim around the doors.
2. Prime your pocket doors (if needed).
You can use the SMART Roller to prime your door, following the same steps outlined below for painting pocket doors.
Generally, if you're painting a light color over a dark, it's best to prime. It will save you on coats of paint later. You will also need to use primer if you're painting latex paint over a door previously painted with oil-based paint.
Note, I washed my roller cover between priming and painting. If you're not interested in washing it, just grab an extra roller cover. (But be sure to get Wagner's roller covers, you can't use just any roller cover with the SMART Roller.)
3. Assemble your paint roller.
I used Wagner's SMART Roller for this project, so here are the steps for assembling this particular roller:
Rub a bit of petroleum jelly (comes with the roller) on the SMART Roller's fill tube.
Clip the fill tube to your paint can.
Clip the roller arm into the head of the main tube. (If you can't easily slide it, add a bit more petroleum jelly.) Then pop your roller cover onto the roller arm.
Press the fill valve onto the fill tube.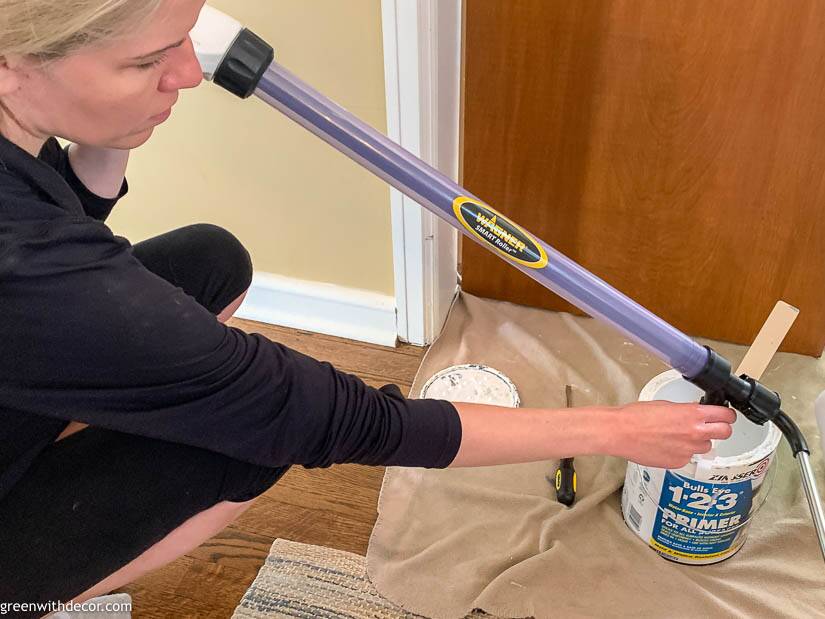 Slowly pull the plunger out, drawing paint into the main tube until it's full. (You have to pull the plunger slowly, especially the first time. If you're not getting any paint, you're moving too fast. When you're refilling the roller, it will fill up faster.)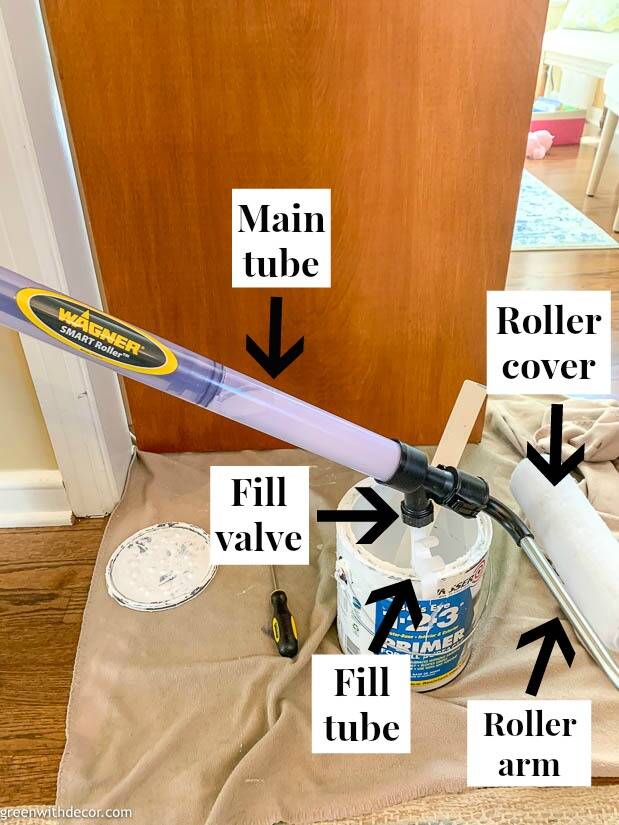 4. Paint!
Painting pocket doors with a SMART Roller:
Push the roller's plunger forward until paint comes through the roller cover.
As you work and need more paint, squeeze the trigger. Be careful not to oversaturate your roller to avoid paint drips. (Although if you get a paint drip, just roll over it to smooth it out before it dries.)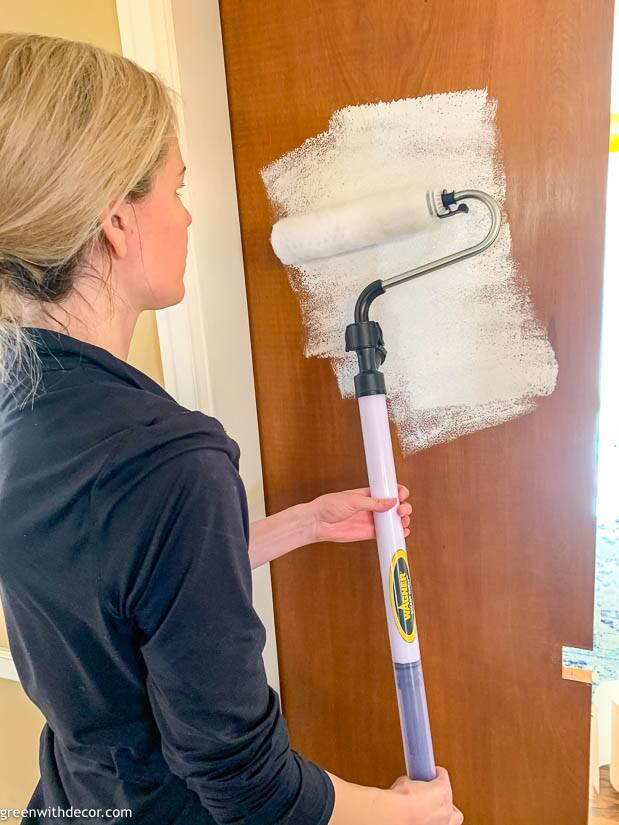 Paint in small sections, about 3'x3′.
This is more applicable if you're painting an entire wall. When you're painting pocket doors, you're pretty much just doing the top half, then the bottom half.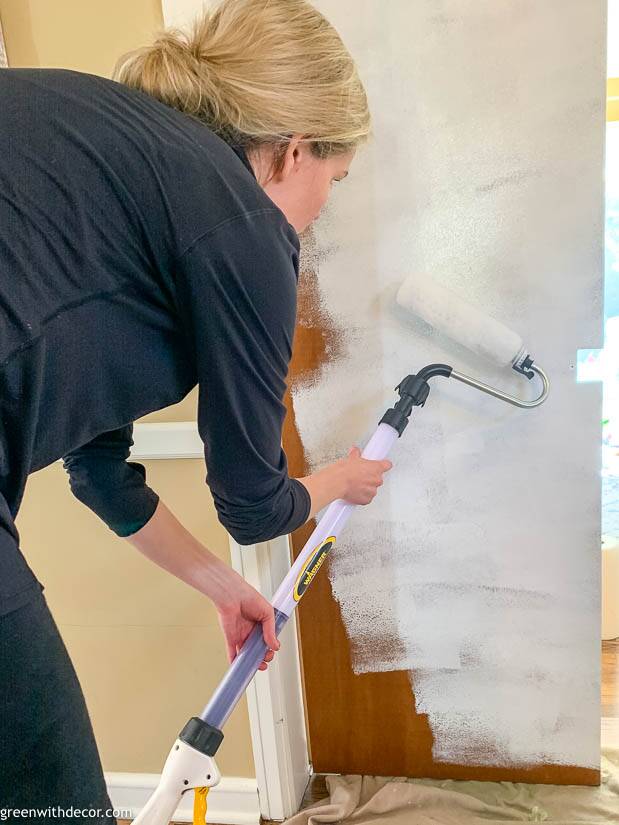 Whenever you need more paint, squeeze the trigger. The best part of this roller is that you don't have to keep leaning down to a paint tray to fill your roller with paint.
It makes painting pocket doors a quick project!
How to paint pocket doors efficiently:
Paint the edge. If you get any paint on either sides of the doors while painting the edge, be sure to either wipe it down or paint those sides while that paint is still wet so you don't end up with weird dried paint lines on either side of your door.
Paint one side (top half, then the bottom half)
Paint the second side (top half, then the bottom half
5. Refill your roller as needed.
6. Take the painters tape off your trim while the paint is still wet.
7. Clean the paint roller.
Wagner has great manuals that walk you through each step of a project. Cleaning the SMART Roller is pretty straight forward.
Somehow I always find it weirdly satisfying to clean tools after painting, too as you watch all the runoff paint disappear down the drain.
8. Let your doors dry.
Ideally, leave pocket doors out to air dry as long as possible, so your new paint doesn't get scuffed up as you're closing them.
9. Put your hardware back on.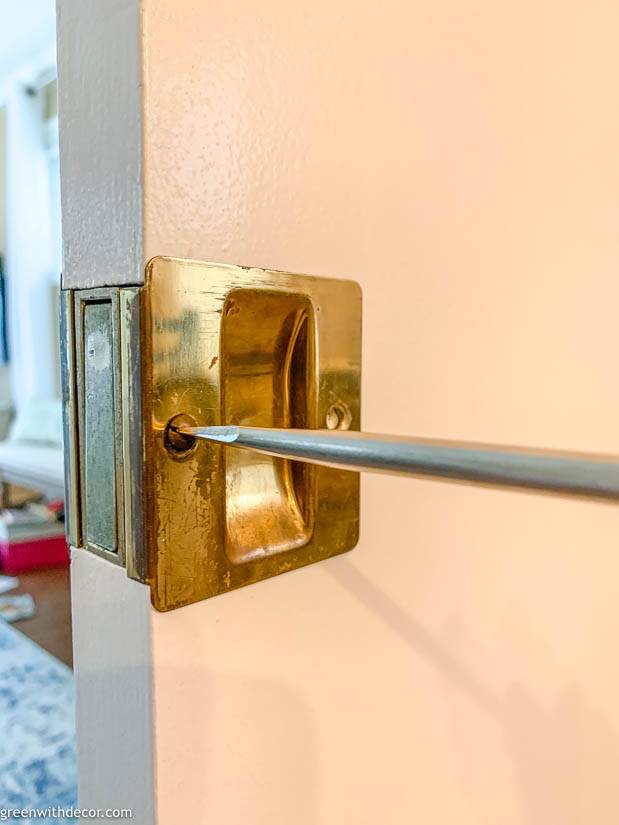 Here's a before and after from the other side, because you know I love a good before and after. Don't we all?!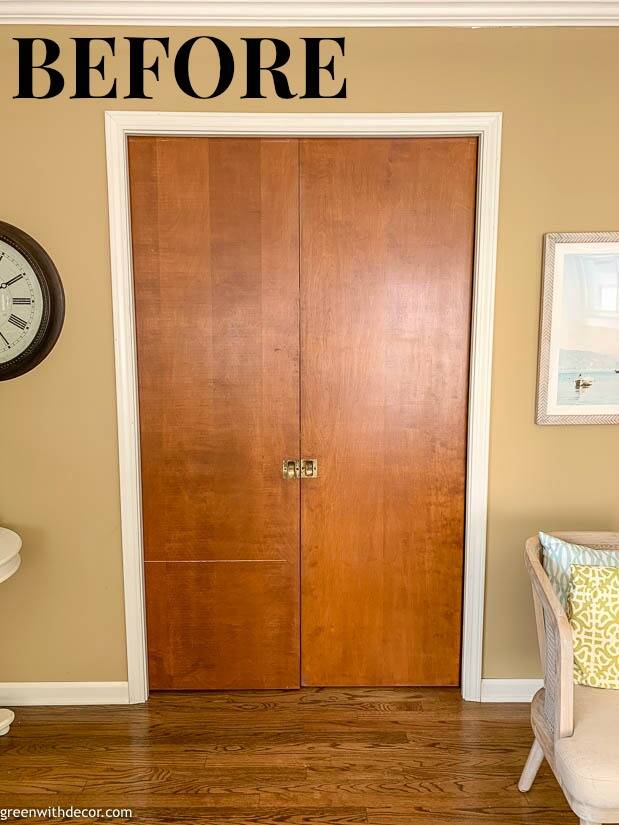 And: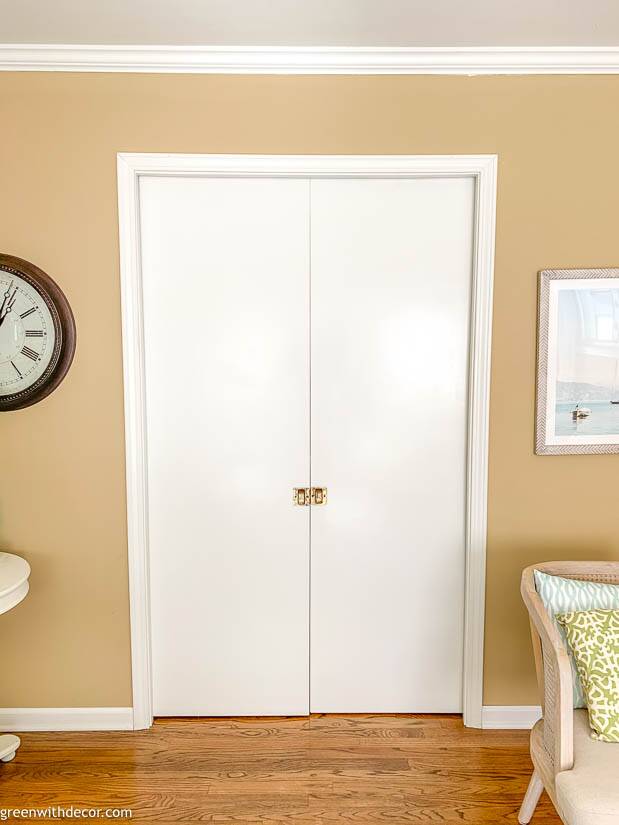 And another look at that view when the doors are open. Painting the pocket doors really makes such a difference!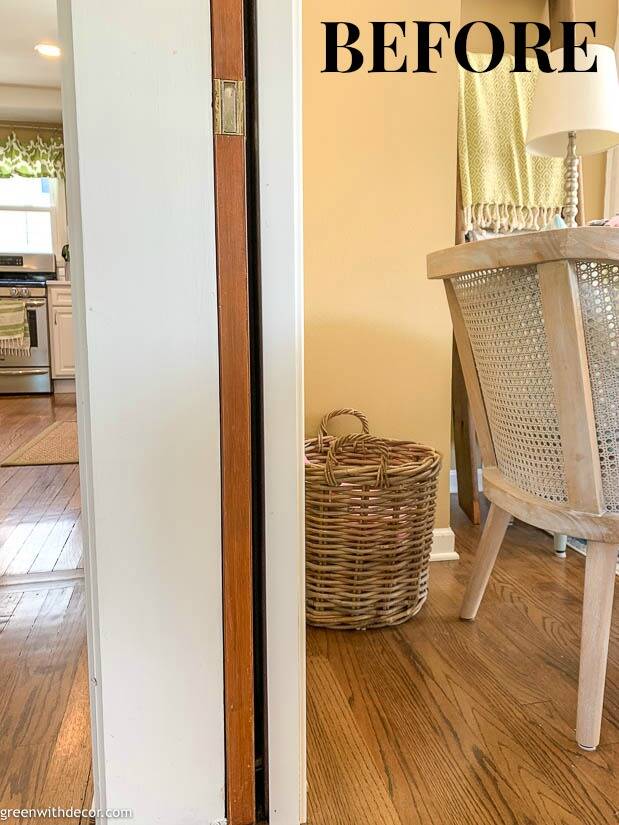 And: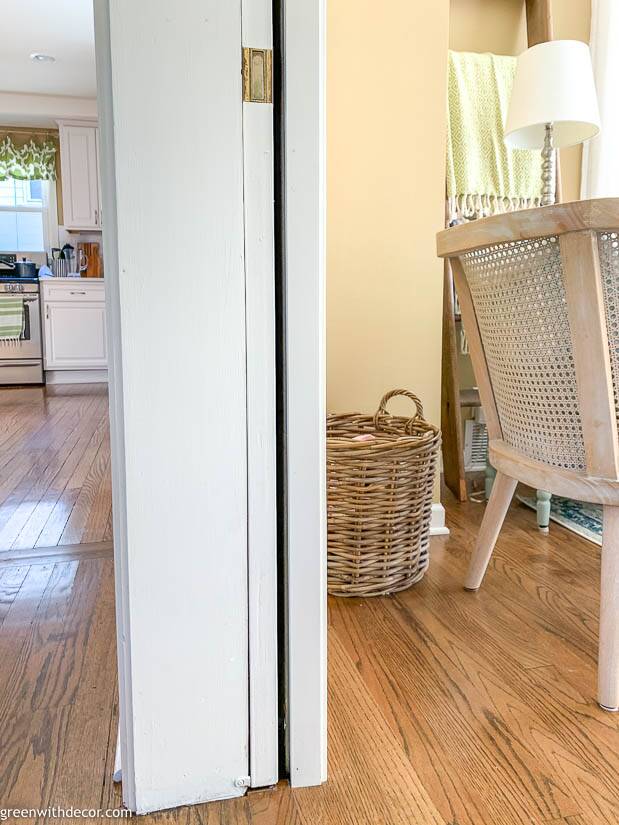 Painting the pocket doors has been on the list for a while. I'm glad I can check this one off, and hope this tutorial is helpful if you've been wondering how to paint pocket doors.
Stay tuned for more family room progress soon.
Remember to bookmark or pin this post if you want to save it for later!


Pin it!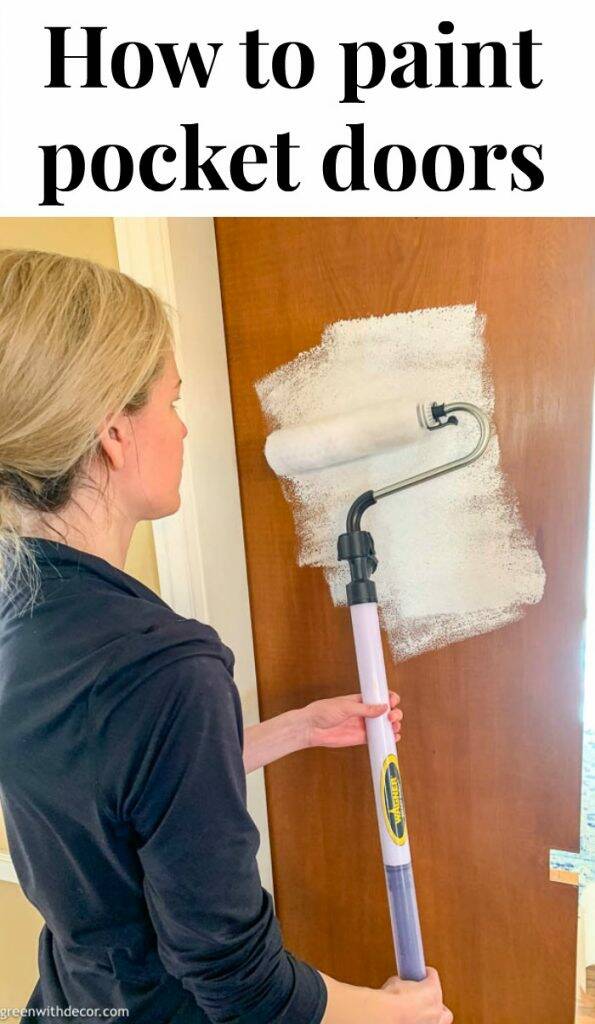 Remember to bookmark or pin this post if you want to save it for later!