Somehow Christmas is almost here again. It really does go faster every year!
We're still debating if putting up a Christmas tree with a curious toddler who wants to touch every single thing in sight is worth the trouble, but setting up the dining room with this Christmas centerpiece was fun!
And it's mostly out of toddler reach. 🙂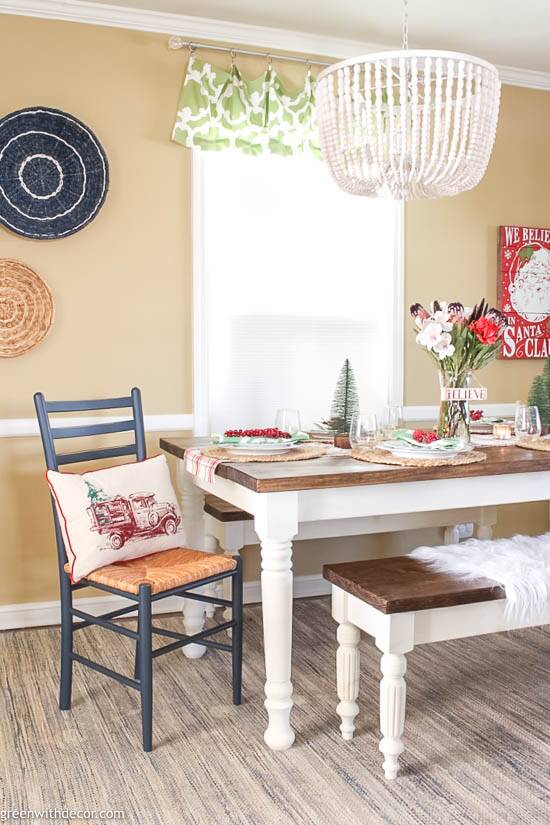 This post contains affiliate links. This means if you click the link and buy something, I may receive a small percentage of sales at no extra cost to you.
Today's post is part of the Very Merry Christmas Home Tour hosted by my friend Carrie of Lovely, Etc. You can see the other bloggers' Christmas home tours linked at the bottom of this post, so be sure to check out their pretty Christmas decorating ideas!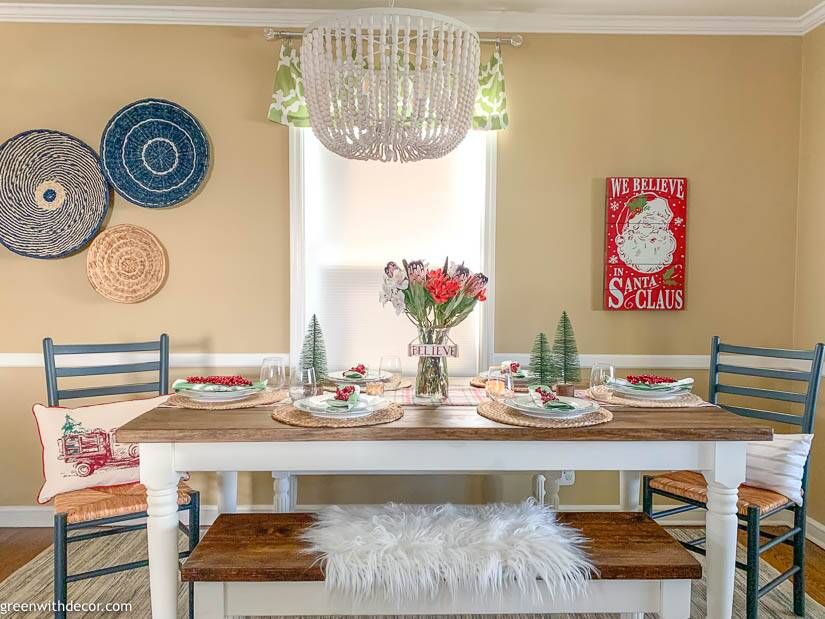 I kept our Christmas dining room pretty simple, mixing a few Christmas pieces with other decor pieces that you can use anytime of year! (Let's be honest, simple and easy is a continuing theme around here lately!)
The fresh bouquet of flowers is really the star of the show. (They're from this delivery service – gotta love fresh flowers that just show up at your door!)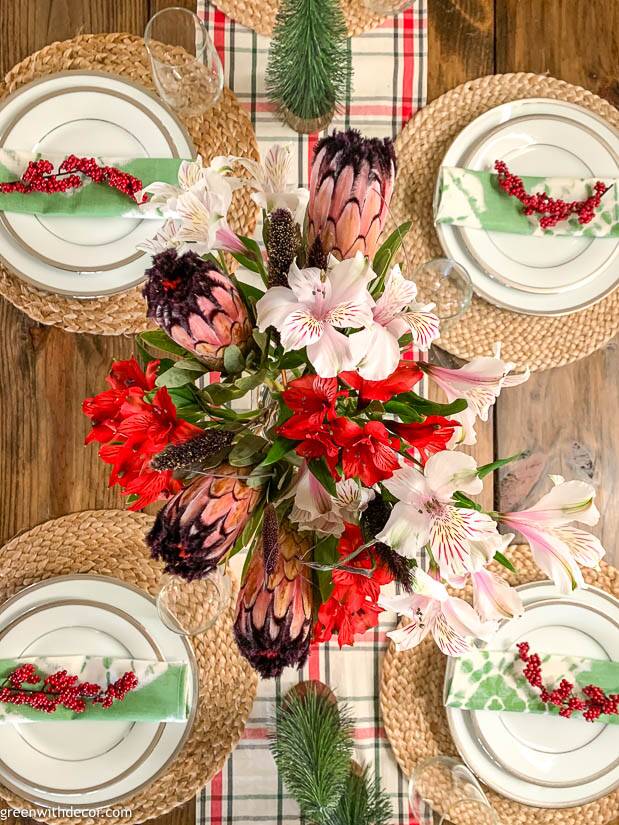 The table runner is from the Target Dollar Spot a couple years ago. And actually, it's two separate runners since one wasn't long enough for our table. Whatever works!
I added some faux Christmas trees and red berries to the table, plus the Christmas pillow and Santa artwork on the wall, and that's really it for true Christmas pieces in here.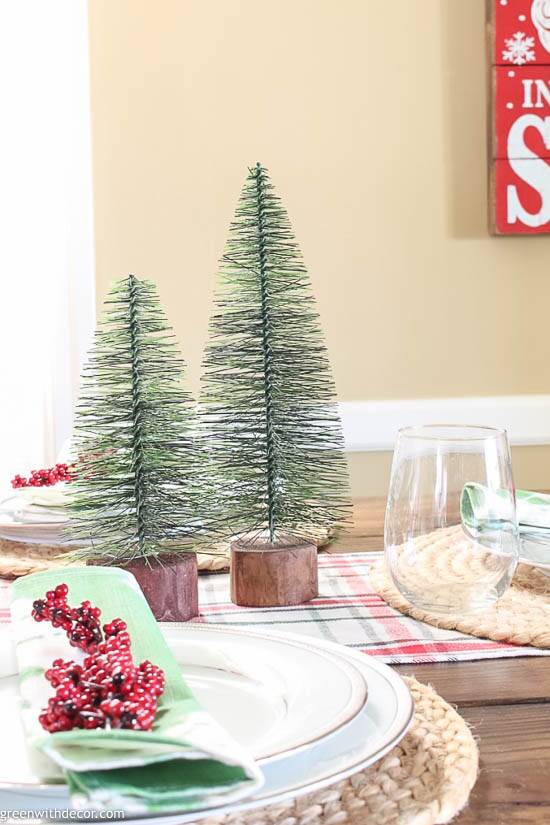 It's nice when you can get by with just a few festive pieces and otherwise dig into your neutral decor stash for the rest!
These seagrass chargers are my absolute favorite! We use them every day.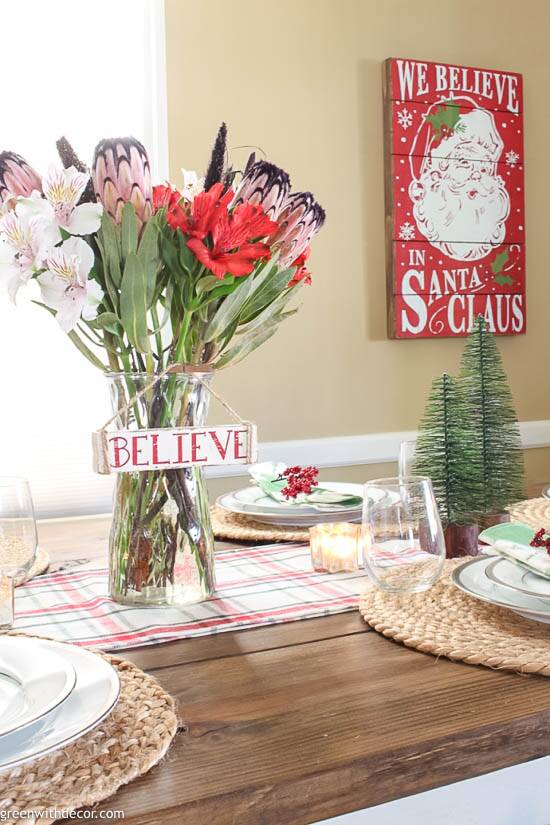 Our napkin stash is neutral as well.
Well, it's mostly greens and blues now that I think about it! But they can work year round if we want to fancy things up a bit beyond paper napkins so I'm sticking with my original neutral call.
I love our green Shabori napkins from my friends Kellie and Melanie's company SmithHönig. (I have napkins in their blue Shabori fabric, too!)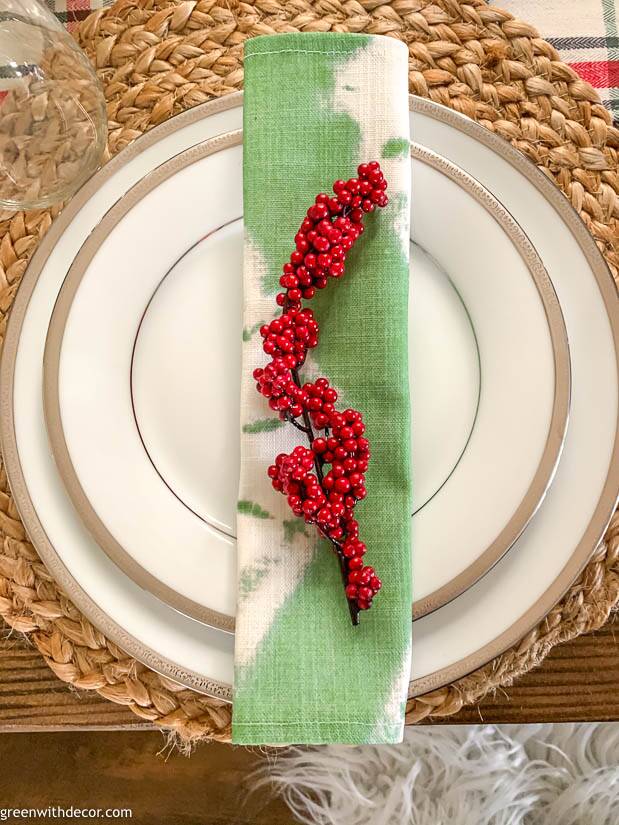 White plates are also the perfect neutral piece that go with any tablescape or centerpiece any day of the year!
I love adding pillows and blankets to chairs and benches, too, even though I know they'll just get thrown on the floor when we sit down to eat.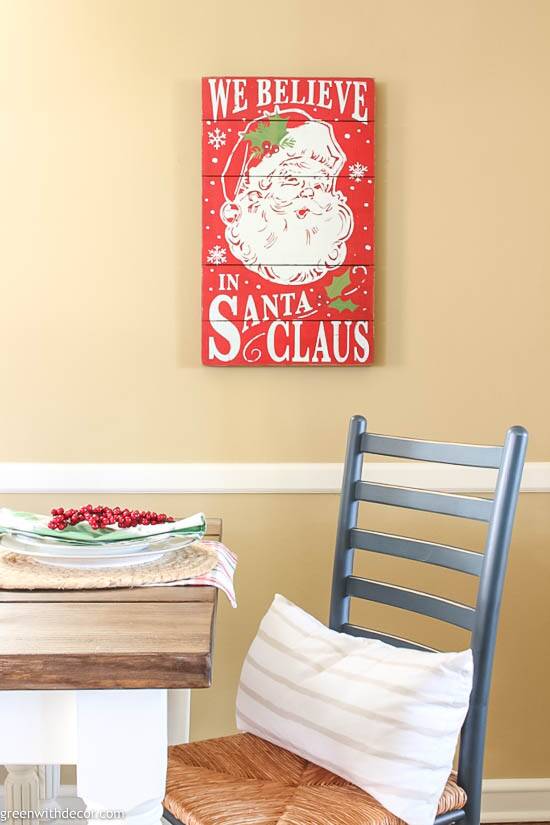 They add such a coziness factor especially in winter. (Which started very early here in Milwaukee this year, it's already snowed a few times, eek!)
We have two Christmas trees, and (if we put one/them up this year), one will always go in our family room, but we need a new spot for our second tree.
We used to put the second tree in our living room (see it here), but with the white built-ins around our fireplace now, there's no room. (An absolutely perfect problem to have if you ask me!)
I'm thinking the tree could go in this corner of our dining room, but again, not sure I'm up for keeping a toddler away from a tree for the next several weeks quite yet. Stay tuned!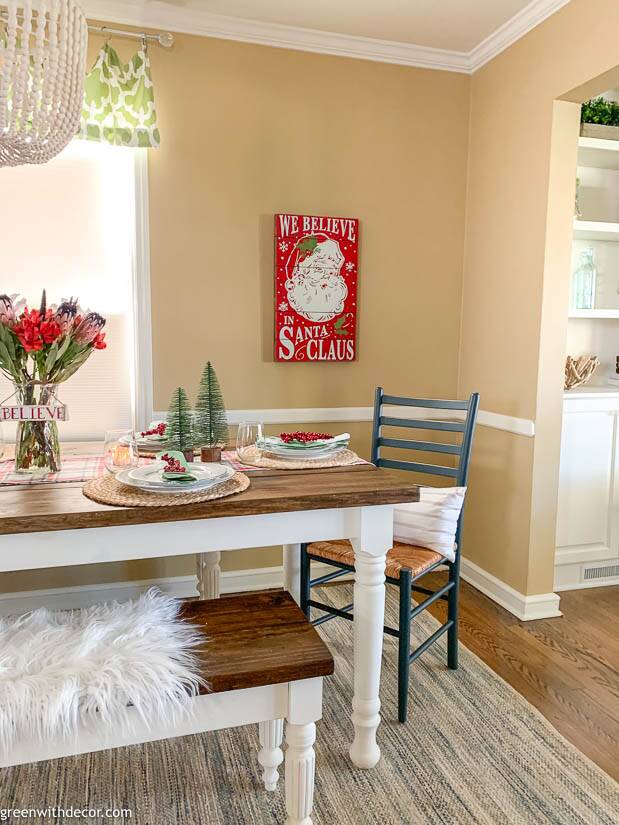 And that pretty much wraps up our easy Christmas centerpiece this year! I love how it turned out.
Plus it's simple enough that you can easily clear off the trees and flowers and make room for the food! Priorities.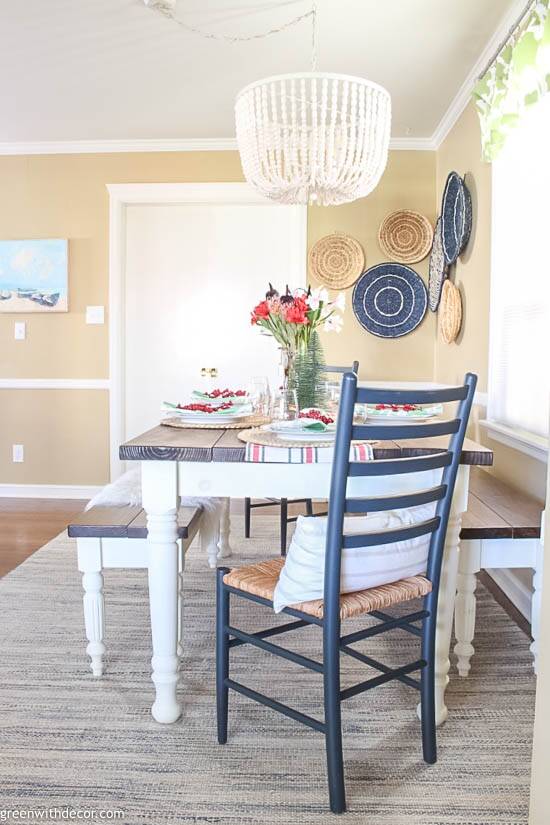 If you're new around here, (welcome!) we did a big kitchen renovation a few years ago that opened up our kitchen and dining room.
Since then, we've built the farmhouse table, built the benches, swapped the old light for this wood bead chandelier, added this seagrass basket gallery wall, painted the pocket doors and did a few other small projects to make this room feel like us.
Decorating always takes time, but I love how it's all come together over the years! And it's always fun to get a Christmas centerpiece set up and have the dining room all ready for the holidays!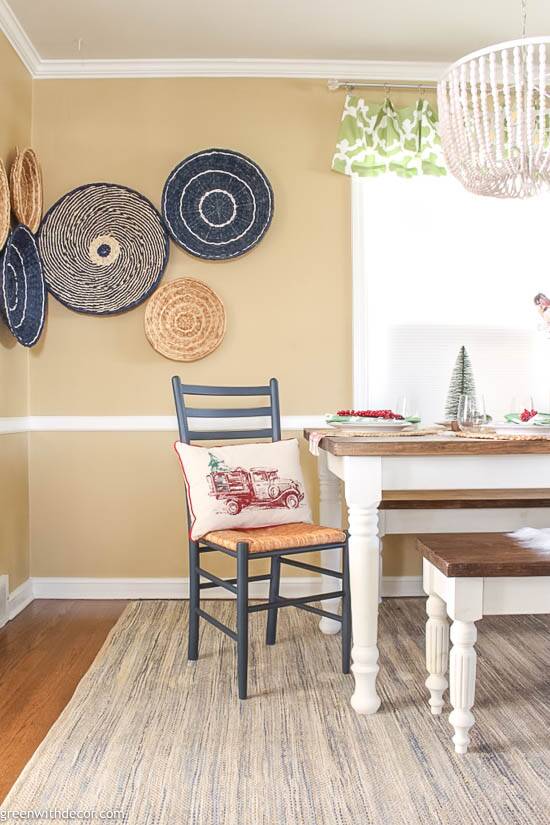 GET THE LOOK:
Since a popular question I get is "Where'd you get that?!," here are links to the same or similar sources:
Do you have any other go-to neutral pieces you use for centerpieces year round? Love when pieces can do double duty throughout the year!
Remember to check out the other bloggers' gorgeous homes all decked out for Christmas! Tara from Lehman Lane is up next!
Lovely Etc * Thrifty and Chic * Boxy Colonial * Chatfield Court * A Brick Home
The Striped House * Casa Watkins Living * Up to Date Interiors * Our House Now a Home * All Things With Purpose
Green With Decor * Lehman Lane * Jonesville * Sweet Pea
DIY Beautify * What Meegan Makes * Sunny Side Design * Bright Green Door
And if you want more Christmas centerpiece ideas, check out my posts from past years:
Remember to bookmark or pin this post if you want to save it for later!


Pin it!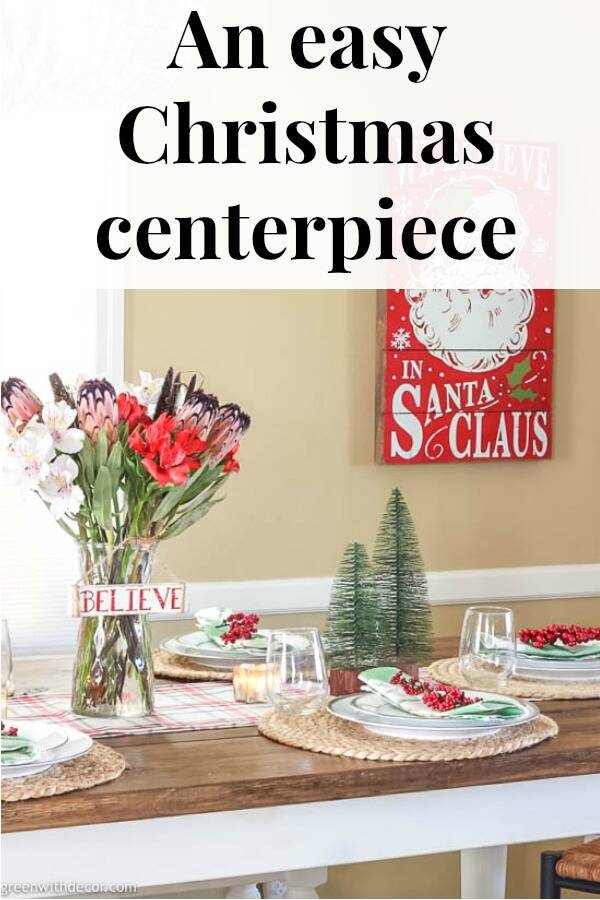 Want to read more posts like this?
Follow along: Get my emails | Facebook | Pinterest | Twitter | Instagram