So remember when our family room was black and tan and red all over?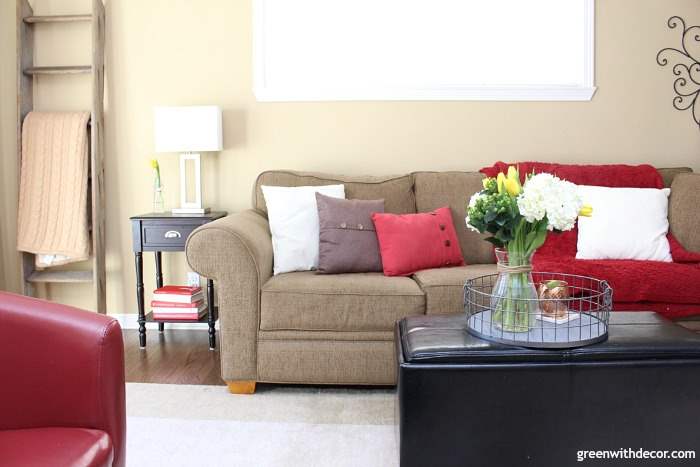 Well that's gone.
I sold most of the red stuff except for small things like pillows which I stashed in the basement and dubbed as Christmas decor.
We've been chugging along on our family room makeover, and I realized I never shared the design plan as it's all coming together. Because it's a little hard to get stuff done and blog about it while taking care of a baby! Which leads to sometimes getting stuff done and not blogging about it right away.
So let's start at the beginning, shall we?!
When we first bought the house, the room was full of this paneling. Eek!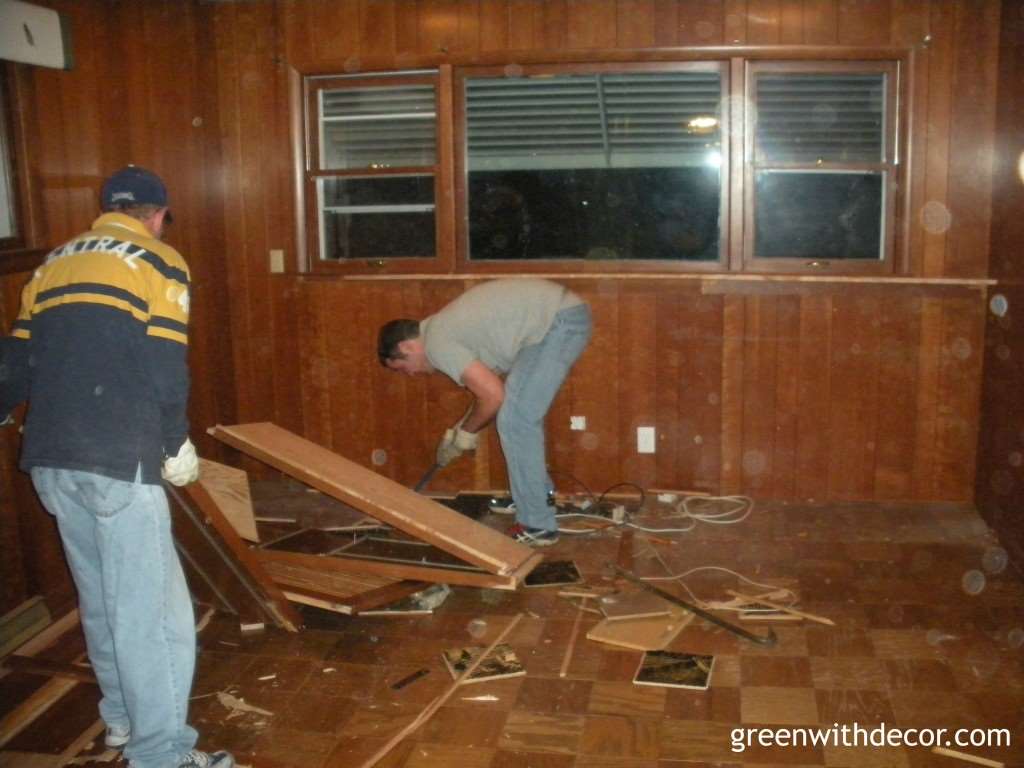 And then it looked like this: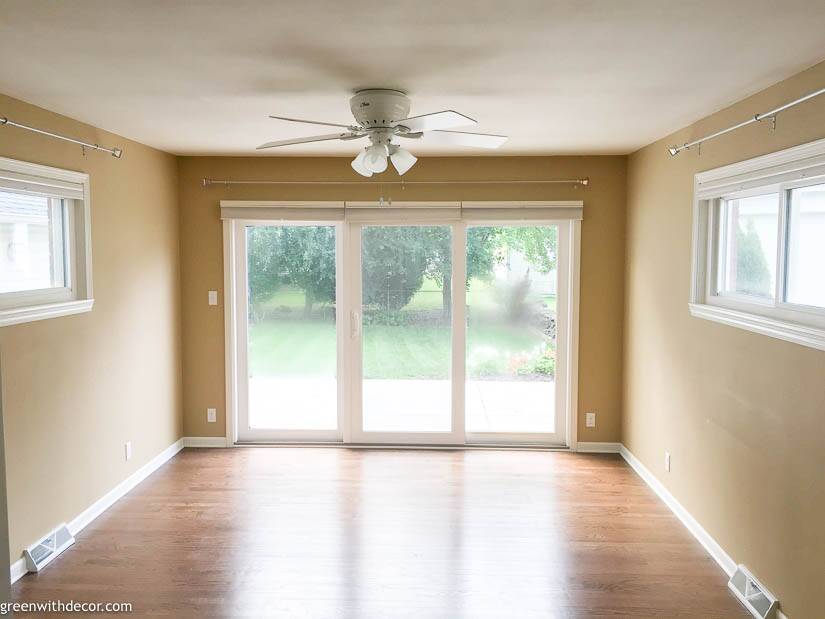 (The patio doors replaced those three windows you see in the picture above.)
And you might recall this pic of a sneak peek into the family room from my blog post back in October when we moved back in?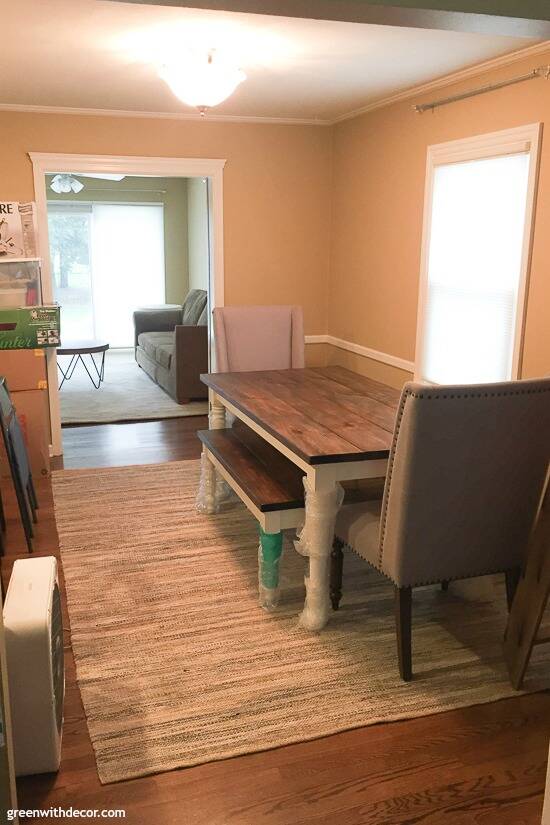 Well, that couch lasted about 12 seconds before we decided, hmmm it's always been too big for this room anyway, so let's call it a day and get a couch that actually fits in this room. Ah, smart thinking, right?!
Actually it wasn't quite that easy. That couch is SOOOOO comfortable, which is why we even kept it as long as we did even though it was always too big for this room.
Anyway. You just know that gorgeous round wood coffee table is staying! (Quite possibly my favorite TJ Maxx find EVER!)
This post contains affiliate links. This means if you click the link and buy something, I may receive a small percentage of sales at no extra cost to you.
The casual coastal design plan for the family room:
I have no idea if casual coastal is actually a design style, but that's the look and feel I want in here, so I'm going with it!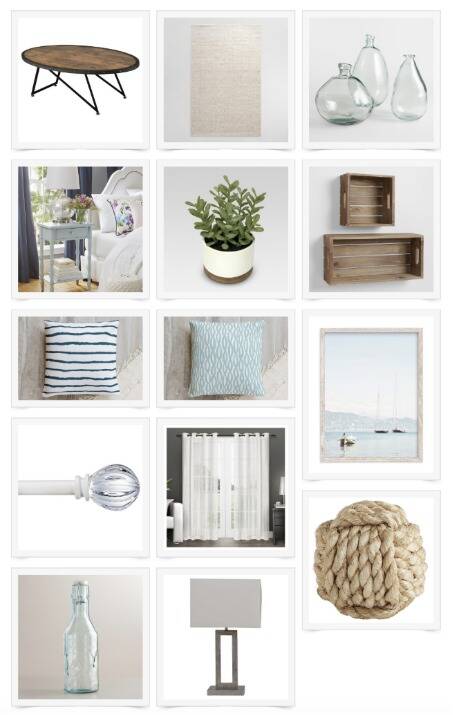 GET THE LOOK: Coffee table | Rug | Aqua vases | Blue end table | Faux plant | Crates | Blue pillow | Aqua pillow | Artwork | Curtain rod | Curtains | Rope sphere | Aqua bottle | Lamp
Couch:
We decided on an IKEA couch. We've heard mostly great things, and they're affordable. With a dog and a baby (and toddler years looming), we're not looking to spend much on a couch that's probably going to end up trashed anyway.
And maybe we'll end up moving this couch into the basement when we do a rec room makeover down there and getting a new couch in here at some point. We shall see.
Coffee table:
We'll be reusing this beauty, obviously.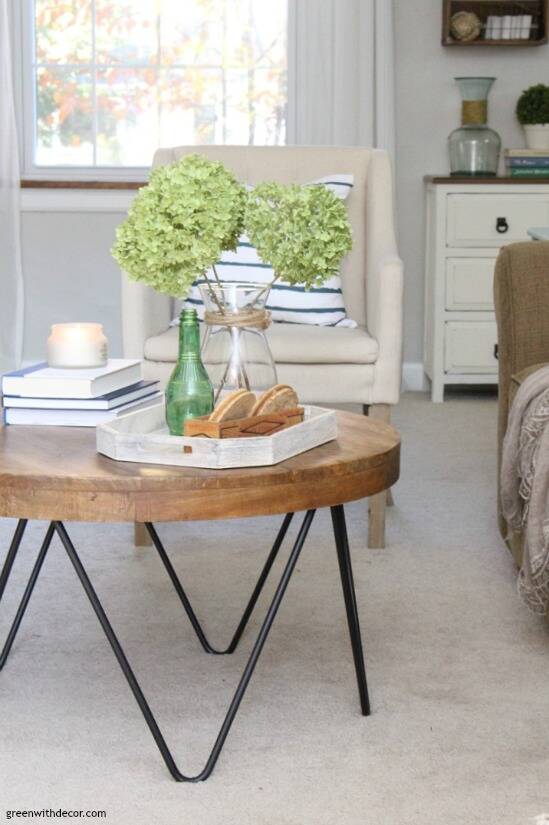 End tables:
We'll be reusing this end table I painted last year.
I started painting the other one to match last weekend (which you may have seen if you follow me on Instagram) … and then I ran out of paint. Ugh, hate when that happens!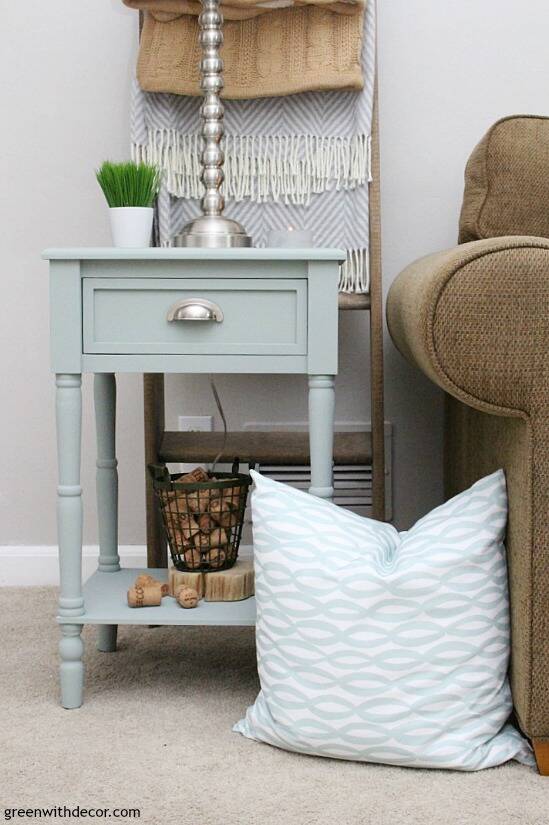 So now the other table is just sitting there 80% painted waiting till I have time to get back to it!
TV stand:
We'll be reusing this old furniture piece I found on Facebook Marketplace last year (two years ago? Time flies.) and painted. You can see the furniture painting tutorial here.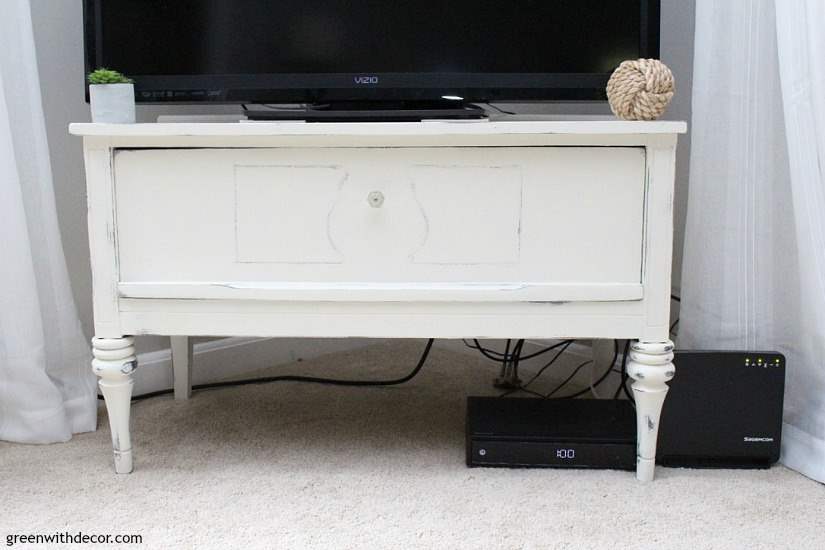 Rug:
I snagged this neutral rug during a sale. My mom has it and loves it.
If you're looking for affordable neutral or blue rugs, check out this post where I rounded them all up while I was searching for one for our dining room!
Wall decor:
We'll be reusing our crates, because we love them. It's such a fun and simple wall decor idea!
(I always get asked about our crates. I was lucky enough to find ours at Marshall's. These or these are similar.)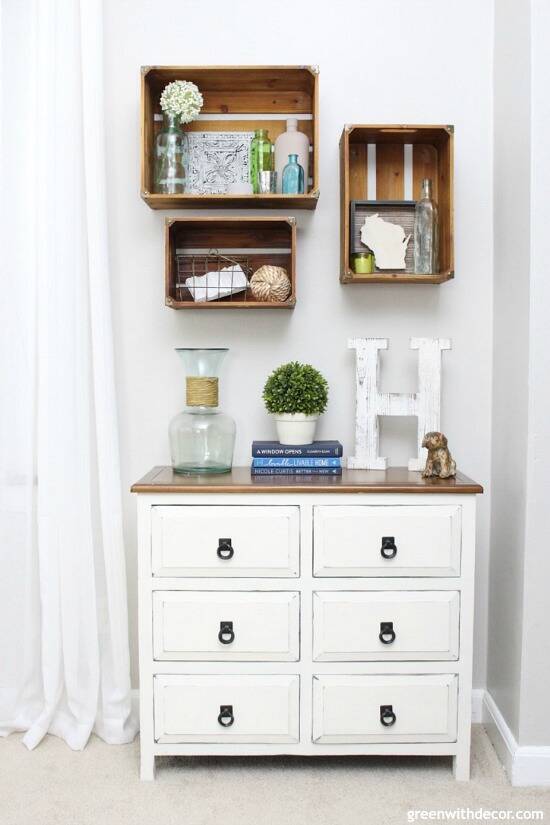 And TBD on the rest.
We'll probably be using some of these pieces from the old gallery wall and maybe something else …
Other furniture:
We have to figure out the rest of the seating in here, too, based on the couch layout (we want a chaise) and furniture arrangement.
But we'll probably end up getting two accent chairs to replace the two red ones we used to have in here. Something neutral and comfy.
Pillows:
I don't have any plans to buy any new pillows as of yet (haha – famous last words!), so we'll be using some combination of what we have.
Blues, greens and neutrals for the win!
Other decor:
Again, we'll be using some combo of what we have. Probably using one of my favorite aqua glass vases and faux eucalyptus on the coffee table, and the crates will probably hold decor pretty similar to what they did before: colored glass, faux plants, rope, wood, maybe some candles.
Windows:
We'll be using my faaaavorite white curtains and crystal curtain rods, of course! ( These are really similar.)
Lamps:
Not sure about a floor lamp versus table lamps. Gotta figure out the furniture arrangement first!
So that's the loose plan! More to come as I narrow down some decisions. If you have any favorite accent chairs or wall decor ideas, let me know!
Remember to bookmark or pin this post if you want to save it for later!

Pin it!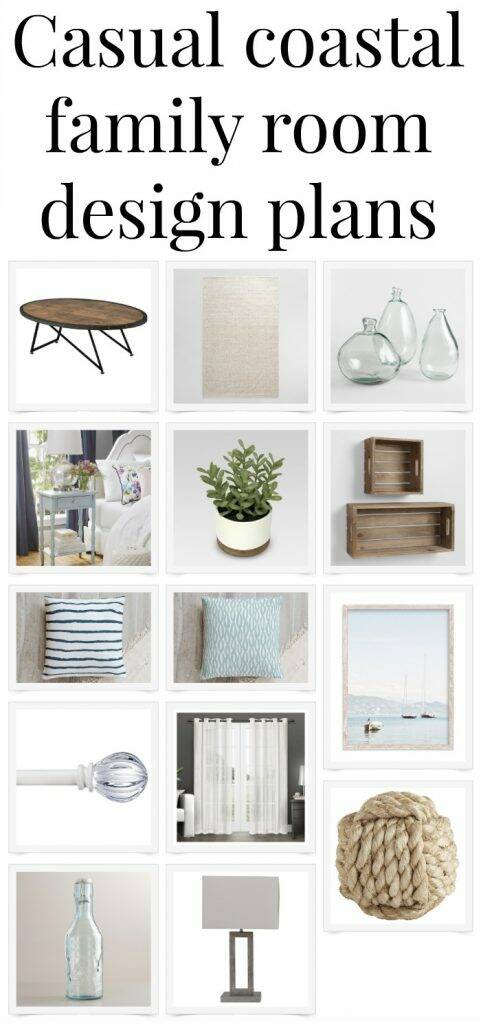 Want to read more posts like this?
Follow along: Get my emails | Facebook | Pinterest | Twitter | Instagram