This seagrass basket gallery wall is gorgeous and perfect if you're looking for wall decor ideas for a boho, coastal room!
When it comes to decorating, I either make a decision in half a second or I debate and ponder and think about every possible idea for months.
Rarely is there an in between, which seems weird, but it's how I usually operate, ha.
Which leads us to the dining room walls and our new seagrass basket gallery wall: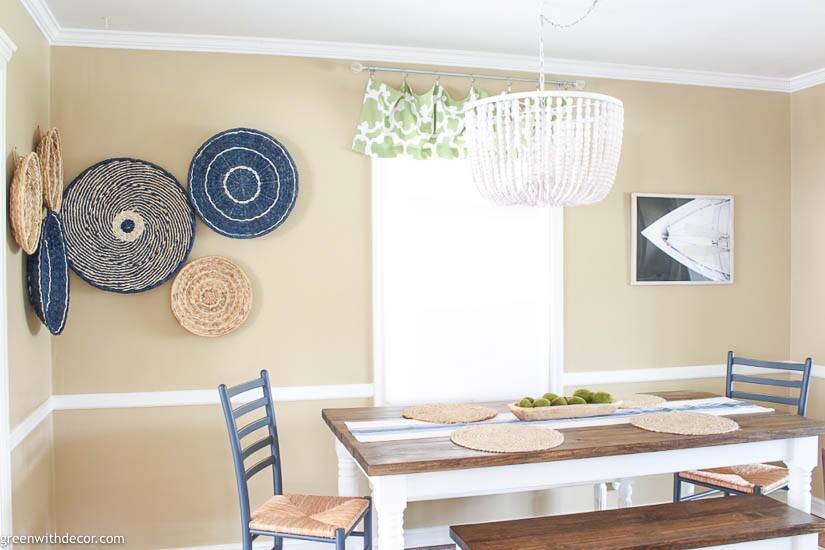 You may recall from the Christmas centerpiece post that the walls were blank, which means they've been begging for some wall decor for a while.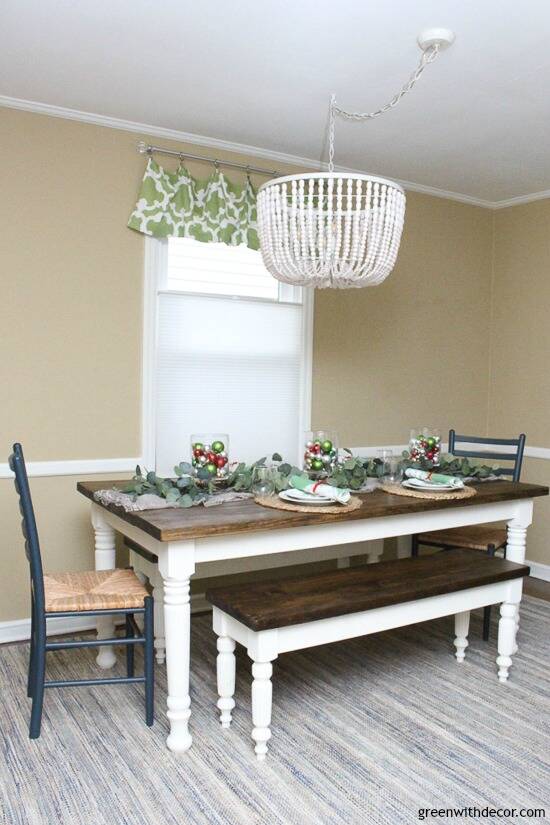 So …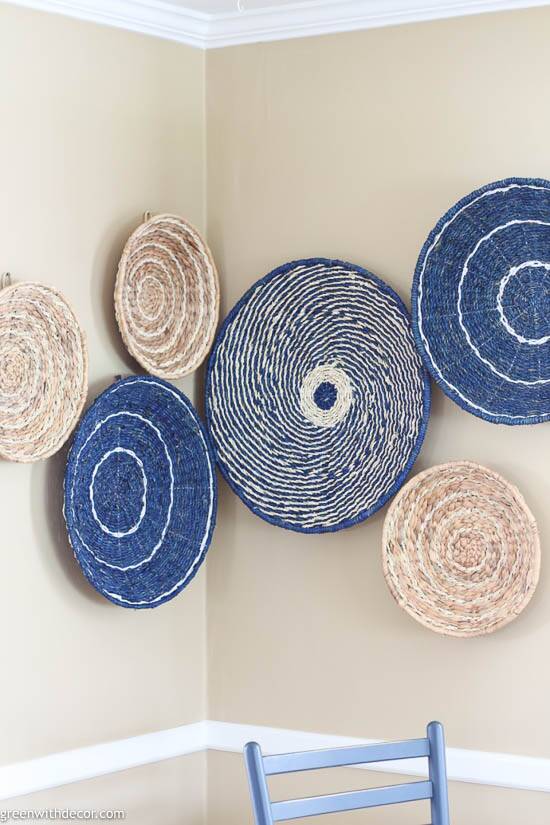 This post contains affiliate links. This means if you click the link and buy something, I may receive a small percentage of sales at no extra cost to you.
I hung our boat artwork on the one side and wanted to do something kinda different on the other.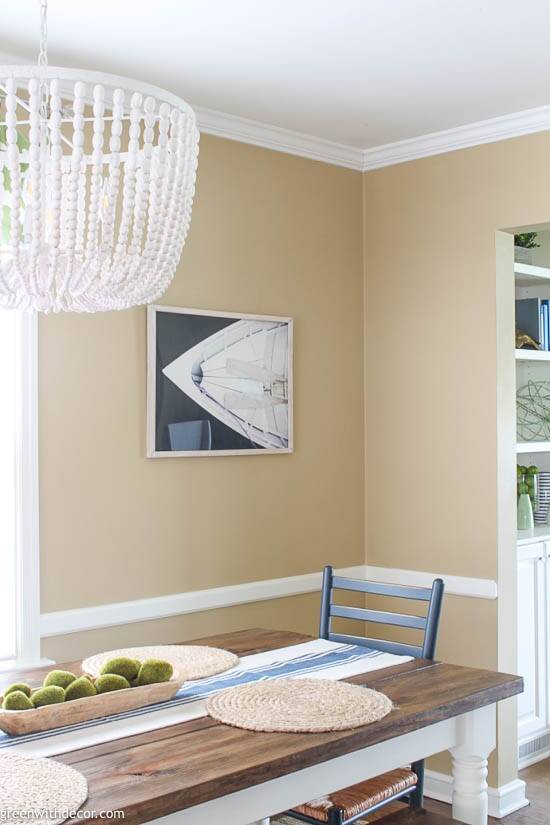 And then I saw these seagrass wall decor pieces (and these and these) on Target's website last week and bought a whole bunch on a whim. Told ya, I either think about something forever or just dive right in.
(I'm also linking to similar seagrass baskets below because ours don't seem to be in stock anymore – bummer!)
I tend to overbuy and then return because I need to see things in the space to figure out exactly how many and where I want them.
I was thinking it'd be fun to mix these in with some thrifted finds, but honestly, I don't have time to go to Target (so thankful for online shopping!) much less any thrift stores lately, so realistically, that wasn't going to happen.
And I'd rather just have the project done, so here's our finished seagrass basket gallery wall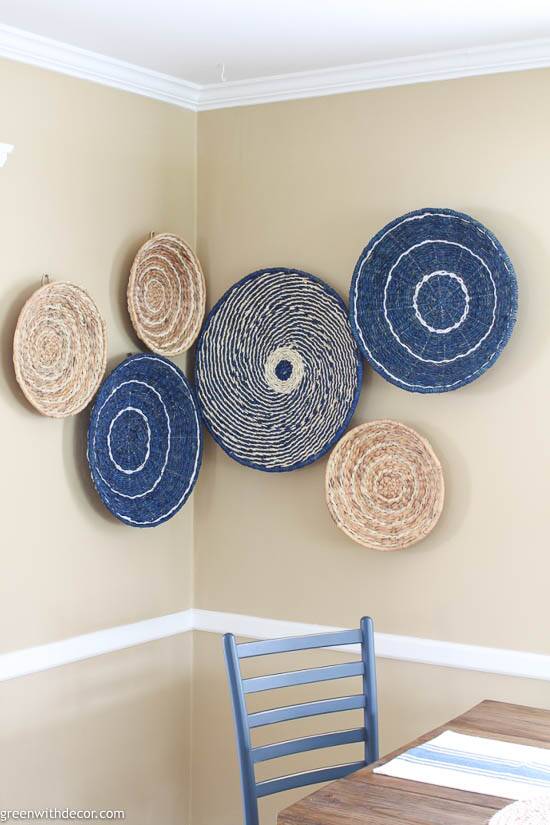 I grabbed some newspaper and used my gallery wall hanging trick to play around with the layout. It's so much easier to move the paper around than hanging something up and then realizing you hate the layout!
Here are some quick cell phone shots of the layouts my mom and I played around with: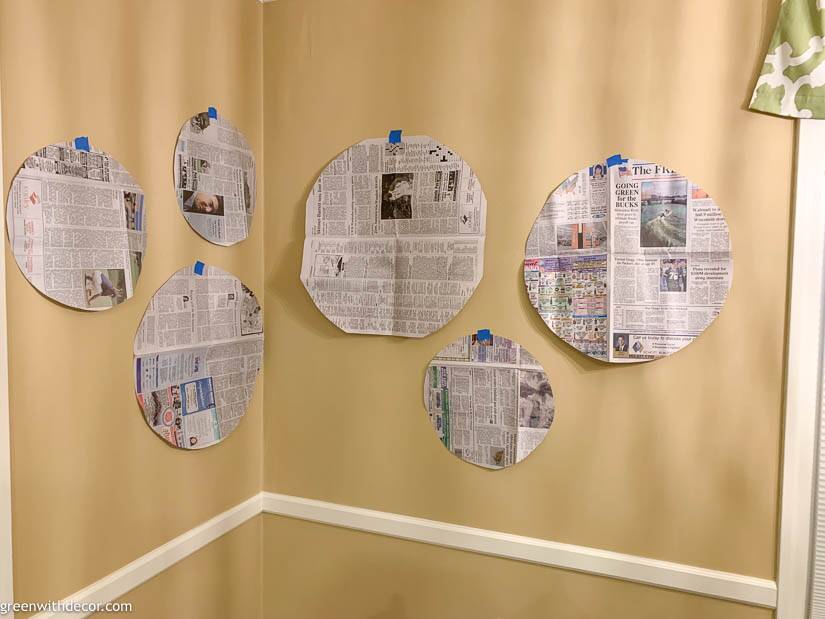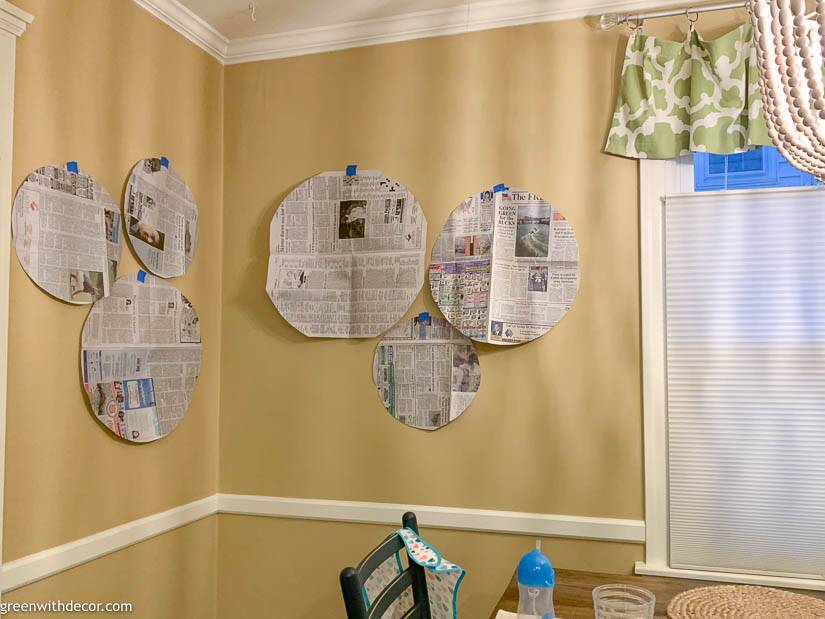 Ignore the sippy cup and bib in the corner. 🙂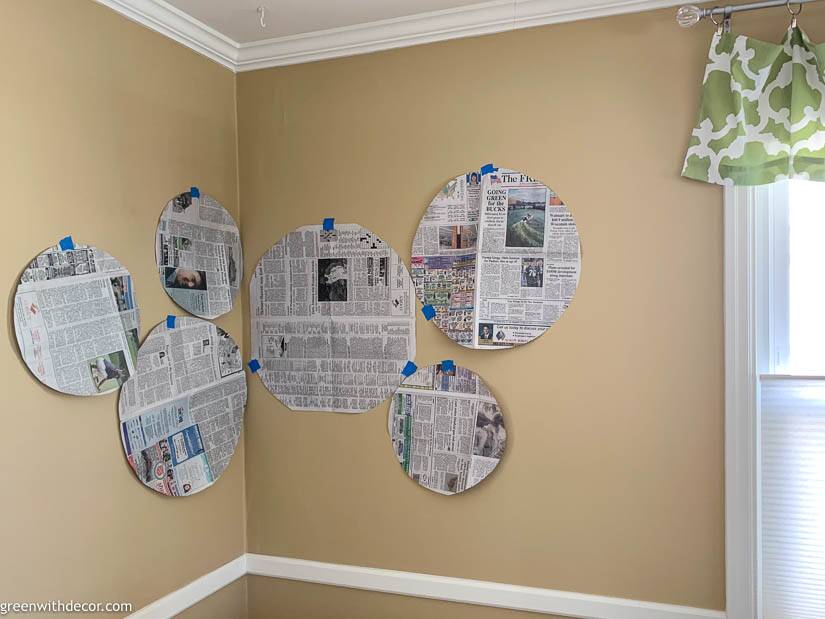 I liked the idea of wrapping the gallery wall on the two walls for a different look and decided I liked it better with all of the baskets touching. But hopefully, these pics are helpful if you're thinking of a basket gallery wall – or any circle gallery wall, really!
The baskets were really easy to hang. They each came with a little loop on the back.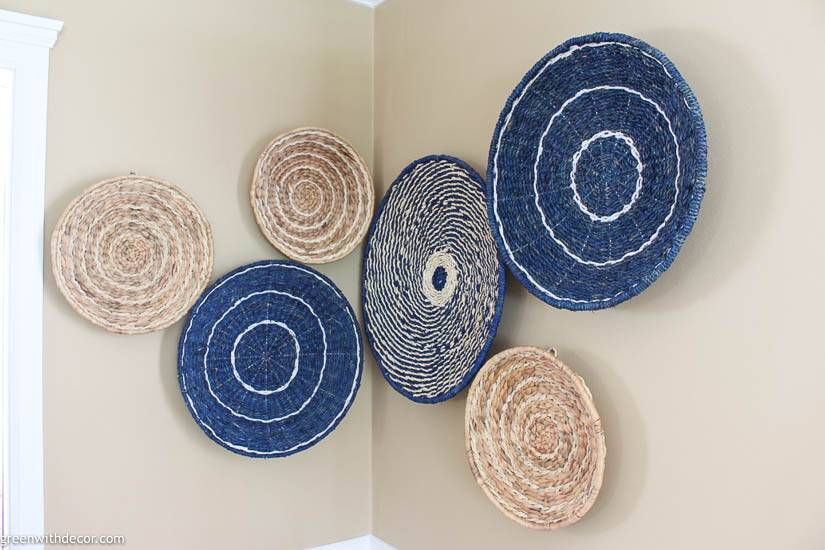 We usually have the high chair in this corner so along with getting a pretty layout, I wanted the seagrass baskets hung high enough that they'll be out of reach of little food-covered fingers!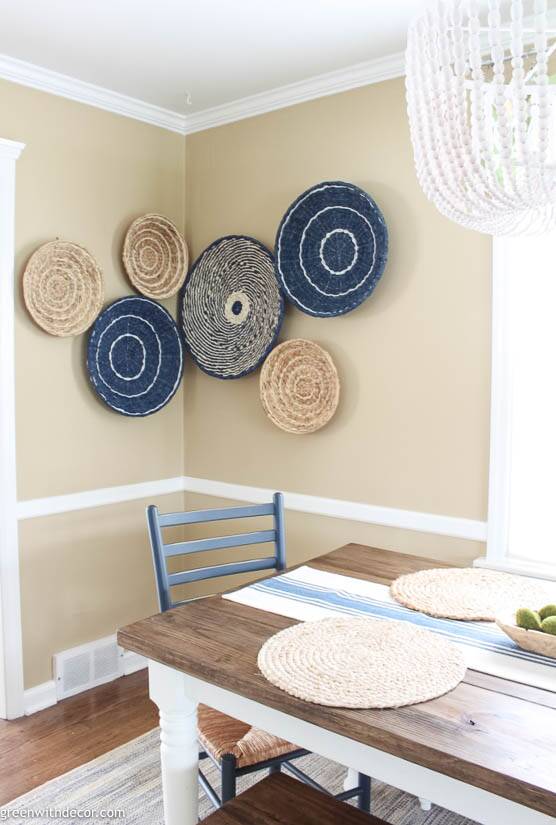 Oh, and can we talk about how GOOD the seagrass baskets look with my favorite light ever?! Still so glad we bought this thing after I was eyeing it for years! (Umm do you see what I mean, how I debate decorating decisions FOREVER or just make them on a whim?!)
I'm thinking we may switch out the window valances now, too.
I love, love, love the fabric, but I'm not sure the green works with all the blue we have going on in here. Maybe something with green and blue would be better to tie everything together. We'll see.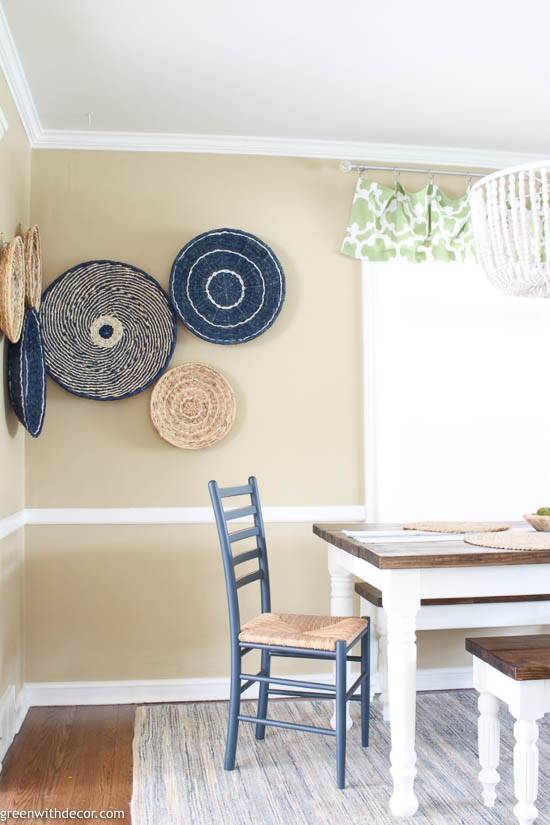 And I finally made a decision on the barstools, which I'll be sharing mid-May!
Anyway, here's the source list for our dining room!
GET THE LOOK:
Since a popular question I get is "Where'd you get that?!," here are links to the same or similar sources:
Have you hung any seagrass basket gallery walls lately? Or any gallery walls at all? I'm doing a small one above our piano in the living room, too that I'll share soon! (Yep, we're totally bouncing all over the house lately versus decorating just one room at a time!)
If you want any more ideas, I have all of our wall decorating posts here. Happy decorating!
Remember to bookmark or pin this post if you want to save it for later!

Pin it!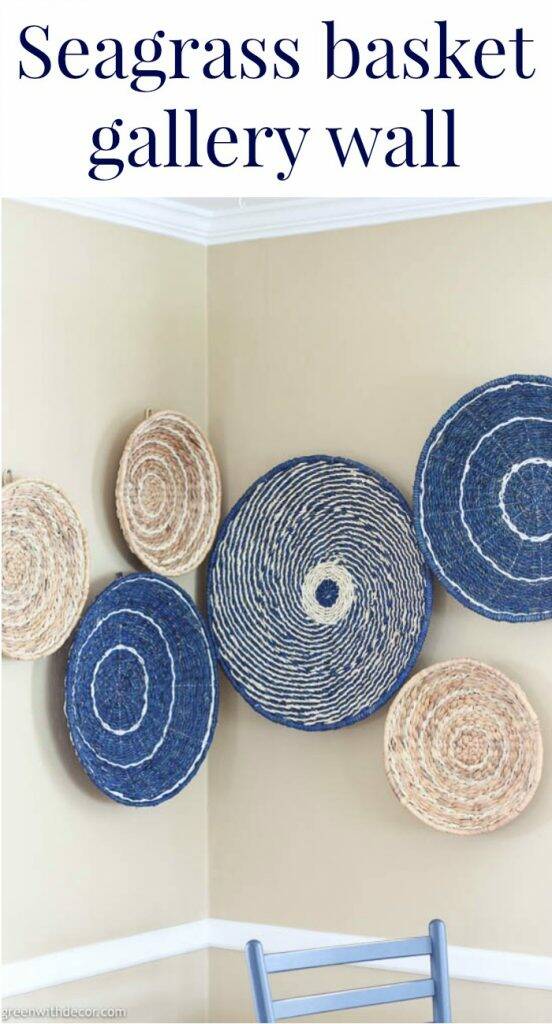 Want to read more posts like this?
Follow along: Get my emails | Facebook | Pinterest | Twitter | Instagram