I shared this project over on Instagram a while ago, but I know a lot of blog readers don't necessarily follow over there so I wanted to get a blog post together on this one, too.
(Note: Wall Control sponsored the Instagram post but not this blog post… I'm just sharing on the blog so you guys can see it here, too!)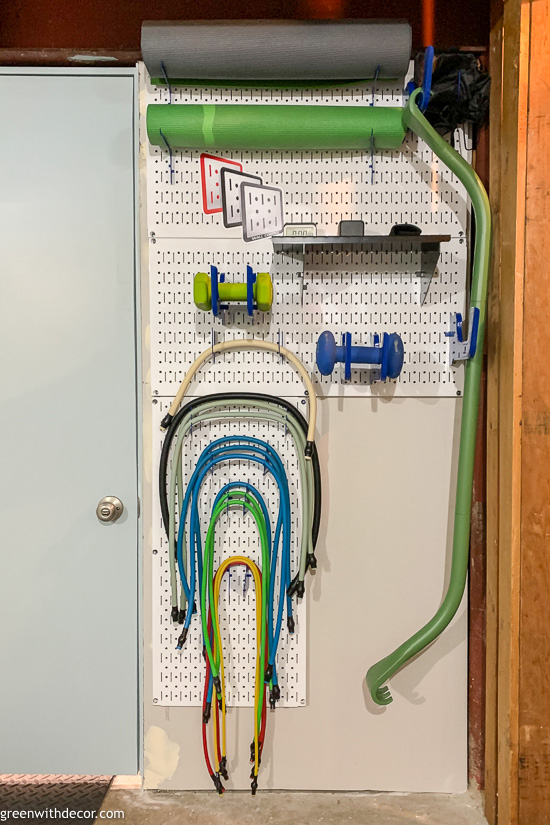 We've been busy working on the basement playroom makeover, which has also led to the huge undertaking of basically organizing every single thing in our basement.
Actually, all of this time at home in the past year has basically led to organizing every single space in our house. It's a big ordeal but also super worth it in terms of (1) only keeping things in our house we actually use and (2) just making everyday life more efficient since everything now has a spot. Meaning we can find things and easily put them away.
All of this to say, our workout equipment is no longer just hanging in a corner on the basement floor but is actually hung up and organized!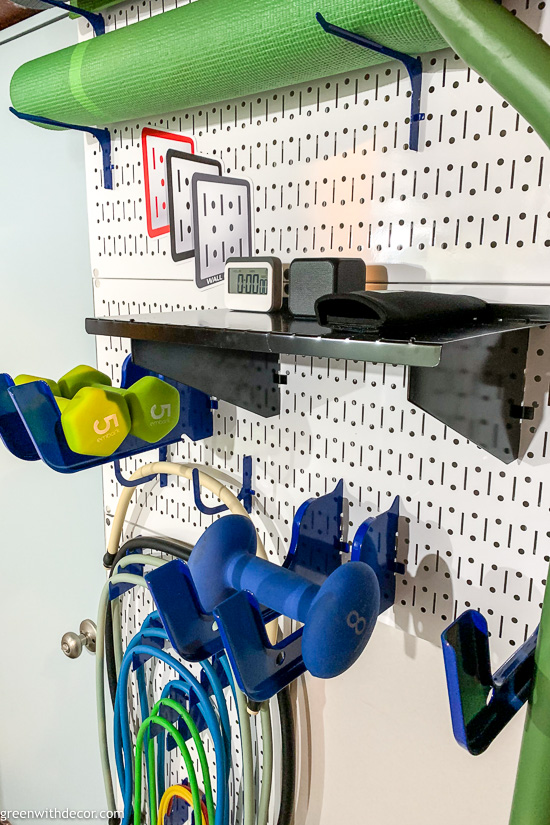 This post contains affiliate links. This means if you click the link and buy something, I may receive a small percentage of sales at no extra cost to you.
Our system for storing workout equipment is nothing over-the-top crazy, but it was easy to hang up and it's an easy system to maintain, which is always my main goal in organizing any space.
And another fun part of this project? This was just a plain, unused wall between our playroom and craft closet, so we didn't have to move anything to get these pegboards hung up! Yay for vertical storage.
The basics:
To store our workout equipment, we started with three white metal pegboards, then added a bunch of blue accessories. Gym equipment storage seems like a perfect spot for a pop of color, right?
Plus blue is quickly becoming a theme in the basement after we painted all the trim and doors blue in the playroom.
Pegboards are perfect for storing workout equipment for a million reasons:
Easy to hang
Vertical storage so it doesn't take up much space!
Versatile: hang as many or as few pegboards as you want – either horizontally or vertically
There are SO many accessories to chose from, you'll find one for whatever you need to store (see which ones we used below)
Easy to move the accessories around if you need to reorganize or add more workout equipment later
Easy to use on an ongoing basis (Let's be honest. If a system means it's hard to put things away, things won't get put away.)
How to store yoga mats:
We added these longer hooks for our yoga mats so the mats stay in place. I love how high we hung them so the mats are easy to reach but not in the way of anything.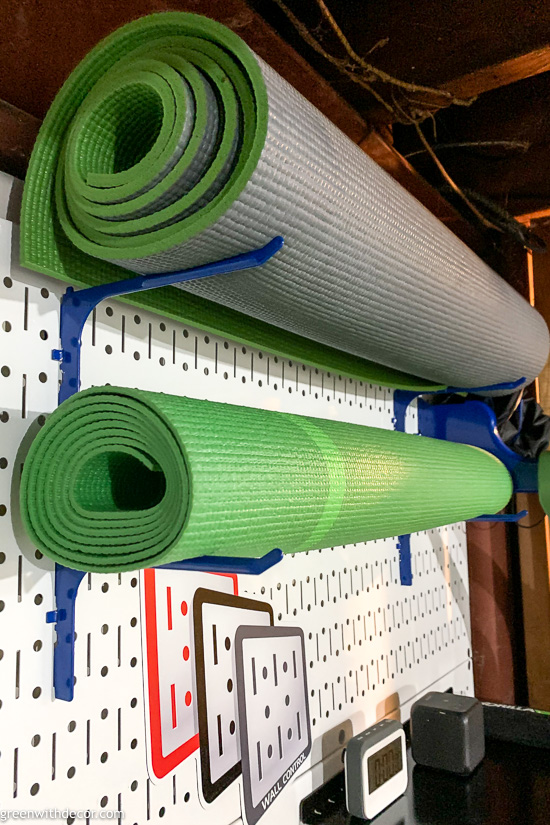 How to store free weights:
These heavy-duty hooks hold our free weights and keep Kalen's Gorilla Bow (the big green bar in the pic below) in place along the side. That thing is huge so I'm glad we found a way to hang it up out of the way.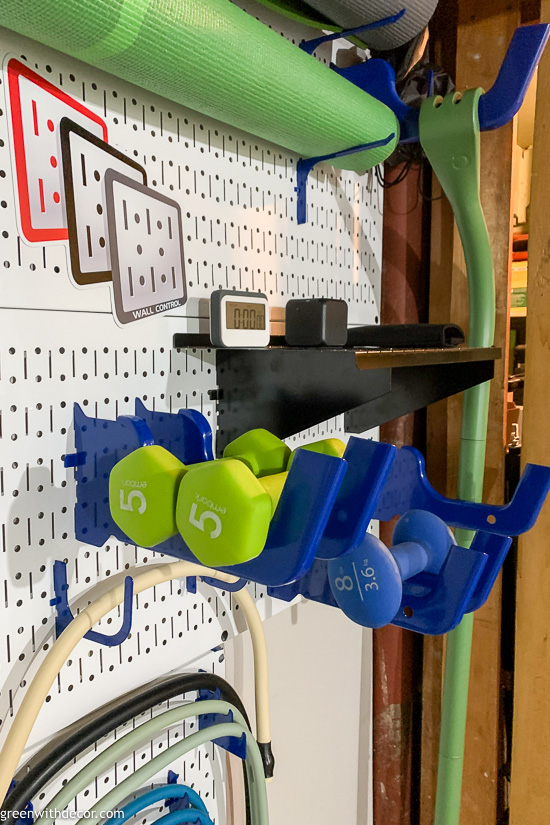 How to store fitness bands:
We wanted something that would keep our fitness bands all separate so they didn't quickly end up in a big tangled mess.
These brackets and hooks are perfect for holding fitness bands, which our toddler daughter calls 'spaghetti,' haha.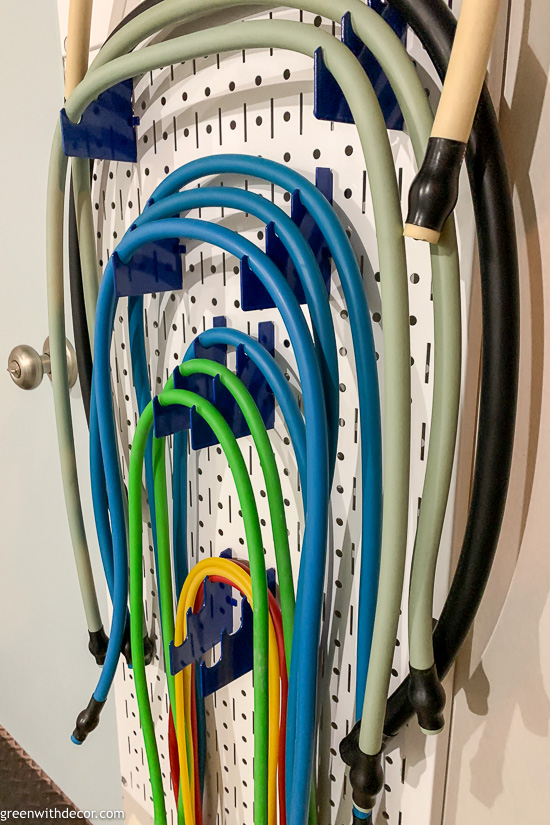 And who doesn't love some color-coordinated home organization? (Have you binged The Home Edit on Netflix yet? Do it! They're the rainbow organization queens.)
How to store fitness accessories:
We also added a shelf for our speaker and timer. It's really nice having a spot for everything right on this little wall.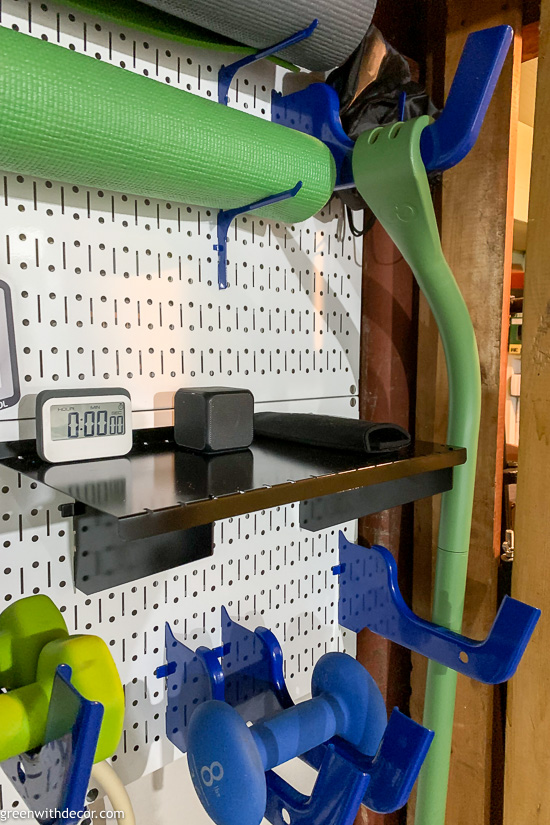 And that's how we store our workout equipment. Easy to hang and easy to maintain!
GET THE LOOK:
Since a popular question I get is "Where'd you get that?!," here are links to the same or similar sources:
Next up on the basement organization to-do list is the playroom toy closet and the craft closet. Nothing is safe around here anymore – everything is getting organized!
If you're also in 'organize everything' mode, you can see all organization projects here (and get my free printable labels for various organizing projects).
And if you have any other genius ideas for how to store workout equipment, share away!
Remember to bookmark or pin this post if you want to save it for later!

Pin it!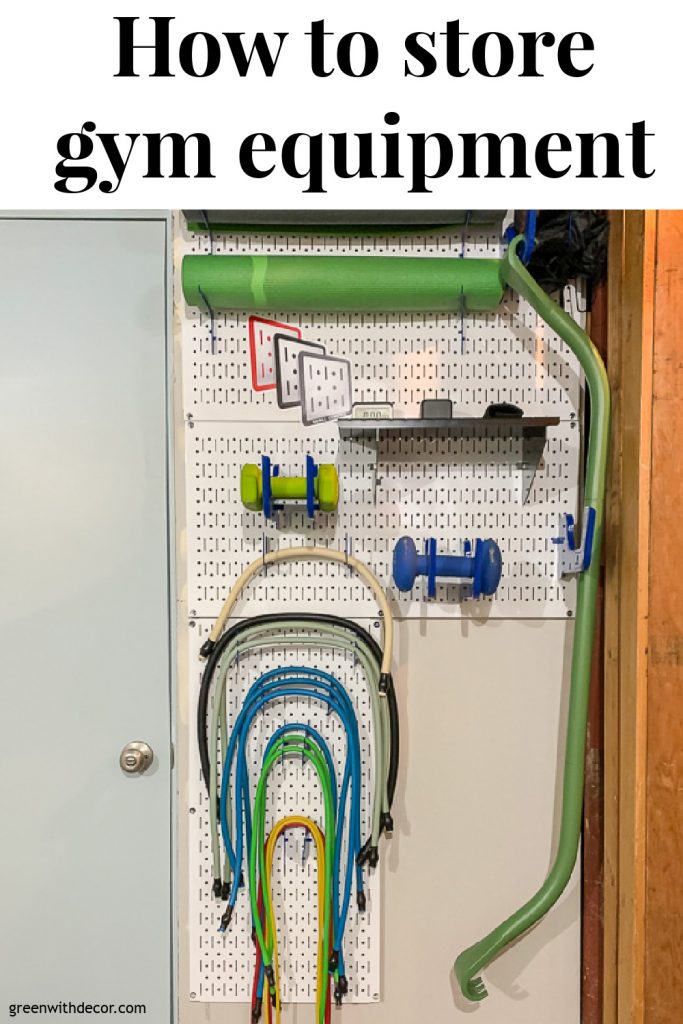 Want to read more posts like this?
Follow along: Get my emails | Facebook | Pinterest | Twitter | Instagram