As I was putting all of our winter coats, hats and scarves away for the season (finally!), I realized I never really shared this little "mudroom" area except for a quick peek when it was decorated for Christmas a few years ago.
So while the mountains of coats are off the hooks and you actually have a great view of the hooks and bench, I thought it was the perfect time to share.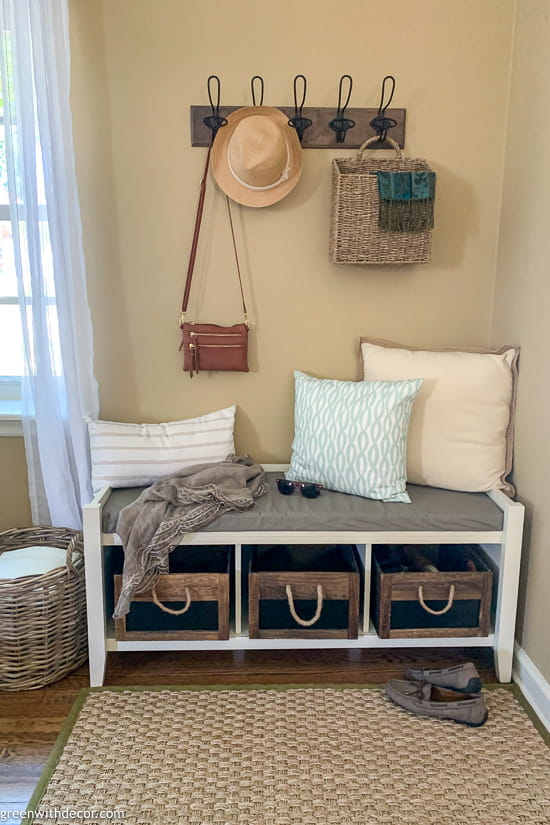 We don't actually have a mudroom in this house, and as much as I would love one, it may not ever happen.
So I turned this little unused corner of our living room into a little makeshift mudroom, and it works great so shoes and coats don't pile up by our door.
I really think organization only works if it's easy to put things away. Otherwise no one sticks to it!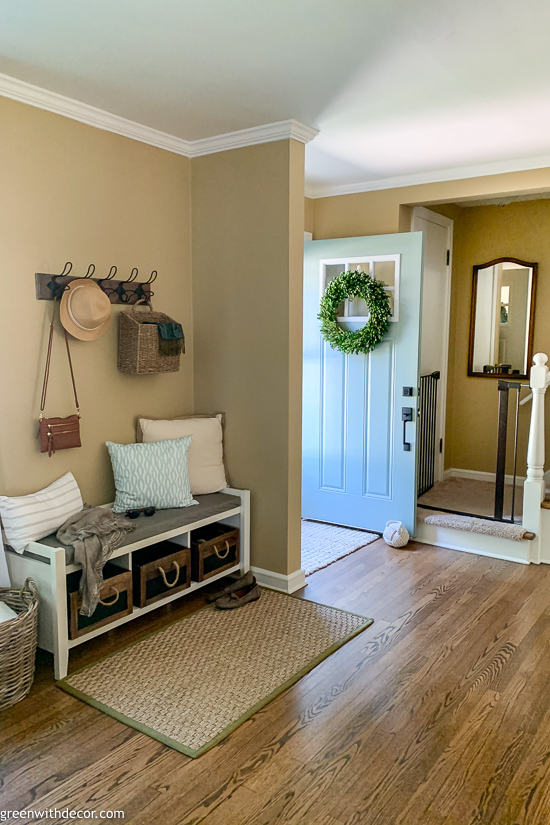 Mudroom cubbies would be my dream (hi, I'm old), but if you also don't have a great spot for some, join the no-mudroom club and put some hooks, crates and a bench along a small section of a blank wall.
It's not cubbies, but it's as close as you can get without building anything in.
And honestly, I think this setup works better than a closet anyway because we're all lazy and busy (weird combo but true, yes?) and even though a simple door shouldn't be a deterrent for hanging up coats, it somehow is, haha.
Before we dive into storage specifics, can we do a before and after of this space? Because really, nothing is better than a before and after when you're looking at a space.
Before …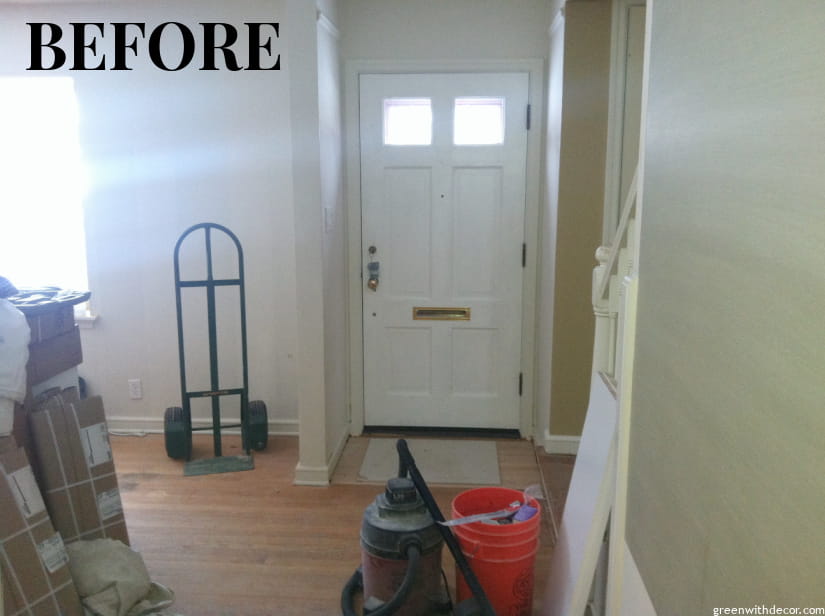 And now: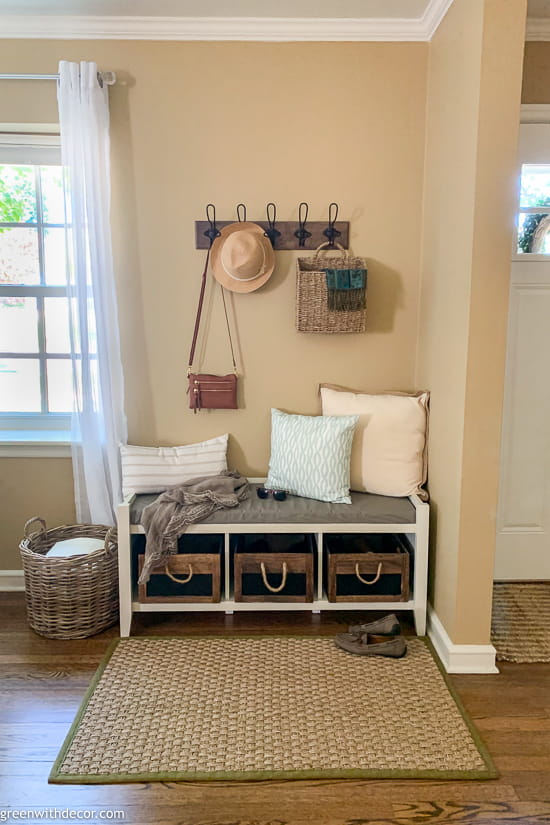 And one more further out from another angle: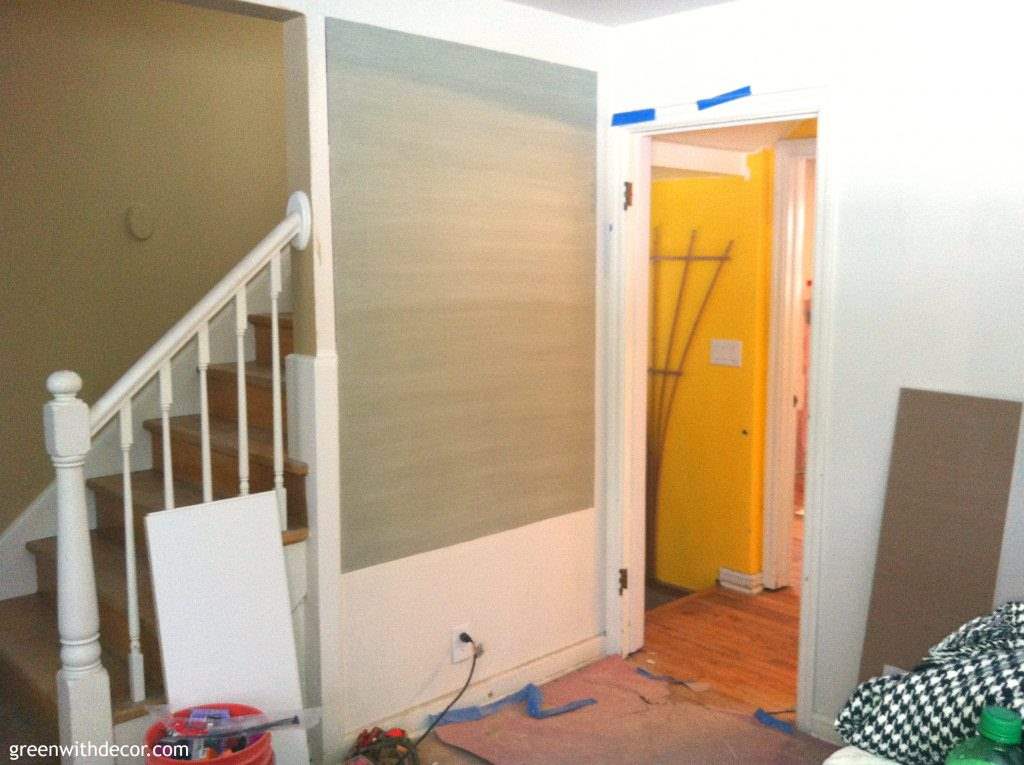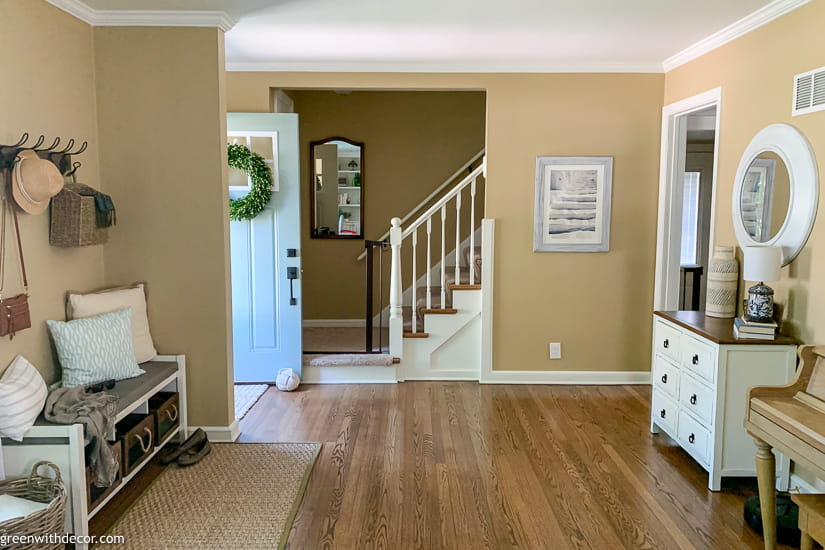 This post contains affiliate links. This means if you click the link and buy something, I may receive a small percentage of sales at no extra cost to you.
Hooks / coat storage:
You can never have enough hooks. (Truly, never.)
Hooks are perfect for coats … and this hanging basket that eventually we'll hang on that little side wall. (Rooms take time!)
We have more hooks by our side door for guests' coats. Speaking of, we also have hanging storage over there for the dog leash and sunglasses. You can see that small entryway reveal here for more small entryway organizing ideas.
Crates / shoe storage:
I love open crates for shoe storage. It's easy to toss shoes in them. (I'm a strong believer that bins with lids don't work. Kind of like closet doors. Keep it easy!)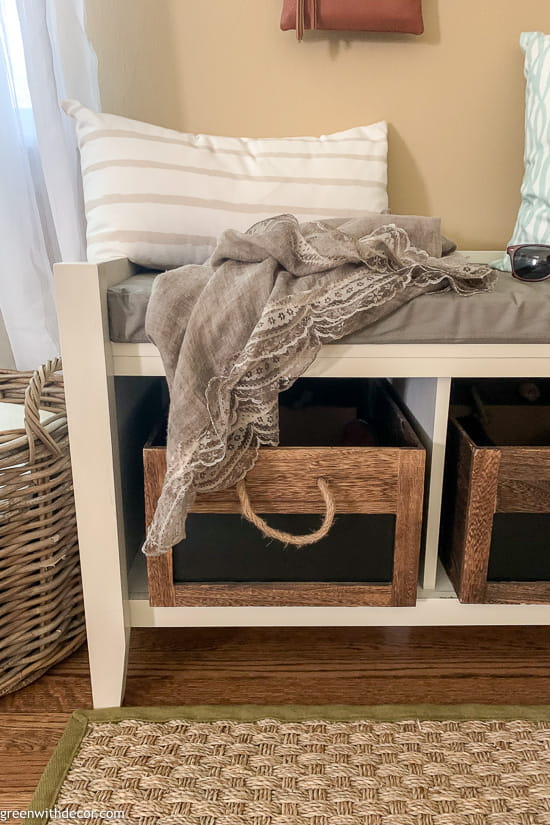 We'll probably run out of room in this little setup once our baby daughter starts wearing shoes, but this works really well at this stage of life.
Basically I've accepted any kind of organizing with kids is short term because needs keep evolving! You don't have to solve everything all at once, you just need organizing solutions that work now.
Hanging baskets / gloves, hats + scarf storage:
I love these hanging baskets (also here), and if you were around when I shared our side entryway, you'll remember we use one over there, too.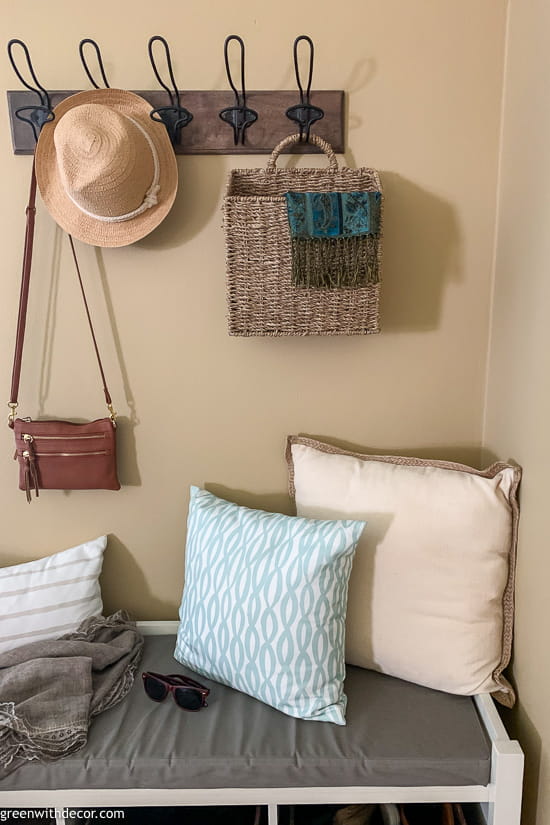 The basket is perfect for gloves, mittens, hats, scarves, etc. It's easy enough to toss winter gear in there or hang some over the side if something's wet from the snow.
Basket / other storage:
If you also have something extra like baby blankets, a stroller cover, sports gear, etc. that you use regularly, put a basket on the floor.
It's easy to grab things from there as you're walking out the door and easy to toss them back in when you come back inside. (Again, nothing with a lid! Ha.)
Bench:
A bench is perfect to have a place to sit to get shoes on and off … and to sit while you get your toddler dressed in the 47 layers required to play outside in Wisconsin winters.
And even if your kids can't reach the hooks yet, giving them a place to set jackets is better than having them thrown on the floor.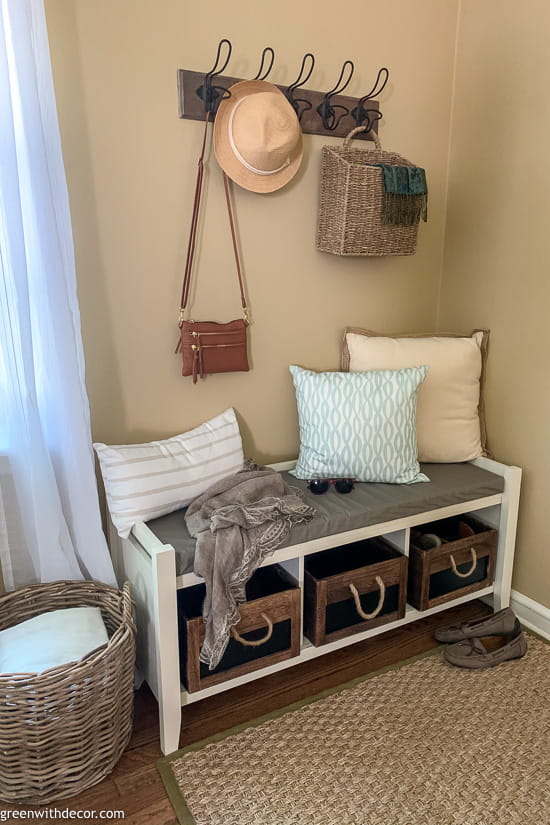 Plus it's another place to put some throw pillows. Can't ever finish a space without those.
Rug:
Even if you also set up a mudroom situation in a little corner of another room like we did, a small rug helps define the mudroom space from the rest of the room. I'm obsessed with our rug. We also have the same one by our side door, back door and kitchen sink.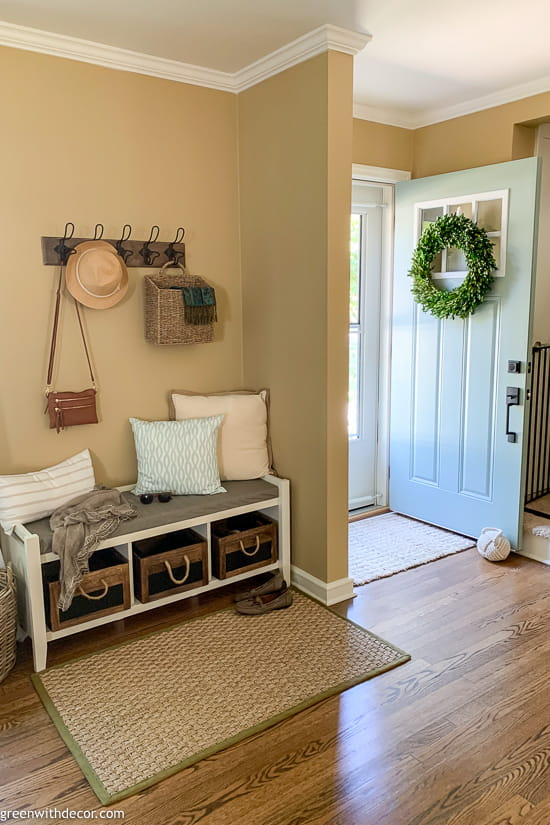 So safe to say it's a winner!
Here's a quick source list for everything seen here, and scroll down for links to our other entryway spaces with more storage ideas.
GET THE LOOK:
Since a popular question I get is "Where'd you get that?!," here are links to the same or similar sources:
If you're looking for more entryway organization ideas (aren't we all?!), check out these posts:
Remember to bookmark or pin this post if you want to save it for later!


Pin it!
Want to read more posts like this?
Follow along: Get my emails | Facebook | Pinterest | Twitter | Instagram