A list of my favorite time-saving items, DIY supplies and pretty pieces to have around the house – perfect for Christmas gift lists for others or yourself!
Happy Black Friday!
Hope everyone had a fab Thanksgiving! Thank you as always for being here and following along! I really am so grateful for everyone that reads this blog!
Now onto the shopping! 🙂
In the spirit of online shopping (why deal with those crazy crowds – no thank you), a group of my favorite blogger friends got together today to share our favorite things. Perfect if you're looking for gift ideas for others or, let's be honest, for ourselves.
I know alllllllll of the gift guides this time of year can end up being too much after a while, but I always LOVE reading people's favorite things posts.
I always think it's interesting to see what everyone loves using in their everyday lives because then you know it's all good stuff!
First, I have to say that everything in last year's Favorite Things 2018 post is still a favorite. Which means that post is full of really good stuff, so be sure to check that post out, too!! I'll link it again at the end so you can read today's post first. 🙂
In the spirit of not having any repeats, I'm not listing any of last year's items again and instead am sharing some of my new favorite things!
As I was putting this year's favorite things list together, I realized a lot of this year's favorite things are all about convenience / saving time / saving work. Big surprise from a work-from-home-mom of a busy toddler? I guess not!
Of course, convenience isn't EVERYTHING (only 95% or so? ha!) so I have a few of my favorite pretty items listed, too.
This post contains affiliate links. This means if you click the link and buy something, I may receive a small percentage of sales at no extra cost to you.
Click any of the product images below for more info. (You might have to double click on mobile.)
Time-saving favorites: ClothING ITEMS
1. Packing cubes
I feel like half the internet has been talking about packing cubes for forever, and I really didn't get the hype until this year.


When traveling with a kid or taking a trip to multiple places (like we did to Europe this fall), packing cubes are truly game changers.
They keep everything organized so you can keep track of where everything is and keep dirty and clean clothes separate as you visit multiple places. No more rummaging through a suitcase trying to find a toddler's pajamas or your last clean shirt on a long trip.
I'm never going anywhere without these again. I'm obsessed!
2. Stitch Fix
Speaking of clothes, let's talk about Stitch Fix. Again, I realize half the internet has been talking about this for a while but I ignored most talk about clothes while pregnant and for a while there afterwards.
And then I realized I needed some new cute clothes. But didn't really have the time to shop or even online shop to find clothes I loved.
Stitch Fix is awesome! I'm not kidding, every time I wear a shirt or sweater from Stitch Fix, I get compliments on it.
After you sign up, you fill out a survey to tell the stylists exactly what you love and don't love, what types of items you're looking for, patterns/colors you love and which to avoid, etc., and then they'll ship you a box full of 5 items you can try on to return or keep!
Better yet, if you sign up with my referral link, you'll get $50 off your first purchase (and so will I, so thanks, ha!). And if you sign up, you'll get your own referral link you can share with whoever. (You don't have to be a blogger or anything to get a referral link. I signed up using my friend's, and we each got the $50 off!)
You can get boxes on a regular schedule or just do them at random intervals. I didn't want to sign up for the subscription, so I've gotten a few boxes throughout the year. If you never have time to shop for clothes, sign up and try a box!
3. Hand held steamer
True confessions: I don't iron. No time for that. I'd rather just throw things in the dryer again and hope the wrinkles come out.
Until a few months ago when my friend told me she did the same thing until she got this hand held steamer. Another game changer!


It's easy to use, fast and makes your clothes look wrinkle free without having to iron. Need I say more?
Time-saving favorites: DIY supplies
4. Pressure washer
Switching gears but still on the same theme of saving time, let's talk about our new RYOBI pressure washer we got this year.


Yet another thing we're obsessed with! As are a bunch of our friends based on the amount of times we've been asked if someone could borrow it since my blog post about it went live, ha!
We cleaned the front porch, back patio, driveway, garage siding, kids outdoor jungle gym, you name it. You really don't even realize how dirty concrete is until you use a pressure washer! And it's so quick, which means that instant gratification level is HIGH!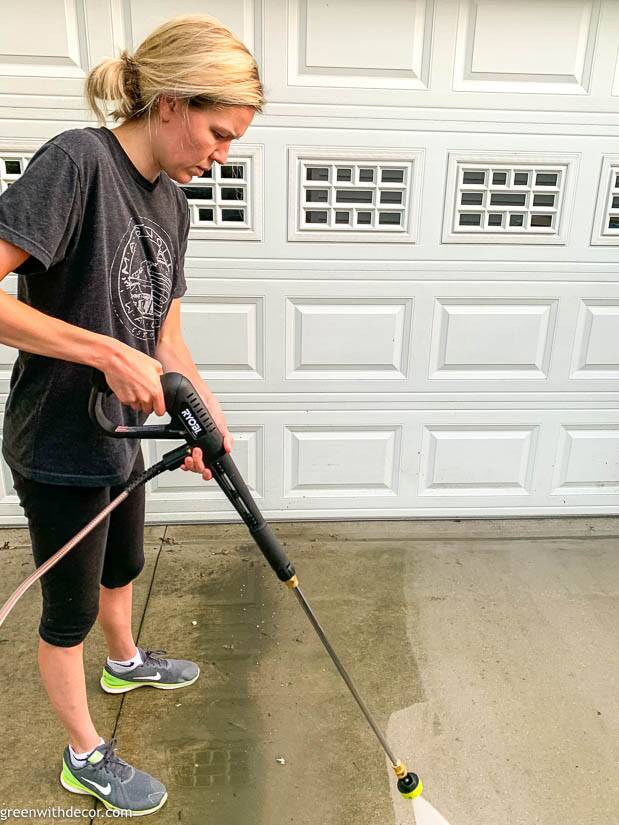 5. Tack cloths
On the subject of time saving DIY tools, HOW did I not use tack cloths before this year?! I really don't know. (I finally used them when painting our exterior door.)


If you're sanding anything for a project, grab some tack cloths to gather up all that gross tiny sanding dust and dirt afterwards. No more using damp paper towels and only grabbing 90% of the dust.
If you do any DIYs at all, stock up on tack cloths! Bonus, they're cheap!
6. Delicate Surface Painters Tape
Again, another DIY supply I hadn't used until this year (when I painted our bathroom).
I'd used plenty of FrogTape over the years but never FrogTape's Delicate Surface Painters Tape (the yellow tape).



You can use it on all sorts of surfaces like fresh paint, laminate, wallpaper, etc. and it doesn't take the finish off.
If you've ever taken painters tape off only to bring peeling paint with it and then have to re-do the project you literally aren't even done with yet, you know why I'm in love with this tape!
7. Heat guns
I've had multiple people comment they love the look of rustic wood but don't have time to take on a staining project. Wagner's heat guns can give you a rustic burned look without even thinking about stain!


I just used our FURNO 300 Heat Gun on these DIY Christmas trees earlier this week, and I've used the FURNO 750 Heat Gun in the past on these DIY burned wood picture frames.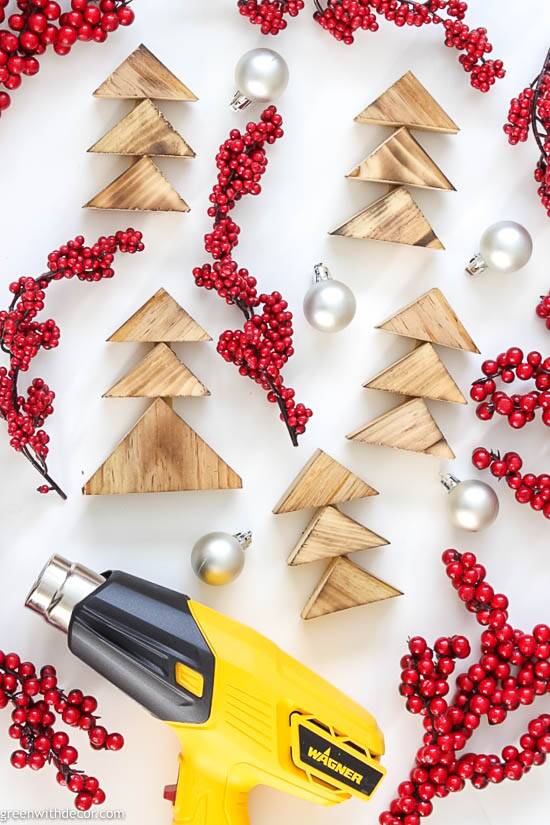 If you want a rustic wood look quickly, try their heat guns!
Other favorite conveinence items:
8. Delaney Hardware smartlock
We installed our Delaney Hardware's ZW300 Smartlock this year, and we love it. It's so nice not having to get a physical key out to get in the house with a kid and all the things we always seem to be carrying.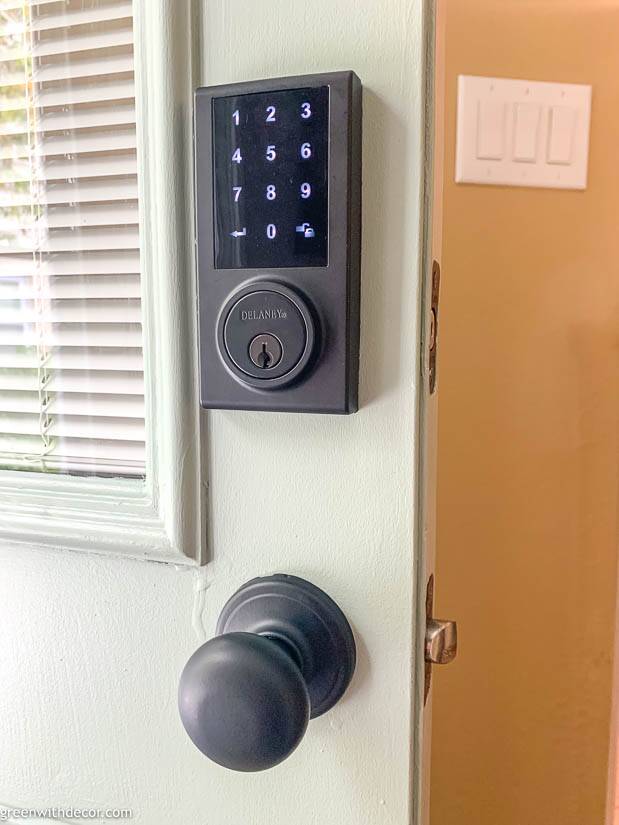 One of my favorite features is that you can set multiple codes so if you need to let a dog walker, plumber, etc in, you don't have to give out your master code. And you can track when codes are being used via Delaney's app!
9. Garlic holder
I mentioned this one earlier this year, but in case you missed it, I wanted to share our cute garlic holder!


Instead of having a bunch of garlic sit out in a random bowl on the counter, this garlic holder keeps them fresh, and hidden!
10. Fire TV Stick and FIre TV Recast
I guess this is technically two things, but bundling them together is really where the favorite things title comes in.
We finally canceled cable after talking about it forever. Our holdup was really giving up the DVR. With the Fire TV Recast and Fire TV Stick, we can still watch live TV on basic channels and record anything on those channels to watch just like you watch shows via DVR.


This new setup is awesome and saves a good amount of money each month!
11. Bath toys holder
I realize this is only applicable if you have small kids, but I looked around for a bit before finding a bath toy holder that actually worked without spilling toys/water everywhere. So I figured if anyone else is in the same boat, I had to share this one.
I swear anything with a suction doesn't end up staying up. We had one I ended up throwing out because I was so sick of picking it and the 507 bath toys off the bath tub floor every day.
Which brings us to this amazing bath toy holder!


We've had it for a few months now, and I love it! The colors blend in with our bathroom, and it holds all of the toys while still letting them drain. That's all I was looking for in a bath toy holder! 🙂
Favorite pretty things:
Like I said, it can't be ALL about the convenience, right?! Here are a few of my favorite things just because.
12. Wood bead chandelier
I've mentioned this before about a million times but not in an annual favorite things post, so I have to call out this World Market wood bead chandelier.


We've had it in our dining room for a year now, and I had my eye on it for a couple years before that while we were busy moving.
I LOVE it! I love the color and the texture plus the statement it makes in our dining room. Safe to say, I'm obsessed!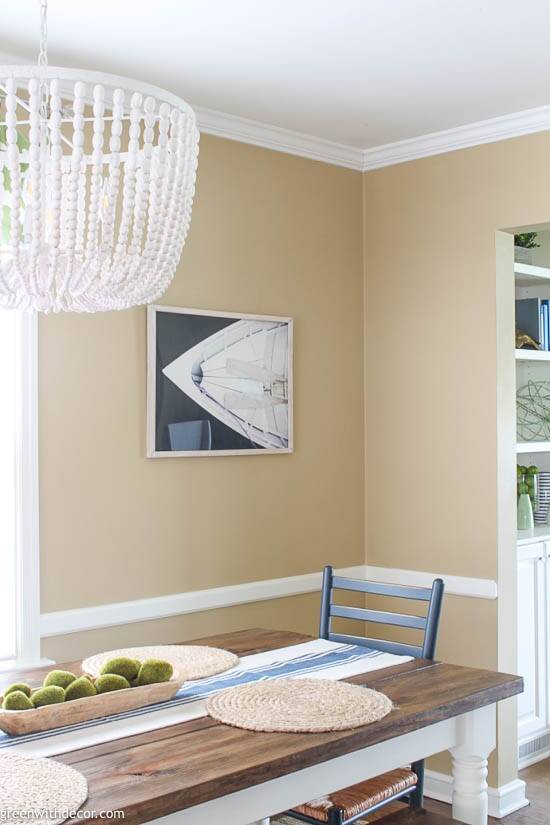 13. Driftwood bowl
This driftwood bowl is probably my favorite piece I bought for our built-in bookshelves around the fireplace. I love the color and texture of it!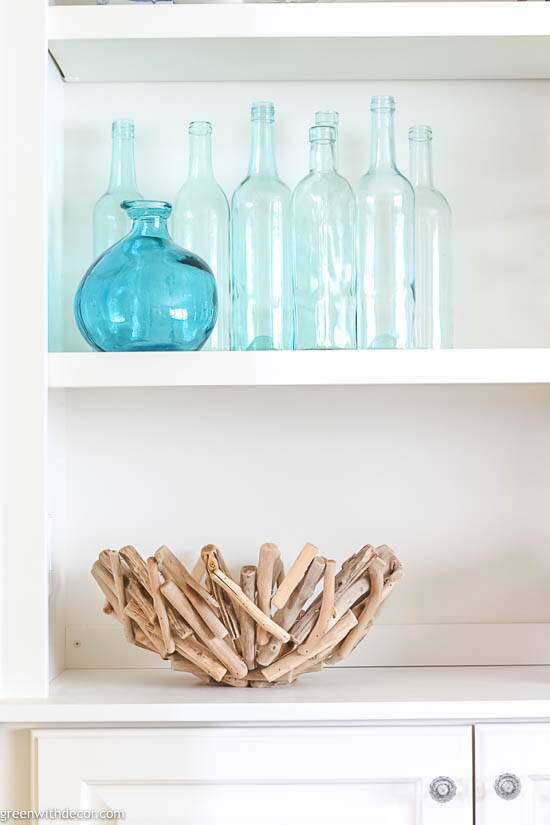 14. Headboard
We went YEARS without a headboard, because somehow in my head they were a million dollars and never really in the budget.
Um, guess what, they're really not that expensive, and they make your room look waaaay updated. Any piece of furniture that can update the entire look of a room has my attention.
I love how comfy, cozy and just plain grownup our room looks since we got our headboard.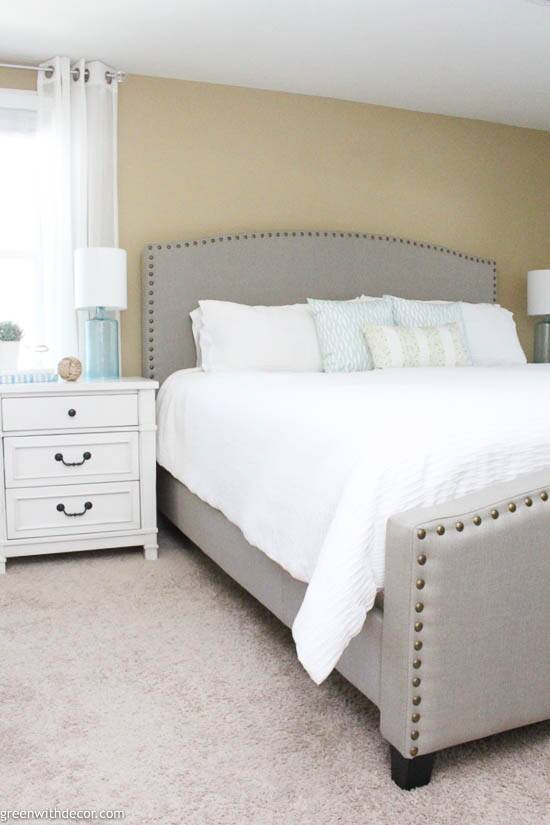 (Wisconsin and Illinois friends, ours is this headboard from Steinhafels. For the rest of you, I'll link one below that's similar in look / price point.)


15. Hand soap
This is a random one, and maybe falls more under "pretty scents'" than "pretty", but let's go with it.


I got some Sapadilla hand soap in the Grapefruit + Bergamot scent earlier this year, and I love it. I've mentioned before, I tend to be pretty picky about scents, but this one is a new favorite. Plus it's plant-based on and earth-friendly, which is a must for us with a toddler running around.
Remember to check out last year's post (Favorite Things 2018) and all of the other bloggers' favorite things listed below, too!
Green With Decor – My favorite things 2019 (you're here!)
White Cottage Home & Living – My favorite things 2019
2 Bees in a Pod – Our favorite things 2019
Old House to New Home – My favorite things 2019
Houseful of Handmade – My favorite things 2019
I also regularly share favorites like home decor items, DIY tools, light fixtures and more on the Green With Decor Amazon store page so check that out, too!
Happy shopping!
Remember to bookmark or pin this post if you want to save it for later!


Want to read more posts like this?
Follow along: Get my emails | Facebook | Pinterest | Twitter | Instagram