This is the easiest way to repair outdoor furniture scratches and so much cheaper than having to buy new!
This is probably the easiest outdoor DIY project ever.
All the credit goes to my mom on this one. She's a genius with the spray paint lately (remember her painted plastic planters from a couple weeks ago?!).
My parents' (very comfortable) outdoor chairs had scratches in the arms from falling over in the wind. (I circled the scratches in the pic below.) But who wants to buy new outdoor chairs just because of a few scratches?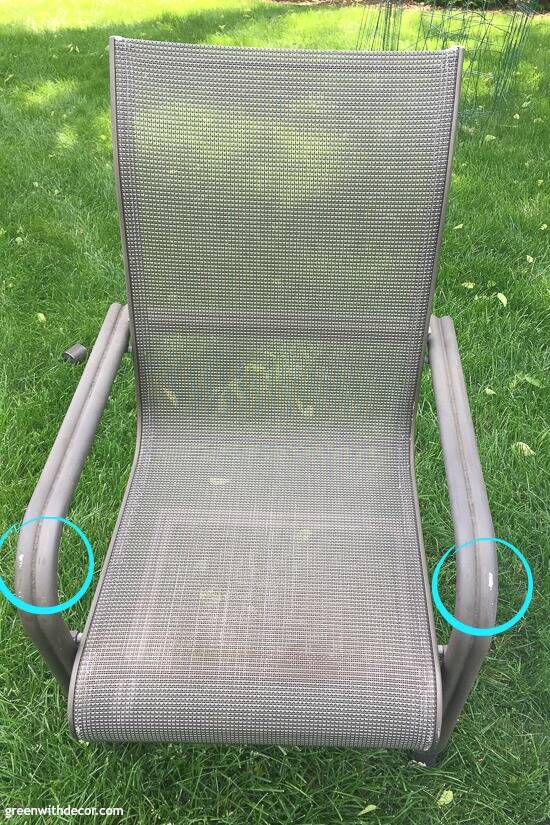 Uh, not me.
My mom found spray paint to match the arms and painted right over the scratches. Good as new!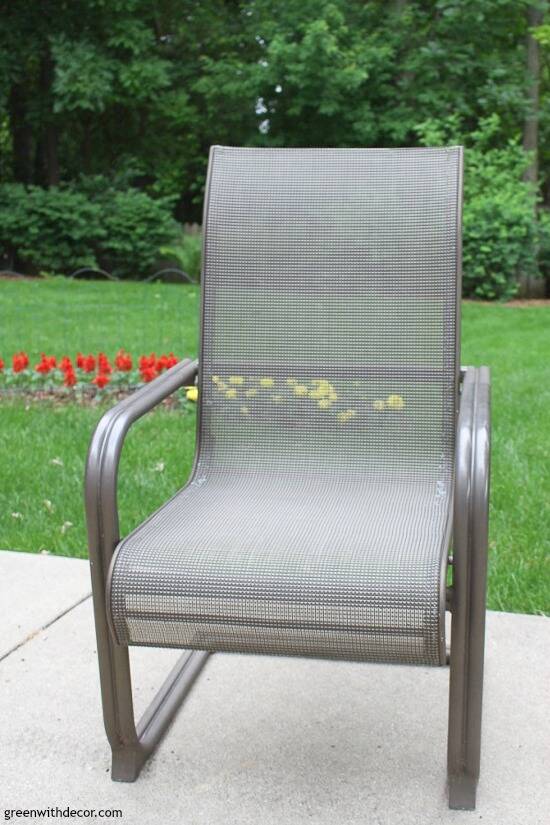 This post contains affiliate links. This means if you click the link and buy something, I may receive a small percentage of sales at no extra cost to you.
This is maybe the shortest supply list I've ever put together.
Supply list for repairing outdoor furniture scratches:
Hose or water bucket/old rag
Rust-Oleum has sooooo many spray paint colors, I'd imagine you'll be able to find one to match whatever color your furniture already is. Or you can always pick a totally new color, too.
Their hammered spray paint is perfect for a lot of outdoor projects. Plus it sticks to metal and lots of other surfaces really well.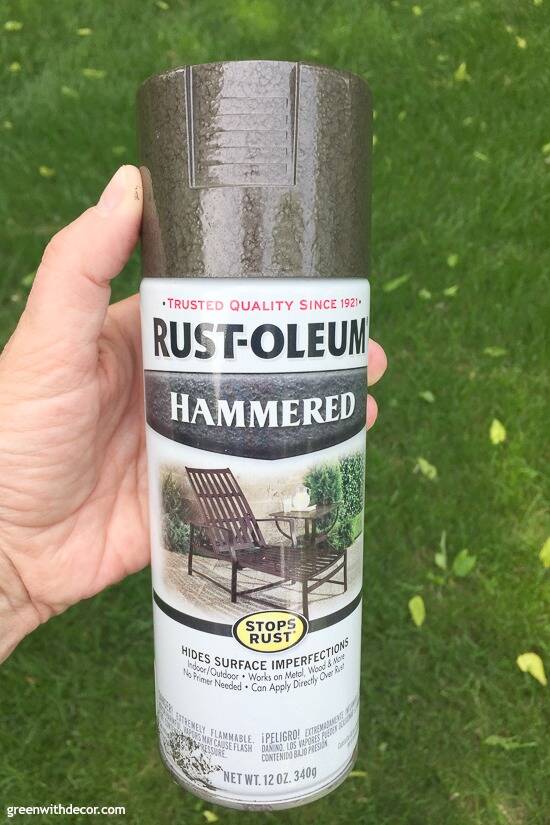 How to repair outdoor furniture scratches:
1. Sand down the chair arms.
Sand the chair's arms down a bit to smooth them down. Remember, you'll see any bumps you're painting over, so smooth down anything you don't want to see later.
2. Scrub the chair arms.
If they're dusty or dirty, just rinse them with the hose or a damp cloth, and let them dry before painting.
3. Cover the rest of the chair with plastic to protect it from paint.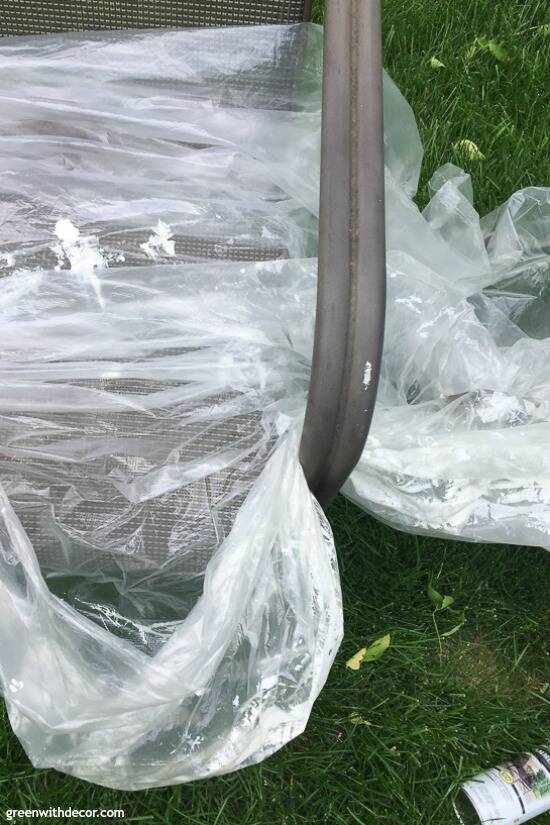 4. Spray paint the arms!
Shake your spray paint can and start spraying! Stand about 8 inches from the chair. Keep the can moving so you get an even coat of paint without any drip marks.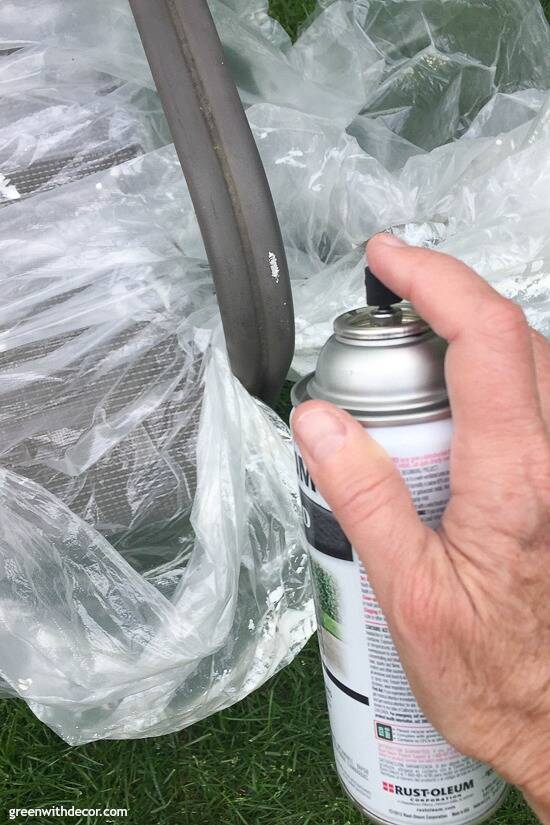 If it's super humid or damp out, it's not a great day for painting.
Let the first coat dry.
5. Do a second coat of paint.
Let it dry, and remove the plastic.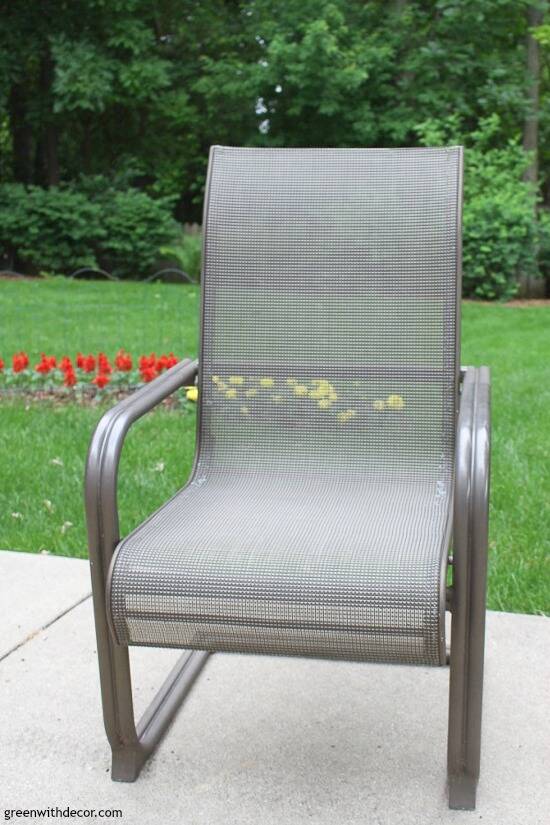 All set! Is that not the easiest outdoor project ever?!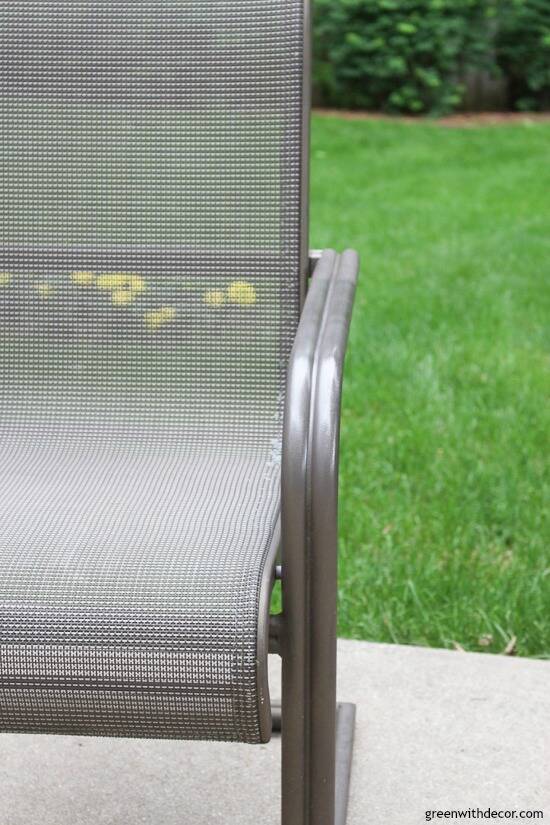 Have you updated scratched outdoor furniture? Or done any other painting outside lately?
For more outdoor painting projects, check these out:
Remember to bookmark or pin this post if you want to save it for later!

Pin it!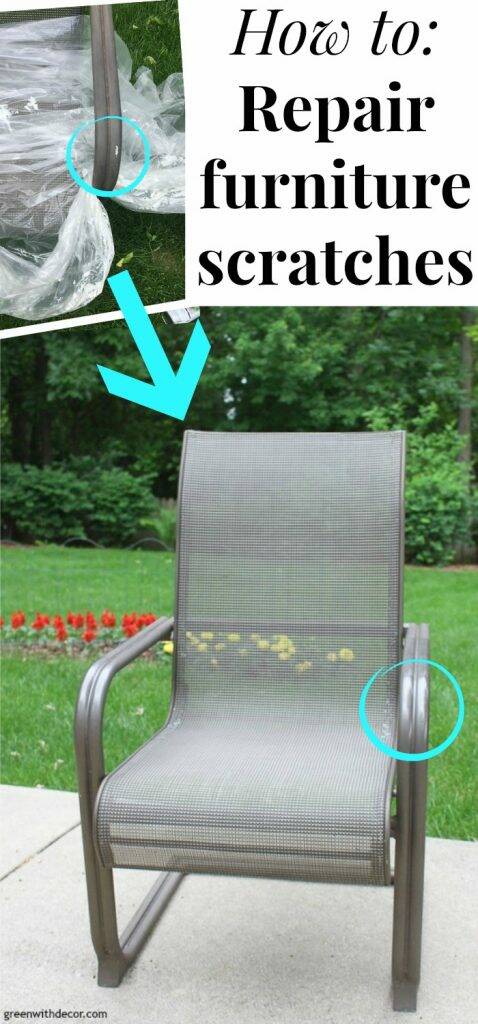 Want to read more posts like this?
Follow along: Get my emails | Facebook | Pinterest | Twitter | Instagram