Disclosure: This post is sponsored by Wagner. All opinions, images and love of painting projects are 100% mine.
One time when I was a little girl visiting my grandparents in Florida, a guy at the pool asked where we were from. When we said Wisconsin, he said "Wow, not many places get colder than Wisconsin!"
I remember thinking that was such a weird thing to say, since for all I knew, lots of places got to deal with the fun cold and snow like we did. I got a little older and realized oh, Wisconsin actually is one of the coldest places to live.
But guess what? This Wisconsin weather this fall has been PERFECT, and I do mean perfect. So perfect, in fact, that I'm still doing painting projects outside, which makes me feel just as cool as all of you southerners who have more time in the year to paint than we northerners normally do.
Don't get me wrong, I love Wisconsin. I just love painting, too!
So before winter really settles in up here (because I'm sure that cold weather won't stay away forever), I have a fun new project to share: how to use a paint sprayer. These rockers look good as new after a coat of paint!
This post contains affiliate links. This means if you click the link and buy something, I may receive a small percentage of sales at no extra cost to you.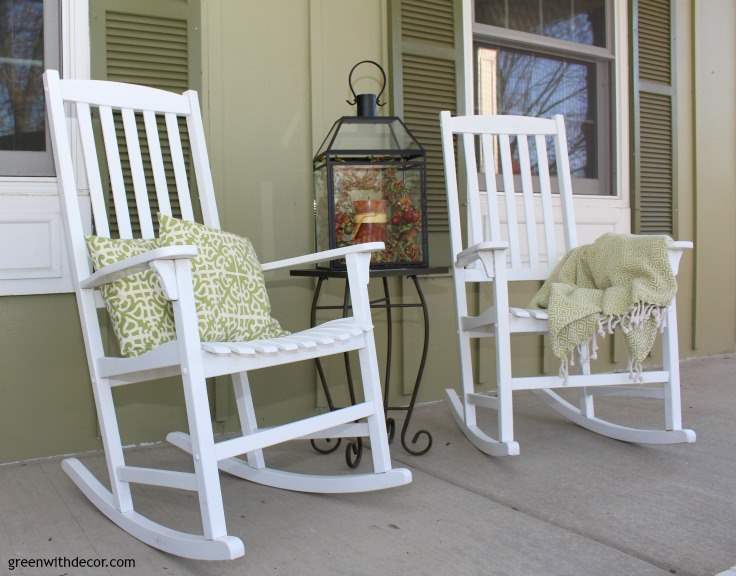 With all the painting I do around here, you'd think I would have gotten a paint sprayer a long time ago.
I'd hear about people using paint sprayers for different projects and think it sounded so cool, but it always kind of intimidated me so I just stuck to spray paint or my handy paintbrush.
Big mistake.
When I was at Haven Conference (a conference for decorating and DIY bloggers) this summer, I met the Wagner team. A friend and I were chatting with them when one of the Wagner guys said, "You guys paint so often, you have to try our paint sprayer!"
Somehow it didn't seem intimidating with the paint sprayer experts standing right there telling you exactly what to do. Funny how that works, right?
We each took a turn spraying part of a birdcage with the paint sprayer. It was so much fun. I was hooked.
I wanted to spray EVERYTHING.
I kept in touch with my Wagner friends from Haven and just used their Home Decor Paint Sprayer to give these outdoor rocking chairs a fresh coat of paint.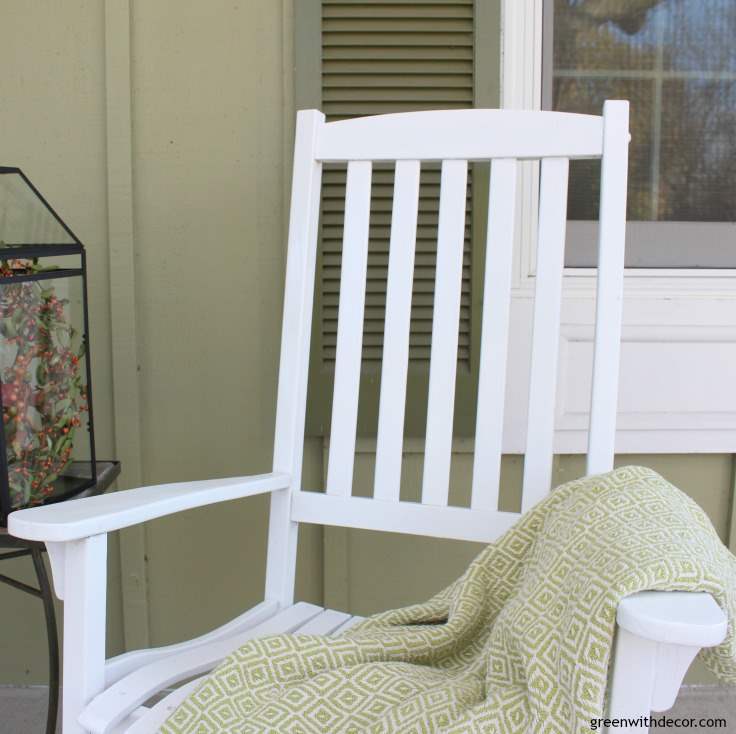 If you've also been tempted to get a paint sprayer but wondering how to use it, read on.
You're going to want to buy a paint sprayer (or put it on your holiday wish list!) after you see how easy it is.
Supply list for paint sprayer projects:
Home Decor Paint Sprayer (you can buy one here or here)
 Paint

Most paint types work with this sprayer. I chatted with a nice guy at the hardware store paint desk to get my perfect shade of white.

Water or other thinning material
White rockers (or other furniture piece of your choice 🙂 )
How to use a paint sprayer:
1. Prep your piece.
These rockers were painted white a long time ago but were definitely in need of some new paint.
They were chipped and dirty from being outside.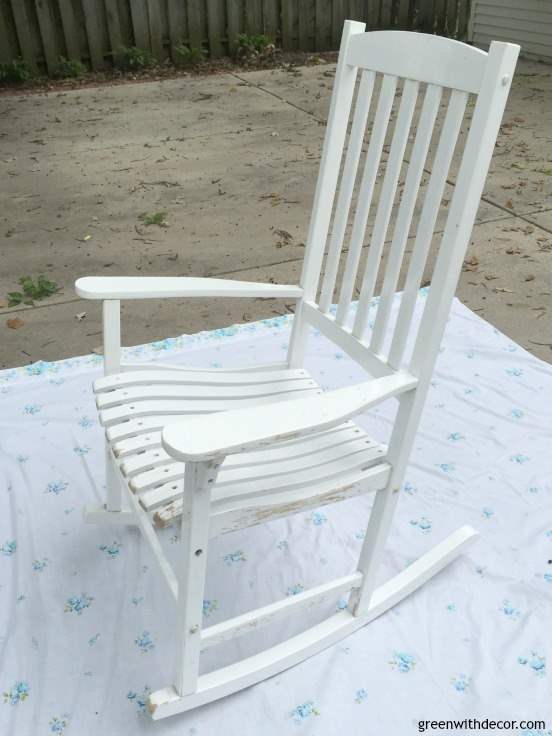 Like any painting project, sand down your piece.
Wipe it down with a damp and a clean dry cloth to get rid of any dirt.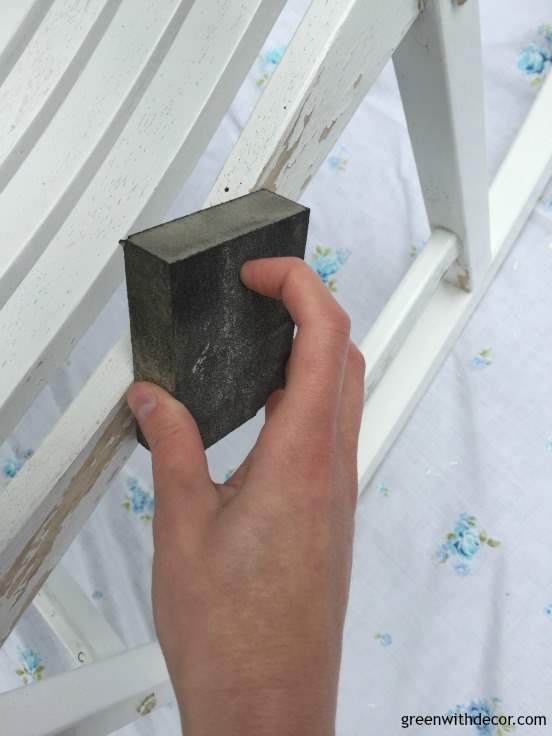 2. Assemble the sprayer part of the paint sprayer.
I'll admit I'm not always the best at reading manuals, but Wagner's was helpful here.
When you have four small pieces all attaching to the front of the sprayer, a picture of how to assemble it all definitely comes in handy.
3. Get your paint ready.
To give you some sort of measuring idea, I filled about a third of the container to cover two rockers with one coat of paint each.
You'll want to mix in about 10% of water (or other paint thinning material) with your paint so it flows easily through the paint sprayer.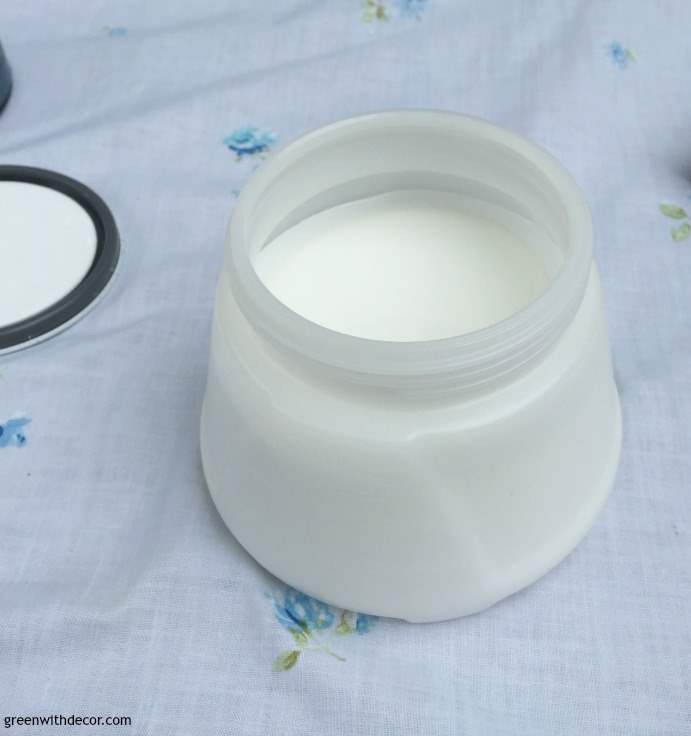 4. Line up the suction tube.
If you'll be spraying the paint downwards, the angled part of the tube should face the front of the sprayer.

If you'll be spraying the paint upwards, the angled part should be facing toward the back of the sprayer.
5. Assemble the rest of the paint sprayer.
Screw the paint container into the sprayer. Then attach the hose to both the sprayer and the base.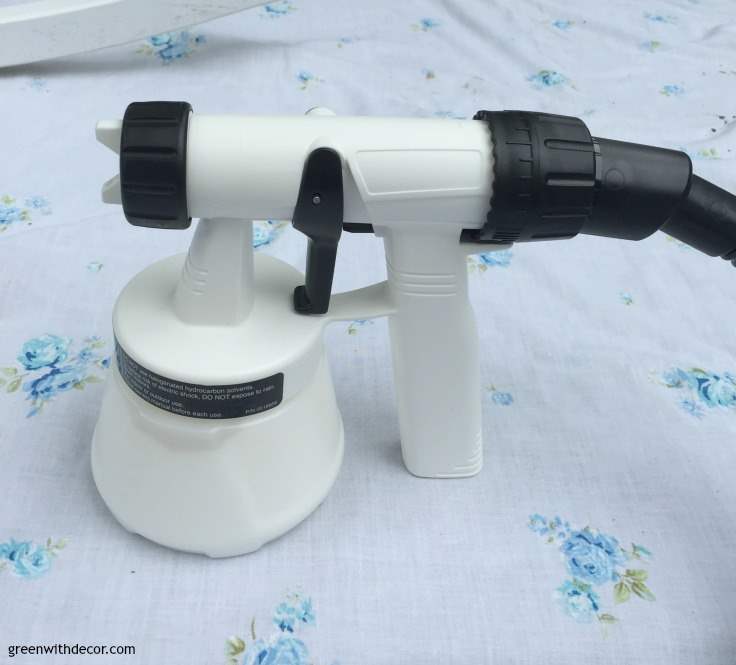 6. Adjust the air cap (the white piece pictured below).
If you're going to be moving the paint sprayer side to side (good for large pieces like a dresser), turn the air cap so it's horizontal.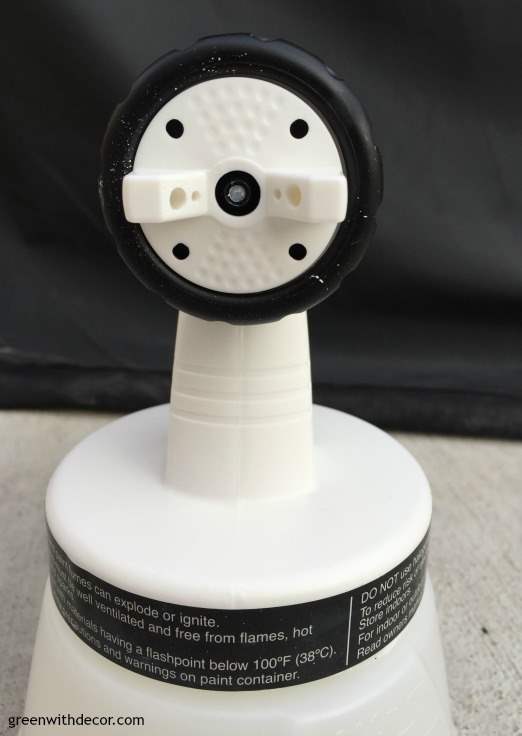 If you're going to be moving the paint sprayer up and down (also good for large pieces) or a mixture of up and down and side to side (best for narrow pieces, like these rockers), turn the air cap so it's vertical.
Given the spindles and the overall shape of the rockers, I turned my air cap so it was vertical.
7. Paint!
You may want to practice first. Grab the practice poster Wagner provides or a piece of scrap wood.
Pull the trigger and start moving the sprayer around to paint. Isn't it fun!? And easier than you thought?!
You're ready to paint your piece! And everything in sight. Just kidding. (Kind of … )
A few pointers for using a paint sprayer:
You can adjust the flow of the paint by turning the black circle piece on the top.
Get close. Seriously.
At first I thought I would be too close to the rockers, but the paint goes on best when you're closer. Think 3-6 inches away from whatever you're painting.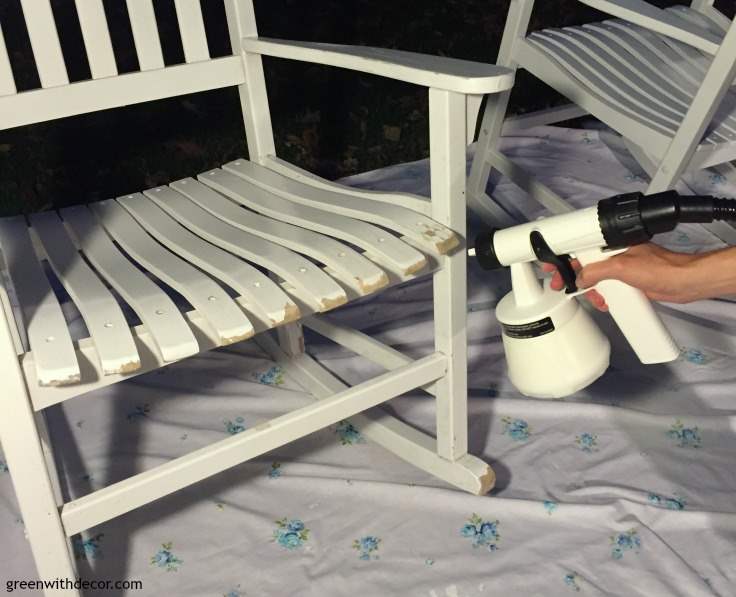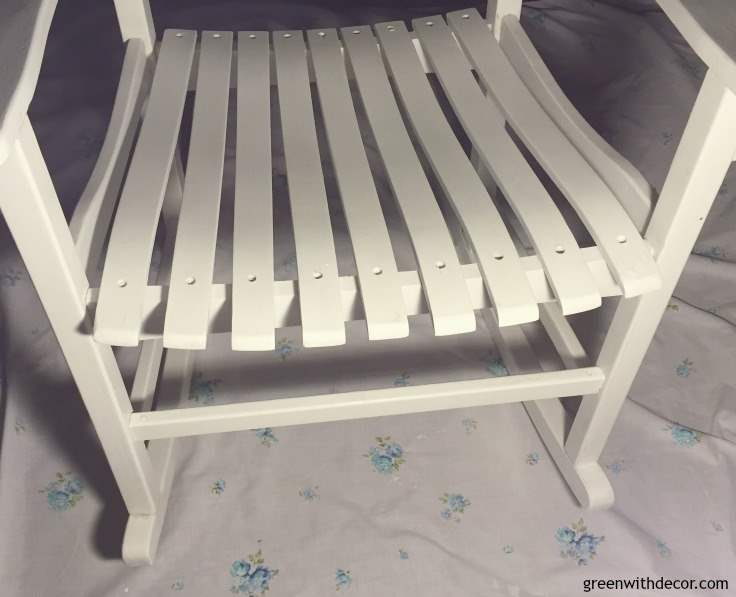 Cover the piece completely. Don't just focus on one spot and then move to another spot. You'll end up with too much paint in one area.
Keep it moving and give the whole piece a coat, let it dry and cover it with a second coat.
Giving the two rockers a coat of paint took about 20-30 minutes.
If that doesn't make you want to run out and get a sprayer, I don't know what will. Anything that makes projects move faster makes me happy!

8. Clean the paint sprayer.
The sprayer does take a bit more clean up than other painting options, but even so, the amount of time it saves you painting more than makes up for it.
Take the whole sprayer apart and clean with warm, soapy water, washing away any paint.
Then enjoy your beautifully painted project!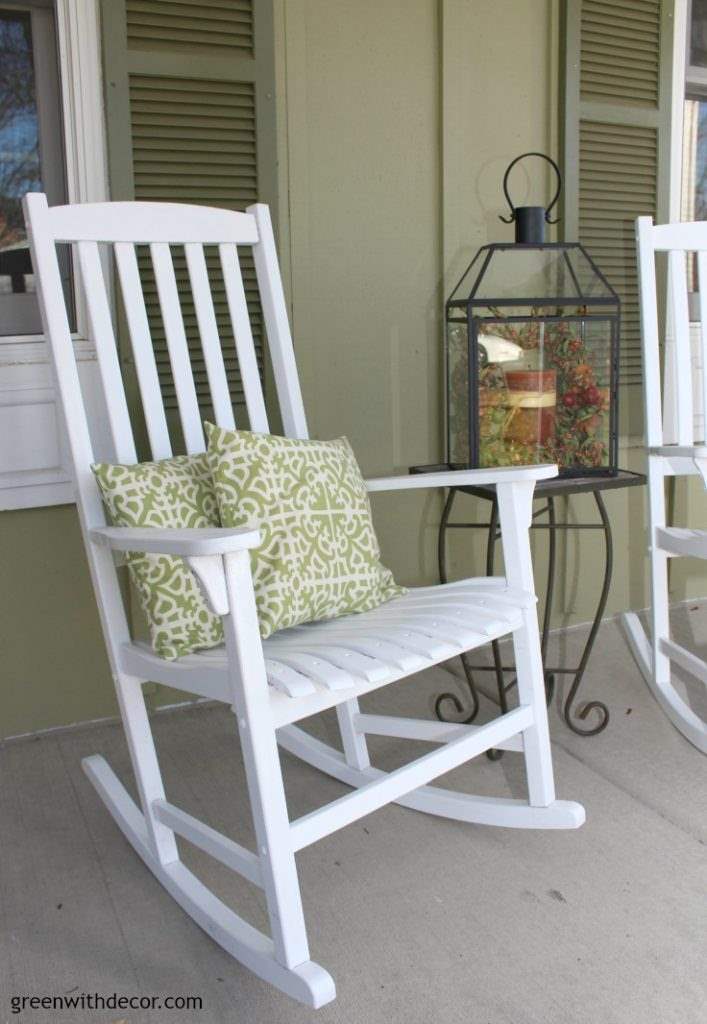 Now aren't these just the perfect place to sit and enjoy this beautiful fall weather?!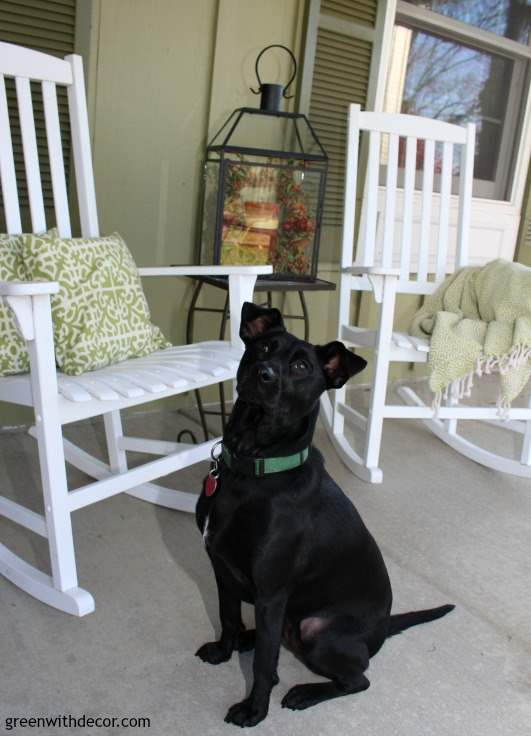 GET THE LOOK: White rockers | Pillows | Blanket
Of course Oakley was hanging around while I was taking pictures.
Who else wants to paint everything now? Once you know how to use a paint sprayer, it becomes addicting!
If you want to see more paint sprayer projects, check these out:
Remember to bookmark or pin this post if you want to save it for later!


Pin it!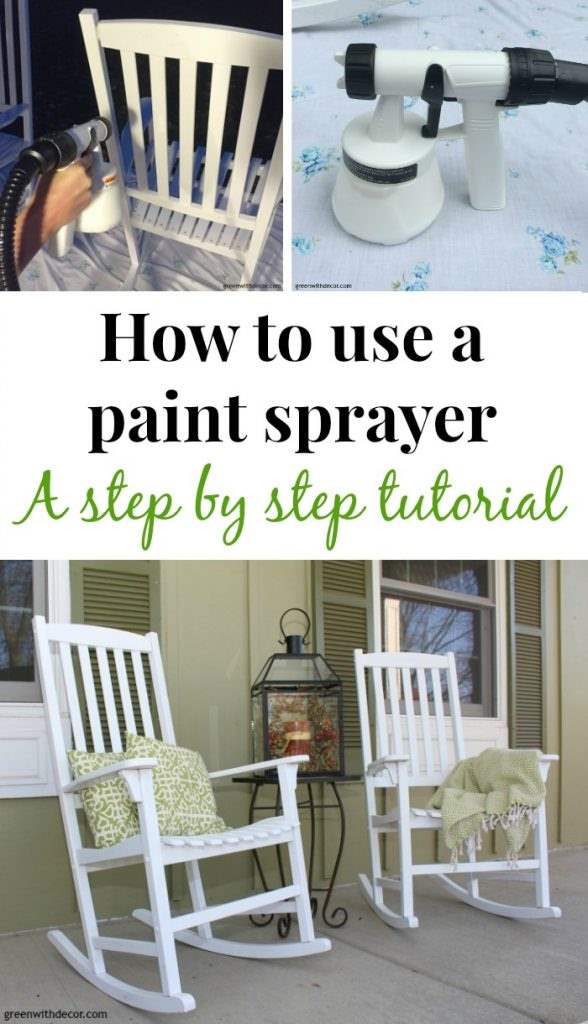 Want to read more posts like this?
Follow along: Get my emails | Facebook | Pinterest | Twitter | Instagram