If you want to spray paint plastic planters for an easy DIY, just follow this tutorial to give your yard a new look. Be sure to use the best spray paint for plastic planters.
Summer is here, which means outdoor painting projects!
We haven't done the most landscaping, but my parents are on it, and their yard looks awesome.
My mom just spray painted outdoor planters, and as always, it's amazing what a little paint can do to make something look brand new.
I'm a firm believer Rust-Oleum is the best spray paint for plastic planters. Just look at how gorgeous the planter looks after a couple coats of paint!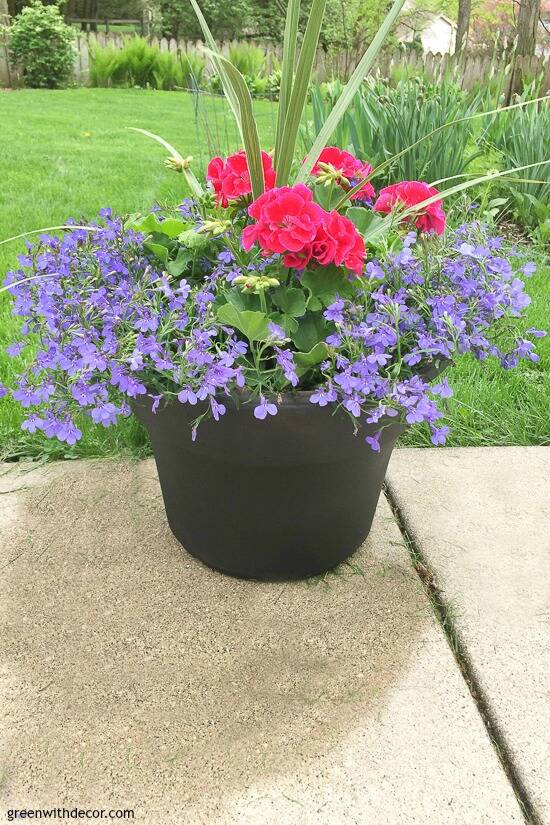 Here's the before. They were fine, just not the color my mom wanted. And paint is cheaper than buying new.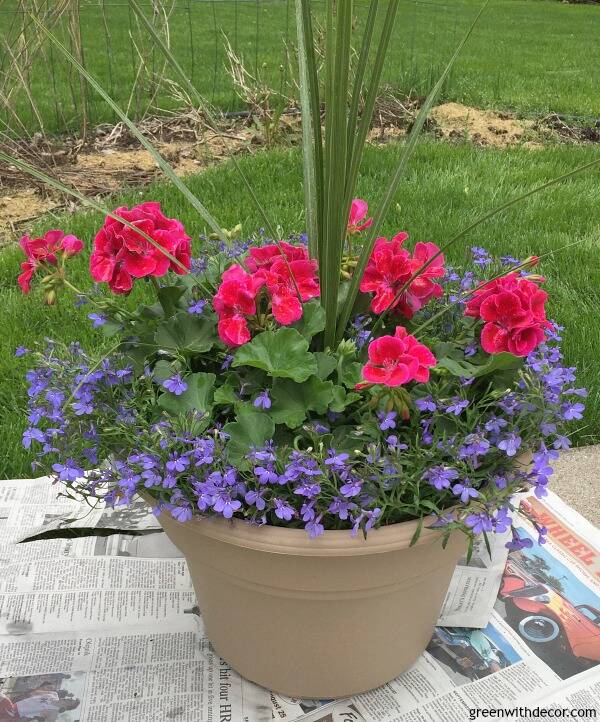 This post contains affiliate links. This means if you click the link and buy something, I may receive a small percentage of sales at no extra cost to you.
Supply list to spray paint plastic planters:
Drop cloth or old newspapers
Plastic covering (if you've already planted inside the planters)
Painter's tape (if needed for plastic)
How to spray paint plastic planters:
1. Wipe down any dirt or dust.
Especially if the planters have been sitting in the garage attic all winter, wipe them down with a damp cloth or spray them down with a hose.
Make sure the planters are dry before you start any painting,
2. Cover any plants/dirty inside the planters with plastic (if needed).
Perfect for those of us who decide halfway through a project (or after the planting is all done!) that the outdoor planters should actually be a different color. Just wrap up the plant inside to protect it from paint.
Either tuck the plastic into itself so it stays or use painter's tape to adhere it.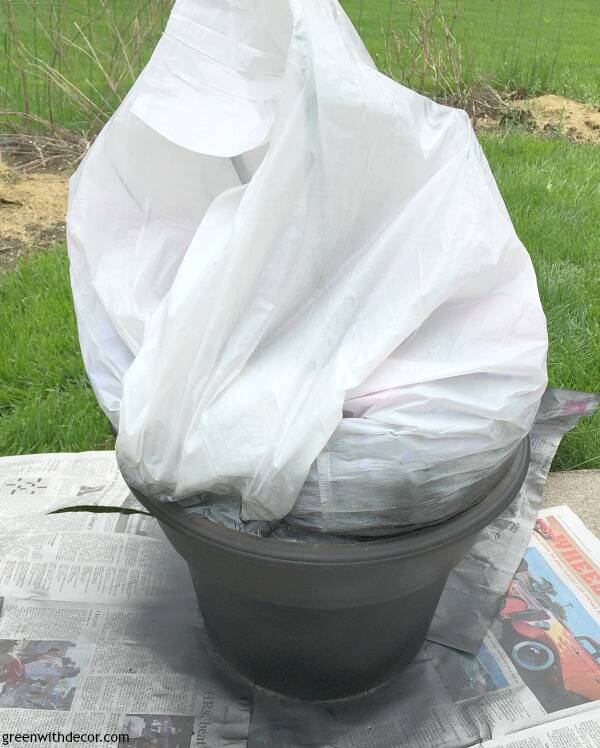 If you plan ahead, it'd be easier to paint the planters without anything in them, but otherwise plastic works just fine.
You might want to take some of the top dirt out and set aside while you paint so you can paint the top inside of the planter – just the part you'll see. Then put the dirt back in when the paint is dry.
3. Spray paint the planter(s).
I think the best spray paint for plastic planters is Rust-Oleum's Universal Paint and Primer in one. It adheres so well to several surfaces, including plastic, and gives coverage that lasts.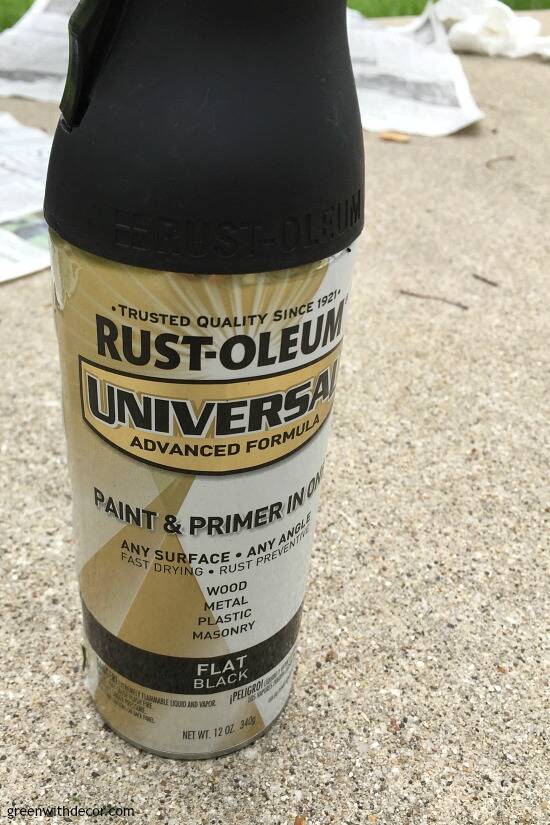 Shake your spray paint can. Then stand with the can about 8 inches away from the planter, and start spraying. Move the can back and forth across the outdoor planter to cover it with an even coat of paint.
Keep moving to avoid drip marks.
Note, if it's really humid or damp out, it's probably not a good day for painting.
Let the first coat dry.
4. Do a second coat of paint.
Let it dry again. Take the plastic off the top (if you used any).
5. Flip the planter upside down to paint the bottom or, if it's filled with dirt already, skip this step and paint the bottom at the end of the season.
Let it dry, and you're all set!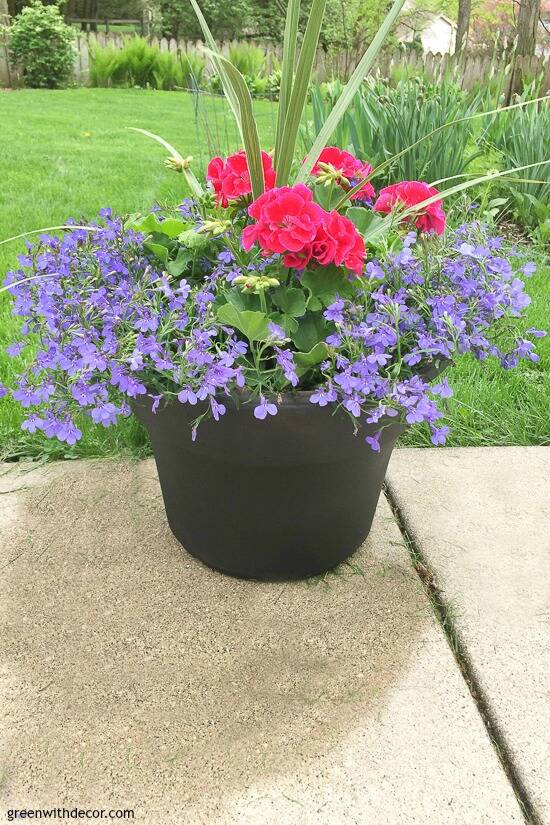 Do you have any outdoor projects on the to-do list this summer? What's your favorite spray paint for plastic projects?
If you want more outdoor painting projects, check these out:
Remember to bookmark or pin this post if you want to save it for later!


Pin it!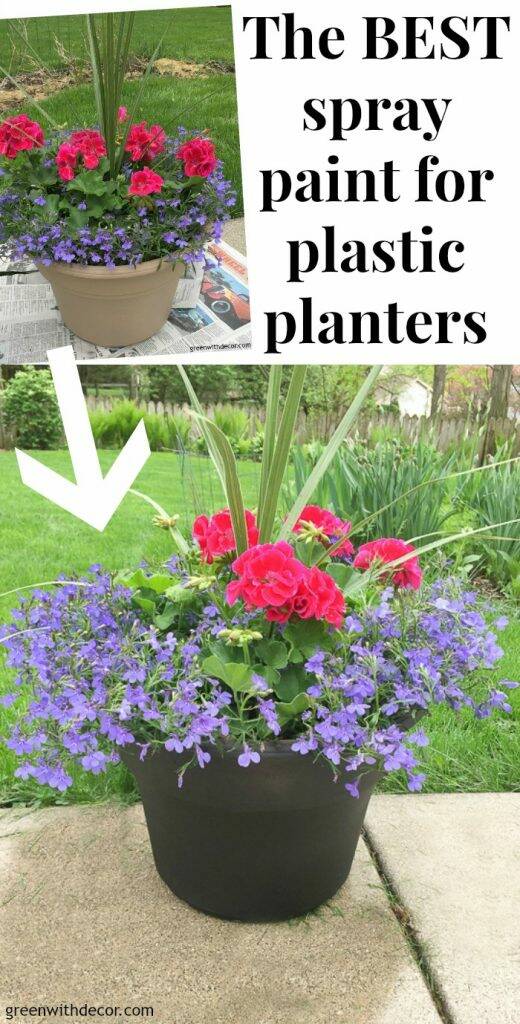 Want to read more posts like this?
Follow along: Get my emails | Facebook | Pinterest | Twitter | Instagram