An honest VIMLE IKEA sofa review, including configurations, design, comfort, durability, cleaning tips, kid-friendliness and more.
We've had our IKEA VIMLE sofa for a year and a half now, and I often get questions about how we like it. So I figured it was time for a VIMLE IKEA sofa review.
A year and a half is a long enough time to know if you really like something after living with it, right?!
(This post isn't sponsored by IKEA at all. We bought the couch ourselves.)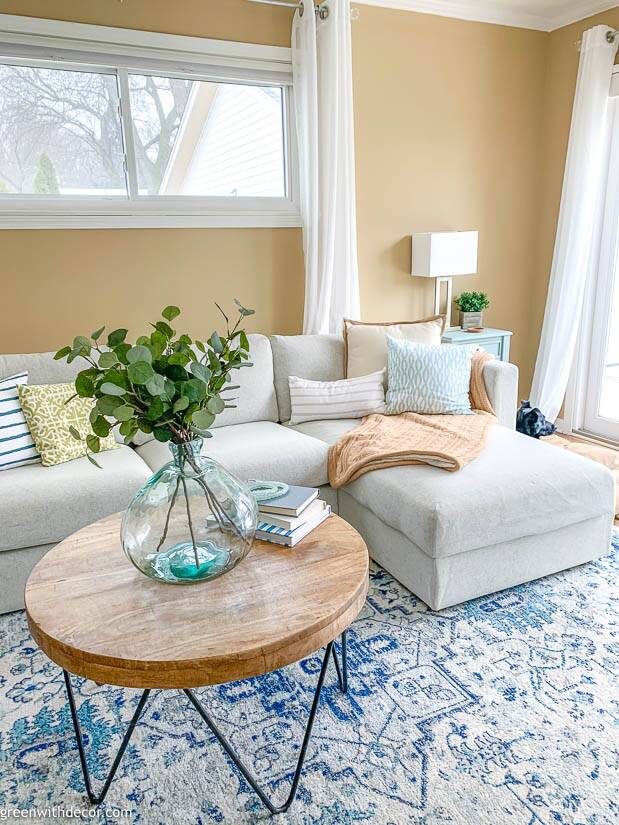 This post contains affiliate links. This means if you click the link and buy something, I may receive a small percentage of sales at no extra cost to you.
Short answer? We're really happy with our VIMLE IKEA sofa.
It's comfortable, the price is right, it's easy to clean, and it's perfect for the life stage we're in (baby spit-up, toddlers jumping and snacking, dog shedding, etc.) where we really don't want to stress about keeping expensive furniture clean.
I'll dive into more detail below.
VIMLE IKEA sofa review
For reference, we have the 3-seat with chaise in the Gunnared beige color.
Sofa configurations:
One of the best things about the VIMLE sofa is that you can configure the sofa to fit your exact space.
You can get a 3-seat, 4-seat, with/without chaise or turn the VIMLE into a sectional. You can also put the chaise on either side of the couch.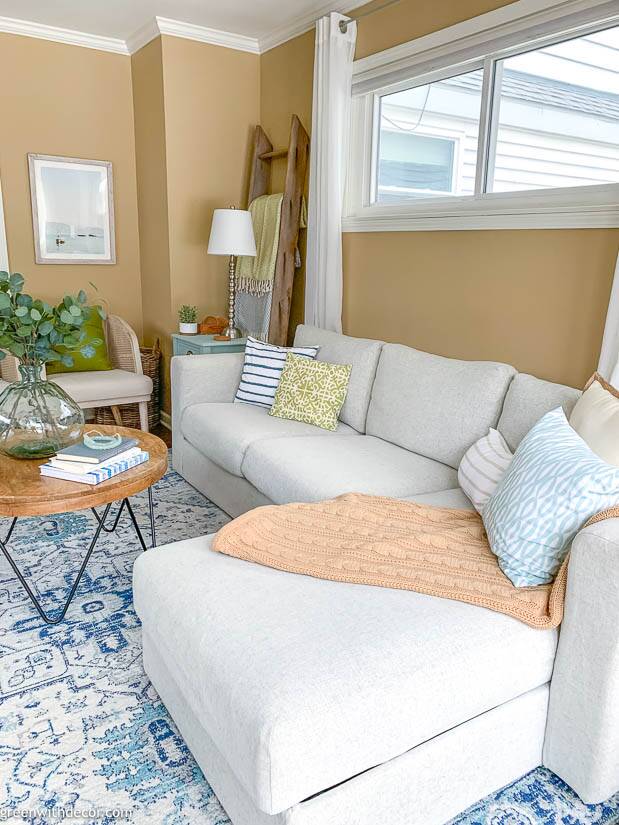 Color:
We have the Gunnared beige color, which honestly, is a weird name for the color because it's actually a light gray fabric.
Once you get past the weird name, it's a great color. It's a nice blended look, which is awesome for hiding dirt and dog hair.
Here's a closeup: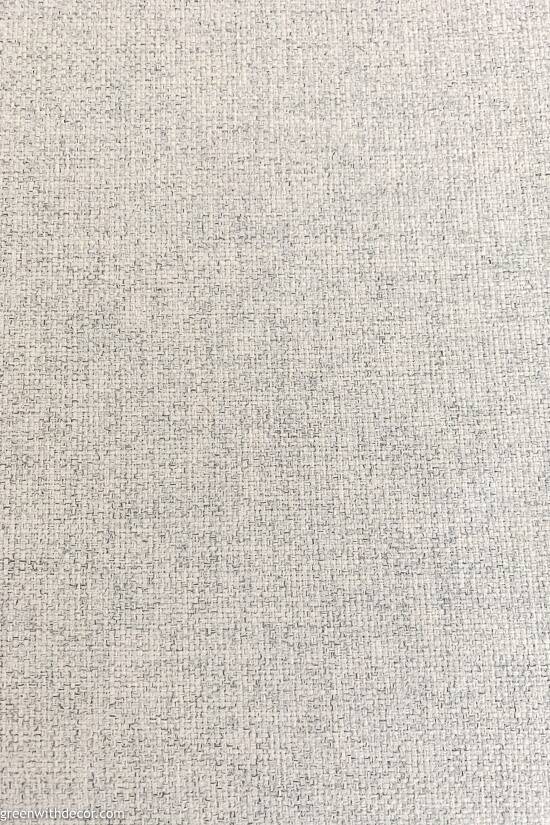 This is the lightest colored couch we've owned, so I was a little nervous but was also super sick of a dark couch. It's turned out to be a great color for us thanks to the durability of the fabric.
The VIMLE slipcovers also come in various shades of gray, beige, black and brown – all great neutral options. You can see the exact colors here.
Design:
Something I really like about the VIMLE IKEA sofa is the sleek, low-profile.
So many sectionals or couches with chaises are just BIG and can overpower a room. The VIMLE has a great small design while still being comfortable.
Comfort:
The VIMLE IKEA sofa is really comfortable. We spend a lot of time (especially this year) sitting on the couch to read, work, watch TV, chat, etc. It's also a comfy spot to lay down.
Probably my only complaint about our sofa is that the back cushions are a little low compared to a lot of other couches.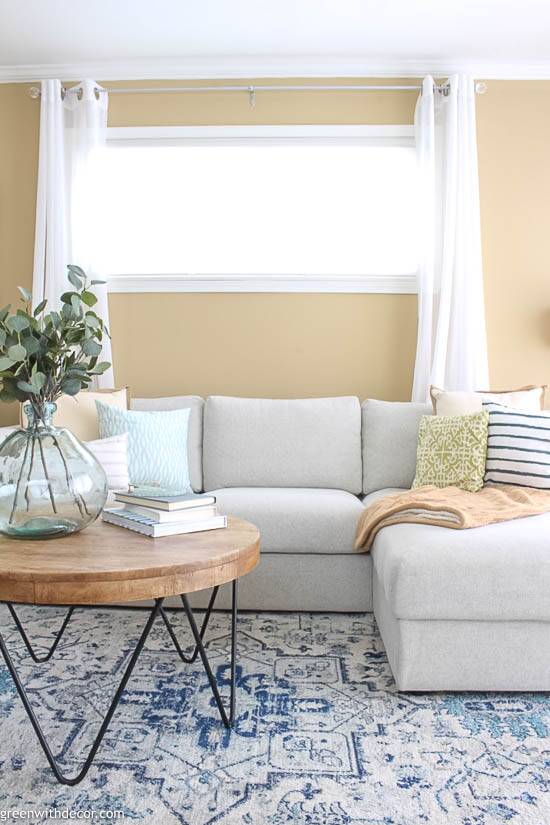 But after a few weeks, we didn't even notice it anymore. It's just one of those things you may not be used to at first, but then you realize it doesn't really matter.
Durability:
We've used this couch pretty much daily for the past year and a half, and it has held up great.
Cleaning – washing:
When we bought our VIMLE IKEA sofa, I sprayed Scotchguard all over it to prevent stains from sinking in. It's worked great.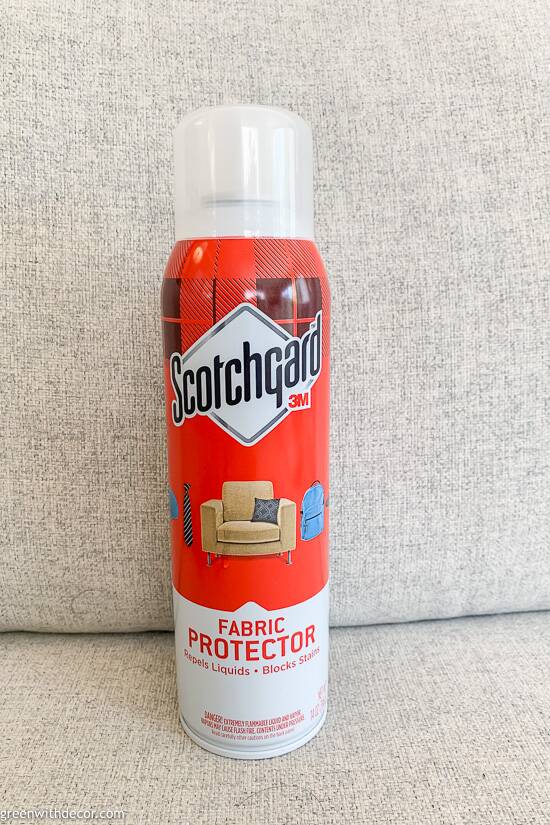 (I also sprayed our cane chairs and bench, and we haven't had any problems with spills not coming out.)
This is our first couch with slipcovers, and I know people have strong opinions on if this is a great idea or a terrible one, so I was curious to try it out. Honestly, we really like them.
They're not a pain to get on and off, which was one of my bigger concerns about the sofa. I know if they were a pain, we'd never take them off, ha. They're easy to throw in the wash, and it's nice knowing your couch is actually clean.
I like being able to just throw one slipcover in, too, instead of dealing with all of them if only one is dirty.
We don't dry the slipcovers. I've heard you can, but I'm afraid of them shrinking / loosing their shape, so we always play it safe and just air dry them. This isn't based on anything other than I air dry a lot of wash because I hate when things shrink.
Cleaning – vacuuming:
We have a specific blanket that has to be on the sofa in order for Oakley to jump up, but even so, dog hair inevitably ends up all over the cushions.
I use the handheld attachment from this vacuum, and it's great at sucking up the dog hair from the sofa.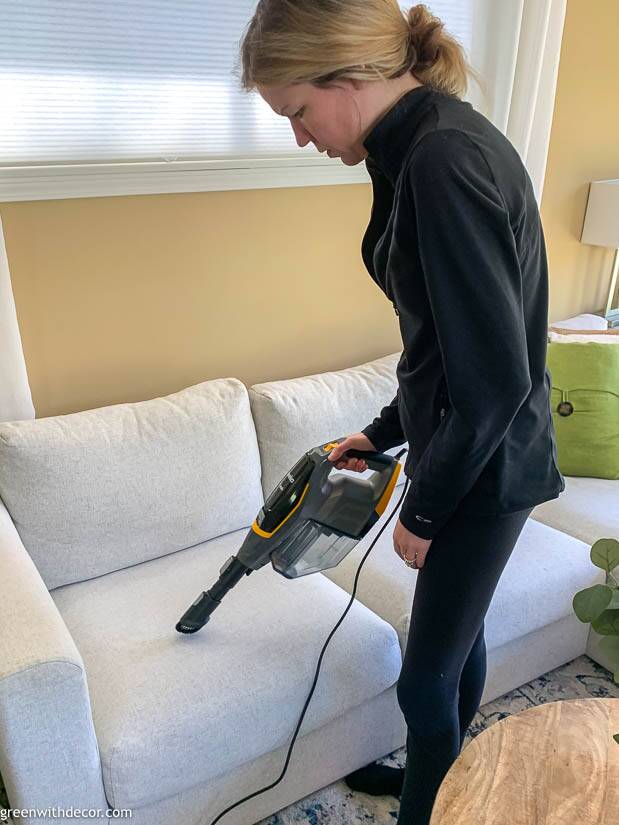 It's also great for sucking up all those toddler snack crumbs.
Kid-friendly:
One of our biggest needs at this point in life is kid-friendly. Our toddler can jump all over this couch and eat snacks on it, and we don't care. That peace of mind is awesome.
We know the couch is easy enough to clean and if some terrible stain does happen at some point, it's really fine. The sofa wasn't expensive, and it will probably end up in our (not yet finished) basement rec room at some point anyway.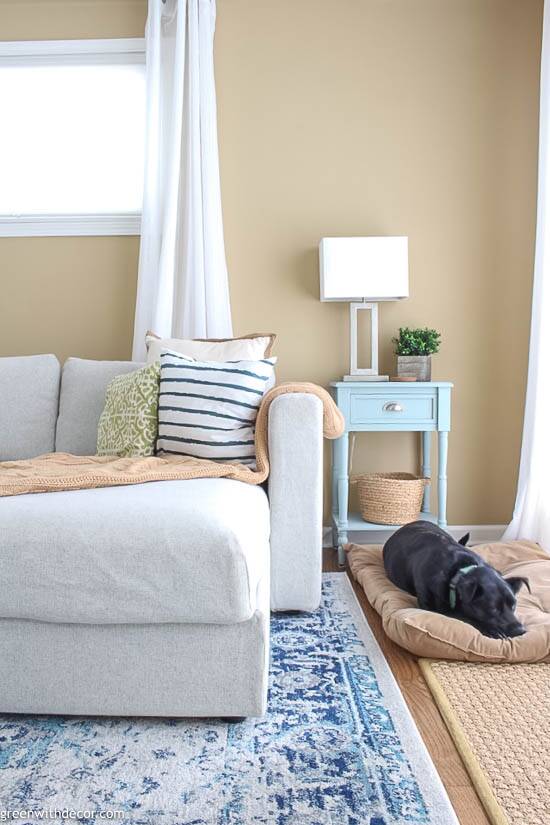 Storage:
One of my fave things about the VIMLE IKEA sofa is the hidden storage under the chaise. It's such a fun bonus!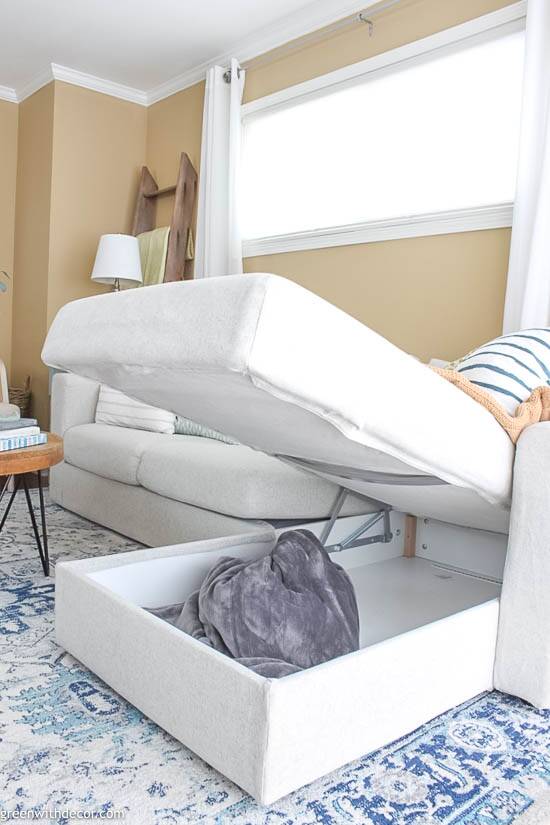 It's perfect for keeping nice blankets away from dirty toddler hands and shedding dogs. There's no difference in comfort between sitting on the chaise (above the hidden storage) and sitting on our other two cushions.
Delivery and assembly:
We did opt for IKEA"s delivery on this one, since the couch comes in a lot of pieces. Keep in mind, the delivery is a flat fee, so if there's anything else big from IKEA you've been eyeing, just buy it all together and have it delivered at once.
Kalen put the whole sofa together and says it wasn't bad. (I'm not really sure what I was doing at the time, but since we were moving with a colicy newborn, it's safe to say I was busy with something.)
Overall, we're really happy with our VIMLE IKEA sofa. I'd definitely buy it again! You can see more about it on IKEA's website.
GET THE LOOK:
Since a popular question I get is "Where'd you get that?!," here are links to the same or similar sources:
You can see more of our casual coastal family room here.
I hope you find this VIMLE IKEA sofa review helpful!
Remember to bookmark or pin this post if you want to save it for later!


Pin it!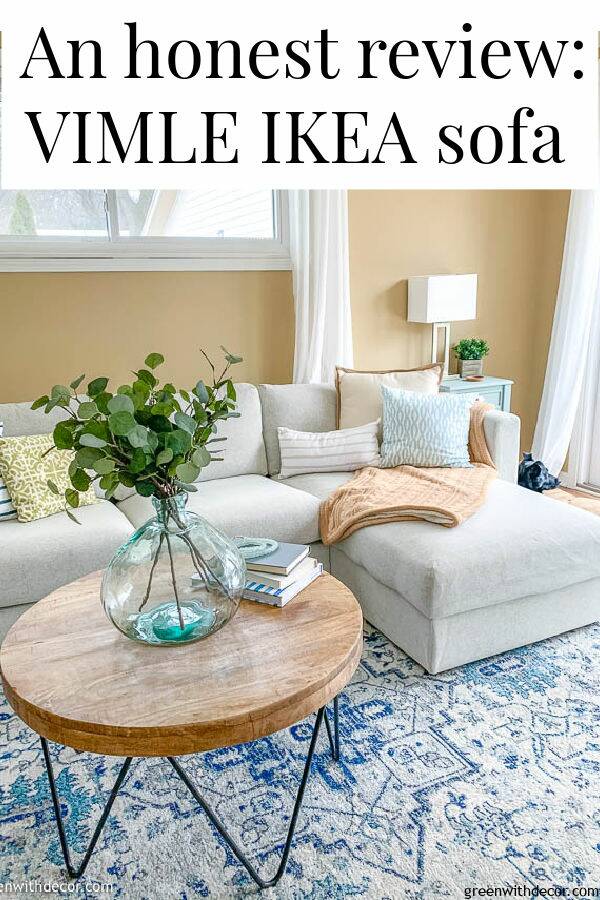 Want to read more posts like this?
Follow along: Get my emails | Facebook | Pinterest | Twitter | Instagram