Disclosure: This post is sponsored by At Home. All opinions, images and love of Christmas decor are 100% mine.
If you've been on the blog at any point in the past few weeks, you may notice I loveeeee Christmas!
I decorate for seasons throughout the year, but Christmas is always the biggest. A lot of our everyday decor pieces head into the basement for the holidays because there's just not room for them with all the ornaments and Santas and lights.
It's the only time of year I take everything off the ladder shelf and start from scratch. The shelf ends up looking a bit different every Christmas, which makes it fun.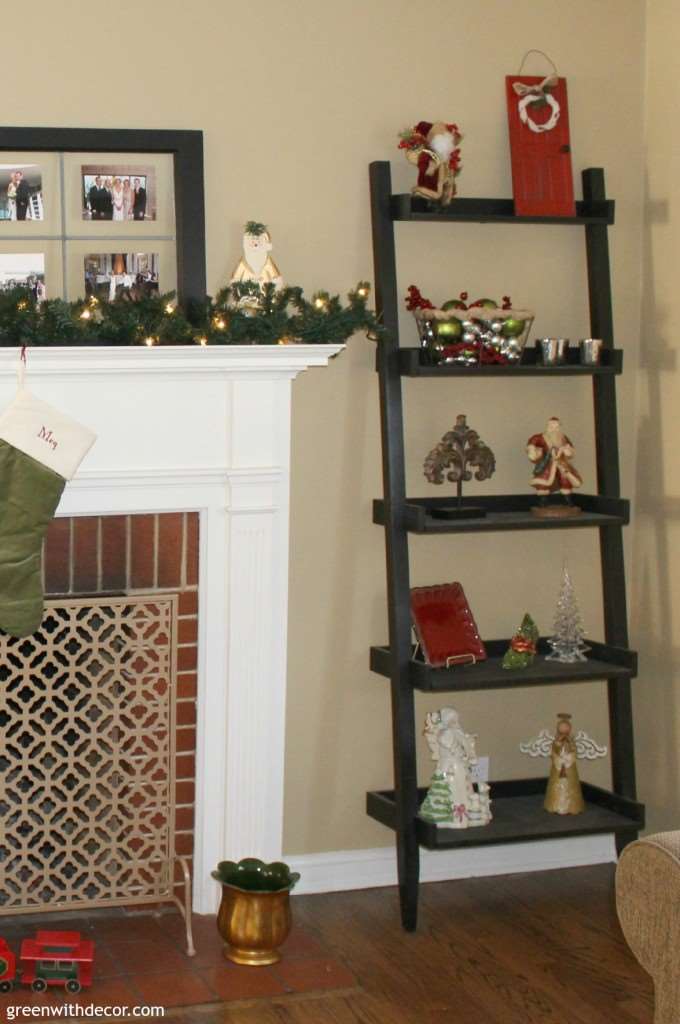 Here are my tips for styling a ladder shelf for Christmas:
1. Start with the biggest pieces.
This usually means starting at the bottom, especially on a ladder shelf, when the bottom shelves are much wider than the top.
The white Santa always ends up on the bottom shelf because he's the biggest.
2. Stick with a color scheme.
I use a lot of red and green to decorate with anyway, so Christmas is prime time for red and green around here. But I also like mixing in neutrals.
I found these green and silver ornaments, red berries and fun wire basket (which will definitely be staying out year round) at At Home, which just opened its first store in Milwaukee.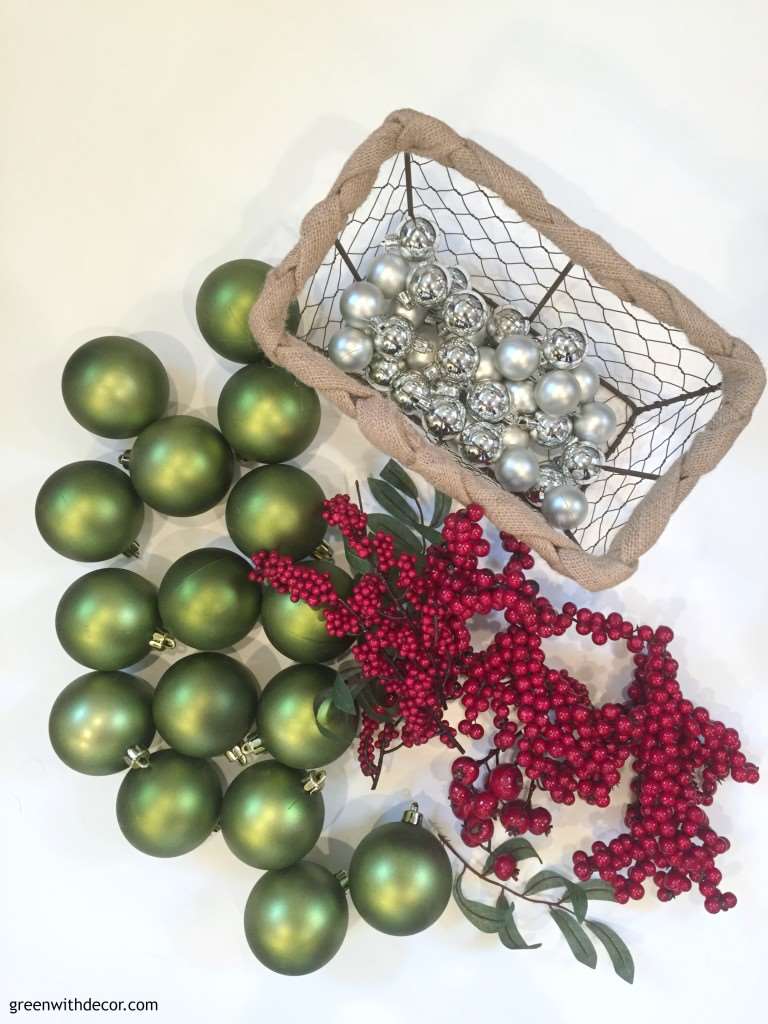 So I put them all together, and I love how it turned out: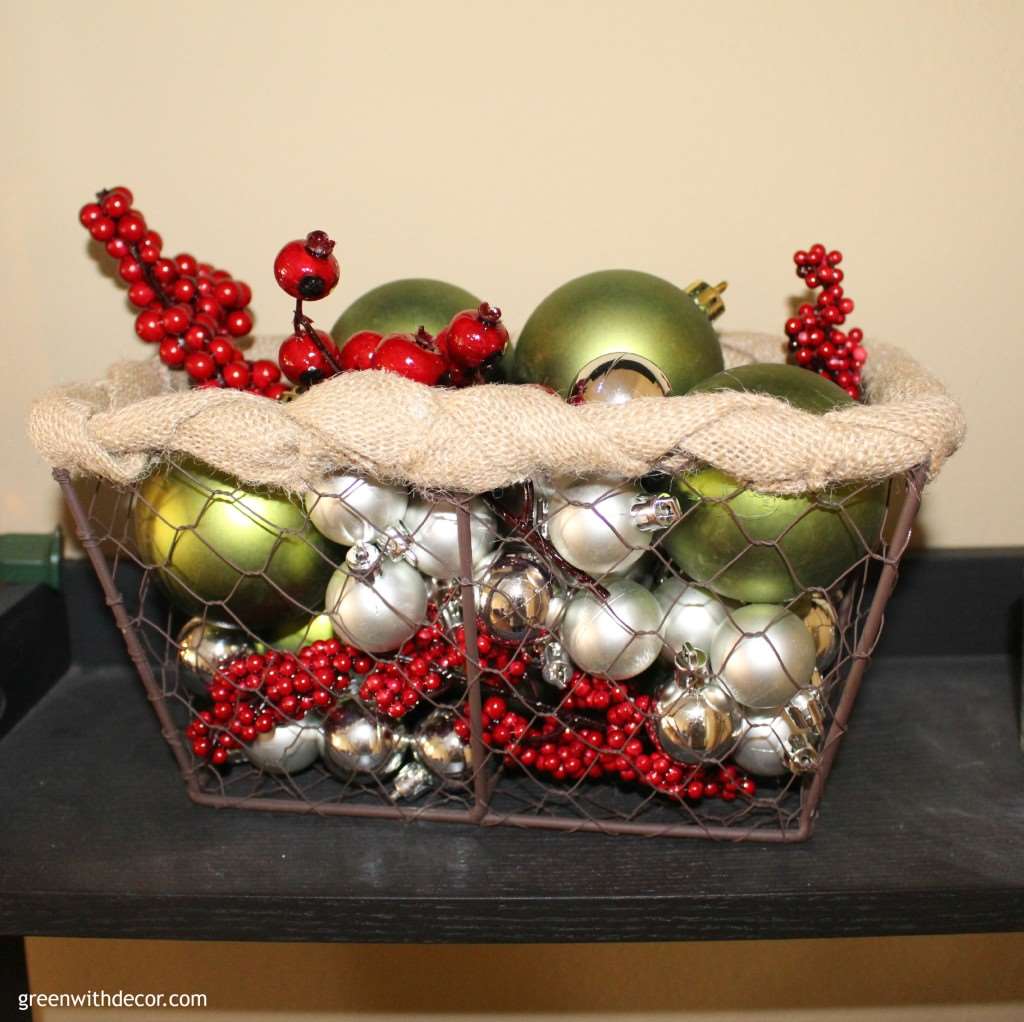 If you haven't been to At Home yet, go check it out. They have everything for your home in every color possible, and their Christmas decor section is awesome. They even have an upside down Christmas tree!
I also loved their outdoor section, which I'll definitely be hitting up in the spring.
I had some extra berries left over after I finished arranging the basket. You may have spotted them in a few places in my Christmas home tour earlier this month: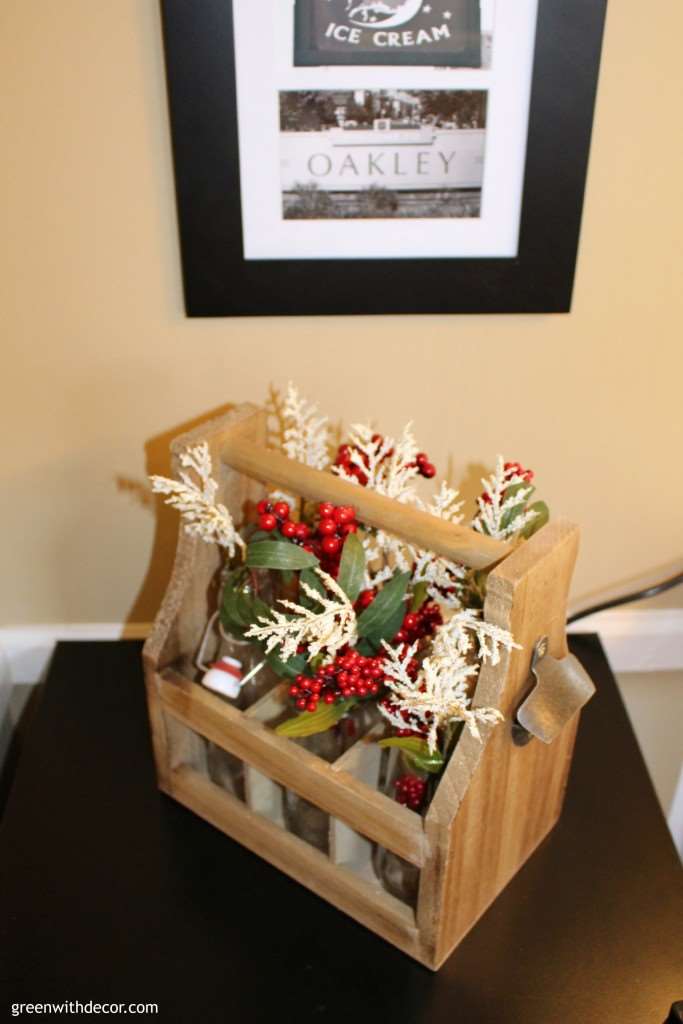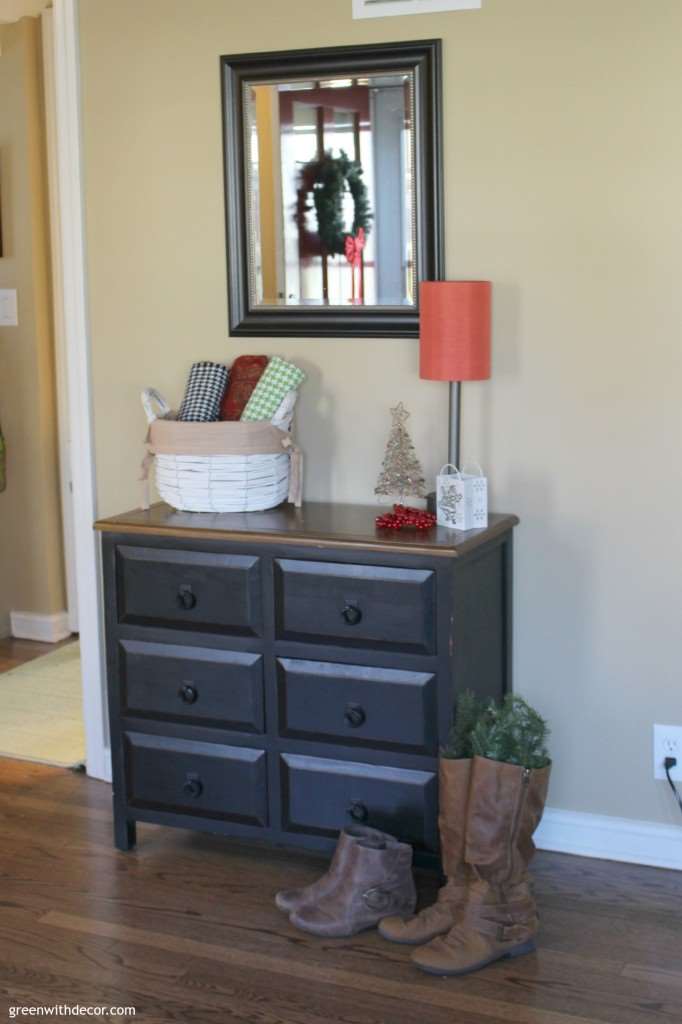 They work well in so many places!
I also had some leftover green ornaments. Never one to let green decor go to waste, I filled up this brown basket with them, too.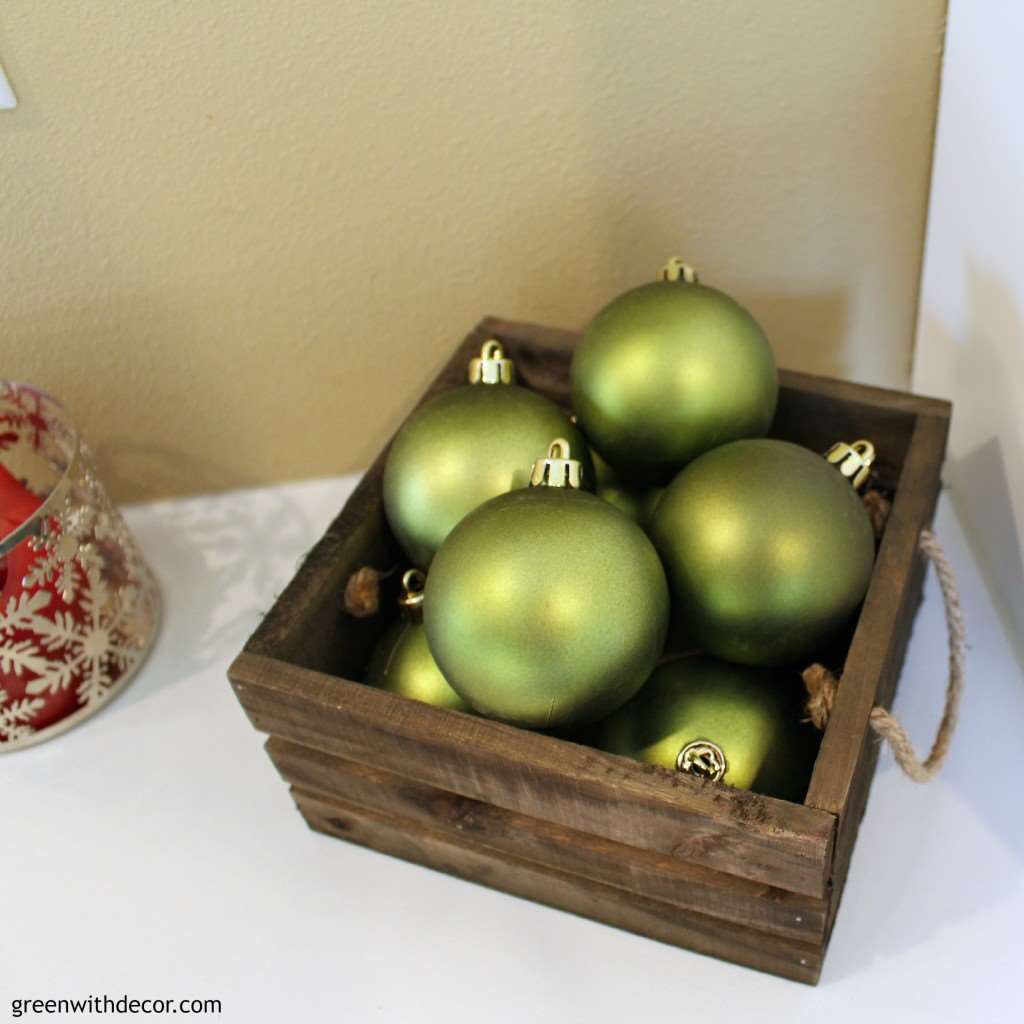 3. Use pieces that mean something to you.
I like this decorating rule all the time, but especially at Christmas.
I love using my grandparents' old Christmas decorations, and some of them always end up on the ladder shelf.
Those Santas are from them, and so is that cool green glittery shoe.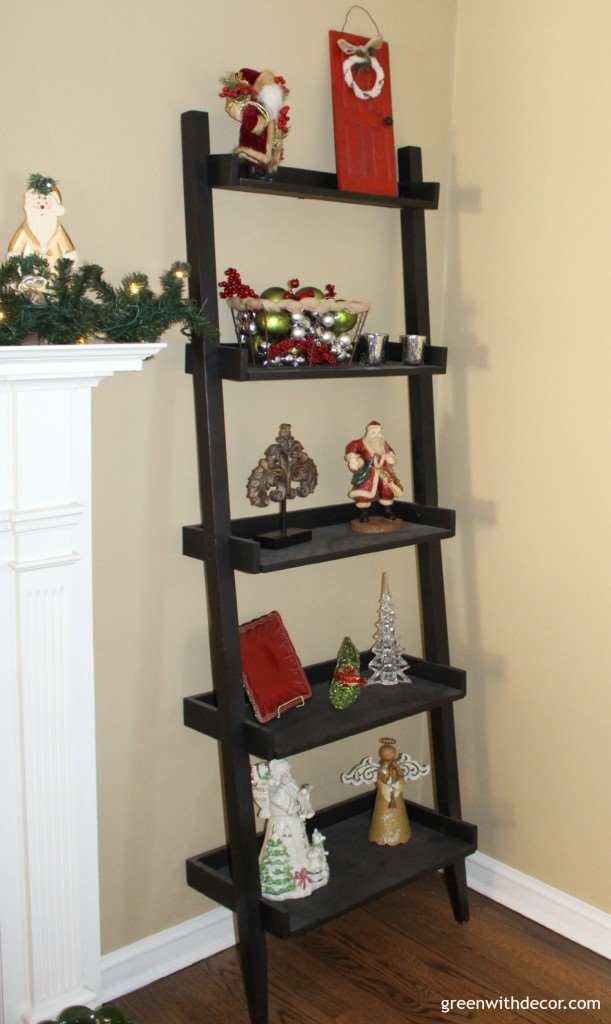 I love mixing old and new items together. It's fun to look at the pieces and remember where each of them came from.
4. Strategically place different shaped items.
I'm using everything from the see-through basket with circle ornaments and Santa figures to a crystal Christmas tree and a square plate.
I set them up so the shapes are on alternate sides of the ladder shelf. I have the Santas on opposite sides, and the door is opposite the basket on the shelf under it, since both are the bulkier of the items on their individual shelves.
5. Don't be afraid to go tall
I wanted to hang this cute little red door (another At Home find!) where the MERRY sign is in our kitchen. During the rest of the year, we have an 'H' hanging there, so there are already nail holes drilled.
Well this red door wasn't big enough to cover both the nail holes from the 'H' so I had to do something else with that wall and find a new place for the red door.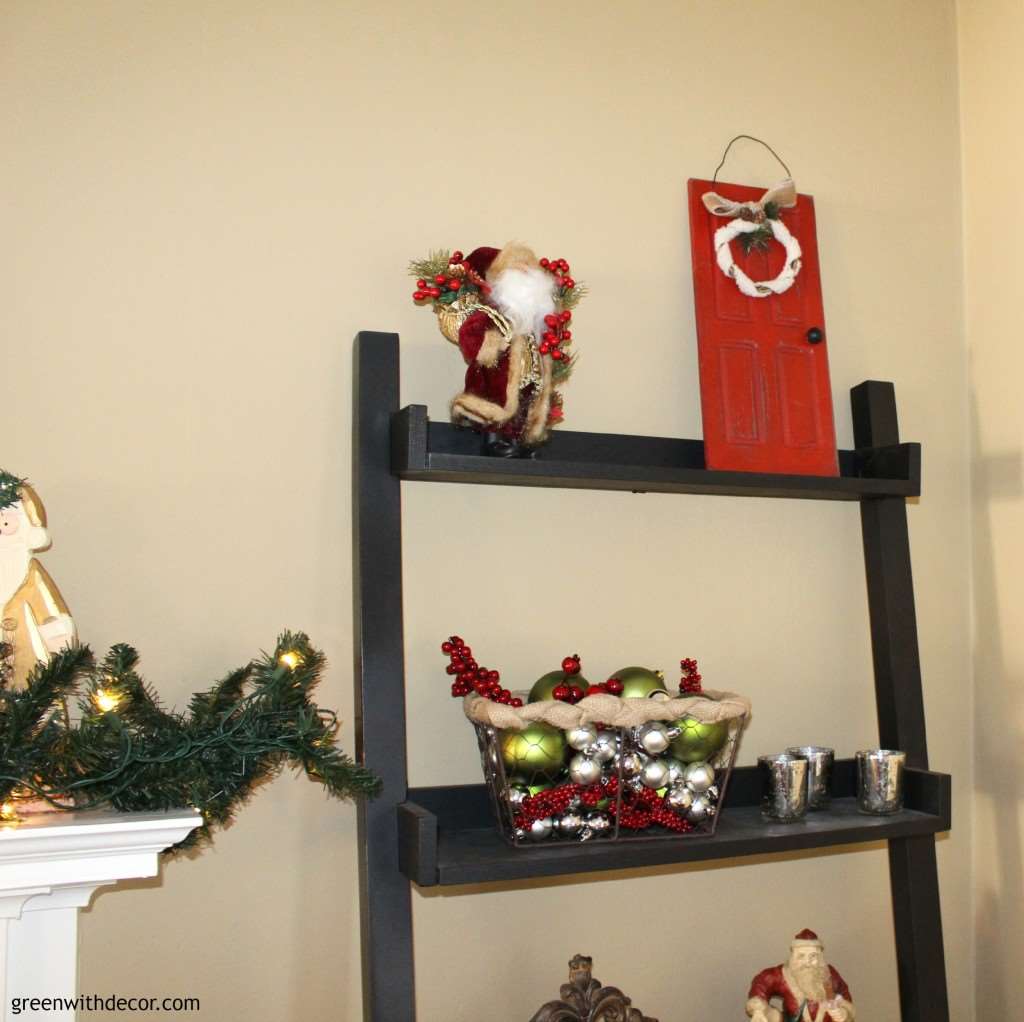 I'm not sure I've ever had anything this tall on the top shelf of the ladder, but I love it! I'm glad it ended up there. Isn't that white wreath so cute?!
(And the MERRY sign looks great in the kitchen – win-win!)
How do you decorate your shelves for Christmas?
For more Christmas decorating ideas, check out these posts:
Remember to bookmark or pin this post if you want to save it for later!


Pin it!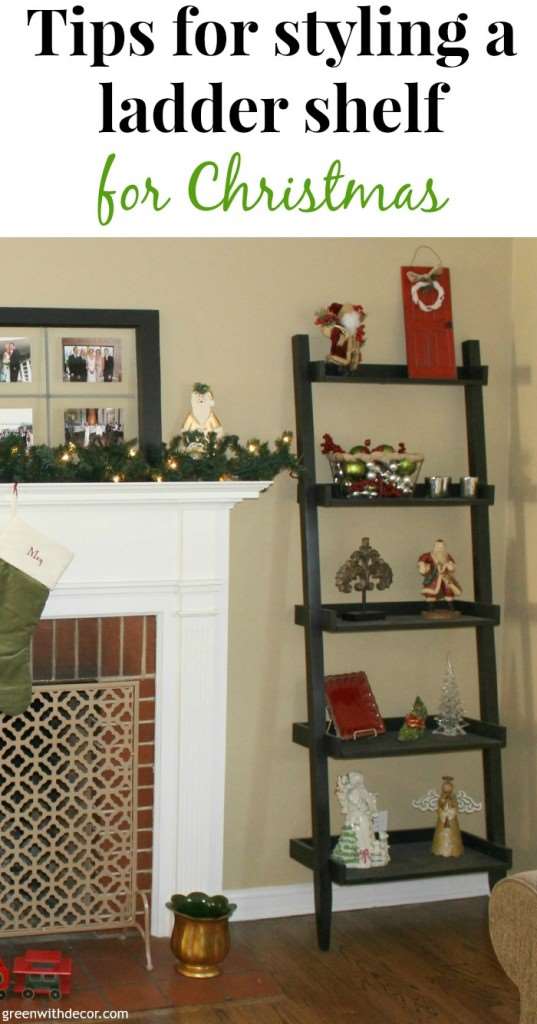 Want to read more posts like this?
Follow along: Get my emails | Facebook | Pinterest | Twitter | Instagram