Disclosure: This paint in this post was provided by Serendipity House, seller of L'Essentiel Botanics Furniture Paint and Finishes. All opinions, images and love of painting projects are 100% mine.
A few months ago, Kalen and I went to an estate sale.
The house was really old and needed to be updated, so of course, I was planning out how the space could be renovated to make it more usable.
Kalen had to remind me we were just there for the estate sale. Whoops! We picked up this old chair, which I shared on Instagram awhile ago.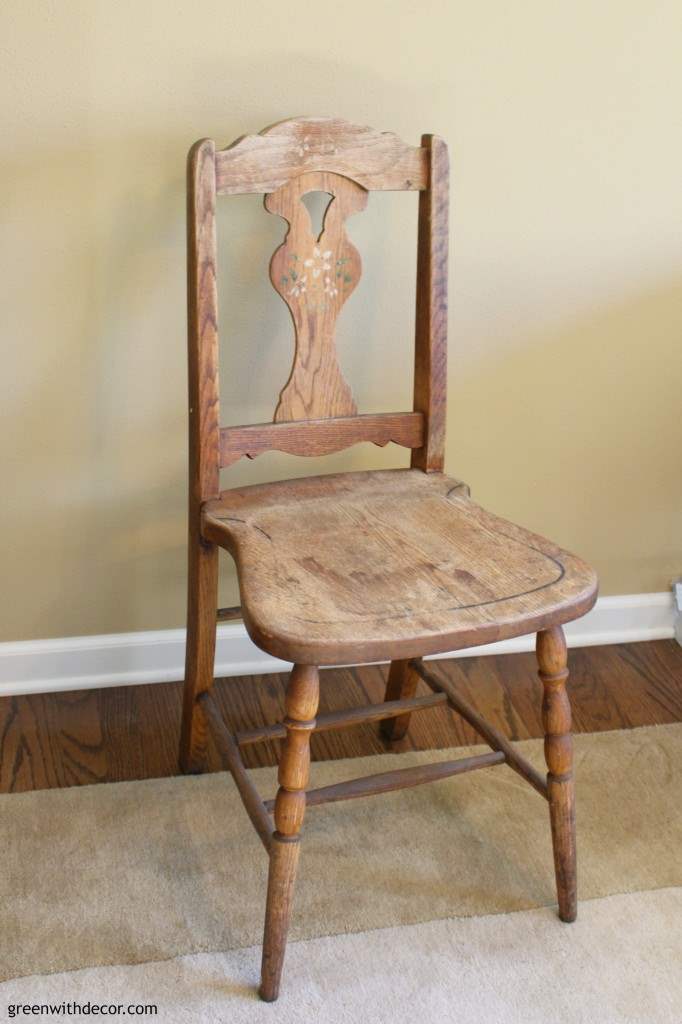 I loved the size of it and knew with a coat of paint, it could be a fun accent chair in just about any room.
I tried out a new brand of paint – L'Essentiel Botanics Furniture Paint and Finishes, an Australian brand – and it's safe to say I love it.
I used a mix of Vintage Mint and Olive paints to get this look: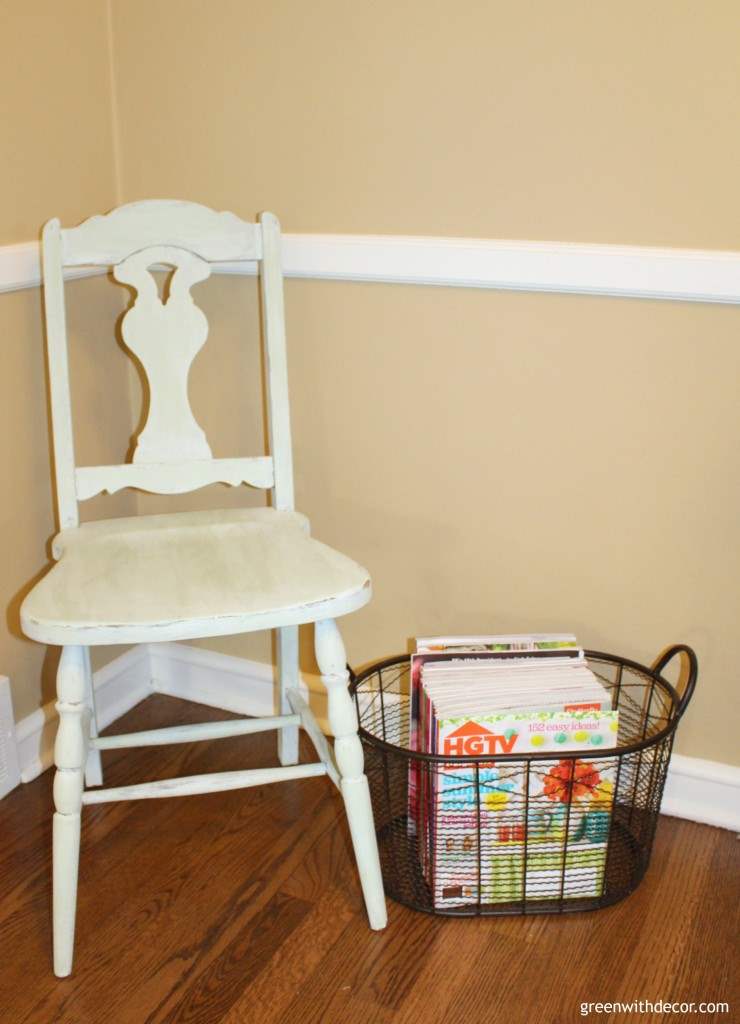 I love it! To be fair, I love anything mint. Mint colored, mint flavored (mint is my favorite ice cream), anything mint. This paint keeps my love for mint alive and well.
I used the Clear Beeswax Polish, Peony & Lychee scent, to seal the piece.
I'm usually not a fan of anything scented. Seriously, I only buy cinnamon-scented candles because it's the only scent I like.
But the Peony & Lychee wax – oh my gosh – it smells SO good! I wish I had a candle that smelled like it. It's that good.
The paint and wax are from Serendipity House, one of just two U.S. retailers that sells L'Essentiel Botanics.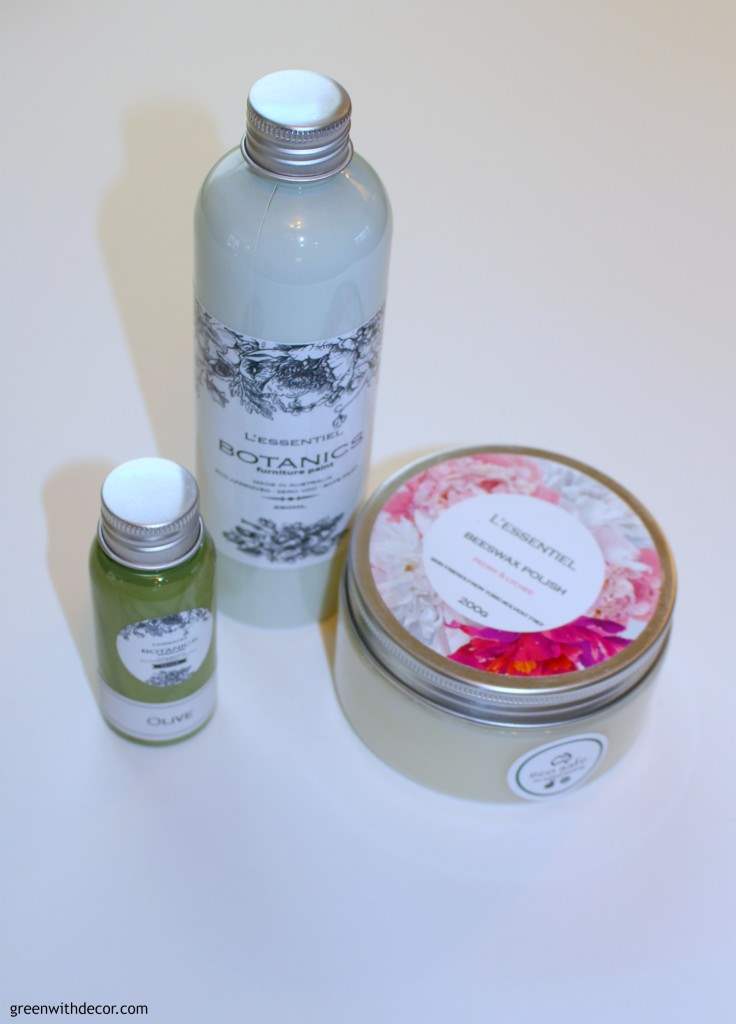 Michelle from Serendipity House is really nice and answered all of my questions about the paint. It's great to find a product you love, but it's even better when the person behind the product is awesome!
Michelle told me she uses the beeswax for her hands and feet, too, which is awesome. Especially when it smells that good! I never would have thought to use it on my skin, so I'm glad she mentioned it.
As for the paint, it's all natural, made with clay, chalk and minerals. Michelle told me the paint covers well, and it DOES. It's one of the smoothest paint I've ever worked with, and there wasn't a noticeable paint odor as I was working with it.
I wanted a distressed look for the chair.
This post contains affiliate links. This means if you click the link and buy something, I may receive a small percentage of sales at no extra cost to you.
Supply list for a chair makeover:
This was a fun project.
How to paint and distress an old chair:
1. Wipe down your piece.
Put down a drop cloth to protect whatever surface you're painting on.
(Ignore all the paint splotches on my cloth from previous projects in the pictures below!)
Use soap and water to wipe down your chair or furniture piece. Wipe down the chair with a clean rag.
2. Sand the piece.
I used a sanding sponge to give the piece a quick once over. I usually use sandpaper when prepping a piece, but I'm loving sanding sponges!
L'Eseentiel Botanics doesn't really require sanding, but I usually do at least a quick sanding before painting a piece.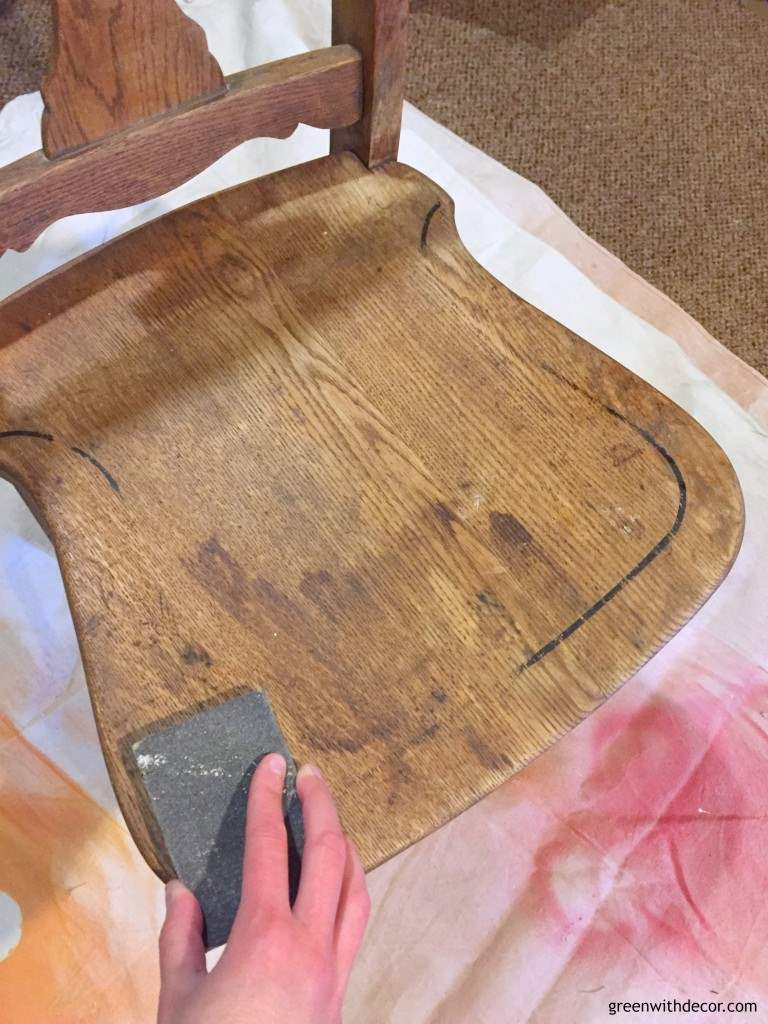 Use a lint-free rag to give the piece a quick once over, getting rid of any dust from sanding.
3. Paint!
Again, this paint is SO smooth and covers really well.
I did one coat of the Vintage Mint.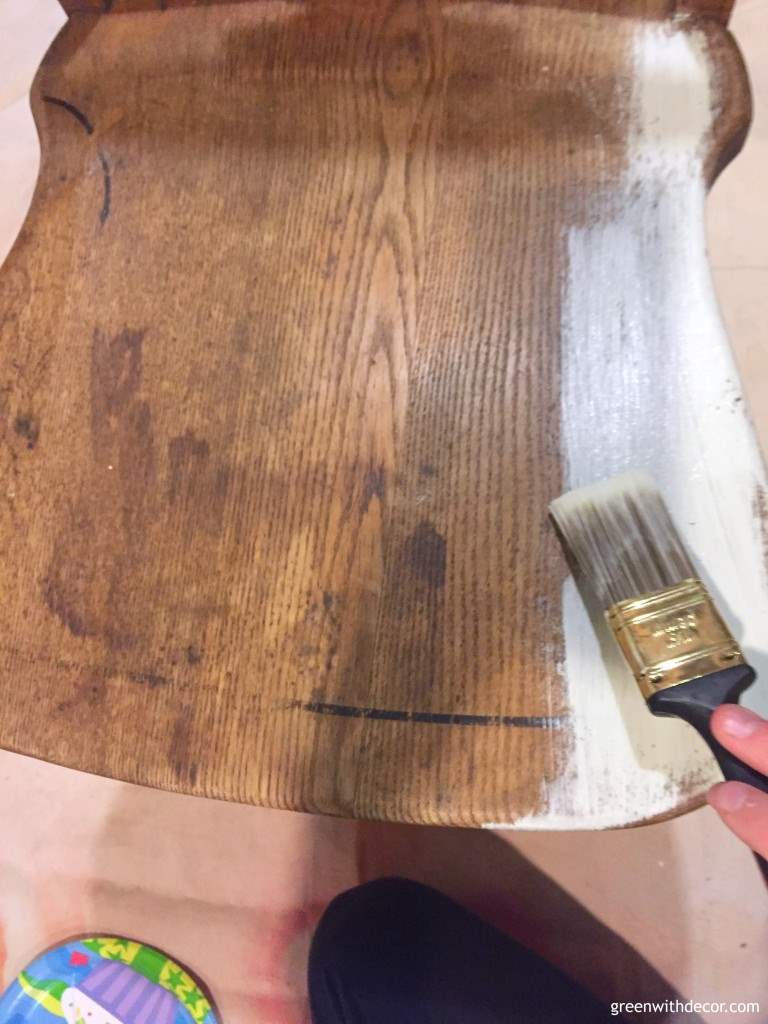 It also dries pretty fast It seemed dry within minutes.
4. Apply a second coat.
If you like the pale mint look, you can skip this step.
I wanted the color a little darker so I mixed the Olive and Vintage Mint.
One of my favorite things about paint is that you can mix colors to make virtually any shade of any color you want!
I mixed the Olive and Vintage Mint paints evenly. I usually just use a paper plate to pour paint onto, so I mixed the paints right on the plate.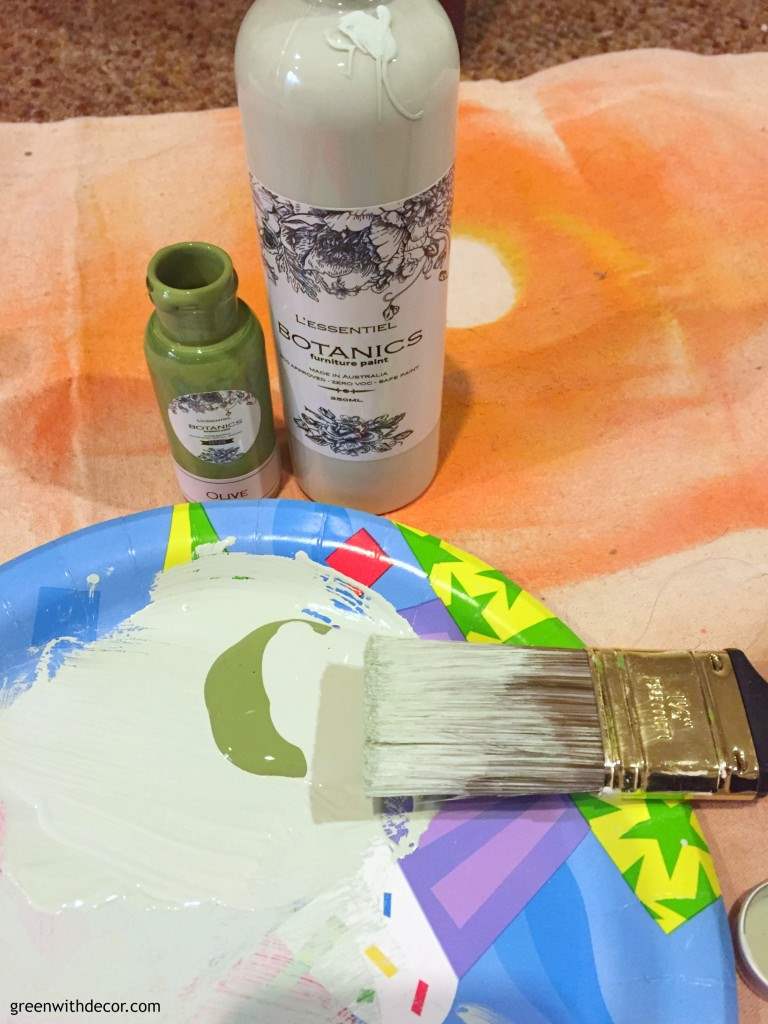 I did one coat of this mixed color to give the piece a bit darker color.
5. Let it dry.
6. Sand to give it a distressed look.
I used a sanding sponge to go over the piece and give it a distressed look. I sanded more on the edges of the chair.
If you scrape off too much paint, like I did on the chair leg below, you can always touch it up with a bit of paint.
You really can't screw it up – my kind of project!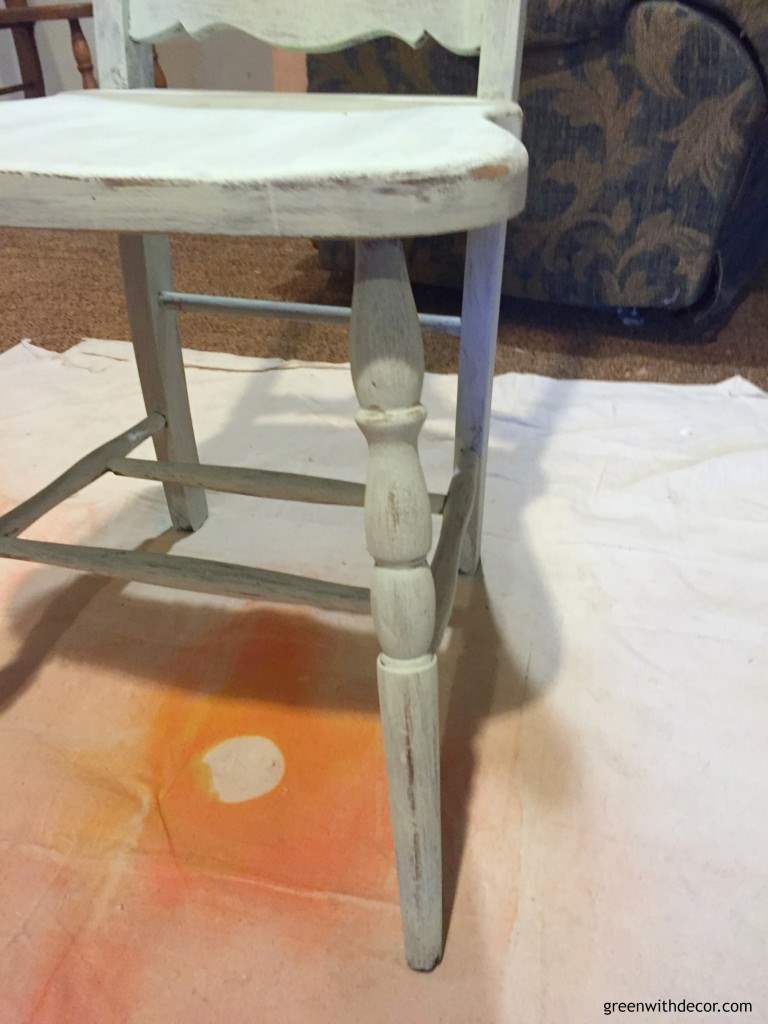 I LOVE the distressed look and am excited about how easy this method is.
I'll definitely be using it again.
7. Apply a coat of wax. (optional)
The L'Essentiel Botanics line doesn't require wax after painting, but wax always helps seal and protect a piece.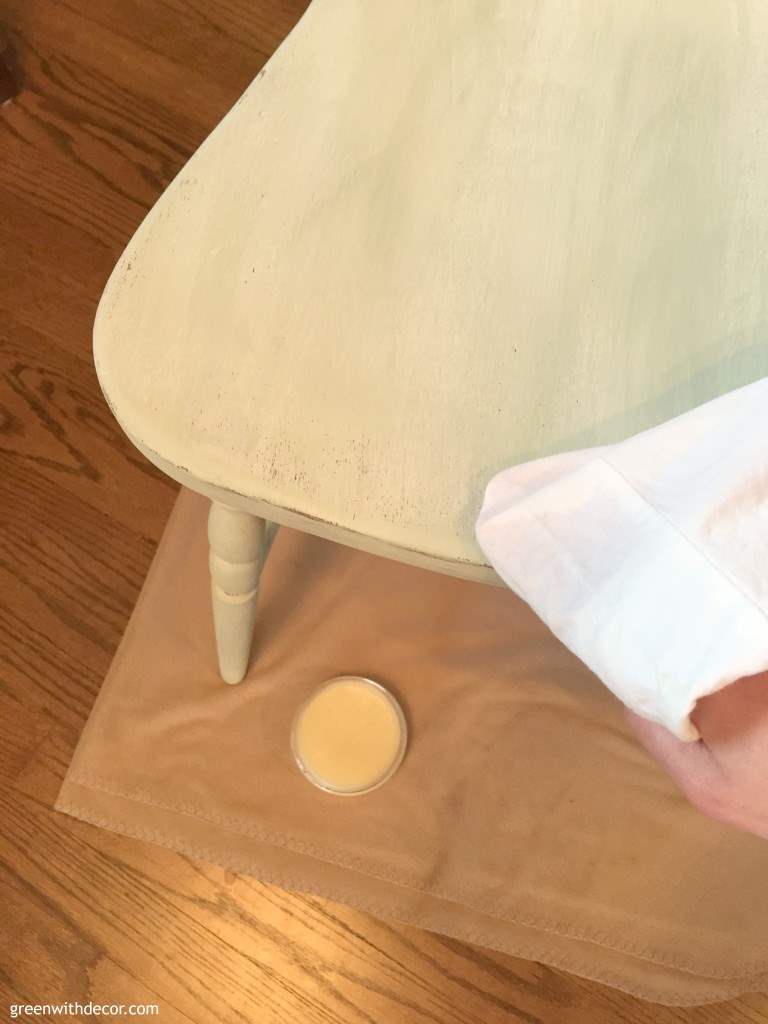 You can use a wax brush or a lint-free rag. If you use a rag, use a white one to apply clear wax so little lint pieces don't end up on the piece.
Apply the wax in a circular motion, and let it cure.
And you're all set! Where would you put the chair?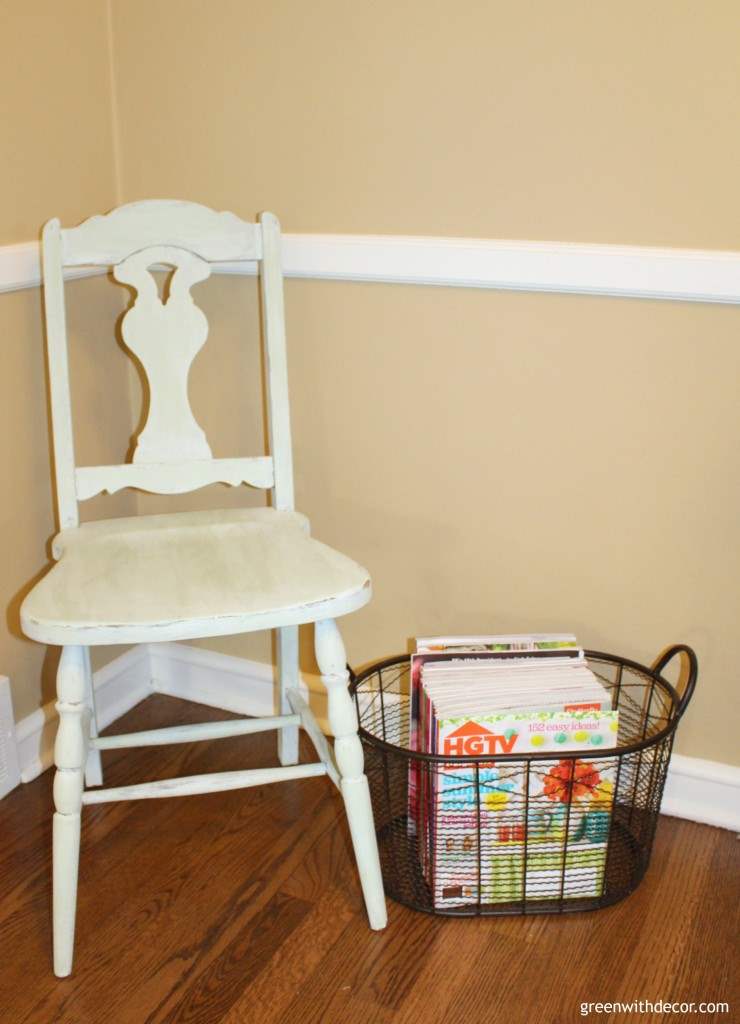 Yes, I am still hoarding way too many issues of HGTV Magazine! 🙂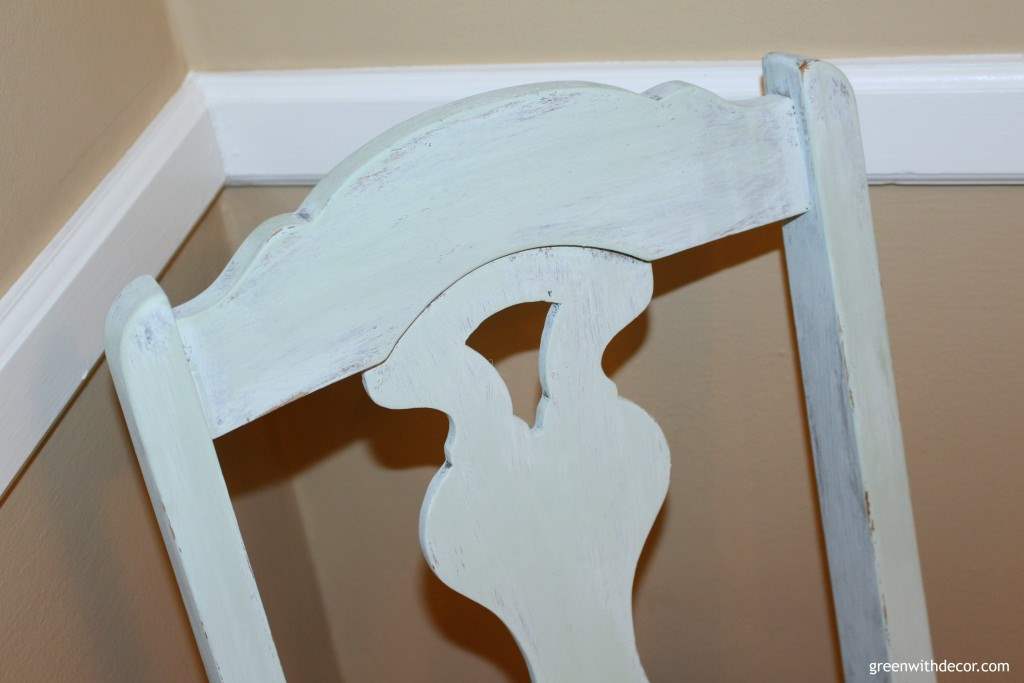 You can see more furniture makeovers here:
Remember to bookmark or pin this post if you want to save it for later!


Pin it!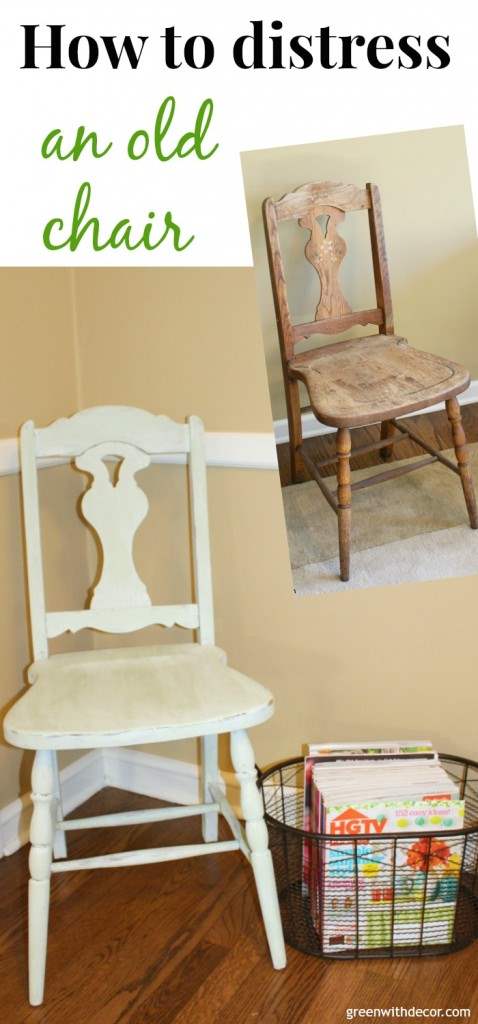 Want to read more posts like this?
Follow along: Get my emails | Facebook | Pinterest | Twitter | Instagram