Disclosure: Country Chic Paint provided the paint for this project and D. Lawless Hardware provided the new hardware. All opinions, images and love of painting projects are 100% mine.
I shared the bookshelf I just painted as part of our home office makeover a couple weeks ago.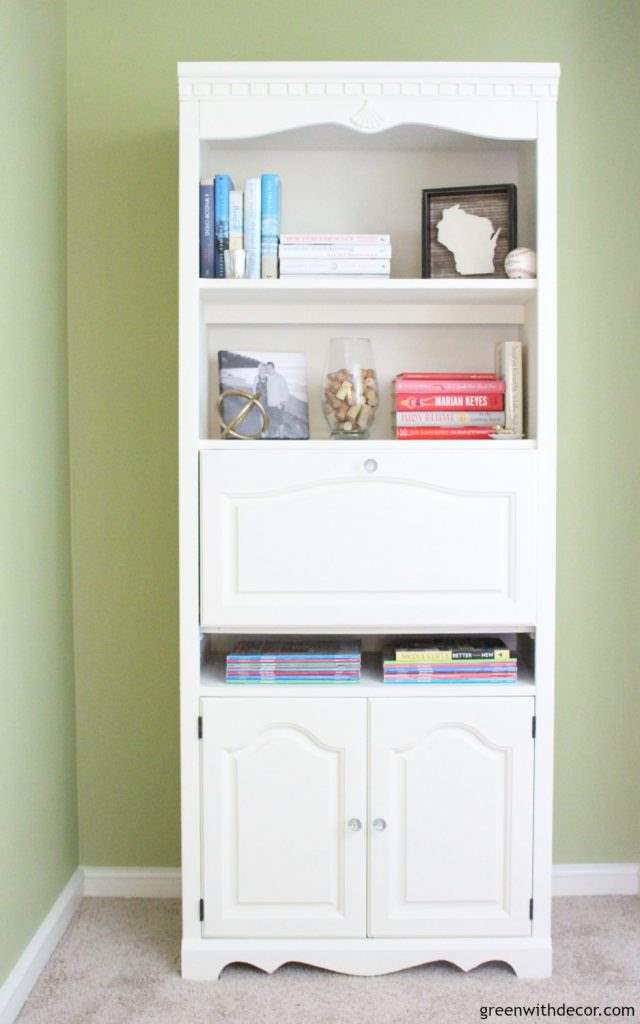 Several people commented that it must have taken me forever and they can't believe I painted this by hand.
Believe me, it did take a while. I did about four coats of paint to get the bookshelf fully covered. Painting white over black takes a bit!
But I don't regret painting it by hand. One, I honestly don't mind painting. I enjoy it. Big surprise with all the painting projects I do around here, right!?
You know what I do hate though? Moving big furniture. Who agrees? (You're all raising your hands, right?)
Kalen and I decided painting it by hand would be waaaaay easier than moving the bookshelf downstairs to paint and then moving it back up. And guess what? After painting the whole thing by hand, I still agree.
This post contains affiliate links. This means if you click the link and buy something, I may receive a small percentage of sales at no extra cost to you. 
If you have a new (or new-to-you) bookshelf that you haven't yet moved into your house, I'd leave it in the garage and spray it with either spray paint or a paint sprayer depending on the paint color you want to use.
But if you already have the bookshelf in the room you want it in, I'd leave it. Especially if moving it would involve a flight of stairs.
Here's how it started: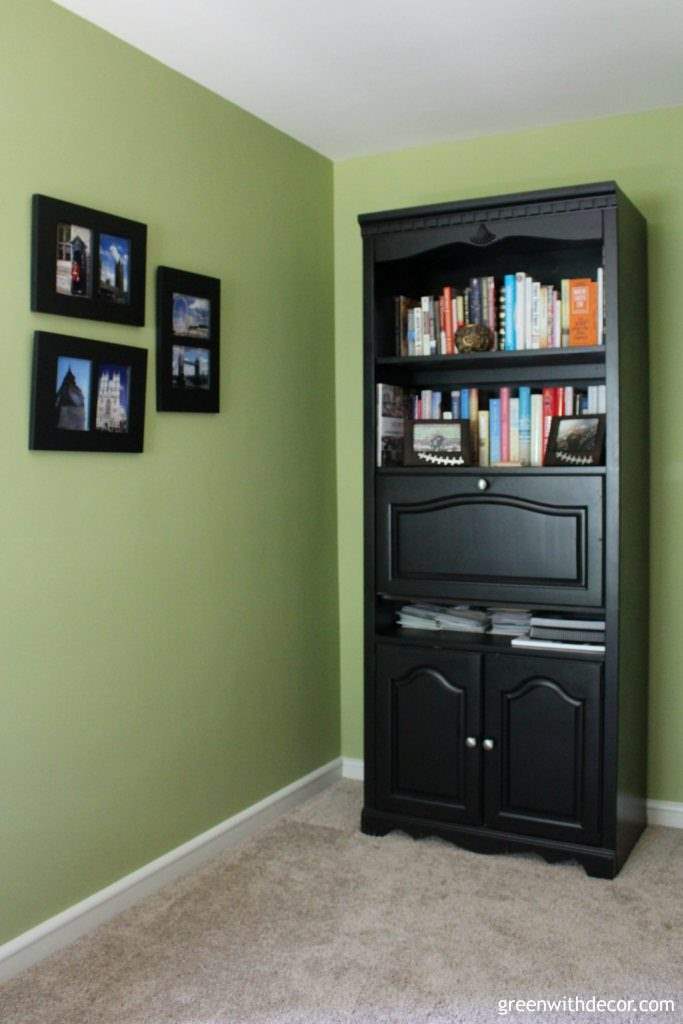 Supply list for painting a bookshelf:
Ziploc bags
Paint stir stick
Lint-free cloth
How to paint a bookshelf by hand:
1. Take the hardware and doors off the bookshelf.
Take the hardware off the doors. If you're going to use it again after the piece is painted, keep it with the screws. Otherwise, set it aside.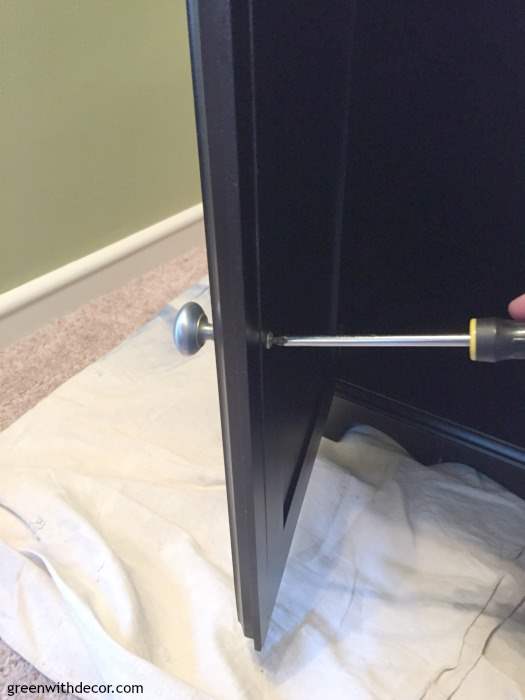 Take the cabinet doors off. Use a screwdriver and take all the screws out of the bookshelf and doors.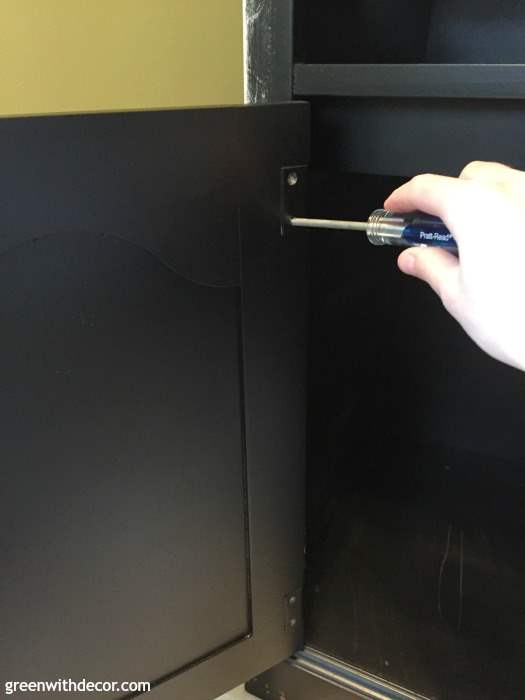 I'd recommend putting each hinge with its screws in a Ziploc bag and labeling it (left door or right door) so it's easy to put back on later.
I realize all the screws look exactly the same, but you'd be amazed how some just fit better than others, especially on old pieces like this bookshelf. You'll save yourself a lot of swearing frustration at the end of the project.
2. Tape off where the screws will go.
I put pieces of painter's tape over the holes for the screws on the front and back of each door to keep paint from dripping into the holes and drying in there, making it harder to get the screws back in.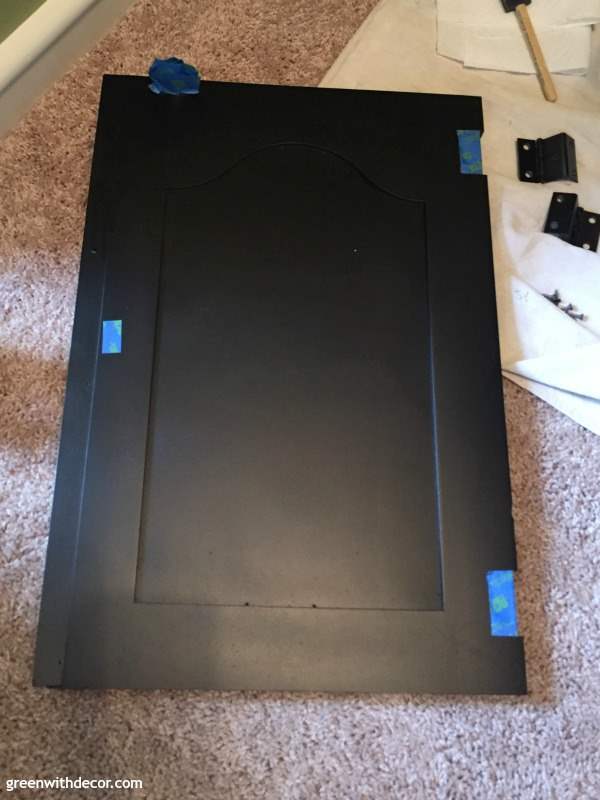 3. Prep the bookshelf.
Use wood filler to fill in any random nail holes or scuffs on the bookshelf. Then sand it down.
4. Paint!
Shake and stir your paint. With clay paint, the pigments sit at the bottom, so it's important to really shake and stir the paint.
I did about four coats of paint on this bookshelf. Dark colors are always hard to paint over, because they just keep seeping through.
That being said, I noticed a difference in coverage after each coat of paint. I usually let a few hours or a few days pass between coats.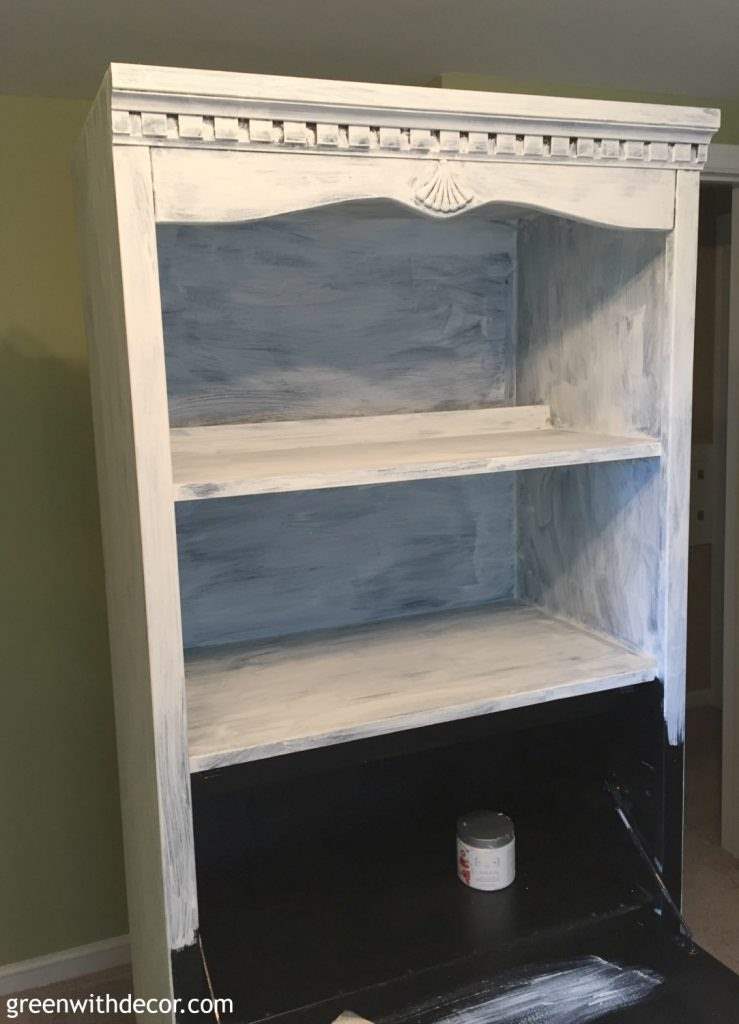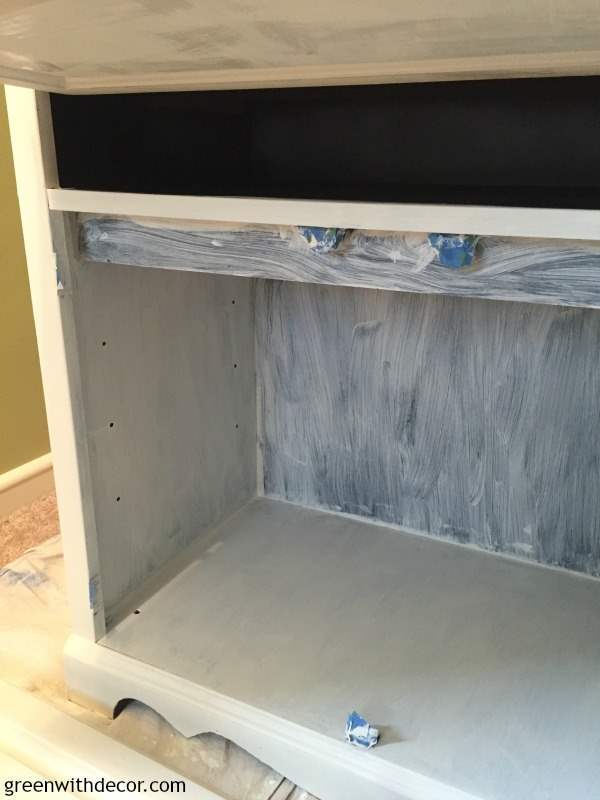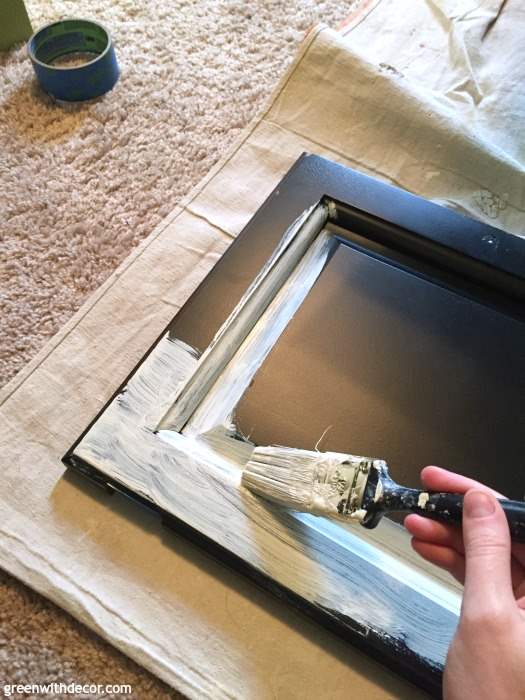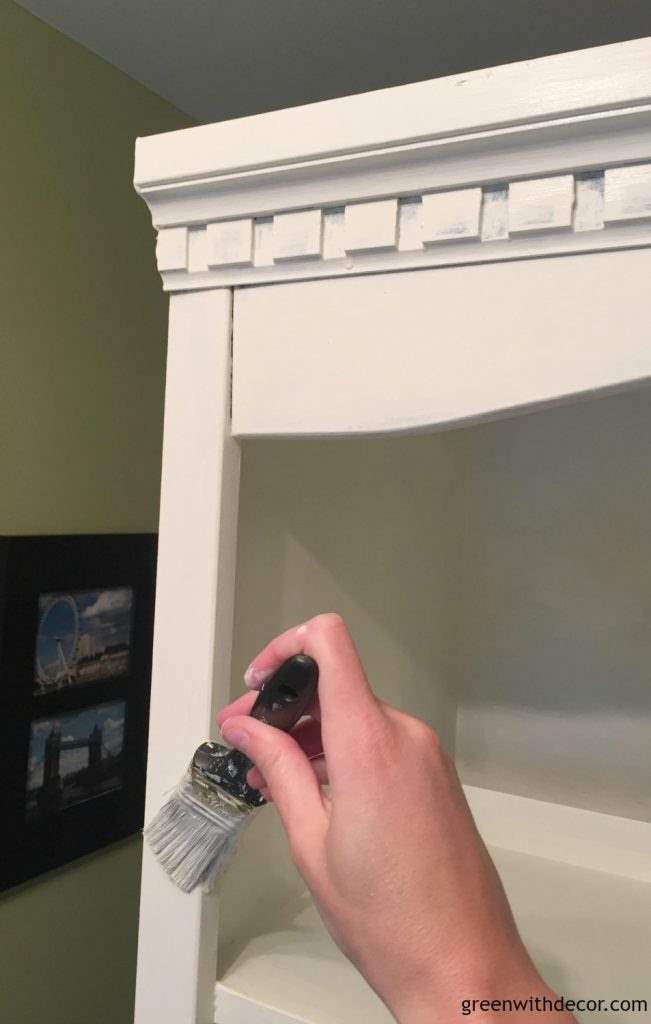 I've used Country Chic Paint's Vanilla Frosting on other pieces, like this desk and this foyer table, and I've never had to apply this much paint before, but the bookshelf was darker than the original colors of those other pieces. The black of the bookshelf just made it harder to paint over.
For the trim at the top, I used a smaller paintbrush to make sure paint got into all of the corners of the piece. Same with the seashell at the top.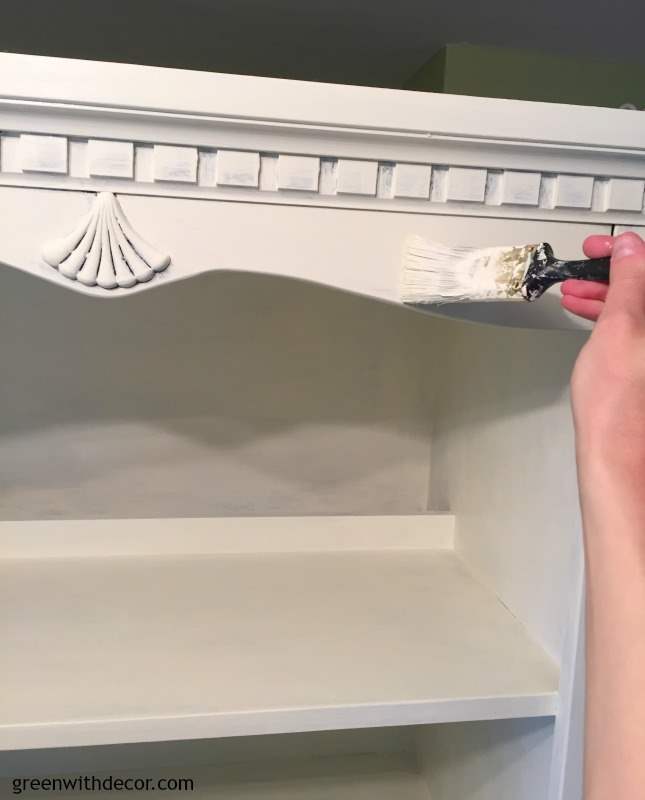 For the most part, I applied the brushstrokes in the same direction, but occasionally I'd go in the perpendicular direction to get good paint coverage. Just look as you go and see what makes sense.
5. Distress (optional)
If you want to distress your piece, here's where to do it. Take your sanding sponge and run it along the edges of your piece to rough it up a bit.
6. Seal with wax.
I usually use clear wax because I like the color of the paint I've chosen for a piece. I love Country Chic Paint's Vanilla Frosting, and I didn't want to alter the color of it by using a darker wax.
I used Country Chic Paint's Natural Wax to seal the bookshelf.
Grab a wax brush and stir it around in the wax. Apply the wax to the bookshelf using a circular motion.
Cover the whole piece, then take a clean, lint-free cloth to buff the piece, getting rid of any excess wax.
Wax has to be reapplied every 6 to 12 months to keep a piece sealed.
7. Put the doors and new hardware on the bookshelf.
Take off your painter's tape and screw in the new hardware. I love my new crystal knobs.
Then put the hinges back on the door and the bookshelf and screw in.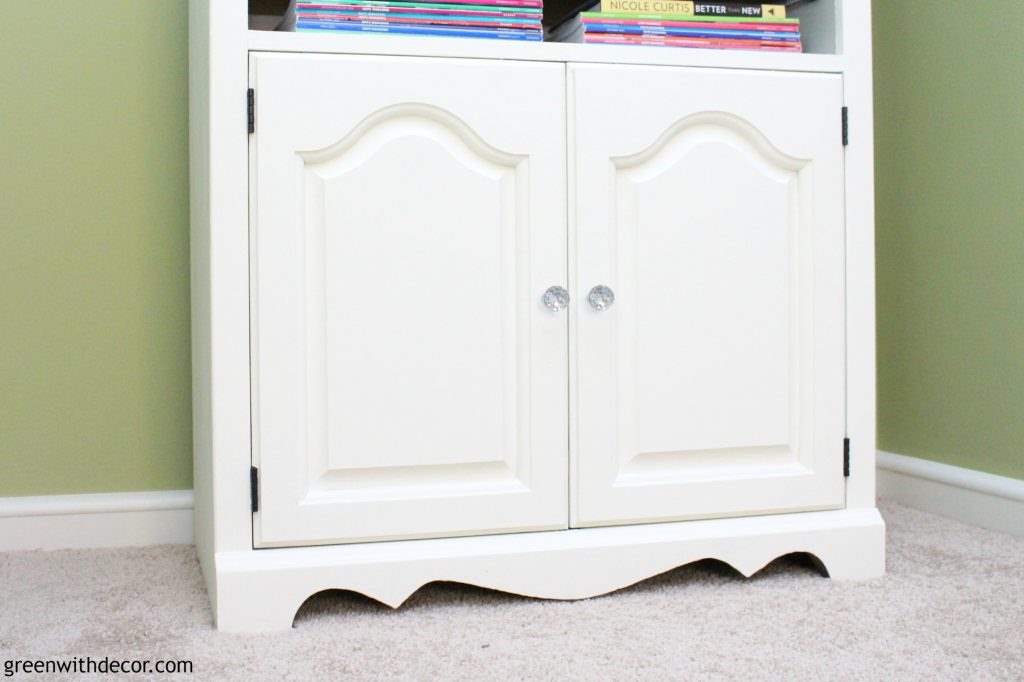 8. Style!
Who doesn't love a good shelfie? I had fun rearranging some books and other decorative pieces on here.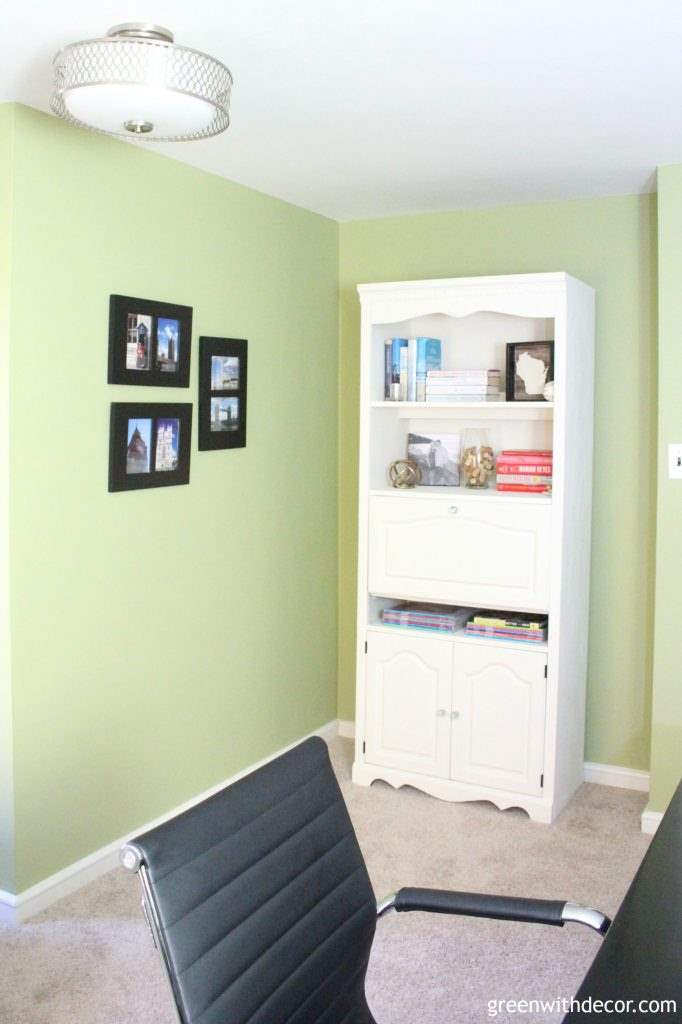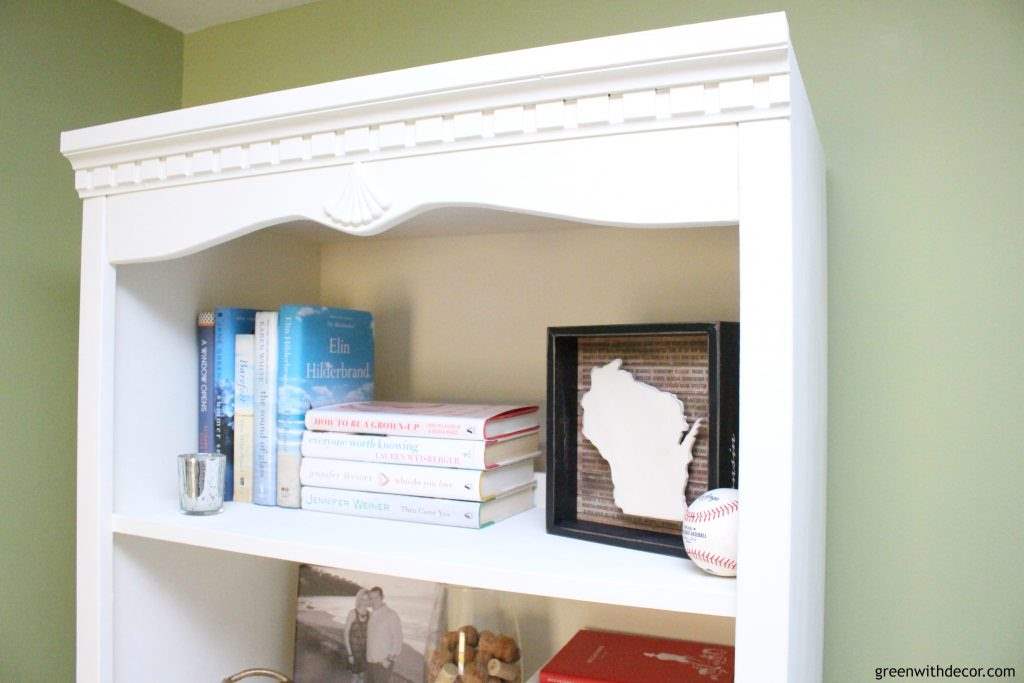 Wisconsin sign (other states available)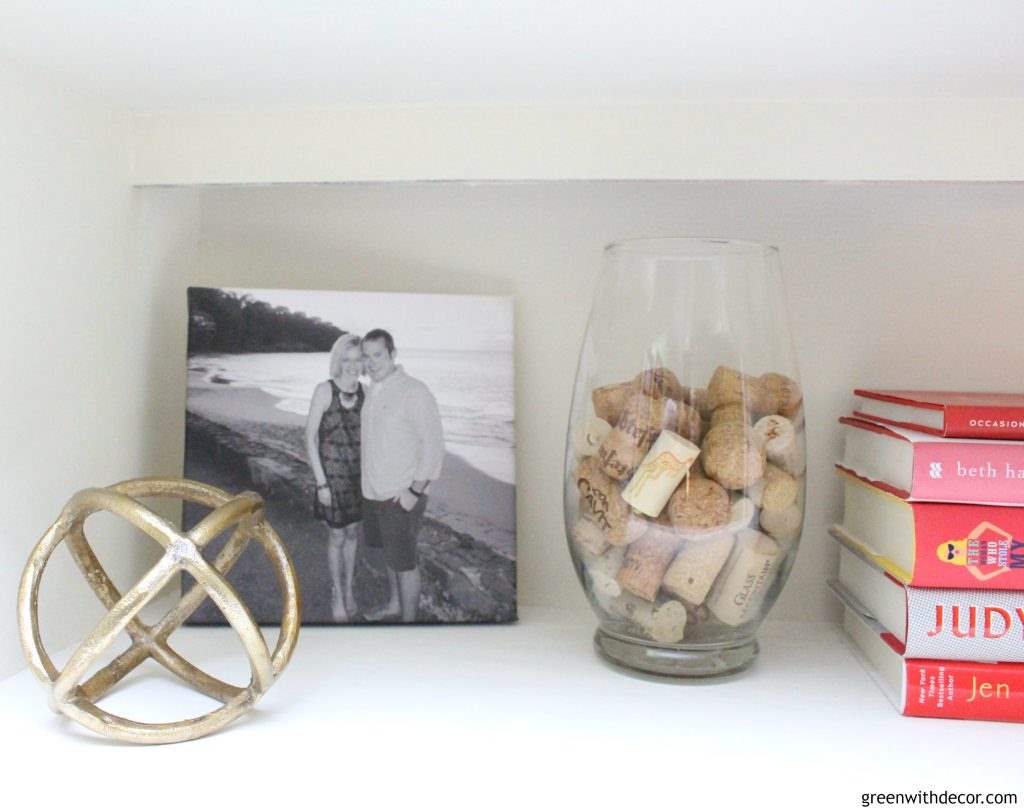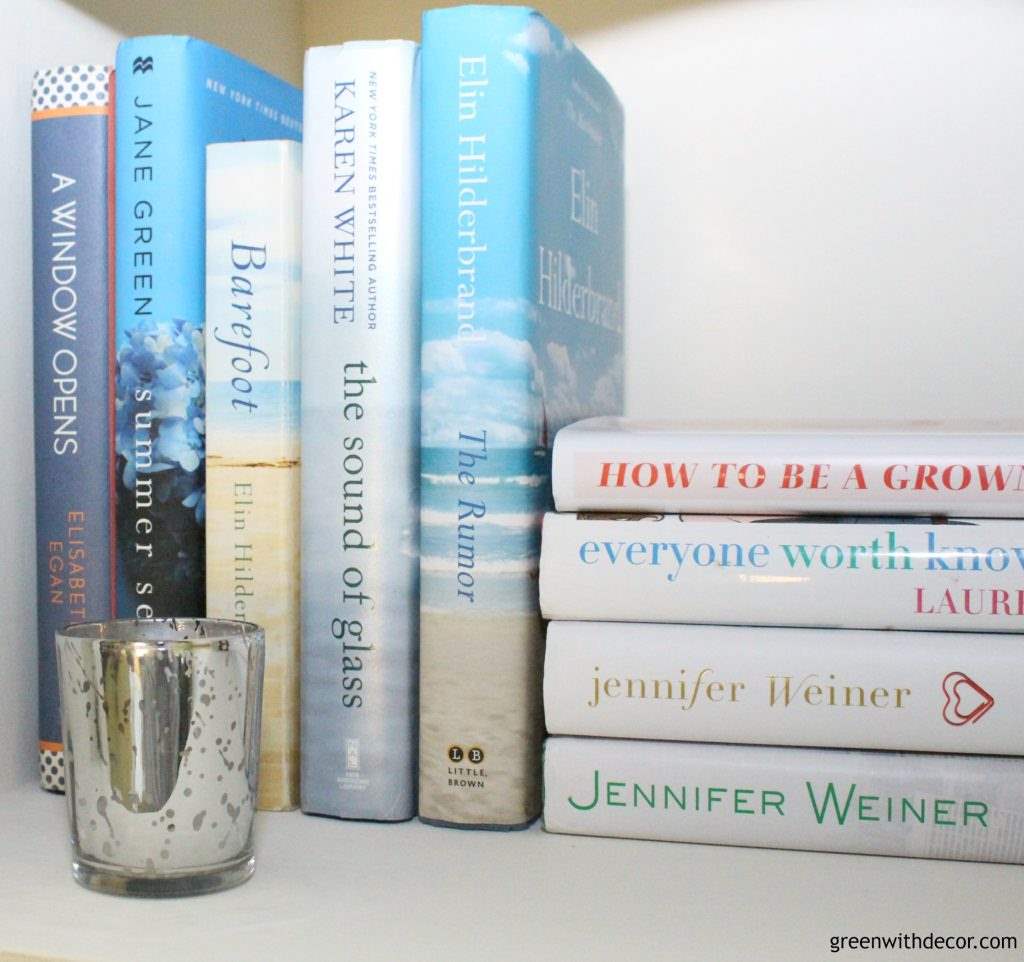 Some of my favorite books: A Window Opens | Summer Secrets | Barefoot | The Sound of Glass | The Rumor | How to be a Grown-Up | Everyone Worth Knowing | Who Do You Love | Then Came You
It's really amazing how much brighter the entire room looks with the bookshelf white instead of black.
You can see all of the home office makeover progress here:
Get the look:
Click the images below for more info (if you're on mobile, click the arrows to scroll left and right to see more images.)

What do you think? Would you have painted the bookshelf by hand or dealt with moving it downstairs and back up so you could spray it?
If you like painting furniture, you'll want to see these, too: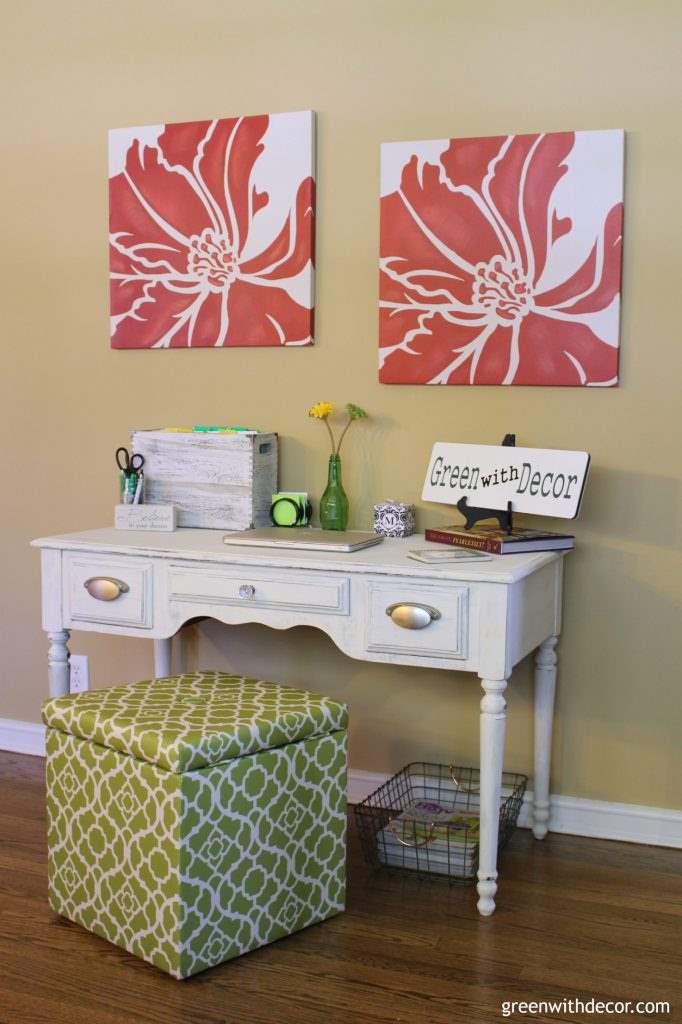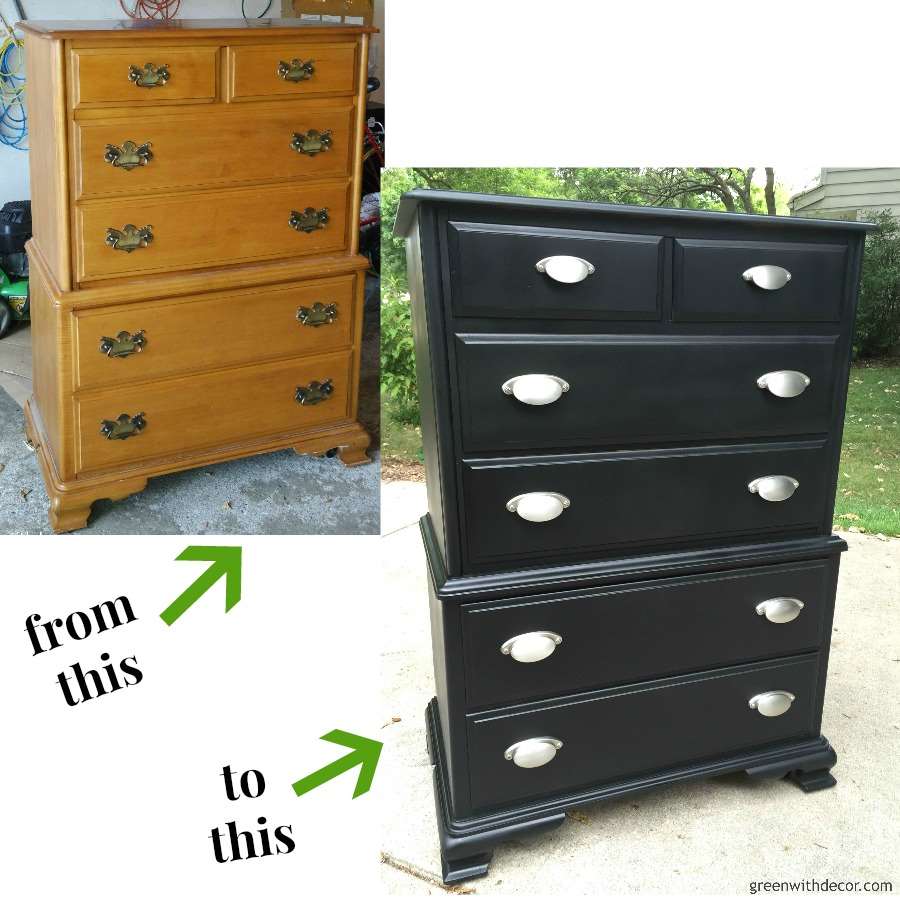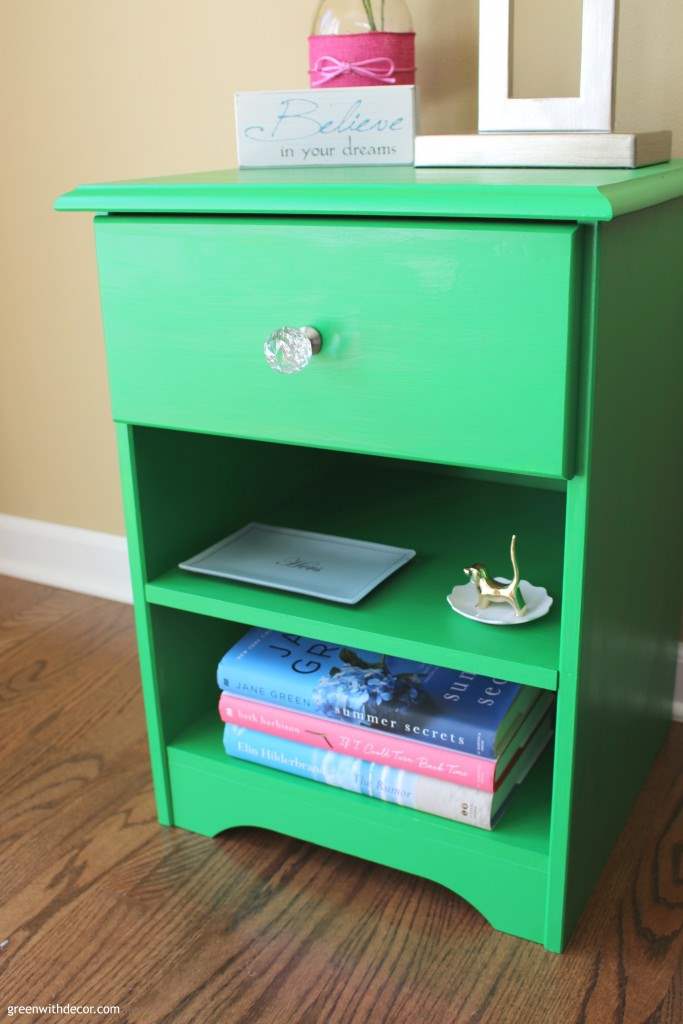 Want to read more posts like this?
Follow along: Get my emails | Facebook | Pinterest | Twitter | Instagram | Google+
If you want to save this post for later, remember to bookmark it or you can pin it here: