I was debating if this little project even warranted a blog post because it's so simple. Like really simple.
But I figured if this little simple project was on my to-do list for months before I finally got around to it, it's worth celebrating.
Okay maybe celebrating is a bit strong, but it's a good reminder to all of us that sometimes these little projects just take forever to get to but they're still worth doing.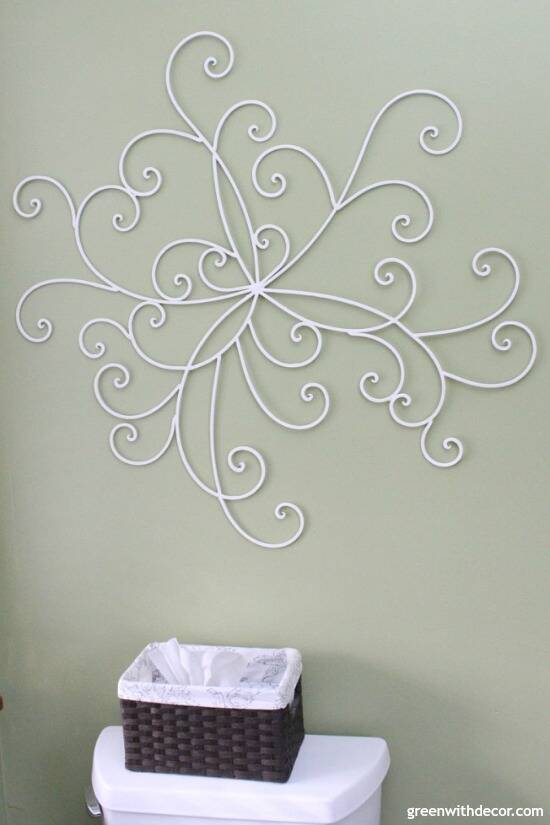 This metal piece used to be black, like a lot of things in our house, and I painted it white.
No big story there, I was just ready to lighten it up a bit.
This post contains affiliate links. This means if you click the link and buy something, I may receive a small percentage of sales at no extra cost to you.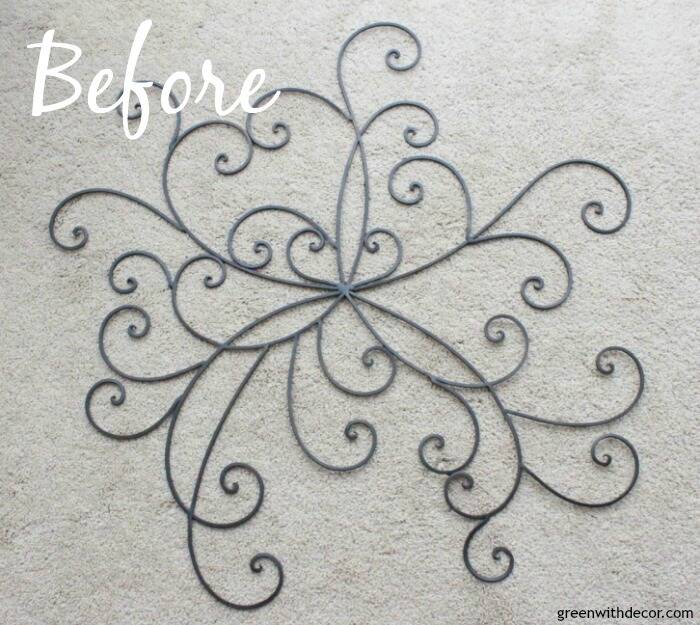 Plus I'm a paint hoarder (collector), so this project cost exactly $0.
I used Country Chic Paint's Vanilla Frosting (surprise, surprise, my fave paint color).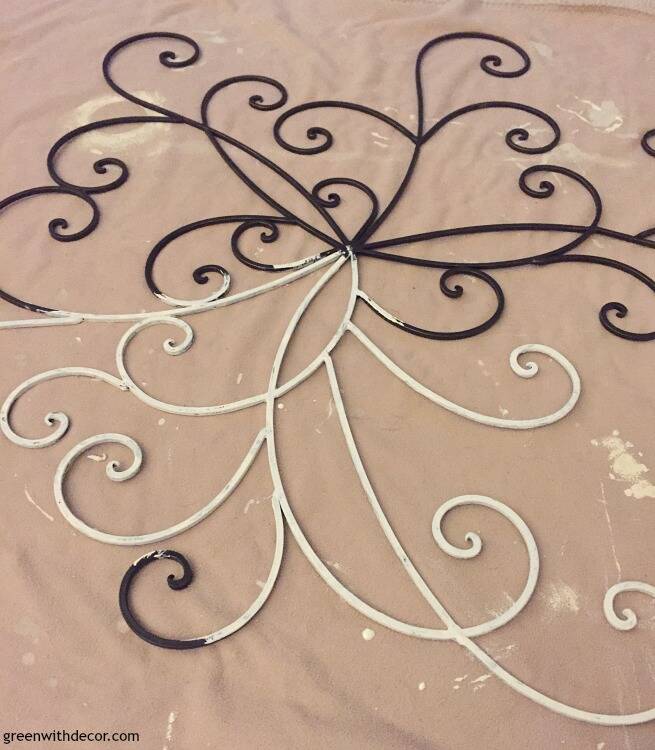 And now it looks lovely on the green wall.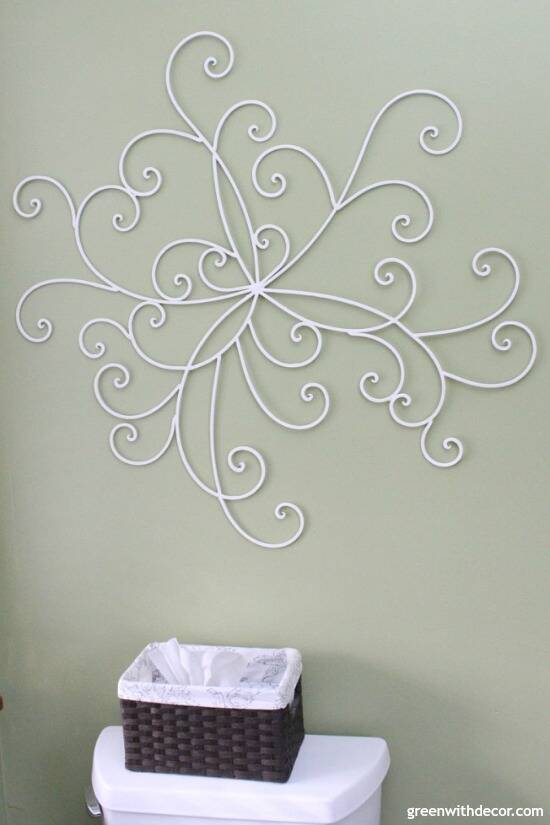 If you're wondering, I got this piece at Pier 1 a while ago, but this one is similar. Here's a link to the basket with the tissues.
If you're sick of your wall decor, remember paint is always a (free or cheap) option.
Or even just moving pieces from room to room can make a space feel like new (whether you paint it or not).
We had this piece in our family room for a long time, and the black worked with the red and tan in there, but I love the new white look with the green walls.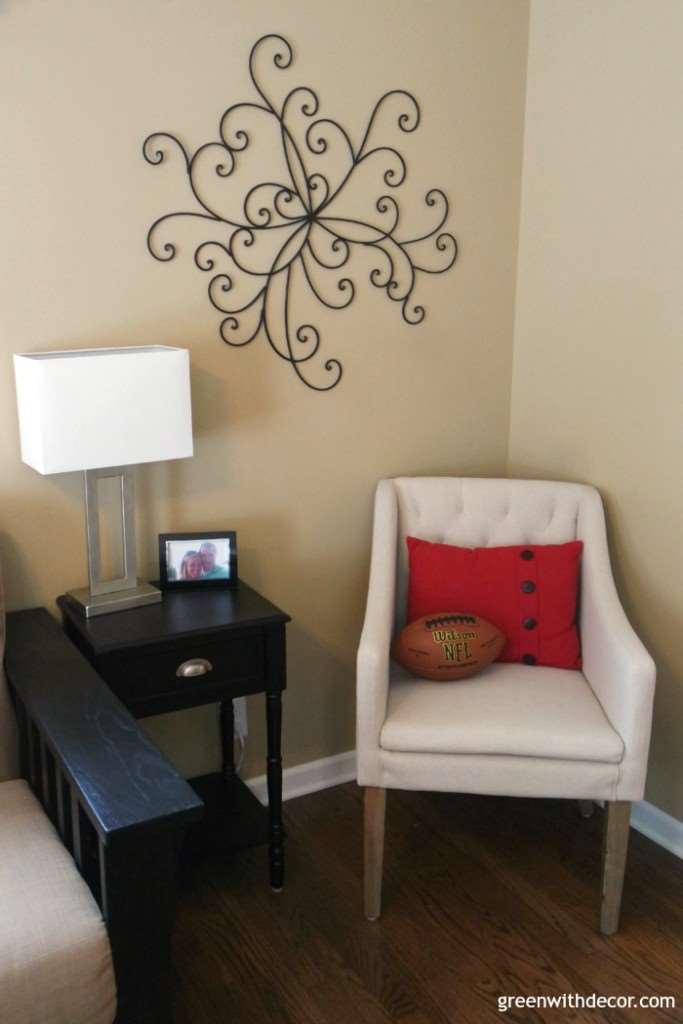 GET THE LOOK:
Since a popular question I get is "Where'd you get that?!," here are links to the same or similar sources:
Do you have any little DIYs that have been on your to-do list forever and ever? It feels good to finally cross this one off!
I have a few other small updates to make to this rental bathroom to make it feel more 'us' and then we're going to call it done.
You can see all of the progress on this little bathroom makeover in these posts:
This little projects is a project for our bathroom refresh as part of the $100 Room Challenge hosted by my friend Erin from Lemons, Lavender & Laundry, where bloggers update a room for just $100 (it's possible!) in just a month.
All of the other bloggers' projects are linked below if you want to see. Or if you're planning a full bathroom renovation, you can see all the details of our other bathroom renovation here (and get a free printable renovation checklist so you don't forget anything!).

Check out these posts for more wall decor inspiration:
Remember to bookmark or pin this post if you want to save it for later!


Want to read more posts like this?
Follow along: Get my emails | Facebook | Pinterest | Twitter | Instagram