Between the Mason jar soap dispensers earlier this week and the tray I'm sharing today, apparently I've decided this week is 'quick, easy decor update' week. Works for me!
Sometimes the smallest updates to a room can make it feel so fresh and new!
I painted this tray last year as part of the ongoing Create & Share Challenge I do with a group of bloggers. I had it in the living room for a while, and I liked the white tray against the black coffee table:
This post contains affiliate links. This means if you click the link and buy something, I may receive a small percentage of sales at no extra cost to you.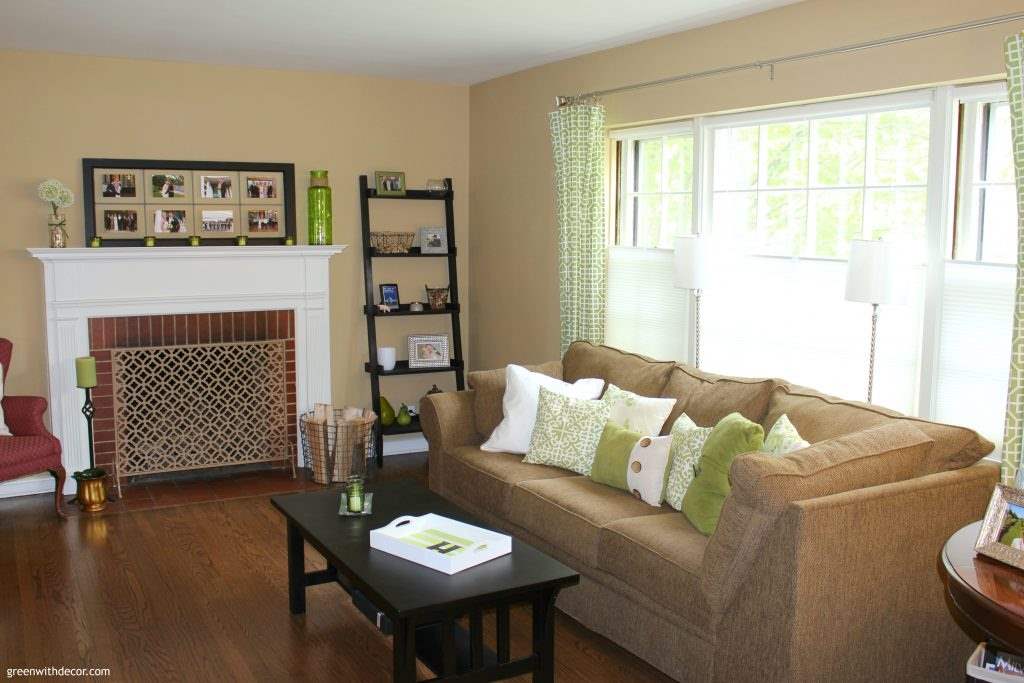 GET THE LOOK: Window turned picture frame (DIY) | Ladder shelf | Couch | Green pillow
Then I moved it to the kitchen. Because I'm always moving little decor pieces around. I can't help it.
I liked it in the kitchen, too: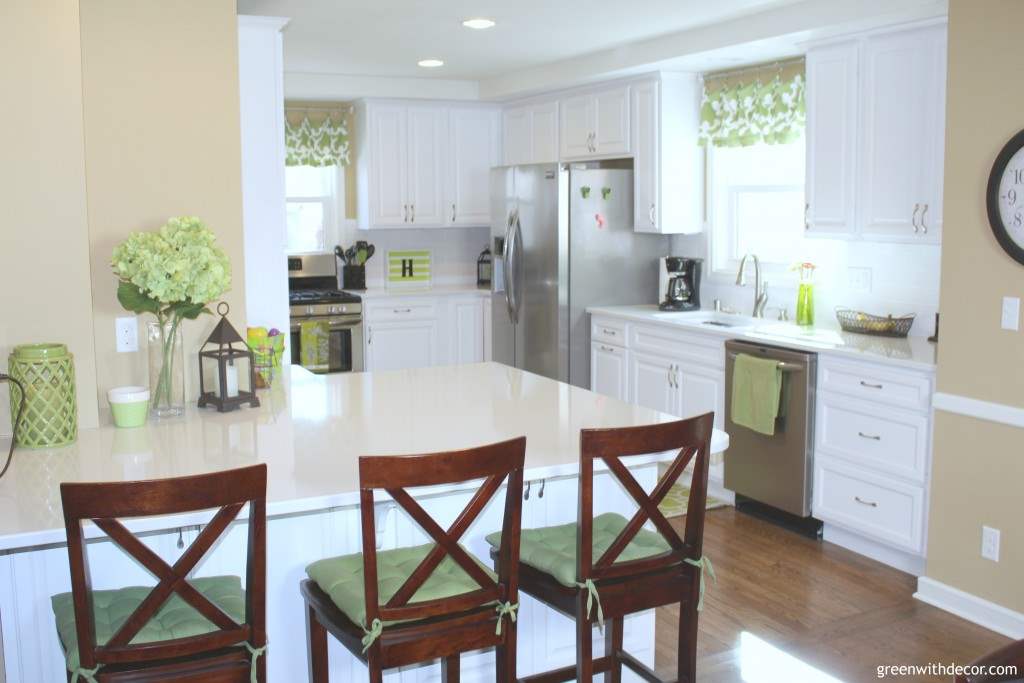 GET THE LOOK: Cushions | Curtain rod | Window valance (DIY) | Faucet | Cabinet hardware
One day I looked over in that corner of the kitchen and it dawned on me that the white outline of the tray was up against the white counters and white subway tile. And then I couldn't not think about it.
So obviously I had to update the tray. I wanted to paint the sides black to match the 'H' on the tray and give some color to the white kitchen. Don't get me wrong, I LOVE our white kitchen. This little section could use a little more color though.
I paint furniture black pretty often, but I don't usually paint accessories black. That's what makes decorating fun – using new colors or patterns or textures in new places.
I figured the worst that would happen is if I hated the tray with black trim, I'd just paint it white again. Paint is so easy and cheap to use, it can fix just about anything.
But good news! I like the tray with black edges. What do you think?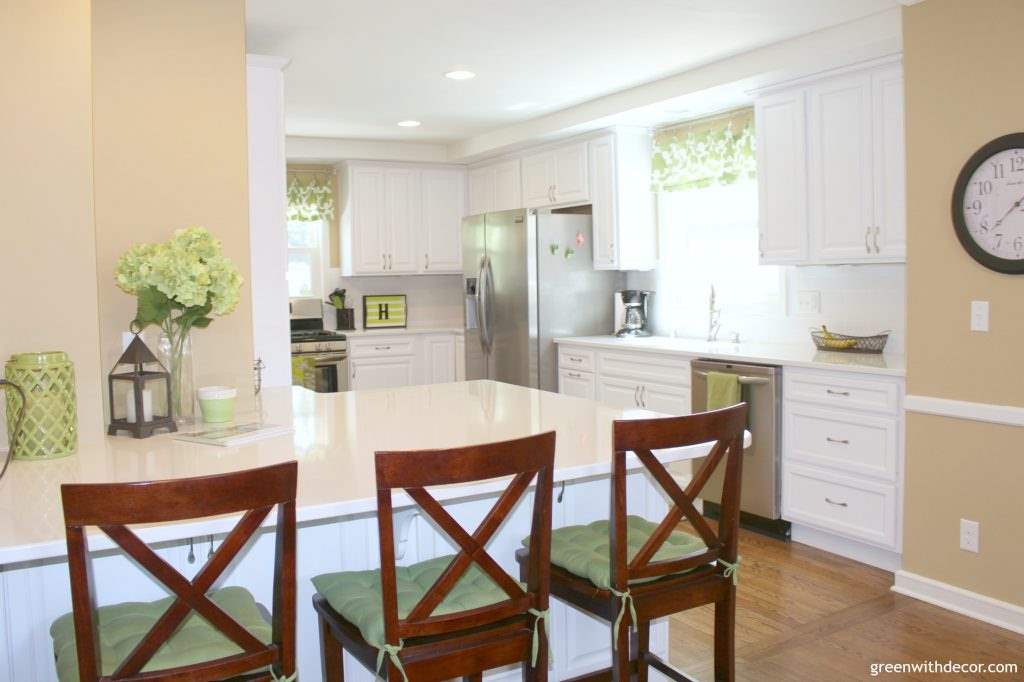 This was really easy. You know I love easy decorating.
I used spray paint the first time around on the tray, but even though it's mid-May, it's been pretty darn cold here in Wisconsin. I don't spray paint inside, and it wasn't warm enough to paint outside. (Ugh, spring, COME ON already!)
So I used this paint and a foam brush to paint the outside of the tray.
I taped off the rest of the tray so I wouldn't ruin the stripes and 'H' I'd painted on earlier. I love how it looks, but it was tedious, and if I accidentally ruined it, I'm not sure I'd have the patience to redo it. So I made sure the painter's tape was on good!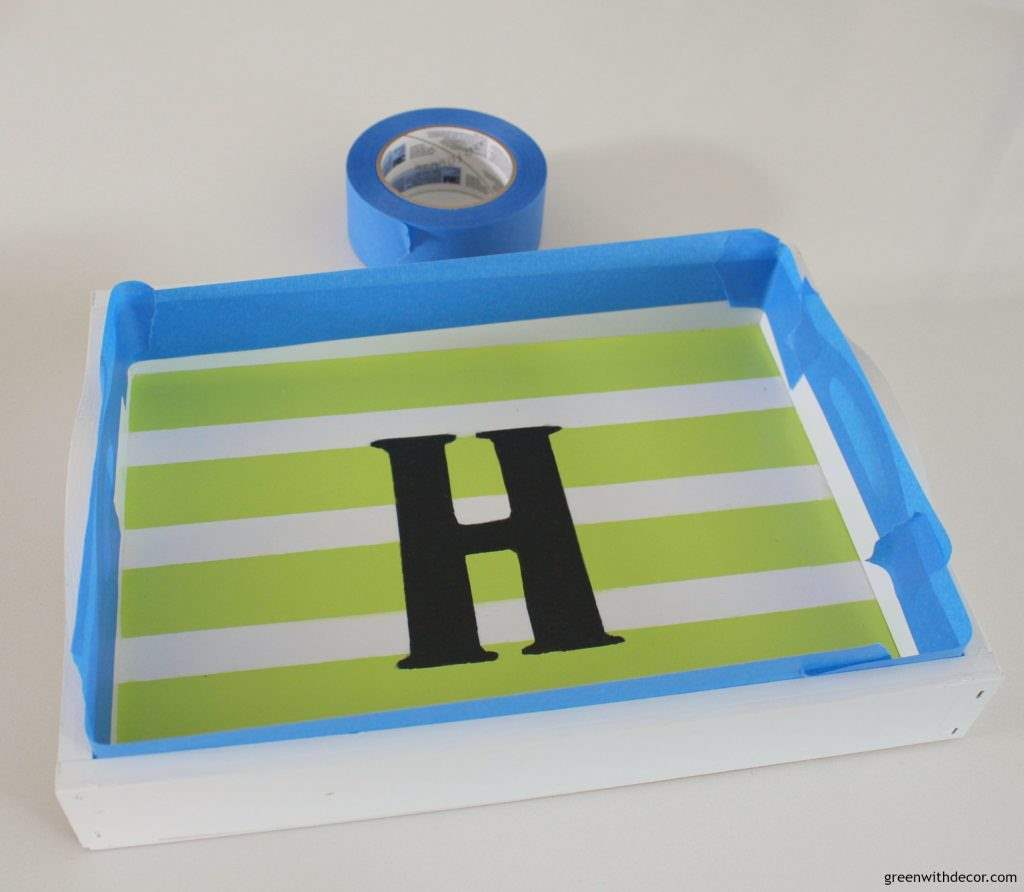 I did two coats. The first looked kind of stripe-y.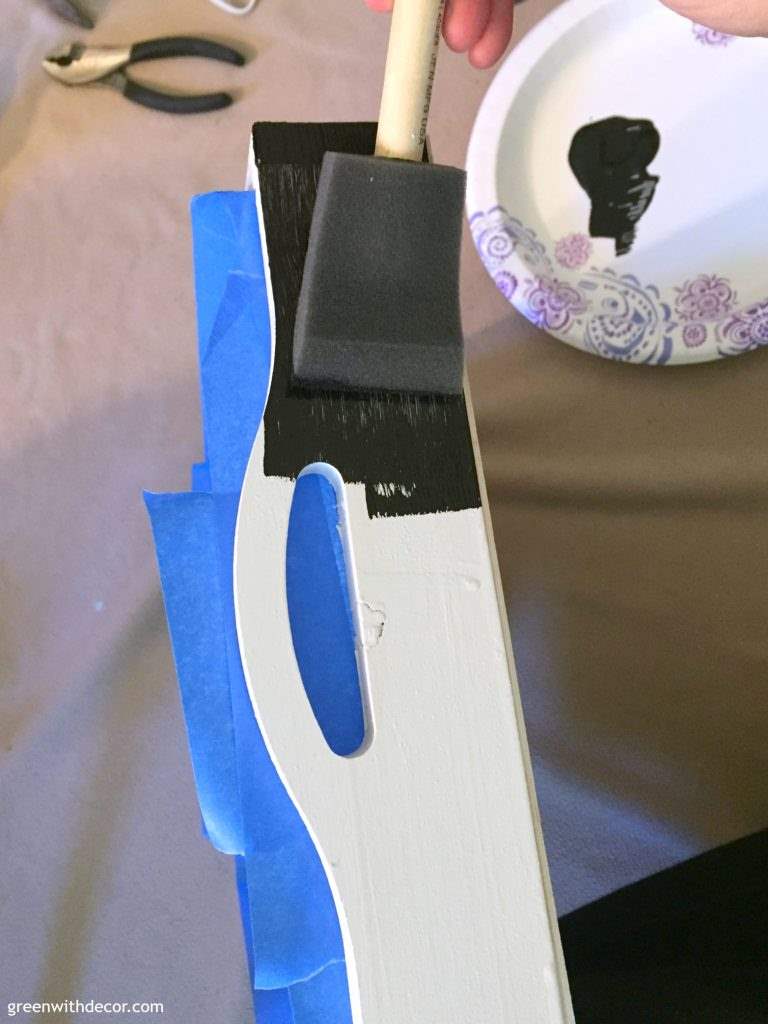 The second coat was solid. The paint dried pretty quickly. I only waited a couple hours in between coats.
All done!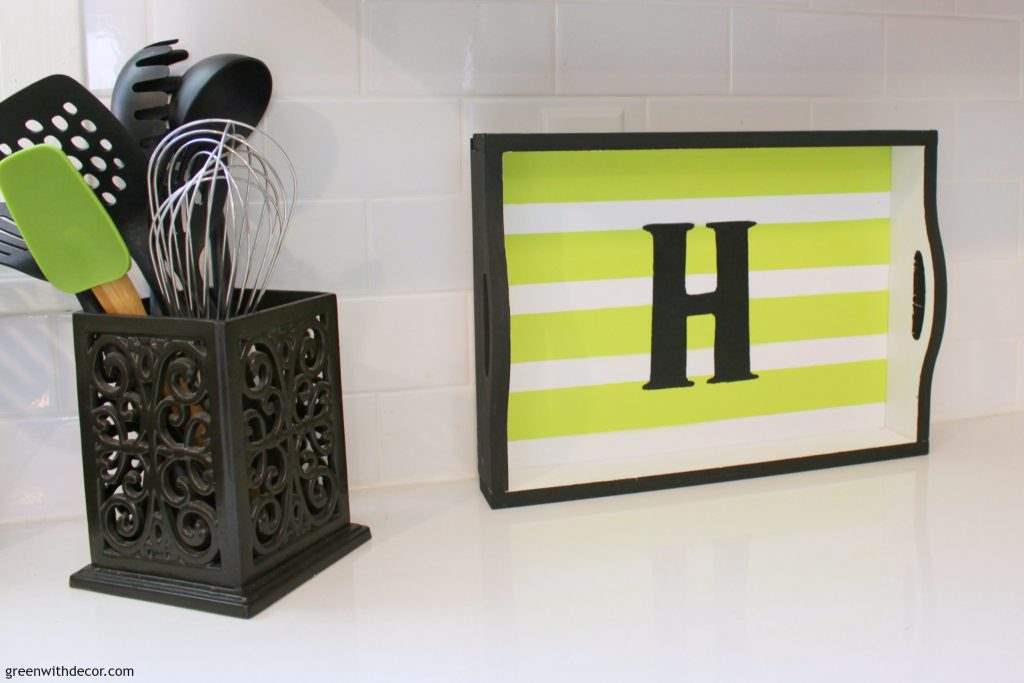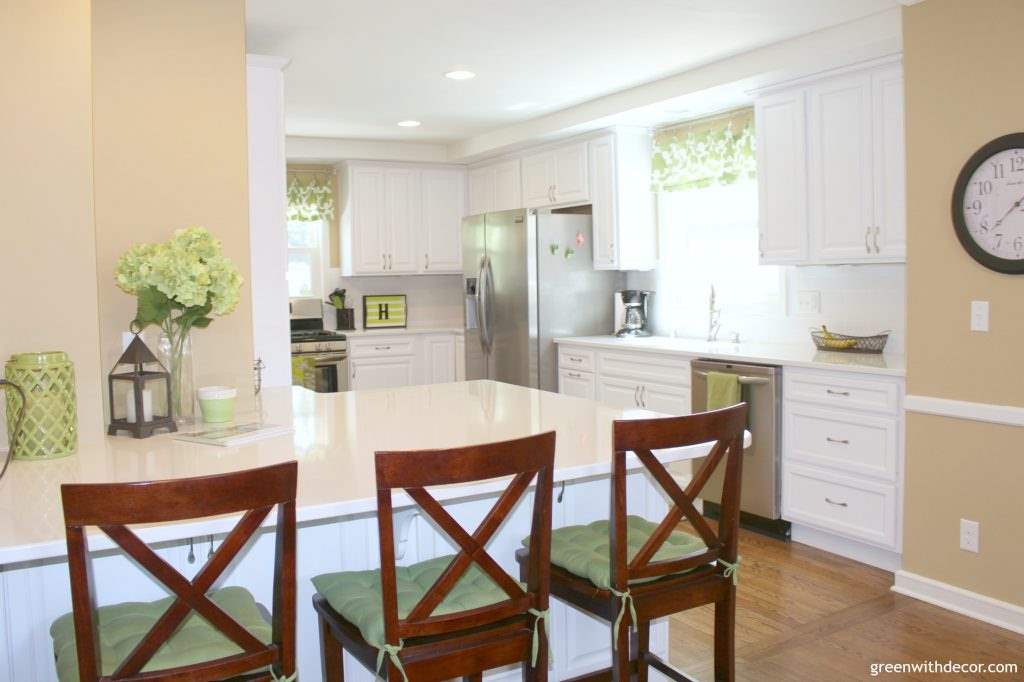 Now I'm looking around my house to see what other decor pieces I can quickly update. 🙂
Have you used paint to spruce up any small decor pieces?
You can see more quick easy decor updates here:
Remember to bookmark or pin this post if you want to save it for later!


Pin it!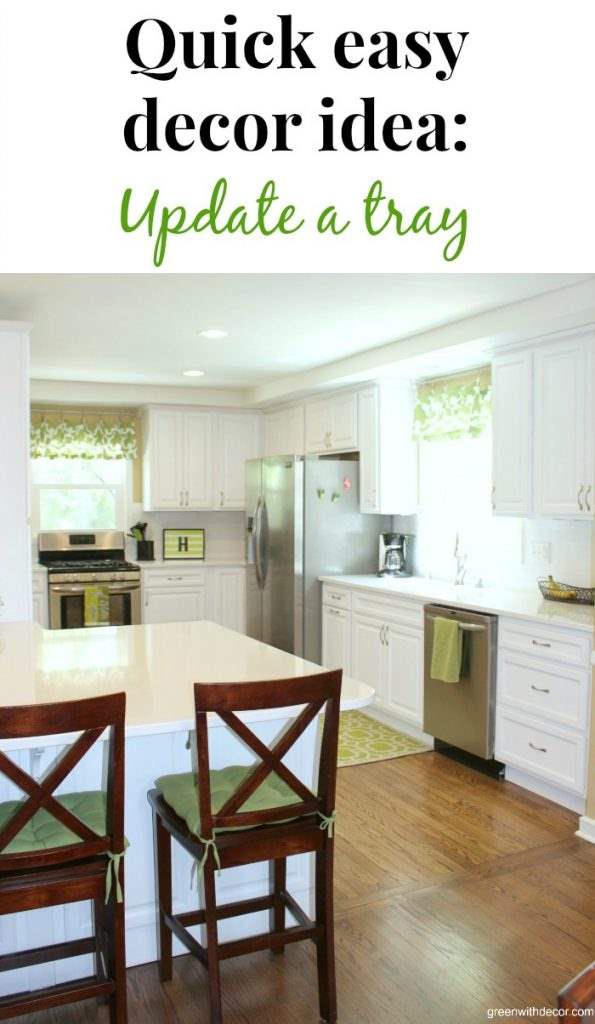 Want to read more posts like this?
Follow along: Get my emails | Facebook | Pinterest | Twitter | Instagram