It's fun to have a festive look for the holidays, but it can quickly become expensive (and a pain to store everything) if you have a bunch of holiday-specific pieces.
But there are a lot of fun everyday decor pieces you can use to make for easy Fourth of July decorating.
If you get a few flags, you can skip a lot of other strictly patriotic decor. Think red, white and blue non-holiday pieces. They'll look festive and bonus, you can use them throughout the year, too. Win-win.
And even if you don't usually like red decor, it's nice having a few red and white pieces you can bring out for Valentine's Day, Fourth of July and Christmas.
Here are some of my fave everyday pieces you can use to easily decorate for Fourth of July.
1. Star-shaped anything
Anything in a star shape looks patriotic on Fourth of July. We have these little mercury glass star votive candles I like to put out for Fourth of July and Christmas.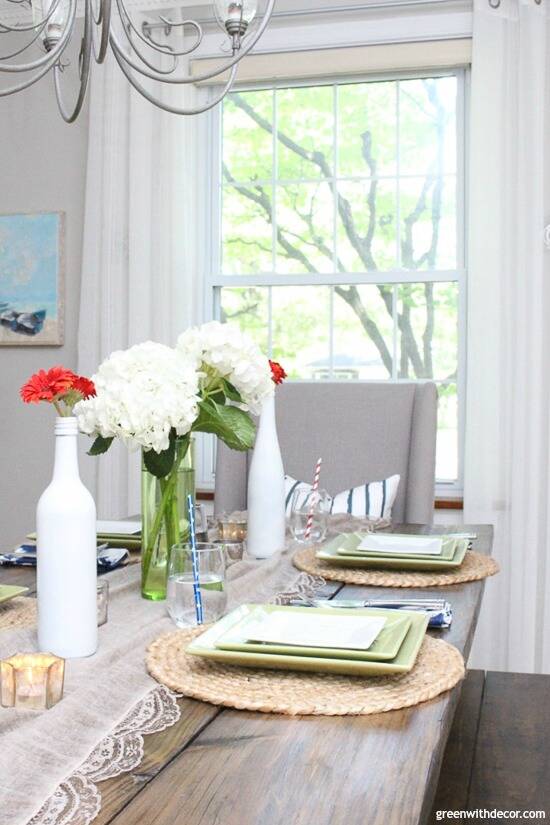 2. Votive candles
Which brings me to … candles! Light any red, white, blue, silver or gold candles and call it patriotic decor.
Votive candles always add a bit of a festive feel to a dining table or patio table.
3. Red, white and blue dishes
Any red, white or blue dishes look patriotic on the holiday! Add some to a plate rack, bookshelf or mantel.
And even better, non-holiday specific pieces can be used throughout the year, too.
White and blue pretty much work year round, and red dishes can be tucked in the Christmas stash to be used again later in the year.
4. Vases
Stick flags in any vase and it's easy Fourth of July decorating at its best.
5. Bottles
You can usually find cool colored glass bottles at the thrift store, but the wine aisle is also a winner here.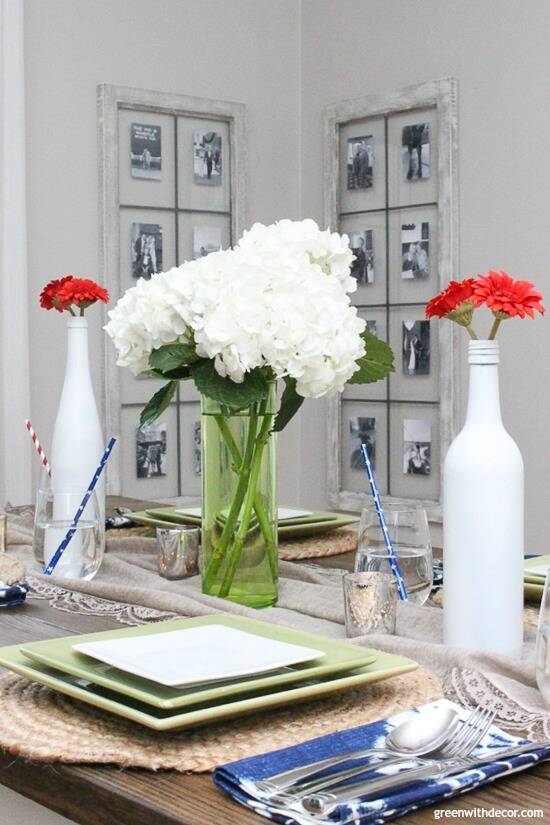 You can always spray paint bottles red, white or blue, too. (See more of this patriotic centerpiece here: 5 tips for an easy Fourth of July table.)
6. Jars
Speaking of the recycling bin, save those old jars, too. You can make these cute Fourth of July DIY silverware jars.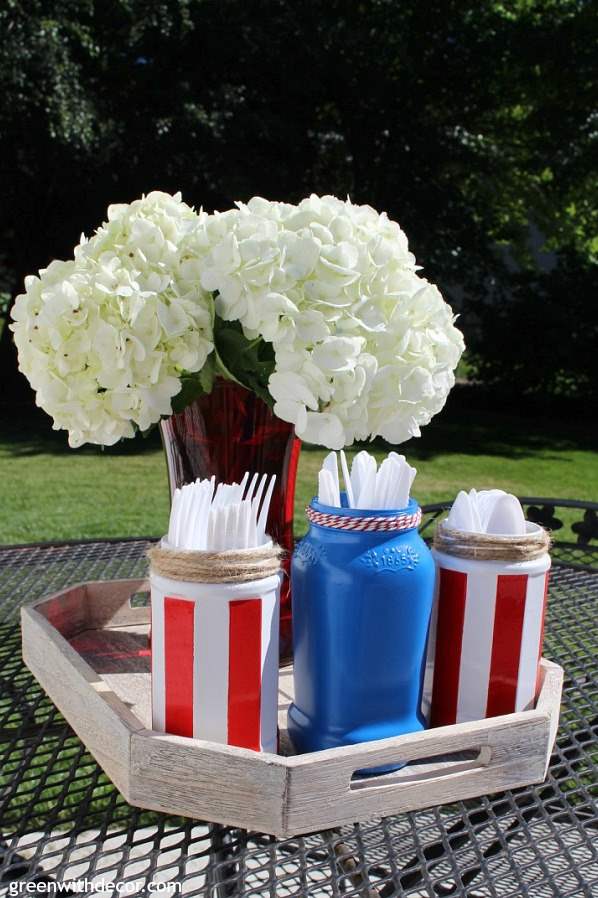 7. Red, white or blue flowers
Flowers are always a win. Go fresh or think faux. (Red and white flowers work for Christmas and Valentine's Day, too.)
If you have an old wreath, you can always deconstruct it and use the flowers in a little vase, too. (Or an old beer bottle … see picture below!)
8. Picture frames
You can either paint frames red, white and blue or leave them as is and pop in a free Fourth of July printable for instant festive artwork.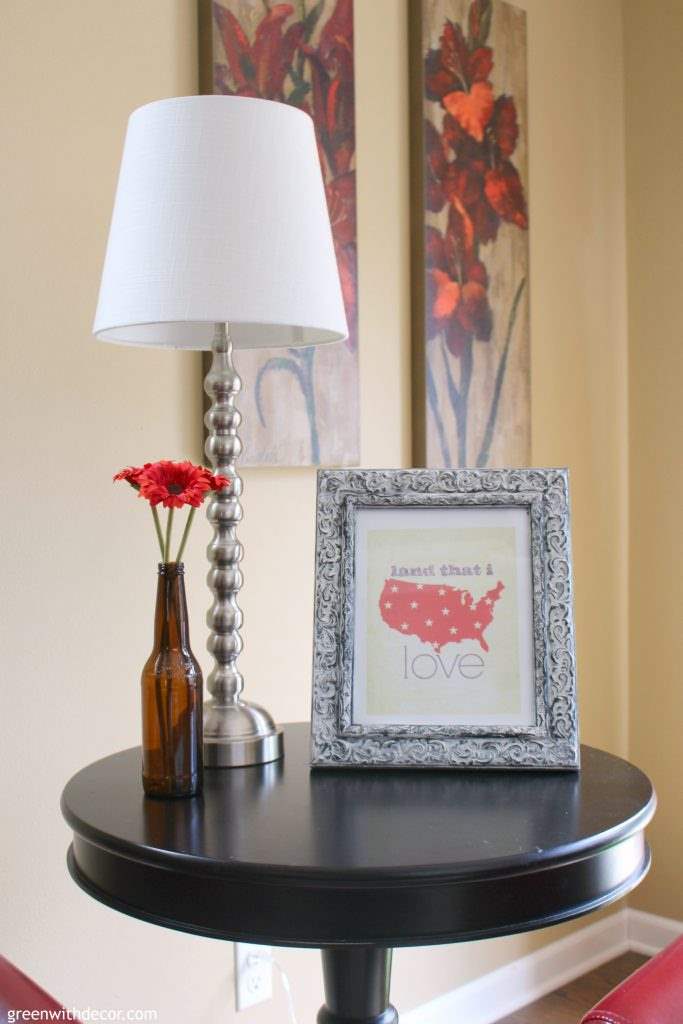 I added glaze to this frame I used for patriotic artwork, see the tutorial here: How to add glaze to painted pieces.
9. Trays or cake stands
Trays and cake stands are perfect for corralling a bunch of decor pieces. Add anything red, white and blue and you're good to go! Everything looks fancier on a tray.

(Red and white twine works for several holidays throughout the year, too! Just tie it around the top of a vase or jar.)
10. Drink caddy
Same goes for a drink caddy. Fill it with anything red, white and blue and you're set.

The best part about using everyday pieces for Fourth of July decor is that you don't have to spend much money or a lot of time moving pieces around to get a holiday look.
Have any other favorite pieces you use for easy Fourth of July decorating?
Remember to bookmark or pin this post if you want to save it for later!


Pin it!
Want to read more posts like this?
Follow along: Get my emails | Facebook | Pinterest | Twitter | Instagram