New homeowners are some of my favorite people to shop for. There are just so many options – stock their kitchen and bar, decorate their walls, fill their toolbox, the list goes on!
I round up my favorite things that we usually give new homeowners on our list. Just click any of the images below for more info. Happy shopping!
This post contains affiliate links. This means if you click the link and buy something, I may receive a small percentage of sales at no extra cost to you.
For the kitchen:
Blender


We love our Cuisinart blender. We make smoothies for breakfast every morning. They're easy to make, taste great and you can throw in spinach for some health benefits (and you can't even taste it)!
I'm not a morning person, so a breakfast that doesn't take long to make is perfect for me – and for your favorite family and friends who aren't morning people either!
Crock pot


Especially as we start heading into those cold winter months, we use our crock-pot a lot! It's perfect for chicken taco chili, pot roast, chicken-cheese dip … the list goes on.
When it comes to dinner, isn't it great to throw a bunch of ingredients into a crock-pot and then come back hours later to a delicious meal? Yes!
Moscow mule mugs


These are so fun!
Kalen just got me set of Moscow Mule mugs for my birthday, and I love them. I don't limit them to Moscow Mules (although those are delicious), because everything taste delicious in these.
Serving dishes


These make the perfect hostess gift, stocking stuffer or just a fun add-on to a gift. Everyone loves cute dishes!
I like these appetizer plates and this chips + dip set. Perfect for a holiday party or a cozy night at home.
For decorating:
Cozy blankets


I love having blankets in every room, and when you move into your first home, you probably have more rooms than you're used to. So more blankets are definitely necessary!
My favorites are this cozy chunky blanket and this cozy blanket that comes in multiple colors.
Decorative lanterns


These lanterns are perfect in pretty much any room of the house. I've seen some clever fall and Christmas decorating ideas using these lanterns, too.
Faux plants


Plants (even when they're fake) add a bit of life to any room. If you're stumped decorating a room because it's not feeling finished, add a plan or two and boom, done.
Baskets


Baskets are perfect for storing (and hiding) everything! Blankets, pillows, games, dog toys, you name it.
Welcome mat


Everyone needs a pretty welcome mat, especially when the home is new! This mat is a cute way for them to mark when they bought the house.
For the toolbox:
Drill


Now that we've covered faux plants and entertaining necessities, let's talk tools. All homeowners pretty much need a drill at some point.
Level


A level can sometimes be one of those things you don't even think about until you're hanging something on the wall and then – oh, yeah, is this straight?
Spray paint


You'd be amazed what can be fixed with a little black or white spray paint. These neutral paint colors are always good to have on hand.
Painter's tape


New homeowners will probably need painter's tape at some point. It's always good to have some on hand.
A good paint brush


New houses almost always mean some painting projects. A quality paint brush goes a long way.
What are your other favorite gifts for new homeowners?
You can check out even more gift ideas here for the people on your list that love wine, traveling, DIY, home decor, entertaining and more.
Or you can see all of my favorite things (including fun gift ideas) from Amazon on my Green With Decor Amazon page here,
Remember to bookmark or pin this post if you want to save it for later!


Pin it!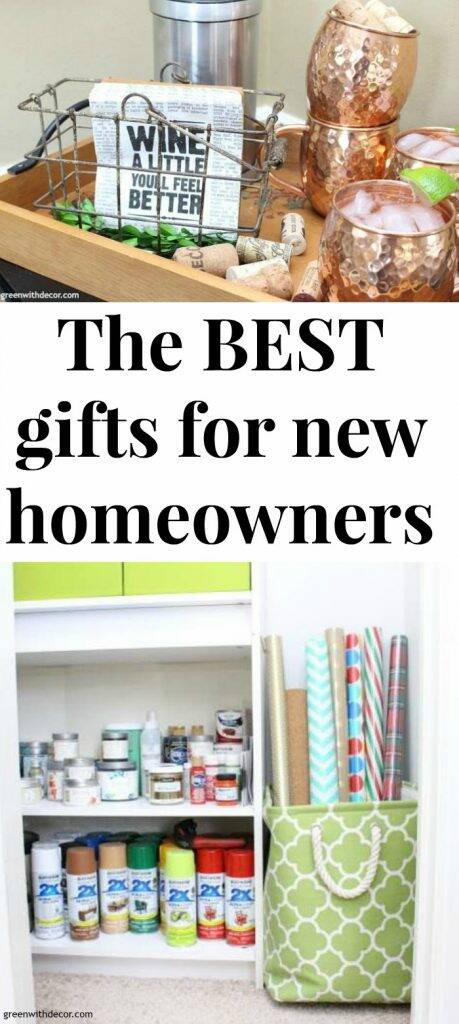 Want to read more posts like this?
Follow along: Get my emails | Facebook | Pinterest | Twitter | Instagram