Setting up a home office doesn't have to be a huge chore. These 5 tips will help you set up a workspace you love.
Disclosure: This post is sponsored by Steinhafels. All opinions, images and love of using pretty furniture are 100% mine.
Don't we all wish we had an extra room or two in our homes?
For a home office, craft room, guest room, rec room, you name it. I'm guessing that's probably true no matter how big your house is though. We could always find an excuse for an extra room.
I've never had a typical 'office'. Kalen and I both work from home at times so we need two home offices, which isn't really easy to find short of buying a much bigger house.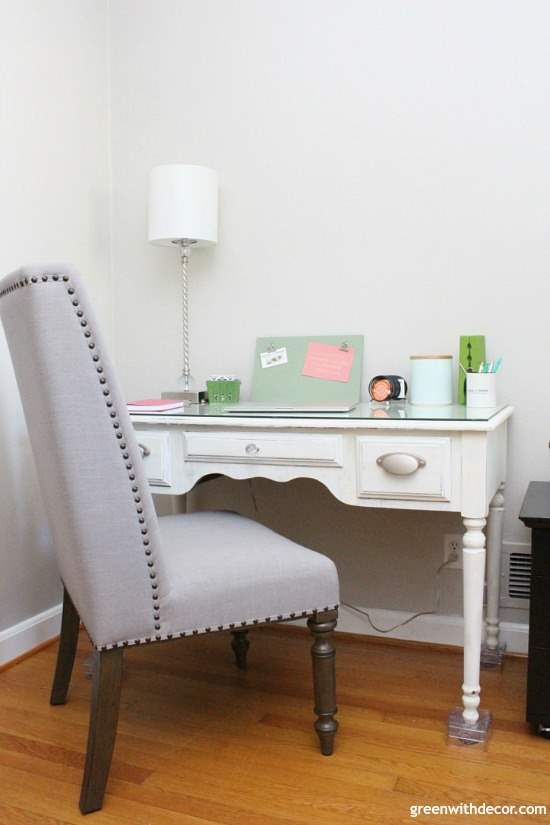 All you really need is a little corner you can call your own!
If you're lucky enough to have extra rooms for an office, go for it, but otherwise, get creative. You probably have extra wall space or a little nook somewhere that's perfect for a little home office.
Just for fun, this is what this wall looked like a few months ago. I'm always one for a good before and after. It's amazing what some paint can do. (And organizing – ha please ignore the mess!)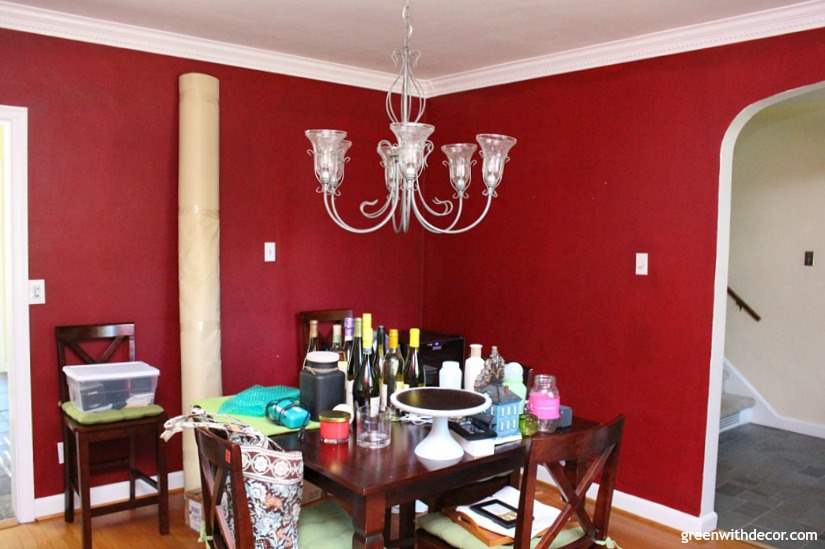 Here are a few fun tips for setting up a little home office.
1. Pick a good wall color.
We all spend a lot of time sitting at our desks, be sure the wall color you're surrounded by is one you love!
We went with Agreeable Gray by Sherwin Williams throughout most of the house, and as someone who used to be iffy about gray paint, I have to say, I like it. It's really a great neutral and goes with everything.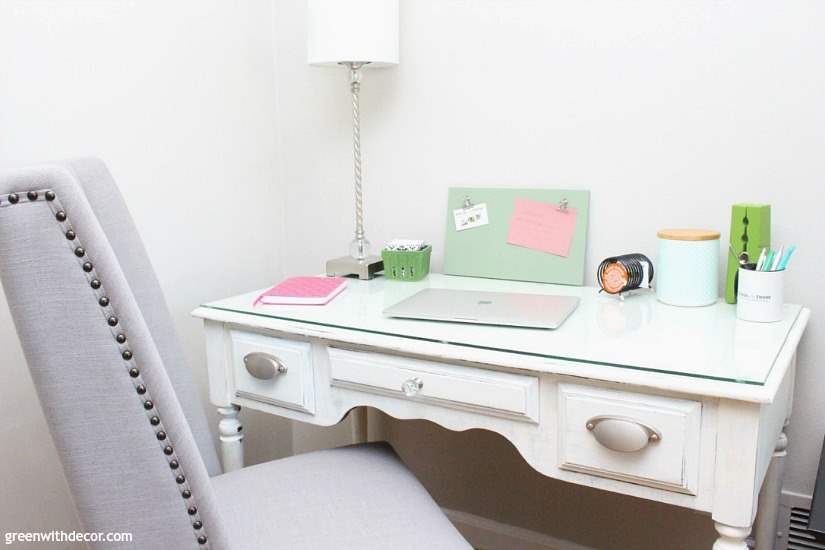 2. Comfortable seating
This should go without saying, but I waited an embarrassingly long time to get a chair at my desk that was actually comfortable to sit in for long periods of time. You may have noticed in a few of the older pictures of my desk that the desk chair kept changing.
I may have a serial redecorating problem, but the issue here was that I couldn't really find one I loved that worked with the desk so the musical chairs game here was totally acceptable. 🙂
Then I came across this Belmeade Hostess Chair from Steinhafels and got all the heart eyes.
Isn't it gorgeous!? It's maybe not a traditional desk chair, but I wanted something comfy that looked good, too, and this was perfect. Plus I love picking pieces that can serve multiple uses. We can easily use this chair in a foyer or a bedroom corner in the future if we want.
This post contains affiliate links. This means if you click the link and buy something, I may receive a small percentage of sales at no extra cost to you.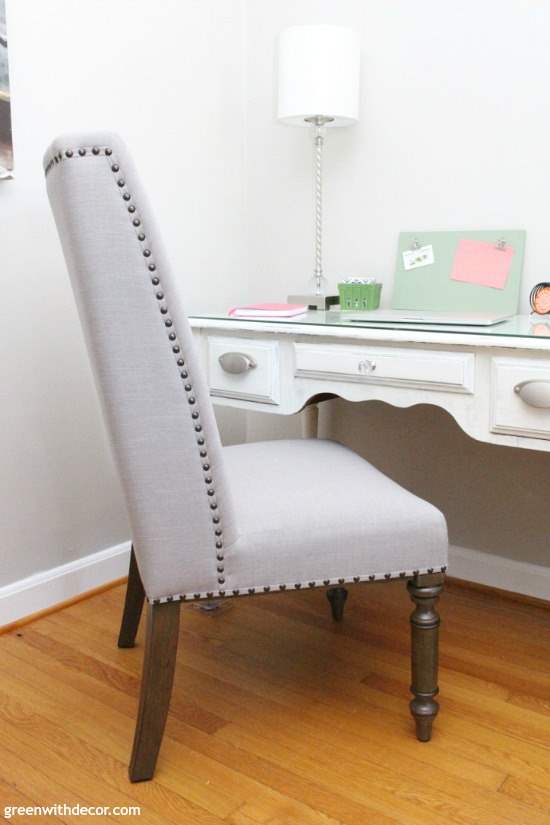 We've had a few friends over lately and as we're touring the house, everyone has commented on the chair, isn't that funny? I feel like usually everyone just kind of glosses over the home office areas.
I love the mix of the natural wood with the fabric, and the nail heads add an extra decorative touch. The front legs have so much detail, I just love them!
3. Get the right desk height
I use my grandparents' old desk, which I just love. I painted the desk with clay paint for an updated look.
But I had trouble finding a good chair to go with the desk height. I think it's just a *little* shorter than furniture they make today. Which would explain why I was always swapping out my desk chair.
When I saw the Belmeade chair from Steinhafels, I knew I wanted it so I was determined to make it work with the desk.
I did some research to figure out an easy way to make the desk a bit taller. We ended up buying these furniture raisers.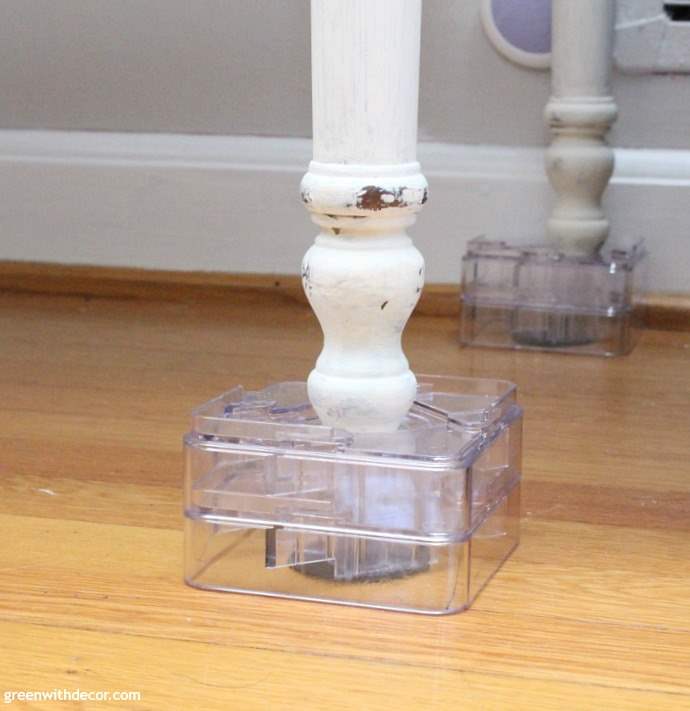 They're clear so it's not all that noticeable that the desk is on risers. They were easy to simply place underneath the desk legs (as long as you have two people!) so if we ever decide we don't need them anymore or want to use them for a different piece of furniture, it's easy to reuse them.
We were looking at a few wood options that we'd screw in to the bottoms of the legs (and then paint to match the desk), but they were all too tall.
4. Good lighting
We've had a set of two of these lights for a while so I snagged one for my desk.
We have an overhead light in here and a window that lets in pretty good natural light throughout the day, but I like having a little desk light, too. This one is so tall and skinny it doesn't take up much space on the desk, which is a definite plus.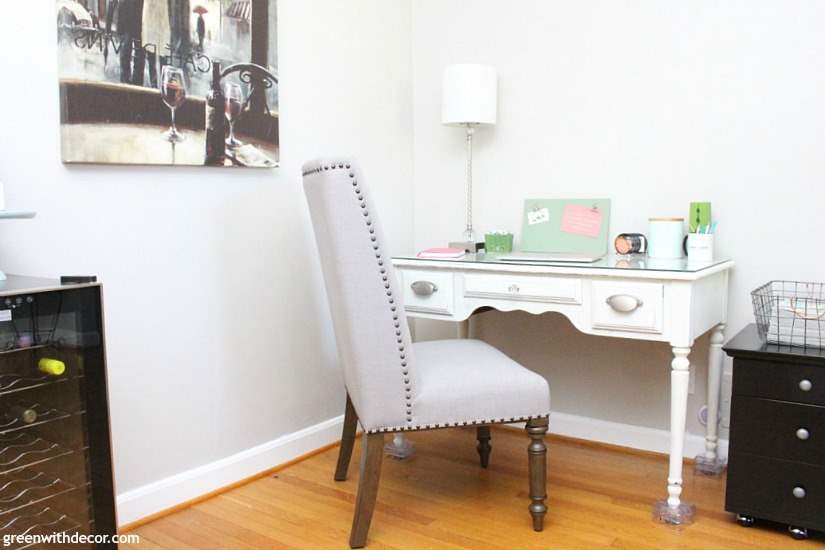 And yes, there's a corner of the wine fridge, just a little reminder we're in the middle of a dining room!
(I hung that picture up because there's a random light switch in the middle of that wall, and it was driving me crazy.)
5. The right amount of storage
When you plop your desk into the middle of another room and declare it a home office, storage is kind of an issue since you're using the room for multiple things. This little file cabinet is perfect for this small space. It holds just enough without being overbearing in the room.
Sometimes it's best to have less storage, too, because it forces us to only keep what's important instead of filling a huge filing cabinet with papers we don't actually need.
I've really been about banishing clutter in the past year or two, and it's a pretty freeing feeling.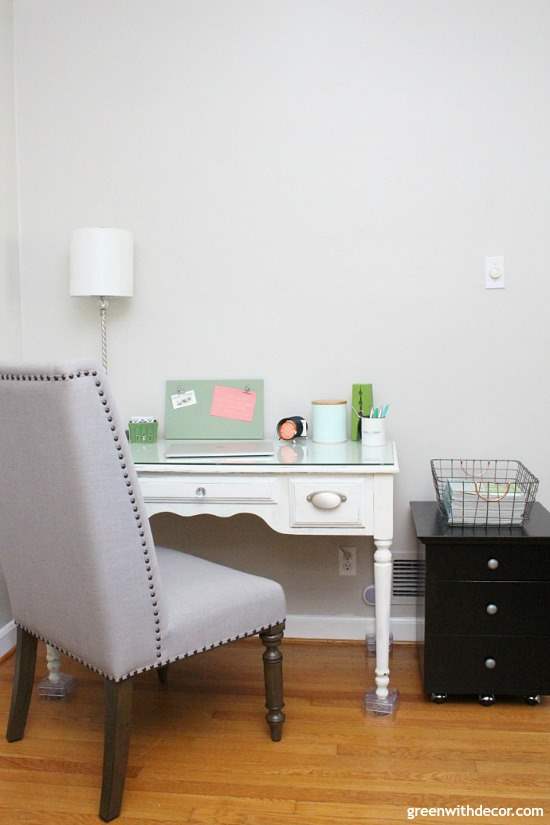 Actually, funny story, this little file cabinet came with our other desk in the office Kalen uses, but ironically we have a different file cabinet in there from Steinhafels a few years ago. It's a big game of musical chairs (filing cabinets?) over here I guess.
I love that this metal basket can sit on top of the little filing cabinet so I can fill it with pretty things like a million copies of HGTV Magazine.
Somehow keeping pretty magazines makes way more sense than a bunch of papers, right? Right.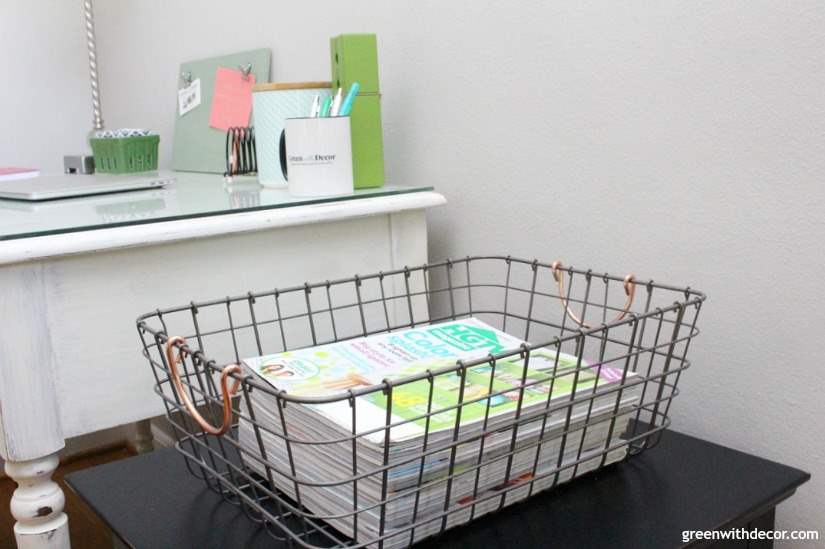 This might be random, but a friend asked me about the piece of glass on top of my desk so I figured I'd mention it here. I had it made so I could use the desk without constantly being worried about scratching it.
(If you're in the Milwaukee area, I had the glass made at Bob's Glass in Waukesha.)
I can't believe I didn't take care of this sooner, too! Sometimes it's the little projects that just take forever to get crossed off the to-do list.
This little green painted clipboard was a recent DIY project. You might have seen a sneak peek on my Instagram Stories last week).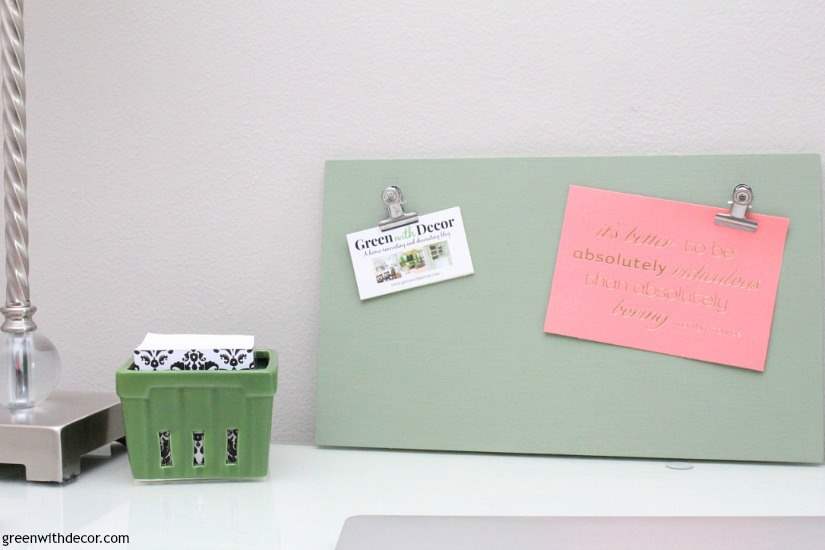 I'm still debating what I want to put on this wall above the desk.
Thinking maybe a big chalkboard or cork board so I can use it for a mix of decorative pieces and still have a place to jot down any notes. I might hang up that green painted clipboard, too depending how the wall comes together.
Do you have a big wall above your desk? What do you use it for?
Update: We made this DIY cork bulletin board for above the desk!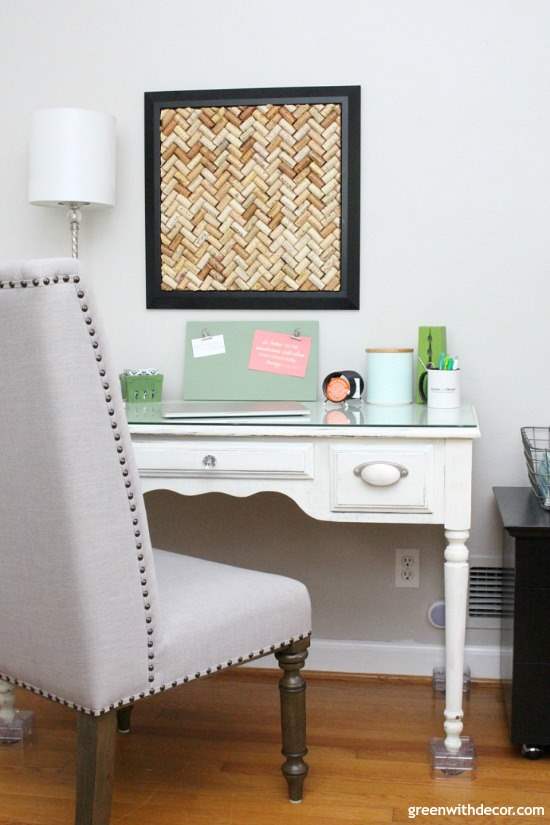 I'm also debating a rug of some sort in here, but we're planning some other changes to the dining part of the room so we'll see what happens. (Update: See the coastal farmhouse dining room here.)
Do you work from home at all? How did you set up your workspace? Or are you hanging on the couch with your laptop because you keep putting off finding a comfy desk chair?
If you're in the market for office furniture, check out Steinhafels' website or visit one of their stores. Their blog is full of fun decorating ideas, too.
GET THE LOOK:
Since a popular question I get is "Where'd you get that?!," here are links to the same or similar sources:
Wall color: Agreeable Gray by Sherwin Williams
Lamp from TJ Maxx
Pink card was from a friend, this one has the same fun quote
Black filing cabinet came with this desk, don't see it online anymore
Coffee mug with my logo was a gift from my brother Stephen and Cathie, isn't it fun!?
Remember to bookmark or pin this post if you want to save it for later!


Pin it!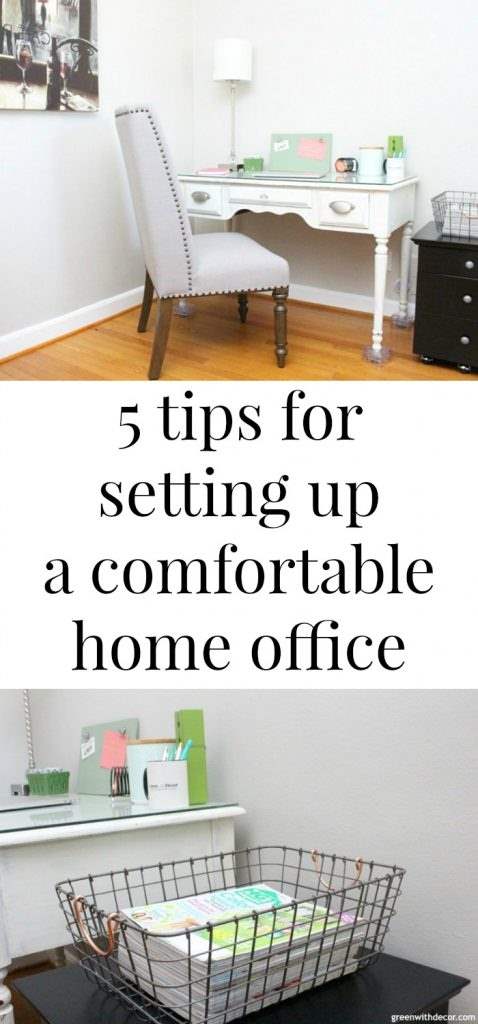 Want to read more posts like this?
Follow along: Get my emails | Facebook | Pinterest | Twitter | Instagram