If you're wondering how to paint wood furniture, follow this simple DIY tutorial to give old furniture a fresh look.
Disclosure: This post is sponsored by Wagner. All opinions, images and love of DIY painting projects are 100% mine.
This post contains affiliate links. This means if you click the link and buy something, I may receive a small percentage of sales at no extra cost to you.
It's apparently the summer of adding kid things to our yard. Big surprise with a 2 year old, right?!
With the swing set, little picnic table, splash pad and a few of these cute kid Adirondack chairs, we're all loving spending time in our backyard, which is great since we're basically always home these days!
I came across this old chair to add to our growing kids chairs collection. It just needed a good paint job to look good as new …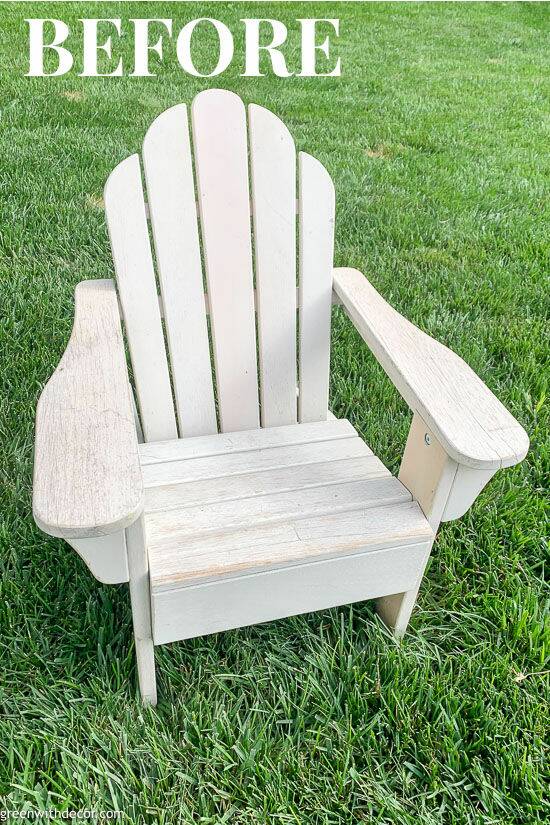 And doesn't it?!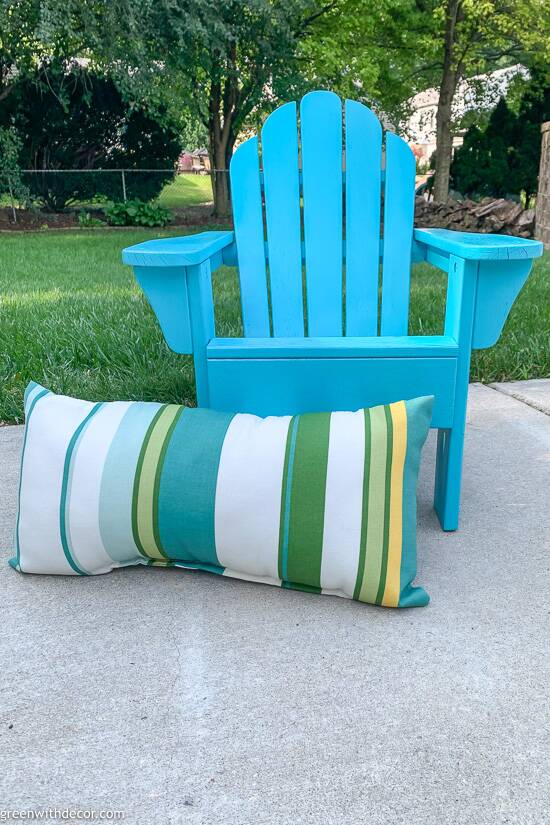 SUpply list to paint wood furniture:
Old cloth for cleaning
FLEXIO 3000 paint sprayer (also available here)
Extension cord (if needed)
Paint (be sure to get something to work on outdoor surfaces if your'e also painting outdoor furniture. I had paint color-matched to match our other kids' chairs in an exterior paint.)
Paint stir stick
Polyurethane or varnish (if painting outdoor wood furniture)
How to paint wood furniture:
Once again, I busted out our handy Wagner paint sprayer to knock this project out during afternoon nap time!
1. Sand your wood furniture.
Don't skip sanding when painting wood furniture. Prep work is almost always worth the extra time.
Sand your furniture down to get rid of any loose, flaking pieces. These sanding sponges are great. Plus, your paint will adhere to furniture better after its sanded.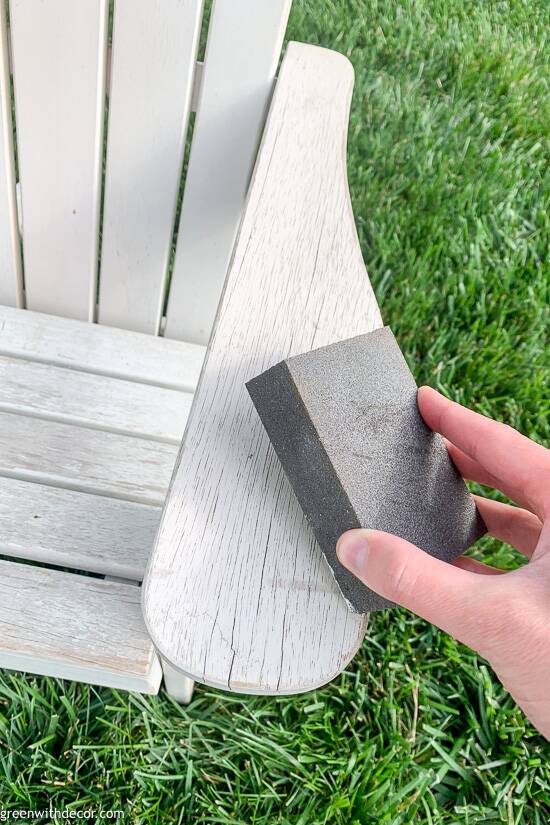 2. Clean your wood furniture.
Wipe down your wood furniture to get rid of the sanding dust and any dirt.
3. Get your paint ready.
Stir your paint, then pour it in your paint sprayer cup.
4. Assemble your paint sprayer.
Put your FLEXIO 3000 paint sprayer together, using the detail nozzle (smaller of the two nozzles). The detail nozzle is perfect for painting wood furniture.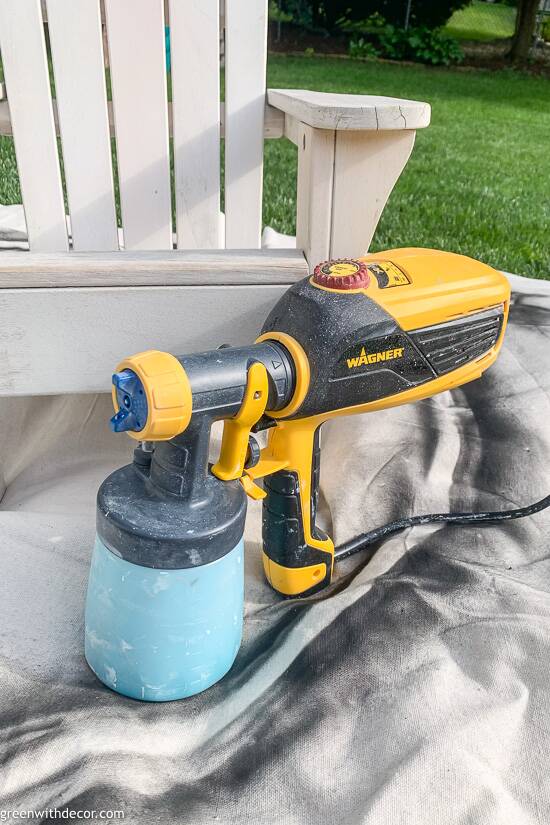 5. Set your paint sprayer settings.
Air power control: Set this based on how thick (higher) or thin (lower) your paint is.
Material flow control: Set this based on the type of paint you're using. If you're not getting enough paint , turn it up. If your paint runs, turn it down.
Spray shape / air cap: Set this depending if you want a horizontal, vertical or round spray pattern. You can adjust this as you go – for example, as you switch between a chair seat and the chair back.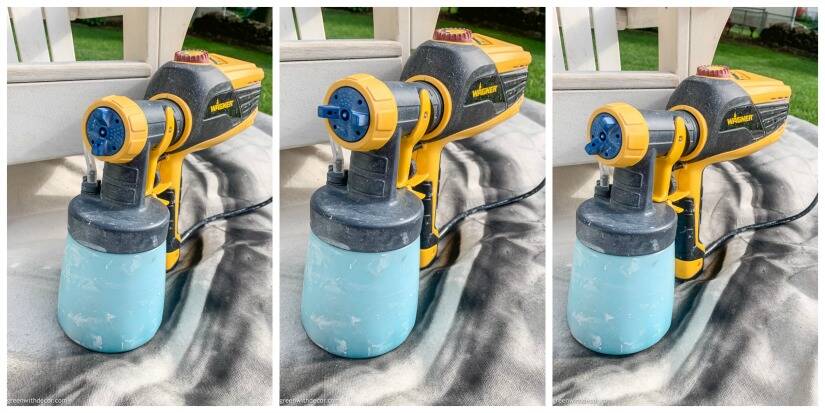 Check Wagner's manual if you have questions on any of the settings.
6. Paint your wood furniture!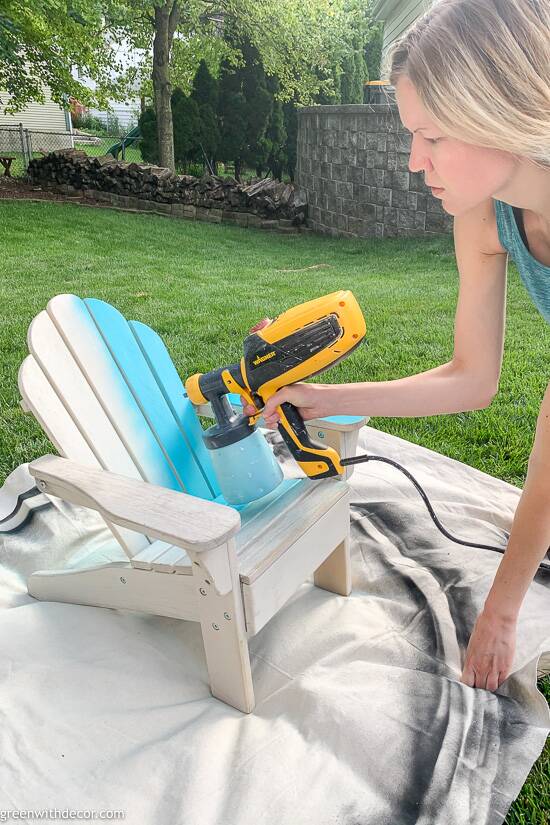 Tips for using a paint sprayer:
If it's your first time with a paint sprayer, practice on the practice sheet that comes with it
Keep moving. You don't want too much paint in the same spot.
Keep your wrist moving with the paint sprayer. If you just flick your wrist, your paint will go on unevenly.
Hold your paint sprayer 6-8 inches from your wood furniture while painting.
Do your first coat of paint, let it dry. Do a second, heavier coat. Let it dry.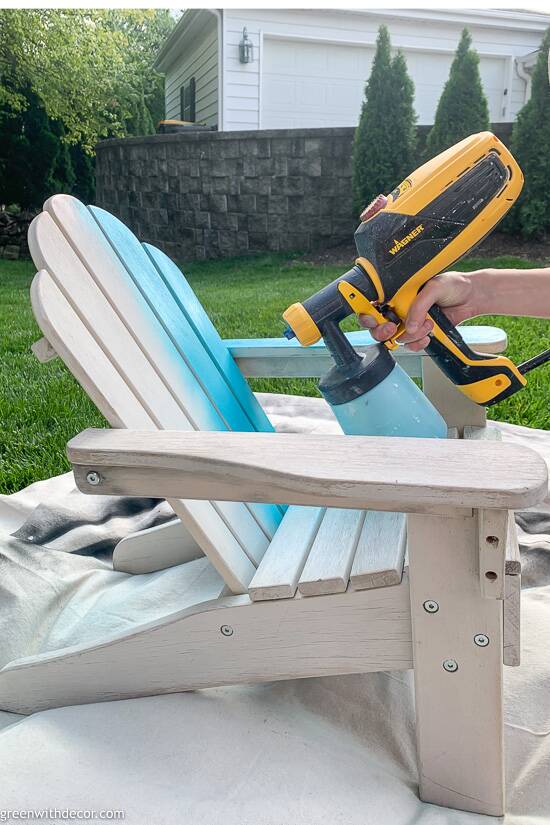 8. Clean up.
Clean your paint sprayer. This video goes through the easy process.
9. Seal your wood furniture (if using outside).
You can seal your wood (to protect it from water) with a coating of polyurethane or varnish. You can either brush on with a paint brush or buy it in a can (like spray paint) and spray it on.
Paint is such a fun way to update furniture. Hope this tutorial is helpful if you've been wondering how to paint wood furniture.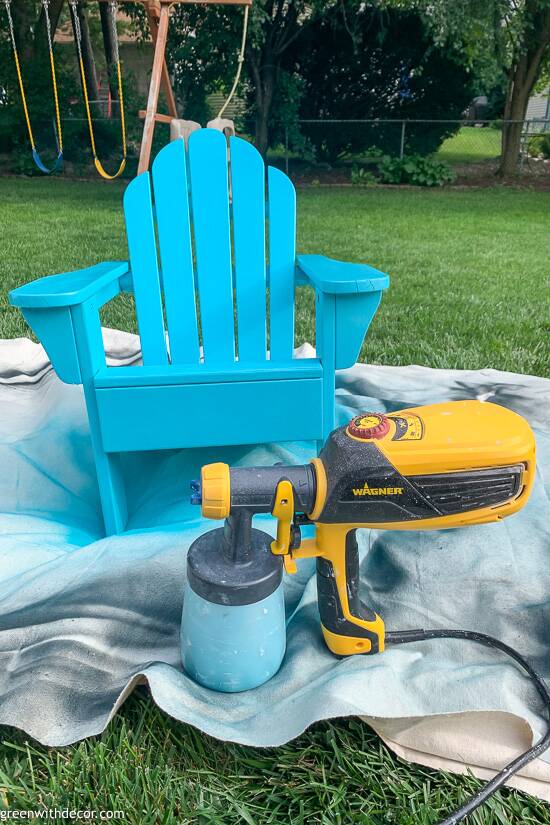 Perfect seating for a cute little kid, don't you think?!
Do you have any wood furniture painting projects on the to-do list?
You can more outdoor painting projects here:
Remember to bookmark or pin this post if you want to save it for later!


Pin it!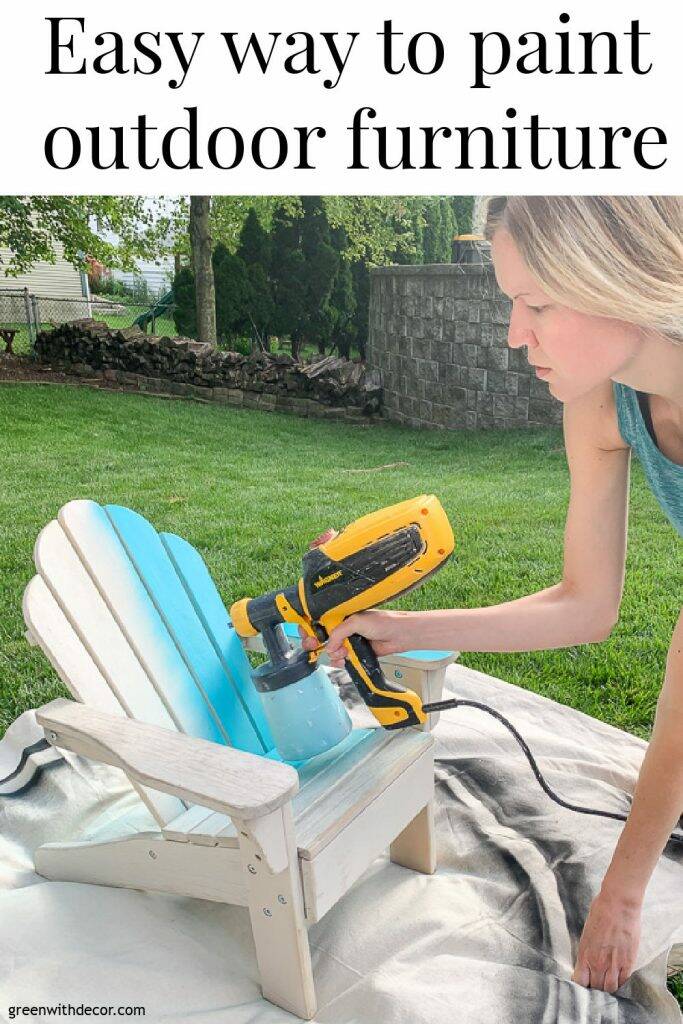 Want to read more posts like this?
Follow along: Get my emails | Facebook | Pinterest | Twitter | Instagram