If you're wondering how to paint garage shelving, it's easy with a paint sprayer! Just follow this simple DIY tutorial.
Disclosure: This post is sponsored by Wagner. All opinions, images and love of painting projects are 100% mine.
We've been busy organizing the garage, which may not be the most exciting project, but it really does feel great to have everything organized!
We realized we could use another shelving unit. We had an old one in our basement that's been sitting there disassembled.
So we hauled it upstairs and laid it out in the garage to paint.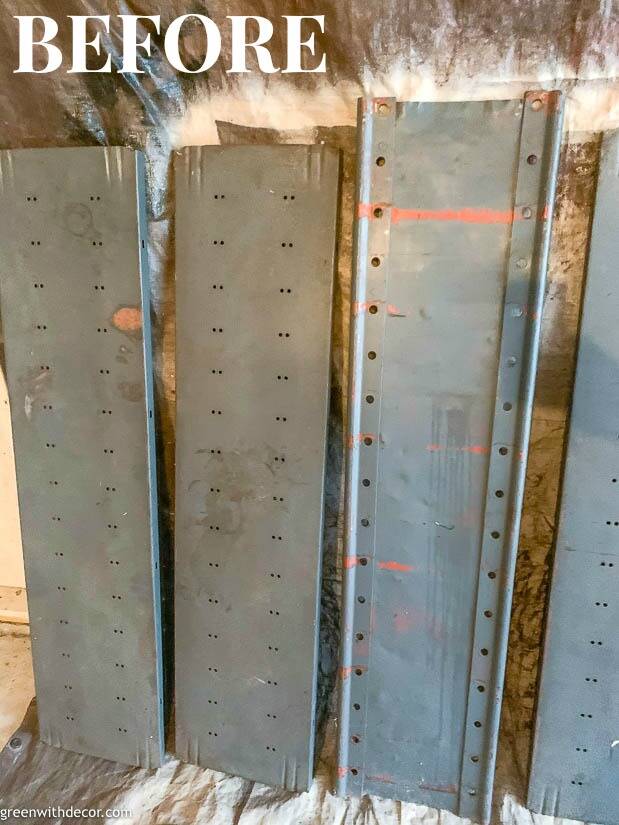 It was gray and red … and now it's a pretty dark bronze color! Luckily I have an insane amount of paint in the craft closet since new paint is harder to come by these days!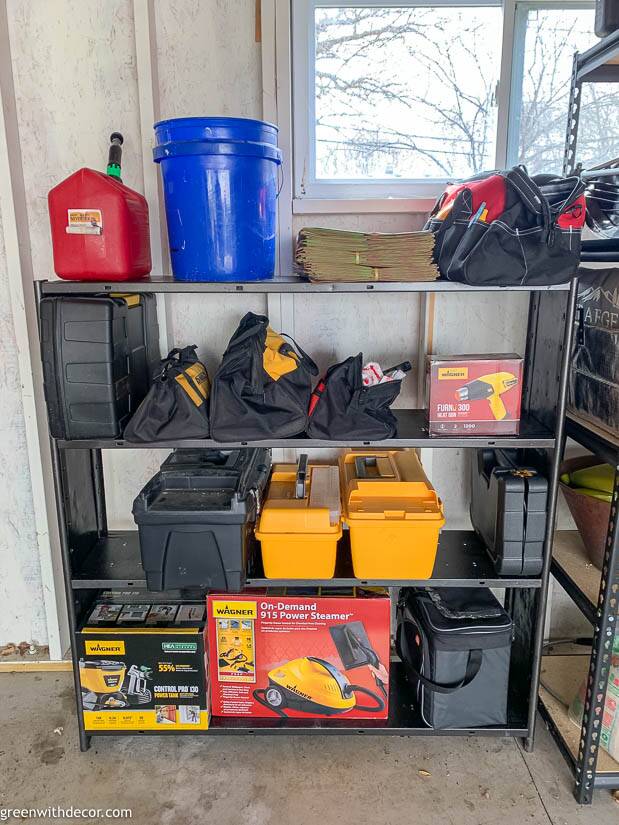 This post contains affiliate links. This means if you click the link and buy something, I may receive a small percentage of sales at no extra cost to you.
Supply list for painting garage shelving:
How to paint garage shelving:
1. Clean your garage shelving.
Wipe it down to get rid of any dust and dirt.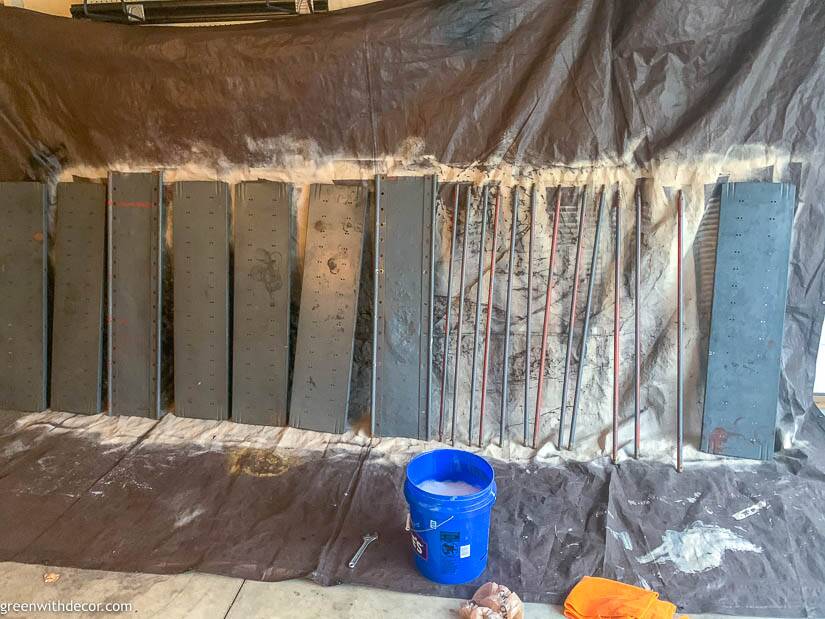 Can you tell this is the tarp I also used to paint our shutters? Ha!
2. Prep your paint.
Stir your paint and pour it in the sprayer's paint cup.
3. Assemble your paint sprayer.
The FELXiO 3000 comes with two nozzles: the detail and the iSpray. The detail nozzle is perfect for smaller surface projects like garage shelving that have lots of different surface areas.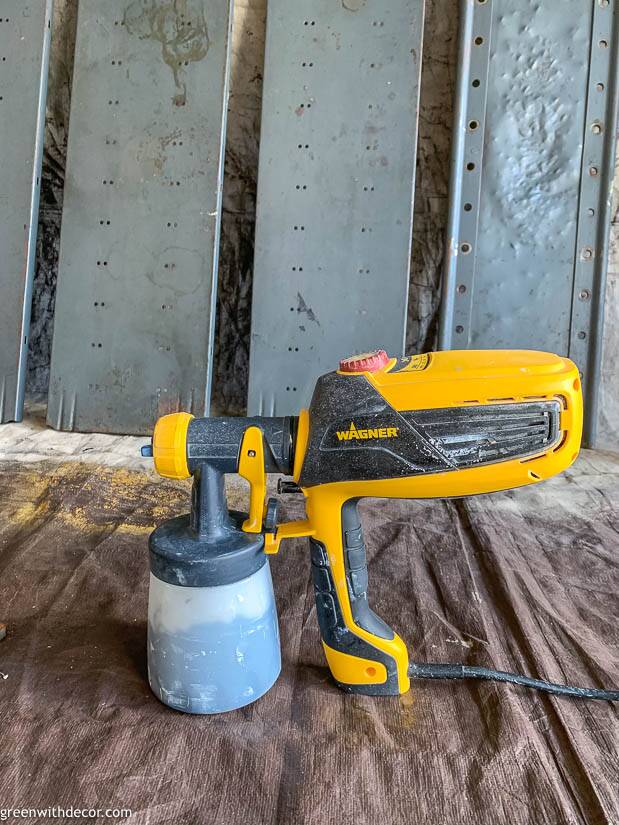 4. Set your paint sprayer settings.
Spray shape / air cap: This determines the shape of the paint spray. With something like garage shelving where you're switching between wider shelves and skinnier poles, you'll adjust as you're painting to get a horizontal, vertical or round spray pattern.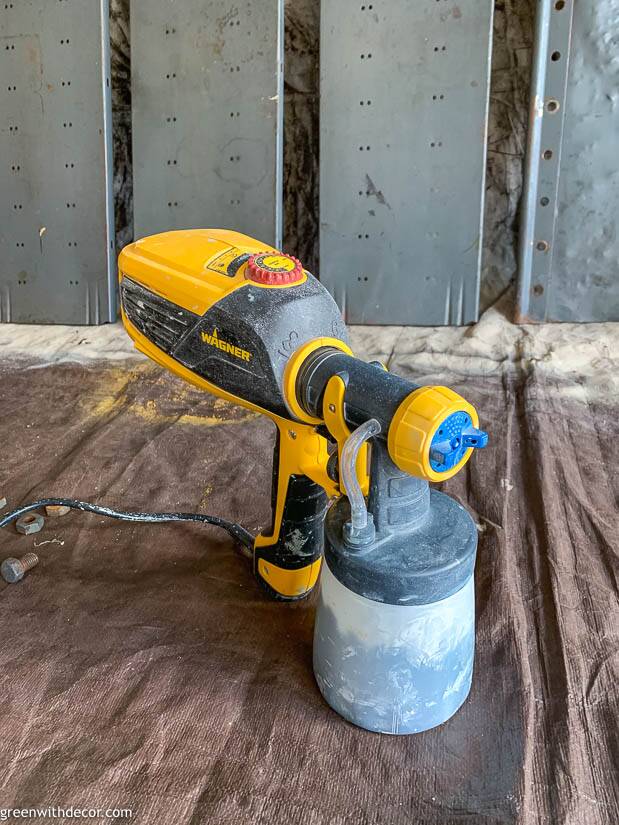 Air power control: The thinner your paint, the lower you'll want to set this. You can adjust as you go. If you're also painting garage shelving or something similar, start at about a 3. Wagner's manual is a great resource if you have questions on this.
Material flow control: This is based on the type of paint material you're using. If you're not getting enough coverage, it's most likely set too low, and if your paint is running, it's most likely set too high.
5. Start painting.
A few tips for using a paint sprayer:
If you've never used a paint sprayer, practice on the practice sheet Wagner provides with your paint sprayer. It's easier than it looks – go for it!
Keep moving so you don't spray too much paint in one spot, overlapping a bit with the part you just painted.
Move your wrist with the paint sprayer. Don't just flick your wrist or your paint won't go on evenly.
Keep the paint sprayer about 6-8 inches from your shelving.
Do one coat of paint. Let it dry. Do a second, slightly heavier coat for full coverage. Let it dry before moving/assembling.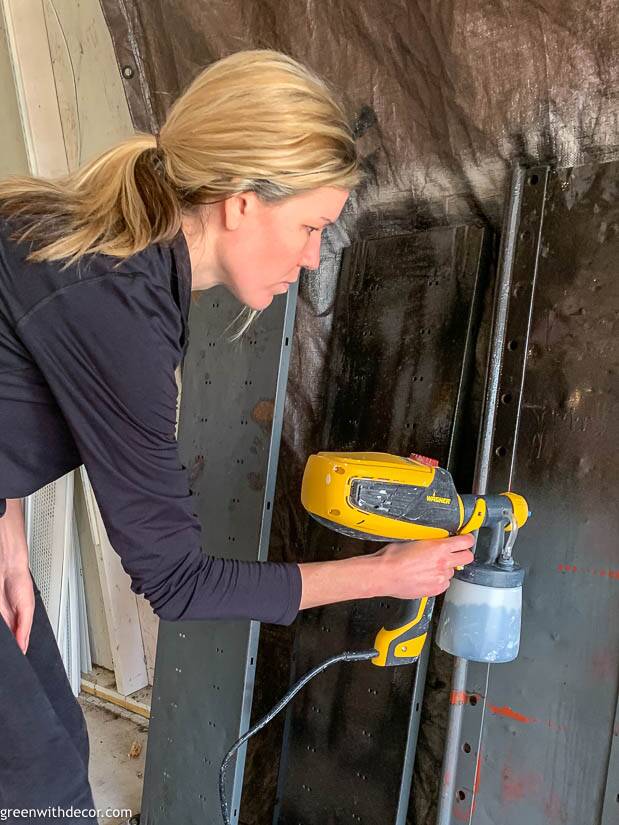 With the shelves and poles, I did two coats with them facing one way, then turned them around and did two coats on the other side. It's easy enough to paint the sides in either you first round or second round of painting.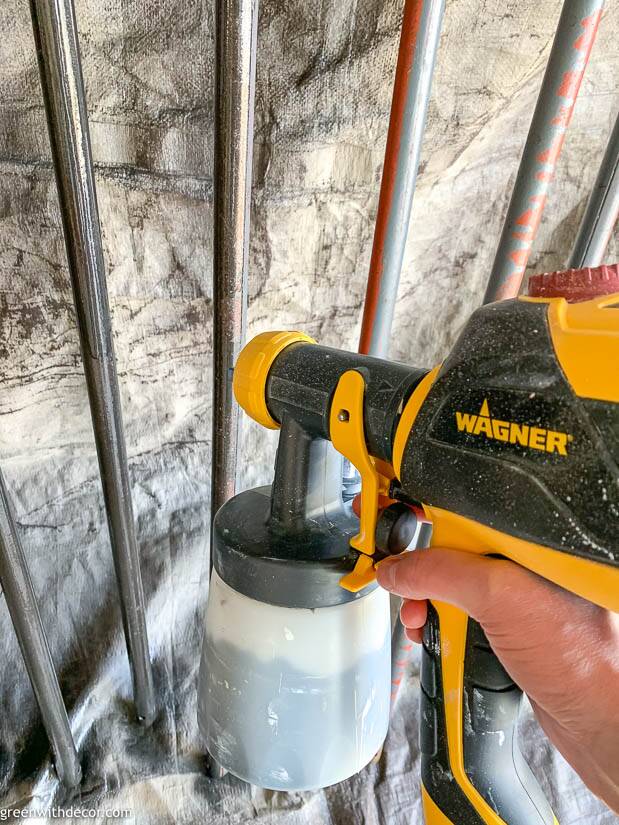 6. Clean your paint sprayer.
Wagner's manual goes through the entire cleaning process if you have questions. This video is also helpful.
Be sure to clean the sprayer while the paint is still wet – it's easier than scrubbing dried bits of paint off of it later!
7. Assemble your shelving.
Once your shelving is dry, put it together.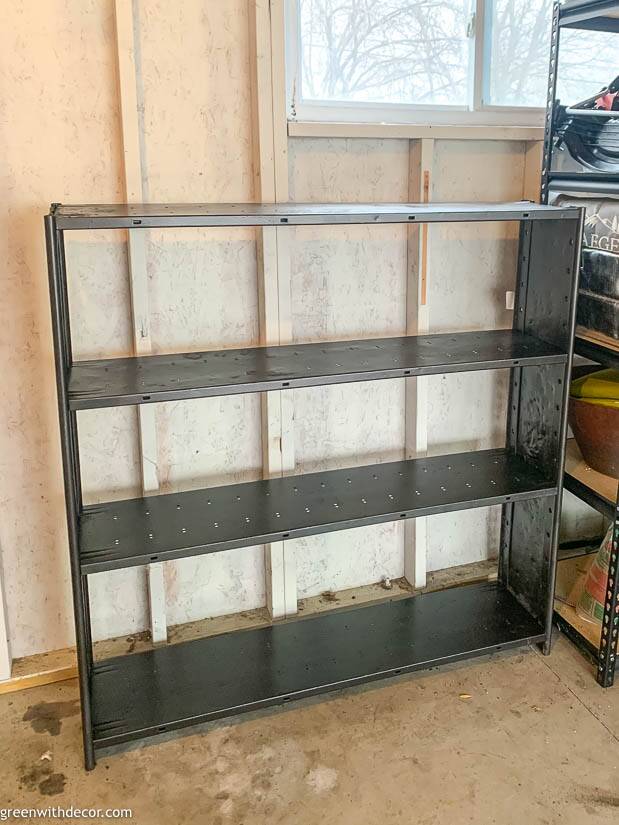 Feels so good to have this project checked off. We're making progress in the garage!
If you have other questions on using a paint sprayer, check out Wagner's website!
For more garage / outdoor projects, check these out:
Remember to bookmark or pin this post if you want to save it for later!

Pin it!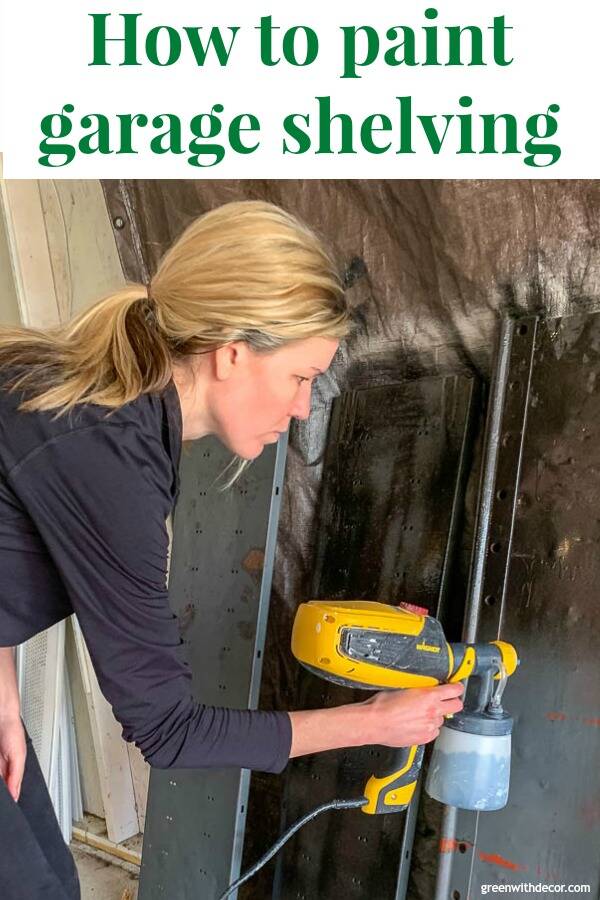 Remember to bookmark or pin this post if you want to save it for later!