I've been sharing our outdoor DIY projects and updates throughout the summer, but I know we all love a big room reveal post, so I figured it was time to share our backyard updates all in one post.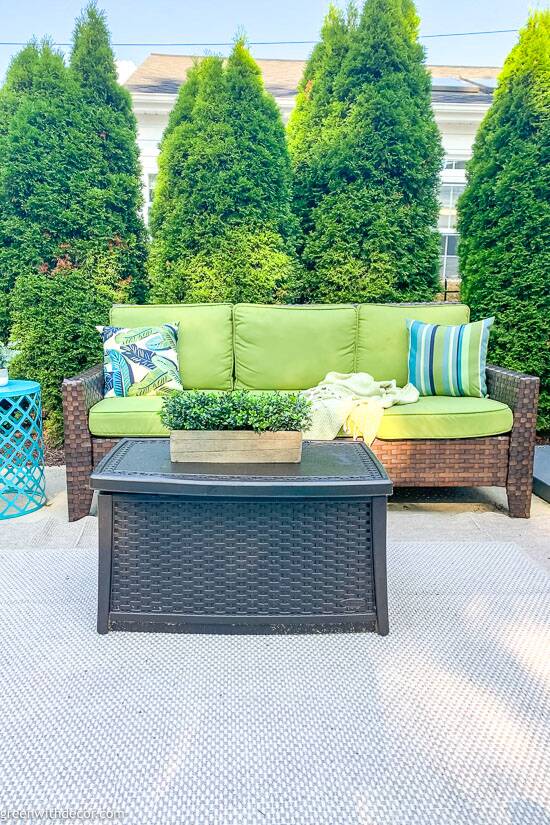 Here's our family-friendly backyard tour.
We joked the other day the backyard is our new vacation spot since we're home alllllll the time. No better excuse to make it a place you want to hang, right?!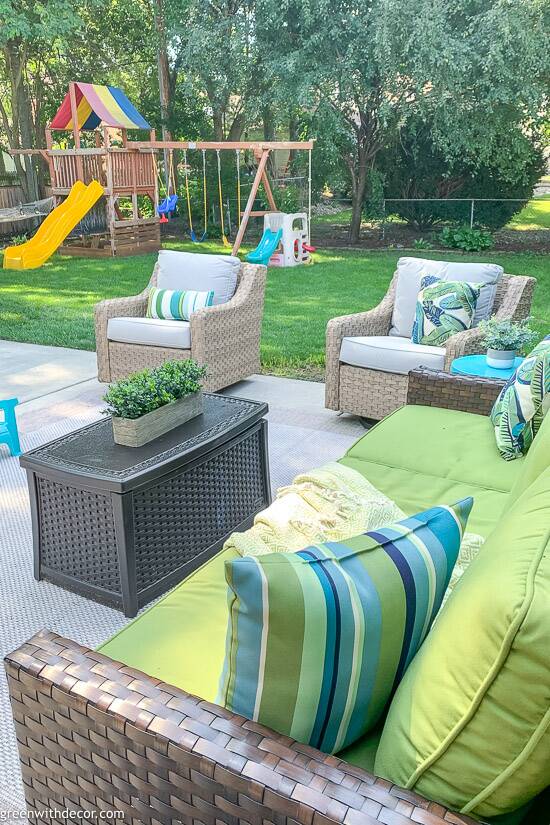 As a reminder or if you're new around here, our backyard started with no patio, an old rotting deck and a massive tree we took down to make room for our patio. We also added patio doors to the back of our house for easy backyard access.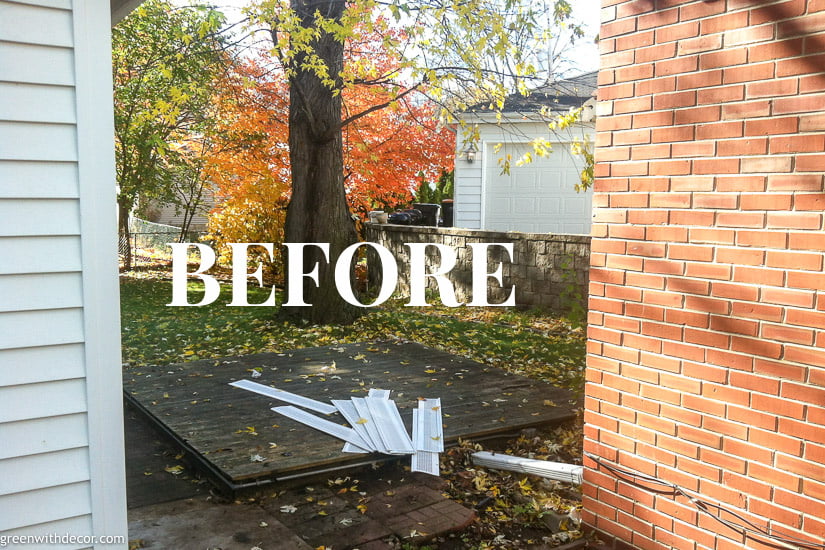 I have a few other 'before' photos I'll share below.
This post contains affiliate links. This means if you click the link and buy something, I may receive a small percentage of sales at no extra cost to you.
Patio:
Our patio got a few updates this year.
We bought these two swivel chairs, which are AMAZING. They're affordable, stylish, comfortable and they swivel so you can keep an eye on the swing set.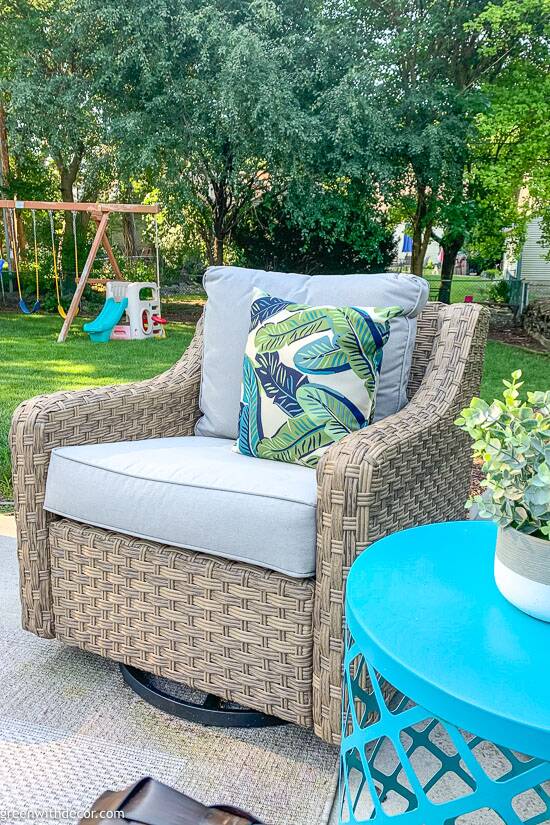 Oh and they come with covers! They're probably my favorite purchase of the year. We just love them.
The only thing is, we quickly learned we can't keep a little table between them because the swiveling means drinks go flying. Well worth the sacrifice.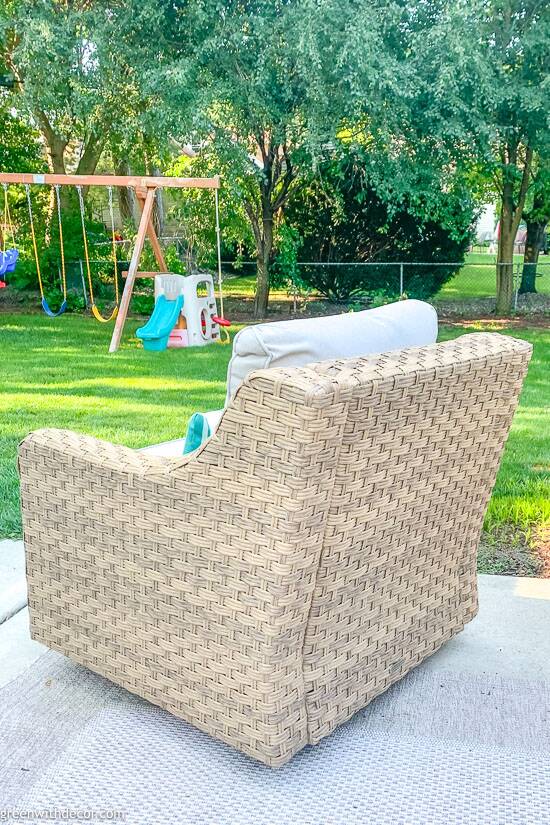 I love having more comfortable seating back here in addition to our couch.
The couch is still going strong.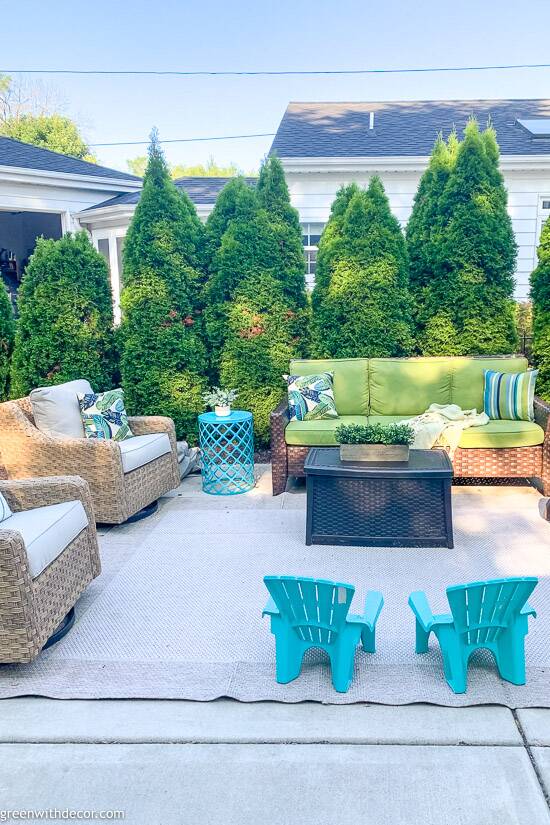 Pro tip, if your couch cover rips, this tape is outdoor-friendly and waterproof – just put some of that on and you'll be good to go! Way cheaper than buying a new couch cover.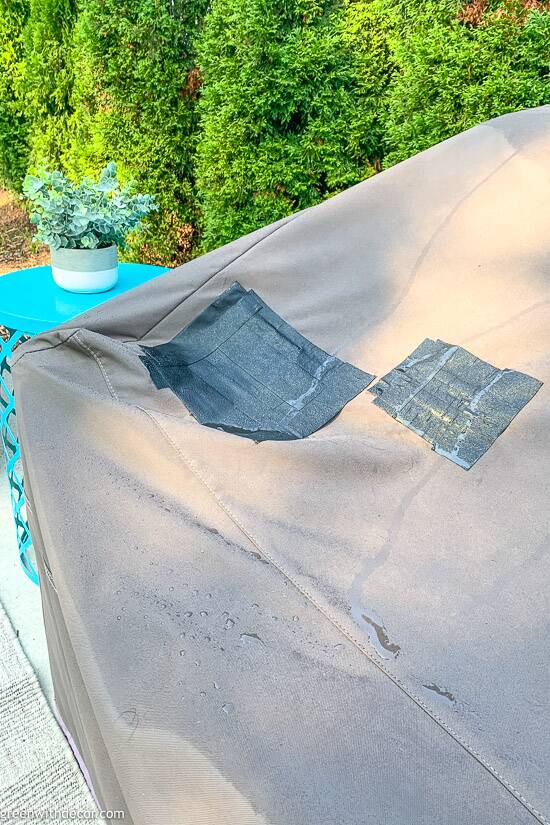 I painted our little side table a couple years ago, which you can see here: The best spray paint for outdoor furniture, or I linked a similar table below if you'd rather buy!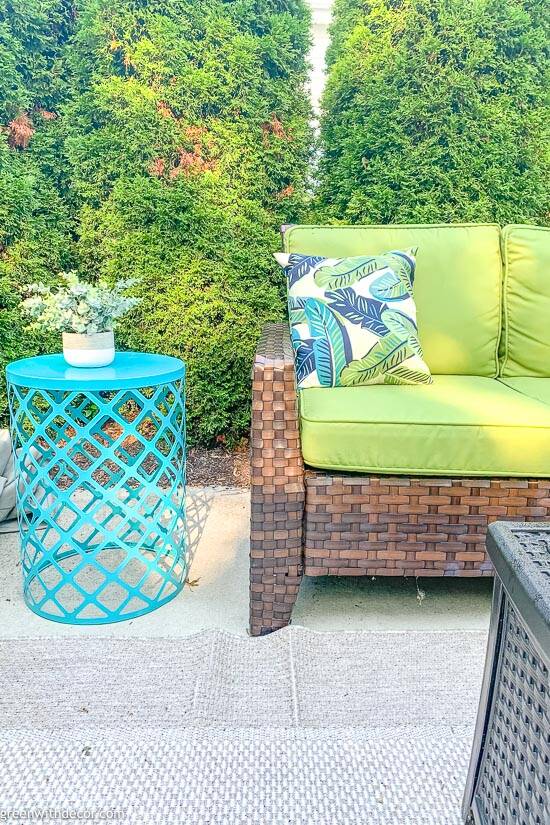 This year, I gave our patio table a quick paint update. The base was rusted, and now it looks good as new. See it all here: A fix for rusted outdoor furniture.
I also just bought these melamine bowls so it's easier to eat salads out here. We have melamine plates we use all the time. For drinks, these copper mugs and these acrylic wine glasses are another patio must have! (Well, when you're not pregnant …)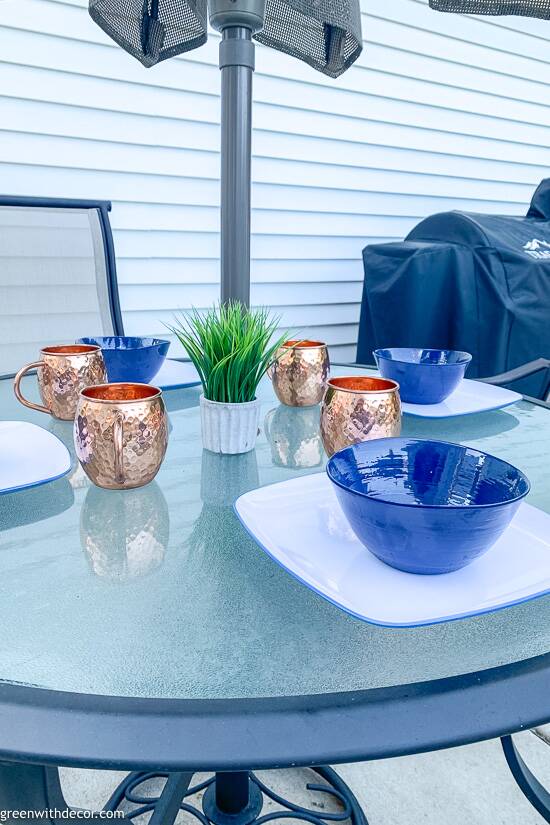 If you also have toddlers, these outdoor Adirondack chairs and little picnic table are great (This one is similar and actually I like the colors better!)
Eating outside is a fun toddler adventure and bonus, easy cleanup.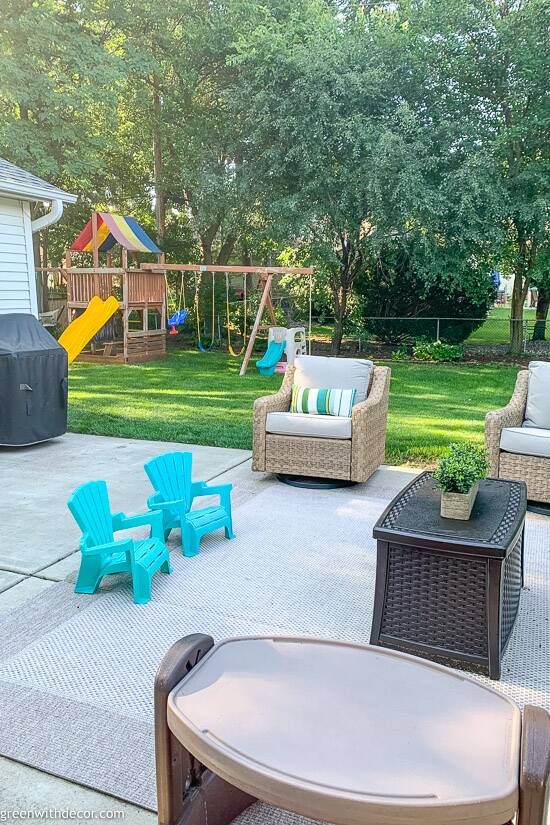 And quick side note, here's the before of this view: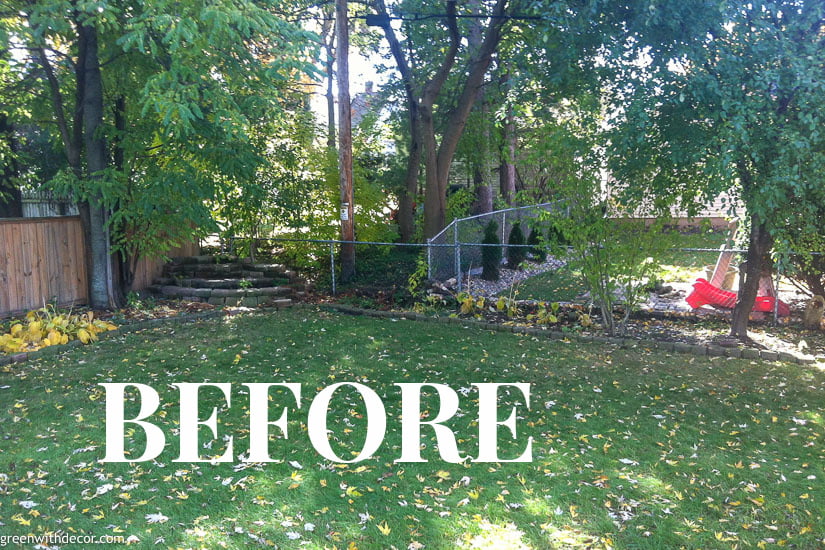 Speaking of eating, we have a plan for a little grilling area next year so we won't have to keep the grill and smoker on the patio. More to come on that!
Lights:
It turns out it was the year to upgrade outdoor lighting around here.
We finally got a gorgeous new light fixture to replace the awful old one on the side of our garage we'd been ignoring for years. Definitely should have updated this one years ago!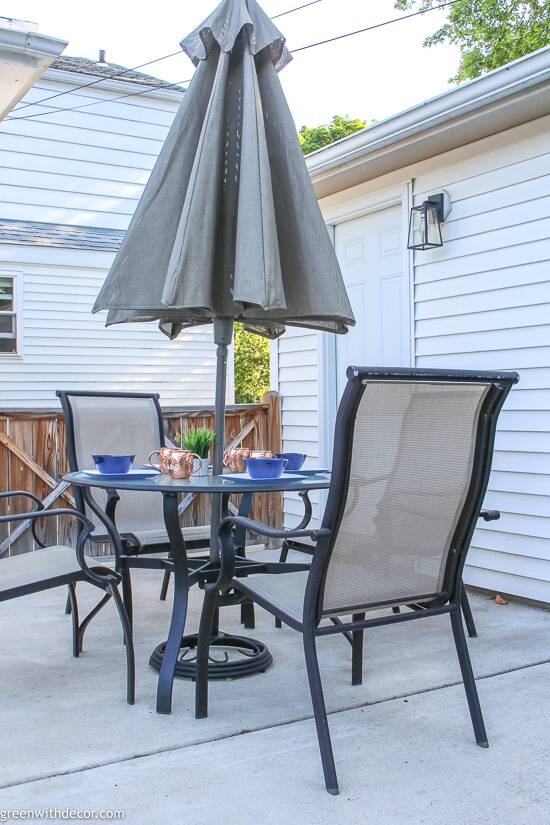 We added these motion lights to the front and back of our garage. They're affordable and work great.
And we got these dusk to dawn sensor lightbulbs for our outdoor light fixtures. They're awesome. No more flipping the light switch on and off on a nightly basis.
Backyard:
We were lucky enough to get our neighbors' old swing set, and it's been amazing! Our daughter loves it.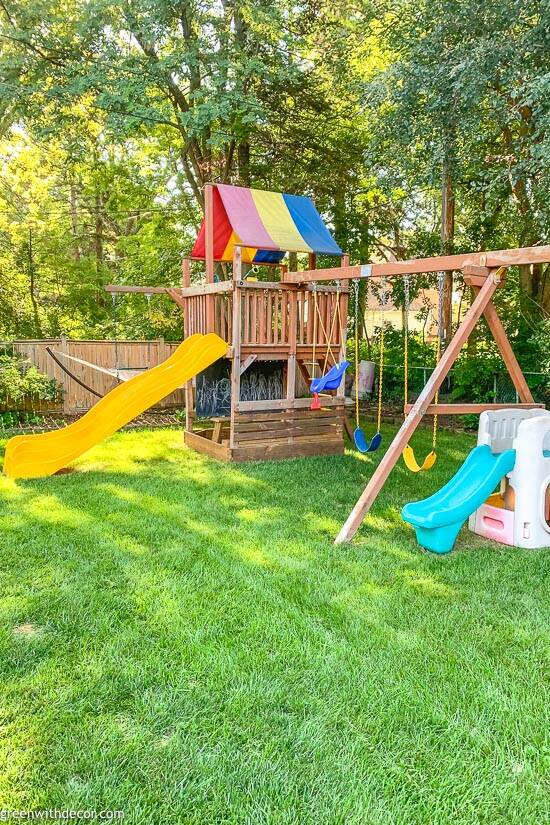 We added some fun accessories to the treehouse, and Kalen really spruced up the bottom part into a little clubhouse, too.
We added a chalkboard, which has been a huge hit, as you can tell from all the pretty vertical lines drawn on here.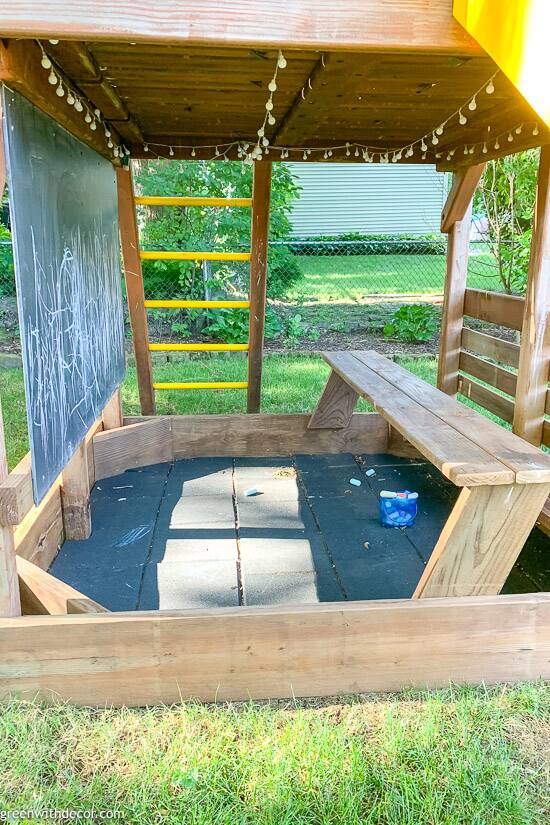 Kalen built this bench and table so kids can play school, eat meals or color all over it (most popular activity this year) out here. So fun!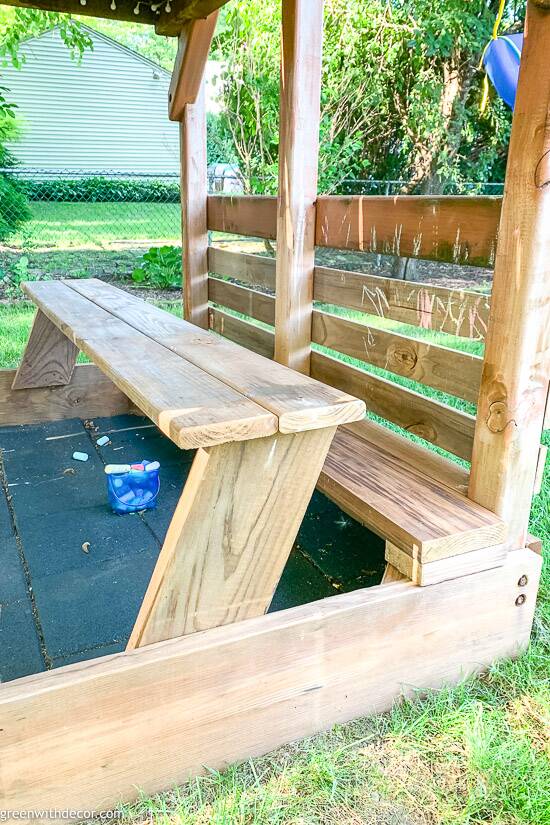 We also added these lights to the 'ceiling'. Such a fun clubhouse back here! (New outdoor lights really are a theme this summer!)
Our hammock is hanging over here by the swing set, too. We love it back here.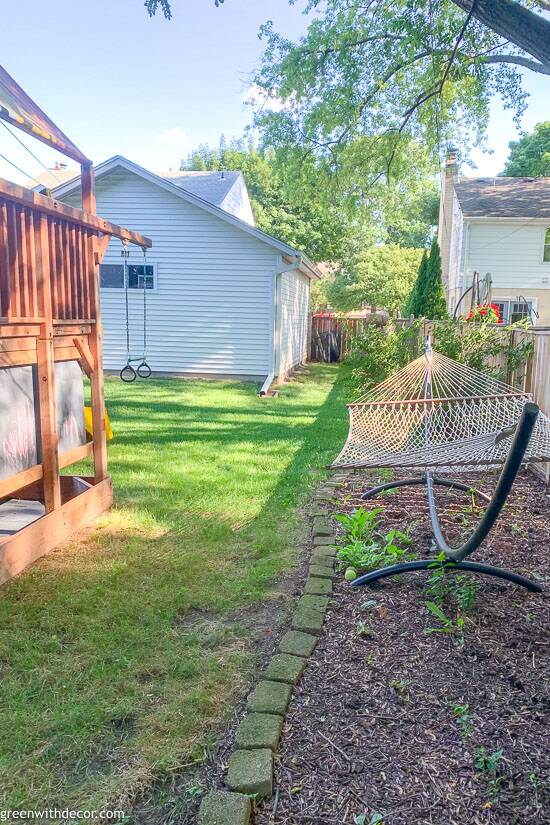 It's nice having it on the mulch so we don't have to worry about moving it to mow the grass. it's also a great place to relax and keep an eye on the swing set!
We also added this mosquito trap and bought tiki torches to help with the bugs.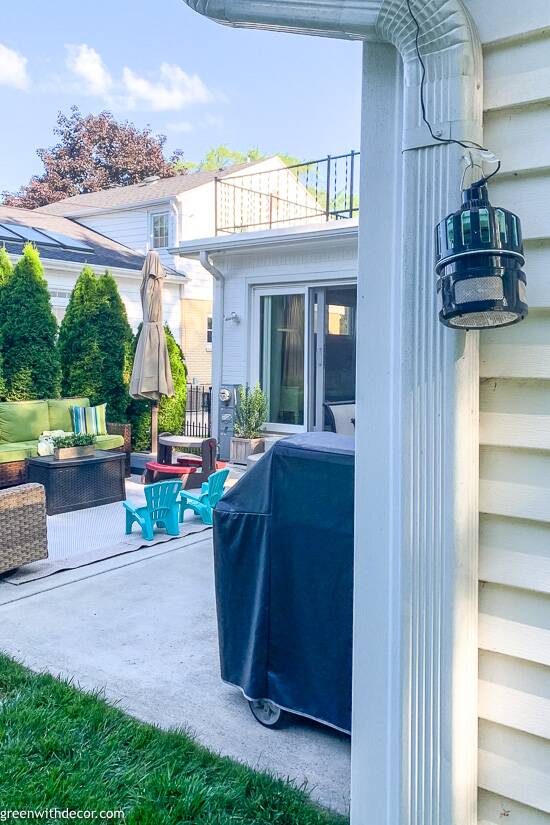 Landscaping:
Kalen planted more Arborvitaes next to the ones we already had to give us some more privacy and more shade. The ones we planted years ago are awesome since they're finally tall enough to block the bright hot sun late afternoon.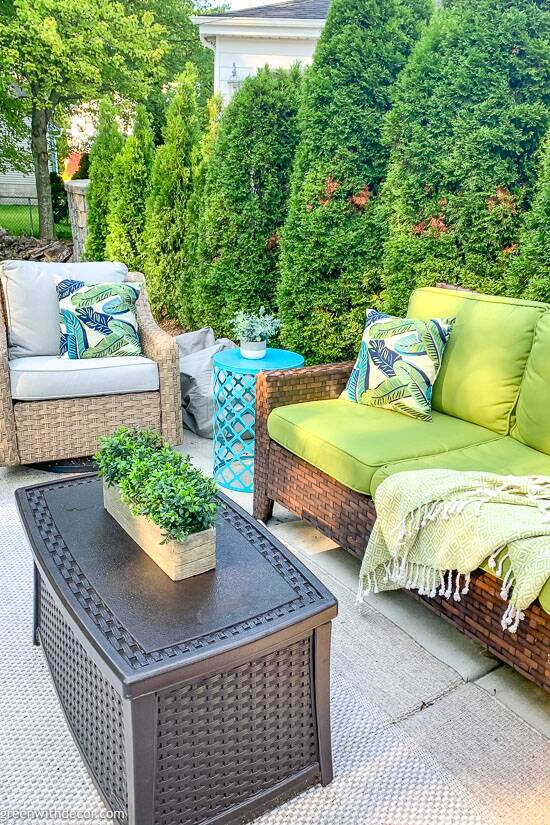 We're big fans of Arborvitaes, but you do have to be patient and really diligent about watering them that first year after planting. They sleep in year 1, creep in year 2 and leap in year 3. They're totally worth the wait.
We also used our new RYOBI trimmer, edger and pole saw to do some major landscaping in our backyard.
The trees around the swing set really needed some trimming, and the rest of the yard looks great with our new tools. You can see all the before/afters and learn more in this post: Tips for keeping your yard looking great.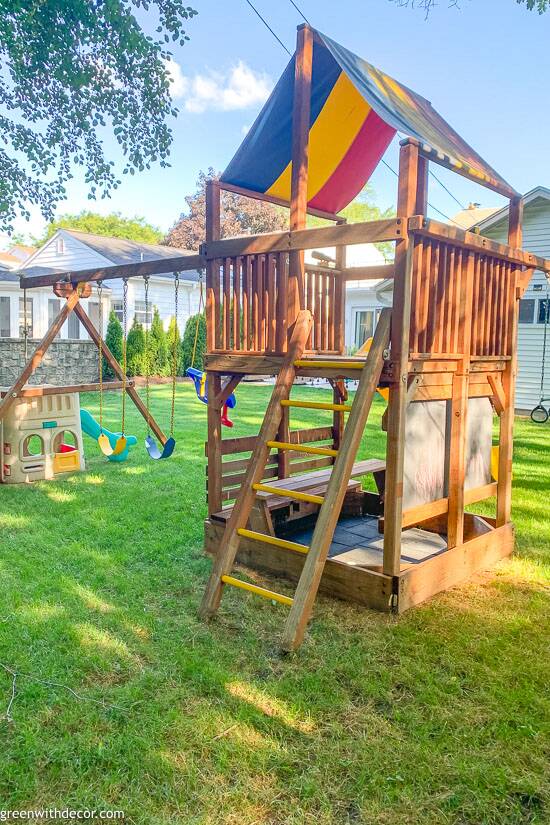 And here's a look at this view before: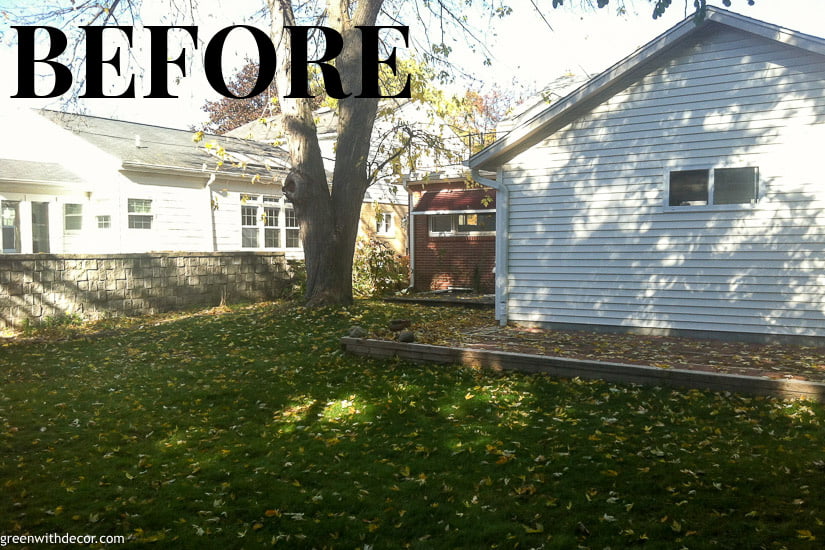 GET THE LOOK:
Since a popular question I get is "Where'd you get that?!," here are links to the same or similar sources:
Outdoor rug from Steinhafels
Metal side table – similar here
Outdoor pillows
Umbrella from Menards
And that's the backyard. We love that it's such a great place for us to spend time as a family. We're already talking about fun updates we can make next year … stay tuned!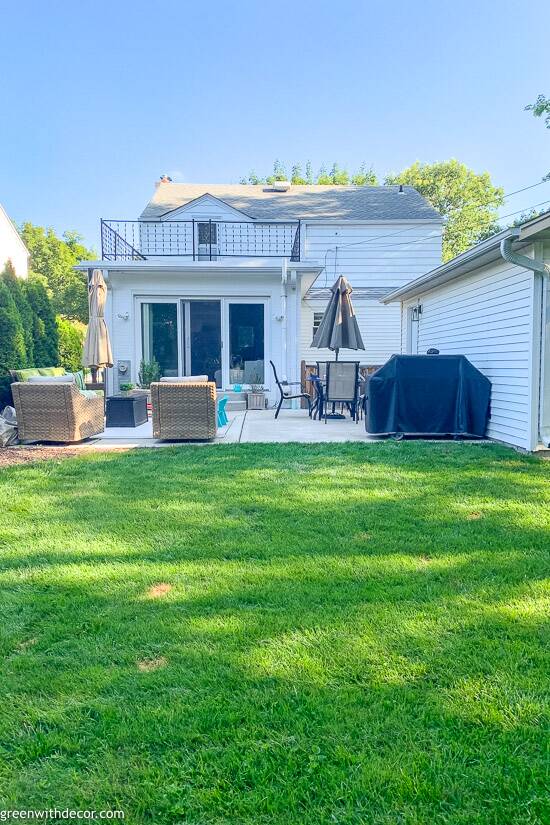 If you want to catch up on all outdoor projects, you can always check out the outdoor project archives.
Remember to bookmark or pin this post if you want to save it for later!


Pin it!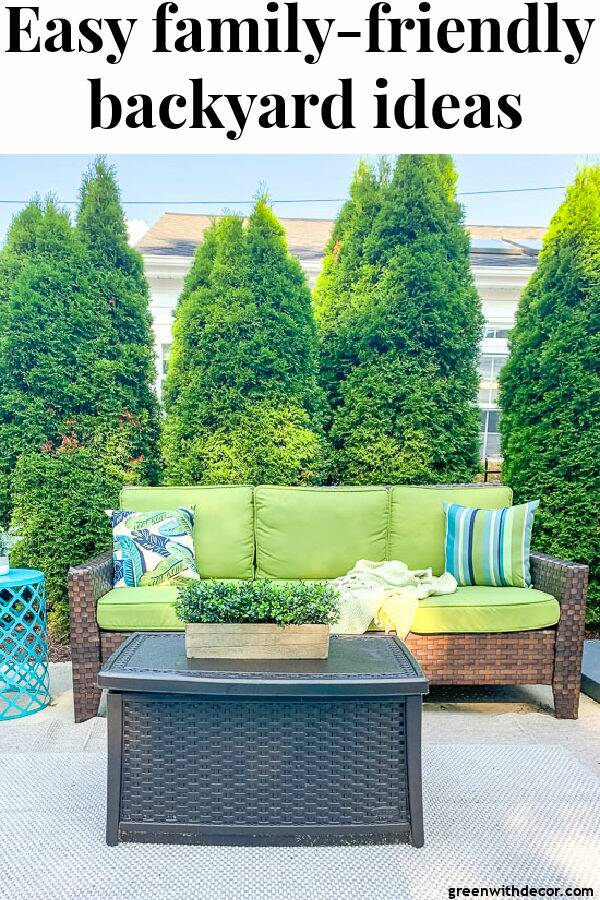 Want to read more posts like this?
Follow along: Get my emails | Facebook | Pinterest | Twitter | Instagram