If you're wondering how to paint a mirror frame, this DIY tutorial is easy to follow. Painting a mirror can instantly brighten up a space!
This is one of those quick and easy projects that makes SUCH a difference I can't believe I didn't do it sooner.
Hopefully it inspires you to paint an old mirror or an old whatever you have lying around for some instant brightness in one of your rooms, too!
We've had this mirror forever (even back in our Cincinnati house). It's perfect for coat storage so we've always held on to it.
But the black color was just too dark for our side entryway. Here's how it mirror started: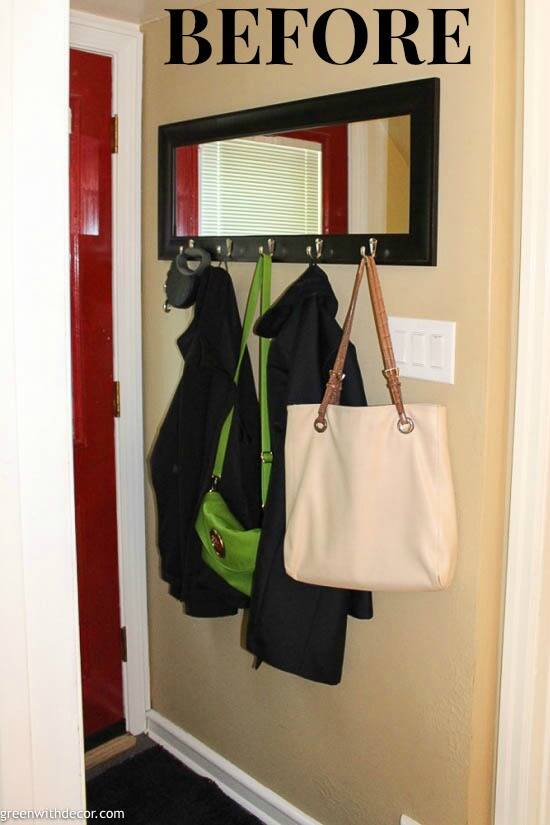 And now: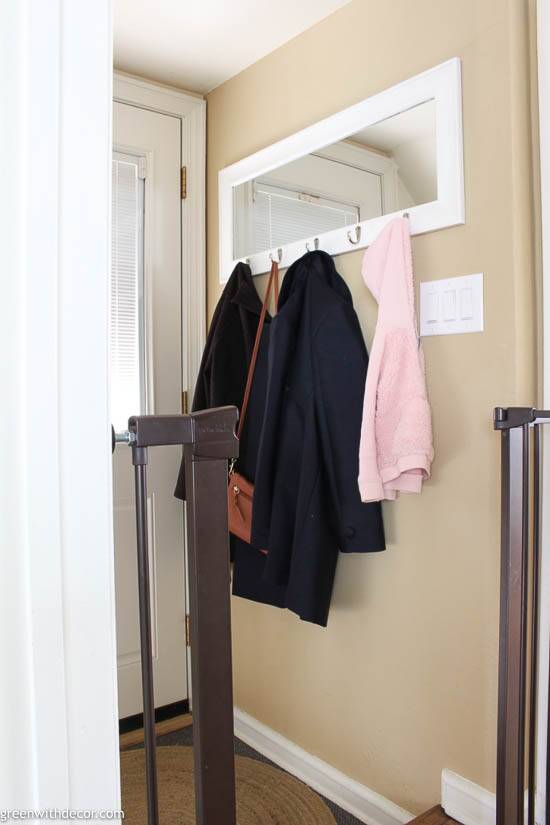 Over the years, I've been painting everything in this little space to brighten it up, and white paint works wonders!
Don't you think?!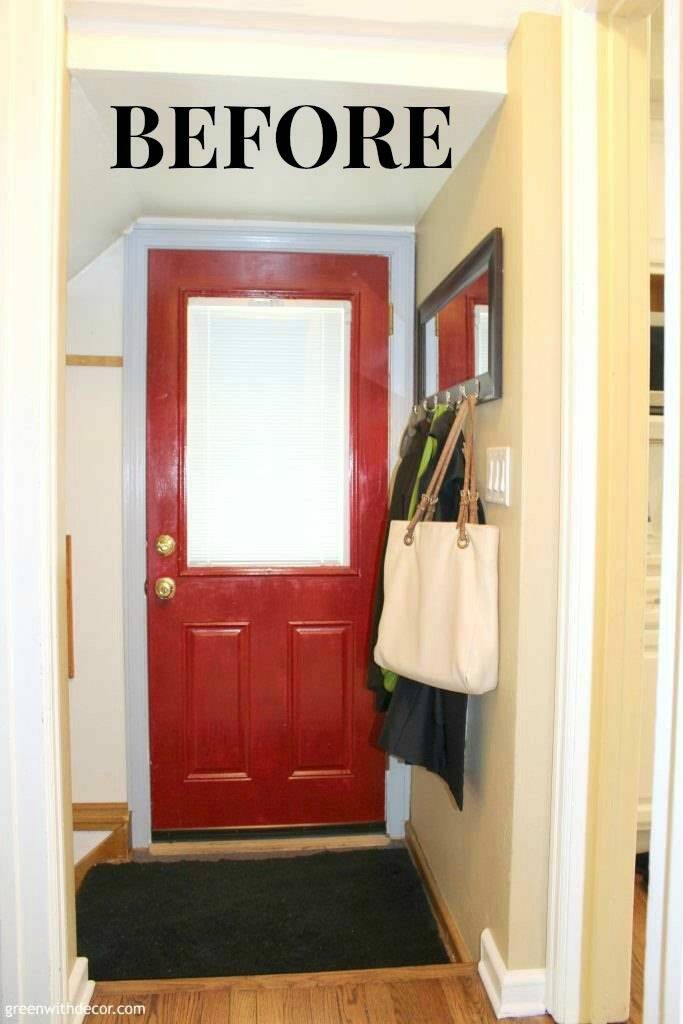 And now: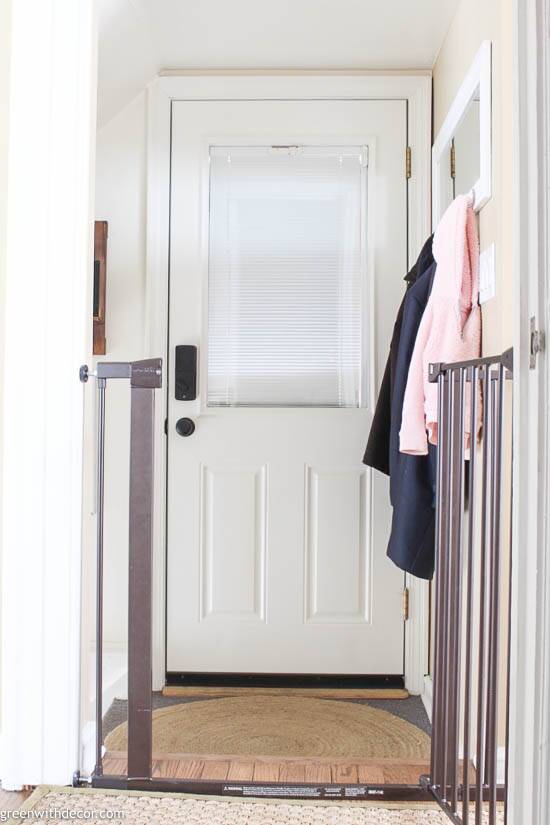 (Ignore the gate – toddler life!)
This post contains affiliate links. This means if you click the link and buy something, I may receive a small percentage of sales at no extra cost to you.
Supply list for painting a mirror frame:
Drop cloth or old blanket
Paint – I used White Dove by Benjamin Moore to match our trim / door color.
How to paint a mirror frame:
1. Remove any hooks/hardware from the mirror.
Keep them in a resealable bag so you don't lose them. Those little screw have a way of vanishing into thin air!
2. Tape off your mirror.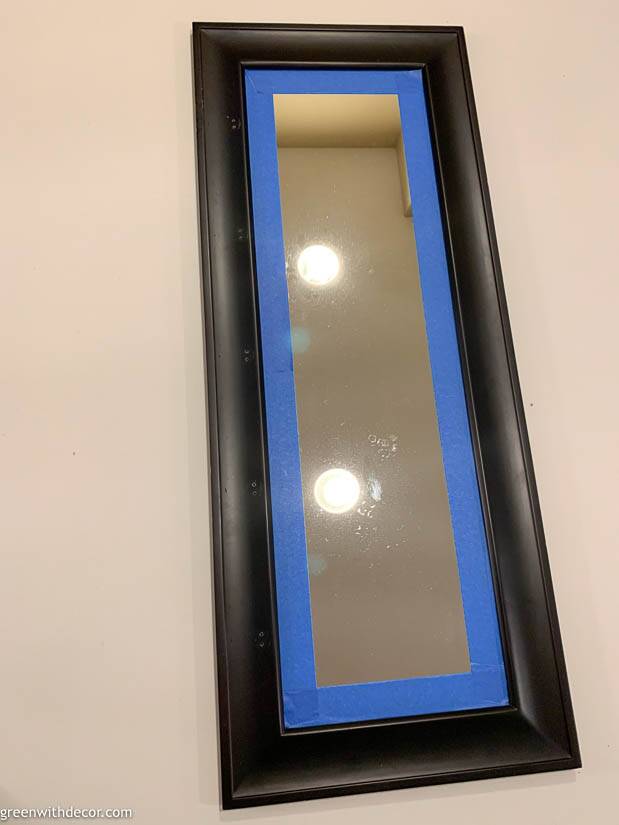 3. Stir your primer.
4. Do a coat of primer.
Paint on the primer with your brush strokes going in the same direction as the wood grain of your mirror frame (if your frame is wood).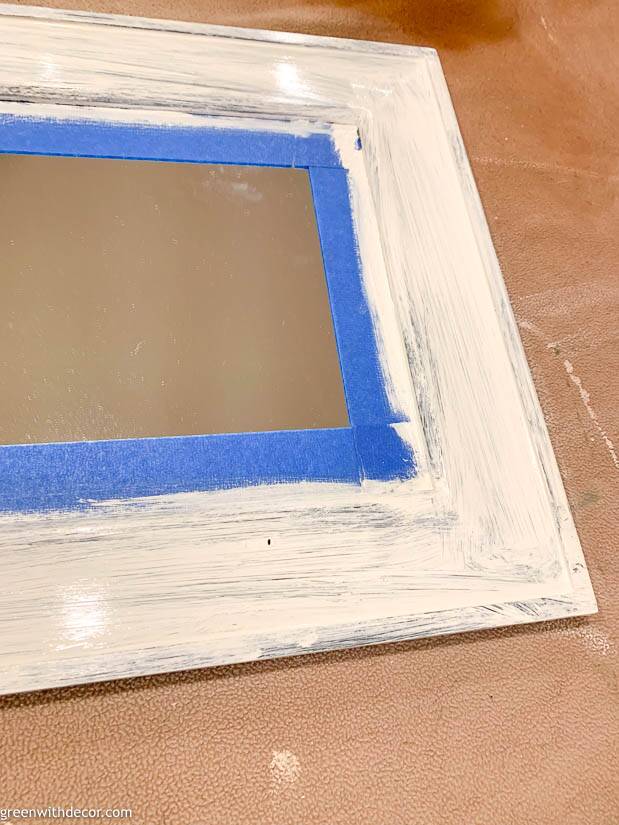 If you're not painting a light color over a dark color, you could probably skip the primer step. But if you're also painting white over black or something similar, use primer to avoid doing a million coats of paint!
5. Remove your painters tape.
Take your painters tape off while the primer is still wet. Painters tape is WAY easier to remove when paint is still wet.
Otherwise, you may end up with primer or paint drying on top of the painters tape, basically locking it in place, which can make it really difficult to get off.
I know this sounds like a huge pain and a step you can skip, but you'll probably regret it. If you've ever had to pry painters tape with dried paint on it from under a frame or behind a piece of trim, you know what I mean.
It's SO much easier to just take off painters tape and re-tape for your next coat of paint. Especially when painting a mirror or something else small when taping doesn't take long at all!
Then let the primer dry.
6. Tape off your mirror.
7. Stir your paint.
8. Do a coat of paint.
9. Remove your painters tape.
Let the paint dry.
10. Repeat steps 5-8 to give your mirror a second coat of paint.
Let it dry.
11. Reattach your hooks/hardware.
Waaaay better, right?! Amazing what painting a mirror can do for a space!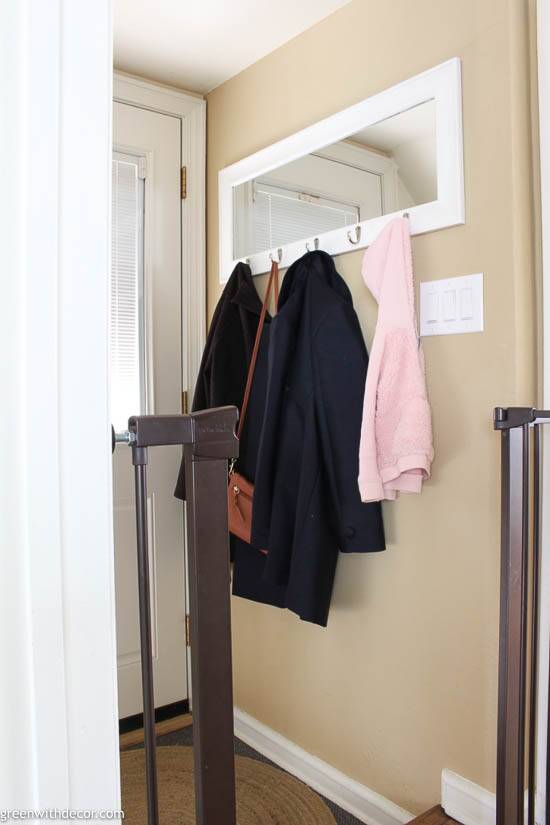 I'll share more of our little entryway space soon!
Meanwhile, check out these posts to catch up on the progress in this little entryway so far:
Remember to bookmark or pin this post if you want to save it for later!


Pin it!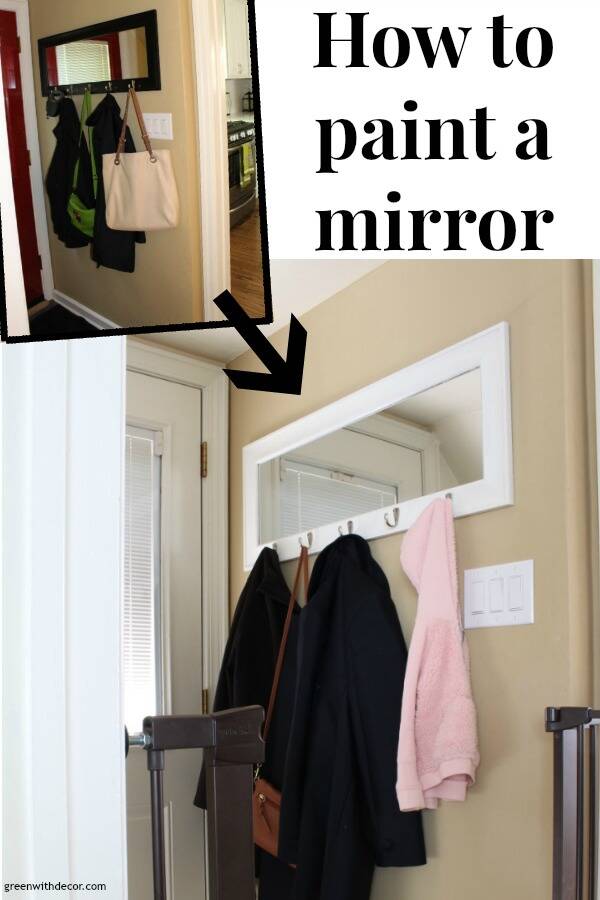 Want to read more posts like this?
Follow along: Get my emails | Facebook | Pinterest | Twitter | Instagram