Sherwin Williams' Sea Salt is a pretty, calming blue / green / gray paint color perfect for coastal or farmhouse decor style.
Just when I think the house is all painted, what do you know, I bust out the paint samples yet again and paint over another room.
I painted our bathroom recently (you can see the reveal in this post: the best painters tape for clean lines) so I figured the new color, Sea Salt by Sherwin Williams (SW 6204), deserved its own blog post like the other colors in my paint colors series.
I'm so happy when people tell me these blog posts are helpful, because paint colors can be haaaard!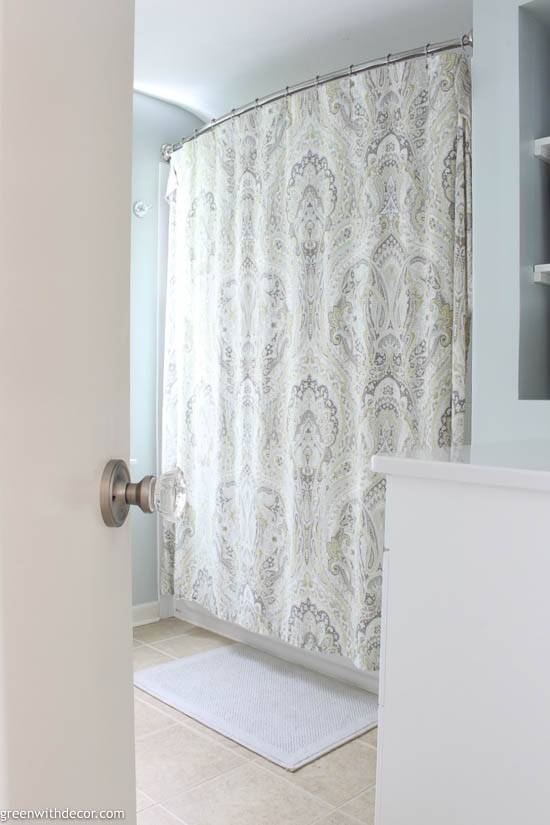 Sherwin Williams' Sea Salt can lean blue, green or gray depending on the light so it's definitely one of those paint colors that you should sample.
Sherwin Williams categorizes it as a green paint color. But based on the natural light in our house, it looks more blue than anything else, which is I've heard others I know with Sea Salt in their homes say as well.
All of this to say, as always, paint samples are your friend!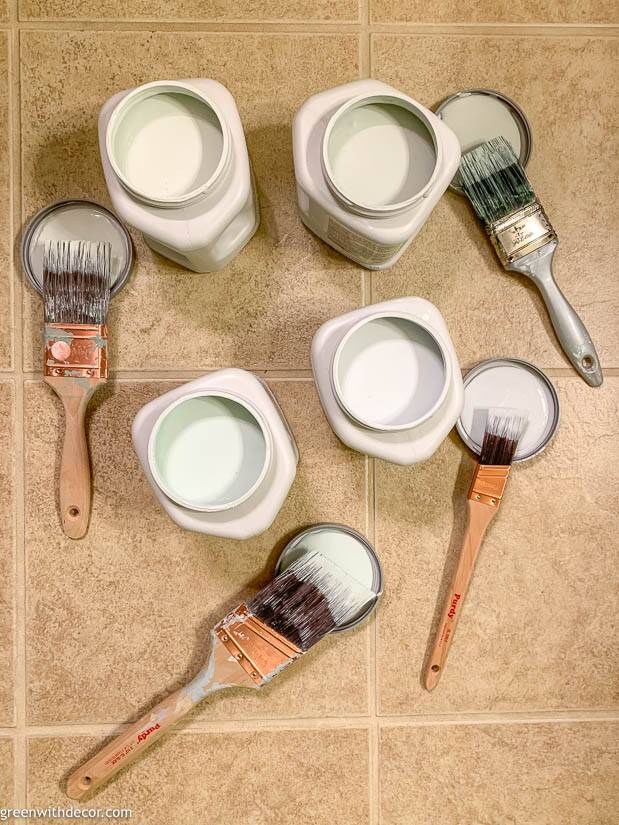 I grabbed four Sherwin Williams paint samples to make sure I loved Sea Salt in person as much as I love all the pictures I've seen of it. I've actually seen it in person in others' homes, too but still wanted to be sure I liked it in our specific house since it can be such a chameleon color!
From top to bottom, here are: Sea Salt, Topsail (SW 6217), Opaline (SW 6189) and Dewy (SW 6469):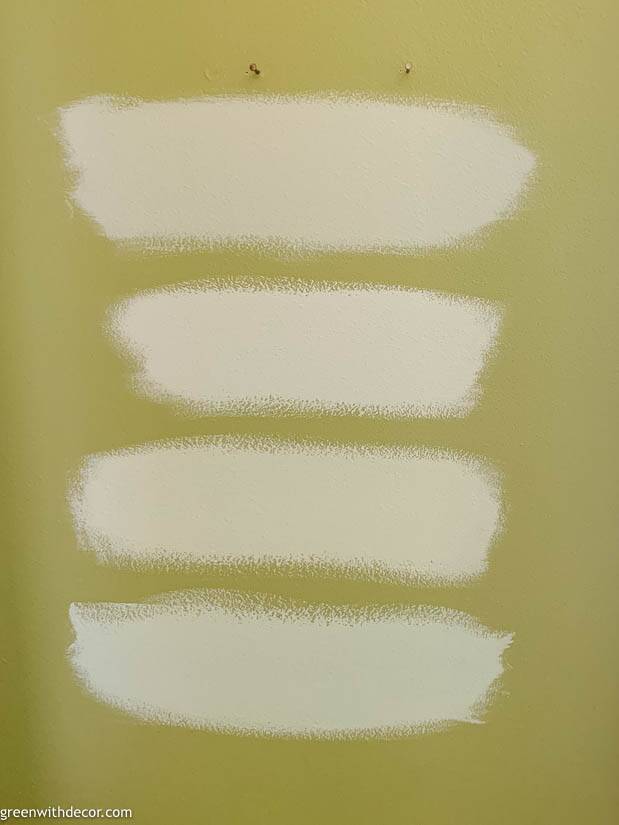 Even though Sea Salt has tones of blue, you can see here that it is grayer than the other three, and that Topsail (second down) and Dewy (fourth down) are bluer. Opaline (third down) is the whitest of the four colors I sampled.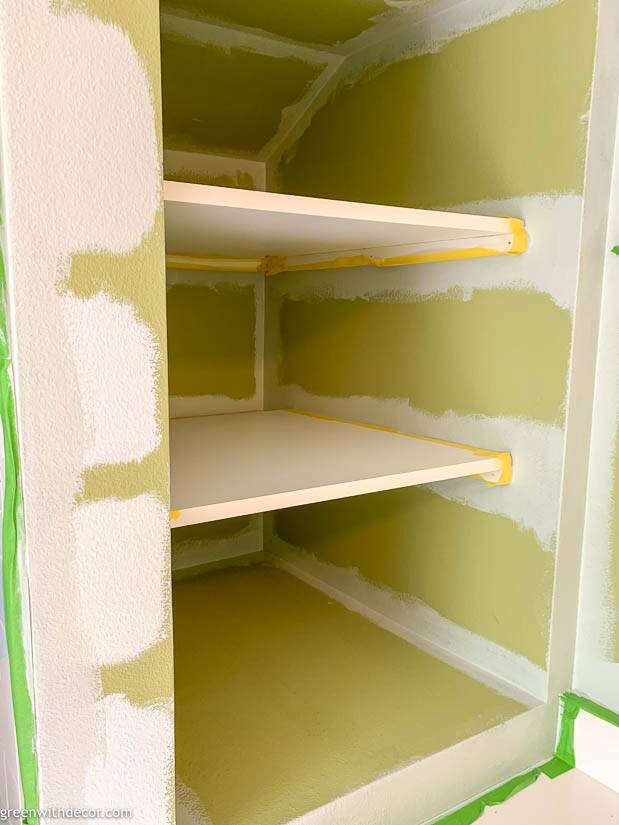 Spoiler alert, but obviously we picked Sea Salt. I loooooooove it.
Sherwin Williams' Sea Salt paint in a bathroom:
I really love how Sea Salt pairs with our white vanities and contrasts with our dark baskets and towels. I was actually thinking of painting our baskets for a while, but now I'm going to leave them.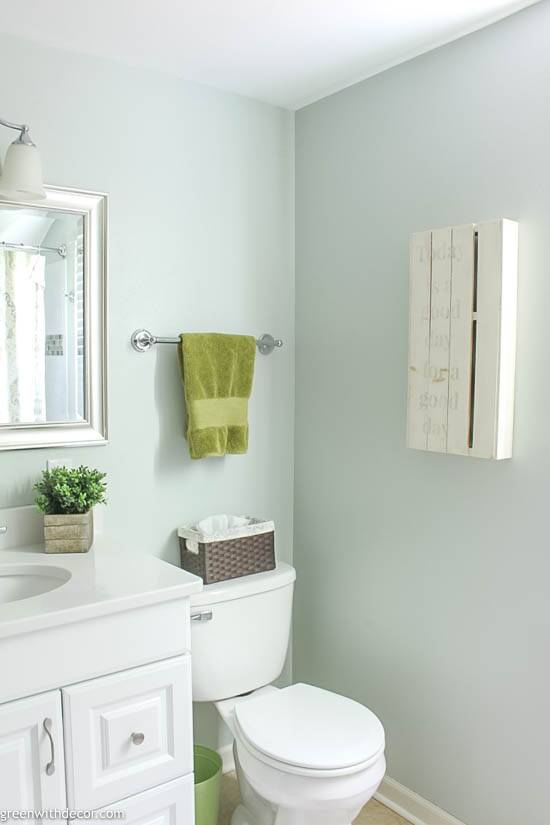 Our shower curtain worked with the Ryegrass paint color in here before, and it works perfectly with Sea Salt, too. That obviously wasn't planned at all but gotta love when that stuff just works out!
This post contains affiliate links. This means if you click the link and buy something, I may receive a small percentage of sales at no extra cost to you.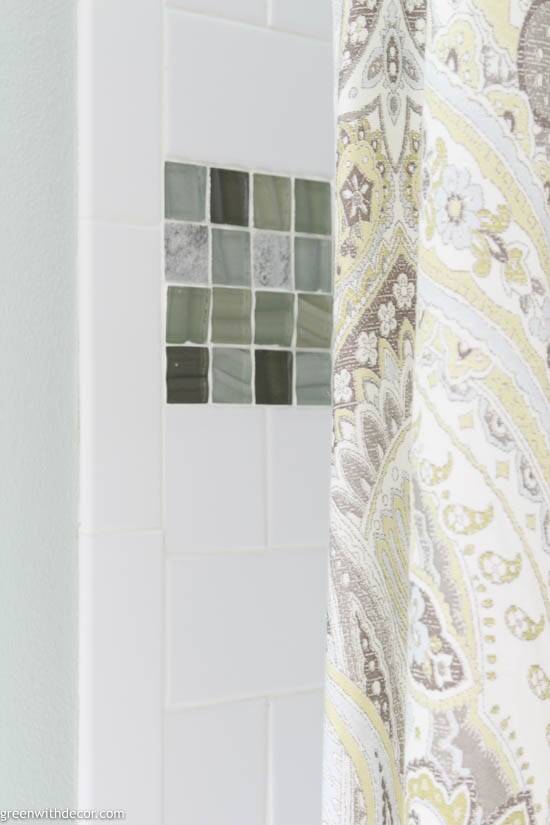 If you're looking for a paint color similar to Sea Salt aside from the other paint samples shown above, Comfort Gray (SW 6205) is one shade darker on the Sherwin Williams' color wheel.
And if you're looking for something to pair with Sea Salt, Sherwin Williams lists Spare White (SW 6203), Fleur de Sel (SW 7666) and Summit Gray (SW 7669) as coordinating colors.
Do you have a favorite green / gray / blue paint color? Are you loving Sherwin Williams' Sea Salt, too? I'm totally sold! I love it every time I walk in our bathroom.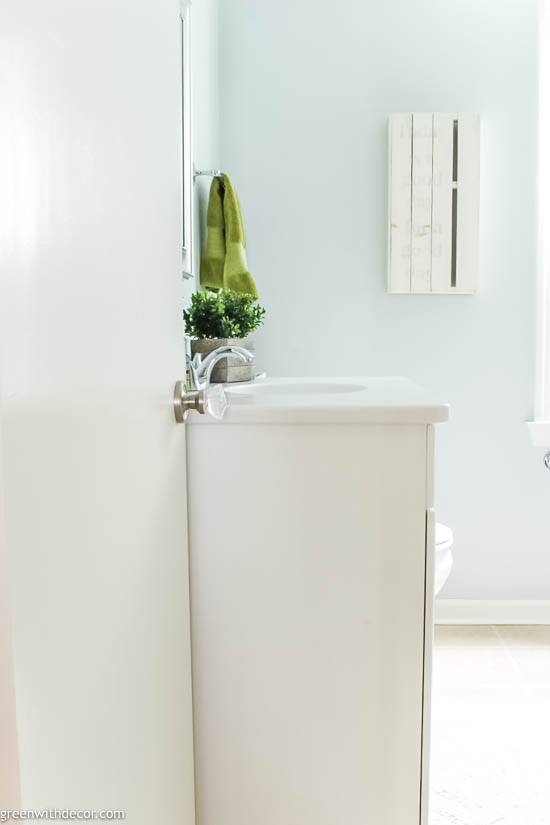 If you want a darker shade of blue, check out my post on Sherwin Williams' Krypton, too!
GET THE LOOK:
Since a popular question I get is "Where'd you get that?!," here are links to the same or similar sources:
Vanities (we switched out the hardware)
Shower curtain + faux plant from TJ Maxx
For even more paint colors ideas, check out these posts:
Happy painting! Hope this Sea Salt post is helpful!
Remember to bookmark or pin this post if you want to save it for later!


Pin it!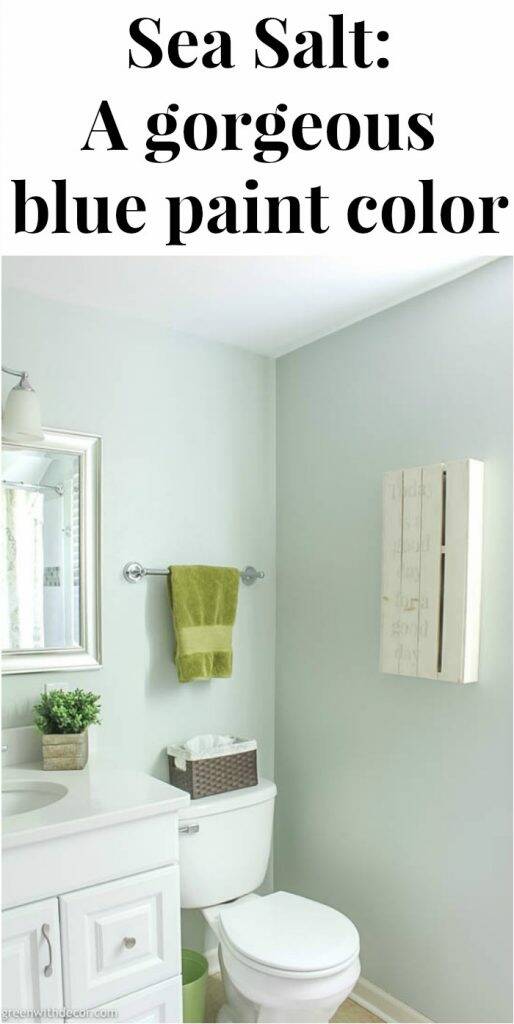 Want to read more posts like this?
Follow along: Get my emails | Facebook | Pinterest | Twitter | Instagram