This post is full of easy, affordable decorating ideas if you're looking to finish a guest bedroom for short-term use until you give it a future makeover!
Disclosure: California Design Den provided the sheets featured below. All opinions, images and love of room updates are 100% mine.
Remember when we moved back in our house and our guest room looked like this?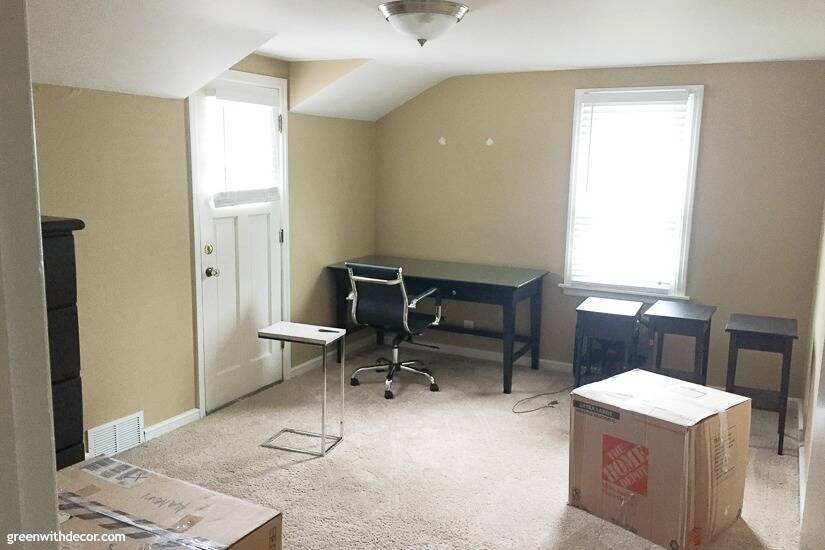 Yeah … well it looks a bit better now, ha!
As we started unpacking and decorating, I felt a little stumped. Since eventually this will turn into a kid's bedroom, we don't want to spend a bunch of money on a temporary guest room.
But we don't just want the room to turn into a huge dumping ground/random space until we make it over at some point in the future.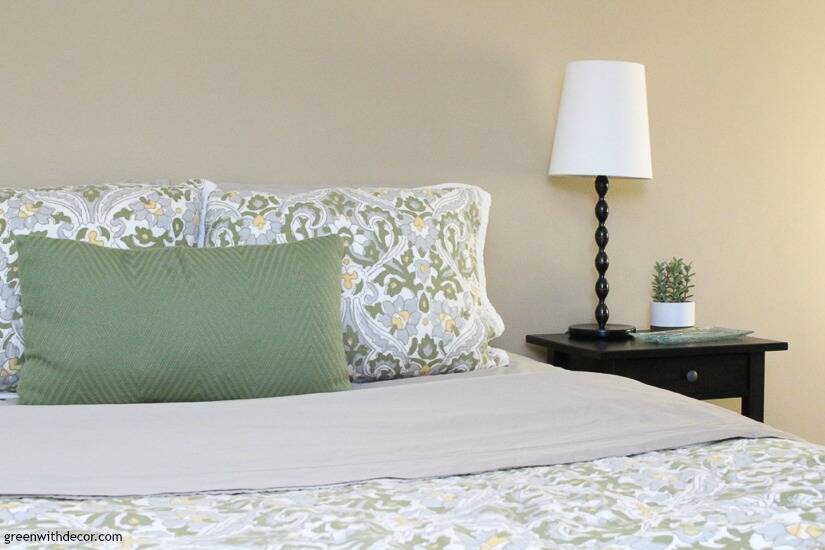 Which got me thinking about a few ways we transformed this room from blah to 'temporarily done' on the cheap so hopefully it's helpful if you're in the same mode with an empty bedroom just hanging around begging for some quick decorating!
This post contains affiliate links. This means if you click the link and buy something, I may receive a small percentage of sales at no extra cost to you.
1. New comfortable, affordable sheets
We've been on the hunt for new sheets. Because what's a good guest room without good sheets?!
We wanted sheets that were comfortable but affordable, because you know, the whole short-term guest room thing.
Then I came across these 400-thread count 100% cotton sheets from California Design Den. They come in a bunch of pretty colors (14 solids and 7 prints!), and they're comfortable will still giving that crisp hotel-like feel.
And most importantly, cheap! Who knew you could get comfortable sheets on a budget?! (And also worth noting, available on Amazon. Yay easy, fast shipping.)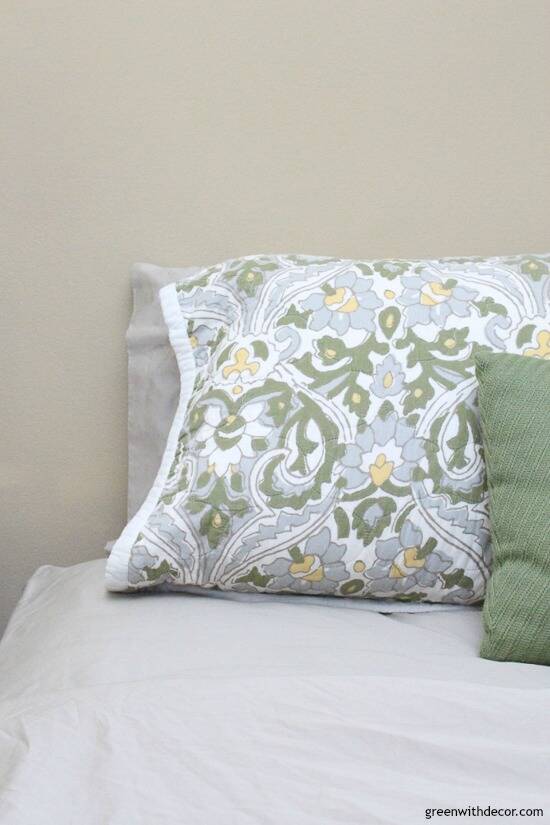 Side note, wouldn't their snowflake or reindeer prints be cute for the Christmas/winter season? I like the polka dot, too for a fun touch … maybe in the future!
I went with all white bedding in our bedroom last year and while I love the white look, I didn't want white sheets with the comforter we're using in here (more on that in a minute), so I picked out the khaki sheets.
They really look like they were made for our comforter, don't they?! How do these match so well without being bought together? Love when that happens.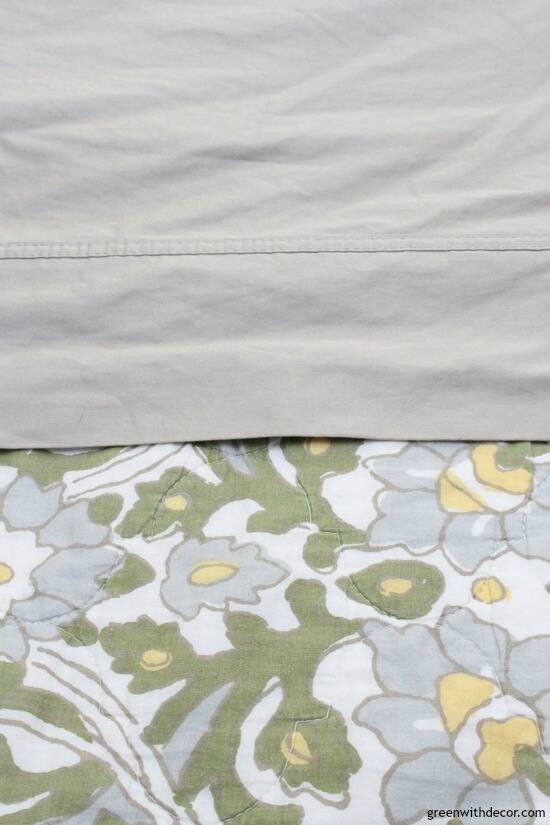 This may sound weird, but I also love that the sheets have extra durable fitted elastic. Have you ever bought sheets and had the elastic go out on the fitted sheet? Yeah, huge pain!
Plus the sheets have a handy head/foot tag inside so you don't end up putting the sheets on sideways only to realize after you thought you were almost done – hate that!
The sheets also have anti-pilling fabric, which is obviously another win.
2. Reuse a comforter
When we updated our bedding to all white last year, I moved our comforter into the guest room because I liked the colors in this one (blue/green) better than our old guest room one (black/tan – there's a picture of the old one further down in this post if you're curious).
It's actually a king comforter on a queen bed, which some might say won't work. Well, it's not perfect, but it does work!
I didn't want to buy a whole bedding set we wouldn't end up using for that long.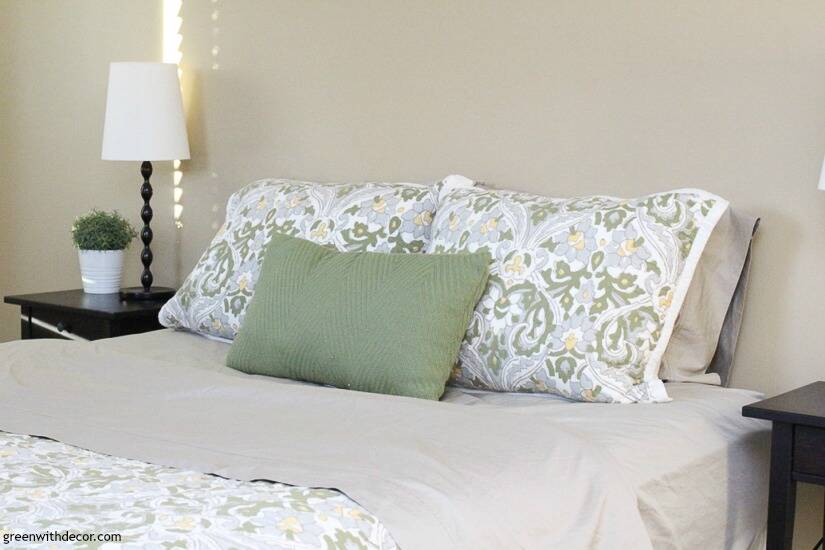 And bonus, when your guest room is in the same color scheme as most rooms in your house, it's easy to add and swap out throw pillows from your bedroom, the living room, etc!
So we can always play around with the throw pillows in here for an updated look when I decide it needs an upgrade. 🙂
3. Shorten a bedskirt
My mom is the sewing genius around here, and she transformed our king-sized bedskirt to a queen size. Perfect way to keep the bed looking nice without having to buy a new bedskirt!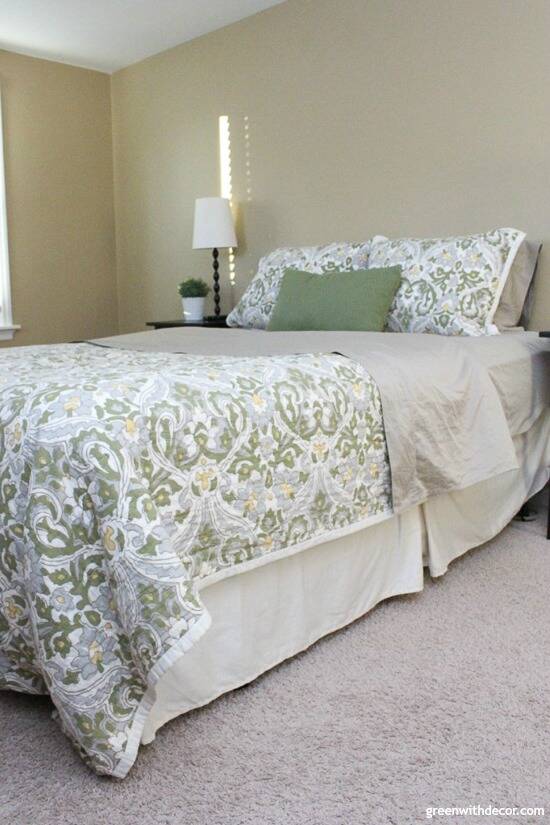 4. Versatile nightstands/end tables
These nightstands have been around forever and ever. Well since my first apartment anyway.
I bought two of them even though my bedroom was so small, my bed was against the wall and I only needed one. I used the other one by the front door so I could drop my mail and keys.
It worked perfectly as a little foyer table until I moved into another apartment with enough room for two nightstands by the bed. And then I already had a matching set without having to buy new!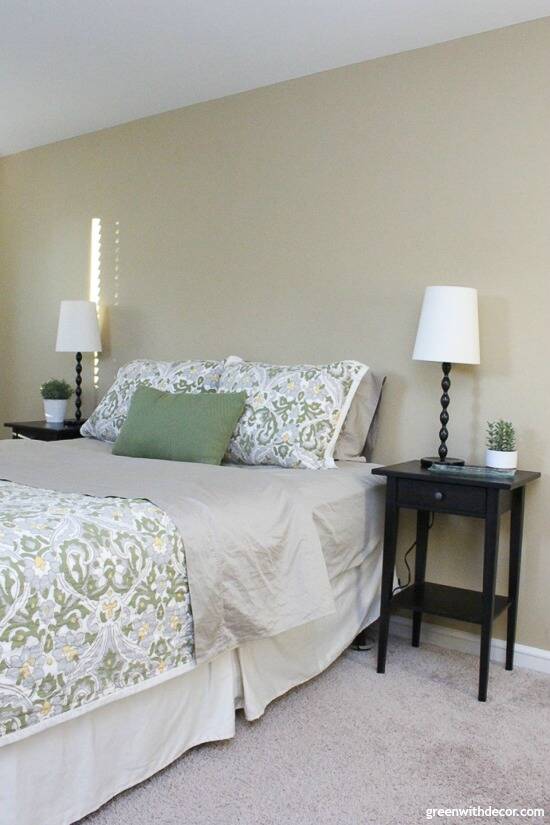 We used these for a while and then upgraded to nightstands with more storage in our room. So to the guest room these went.
Basically, when you buy neutral nightstands/end tables/side tables/whatever you want to call them, you can use them throughout the house for various purposes and most definitely get your money out of them when all is said and done!
5. Headboard idea
This is an idea from our old guest room that we haven't gotten around to in here, but I love it so wanted to share again!
Hang up a curtain rod, curtains and some wall decor for a faux headboard. Way cheaper and easily removable!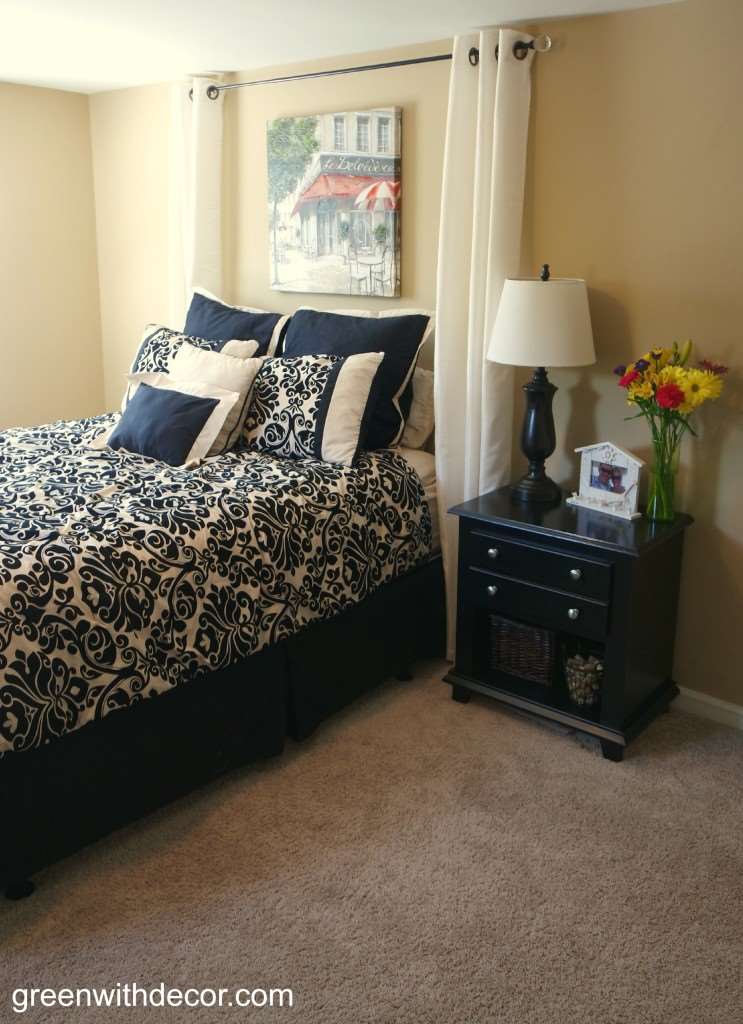 So that's how we're putting together this guest room!
Well and faux plants because of course.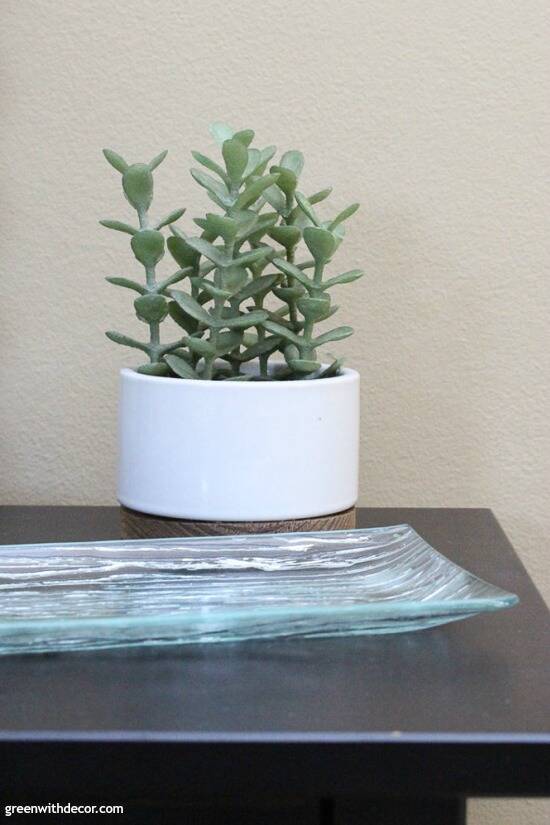 And a pretty little jewelry tray.
Another one of my favorite guest room decorating ideas is to include my free printable wifi sign. Guests always want the wifi password anyway, so why not display it in a pretty way?!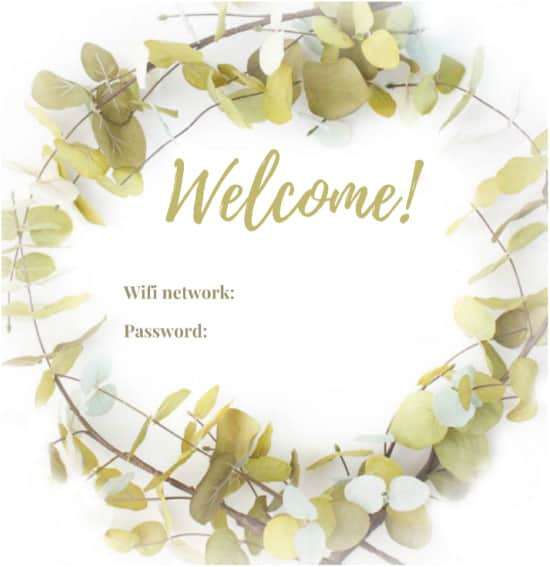 Just print this out (directions below), then fill it in and display in a 4×6 frame. It will print off on a regular piece of computer paper, then cut it for either a horizontal or vertical frame.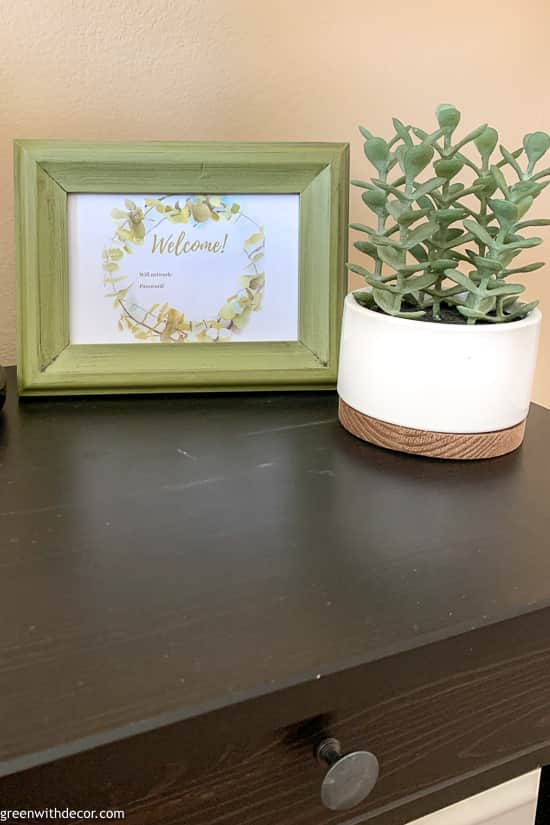 How to get the free printable wifi sign:
Sign up in the box below, and the link for the free printable will arrive in your inbox shortly. You'll also be signed up to get blog posts and alerts about new printables moving forward. (If you're already an email subscriber, you won't get added to the email list twice.)
*Please note: All printables and downloads designed by Green with Decor are for personal use only. Please do not alter the files or claim them as your own. These files are not intended for resale, nor are the printed versions of these files.
I'd love to do something about this light at some point, but that's a project for another day! (See all of my favorite light fixtures here if you're looking for lighting inspiration!)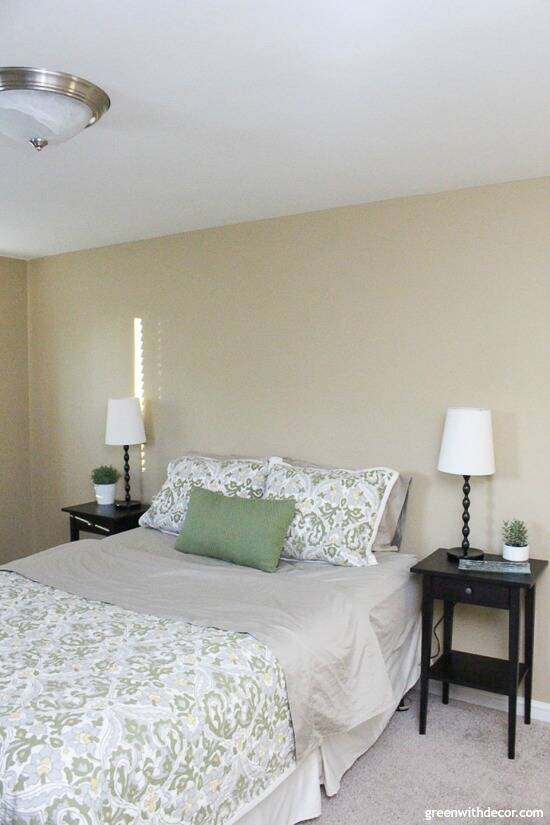 GET THE LOOK:
Since a popular question I get is "Where'd you get that?!," here are links to the same or similar sources:
If you like this color scheme but prefer gray walls, see how these pieces look with Agreeable Gray walls in this guest bedroom post!
Be sure to check out my tips for transforming your guest room into a relaxing retreat, too!
Do you have any other tips for quickly/affordably transforming a blank room into a guest room?!
Remember to bookmark or pin this post if you want to save it for later!

Pin it!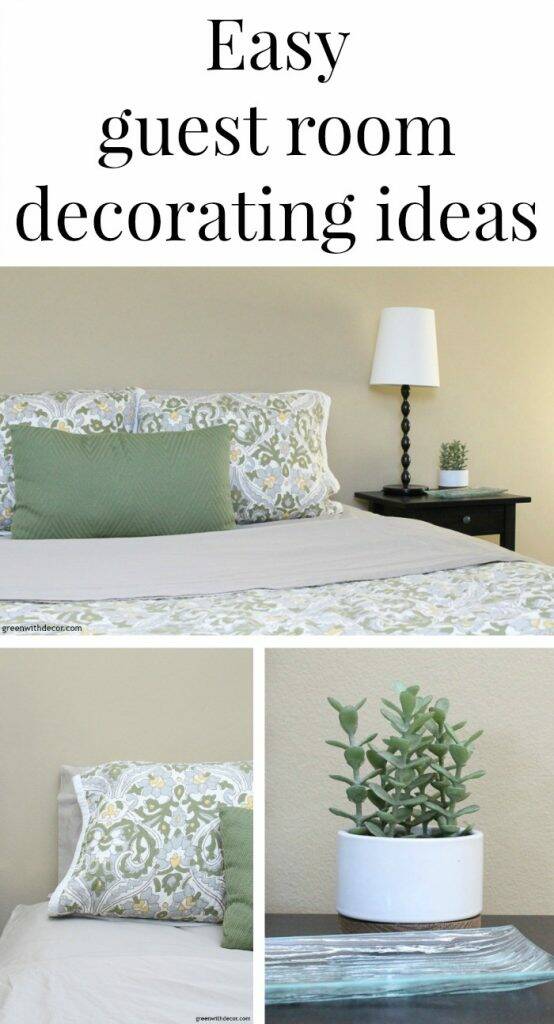 Want to read more posts like this?
Follow along: Get my emails | Facebook | Pinterest | Twitter | Instagram