If you're wondering how to paint a chair, read this easy DIY tutorial for using paint that doesn't require any prep work!
Disclosure: This post is sponsored by Velvet Finishes. All opinions, images and love of painting projects are 100% mine.
I have such a sweet chair makeover to share today: this cute rocking chair!
Our toddler loves to "rock" as she calls riding her rocking horse, so when I saw this little chair, I knew I had to paint it for her, too.
It started like this: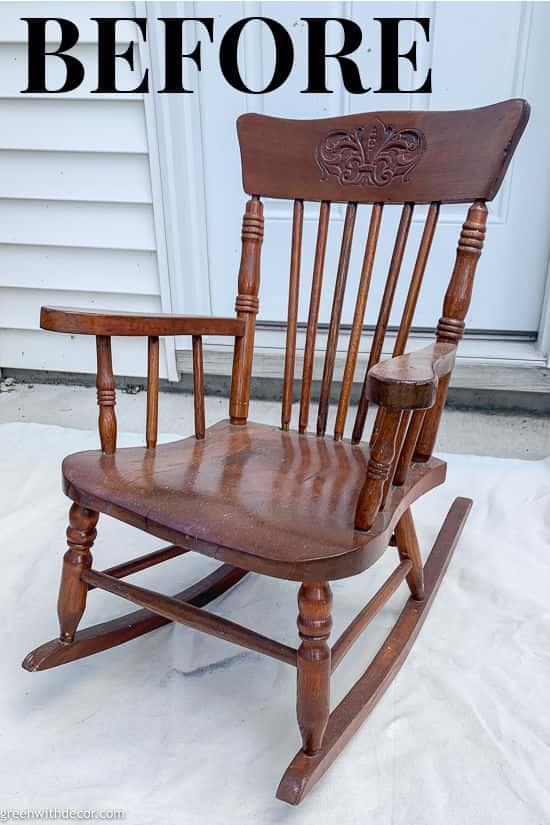 And now: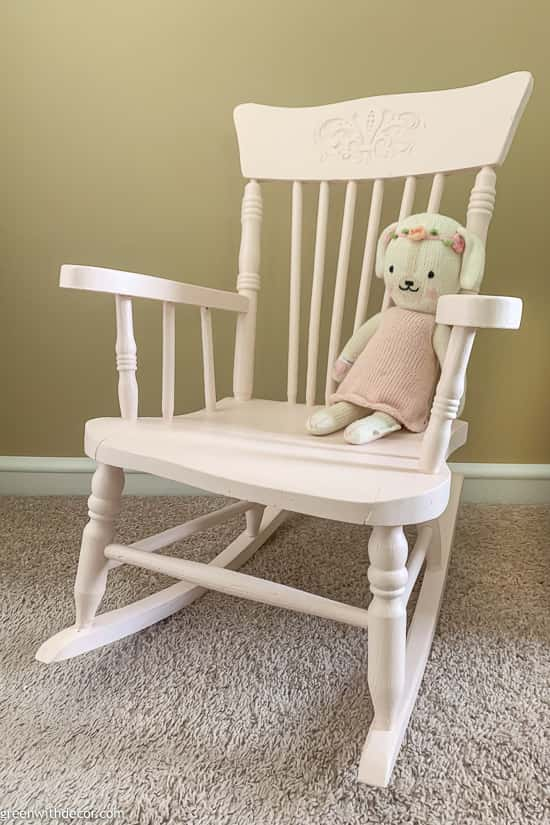 This post contains affiliate links. This means if you click the link and buy something, I may receive a small percentage of sales at no extra cost to you.
Don't you just love the color?! It's the sweetest pale pink: Nostalgic by Velvet Finishes.
I feel like with two girls, I can't help but be all about the pink. I was painting nursery pieces blue and green before (see this changing table makeover and this reading bench makeover), but now it feels like a pink free for all around here.
Velvet Finishes is super easy to use and is designed by my friend Kellie, which makes me love it even more.
Supply list for painting a chair:
How to paint a chair:
1. Clean your piece.
Clean your piece to get rid of any dirt and dust.
2. Use Velvet Finishes' READY to prep your piece.
Velvet Finishes doesn't require any sanding. Yay for less prep work.
You just spray on their READY mixture, let it sit for a minute and then wipe it down. SO easy!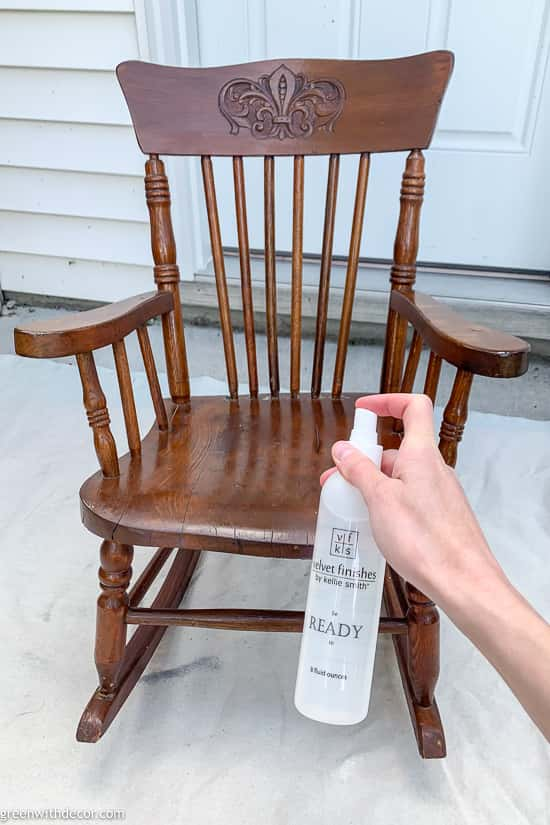 If your piece still has some shine to it, spray READY on again and wipe off.
I love READY and use it often on furniture makeovers. It makes prep work SO easy.
3. Paint your chair!
Shake and stir your paint.
One of my favorite things about Velvet Finishes is that brush strokes don't matter, meaning you can paint furniture whichever way you feel like, and they won't show when the paint dries.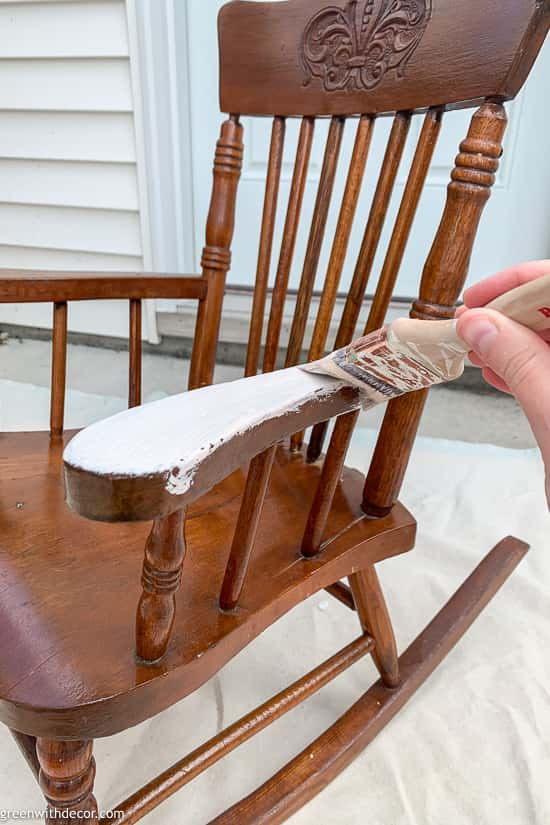 When you're painting a chair with several spindles, this is awesome news!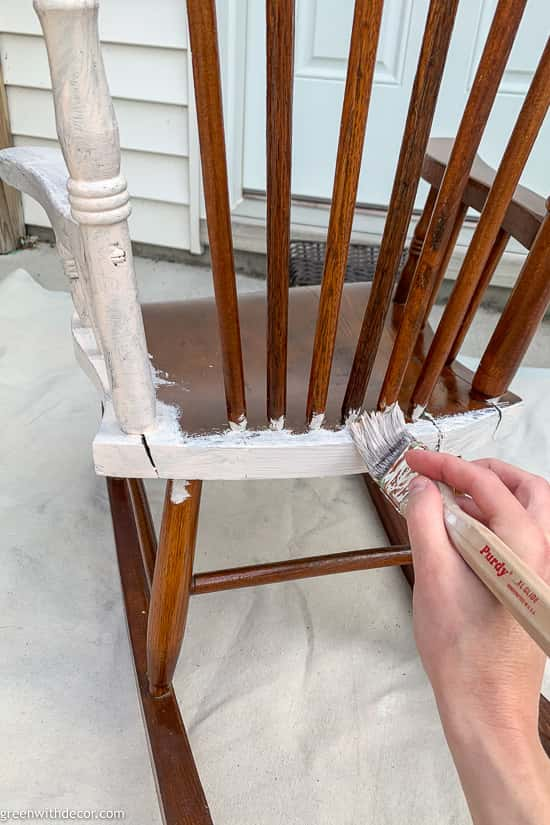 Velvet Finishes is self-leveling, so paint and move on. Don't go back over any paint that is starting to dry. You can always get more paint coverage with a second coat. (This is good advice to note for painting most things in general, honestly.)
You can wrap your brush in a damp paper towel and keep it in a plastic resealable bag in the fridge in between coats. Don't waste time washing out when you're just going to use it again!
4. Paint a second coat.
It's always amazing what a second coat of paint does for basically anything. It makes a piece look more finished.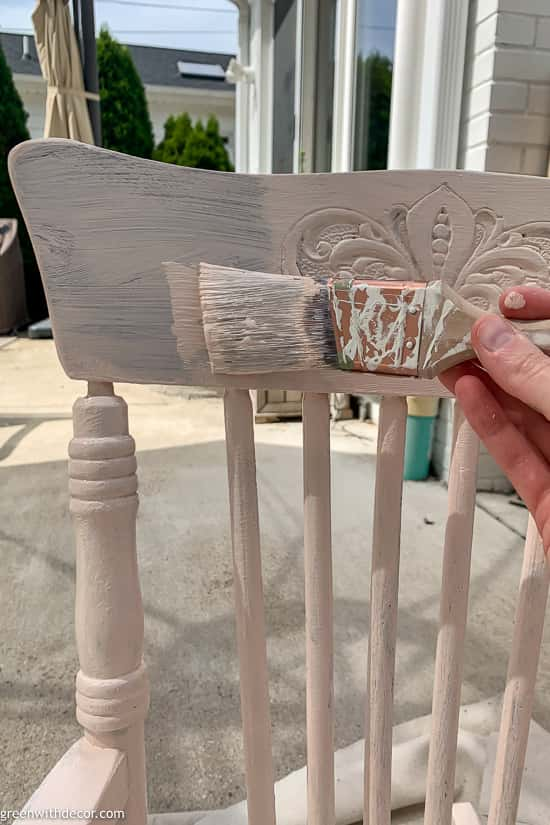 Do a third coat if needed, but keep in mind, Velvet Finishes doesn't recommend more than 3 coats of paint in a 24-hour period.
5. Apply Velvet Finishes' PROTECT.
Velvet Finishes' PROTECT is a non-yellowing polyacrylic that protects painted furniture.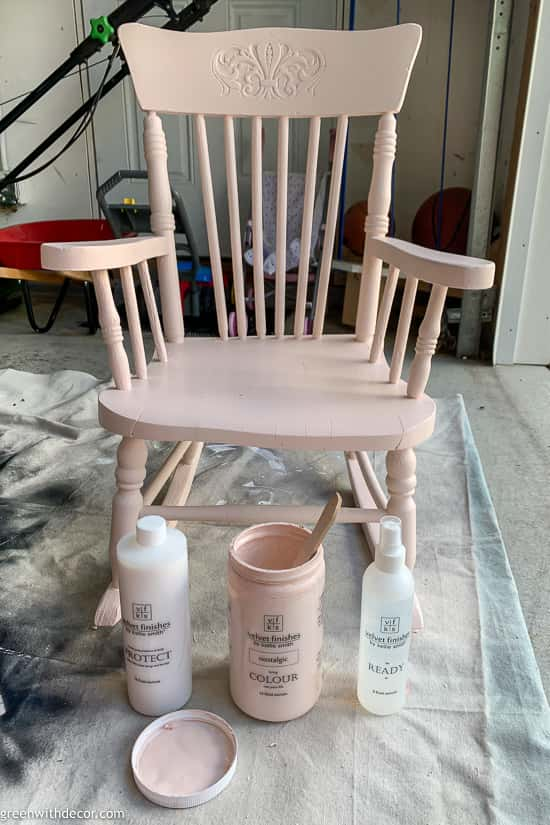 Brush it on with a paint brush. If you see streak marks, apply more, which I know seems like the opposite of what you should be doing, but it works!
6. Let your paint cure.
Let your paint dry, and then let it sit for several days. Cure time always matters! If you let your chair cure, you're much less likely to scratch or dent the paint later.
Hope this is helpful if you've been wondering how to paint a chair! It's so easy.
If you have any questions about Velvet Finishes, check out their FAQ section on their website.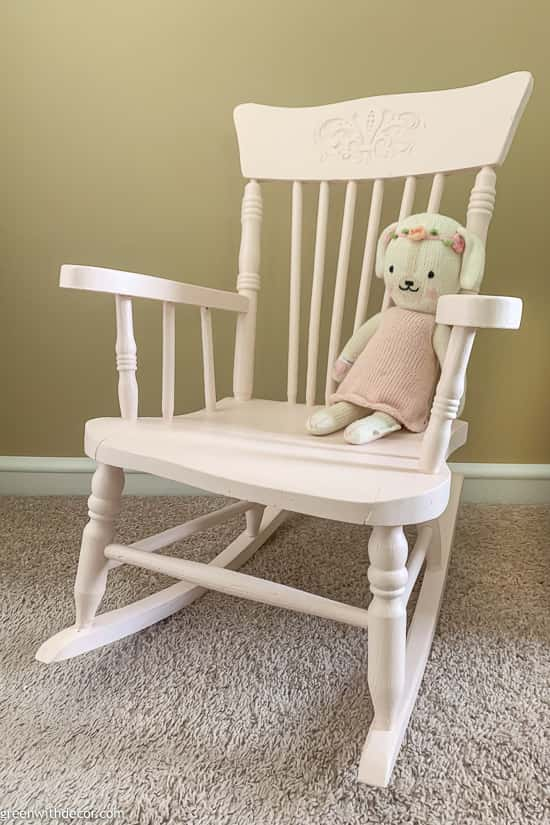 So sweet, right?!
GET THE LOOK:
Since a popular question I get is "Where'd you get that?!," here are links to the same or similar sources:
If you want more painted chair ideas, check these out:
Remember to bookmark or pin this post if you want to save it for later!

Pin it!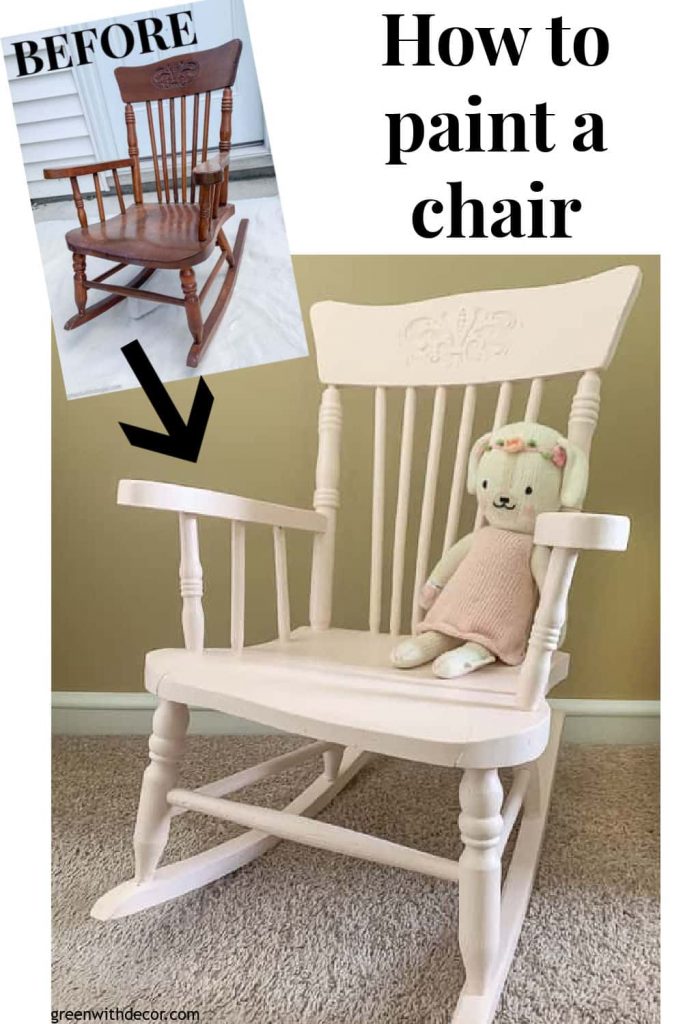 Want to read more posts like this?
Follow along: Get my emails | Facebook | Pinterest | Twitter | Instagram