It's really here: nursery reveal day!
Only two years in the making, ha.
Just in time for baby #2 who will move in here at some point when our toddler moves into the guest room. (Definitely not trying to rush her out of the crib when she's perfectly happy in there and baby can sleep in a bassinet!)
The pink nursery has been mostly finished for a while (I've shared some projects along the way here), but not getting to start it until our first daughter was already living in here was obviously a challenge.
And finding a chunk of time to make sure it was all straightened and then take photos also proved to be a challenge. (I typically crank stuff out during nap time … not quite an option with this one!)
But I finally got it all together and have the pink nursery reveal to share today! I really love it and hope you do, too!
The room looked like this shortly after we moved in:
And then it was a home office.
(With Ryegrass green walls I'd been thinking we could use for a gender-neutral nursery, but when we found out baby #1 was a girl, I had to go pink. And it worked out since baby #2 is a girl, too!)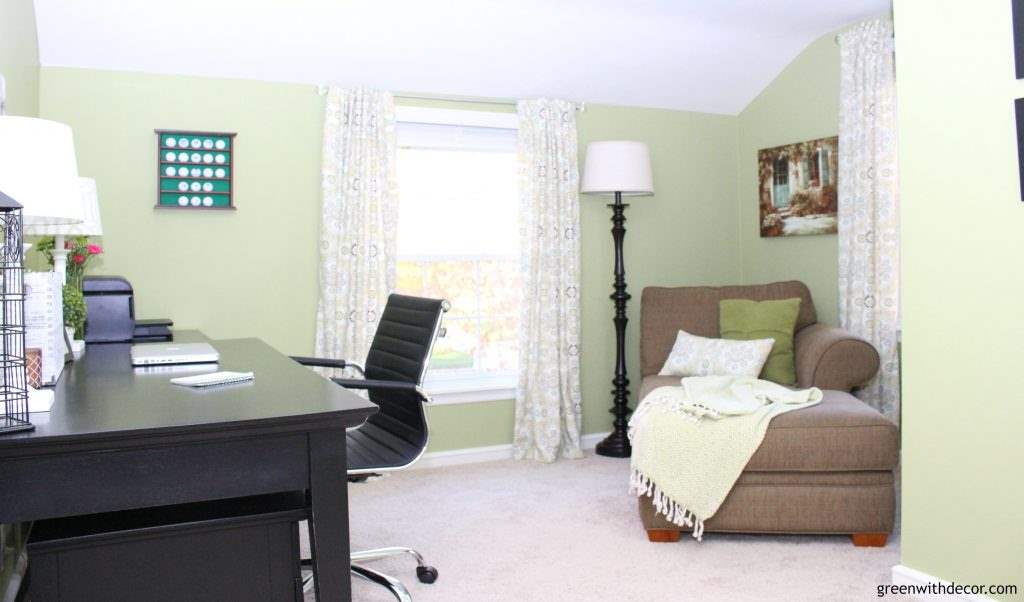 And now: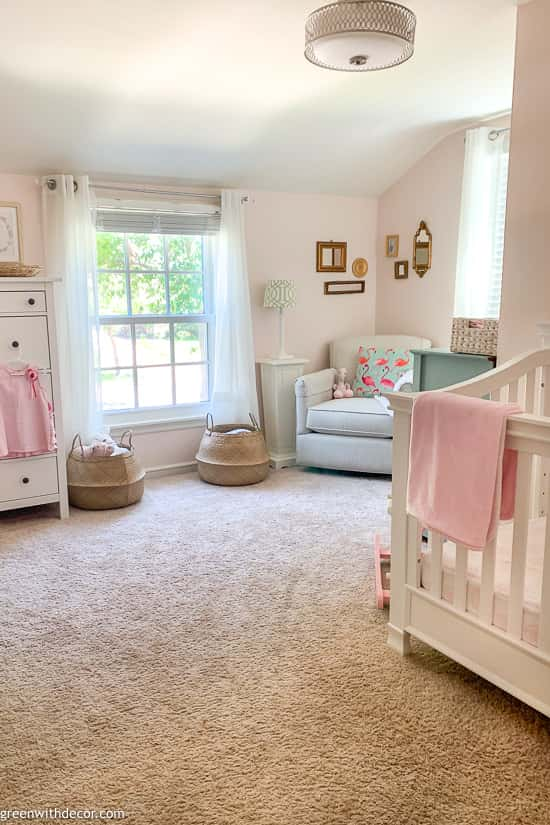 And a few before / after more shots from a different angle:

Needless to say, we got rid of that little makeshift closet in this nook.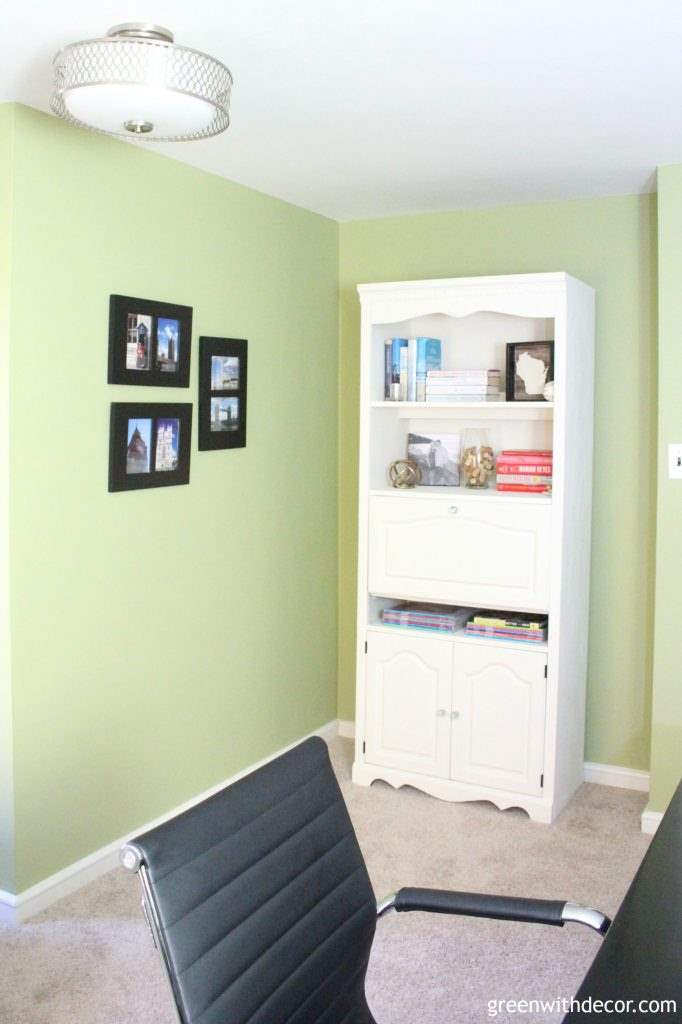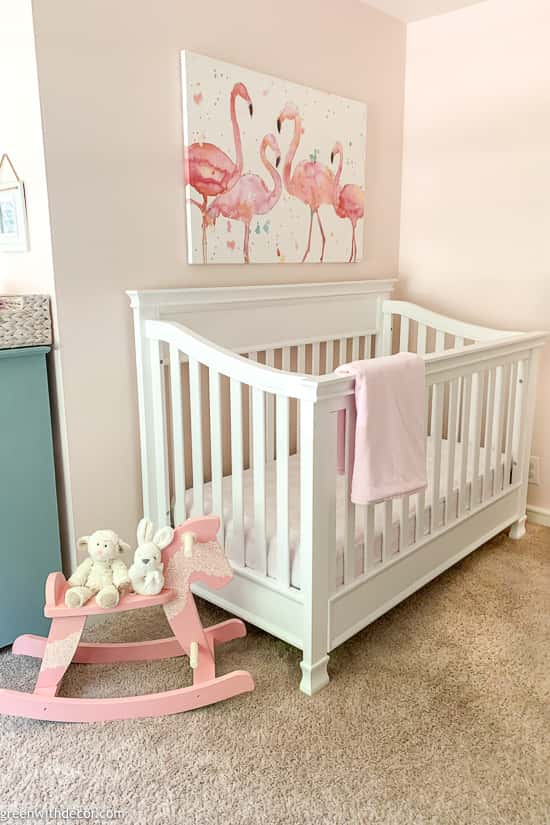 There's so much to chat about in here!
It's not the biggest room so hopefully some of these ideas work for you if you're also trying to fill up a small room without overcrowding it.
As always, I'll do a full 'get the look' / source list at the end of the post if there's anything you're wanting to buy!
Wall color:
If you saw last week's post, you know we originally painted the walls Impatiens Petal by Sherwin Williams.
And um, I was not a fan of it in here. Way too pink, even for someone who wanted a pink nursery. (This seems like a good time to remind you of my post: How to pick paint colors like a pro. Sampling is a must, don't skip it or you could end up repainting a room like we did in here!)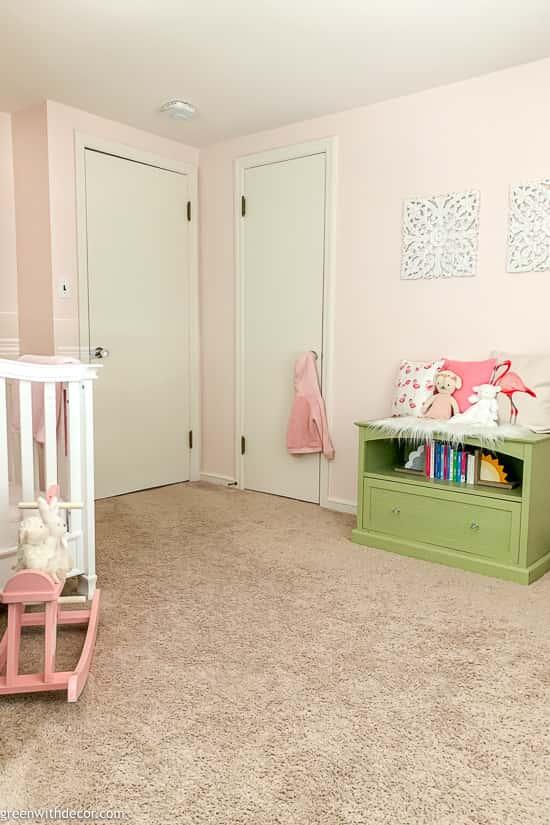 We repainted with a custom color I made up by mixing pink and white paint together until I got the paint color I envisioned in my head.
It's the perfect shade of pale pink now, and I'm really glad we don't have to paint over it anytime soon, haha.
Furniture:
I didn't want to do anything too baby-focused in here knowing how fast kids grow. Of course, we bought a crib, but the rest of the furniture in here can really grow with our daughters and / or be used in different rooms in the future.
I really tried to keep our options open versus spending a ton of money on baby stuff that won't last us more than a few years.
We love the IKEA dresser (also available here if you don't have a store near by) and just bought another of the exact same one for our toddler to use in her new bedroom.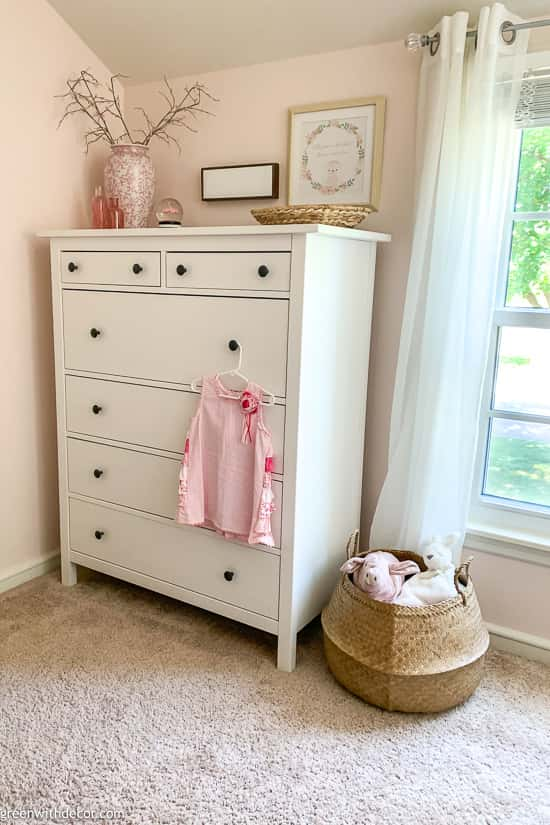 And I swear by these drawer organizers I've talked about several times already.
We use this old dresser (a reader told me it's called a chifforobe) as a changing table.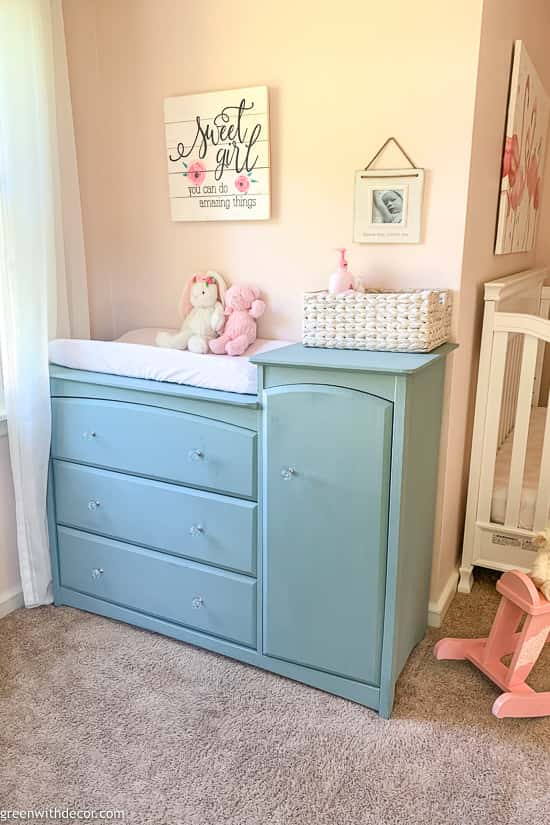 I love that all the storage underneath is behind drawers and a door. Keeps things looking clean and decluttered even when my daughter 'rearranges' everything inside!
You can see the painting DIY tutorial here (it was bright aqua and white when we got it): Changing table makeover. And then I added these really pretty, washable (so necessary for a nursery!) drawer liners that somehow perfectly matched the paint color I'd chosen years before.
Gotta love when things just come together like that.
I also took an old TV stand, cleaned it up and painted it to use as a little reading bench and book storage. (Tutorial here: Old TV stand turned nursery book storage.)

Our daughter is finally old enough to sit up there and read, and it's really the cutest thing.
And again, that hidden storage in the bottom drawer is awesome for throwing books in there.
We've had this neutral glider for two years now and still love it. It's super comfy and somehow we've managed to keep it clean. Our daughter LOVES to sit and rock in it.
Speaking of rocking, isn't this little rocking horse just the sweetest?!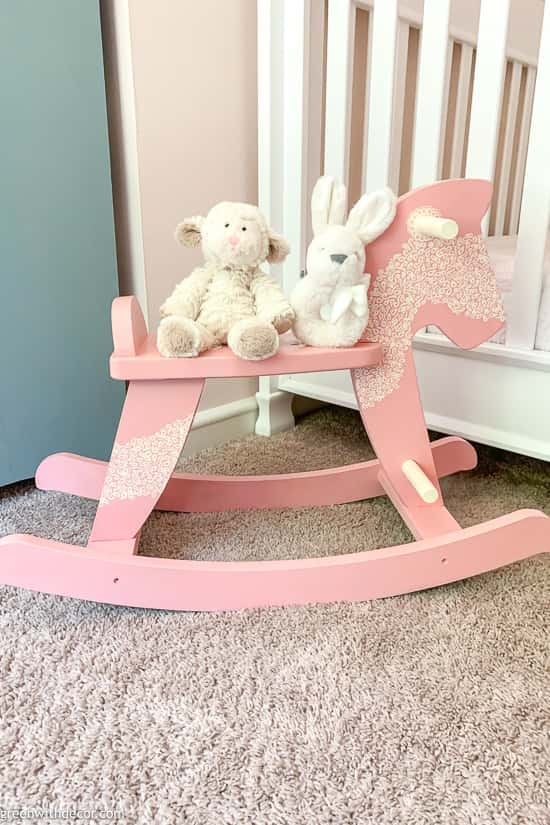 For a little 'end table' next to our rocker, I painted an old plant stand from my grandparents. It's perfect for a lamp and a glass of water while not blocking the window right next to it. (Tutorial here: A repurposed plant stand.)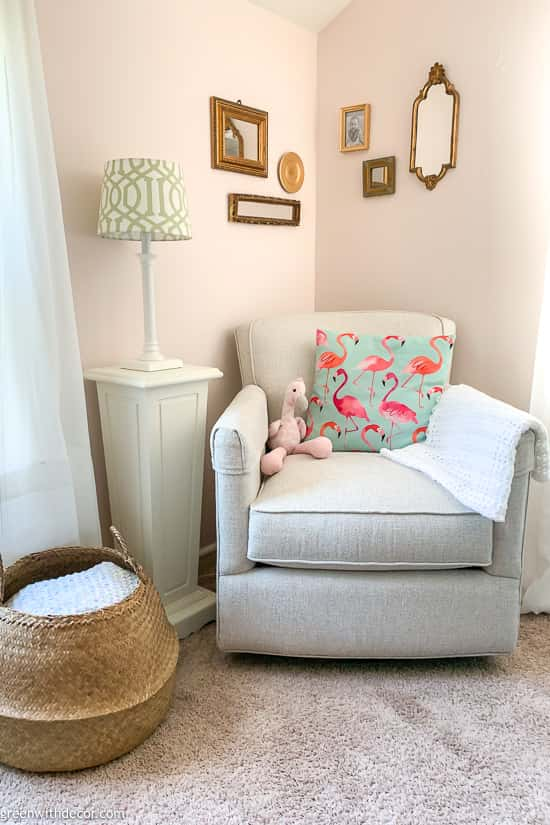 I love that we can use a piece from my grandparents and that it's so functional in a small space! There was no way we could fit any sort of true end table in here no matter how small.
Wall decor:
That mirror gallery wall is one of my favorite things in here. It's such a fun way to fill up this corner with something a bit unusual.
And of course babies and toddlers love to look at themselves, so it's good for some entertainment, too.
The flamingo print above the crib is one of my favorite finds ever. I don't see it anywhere anymore (eek, such a bummer because it's so cute!), but I found this one or this one that are similar.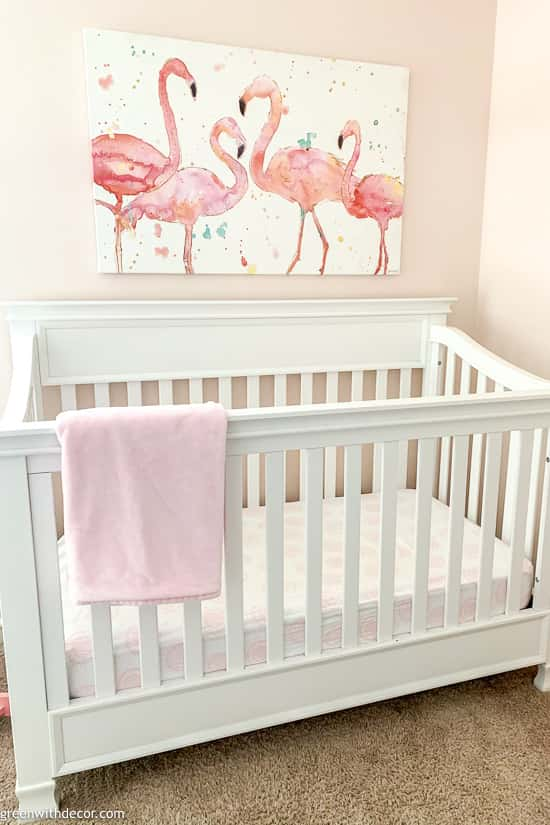 It fits perfectly above the crib. (I actually originally ordered it in two sizes to be sure and then returned one – always do that if you're debating! As long as you check the return policy to make sure that's an option!)
I love the small pops of blue to tie into the color of the changing table.
I also added these pretty wood pieces above the reading bench …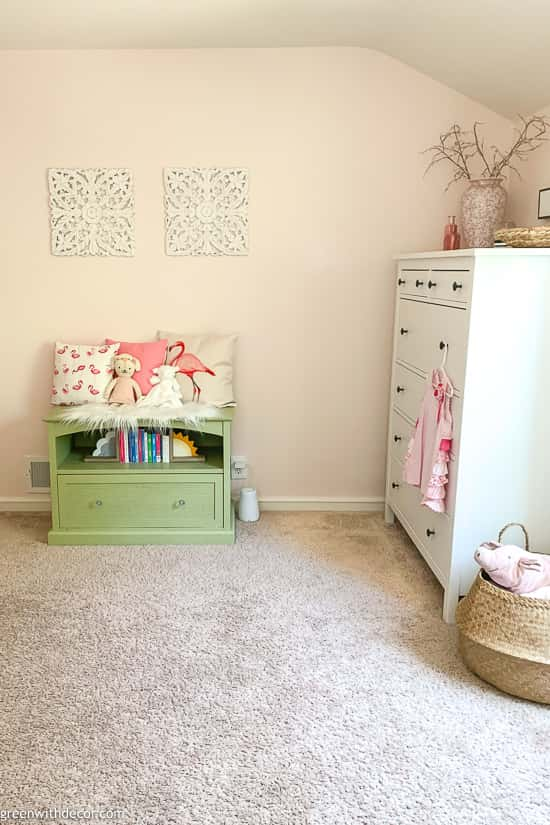 … that thrifted frame above the dresser …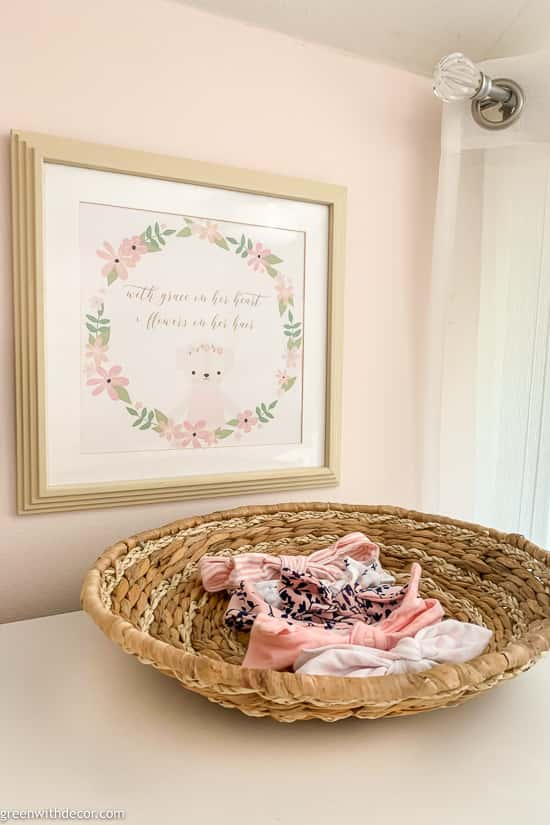 … and fun artwork above the changing table. All were just lucky finds from a couple years ago so I don't have links.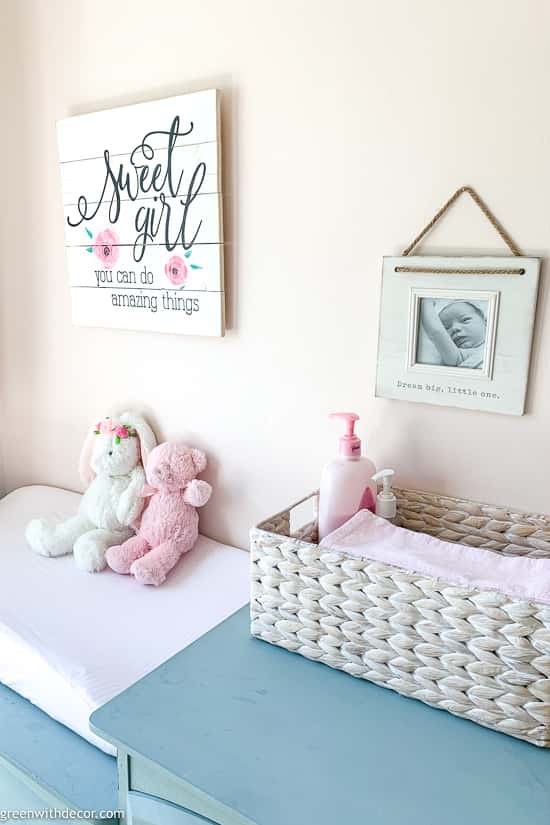 I love the cluster of vases on the dresser for another pretty touch that's out of toddler reach. And that cute flamingo snow globe, of course!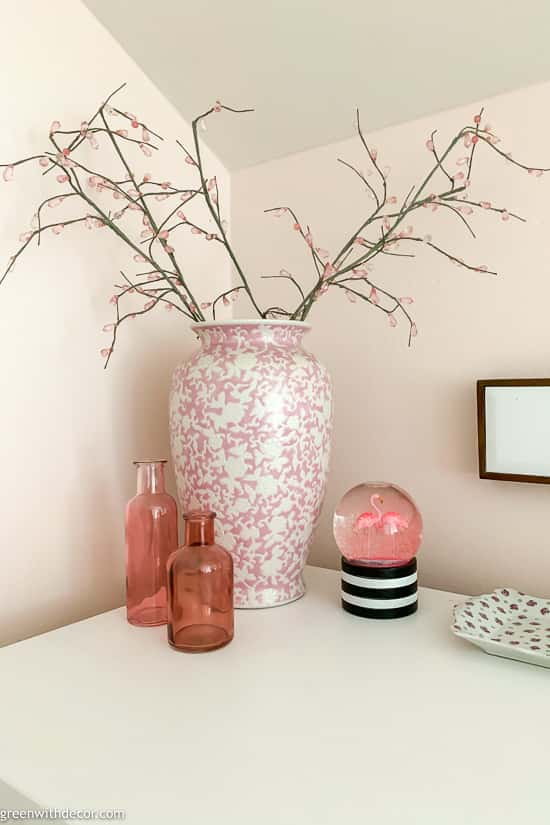 Other pink nursery decor:
I'm obsessed with these curtains and curtain rods and use them in basically every room of the house. I don't see the exact curtains or rods anymore (boo!), but I found similar options that I linked below.
I love how our crystal door knobs tie into the crystal finials of the curtain rods. Fun touches of glam in here!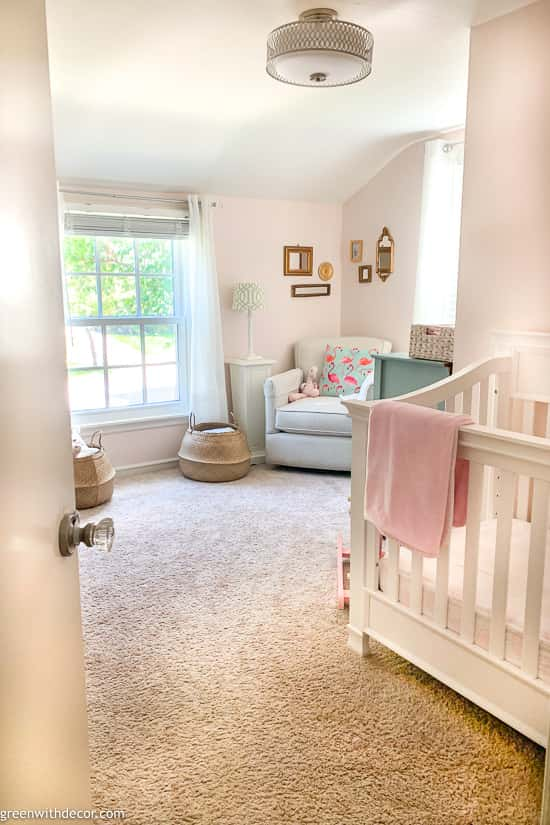 I also bumped up the flamingo presence in here with some cute pillows.
Couldn't help myself! (And now that I think about it, Kalen and my sister-in-law actually each found those pillows on their own and just asked if I wanted them for the nursery, so I wasn't even looking, ha!)
These seagrass baskets are another obsession of mine. I have the in multiple rooms. They're so durable and so great for toy / blanket storage without looking like they're just for kids.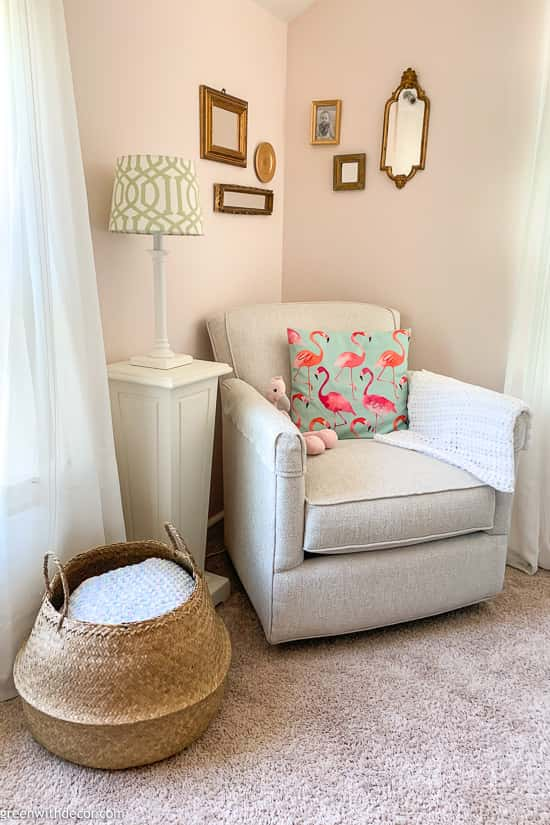 I talked about switching out the light fixture in here (and moving this one to the soon-to-be toddler bedroom). I still love it, just want something white and pretty in here.
I shared my favorite flush mount white lighting options here but haven't gotten around to making a decision yet. I want them all, haha.
I think that's it in here! I love the soft pink and white with touches of blue and green. It seems so calming, girly and comfy at the same time.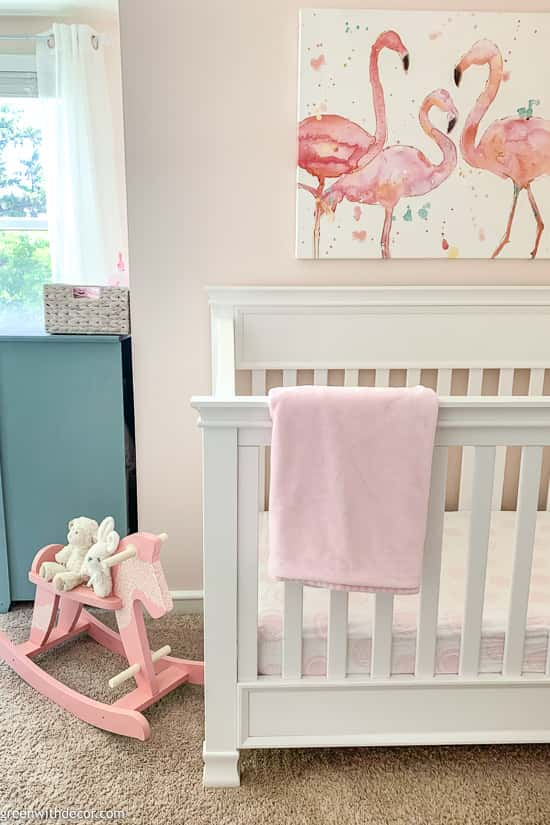 The layout works perfectly in here, too. For a room on the smaller side, we managed to fit in a lot of furniture and still have plenty of open space in the middle for all sorts of playing, because that's really the most important thing anyway, right?!
Can't wait for our new baby to get here (being pregnant in a pandemic is um, not great and definitely stressful, despite how very grateful we are to be pregnant) and enjoy her pink nursery!
GET THE LOOK:
Since a popular question I get is "Where'd you get that?!," here are links to the same or similar sources:
And if you want to catch up on any of the previous nursery projects in here, check out these blog posts:


Pin it!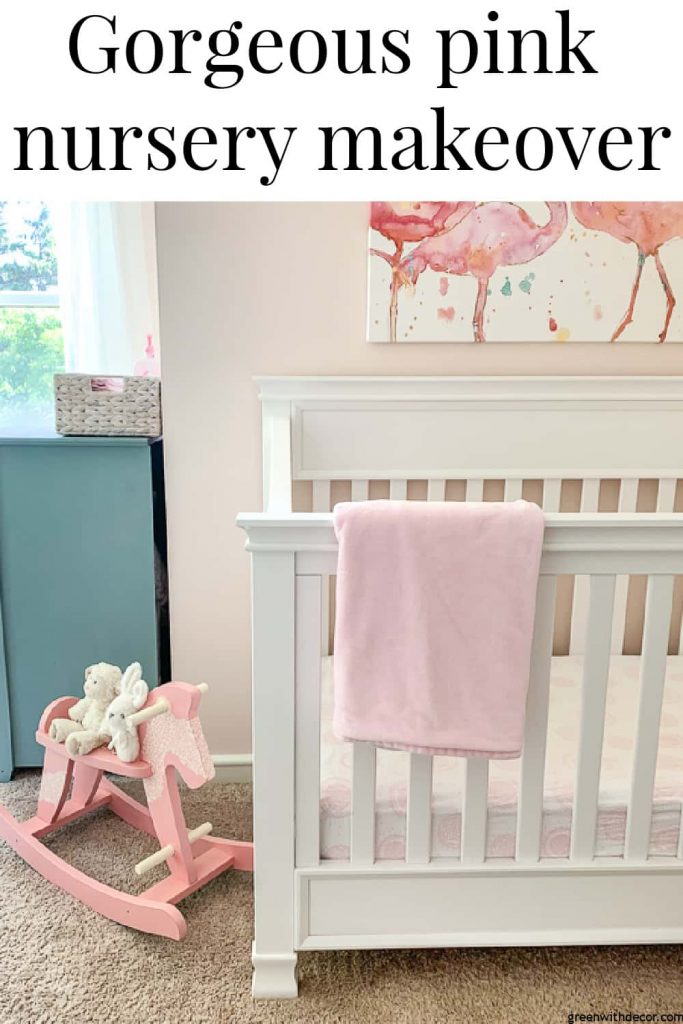 Want to read more posts like this?
Follow along: Get my emails | Facebook | Pinterest | Twitter | Instagram