This coastal farmhouse dining room features a DIY farmhouse table and matching benches, fun wall decor ideas, budget-friendly rug and chandelier options, and more!
Oh my gosh, we did it!
This coastal farmhouse dining room is DONE.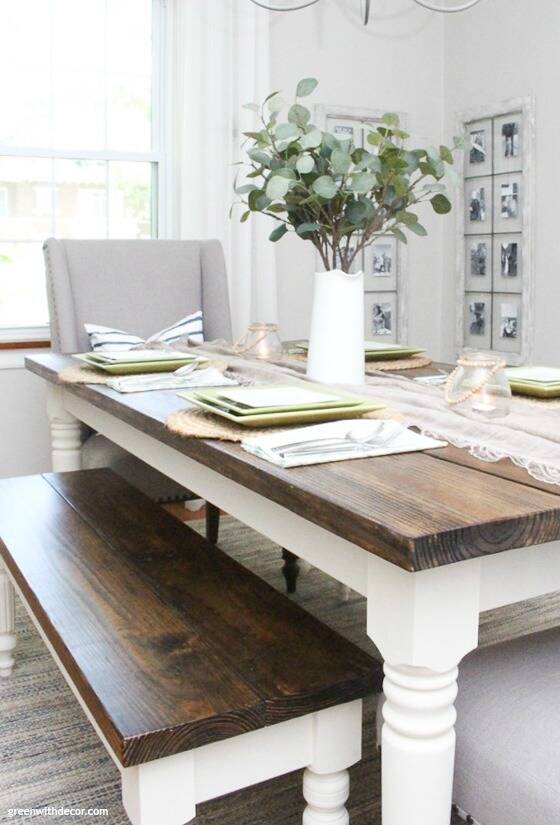 It took us several months, but we did A LOT in here: painted over the red walls, built a dining room table, built benches to match and shopped for dining chairs, a pretty neutral and blue rug, and artwork for the walls.
Plus I've had fun picking out chargers, table runners, and all sorts of pretty things for centerpieces.
Oh and we managed to fit in an office nook in the corner because this room has to serve double duty.
Whew, what a to-do list.
Before and afters are my faves (how else can you appreciate a room makeover?!) so let's take a look at a few of those: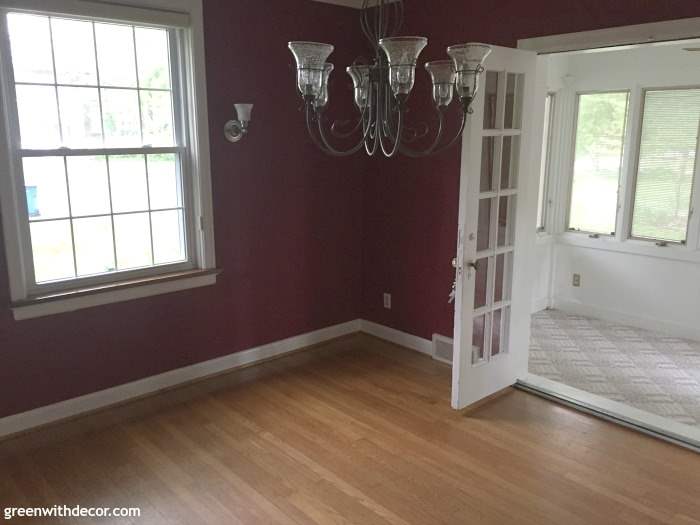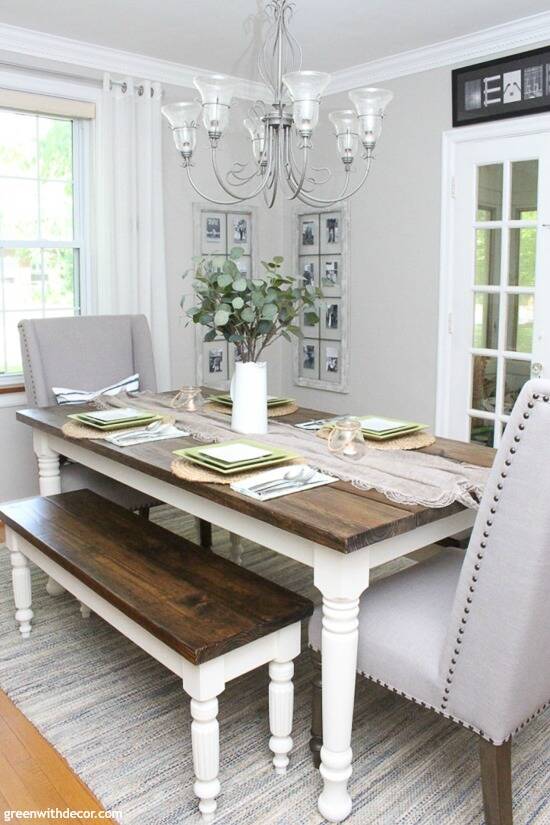 The red walls had to go, yes?!
The room looks so much brighter with a couple of coats of Agreeable Gray on the walls.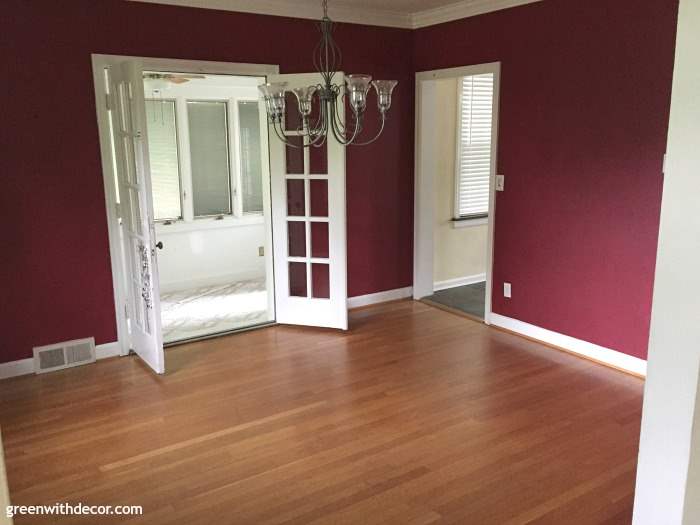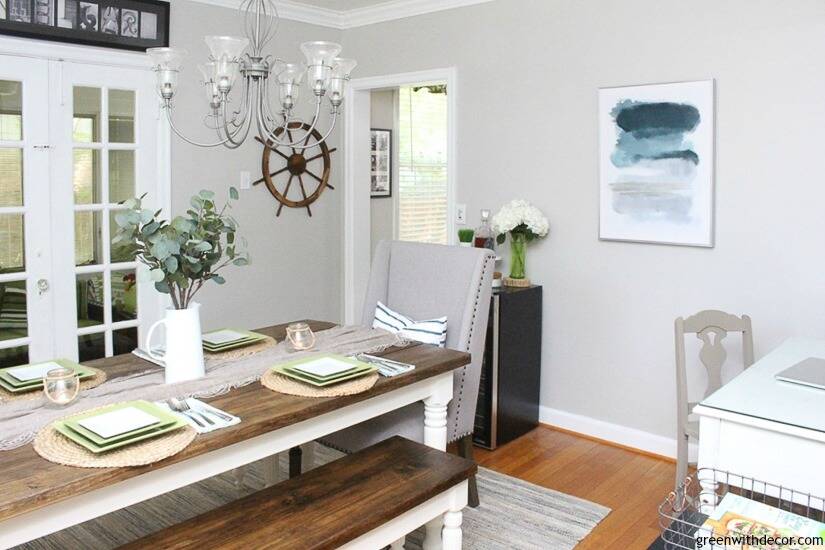 And one more for fun.
Plus this gives you a view of the home office nook in here: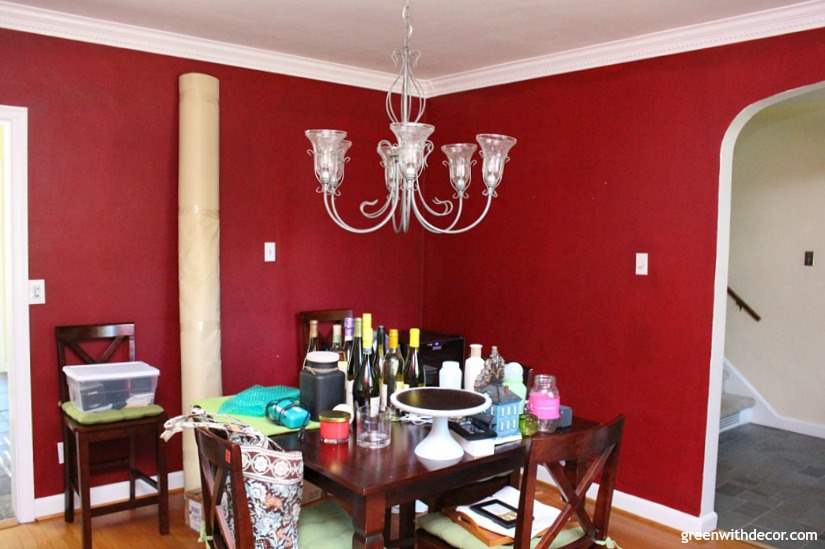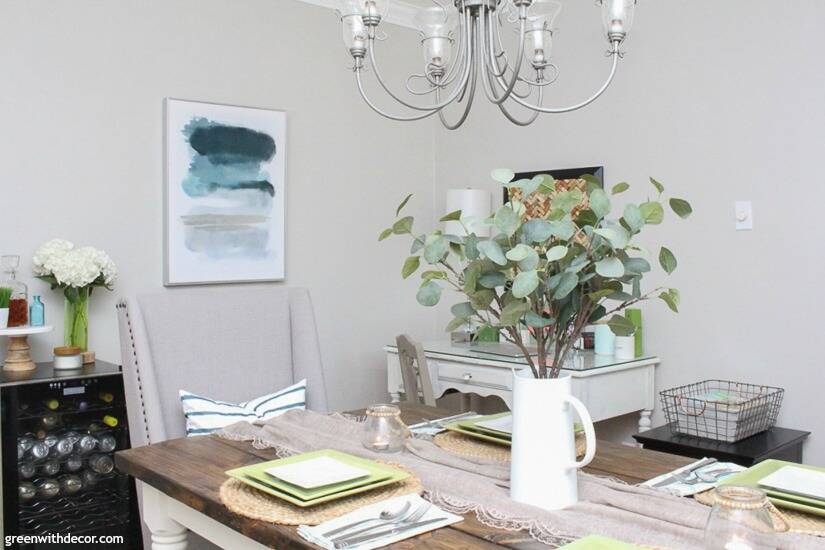 I'll include links to all of the DIY projects, decorating ideas and things we bought at the bottom of this post so you can click anything you want more info on.
The biggest project in here was building the farmhouse dining table. We'd never built any furniture before, but if we can do this, so can you!
And I love how it looks with the matching DIY benches.
Aren't the legs just so pretty?!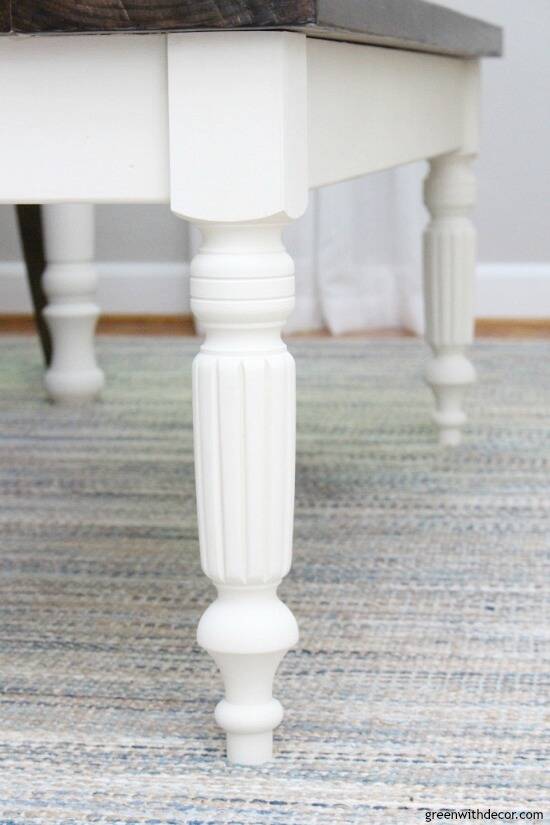 I looked at a loooooooot of coastal dining chairs for the heads of the table and ended up loving the chair I picked for the desk so much that we bought a second one.
I really like the mix of the gray fabric and nail heads with the wood of the table.
The hunt for a rug meant more shopping. 🙂 You can see all of the pretty neutral and blue area rugs I looked at, there are so many good ones and all under $250!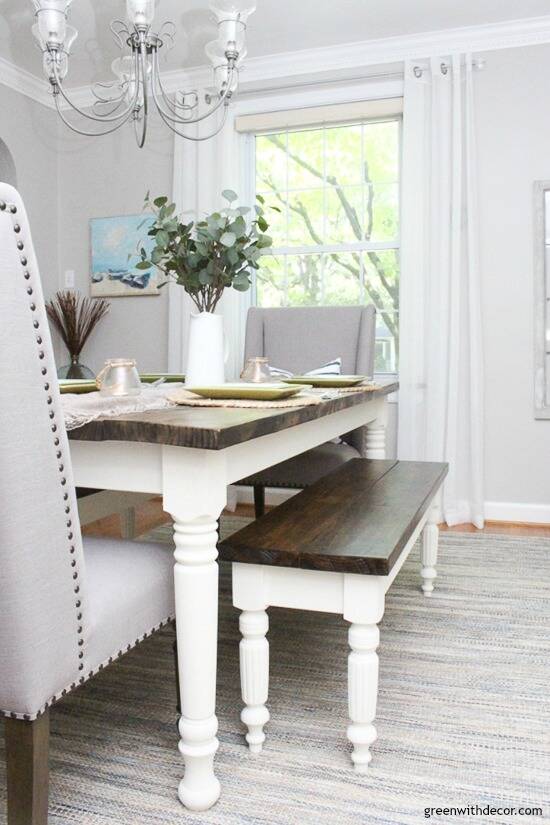 The rug is a bit off center in here because of the desk in the corner … and the light fixture is a little off center, too, but we're renting so let's all just pretend it's all perfect.
Speaking of, we looked at wood chandeliers (all on a budget!) for this room, and I fell in love with basically all of them. (What is it about beaded chandeliers that's SO GOOD?!)
But we decided to wait till we move to buy a light that really fits our next dining space.
For wall decor in here, I updated our old windows turned picture frames (originally from the built-in we knocked down to make our kitchen bigger in our Milwaukee house) with a dry brush painting treatment.
It's super easy and is a fun way to use two paint colors at once.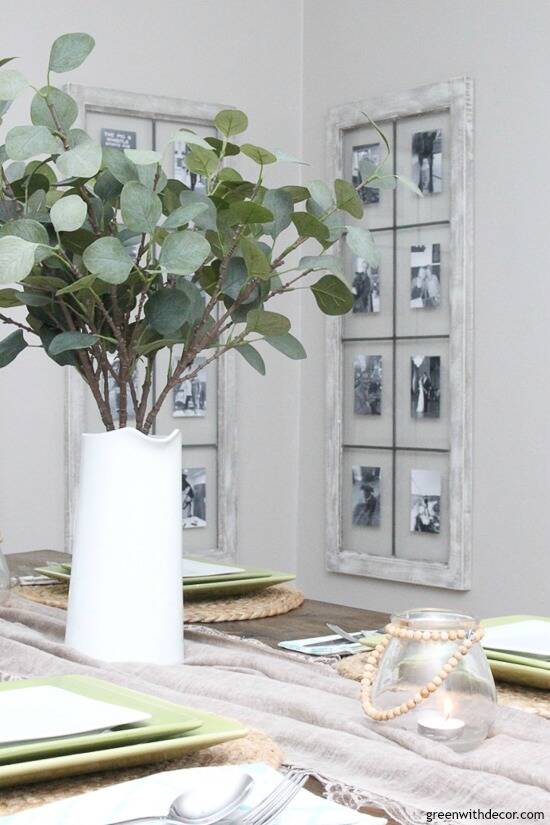 This post contains affiliate links. This means if you click the link and buy something, I may receive a small percentage of sales at no extra cost to you.
I also discovered (thanks to my mom, AKA design assistant!) that TJ Maxx's website is awesome for shopping online.
I ordered a few pieces of beachy artwork like this one. Their choices are so good – you can see my favorite picks for coastal wall art here.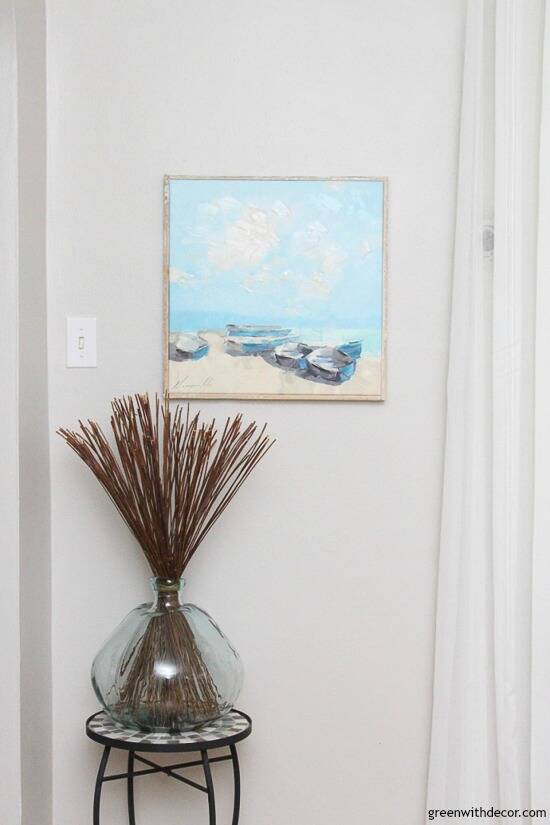 I picked up this abstract piece, too: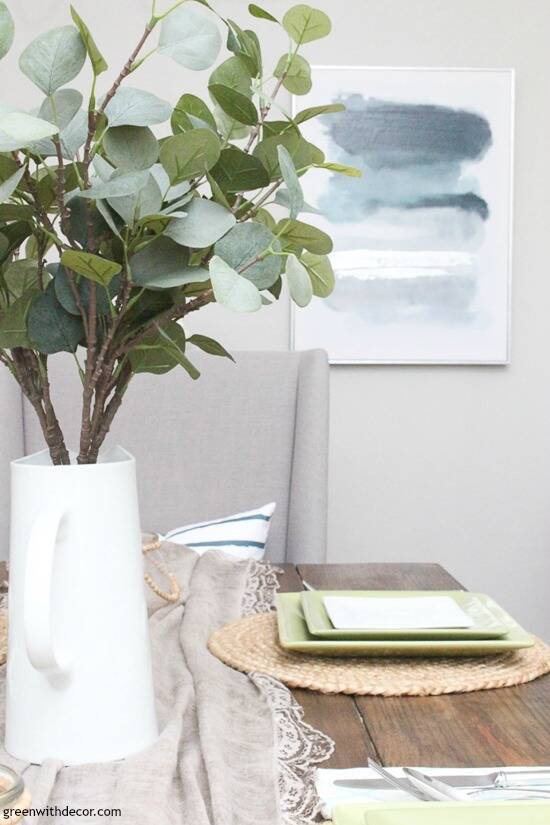 The ship wheel was a fun find at a local home decor store, and the Hemmelgarn sign above the door is a fun keepsake we made by snapping pics of all the letters back when we lived in Cincinnati.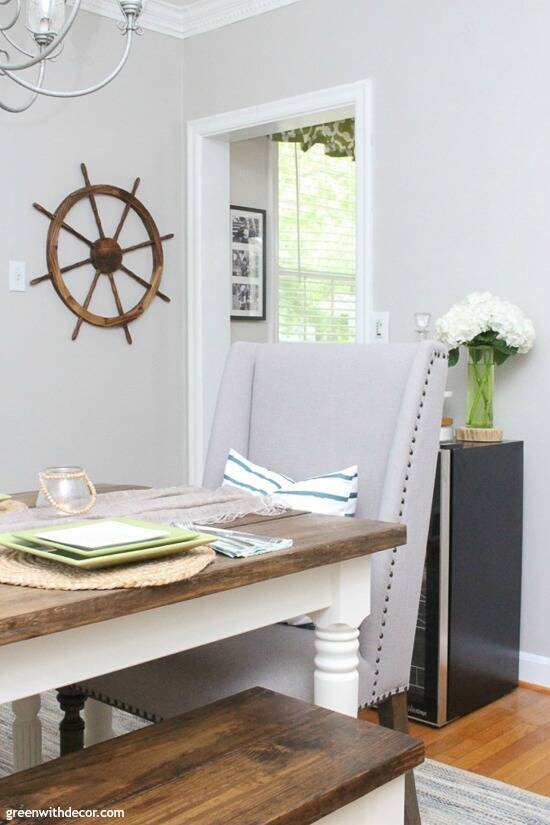 The DIY cork bulletin board is over in the 'office' part of the room.
It's a fun DIY Kalen put together for me. I really love the pattern. You can see more of the office nook here.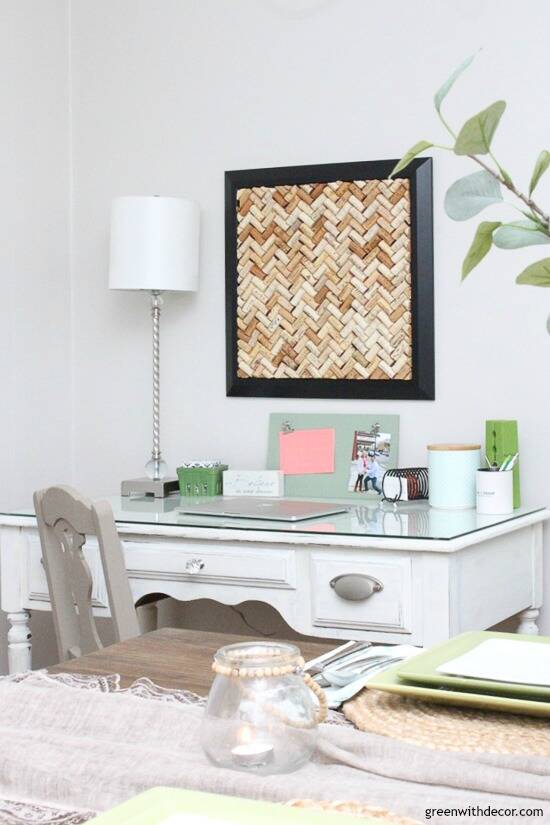 I picked the same beachy white curtains and crystal curtain rods we have in our living room. They've probably been my favorite curtains ever.
Plus they hide the fact we took the sconces down on either side of that front window.
Some of my favorite accessories in here are the faux eucalyptus from IKEA, the white pitcher …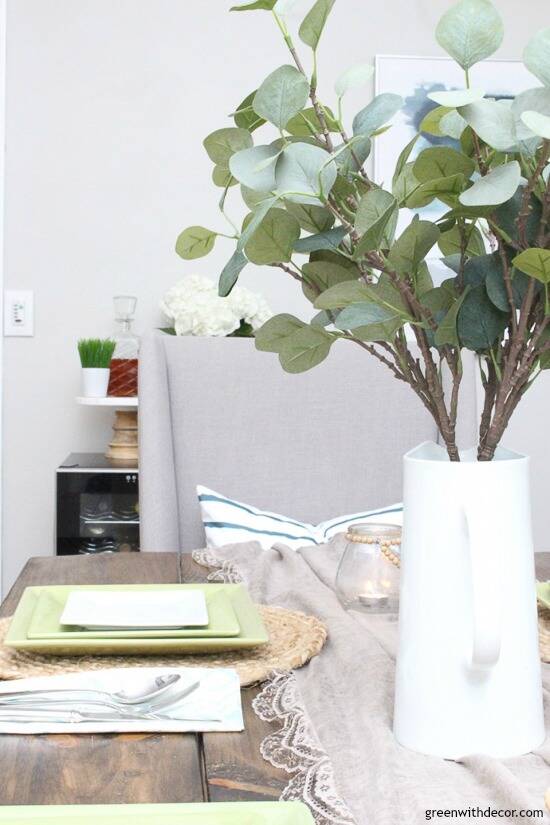 … the marble and wood cake stand and the big aqua glass vase (we also have the taller version of the same vase in the living room).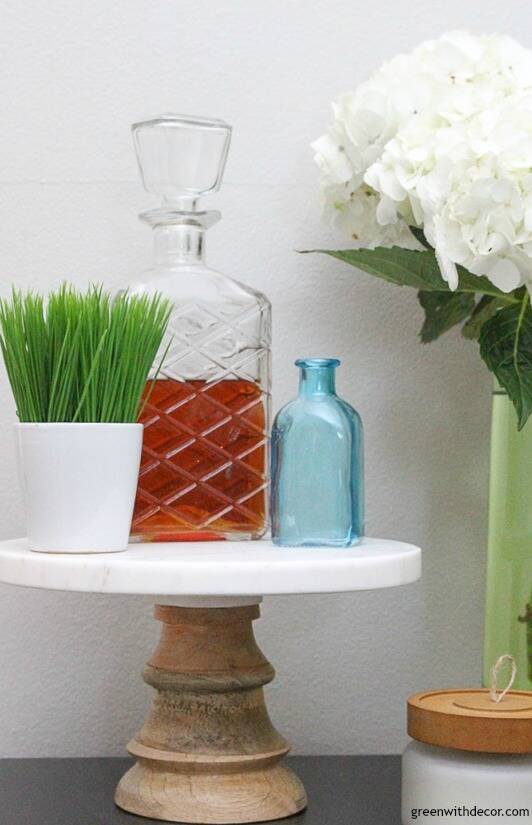 The little touches always go such a long way in making a room feel finished.
Oh and another favorite are the chargers (placemats) I had my eye on forever, I'm so glad I bought them!
They're perfect for a coastal feel in here.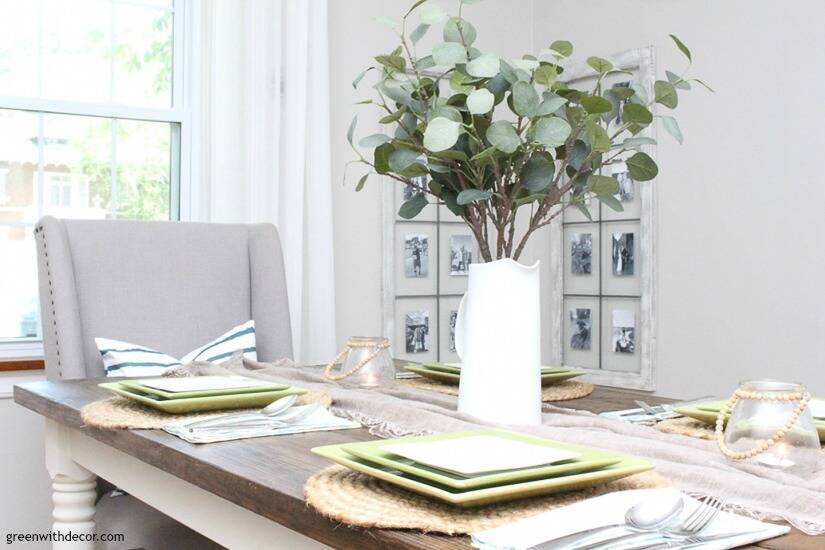 I've had so much fun setting up different centerpieces and tablescapes in here.
We'd never really had a real dining table before so it's a whole new kind of decorating.
Weird enough, my favorite table runner I've used so far is actually this brown scarf with the lace trim. I just love the lace against the dark wood.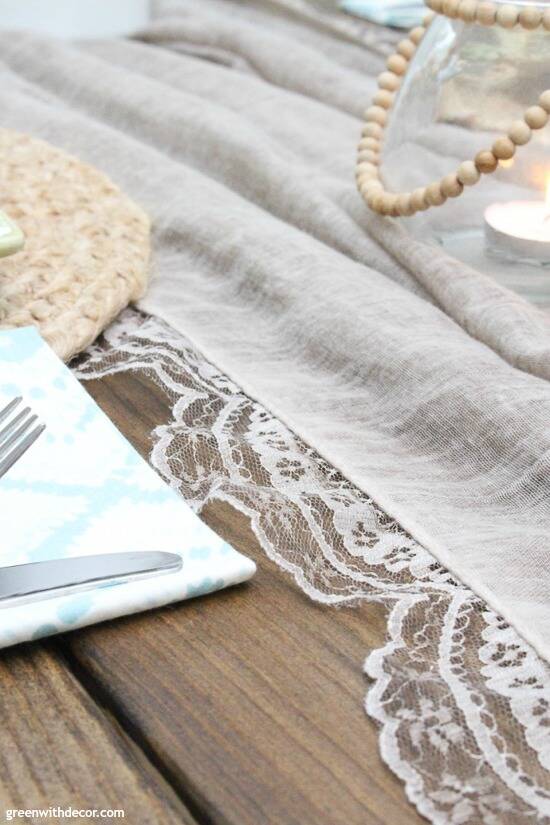 This room may have taken us forever (totally playing the pregnancy card on this one), but we are so happy it's DONE!!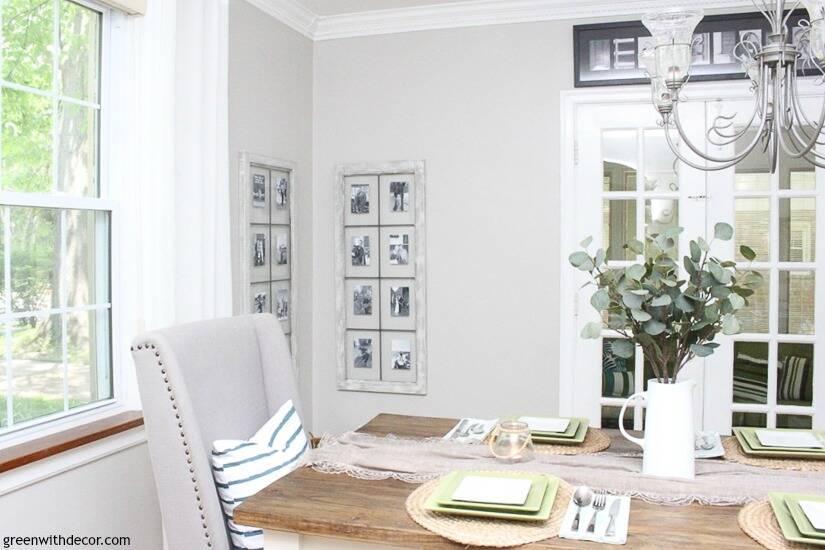 You can see all of the projects, decorating ideas and shopping guides for the coastal farmhouse dining room makeover here:
GET THE LOOK:
Since a popular question I get is "Where'd you get that?!," here are links to the same or similar sources:
Have you done any room makeovers lately? Or maybe you're also in the middle of one that's taking months and months?
Keep going, if we finished this one, you can, too.
Remember to bookmark or pin this post if you want to save it for later!


Pin it!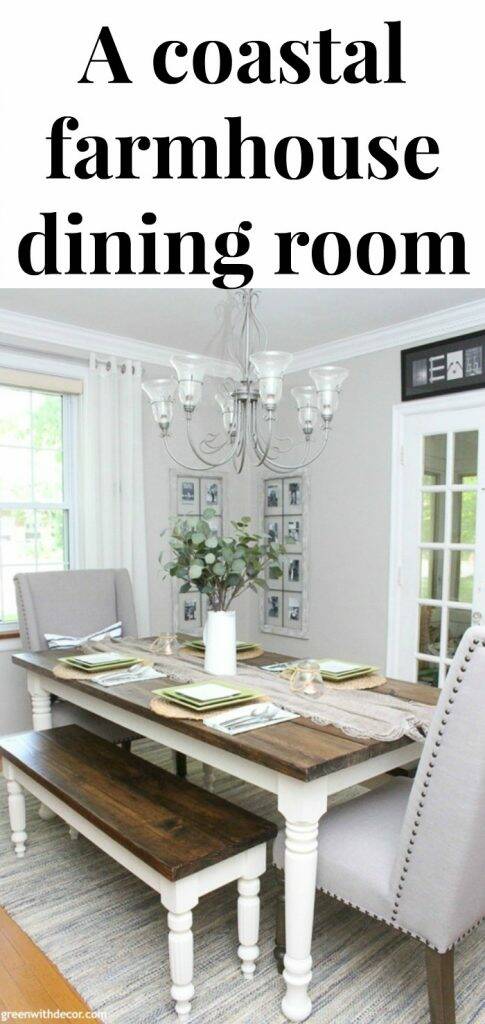 Want to read more posts like this?
Follow along: Get my emails | Facebook | Pinterest | Twitter | Instagram