We've been planning something big for the backyard this year!
I didn't want to share anything too early on the blog, because sometimes (almost always) these projects take longer than expected, and then it can be kind of boring to read about a project and not hear anything again for a long time.
But we've made enough progress and have everything all set, soooo guess what?!
We're putting in a pool!!!!
I love swimming and grew up with a pool, so needless to say, I'm excited!
Our friends / neighbors got one last year and inspired us to get one, too. It's been so fun already.
It's an above ground pool and will fill in this corner of our yard behind the patio. After a lot of research, we bought an INTEX pool.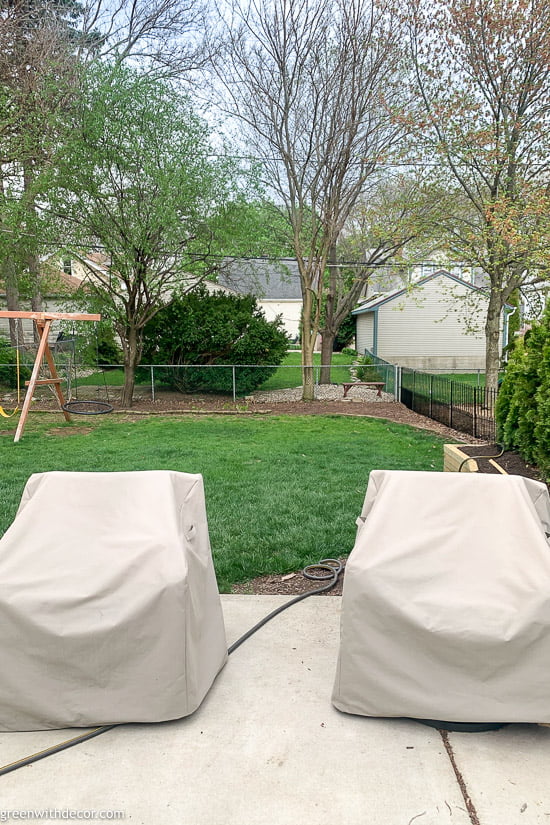 This post contains affiliate links. This means if you click the link and buy something, I may receive a small percentage of sales at no extra cost to you.
We're planning a deck and outdoor kitchen between our patio and pool, but some or all of that will happen next year. Lumber prices are just ridiculous (but maybe finally coming down?), so we may wait and see what happens there.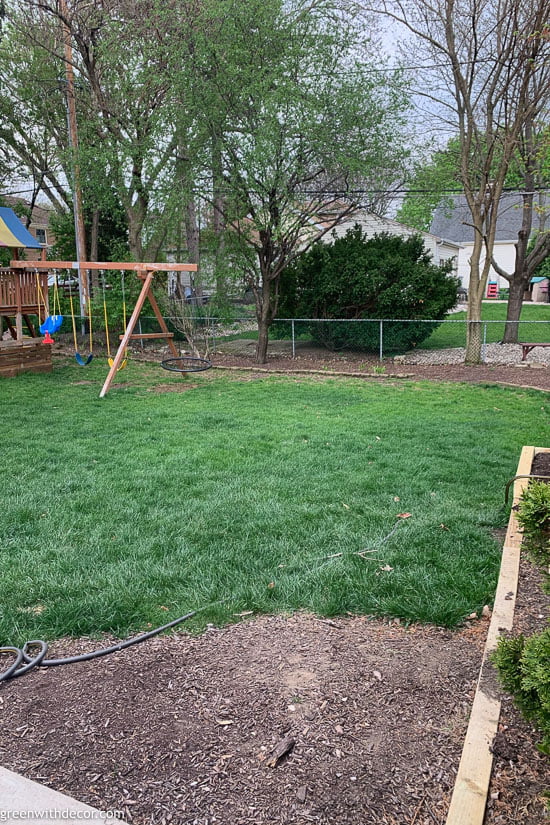 We'll probably add a new outdoor table to our patio to make room for more friends and family, but I want the deck up first to see exactly how much space we're working with. I'm thinking we'll move our current patio table to the deck and maybe add some chaises or something.
More to come on that.
Meanwhile, we're all stocked up on noodles, pool floats, beach balls, drink koozies (both these, which have quickly become toddler toys, and some fun personalized ones!), comfy beach towels and a billion outdoor dishes. All the important things!
Stay tuned for pool progress! And if you have a pool, give me all your pool tips!
If you want to see more of our backyard, here's the full backyard tour from last year.
The rest of the yard pretty much looks the same as it did last year, although we did add this spinner swing to the swing set. (It's a bit hit if you have kids!)
P.S. Remember Amazon prime Day ends today! I share my favorite Amazon finds (including backyard favorites!) in the Green With Decor Amazon Storefront.
Remember to bookmark or pin this post if you want to save it for later!


Want to read more posts like this?
Follow along: Get my emails | Facebook | Pinterest | Twitter | Instagram