This post walks through what size rug to use in a living room and 4 furniture and rug layout options.
Ever been stumped on what size rug to use in your living room? Then this is the post for you!
I run through a bunch of helpful rug size tips and design rules below (and include links to some gorgeous, affordable rugs!), but generally speaking, if you're debating between two rug sizes, the larger one is better. (As long as it's not going to look like wall-to-wall carpet.)
The #1 mistake people make with rugs is going too small. Small rugs can make big rooms seem smaller and/or incomplete.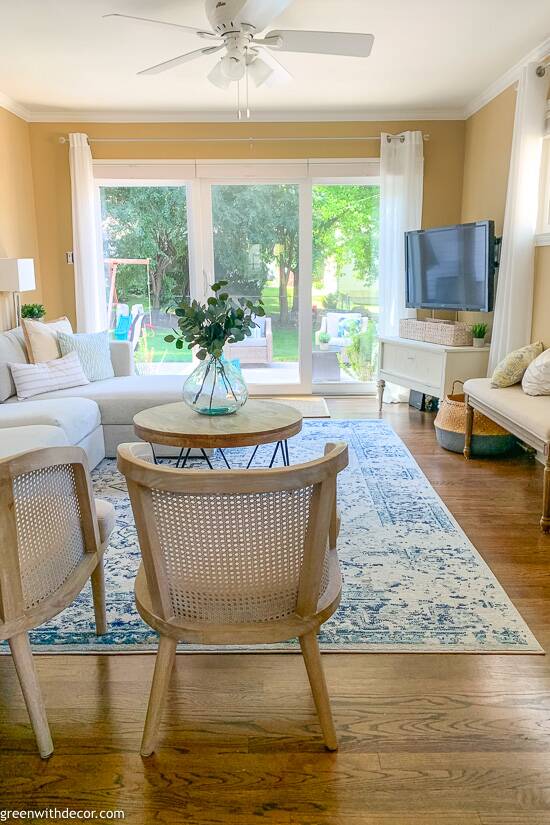 This post contains affiliate links. This means if you click the link and buy something, I may receive a small percentage of sales at no extra cost to you.
Bigger rugs are more expensive (ugh, I know), but they usually fit a living room better.
And buying a too-small rug only to have to return it (because even small area rugs are still big) is a PAIN.
If you're debating between two sizes, use painter's tape to map out the rug sizes in your room. Then you can see how it looks in the space before you buy anything.
What size rug for A living room:
Rug size is dictated by both your room size/shape and the furniture in that room.
In a living room, you'll always want a rug to run the same length as a room – and the length of your couch.
Meaning, if your living room is long, you'll want the rug laying lengthwise, not across the room nor perpendicular to your couch.
Living room rug size tips:
Living room rugs should usually be at least an 8'x10'. There are exceptions, but keep that in mind as a general guideline.
Most living room rugs are 8'x10′ or 9'x12′. Really large rooms may need a 10'x'14'.
Living room rugs should be centered with your couch, not centered in the room.
Generally, a rug should extend at least 6"-8" on each size of a couch.
If you want to save these tips for later, I have an easy graphic you can pin at the end of this post.
Rug size / furniture layout options:
There are a few options here. Some will say #1 and #2 are really your only true options, and others will say you can use #3 or #4, too if needed. Read on and see what you think!
After all, decorating rules are really helpful, but ultimately, it's your house so do what you think is best. Start with the rules (especially if you're stumped or frustrated), then bend them to work for you.
1. All furniture legs on the rug:
Size tip: usually a 9'x'12' rug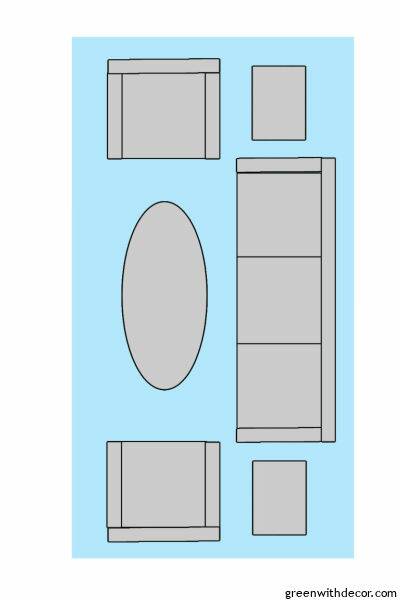 If your house is open concept, this is your best option. A rug can define a designated living room space in a large open room.
Shop pretty, affordable 9'x12′ rug options:  one | two | three | four | five | six | seven
2. Front furniture legs on the rug:
Size tip: usually a 8'x10' rug, maybe a 6'x9' in smaller living rooms
Do the painter's tape trick mentioned above and really make sure an 8'x10′ won't work before you buy that 6'x9.'
This option works when you have furniture floating in a room (aka not against a wall). I use this method with our cane chairs in our family room.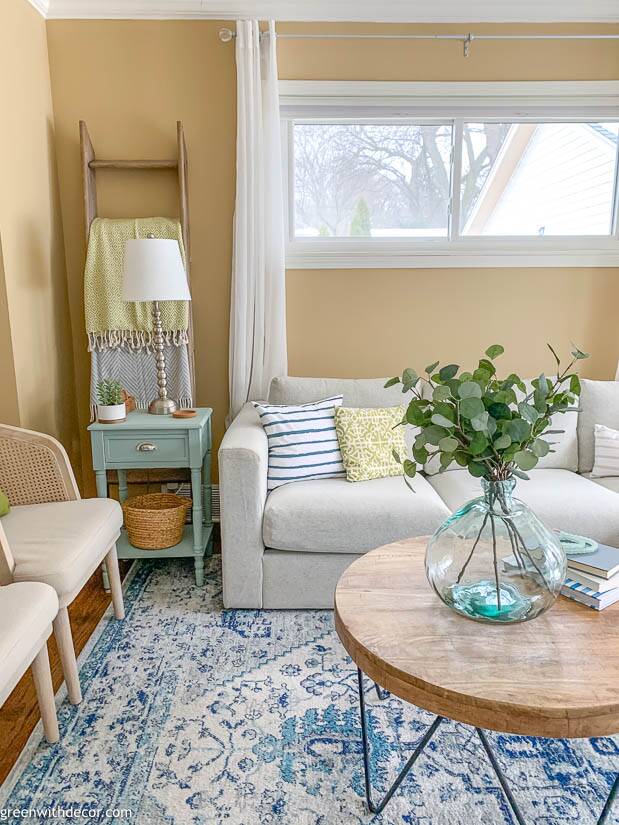 If you go with this option, your furniture should still sit evenly, since rugs aren't often that thick.
However, if an end table or chair is wobbling, put a furniture pad on each of the back legs, and it should do the trick. It works great for the end tables in our family room!
Shop pretty, affordable 8'x10′ rug options:  one | two | three | four | five | six | seven | eight | nine | ten | eleven
Thoughts on #1 and #2:
One exception to both of these? If your couch is against the wall, it doesn't really matter where the couch's back legs are. If a rug goes back far enough under the couch, it gives the illusion the whole couch is on it, even if it's not.
It really doesn't matter if you go with option #1 or #2 as long as you're consistent. As in, you don't want a chair with all four legs on and another chair with just the front two legs on.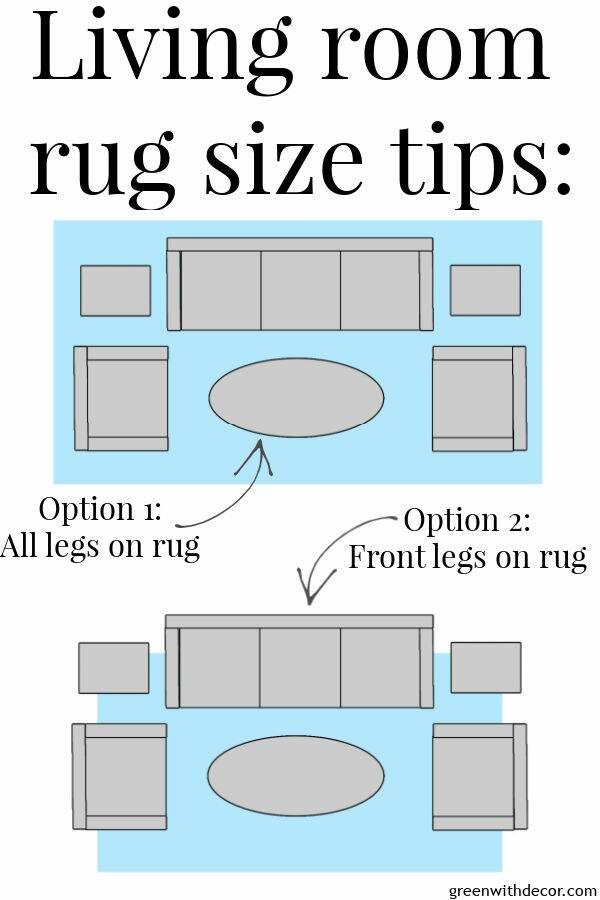 3. No furniture legs (except the coffee table) on the rug:
Size tip: usually size 6'x9' or 5'x8′

This can work in small living rooms where it's really your only option.
If you go with this one, furniture legs should be within 6" of the edge of the rug (closer is better) or it may look like the rug is just hanging out floating in the middle of the room.
Your best bet with this option is when the furniture legs are right up against the edge of the rug.
Shop some pretty, affordable 6'x9′ rug options: one | two
4. (or 3b!) Small rug (from #3) layered on top of a larger rug (from #1 or #2):
Size tip: Your top rug should be about 2/3 size of bottom rug.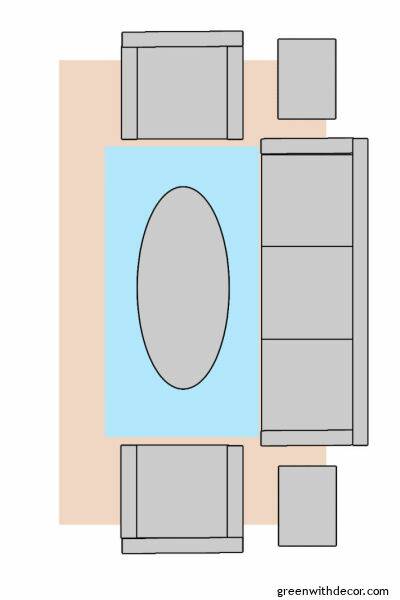 The layered look really will look better than the small rug alone, and it will make your room look more finished.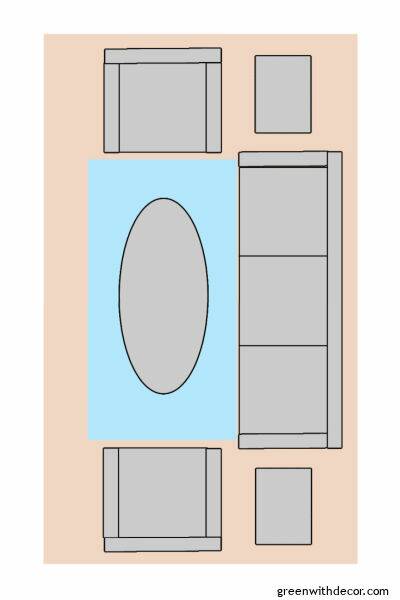 Patterned rugs look great paired on neutral rugs like jute or sisal, which, bonus, usually aren't expensive, even in a larger size.
Shop some pretty, affordable jute/sisal area rug options: one | two | three | four
Rug sizes for different shaped furniture:
Here are a few other helpful tips if you have any of the following furniture:
End tables with odd # of legs: if you have end tables with 3 legs and go with option #2, think 2 legs on, 1 leg off the rug. Two legs off usually just looks, well, off, like the table isn't really part of the main seating area.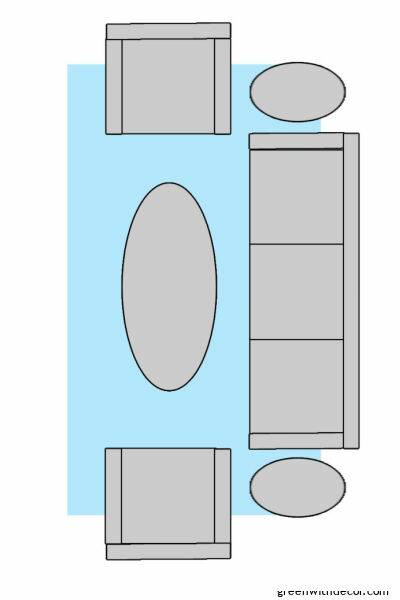 Couch with chaise: If your couch has a chaise coming forward like ours does, think of the 'front legs' as where the rest of the couch's front legs are. The forward chaise part is really just a bonus and can be ignored in terms of legs on or off.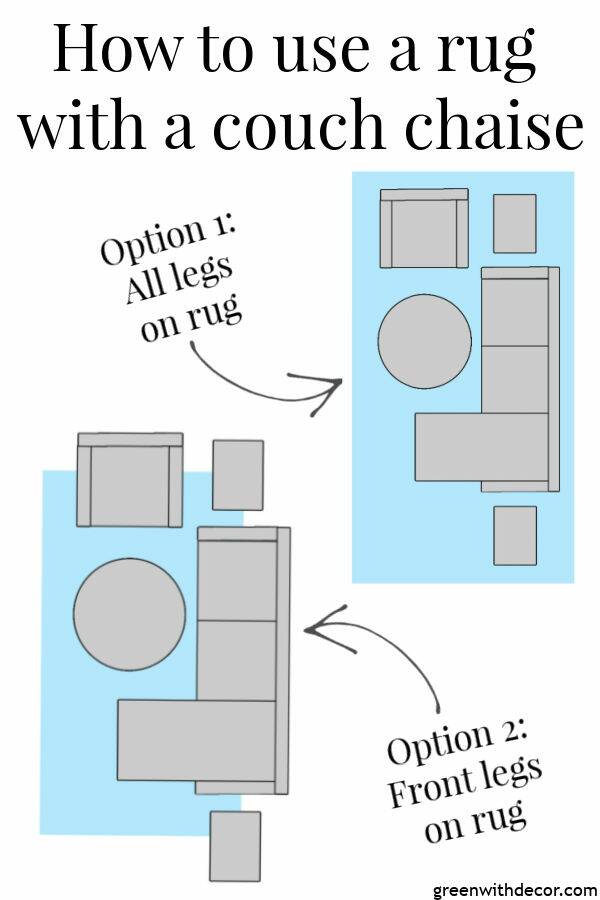 Sectional couch: If you have a sectional, treat it the same as a regular couch. Either all legs on the rug or all front legs on / all back legs off.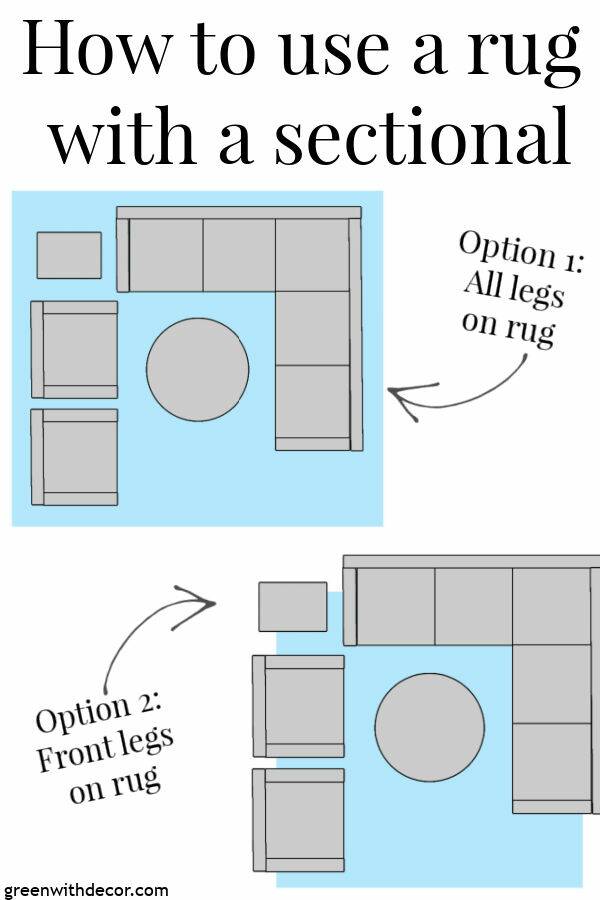 You can also layer rugs with a sectional: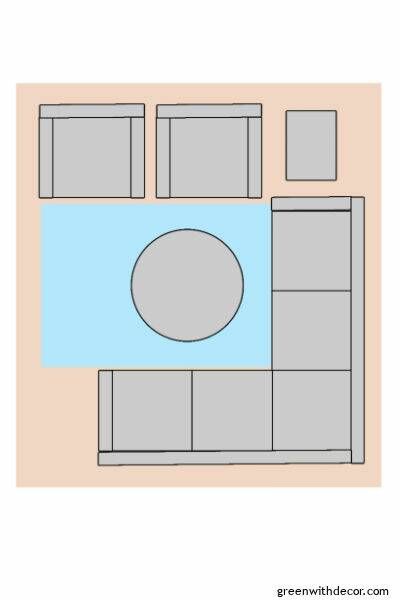 Rugs over carpet:
Not really a size issue, but since this is a common question in terms of living room rugs, yes, you can use an area rug over the carpet as long as your carpet isn't especially thick.
A rug will help define a seating area.
Just be sure the rug doesn't conflict with the carpet. Otherwise, follow the rules above for rug size in a living room.
Rug pads:
Rug pads should be 1" shorter than your rug in all directions (length and width). Meaning a rug for an 8'x10' rug should be 7'10" x 9'x10". Remember, most rug pads are easy to cut so you can always trim one to fit your rug.
The 1" cushion on each side ensures you won't end up with a rug pad peeking out from under your gorgeous rug.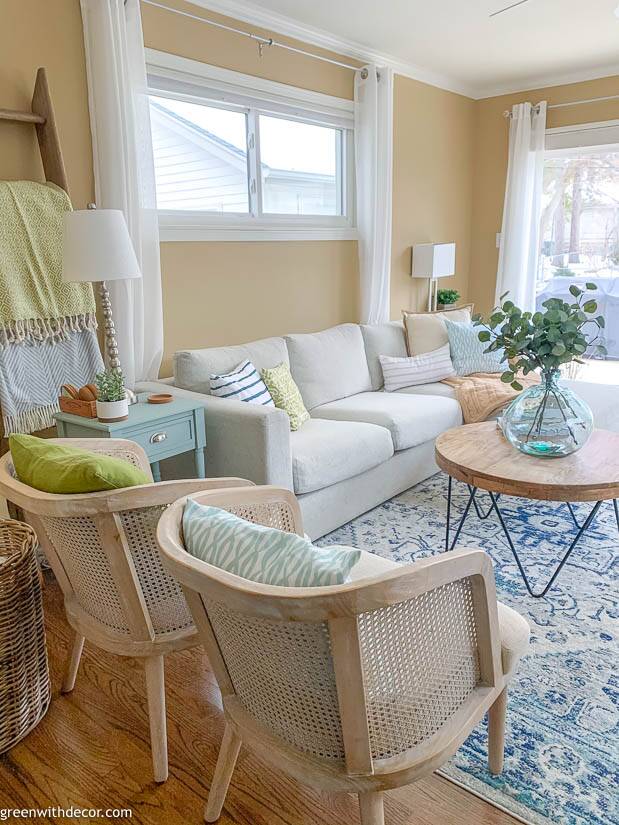 Hopefully this is all helpful in terms of what size rug to use in a living room.
Have any other great rug size tips to share?
If you want more decorating tips, check these out:
Or see more of our casual coastal family room here.
Remember to bookmark or pin this post if you want to save it for later!


Pin it!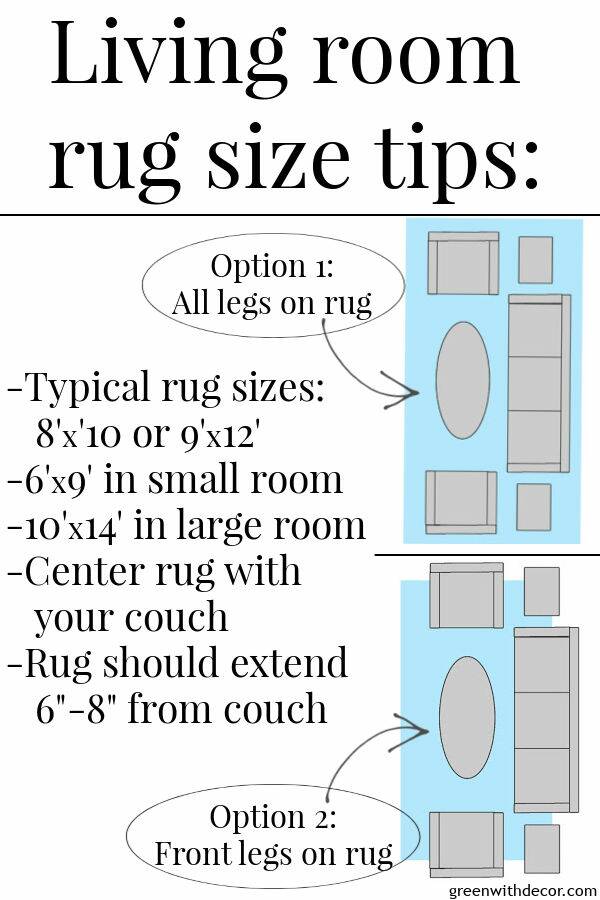 Want to read more posts like this?
Follow along: Get my emails | Facebook | Pinterest | Twitter | Instagram