The Christmas cheer continues! I added some Christmas decor to our little makeshift back foyer …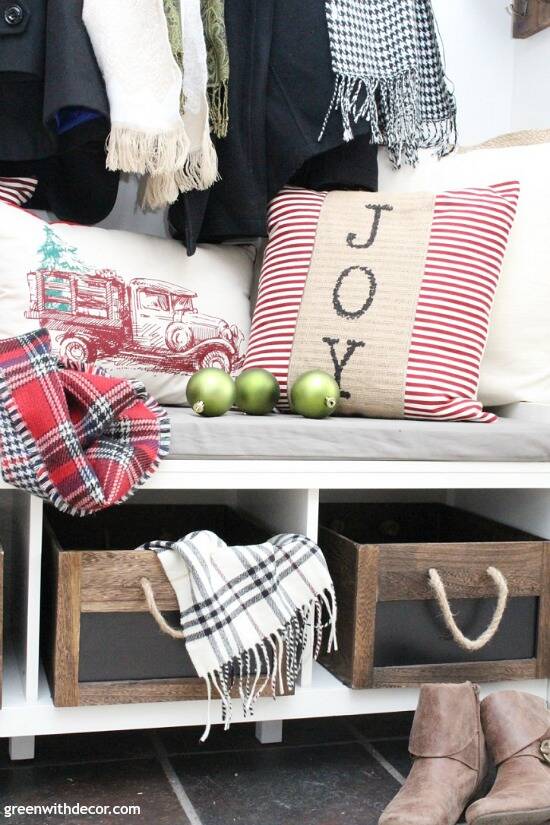 … and even to our front foyer, even though we haven't really decorated that one for everyday living yet.
I thought some festive decorations would be a good idea, and spoiler, they were.

Today's post is part of the A Very Merry Christmas Tour hosted by my friend Carrie of Lovely, Etc., which means you can get even more Christmas decorating inspiration from all the bloggers linked at the end of this blog post.
So much Christmas goodness going on this week, right? I love it!
This post contains affiliate links. This means if you click the link and buy something, I may receive a small percentage of sales at no extra cost to you.
Christmas decorating ideas for the back foyer:
Maybe this is backward, but let's start with the back foyer because it's my favorite. It's basically just an extra blank wall in our kitchen, but I turned it into a small little mudroom.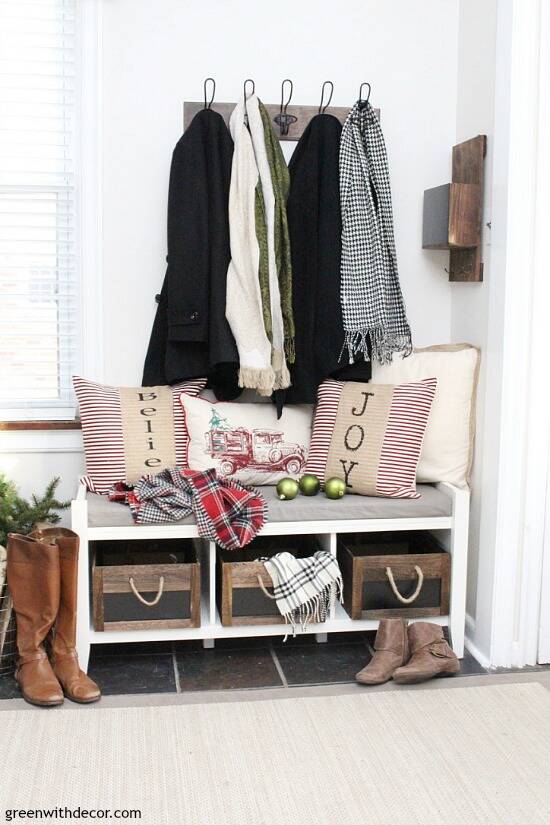 We bought most of the pieces for this space new this year, but I love most of it and am still really happy with it all. I mean, those wood and metal hooks are just gorgeous … and a bit harder to see with all of those winter coats and scarves!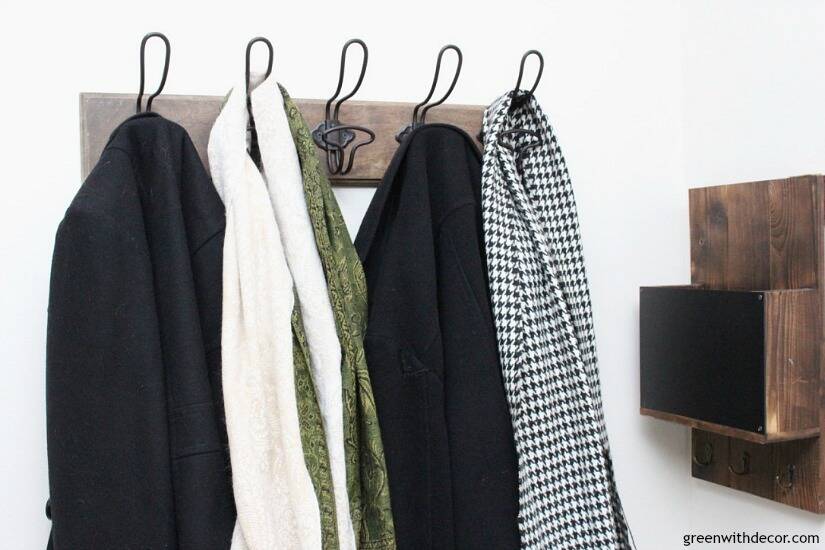 That wood message center is perfect for our keys, sunglasses and Oakley's leash.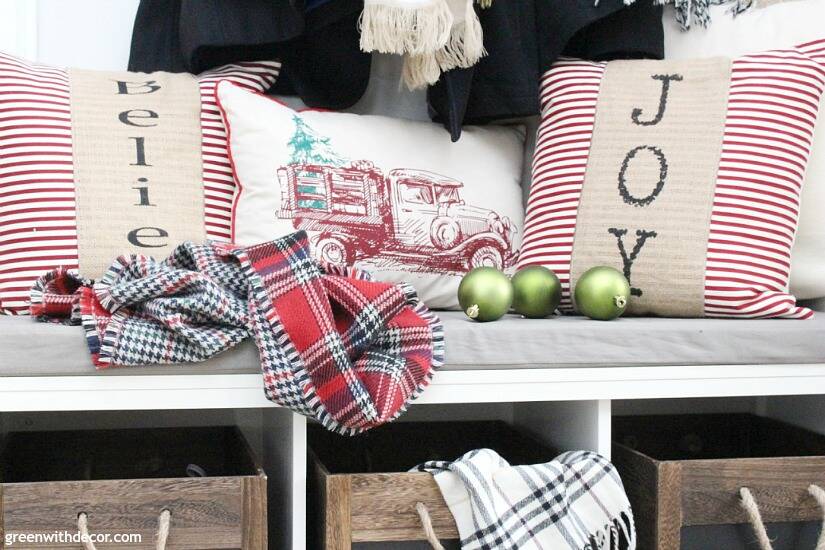 The pretty wood and rope crates are perfect for storing shoes, boots, scarves gloves, you name it. Easily accessible but hidden, I love it.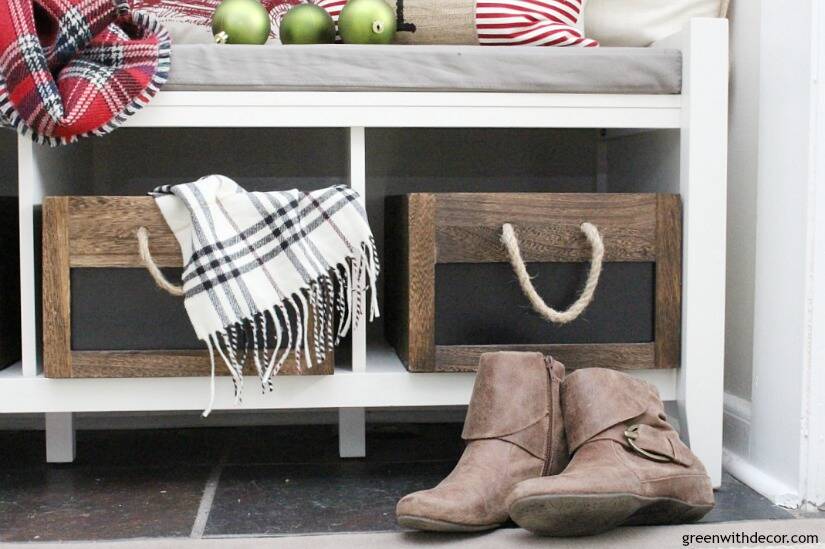 GET THE LOOK: Bench | Hooks | Crates | Message center | Cream pillow | Boots | Rug | Black + white scarf | Green scarf
I've gotten a lot of questions on the bench, hooks, crates and wood message center pretty much every time I share this space on the blog or Instagram. We've had everything since early/mid summer, and we're still loving it all.
Christmas decorating ideas for the foyer:
Alright now for the front foyer! We never use the front door except to grab all the packages off the front porch. (I did 90% of our Christmas shopping online this year, shopping from the couch is the best!)
This is your view when you walk in. I don't love that brown door on the closet, I wish it was white, but since we're renting, just pretend it's white for me please.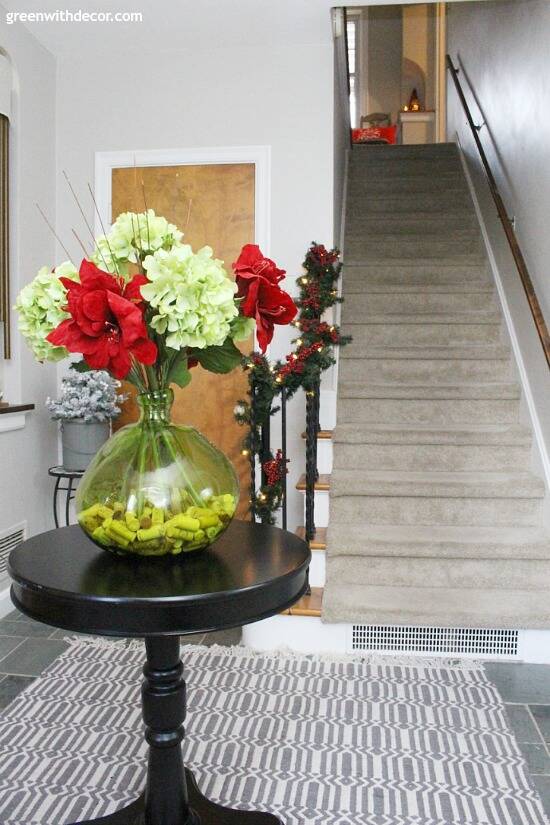 I love garland on the stairs during the holidays. I added some red berries because dressing up cheap garland is always a good idea.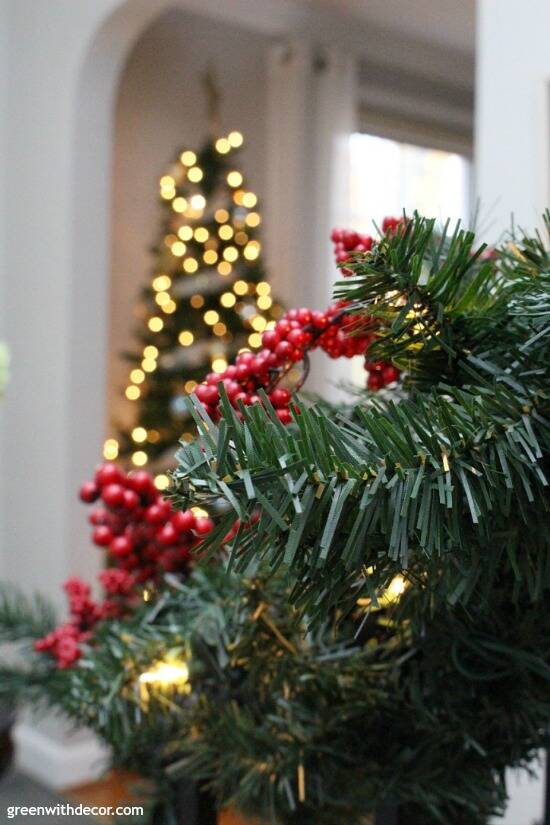 That little flocked tree was a new find this year.
I love that gray crock it came in, plus I've been wanting to add some sort of flocked tree to our decor so this mini one was perfect.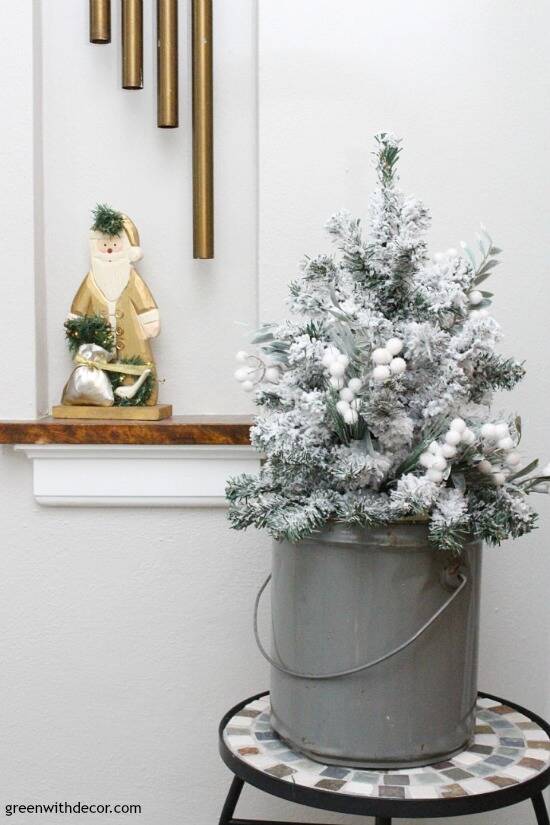 That little gold Santa used to be my grandparents', and I love how he looks under those pretty doorbell chimes.
Yes, I hung the boxwood wreath on the inside of our door. I started doing that last year in our Milwaukee house, and I love seeing it every time we walk by. The red truck 'welcome' sign fits inside perfectly (with another nail).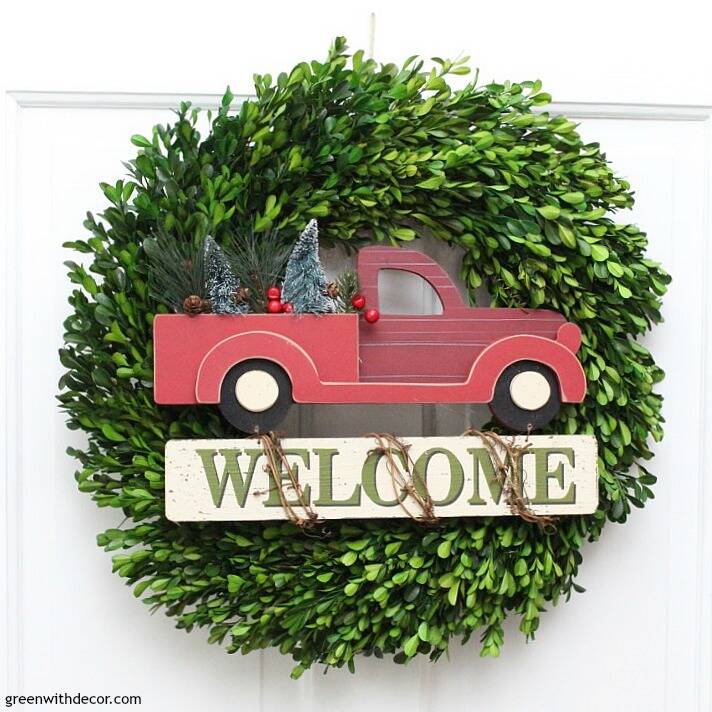 I shared a peek of this pretty flower centerpiece (can foyers have a centerpiece? sure) in my post yesterday. It's perfect on this little round table!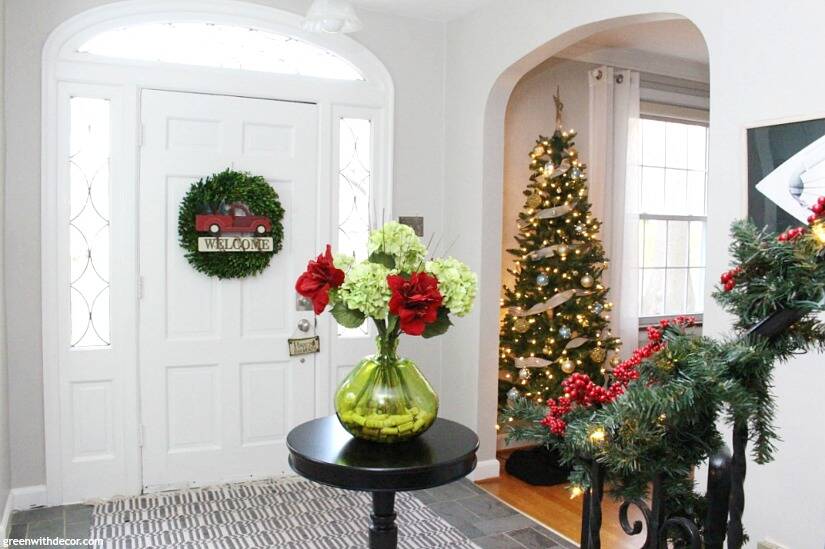 GET THE LOOK: Boxwood wreath | Green hydrangeas | Red berries | Boat artwork
Plus you get a peek of the black, gold and blue Christmas tree in the dining room. I love having two trees, one full of sentimental ornaments and one for pretty ornaments!
For a quick side note before we head upstairs for more Christmas decor, can we look at what this foyer looked like when we moved in? I just love a before and after. Paint really works wonders.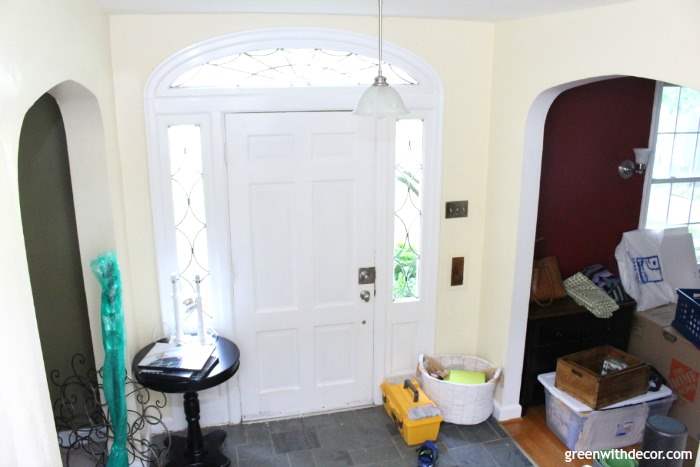 Christmas decorating ideas in the hallway:
Now for a little peek upstairs! I know, I never show upstairs at this house, basically because we've painted and not gotten around to much else up there.
I love this little old telephone nook so I added a bit of holiday decor.
That little red tree is part of a set of three.
I talked about this in our living room Christmas tour post, but I separated a lot of the mini tree sets this year, and I'm liking them standing on their own with other pieces instead of all together. It's fun to mix it up sometimes.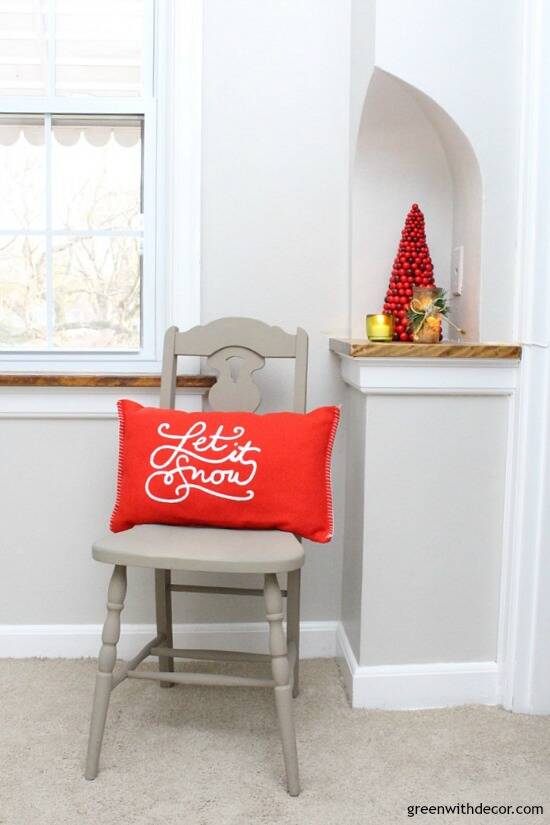 That gold candle is from my grandparents, and that little green candle is from our everyday decor stash.
I talked about using everyday pieces as Christmas decor here if you're interested. There are so many pieces that double as holiday decor – saving you money and storage space!
That pretty little painted chair was an estate sale find (for only $4!).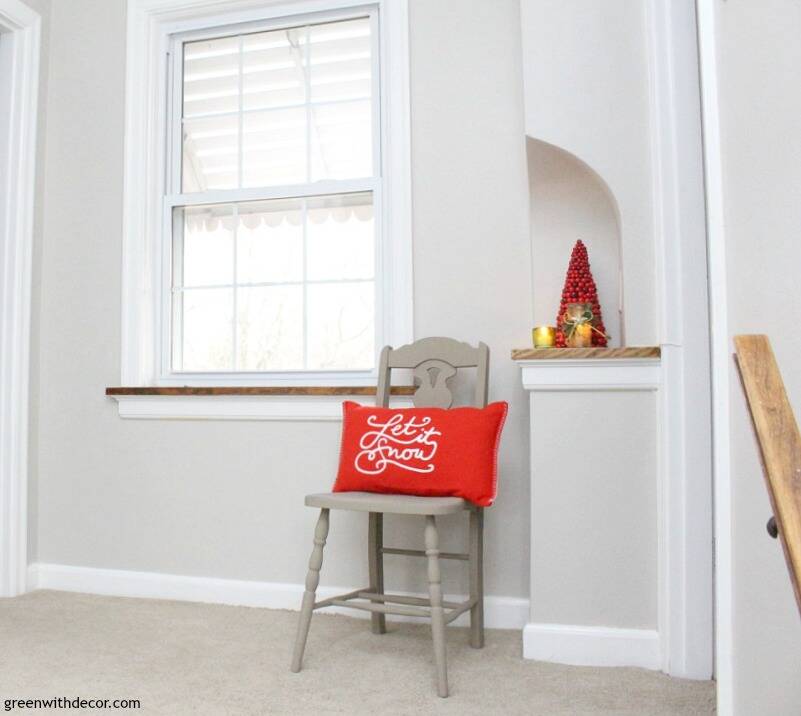 Alright, see that pretty window? Isn't the space underneath just BEGGING for a bench? (I'd move the chair somewhere else.) I totally have my eye on this one. But I can't justify buying a bench for a space in a rental house when we'll have nowhere to put it when we get back to our Milwaukee house.
I keep going through that house in my head trying to figure out where I'd put it, and I can't find a spot that makes sense. But I might buy it anyway because I could sell it in a Facebook group later. Such a dilemma! 🙂
Have you decorated your foyers for Christmas yet? They might be small rooms, but even just a few decorations can make them feel more festive!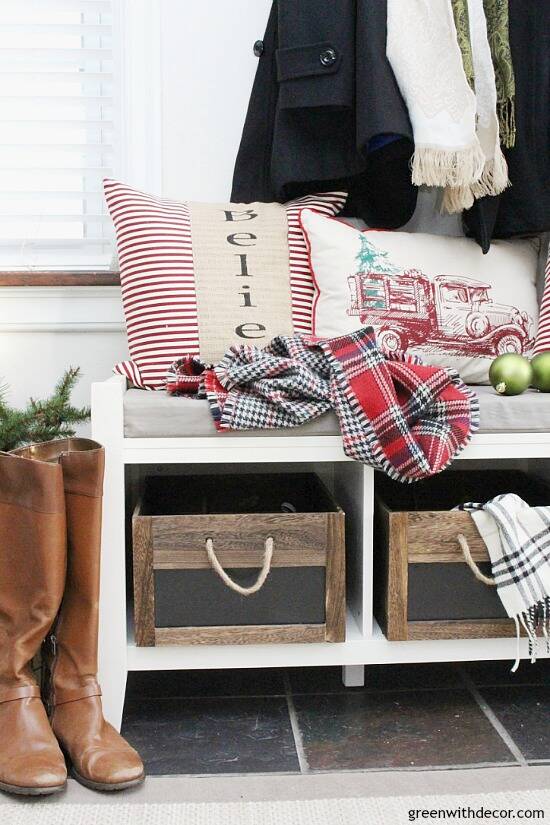 You can see more of our house decked out for Christmas in these posts:

Remember to hop around to see all of the other bloggers' gorgeous Christmas decorating ideas! I'm loving all the beautiful holiday inspiration this year.
Casa Watkins Living * Lovely Etc. * Designing Vibes * Oh Everything Handmade * The Turquoise Home

Lehman Lane * Our House Now a Home * The Striped House * My Creative Days * Newly Woodwards

All Things With Purpose * House by Hoff * The Happy Housie * A House Full of Sunshine * Thrifty and Chic

This is Our Bliss * Boxy Colonial * Little Red Brick House * Green with Decor (you're here!) * Blue I Style

Sincerely Marie Designs * Up to Date Interiors * Southern State of Mind * A Fresh Squeezed Life * Meegan Makes

Wife in Progress * Place of My Taste * Restless Arrow * Bigger Than The Three of Us
Remember to bookmark or pin this post if you want to save it for later!

Pin it!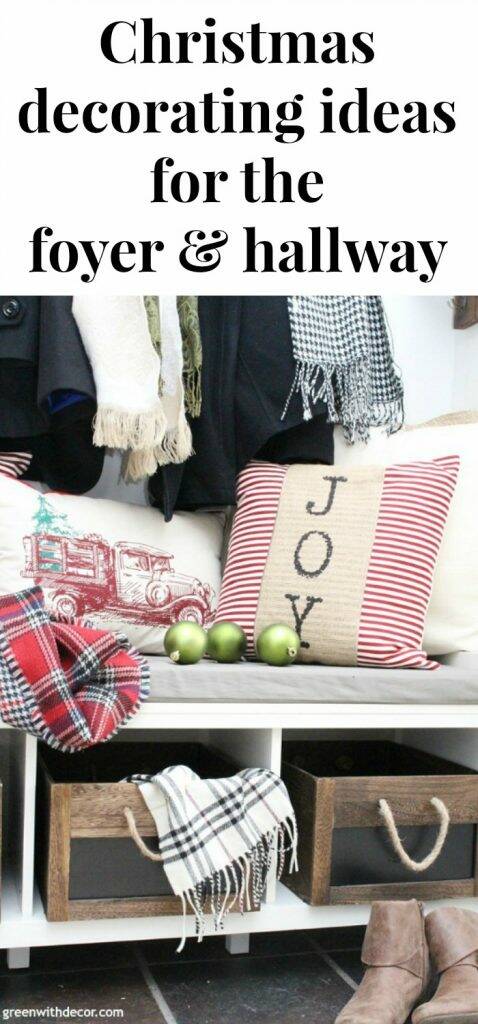 Want to read more posts like this?
Follow along: Get my emails | Facebook | Pinterest | Twitter | Instagram