My brother commented recently that we have a lot of Christmas decorations. Ummm yeah, we do. Haha. I have a lot of all sorts of decorating pieces because I have a slight obsession.
But it got me to thinking. It's hard when you're just starting out and trying to decorate for everyday and then Christmas rolls around and you feel like you have nothing, right?!
I get it.
But there are so many everyday pieces you can use as Christmas decor without much effort: lanterns, candles, baskets, the list goes on.
I'll dive in below in case you're staring around your blank living room wondering how to make it festive without spending a million dollars.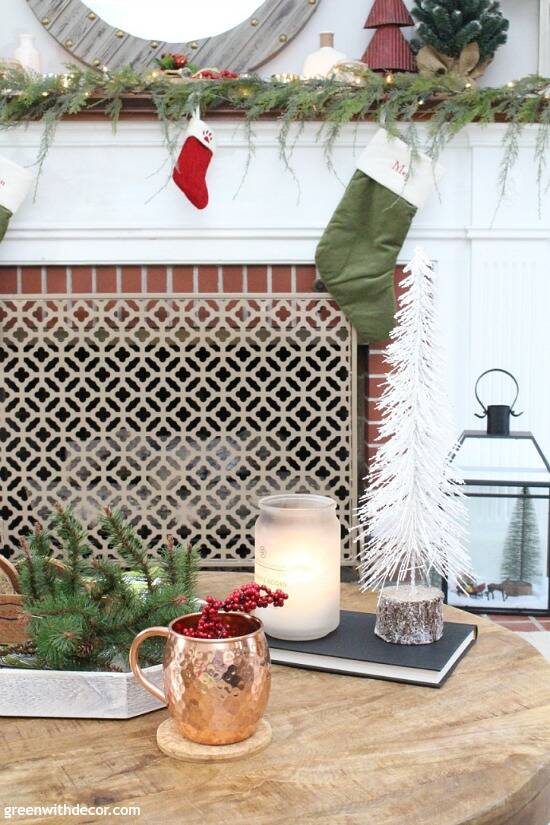 Today's hop is part of the three-part Merry & Bright Holiday Home Tour series hosted by Shelly of ConfettiStyle.
The same group will be sharing our holiday decor each Wednesday over the next three weeks, so be sure to scroll down to the end of this post and hop around to see the other bloggers' Christmas decorations!
If you're hoping over from Positively Southern, welcome! You can learn more about me and my blog here or tour our house here.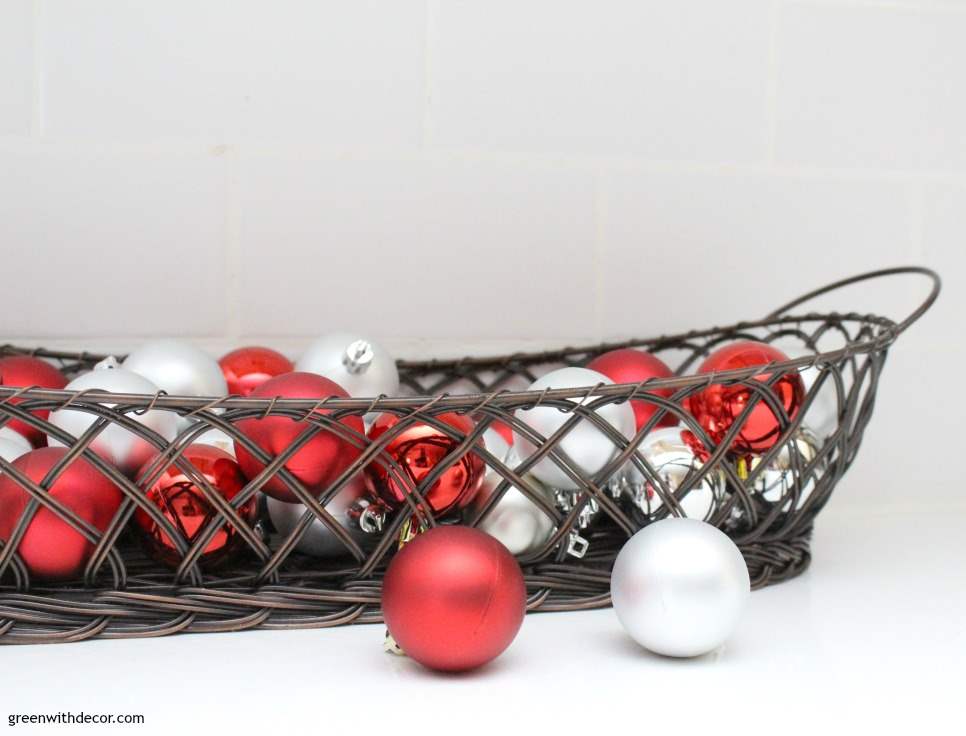 If you were reading the blog last year, you may remember the same group got together for the Merry & Bright series then, too.
I talked all about dressing up cheap garland, our classic Christmas family room + easy gift wrap ideas and our Christmas village if you want to catch up on any of those fun Christmas ideas.
This post contains affiliate links. This means if you click the link and buy something, I may receive a small percentage of sales at no extra cost to you.
Here are my favorite everyday pieces to use as Christmas decor:
If you stick to a lot of these items in neutral colors (black, white, tan) or even metallics, it's easy to use them throughout the year for decorating anytime.
1. Lanterns
I use our lanterns for Christmas every year, but this year might be my favorite ever idea.
I turned them into mini Christmas villages (or large snow globes?), and I'm obsessed.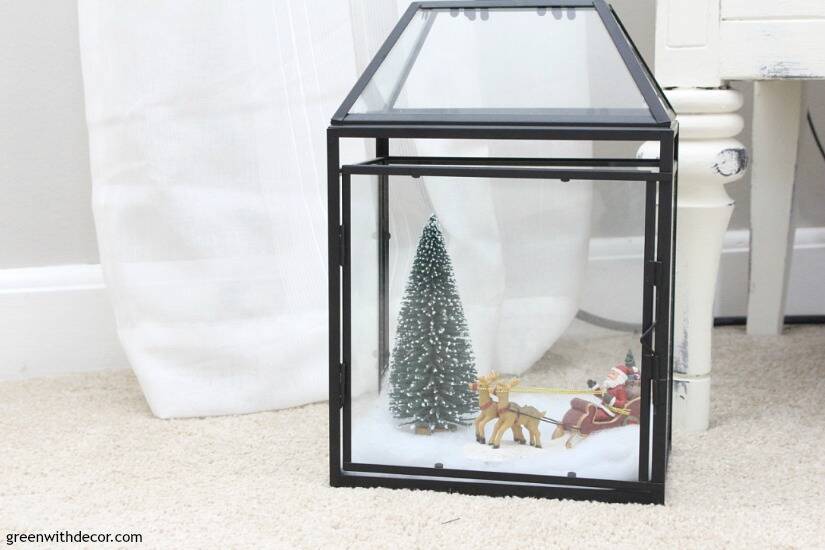 GET THE LOOK: Lanterns | Mini trees | Faux snow
I've also just dumped a bunch of ornaments in them and called it a day in the past. Way easy.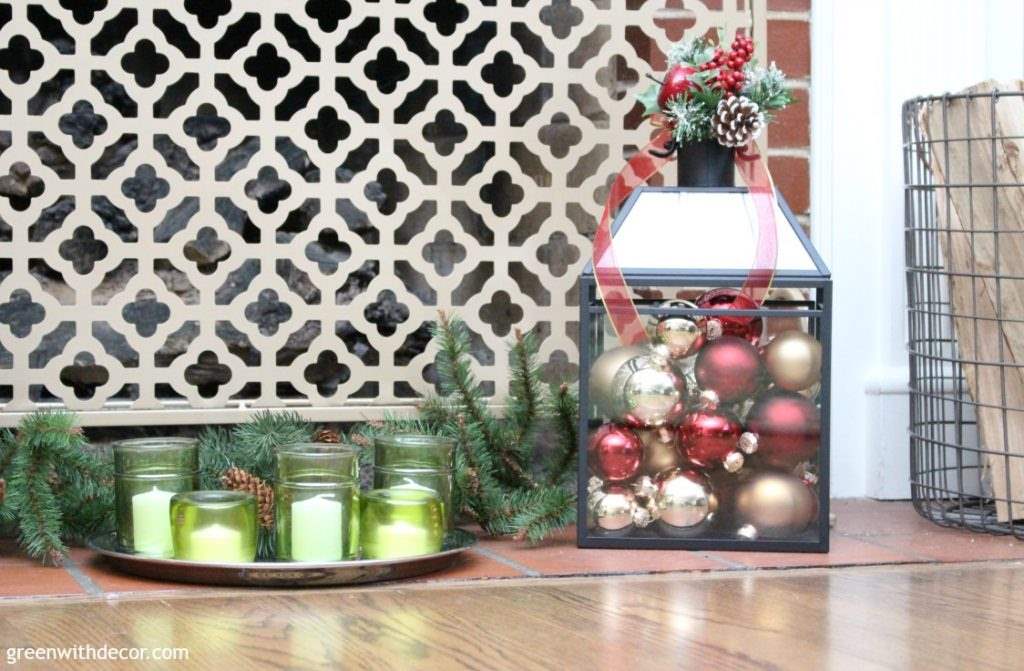 GET THE LOOK: Fireplace screen | Silver tray | Lanterns | Metal basket
2. Candles/candle holders
I use those mercury glass votives all the time. They add a bit of glam to any decor.
And those little glass lanterns with the beads were perfect on our summer patio and somehow also look good with Christmas garland. Actually, I used those mercury glass votives out on the summer patio, too.
Neutral pieces really work wonders.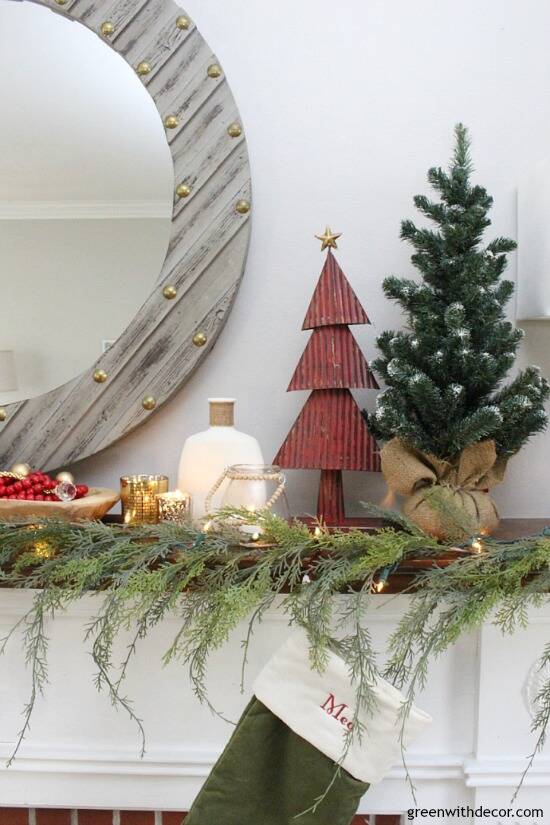 GET THE LOOK: Faux garland | Bread bowl | DIY faux concrete bottle | Stockings
3. Candlesticks
I had these old candlesticks from my parents in the craft pile, and then I decided I could actually not paint them and toss them in a basket with some ornaments.
So easy, right?!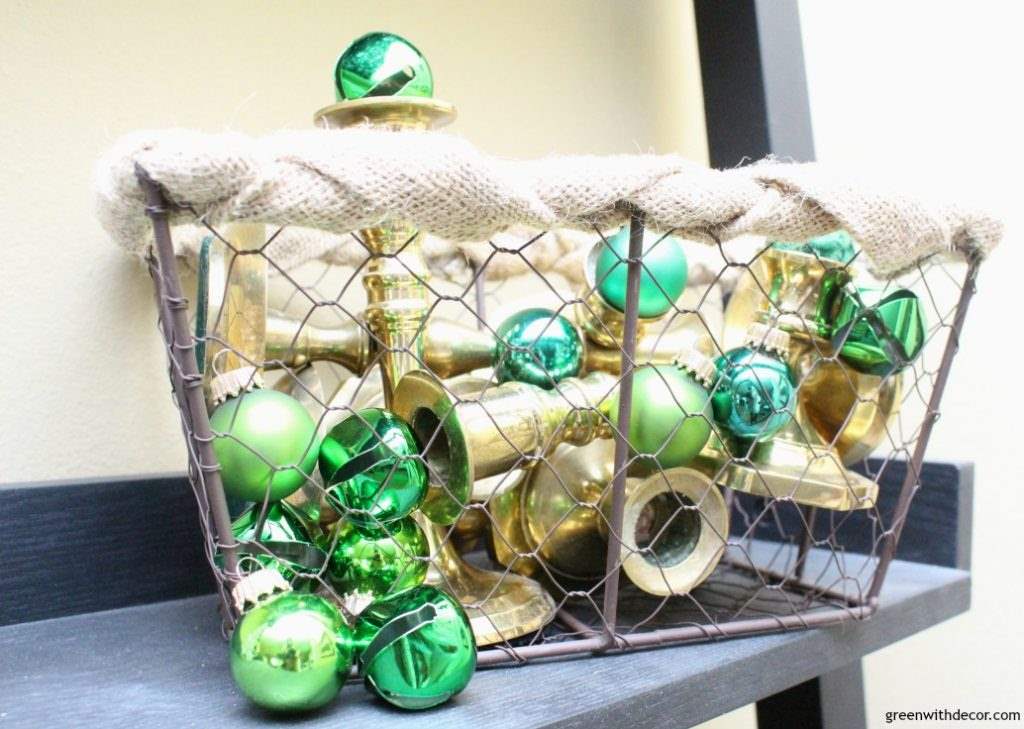 4. Baskets
Bet you didn't see that one coming?
But really, they work anywhere, big or small.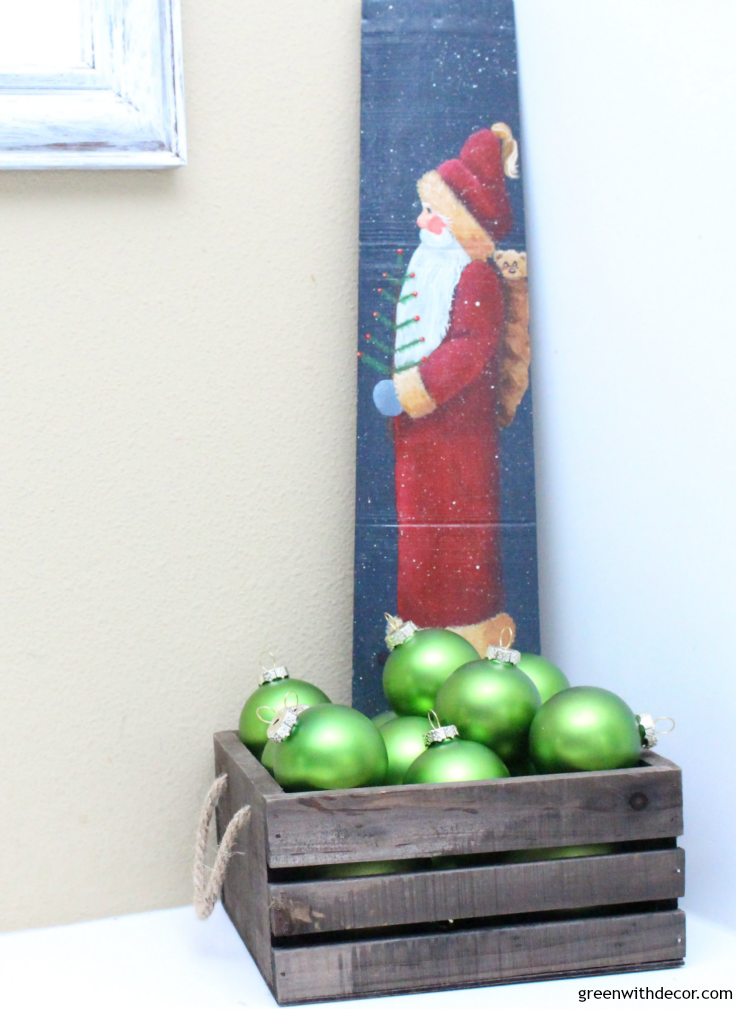 Or just sitting pretty next to a festive mantel.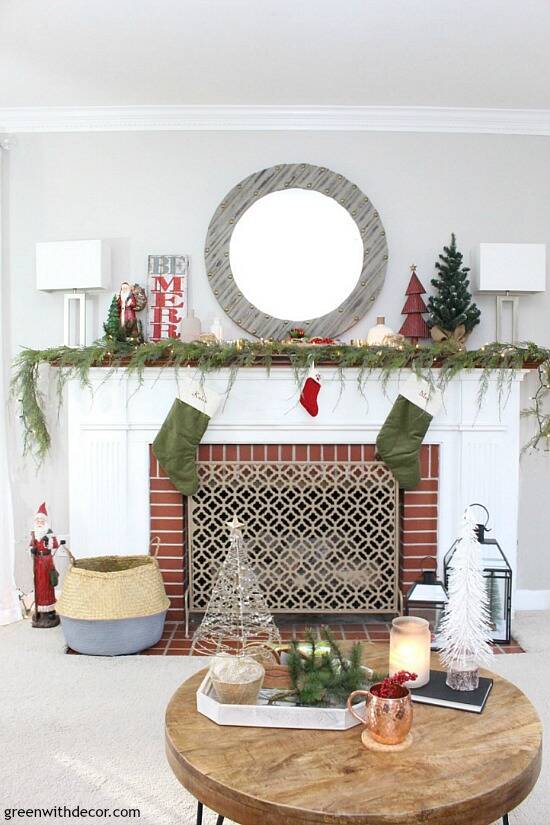 GET THE LOOK: Seagrass basket | Lamps | Faux garland | Bread bowl | DIY faux concrete bottles | Stockings | Copper mugs | Red berries | Coffee table
5. Bread bowls
Bread bowls are everywhere these days.
Fill the with any kind of seasonal decor, and they can stay out year round.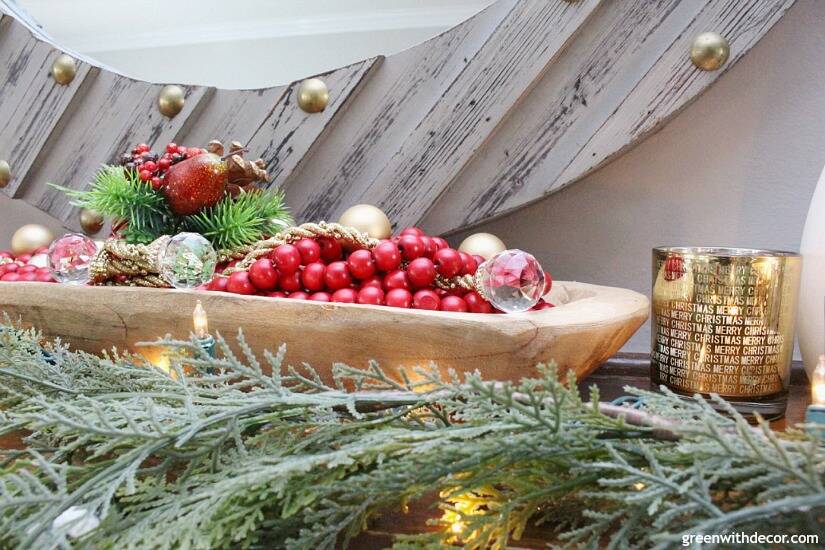 6. Bottles
I have a slight obsession with pretty bottles, but really, they're usually cheap and work just about anywhere so I'm counting it as an acceptable obsession.
That tan and bigger white ones are old liquor bottles I painted to look like concrete.
7. Vases
Here's a super sneak peek of our Christmas foyer that I'll be sharing tomorrow.
Aside from painting the foyer, we haven't really decorated it for everyday living yet. But I figured it was ready for some Christmas cheer so here we are.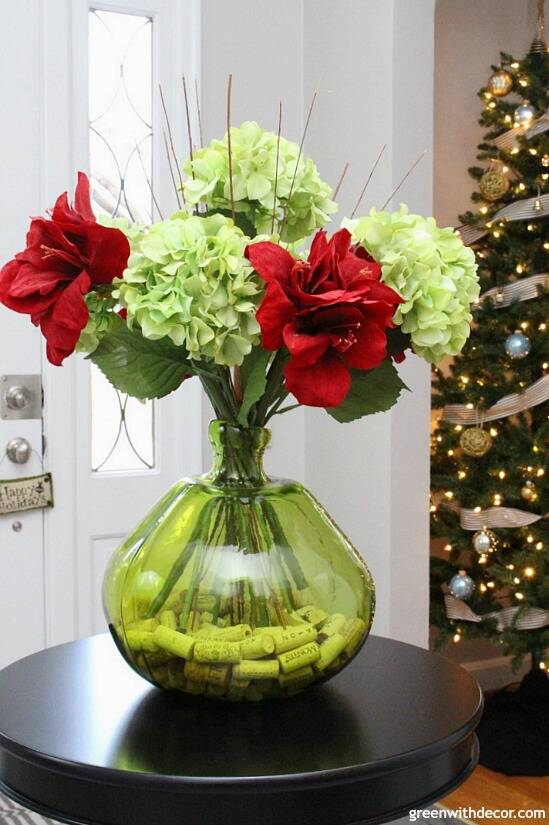 GET THE LOOK: Green hydrangeas
This green vase is perfect for some green and red flowers – instant Christmas cheer. Well not instant. I had to drop all those corks in there and arrange the flowers, but close enough.
A little wooden drink caddy full of smaller vases is perfect, too. Just switch out the filler.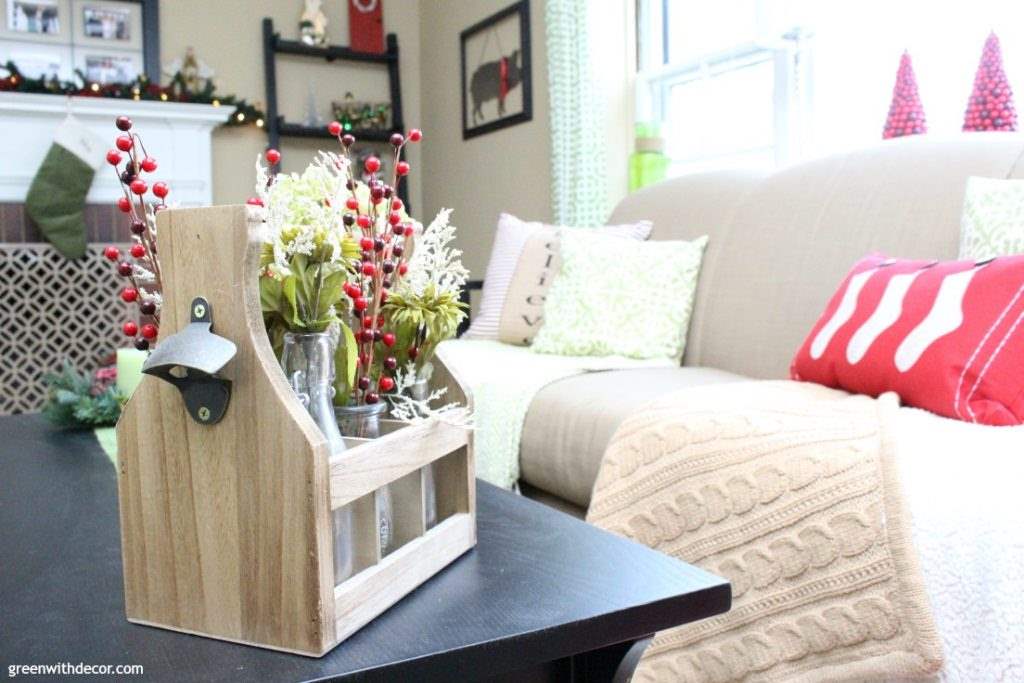 GET THE LOOK: Wood drink caddy | Glass jars | Glass bottles | Red berries | Tan blanket

8. Trays
Again, neutral for the win here.
Use trays to corral mini Christmas trees or pretty candles.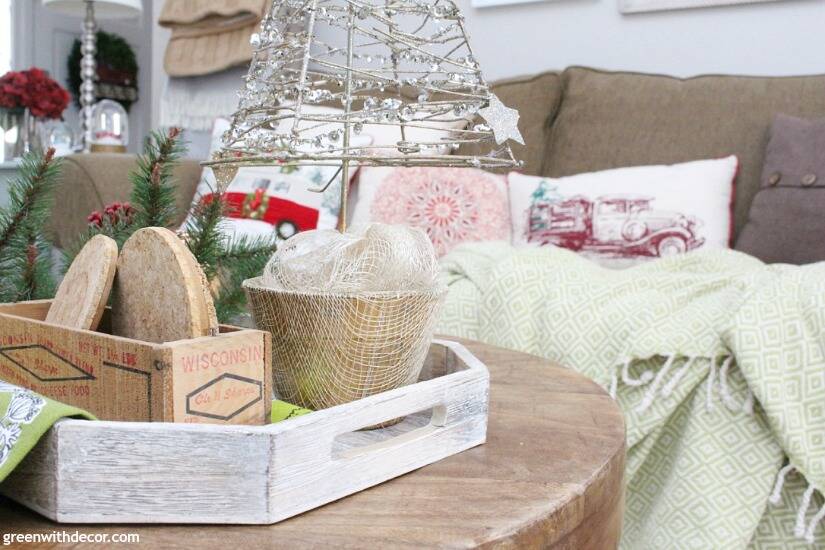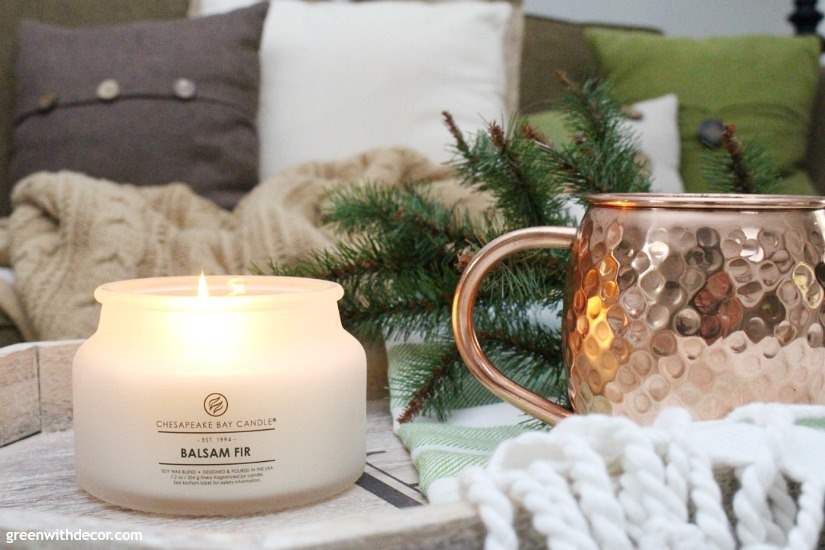 GET THE LOOK: Candle | Copper mugs | Tan blanket | Brown pillow | Cream pillow | Green pillow
9. Decorative accents
Little pieces like the gold sphere (or Moscow Mule mugs as seen above) pretty much work year round when placed next to holiday decor.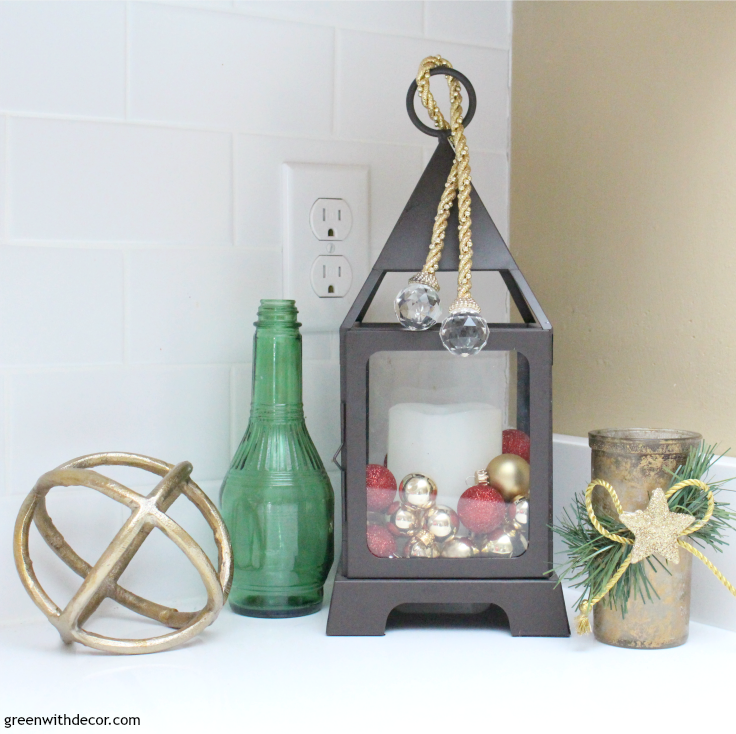 GET THE LOOK: Gold sphere | Lantern | Flameless candle
Maybe the best part about using everyday decor for Christmas is that you don't have to hide it away during the holiday season only to bring it out again a month or two later?
I love decorating, but easy decorating is the best.
Do I have you convinced yet? There are so many everyday pieces to use for Christmas decor! Happy decorating!
If you want more easy budget-friendly Christmas ideas, you'll want to see these posts, too:
Remember to hop around to see the other bloggers' Christmas ideas! Head over to M.Jones Style next!
Love Your Abode | Chic on a Shoestring | Rover at Home | Positively Southern | Green With Decor (you're here!) | M.Jones Style | ConfettiStyle
Remember to bookmark or pin this post if you want to save it for later!

Pin it!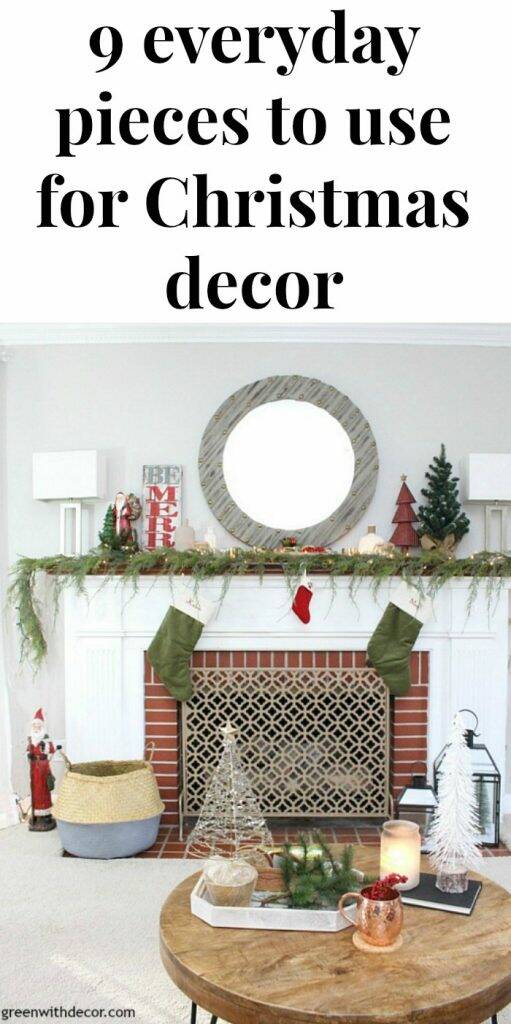 Want to read more posts like this?
Follow along: Get my emails | Facebook | Pinterest | Twitter | Instagram