I'm dreaming of a white Christmas … err a white kitchen.
Specifically, our gorgeous white kitchen just hanging out waiting for us! If you were around last year, you may recall the easy Christmas kitchen decorating ideas we did there.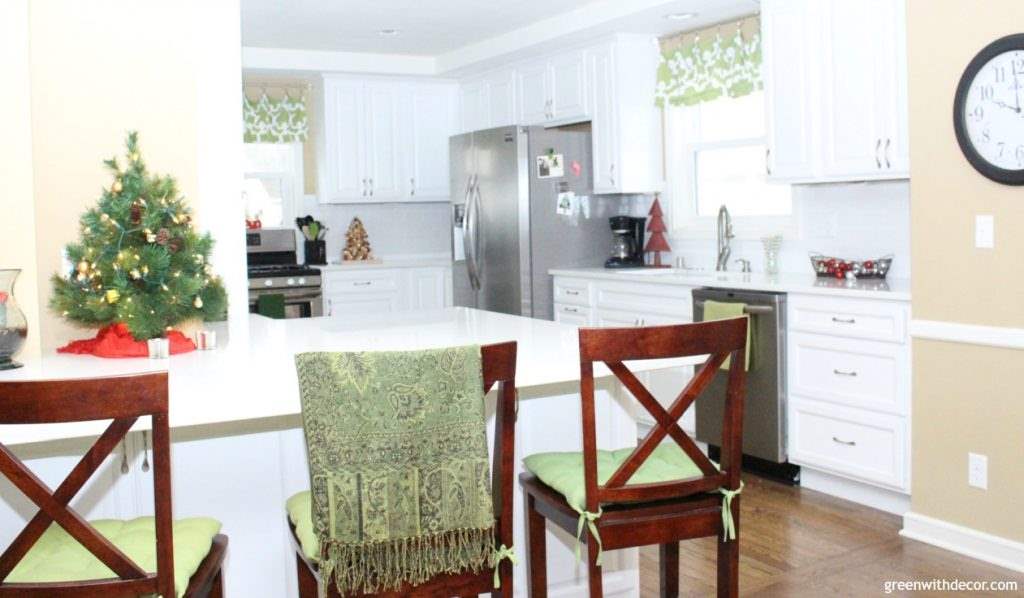 So gorgeous and white.
Meanwhile, the rental kitchen is a bit dark … but we have that big window box that I've honestly had some trouble decorating (it's almost too big!) until now.
Is the Christmas village not MADE for this space? I really love it. We somehow had the perfect amount of village houses for the big window box.
This post contains affiliate links. This means if you click the link and buy something, I may receive a small percentage of sales at no extra cost to you.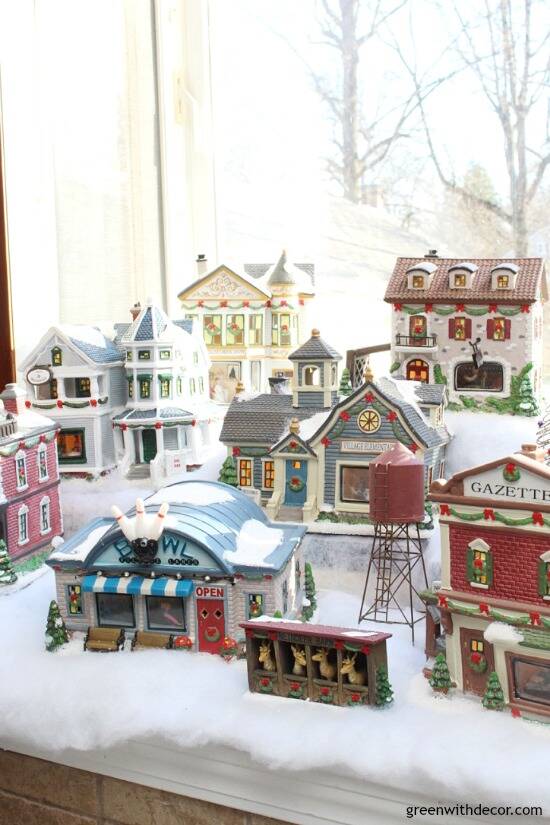 Today's post is the last in the three-part Merry & Bright Holiday Home Tour series hosted by Shelly of ConfettiStyle.
The first week, I talked about everyday pieces that can double as Christmas decor, and last week was all about the blue and copper Christmas tablescape on our brand new DIY farmhouse dining table.
If you're hopping over from M.Jones Style or one of the other fabulous bloggers, welcome to Green With Decor! I'm glad you found me. You can learn more about me and the blog here, tour our house here or see all of my Christmas decorating posts here.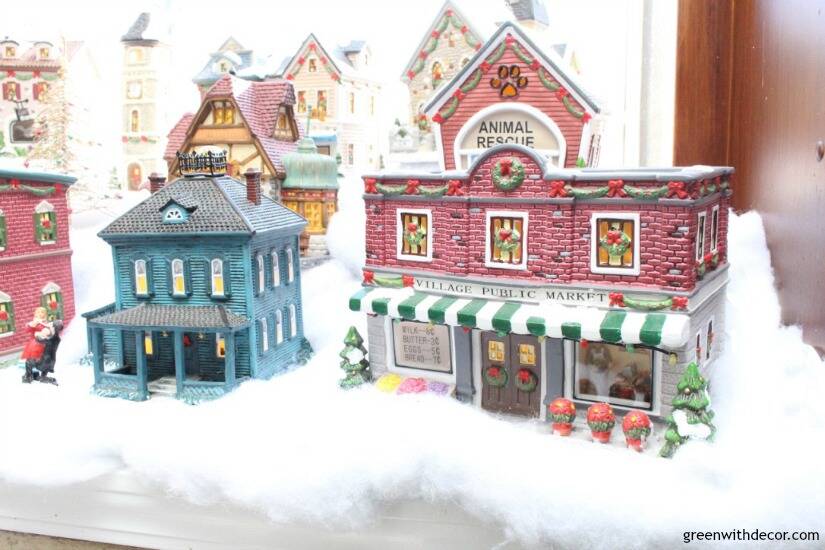 We collect a few pieces for the Christmas village each year.
We used to pretty much stick to meaningful pieces – a house when we bought our first one, a bridal shop when we got married, a pet shop when we got our dog Oakley … but over the years we've starting adding a few fun ones just because, too.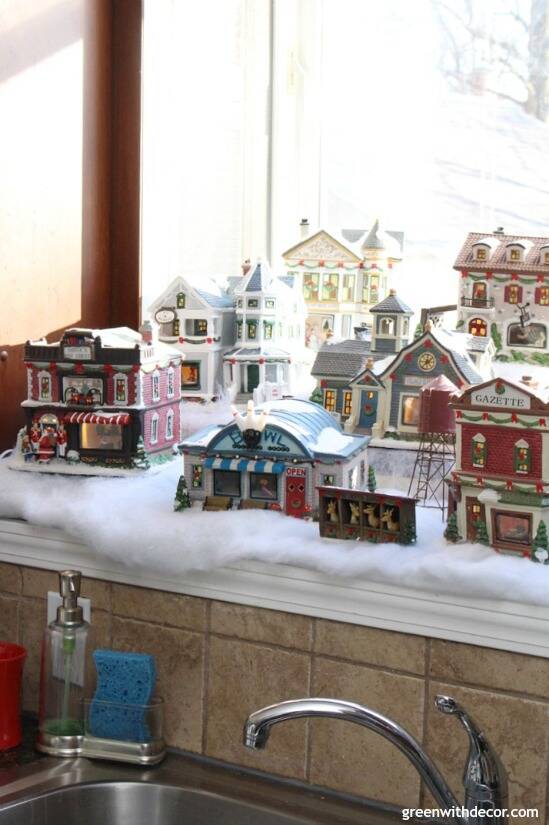 It's slightly difficult to take a picture looking into the blazing sun but you get the idea.
A fun little addition this year is that red water tower we got at the garden store at Magnolia Market. It's actually for a fairy garden, but I think it looks great tucked into the snow there.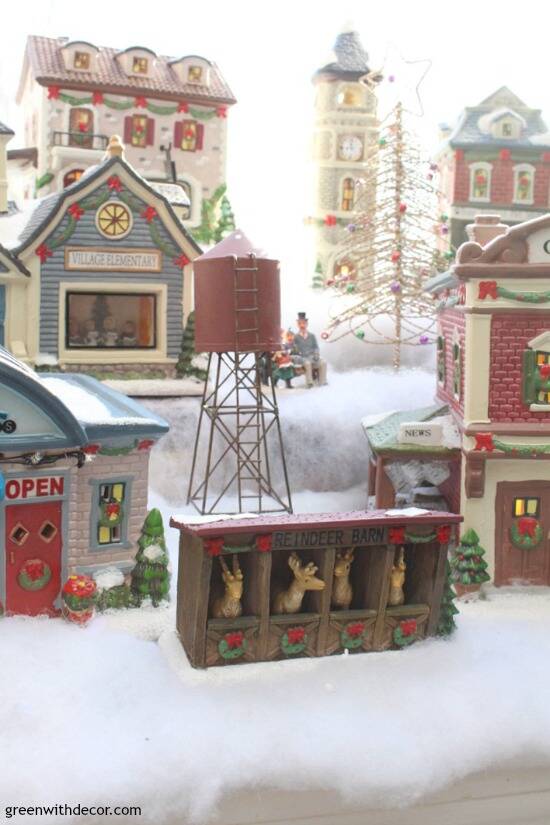 We used a LOT of books to stack all the village pieces so we could still see everything inside the big window. I try to bury most of the cords underneath the snow, too.
I added a few festive touches throughout the rest of the kitchen, too.
Our little cake stand got a few berries (seriously, those things work everywhere!). The green and mercury glass votives magically look like Christmas decorations this time of year.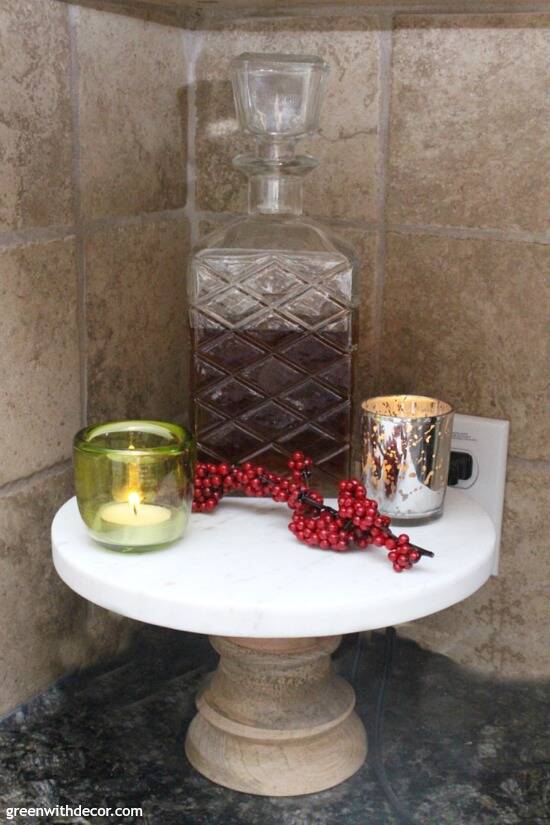 GET THE LOOK: Cake stand | Green votive | Red berries | Mercury glass votive
I filled this little wooden crate with the same ornaments last year, but why mess with a good thing?
The liquor bottles inside the boxwood wreath is also an idea from last year's holiday cocktail bar.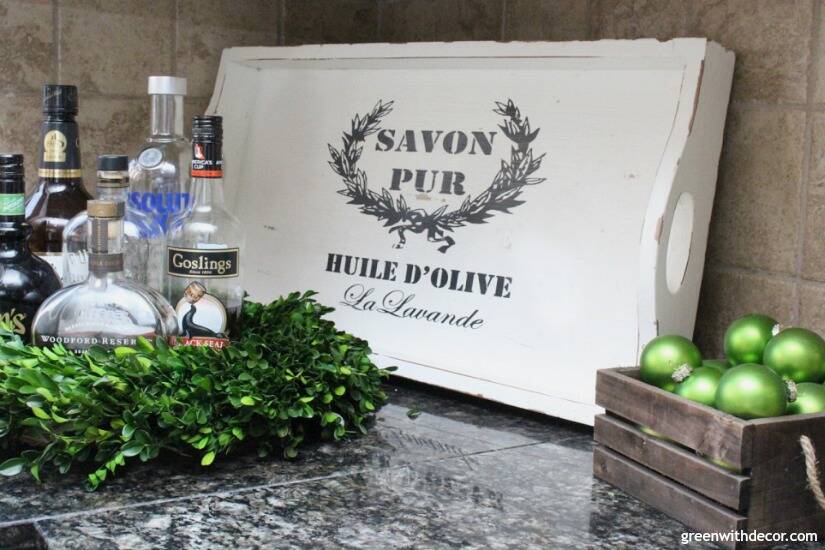 The pig even got his scarf back from last year. I keep it in a plastic bag marked "pig" so it's easy to find.
(See all of my other Christmas decor storage and organizing tips here.)
Side note, the wall color in here is Aesthetic White, and isn't it perfect with the dark cabinets?!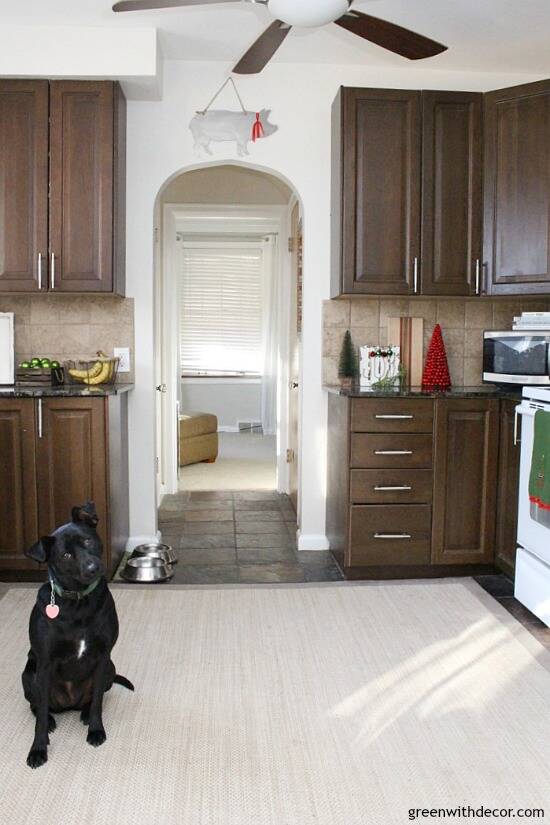 Oakley is always following me around!
The red spatulas that usually hide in a drawer come out for the Christmas season. So easy!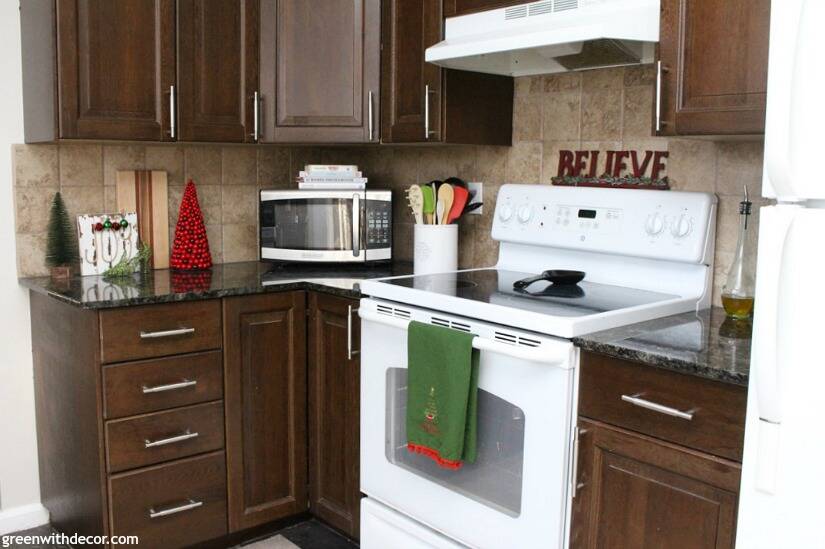 GET THE LOOK: Green spatula | Red spatulas | Wooden utensils
I've played with this little corner a couple of times – one more traditional red and green, and one more coastal blue and copper. Can you tell I couldn't decide on a color scheme this year? I want to do it all!
For the more traditional look, I used this DIY 'JOY' sign I made, a sparkly green shoe that used to be my grandparents' and one of our red Christmas trees.
That cutting board works year round, and those little green Christmas trees are all over the house this time of year!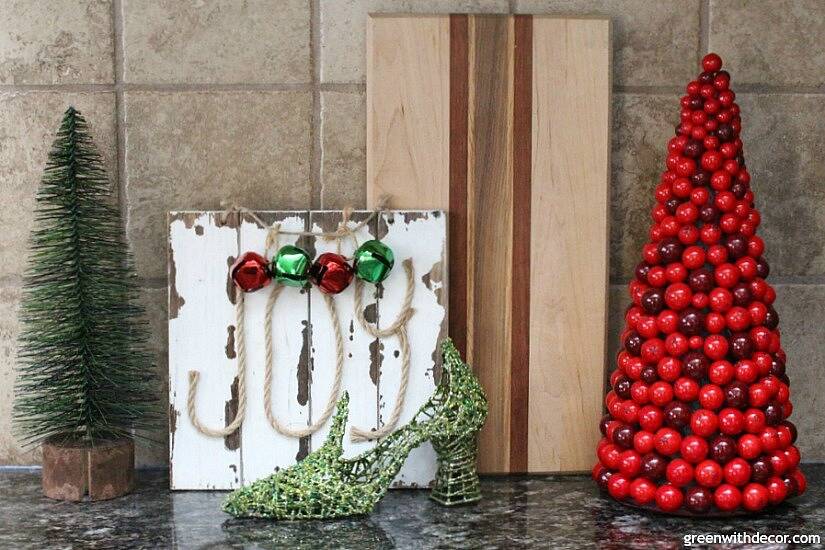 If you saw last week's blue and copper Christmas tablescape, a few of these pieces may look familiar.
I love how the marble from those candle holders ties in with the marble on the cake stand across the room.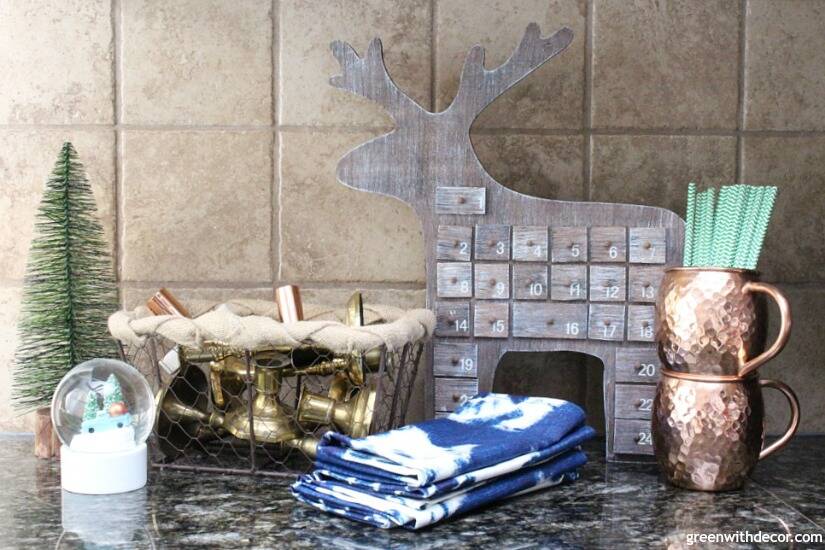 GET THE LOOK: Snow globe | Marble + copper candlesticks | Reindeer advent calendar | Napkin fabric | Copper mugs | Straws
I totally stole the candlesticks in a basket idea from last year's Christmas decorating ideas, too so I guess last year's decor is just a theme of this post!
I pretty much use Moscow Mule mugs as decor whenever possible, but they're so pretty and perfect for delicious festive drinks.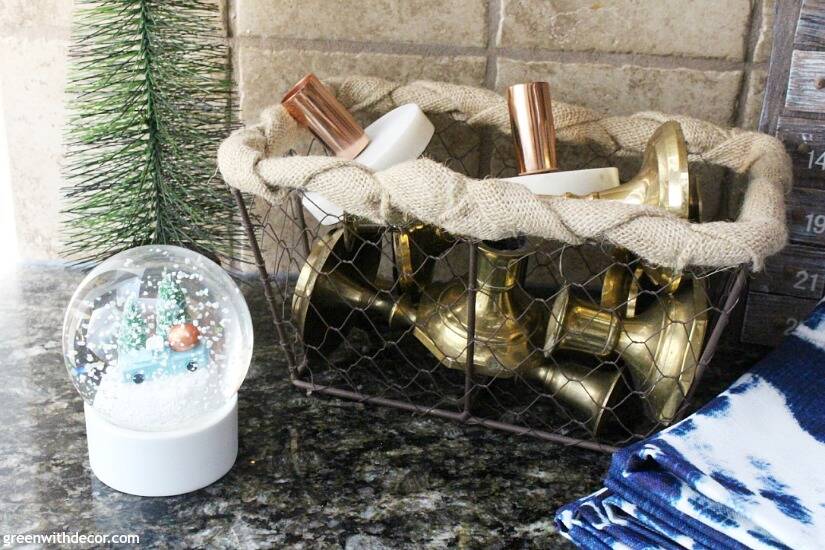 Here's one more peek at the Christmas village in the big window … it may not be a white kitchen, but at least we found a cute spot for our village this year!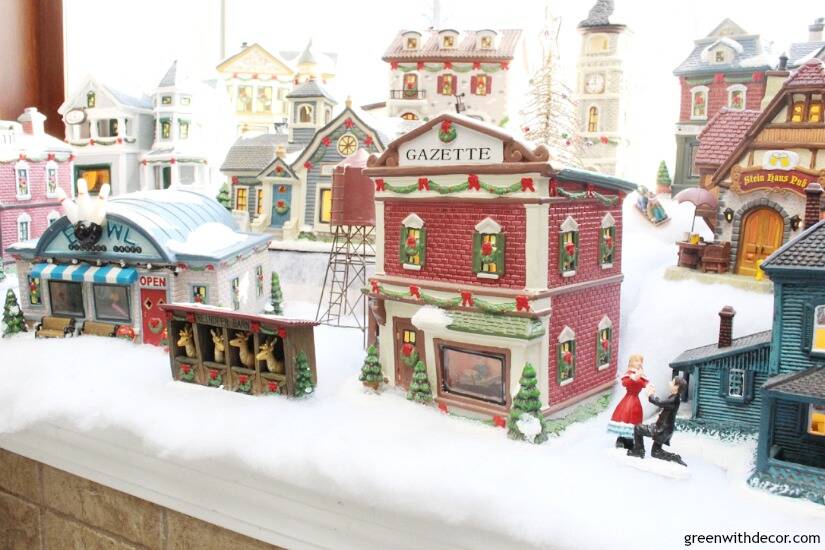 Do you have a big box window? How do you decorate it for Christmas? Or are you a Christmas village lover, too? Where'd you set it up this year?
Check out these posts for more Christmas ideas:
Remember to hop around to see the other ladies' Merry & Bright Holiday posts linked below. ConfettiStyle is next on the hop!
ConfettiStyle | Positively Southern | M.Jones Style | Rover at Home | Chic on a Shoestring Decorating | Love Your Abode | Green With Decor (you're here!)
Remember to bookmark or pin this post if you want to save it for later!


Pin it!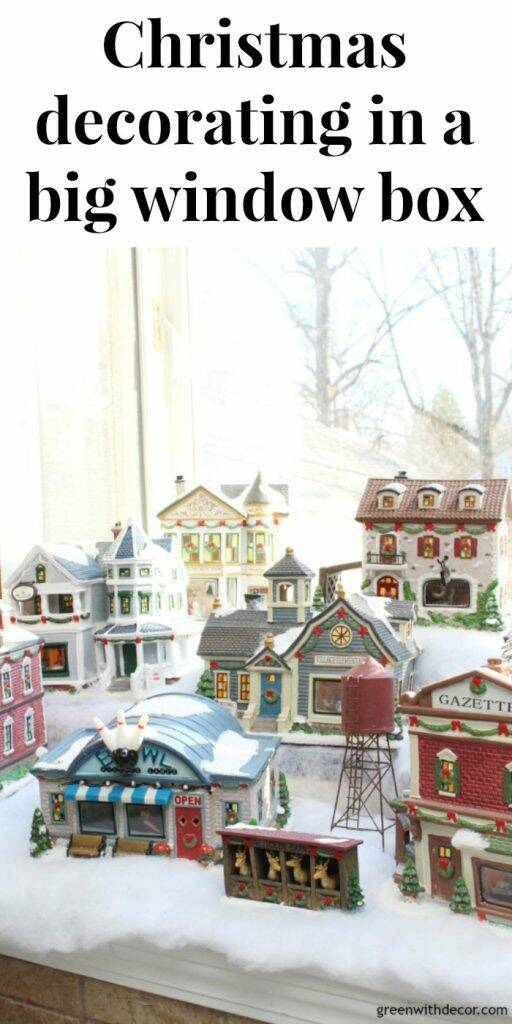 Want to read more posts like this?
Follow along: Get my emails | Facebook | Pinterest | Twitter | Instagram