Christmas time is always a little crazy, which means I have two blog posts going live today: our Christmas living room and our Christmas mantel.
I got all of our decorating done before Thanksgiving this year, and I can't tell you how great it feels to have it done.
It's nice to just sit back and enjoy the season a bit. (We're actually done with Christmas shopping, too already – it's an awesome feeling!)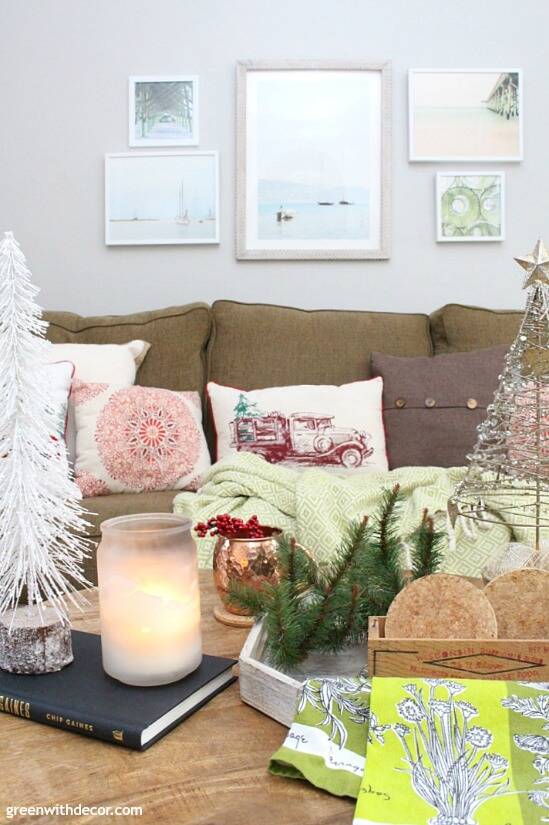 My friends Vicki and Jenn from 2 Bees in a Pod are hosting a Christmas home tour week this week, so you can hop around to see Christmas foyers, living rooms, bedrooms, dining rooms and kitchens.
All of the posts are linked near the bottom of this post. Yesterday's foyers were so pretty, I can't wait to see the posts the rest of the week.
If you're hopping over from another blog, welcome! You can learn more about me and the blog here or tour our house here. We've renovated two houses and are currently decorating our third house.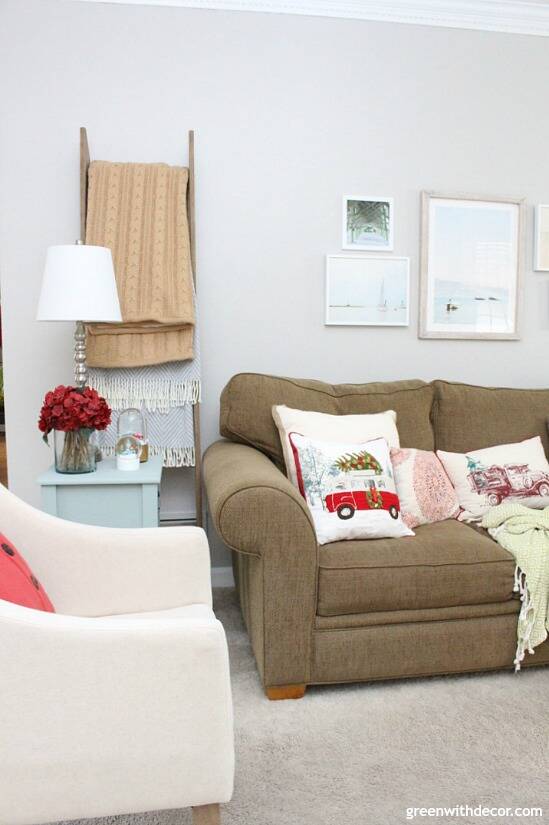 I really debated if I wanted to use traditional Christmas decor or try a more coastal Christmas look.
When we were unpacking a bunch of our Christmas decor and I saw allll the red, I figured traditional would make more sense.
I couldn't resist a little coastal decor though so our dining room has a beachy Christmas feel. (I'll share photos next week after we finish painting the legs of our farmhouse table we built! You can see our dining room design plans here.)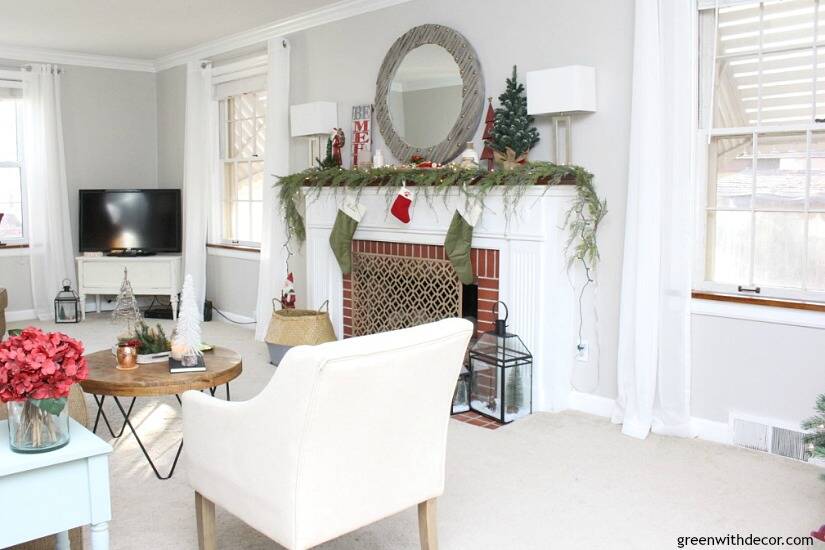 This post contains affiliate links. This means if you click the link and buy something, I may receive a small percentage of sales at no extra cost to you.
If you add some festive pillows, mini Christmas trees, candles and lights to any room, it pretty much becomes instant Christmas.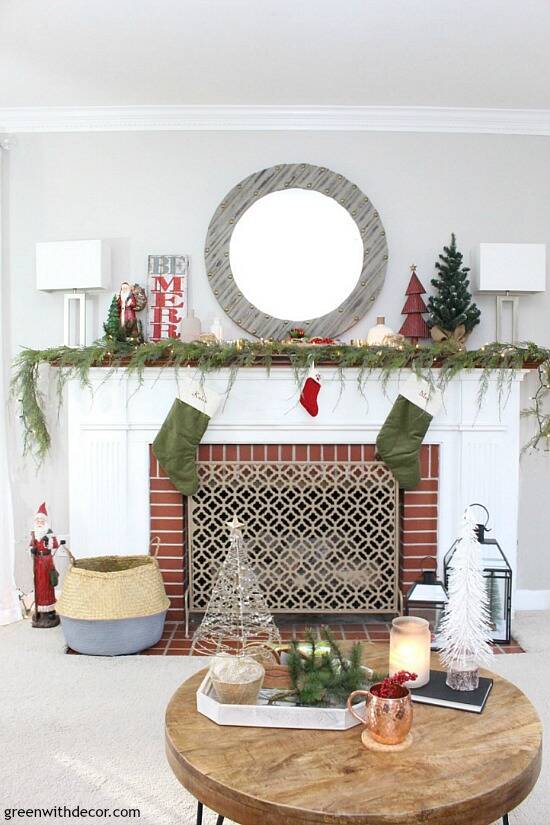 GET THE LOOK: Seagrass basket | Lamps | Faux garland | Bread bowl | DIY faux concrete bottles | Stockings | Copper mugs | Red berries | Coffee table
I'm big on Christmas pillows, they're just too cute. Actually if we're being honest, I'm big on pillows for all seasons.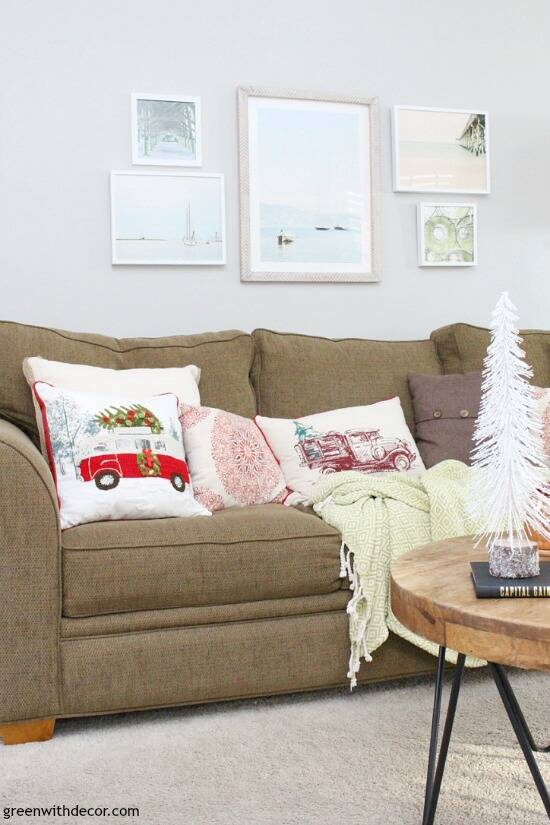 GET THE LOOK: Couch | Coffee table | Boat artwork 1 | Boat artwork 2 | Pier artwork | Fishing net artwork | Christmas van pillow | Red + white pillow fabric | Green + white blanket | Brown pillow
Pillow covers are even better because they're easier to store and usually cost less.
I couldn't resist this pillow this year though, it looks like our dog Oakley driving! (If you're also a pillow addict, check out this list of affordable Christmas pillows I've been eyeing this year.)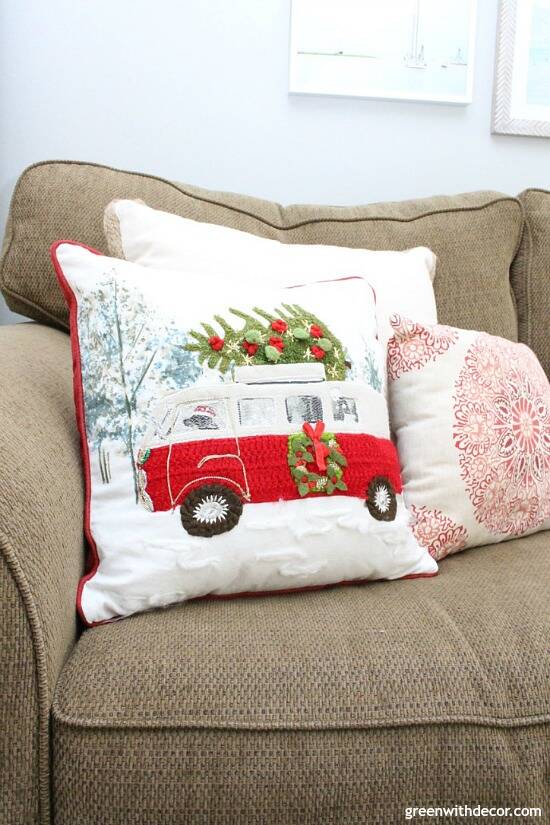 I used to decorate with a lot more red throughout the house, and over the past year or two have pretty much phased it out for aqua. (You can read how I switched color schemes on a budget here.)
I kept some of our red accessories though to use for Christmas, and I'm so glad I did. Hello, free decor!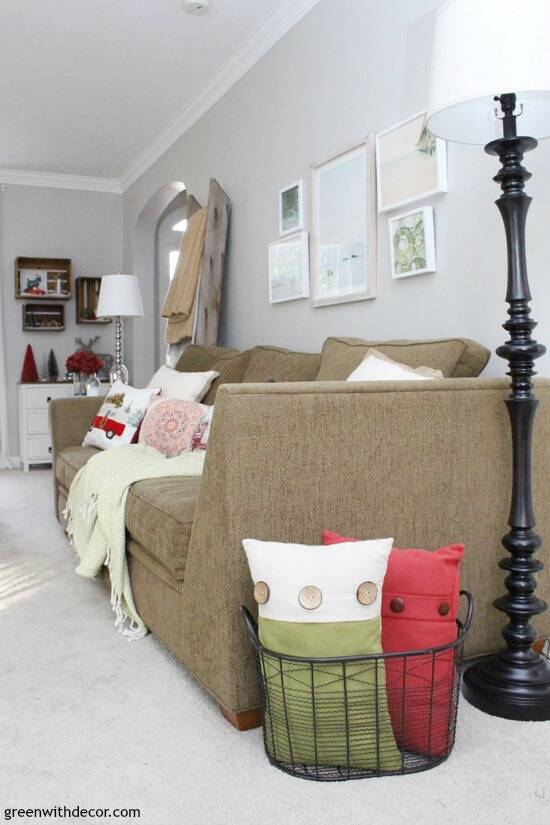 Those red and white pillows (you can see one on the couch above) were actually leftover material from curtains in our other family room. You can follow this tutorial if you're interested in making pillows from extra fabric.
I popped a couple throw pillows into that magazine basket for fun, too. The best thing about solid colored pillows is they work throughout different seasons of the year!
I added a couple Christmas trees to the coffee table. (Milwaukee folks, that white one is from Bittersweet in Delafield – isn't it cute?!)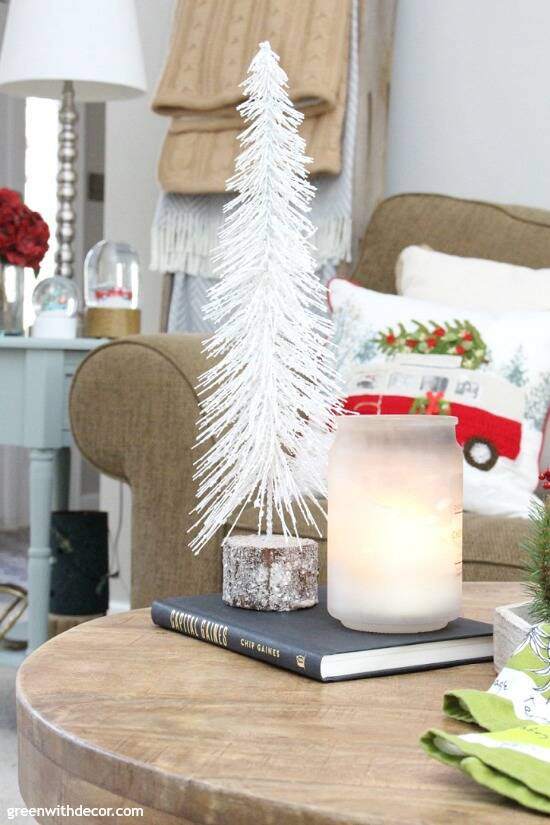 That gold sparkly tree used to be my grandparents'. I still have my favorite Chestnut & Acorn candle going, I love it!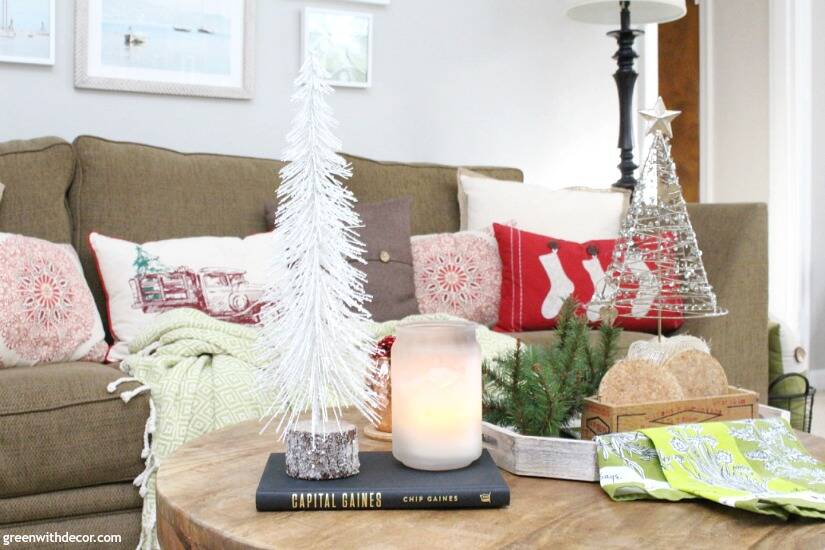 I added some mini Christmas trees to our chest, too. (It used to be black, but I painted it white this year. You can see the painted chest tutorial here.)
I figured I'd mix it up this year and not keep the mini tree sets together.
I have a few of those green ones spread out throughout the house, same with the red ones. In years past, I'd always kept the red ones together in a set (see last year's Christmas living room here), and I'm loving them throughout the house instead.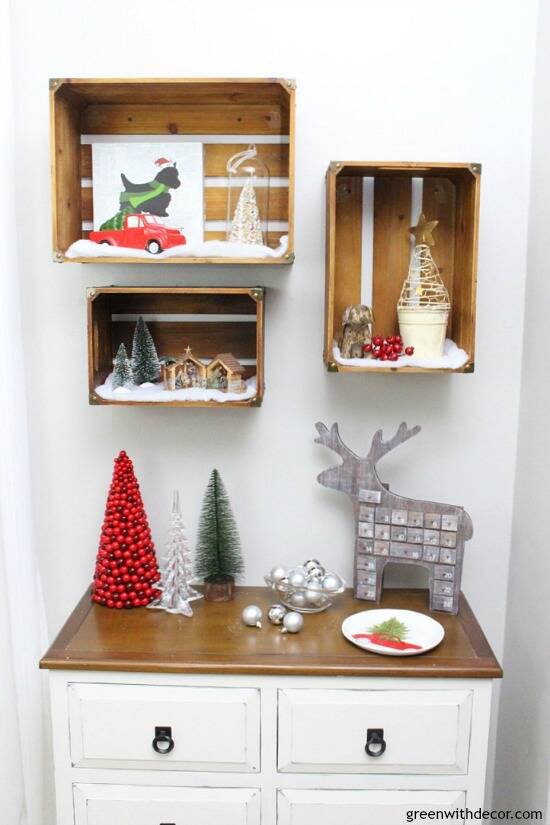 GET THE LOOK: Painted chest | Crates here or here | Mini Christmas trees | Red berries | Plate | Reindeer Advent calendar
That gold tree was from our trip to Magnolia Market, and I'm already regretting not buying a few more. It's so pretty.
All the mini Christmas decorations are getting me this year.
Even our lanterns turned into little Christmas villages. More green trees, of course, and some of the smaller pieces from our Christmas village.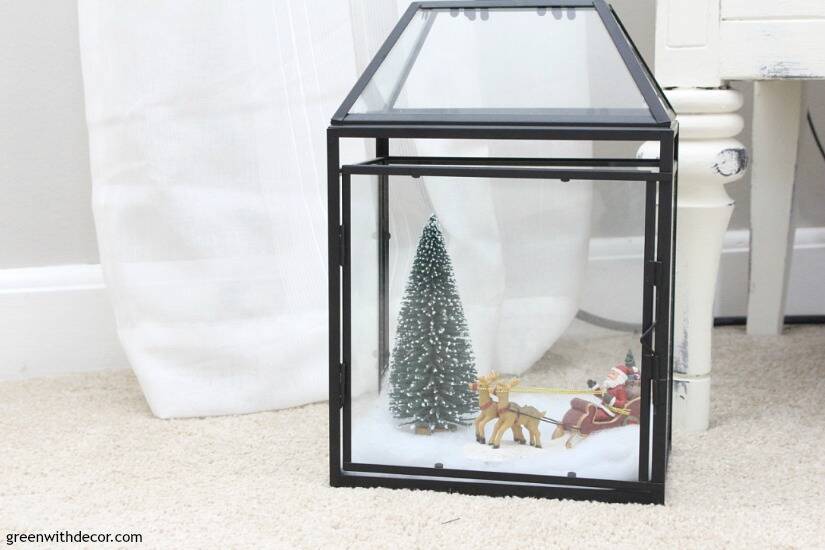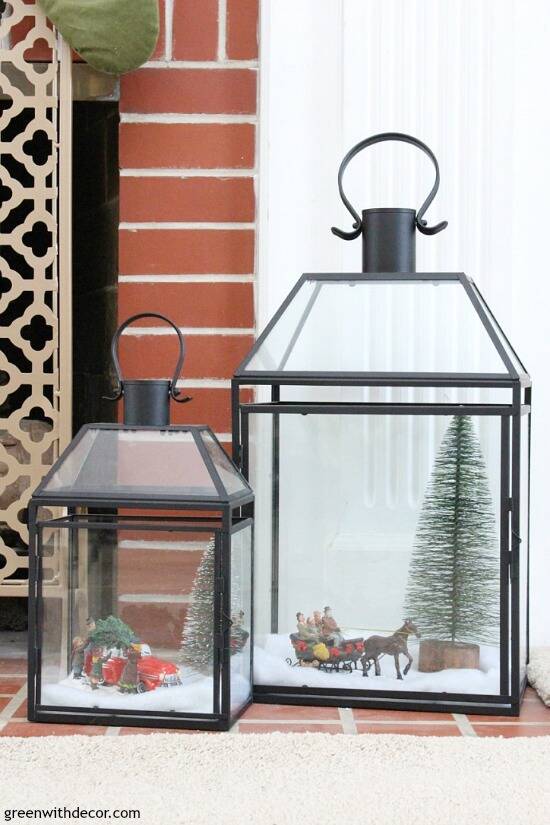 Oh, and who else loves snow globes?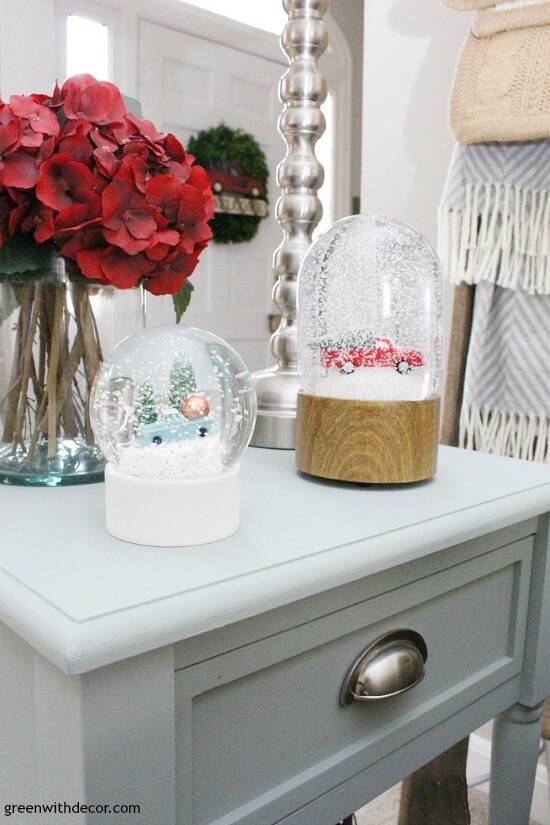 GET THE LOOK: Drawer pull | Red hydrangeas
I painted that little blue table. It used to be black.
I have a lot more pictures and details on our Christmas mantel here. Basically, I'm obsessed with that faux garland I found last week.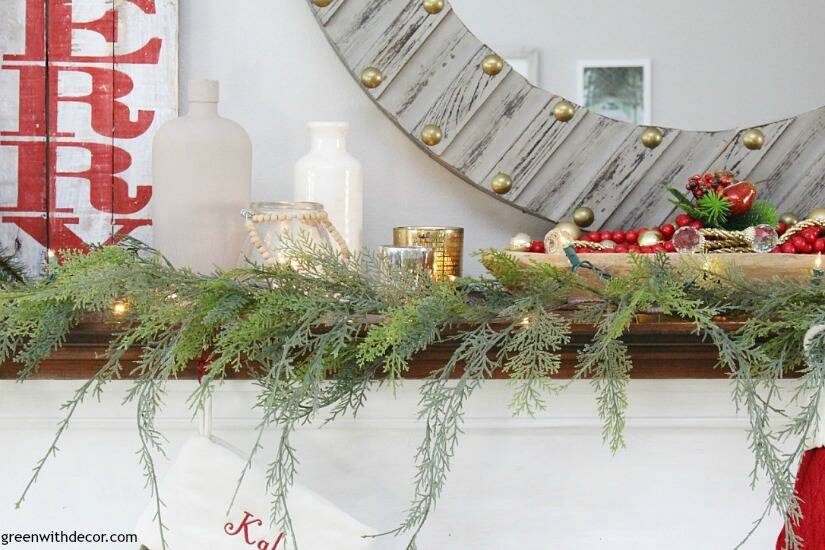 I'm loving having so many candles up there, too. With the lights on and the candles lit at night, it feels super cozy in here.
That Christmas tree wall decor is one of my favorite Christmas pieces. It's hanging a little low since that's where the nail was for the picture that's usually there, but I didn't feel like messing with it.
Sometimes easy works best.
I love that red tinsel tree, too. It was my grandparents', which makes it all the more special.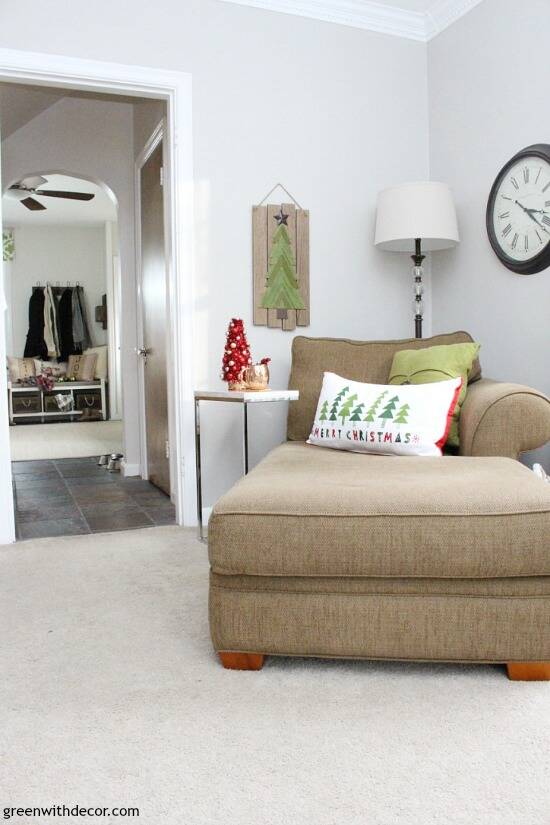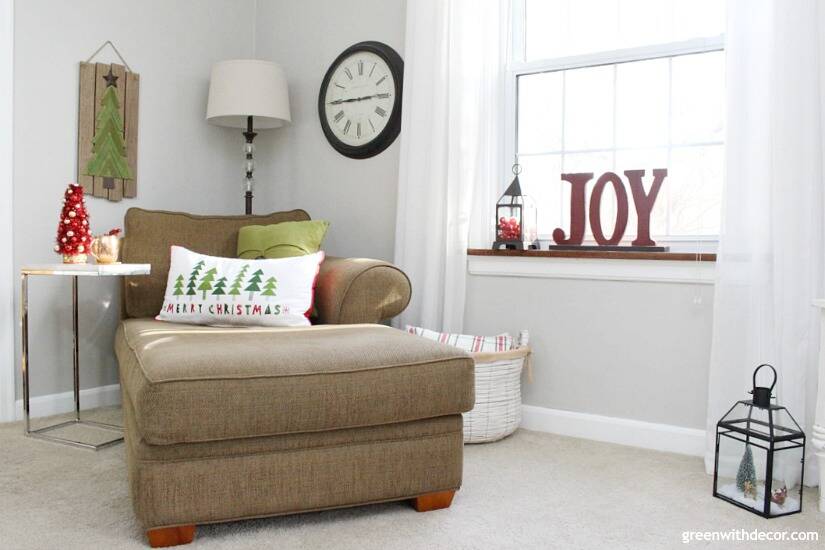 GET THE LOOK: Side table | Wood Christmas tree sign | Floor lamp | Chaise | Curtains | Curtain rod here or here | Lanterns
And then our Christmas tree, of course!
We have two trees, this one for sentimental ornaments and a second tree in our dining room that's decorated with all sorts of pretty blue and gold ornaments.
I love the look of a gorgeous Christmas tree, but I love looking back on all of our ornaments over the years even more. It's fun to look back on vacations, Packers games and different things we've done over the years.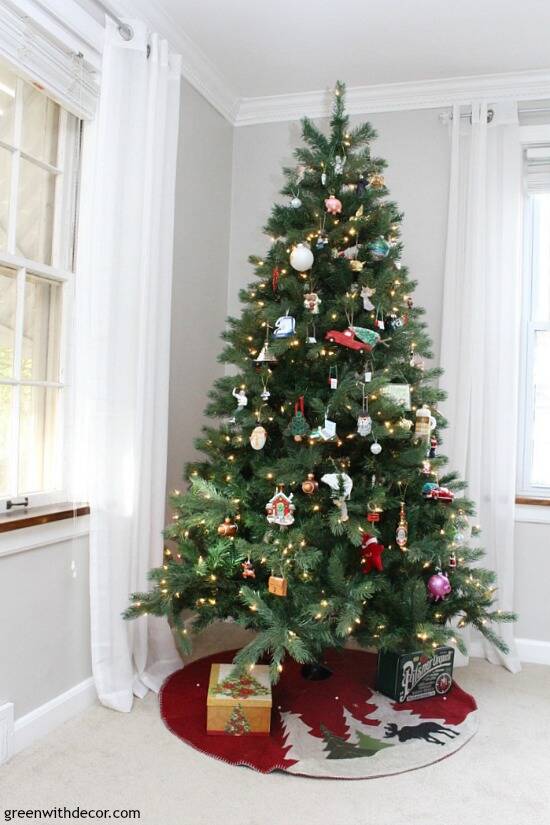 These DIY Christmas list spool ornaments were such a fun little project.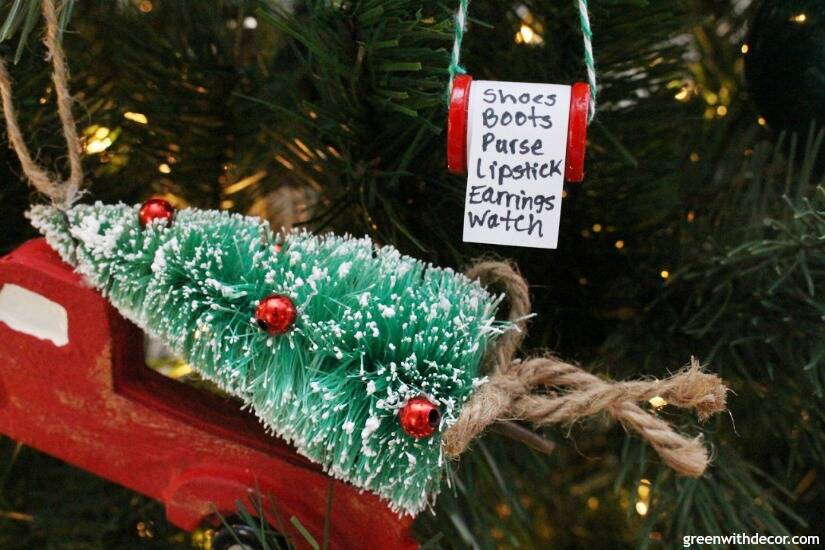 I love this little green and red tin under the Christmas tree, too. The colors make it so festive.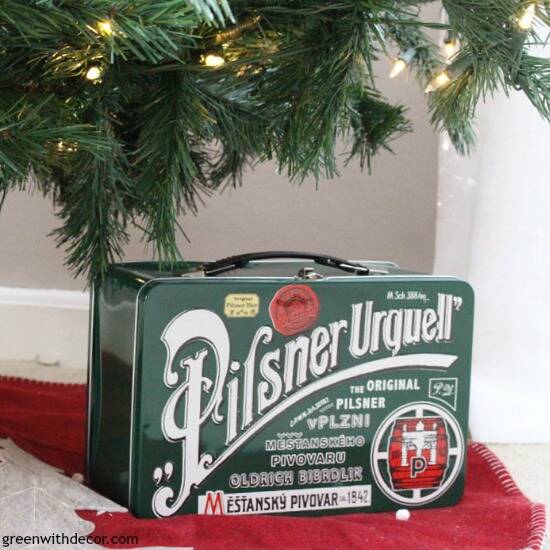 You can see our coastal living room decorated for everyday decor here.
It took us a while to call the room finished, but I love how it turned out. (Just in time to get the Christmas decor up!)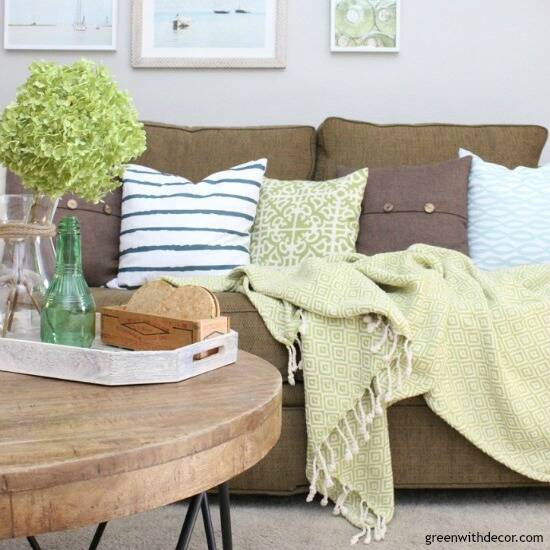 For more Christmas decorating inspiration, head to the other bloggers' posts below:
FOYERS:
My Creative Days | Lydi Out Loud | Our Home Made Easy | Craving Some Creativity | Lehman Lane | Slightly Coastal | The Crowned Goat
LIVING ROOMS:
Green With Decor (you're here!) | Little Red Brick House | Catherina's Creative Corner | Houseful of Handmade | 1915 House | All Things Big and Small
BEDROOMS:
2 Bees in a Pod #1 | Average But Inspired | Bliss Ranch | Keys to Inspiration | Country Design Style | Making it in the Mountains
DINING ROOMS:
Little Bits of Home | Two Purple Couches | Worthing Court | The Inspired Hive | DIY Beautify | Refresh Restyle
KITCHENS:
2 Bees in a Pod #2 | Robb Restyle | Noting Grace | The Honeycomb Home | Chatfield Court | Home with Cupcakes and Crinoline
Remember to bookmark or pin this post if you want to save it for later!


Pin it!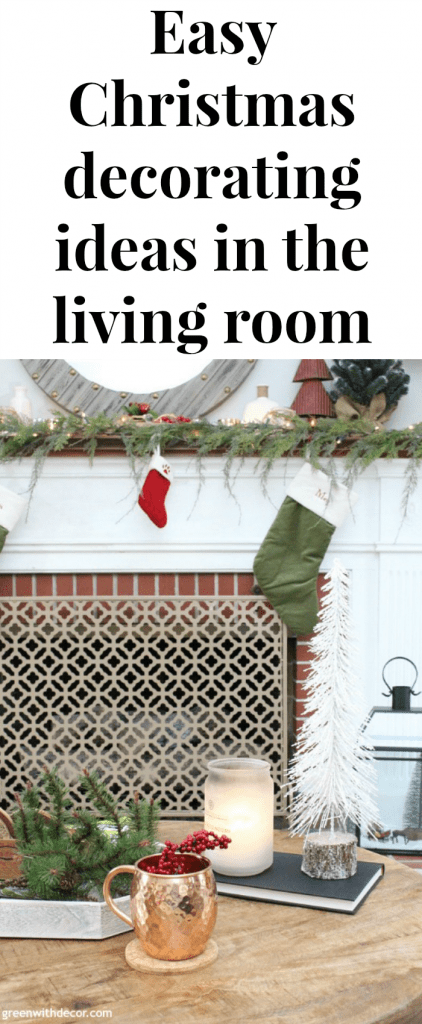 Want to read more posts like this?
Follow along: Get my emails | Facebook | Pinterest | Twitter | Instagram