This coastal foyer makeover features pretty nautical, beachy touches like boat artwork, a rope sphere and a pretty glass aqua vase!
We shared some fun news and a bit of a life update earlier this week if you missed it!
As we crank through the rest of the rental house projects, I have another room reveal to share: our coastal foyer!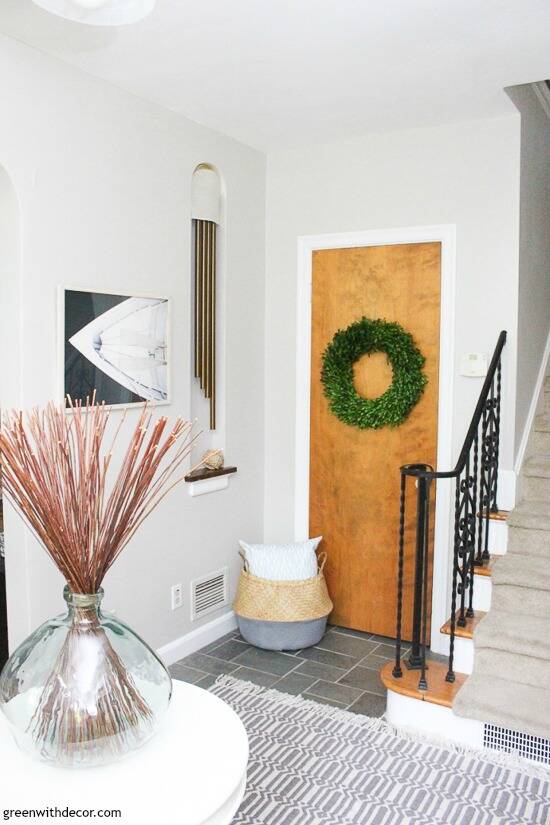 If you recall, it started out a lovely shade of yellow.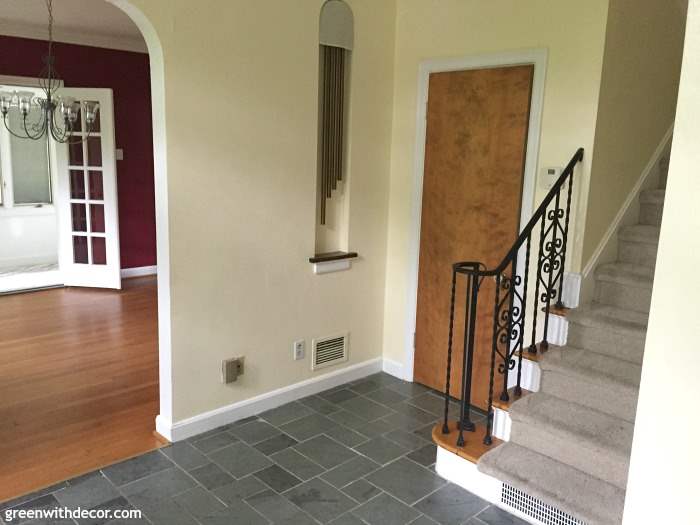 And another before and after of our coastal foyer: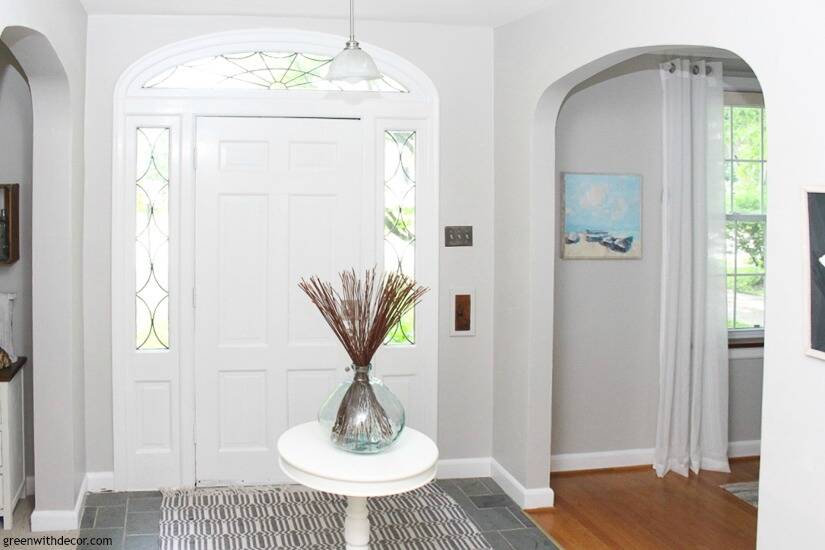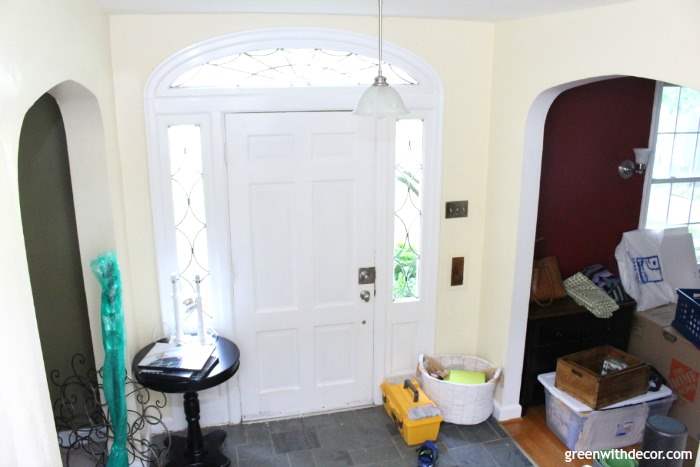 I don't love everything about this room, which seems like a weird thing to say in a room reveal post. But this is as far as we got in here so I figured I'd share it since everyone loves room reveal posts. (They're some of my favorites, too!)
Plus it's still a drastic improvement from where we started.
This post contains affiliate links. This means if you click the link and buy something, I may receive a small percentage of sales at no extra cost to you.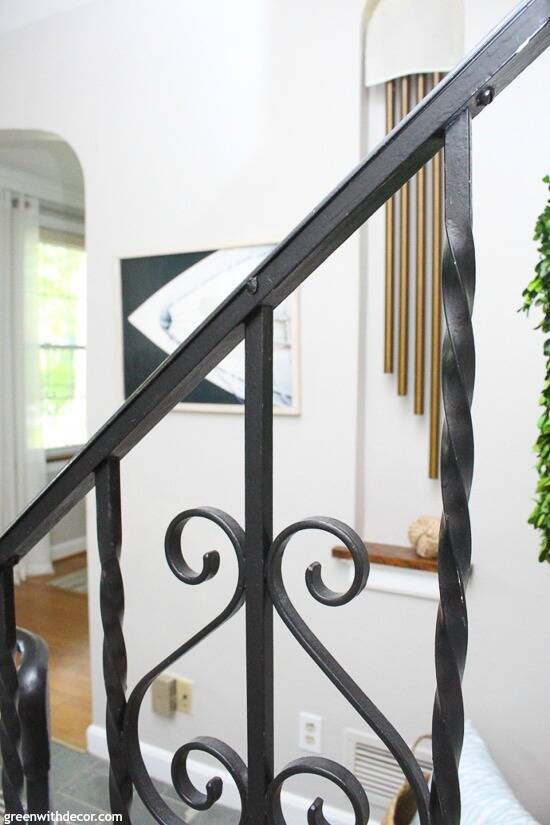 When you're in a rental, there are just some things you can't do anything about. (Ahem, the wood closet door, the light fixture, the dark banister, the falling-down cover over the doorbell chimes …)
We did what we could in here though: painted the walls and added a rug, wall decor and a little painted table.
We painted the walls Agreeable Gray last year when we painted most of the house.
The wood door in here kills me. I just reaaaaallly wish it was white. Really really. But the boxwood wreath adds a bit of cheer to it.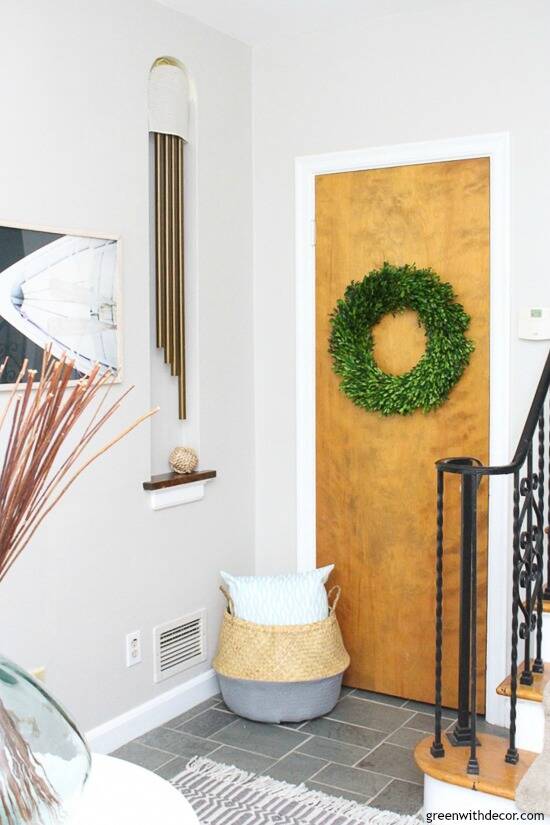 At least the front door is white.
The doorbell chimes definitely up the charm factor in here. Something about old houses is just so loveable, right!? I love touches like that.
To up the coastal look in here, I added this pretty boat artwork to the wall and that little rope sphere to the ledge.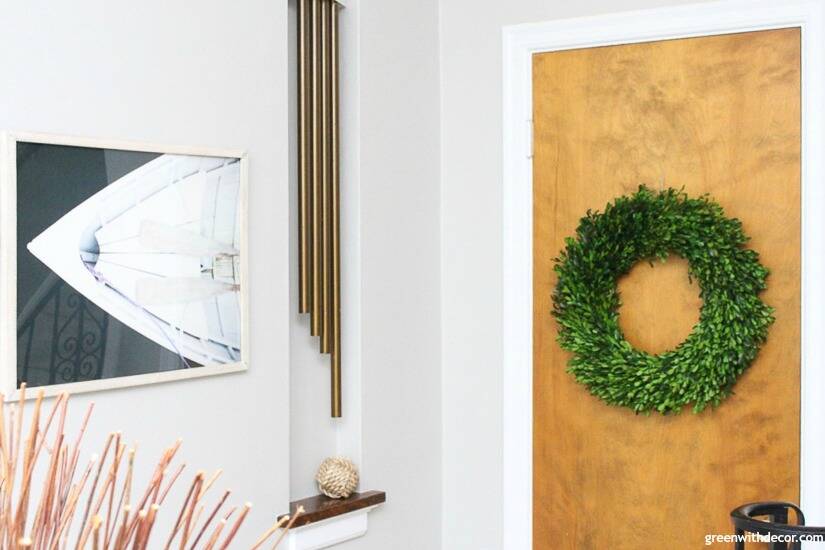 And that seagrass basket that I'm obsessed with! It's perfect for tossing stuff in the bottom, like Oakley's extra toys or gloves for winter, and then hiding them with a pretty pillow on top.
Yes, the basket is just slightly in the way of that closet door, but you can still open it. Plus we don't really use the closet much since we use the back mudroom for everyday shoes and coats.
(And honestly, that front closet has pretty much always been a bit of a non-organized disaster anyway!)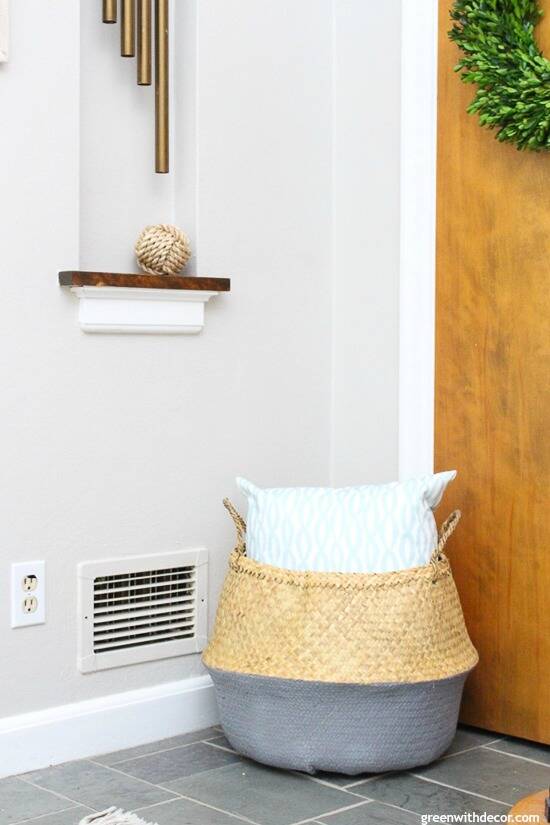 Again, since this is a rental house, the floor is what it is. I'd love to have replaced it.
If you have similar slate flooring and just don't want to/can't afford to replace it right now, I've heard good things about this grout cleaner that can bring old grout back to life.
It's a bit time intensive and given this is a rental that was already in need of a whole lot of cleaning, painting and decorating, it's not a project we added to the to-do list in this house. I thought I'd share it though in case it would work for you!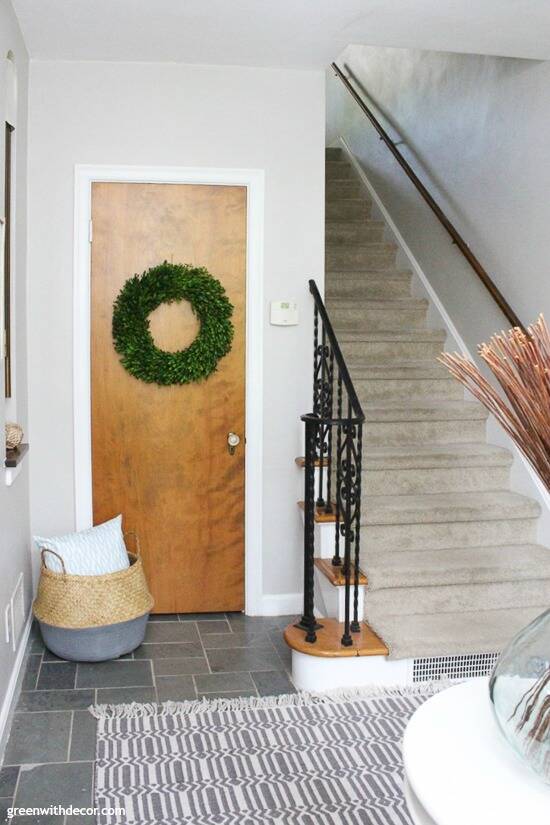 We went the super easy route instead and bought a rug to cover up most of the floor. 🙂
It's from Marshall's. I had a few questions on it when I shared the round table makeover last week. I can't find anything exact online, but here are the closest ones I found: one, two, three and four.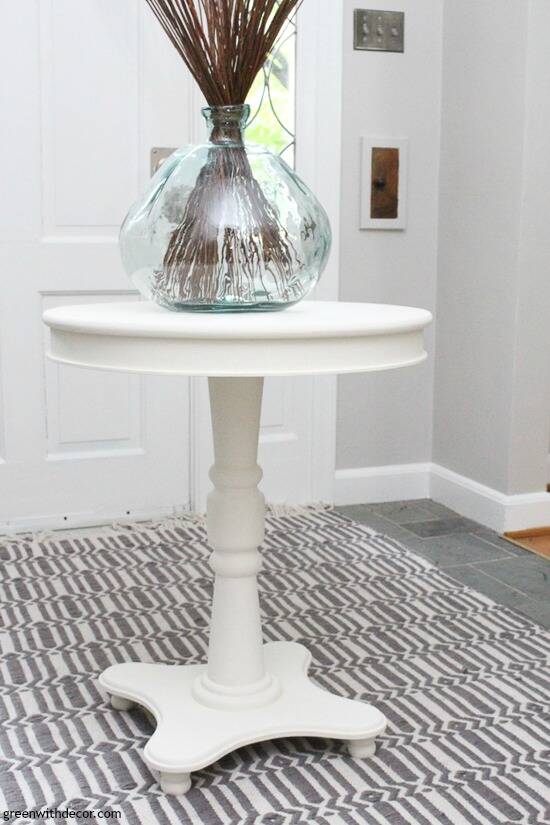 Speaking of, that cute little table is making my day in here. I've always wanted a big foyer with room for a round table. That's totally random, I know, but I saw a picture of a huge foyer with a round table years ago and always thought it looked great!
That glass aqua vase on top is one of my favorite ever pieces.(We have the larger version, too.) It's just so pretty!
So there we go – as close as we're going to get to a big foyer before we move back into our Milwaukee house with its non-existent foyer. Totally worth it!
GET THE LOOK:
Since a popular question I get is "Where'd you get that?!," here are links to the same or similar sources: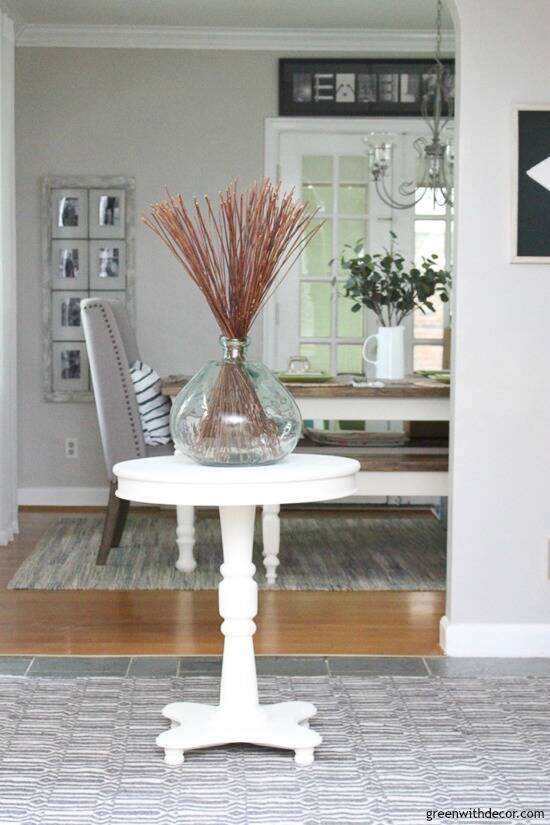 If you want to see more than the sneak peeks of the other rooms shown in this post, you can check out the coastal farmhouse dining room or coastal rustic living room.
Have you worked on any foyer makeovers lately? Have any plans for a coastal foyer makeover or any other coastal room makeovers?
Remember to bookmark or pin this post if you want to save it for later!

Pin it!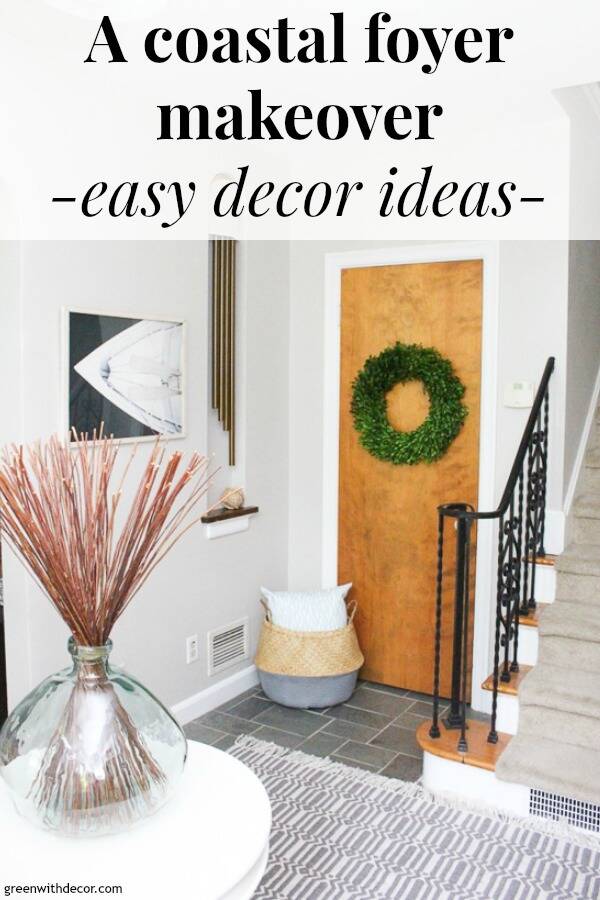 Want to read more posts like this?
Follow along: Get my emails | Facebook | Pinterest | Twitter | Instagram