This coastal rustic living room showcases gray walls, a mix of modern and farmhouse furniture, rustic crate wall shelves and various coastal touches, including glass bottles and a big wood mirror.
It's here, it's here!
Living room reveal day.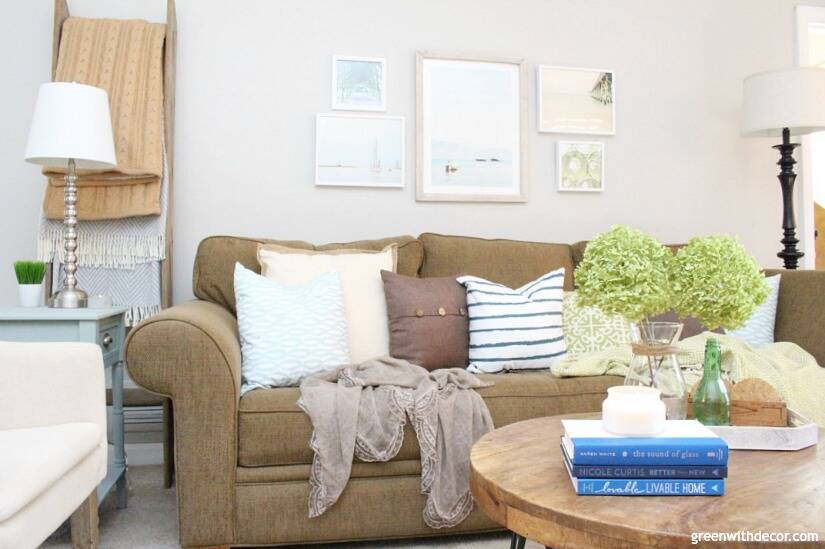 This room is big with a lot of windows and doorways, I feel like it took me a while to plan out the entire space and find exactly what I was looking for. I'm glad we took our time. I was determined to stick to the coastal rustic vibe in here instead of rushing to just finish the room.
This post contains affiliate links. This means if you click the link and buy something, I may receive a small percentage of sales at no extra cost to you.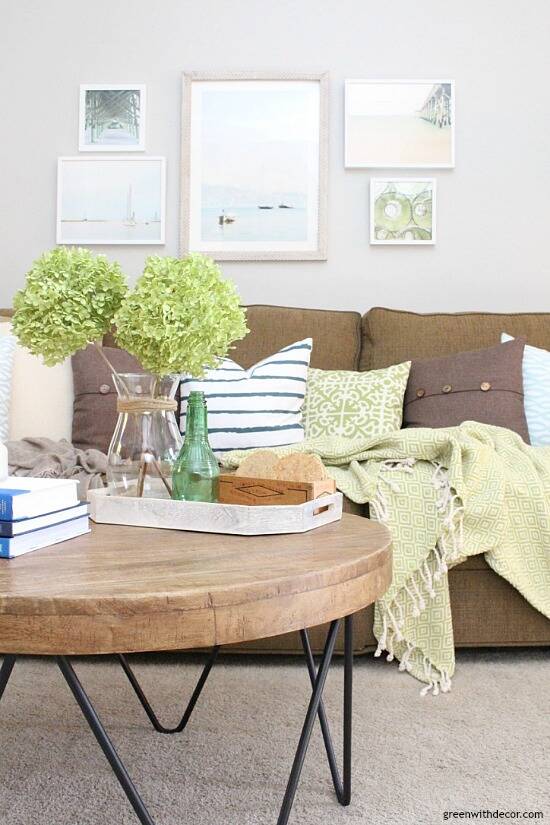 GET THE LOOK:

And, because what fun is a room reveal without a few good before and afters, here ya go: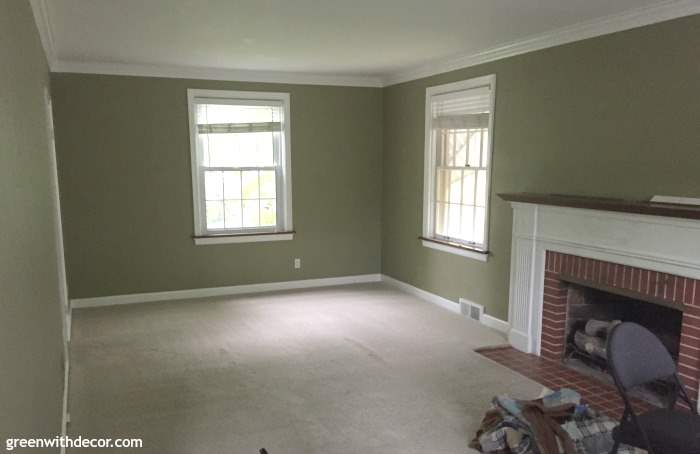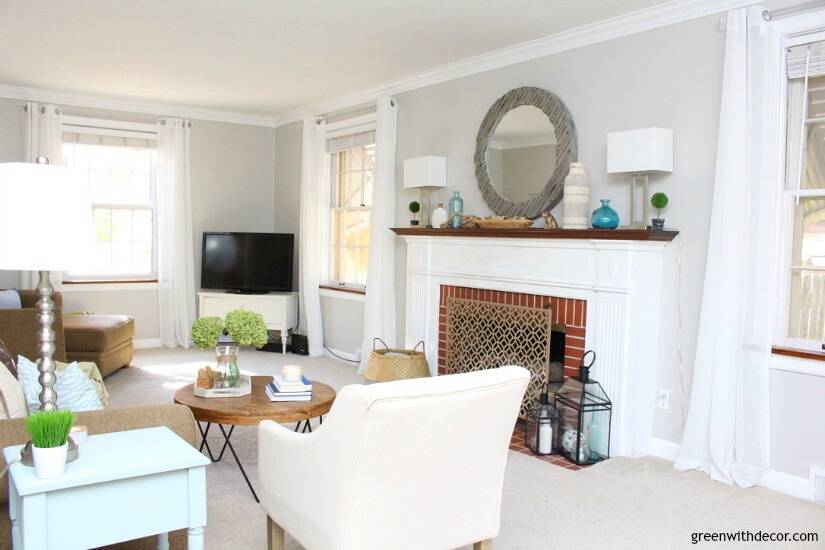 I mean I love green, but that shade had to go. Here's what the room looked like after some paint: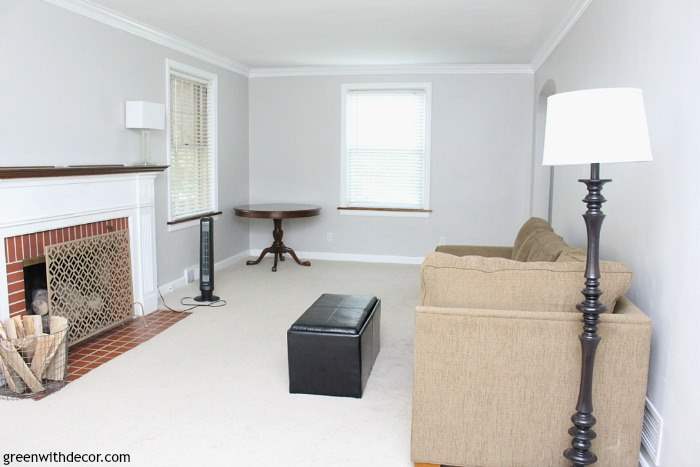 And now: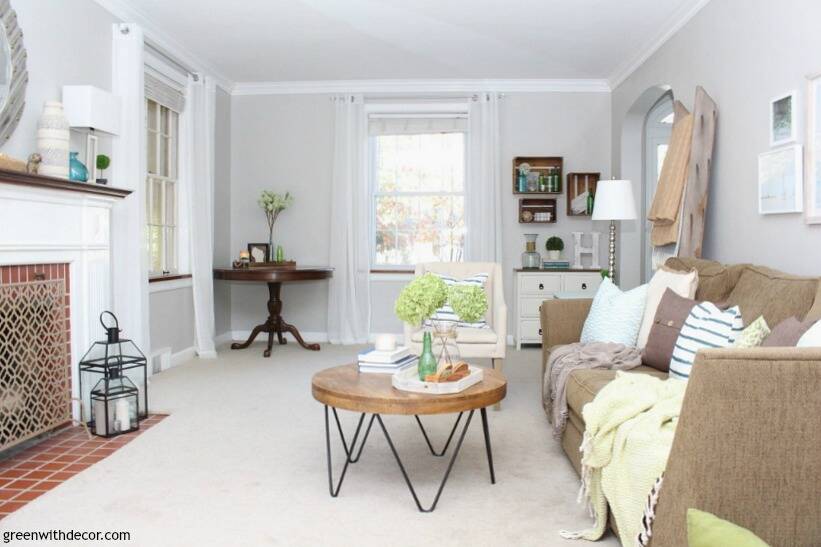 If you missed any of the earlier posts about this living room makeover, I have details on everything from planning the gallery wall to the furniture makeovers linked at the end of this post so be sure to hop over to anything you want to read more on.
The new wall color is Agreeable Gray by Sherwin Williams. We love it. It really lightens up the room, and the curtains just flow and pop right off the wall color.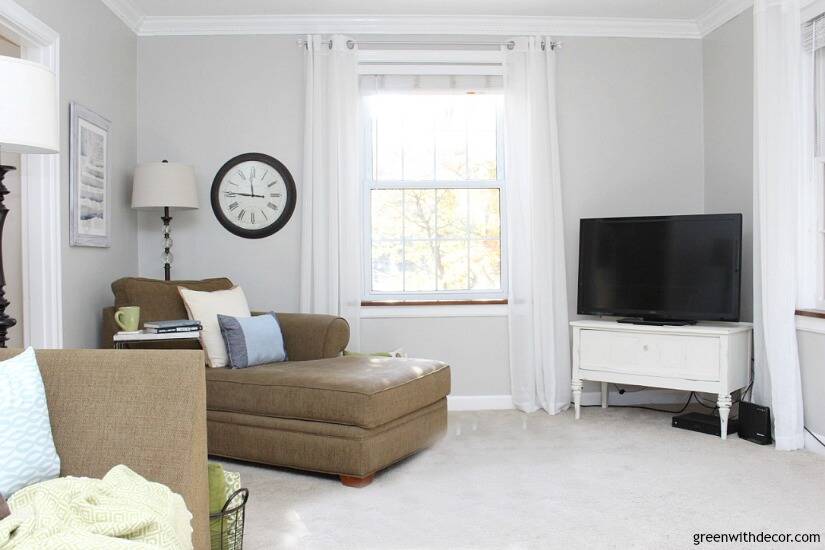 Kalen surprised me with that gorgeous gray wood mirror above the mantel, which started the whole mantel design. (I've gotten a few questions on the mirror – it's from a local home decor store, and I can't find anything similar online!)
I'd love to paint that brick white, but since we're renting, I guess it'll stay red.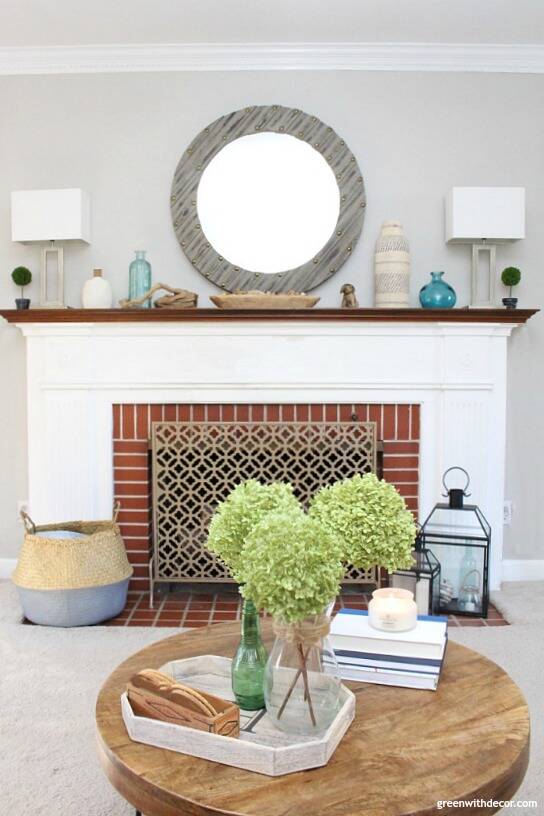 GET THE LOOK:

I'm always collecting bottles, I can't help myself. They're easy to find at thrift stores (or online sometimes), and they work for pretty much any surface you're having trouble decorating. Just put some bottles on it, and instant glam.
The white bottle is actually an old whiskey bottle I painted with clay paint, you can see the tutorial for DIY faux concrete bottles here. That white and blue vase can be found here.
The faux driftwood and bread bowl are fun coastal touches. We couldn't resist that little dog when we found it at a local home decor store. It reminded us too much of Oakley.
The silver lamps were actually put up on the mantel when we were unpacking just so we could turn some lights on in here When we started decorating, I left them. The mantel is long, and they add some nice height to the ends of it. Plus it's nice to have some light over on that side of the room.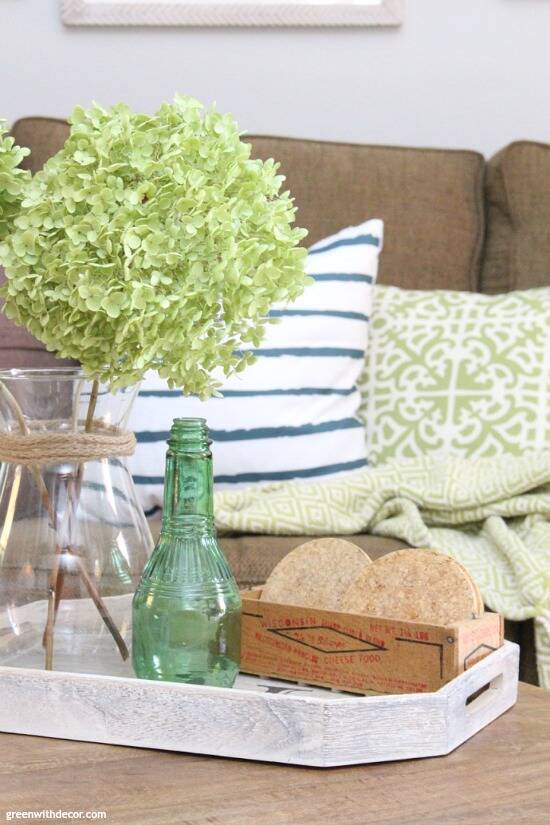 I just love how green hydrangeas look when they're dried. You can see how to dry hydrangeas here. It's easy! I take them from my Grandmom's garden every fall to use for decor throughout the year.
I don't really decorate with red anymore (you can see my easy tips for decorating in a new color scheme and how I swapped red for aqua here), but that little wood crate with the red text is an exception. It says "Wisconsin cheese", how could we pass that up!? It's the perfect little coaster holder.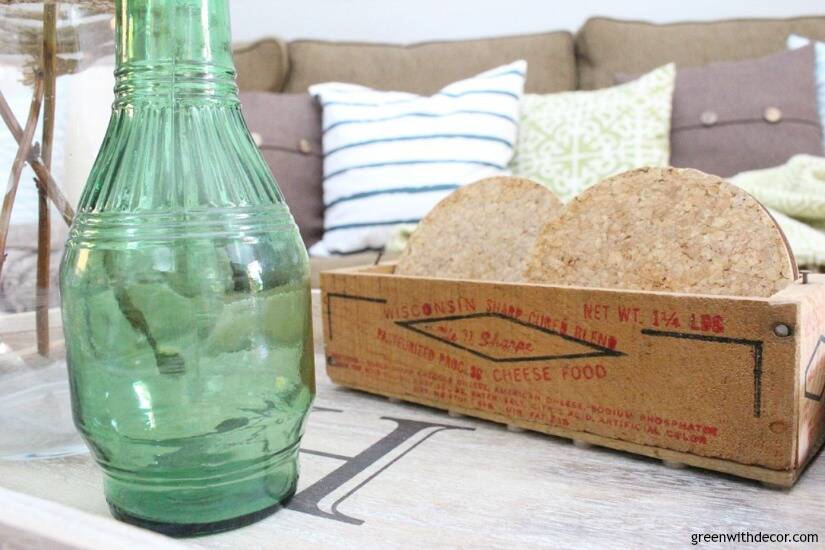 These books are all great if you're looking for something to read by the way. Or something pretty for your coffee table! (Just take the jackets off, and every book looks fancier.)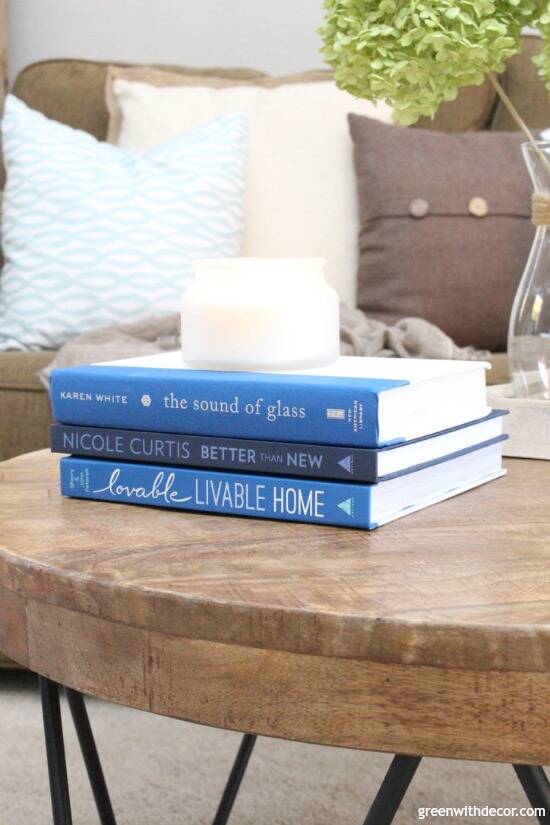 GET THE LOOK:

The candle is one of our pretty new ones from Chesapeake Bay Candle.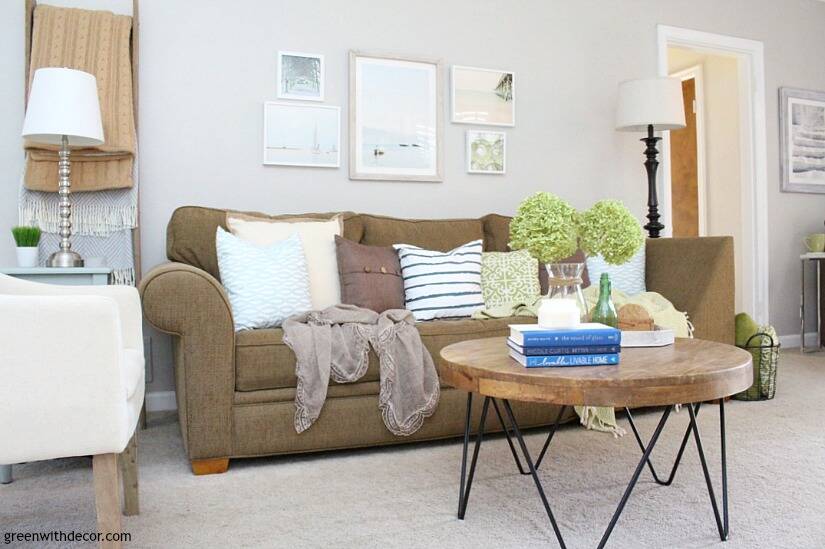 We didn't want to buy anything huge for the wall thinking we wouldn't be able to reuse anything big again in our Milwaukee house, so the gallery wall was perfect. We can always break it up in the future on different walls so all of the pretty coastal pictures will be easy to reuse.
I talked all about choosing artwork in this blog post and planning a gallery wall in this blog post, so check those out if you're stumped. There's so much pretty artwork out there, it can be hard to narrow it down!
Kalen actually took that gorgeous green pier photo (upper left) on our vacation in Folly Beach. If you want a high quality copy for your own wall, scroll down to the bottom of this post and download it. It's a way of saying 'thank you' to my readers! (And let me know if you use it, I'd love to see a pic!)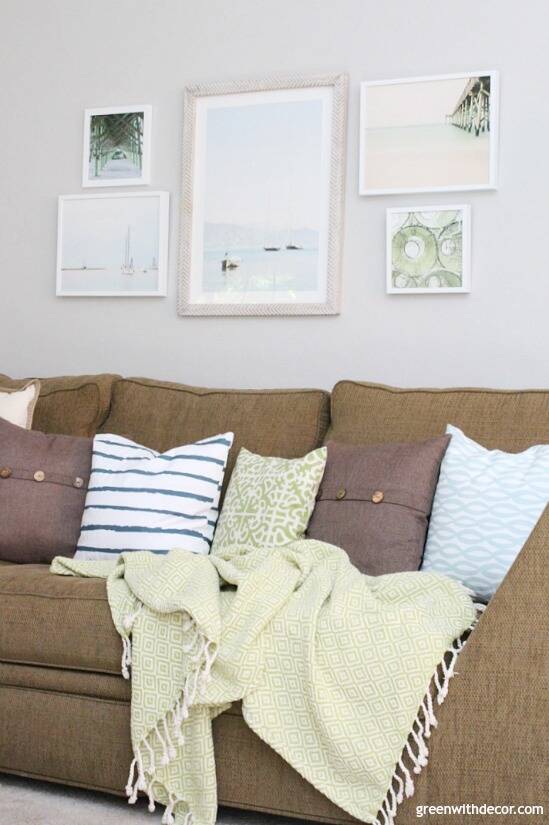 GET THE LOOK:

There was also a lot of furniture painting in this room …
This little end table makeover (tutorial here):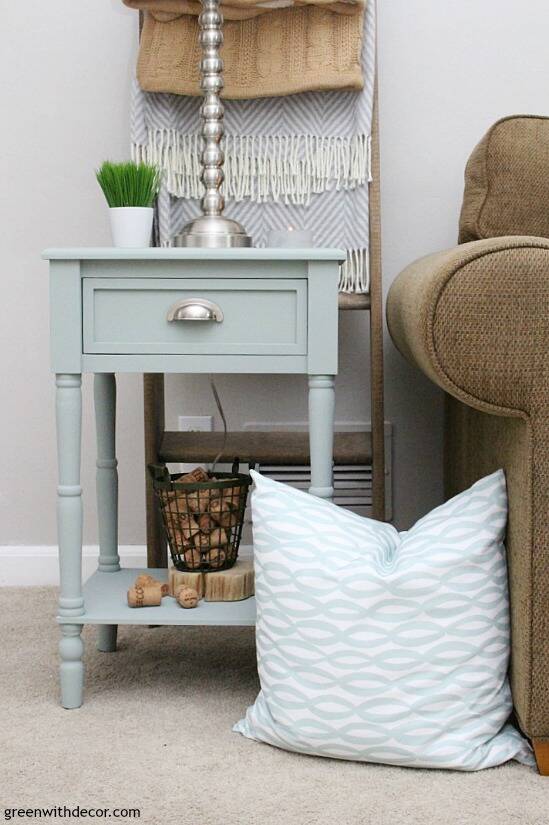 This beat-up piece turned TV stand (tutorial here):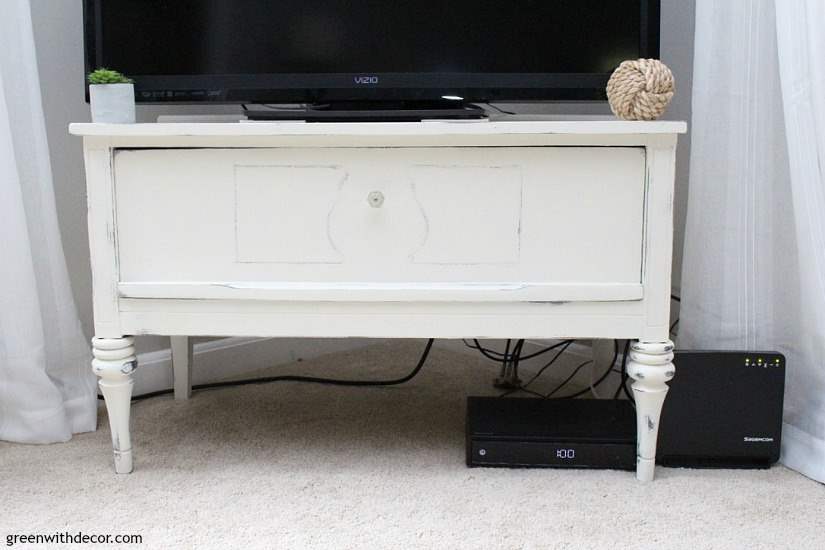 And this little farmhouse chest makeover (tutorial here).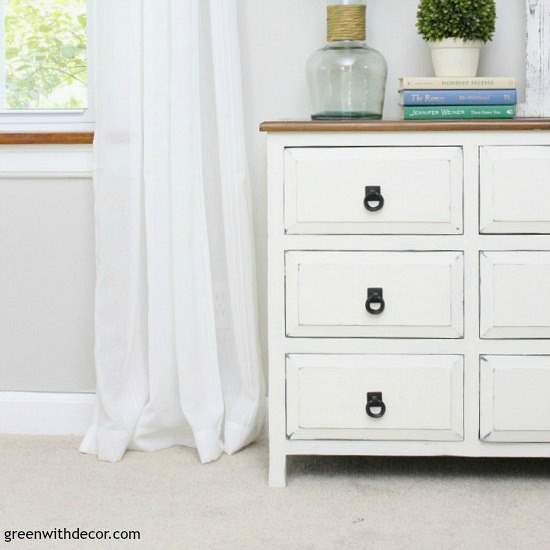 This was going to be our TV stand, and then I loved how it looked under these crates turned wall shelves, so I found the new (old?) TV stand on a local Facebook buying/selling page.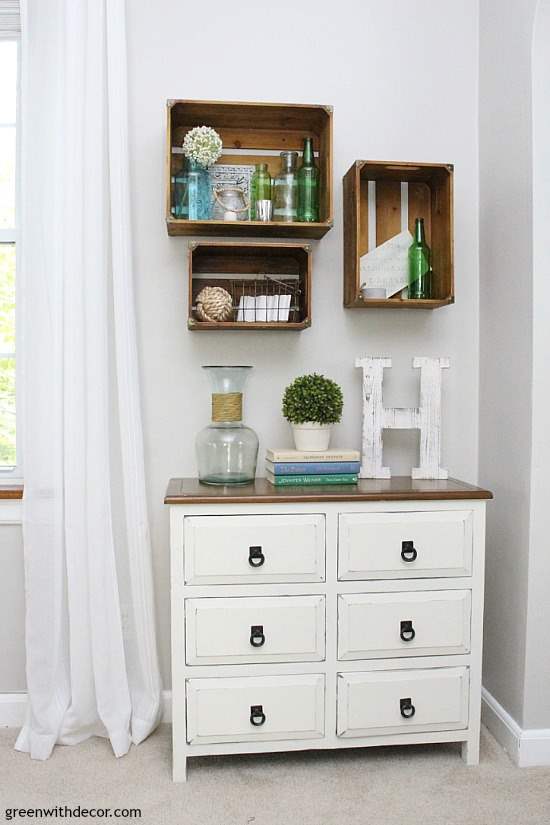 GET THE LOOK:

These wood crates are a fun unique touch. I wanted to do something a bit different, and when I came across these, I knew they'd be perfect.
We have our old pedestal table in the corner opposite the crate shelves and farmhouse chest. The rustic tray with rope handles is perfect for corralling pieces on top. Those hydrangeas are from our trip to Magnolia Market, I love them in an old wine bottle.
GET THE LOOK:

Our old rustic ladder (AKA blanket shelf) is perfect in that little corner behind the newly painted blue table.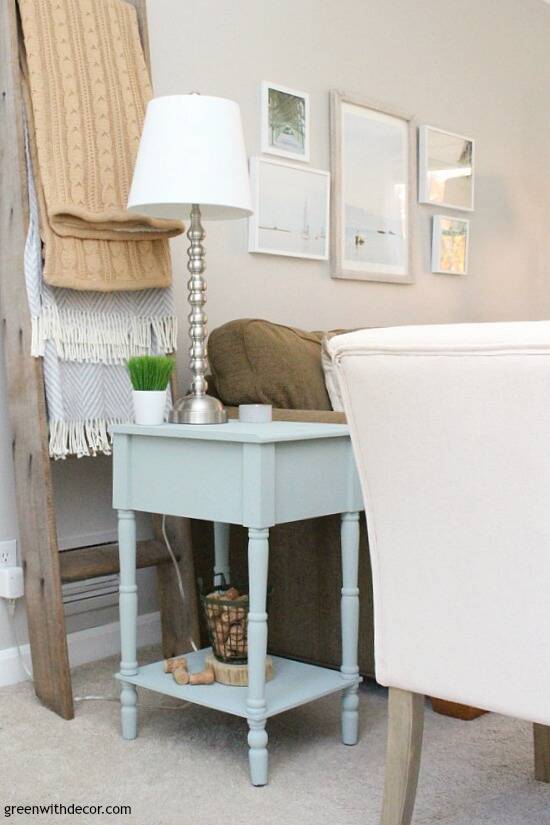 GET THE LOOK:

One other little small DIY in here was this pillow. I took a pillow we got with our new bedspread that I didn't like and made a new cover from two placemats from the clearance aisle (they're still available here).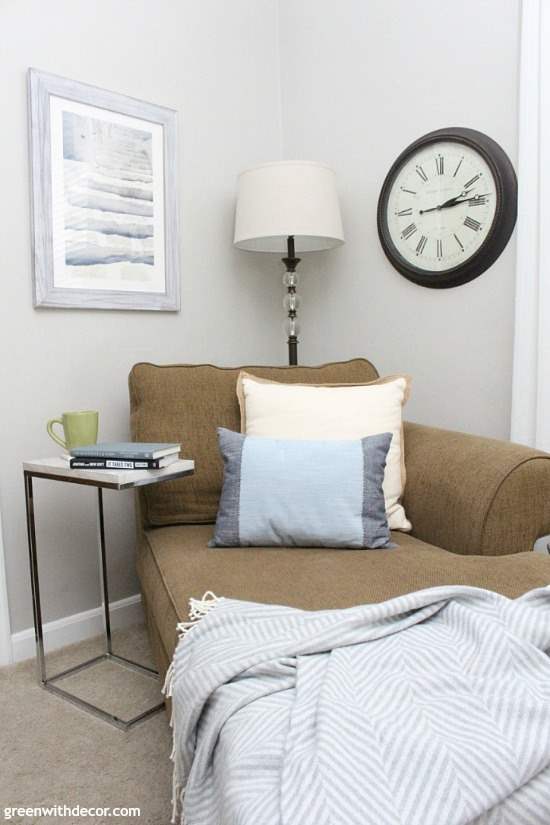 GET THE LOOK: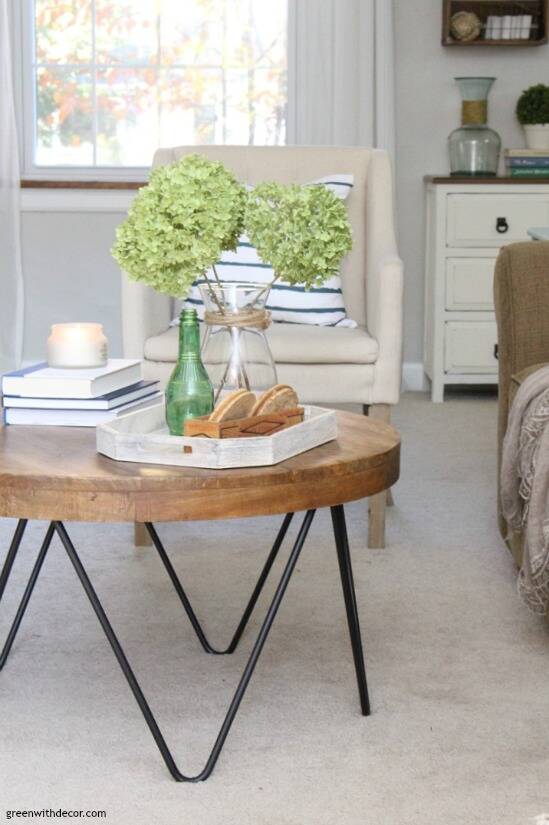 GET THE LOOK:

I just love the coffee table. The round wood is so pretty, and even though it's dark when I was going for lighter furniture in here (because our couch is so dark), it was too good to not buy. Don't you think?! Plus the legs are thin so it doesn't take up a lot of visual space, which makes the dark okay in my book.
That little modern side table by the chaise is a fun little touch, too. It's easy to move around but still holds a drink and a book if you're sitting over there. It's a cozy little corner.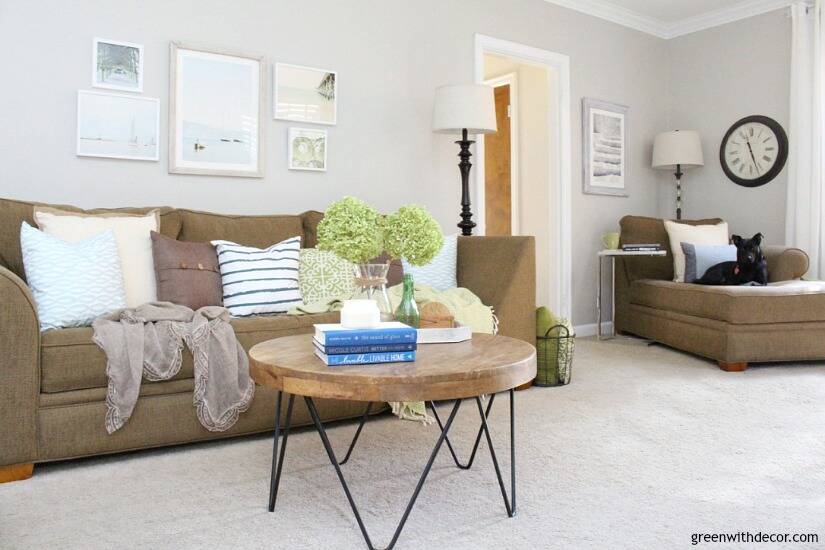 Oakley is clearly a fan of the chaise corner, too.
And that's the coastal rustic living room! We're excited to have such a big room knocked off the to-do list, although I'm sure I'll be rearranging the mantel or the crate wood shelves sometime soon just for fun.
You can catch up on all of the living room decorating and DIY projects here:
I get the most questions about where I got something, and  the list is quite long for this room. I included small clickable photos  underneath most of the photos above so you can shop right from those, but if  you're looking for something else, scroll down below my signature/email signup, and I have the whole long list pasted. Let me know if I forgot anything!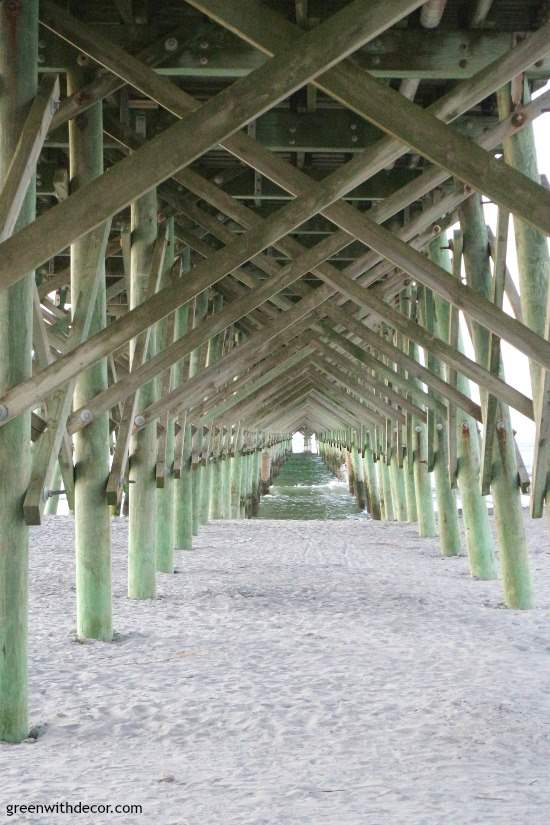 WANT A COPY OF THE GREEN PIER PHOTO?  
Click one of the options below to download it. Note the picture can be printed as an 8×10 or smaller. I printed it as an 8×10 and then cut it into an 8×8 square to fit in the frame I bought. (Here's a link to the frame if you're interested.)
If you're already an email subscriber, hop over to my free printables library to grab a copy. You can grab the password to the free printables library from the bottom of any of my emails.
If you're not an email subscriber yet, sign up here and then you'll have access to everything in my free printables library – enjoy! It's my little way of saying 'thank you' to everyone who subscribes and follows along.
If you want to save this post for later, remember to bookmark it or you can pin it here: 


Want to read more posts like this?
Follow along: Get my emails | Facebook | Pinterest | Twitter | Instagram | Google+
Get the look:
Here's the long list! Let me know if I forgot something.
Wall color: Agreeable Gray
Couch, we've had it for years and still LOVE it. It comes in multiple colors
Tables:
Artwork (all come in multiple sizes):
Mirror is from a local home decor store. I've gotten a lot of questions about it, and I can't find anything similar online, unfortunately!
Curtain rod, but they're not always available. These are similar.
Pillows:
Blankets:
Gold fireplace screen from At Home, don't see it online anymore, similar here
Smaller decor pieces:
Lights:
Books:

On the coffee table:
On the farmhouse chest:
On the white side table: