If you're stumped on how to find your decorating style, read this article for 5 easy to follow tips! These ideas will help you to narrow down your interior design style.
Do you ever scroll through Pinterest or watch an HGTV marathon and love everything you're seeing? Farmhouse living rooms, glam bedrooms, modern bathrooms?
And then get a little overwhelmed with all of the pretty decorating ideas out there? Because if you had ALL of that stuff in your house, it would look like some kind of home decor museum of styles instead of a nicely decorated house?
Oh yeah, been there.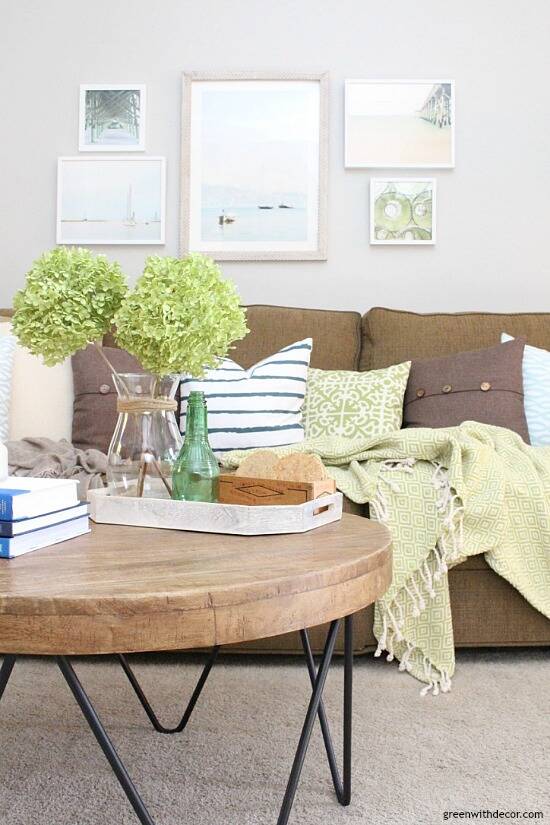 I've gotten various questions on how to find your decorating style, especially after I wrote the post about where to start when decorating your whole house. Because after you figure out what room(s) to start decorating, what about if you don't quite know just what to start decorating with?
I'm no expert, but I used to feel kind of lost on what my decorating style was, too so I thought I'd share what I've learned works for me over the past few years. Hopefully it can help you, too!
This post contains affiliate links. This means if you click the link and buy something, I may receive a small percentage of sales at no extra cost to you.
How to find your decorating style:
1. Start a 'favorite rooms' Pinterest board.
Be SUPER strict with this board. It isn't for pinning every gorgeous image you see on Pinterest. (There's nothing wrong with that – just use your other boards for that!)
Your 'favorite rooms' Pinterest board is only for pictures that you absolutely LOVE: the living room with the gorgeous couch, gallery wall and coffee table that all comes together in the best way possible … your dream kitchen with the perfect white counters and cabinets … the bedroom with the beautiful bedspread and pretty nightstands that you can totally imagine sleeping in every night.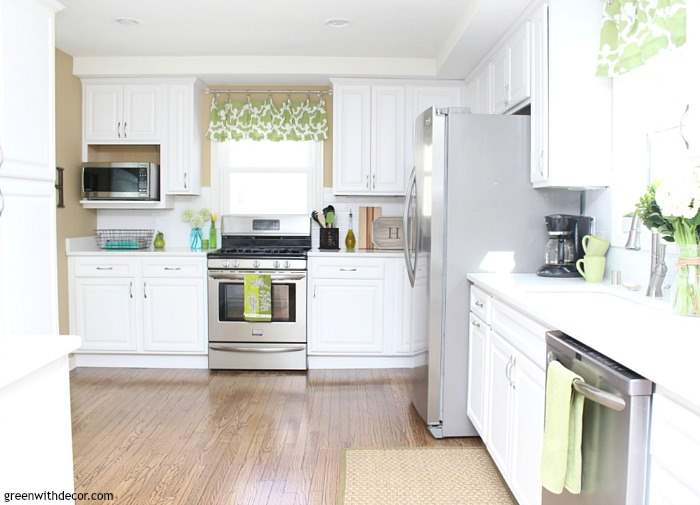 Or if there's a living room that you don't really like, but the coffee table is quite possibly the BEST coffee table you've ever seen in your life, pin that one, too so you remember the coffee table. (But also remember that's the ONLY reason you pinned that pin and don't get distracted by the rest of the room you're not loving.)
I'm on Pinterest allllll the time if you want to scroll through my pins or room-specific boards for a place to start!
Other picture inspiration:
HGTV:
You know those HGTV room makeover reveals you just LOVE?! HGTV has most of their episodes listed on their website. Now this is a little more work, but if there's a room you really just love, it's worth saving a picture of it.
Find the episode on their website, and add a picture or two of the finished room to your 'favorite rooms' Pinterest board.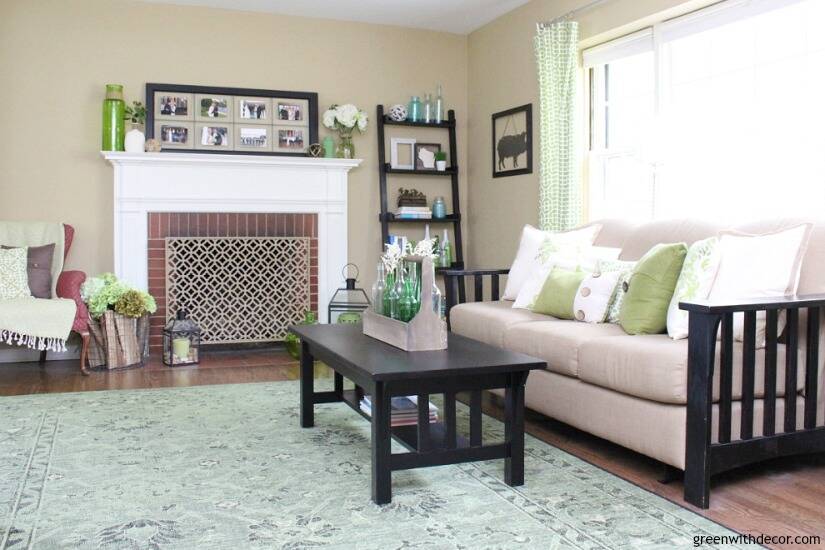 GET THE LOOK: Rug | Window turned picture frame (DIY) | Coffee table | Ladder shelf | Green pillow | Cream pillow
Shopping:
If you're online shopping, it's obviously easy to just pin images from retailers' websites to your 'favorite rooms' Pinterest board.
If you want some shopping inspiration, I share my favorite light fixtures, artwork, rugs, ceiling fans, etc. on this shopping guides page.
If you're out and about shopping and see the best ever light fixture or wall art, take a picture so you don't forget. You can even create a 'favorite rooms' album within your camera roll so you keep these pictures all together.
Just remember to focus on things you LOVE – not just everything you think is pretty or you could end up with 100 pictures on your phone and feel totally overwhelmed.
2. Look for similarities among the images.
After you've saved a good amount of images to your 'favorite rooms' board, look at the board.
Do all of the images on your 'favorite rooms' board have white walls? Dark walls? Wallpaper?
Are there fun statement light fixtures or simple, smaller table lamps?
Is there a lot of artwork or are the walls mostly blank? Or a big piece of focal art?
If you want more help on artwork, check out this post on tips for choosing the perfect artwork for your home.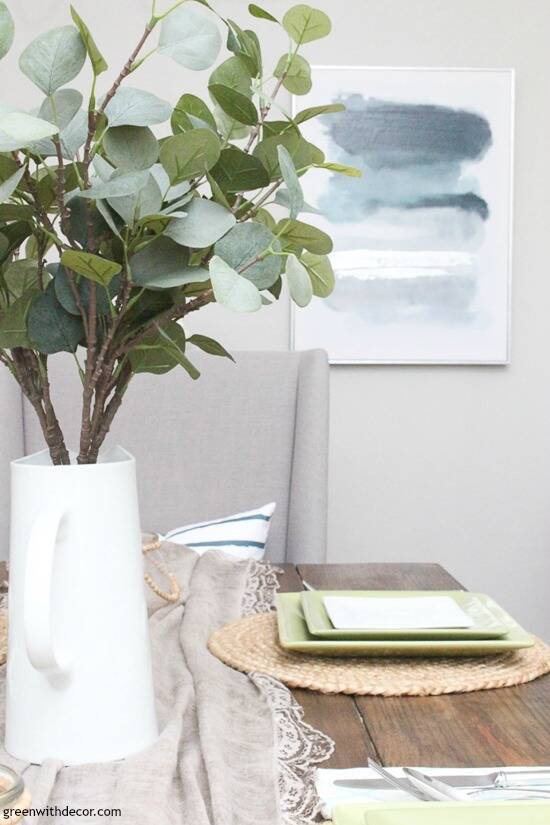 GET THE LOOK: Pitcher | Faux eucalyptus | Table runner | Jute chargers | Artwork
Are there a bunch of colors and patterns or are the spaces mostly neutral?
Which textures keep appearing over and over? Throw pillows, greenery/plants, cozy blankets, natural wood, painted furniture, glass vases, hardwood floors, rugs, gold hardware, mixed metals, etc.?
These things that keep appearing over and over, those are the things you love, that you're drawn to. That's what you should be decorating with because it makes you happy. (It's your house, after all!)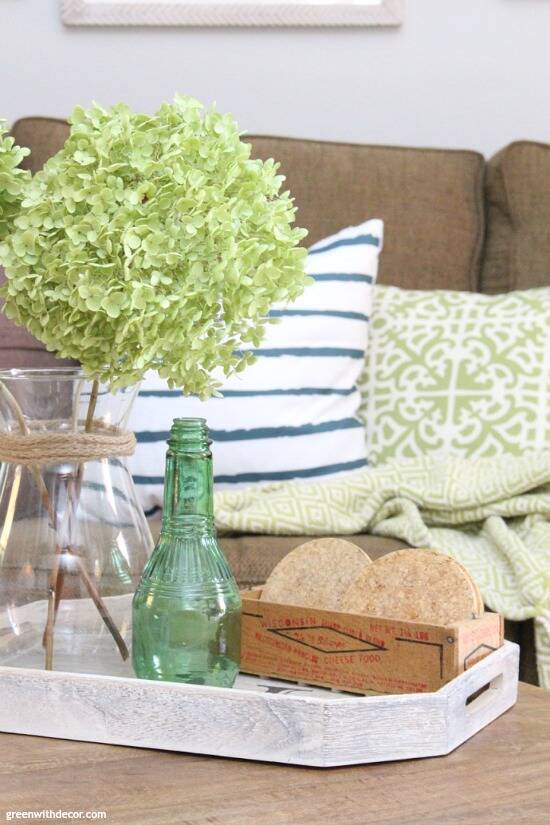 GET THE LOOK: Blue pillow | Green pillow | Blanket
For me, I love neutrals, greens and blues, neutral walls, a mix of wood and painted furniture (in mostly neutral colors), glass, rope, greenery (or hydrangeas!), and a mix of cozy pillows and blankets.
Now that doesn't mean every room in our house has ALL of those elements (and nothing else!), but it's a good guide for me when I'm decorating.
3. Which images stand out like a sore thumb?
Do you have mostly modern glam images and then a random farmhouse living room filled with shiplap?
Or images with lots of silver hardware or accents and then a random kitchen with gold hardware everywhere?
If you only pinned one or two images of a certain style or look, it's probably not something you love. Delete or move it off the board. (If you still love the image, just pin it to a different board instead. You can totally appreciate other decor styles without actually decorating in that style.)
Our old guest room (black, red and tan) didn't really blend with most of our house – kind of like an image that might stand out on my 'favorite rooms' Pinterest board.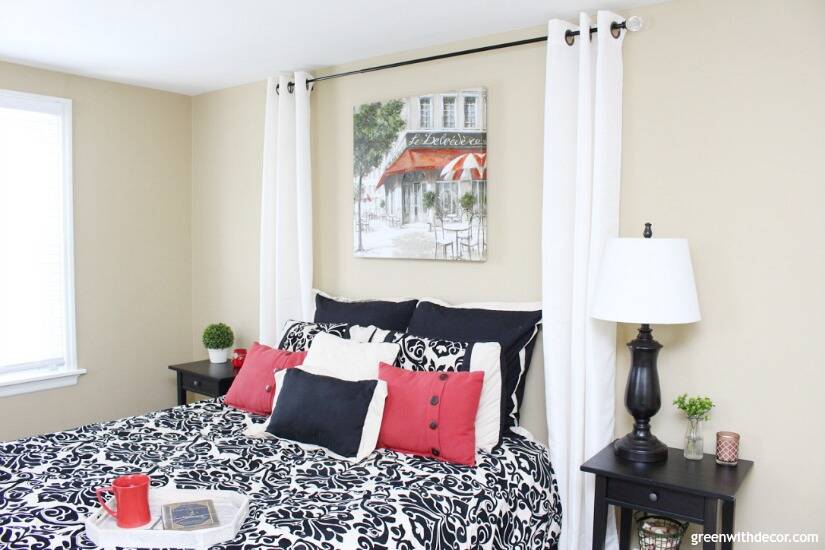 GET THE LOOK: Comforter | Curtains | Curtain rod | Canvas
4. What do you currently decorate with that isn't pictured on your 'favorite rooms' board?
I used to decorate with a lot of red. I started years ago, and then, as things go, I just kept using it. But over time, the images I was loving on Pinterest were filled with neutrals, greens and blues.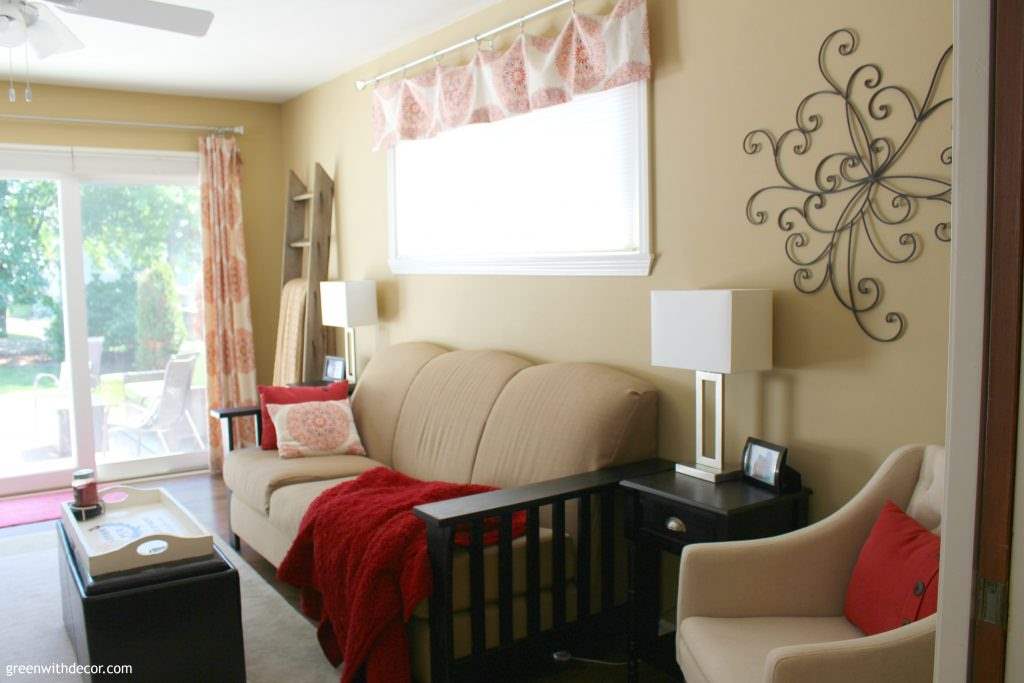 GET THE LOOK: Ladder here or here | Curtains | Red pillows | Lamps | End tables | Wall decor
Eventually it dawned on me that I wasn't going to get the look of those rooms I was loving if I kept using red … because duh, those rooms didn't have ANY red in them. (Nothing wrong with red, I loved it at one point. I just got sick of it.)
Look for pieces/colors/patterns in your home that aren't necessarily things you're drawn to – things you're not pinning to that 'favorite rooms' board.
This can be hard because it's SO easy to be blind to things we have in our own homes and see everyday. (It took me a while for the red thing to dawn on me, I get it!)
Get rid of those pieces. Put them in a different room, or local Facebook buy/sell groups are awesome for this. It's somehow easier to purge stuff when you're making some money that you can use to buy new stuff. For me it is, anyway.
All of the red stuff in this family room? We don't have any of it anymore – the chairs, curtains, artwork are all gone. (Okay, I kept the throw pillows because I bust them out as Christmas decor every December now, but that's seasonal decor and totally doesn't count!)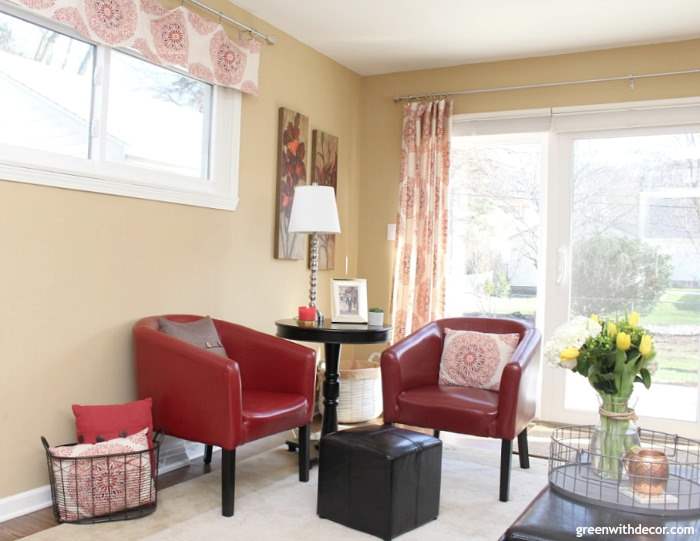 Read this post on how to swap out your color scheme without going broke if you want more tips on switching colors!
5. Pick your favorite five images and use them to guide your decorating decisions going forward.
This isn't an exact science. But pick your top five (or three or seven) images and let those guide you going forward.
Keep pinning to that 'favorite rooms' board as you come across images you love, but remember which images are your top faves. (They may change over time, too.)
Focus on the colors, textures and overall feel of those rooms, and implement those elements going forward.
I think focusing on the elements of your absolute favorite rooms is way more helpful than saying you LOVE farmhouse style or coastal style or glam style.
Because those styles are great and all that – and I can totally appreciate the good design of a chippy, shiplap-clad room or a dark and moody glam space – but it's not what I want in my house.
(I'll take a chippy piece of furniture or two without the shiplap wall behind it.)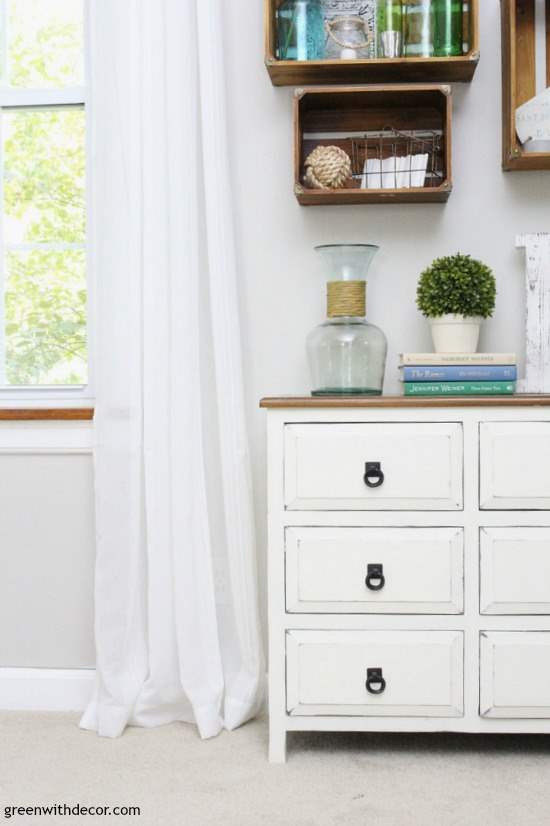 Tutorial: How to distress a dresser for a chippy farmhouse look
By focusing on your top five favorite pictures and the elements you love about them, you'll automatically be picking and choosing the parts of those different styles that you love – all while creating your own decorating style so your home is a place you love.
Hopefully this is helpful if you're feeling stumped on how to find your decorating style. Once I started using this method, it really helped me.
What else has helped you narrow down your decor style? I'd love to hear!
Here are the decorating posts I mentioned earlier if you want to see them:
Remember to bookmark or pin this post if you want to save it for later!

Pin it!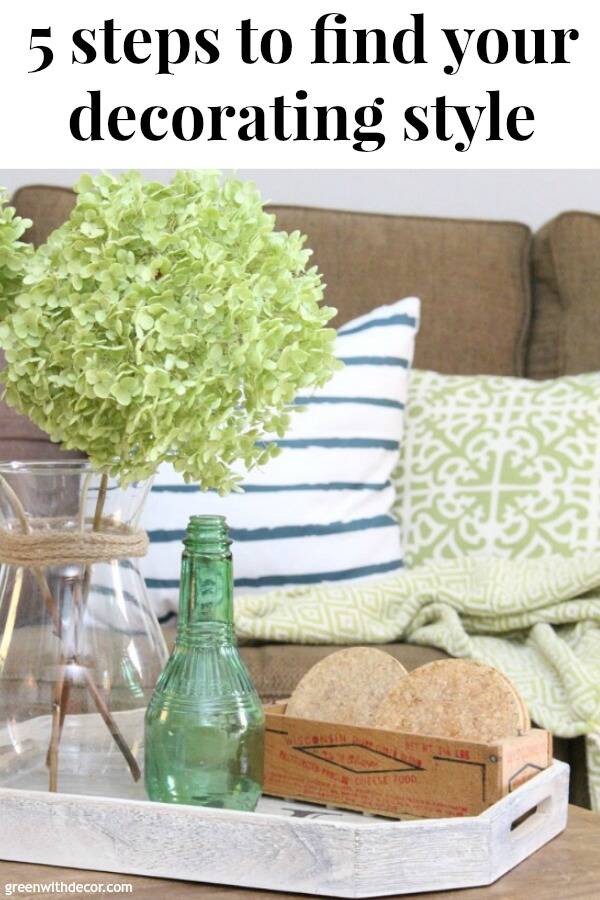 Want to read more posts like this?
Follow along: Get my emails | Facebook | Pinterest | Twitter | Instagram