Read these tips on where to start when decorating a whole house. Don't get overwhelmed trying to tackle every room at once when decorating your own house!
Okay, I feel like I totally lied last week without realizing it!
I said the rental house recap would be the last post about the rental house, and then when I was writing today's post, I realized maybe that wasn't technically true.
The room makeovers and DIYs are done at the rental house, but I may reference some of the projects we did there from time to time when I do more of these decorating 101 posts.
Which brings us today's post: Where to start when decorating a whole house!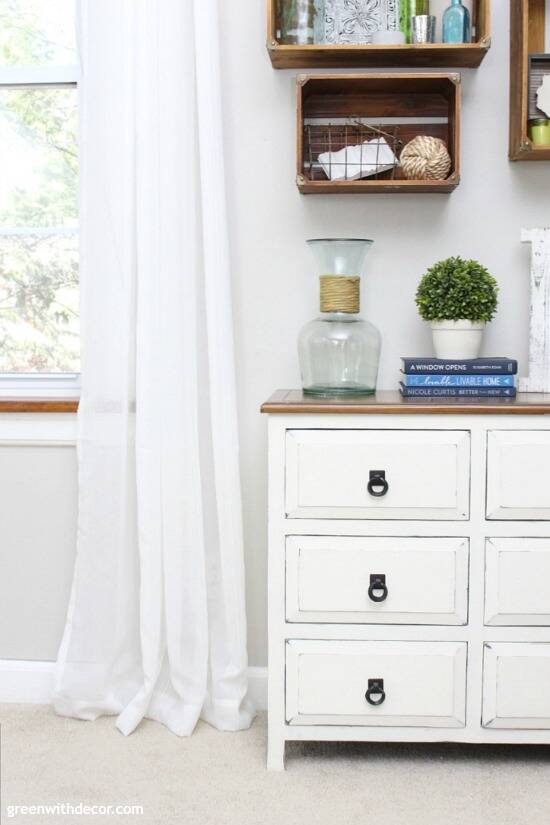 I've gotten multiple questions and comments over the past year-plus that we had the rental house about how we got the house painted and decorated so quickly.
I've been meaning to put this post together for a while, but – somewhat ironic – I was so busy actually decorating the rental house that this post just kept getting pushed down the to-do list.
So now that the rental house is done, it's about time for a post with tips on how to decorate your own house without feeling overwhelmed, don't ya think?!
Moving into a new house is super exciting … and then can seem super daunting once you start unpacking ALLLLLL those boxes and trying to decorate and turn your new house into a real home while still trying to live everyday life.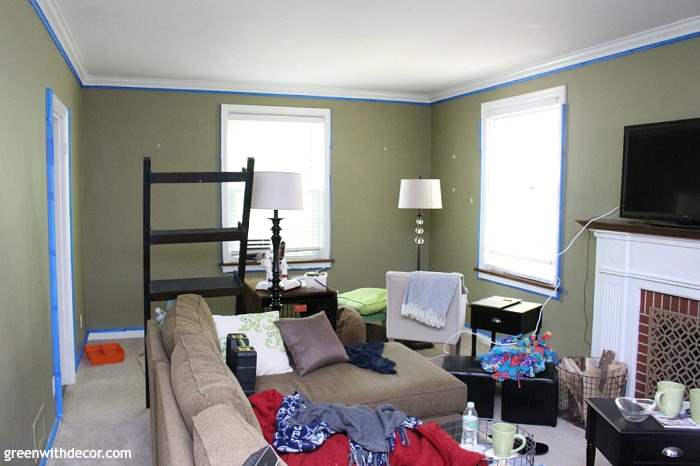 After decorating three (outdated) houses from scratch, we've learned a thing or two about decorating a house from start to finish. (Tour our Milwaukee house here, Cincinnati house here or rental house here to see all of the befores/afters we've tackled.)
We're no experts, but here's what three houses have taught us!
Where to start when decorating a whole house:
Here are the questions and things we consider that hopefully will help you decorate your own house:
1. Are you planning any big renovations right off the bat?
This question makes ALL the difference.
Obviously if you're going in and demoing a kitchen on the day you first get the house keys (been there, done that!), then that makes the decision pretty easy.
This post contains affiliate links. This means if you click the link and buy something, I may receive a small percentage of sales at no extra cost to you.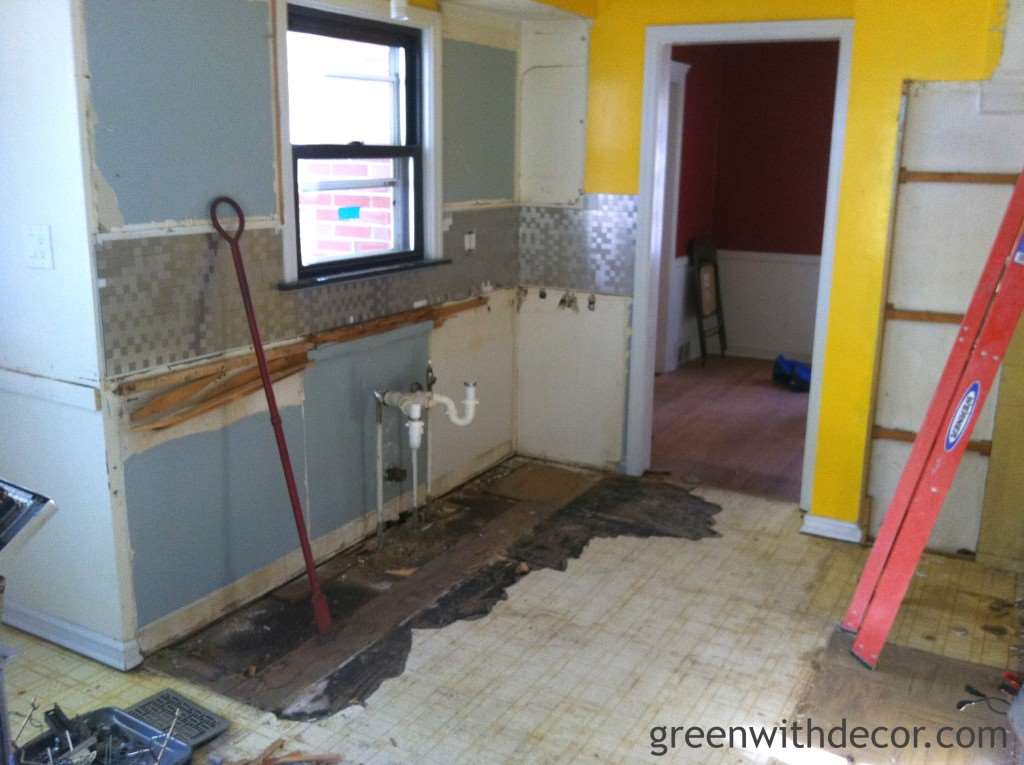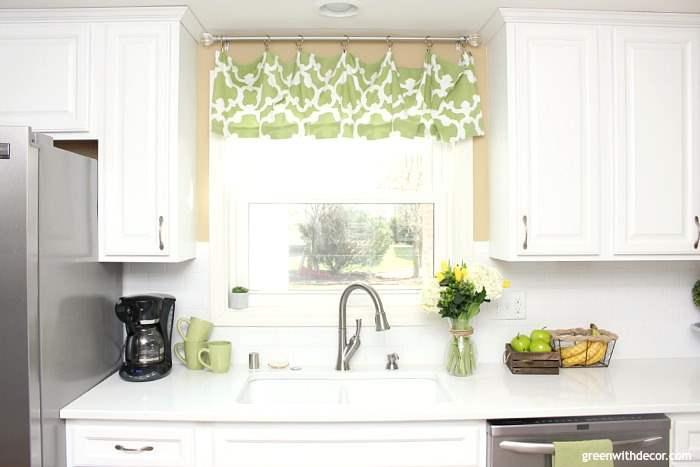 GET THE LOOK: Cabinet handles | Window valance (DIY) | Curtain rod | Curtain clips
We knew before we even moved into our Milwaukee house that we were going to tackle the kitchen, bathroom and family room so those three rooms shot to the top of our to-do list pretty quickly.
They were just so outdated and not our taste, we wanted to take care of them so we could get them done and then really enjoy the rooms.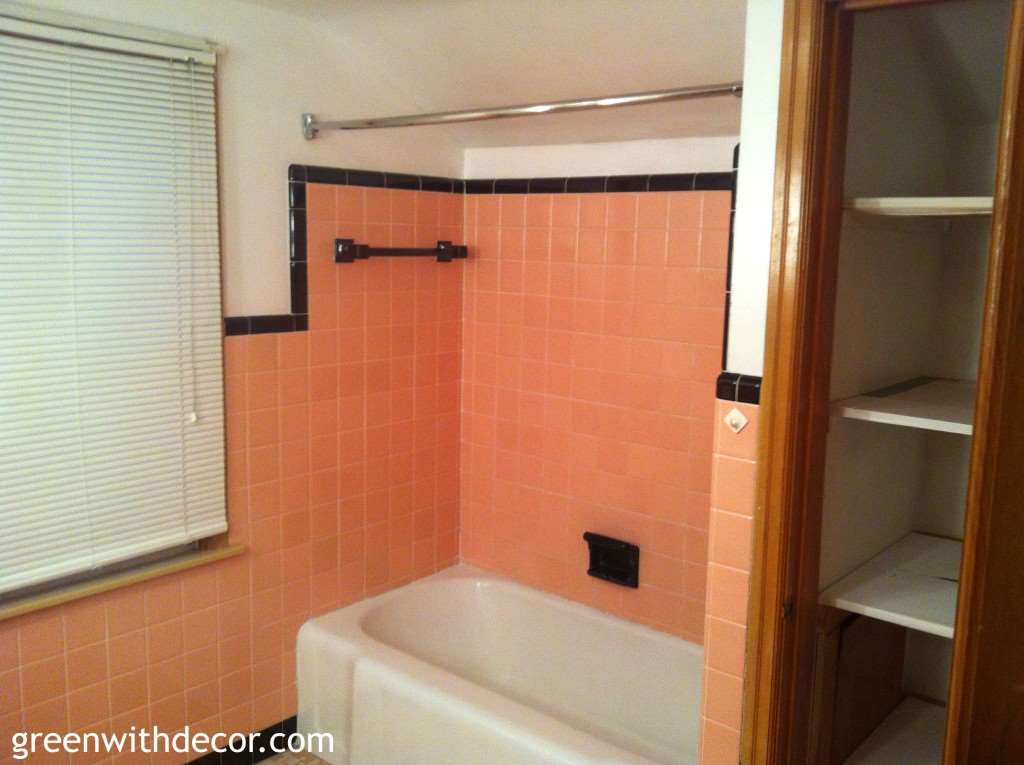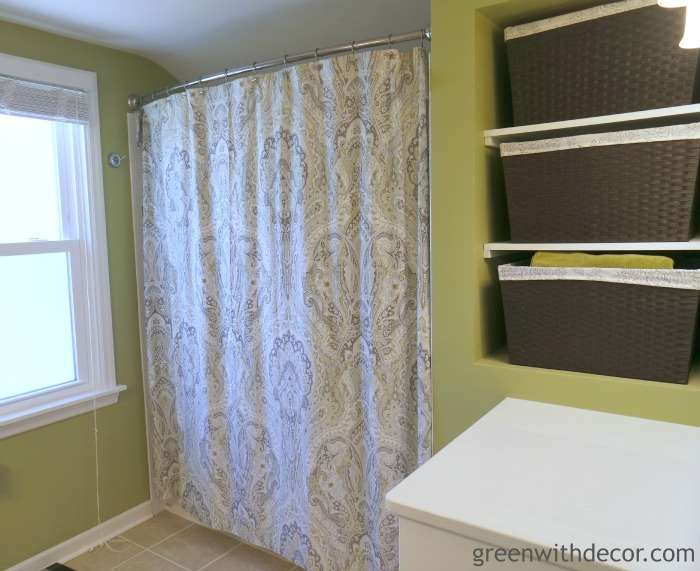 GET THE LOOK: Vanity | Curved shower curtain rod | Baskets
Obviously if you're not doing any renovations right away, this doesn't apply so I'd start with question #2 below.
2. What room(s) do your family spend the most time in?
This always leads us to tackling a family room or living room first just so we have a relaxing place to hang out, enjoy a drink and watch Netflix.
I mean if you're going to spend time decorating your own house, you have to prioritize, right?!
Here's the before/after of the family room at our Milwaukee house: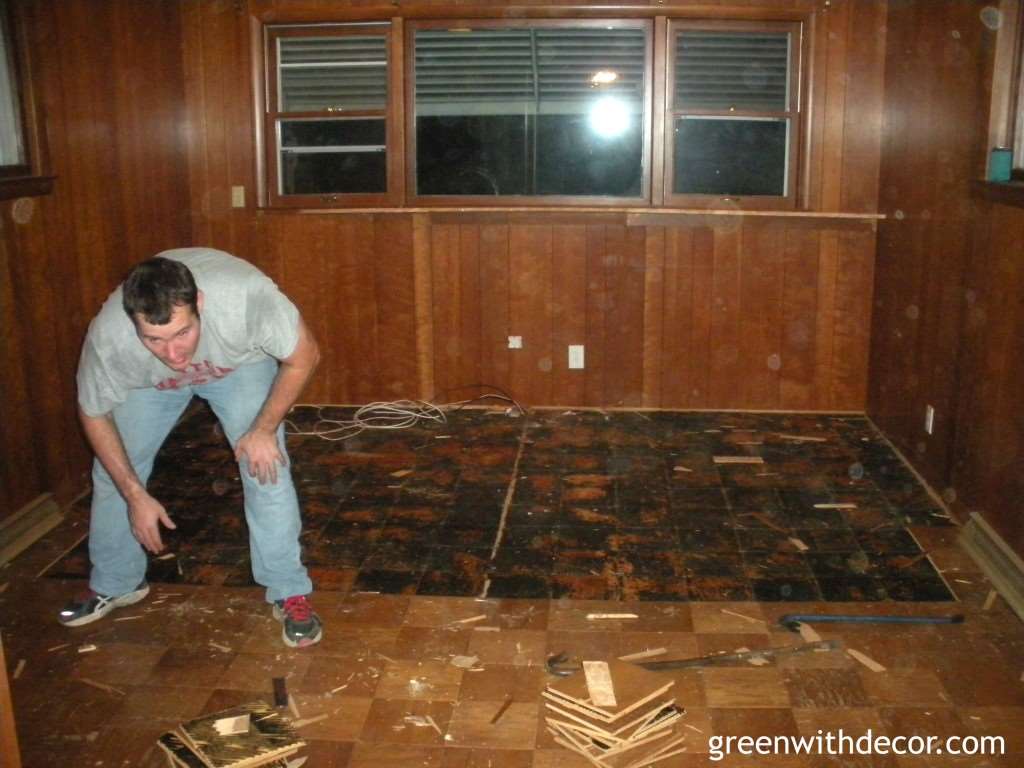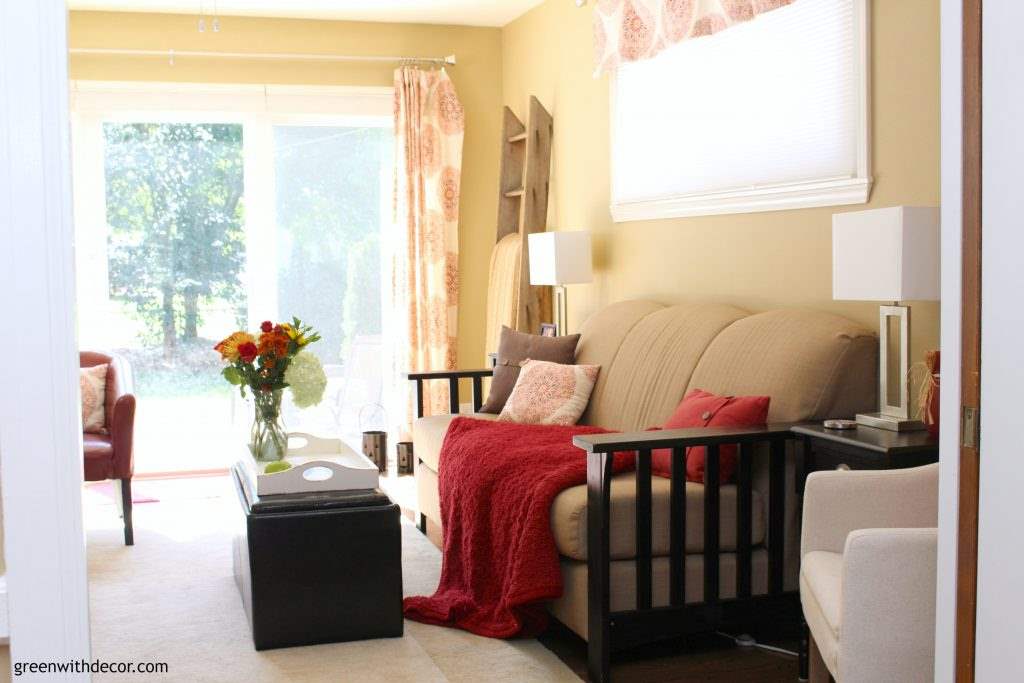 GET THE LOOK: Ladder here or here | Rug | Curtains | Red pillow | Lamps
And the before/after of our living room at the rental house: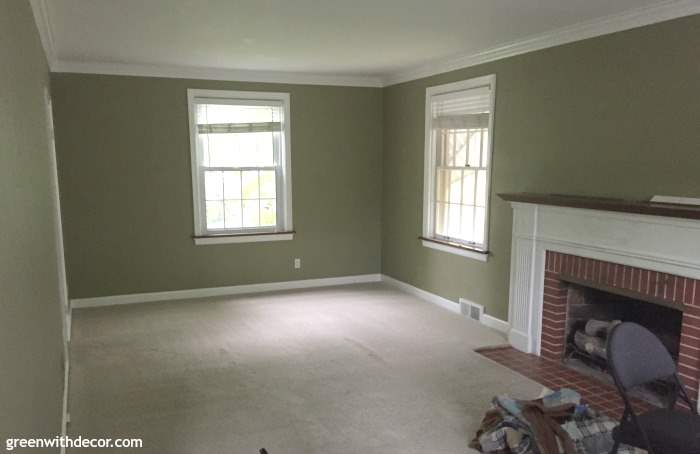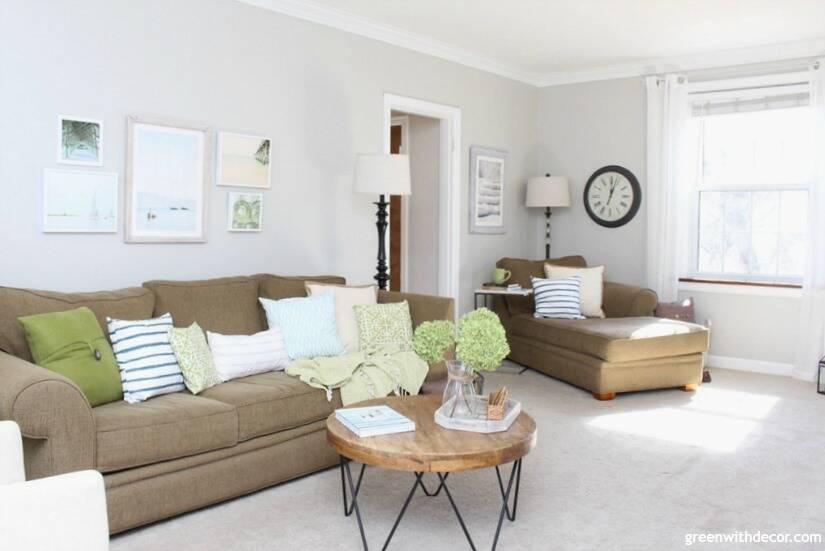 GET THE LOOK: Couch | Artwork: Boat 1, Boat 2, Pier, Fishing nets | Pillows: Blue striped, aqua + white, green+ white | Green + white blanket | Coffee table | Curtains
This might also mean tackling kids' bedrooms or a playroom to help your kids feel settled sooner.
Plus if they have a space they can enjoy and play in, you just might get a bit more time to yourself to tackle other room makeovers!
3. Which rooms will make your everyday life easier?
Sometimes this means more organizing than decorating, but there's no reason you can't combine the two!
Think mudrooms and back foyers. Where are you going to dump shoes, coats, backpacks, purses, the dog leash, keys, sunglasses, etc. every day?
Having a spot all set up for these everyday routines makes life so much easier and will totally make you feel like you have it all together! At least, I feel way more together when these things are taken care of.
Our mudroom started as a blank, empty wall: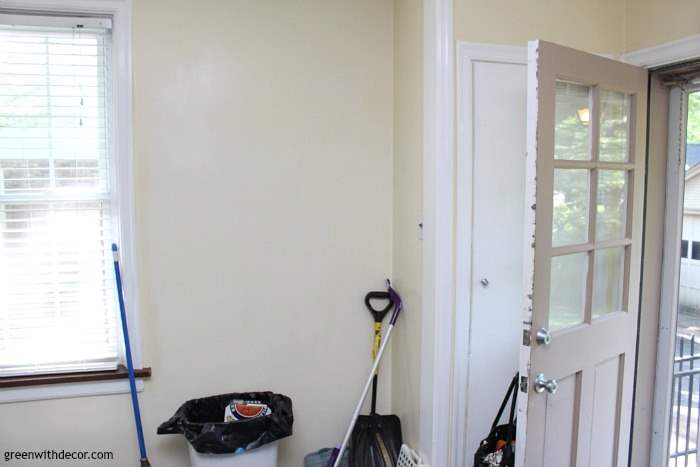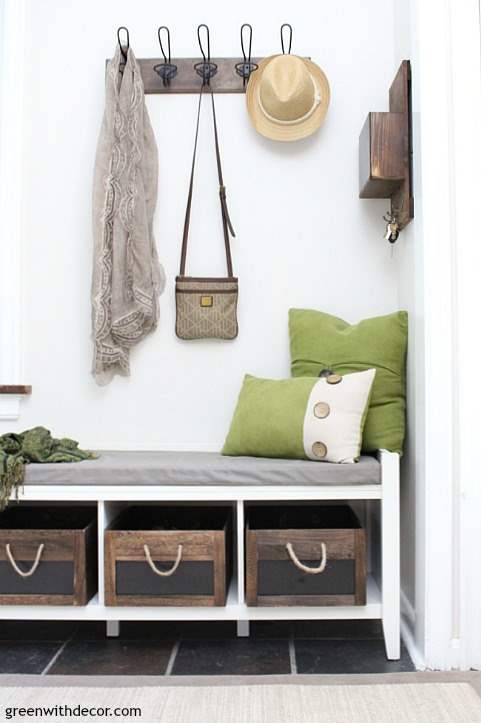 GET THE LOOK: Hooks | Brown scarf | Green scarf | Message center | Bench | Crates | Rug
Organizing the kitchen cabinets and bathroom vanity can make a huge difference, too, even if you're dealing with outdated counters or old flooring.
(See my easy tip for getting more storage in your kitchen cabinets!)
If a kitchen renovation isn't in your budget or plans, check out this post on ways to update your kitchen without renovating.
4. What small room could you tackle and get done quickly to get off your list?
Decorating a whole house can seem like too much at once, so sometimes it helps to think about small spaces first!
This is why I love bathroom makeovers, especially powder room makeovers, because they're usually super quick and easy.
And when you get a whole room done, even if it's just a tiny bathroom, it can make you feel SO accomplished and give you more momentum to keep going!
Here's the before and after of our Milwaukee house powder room: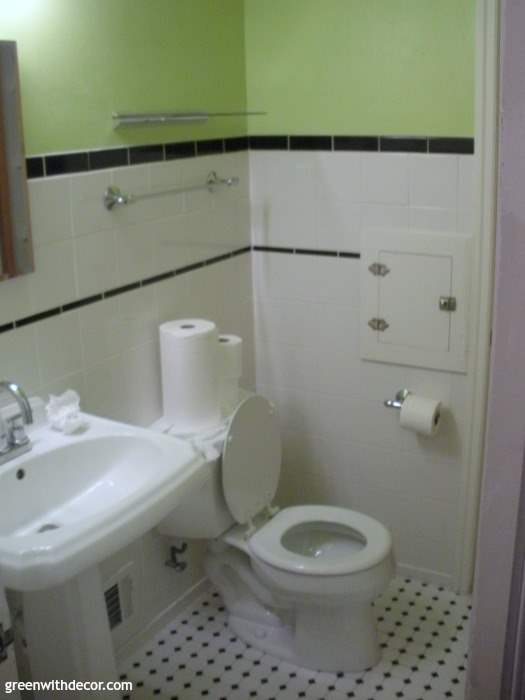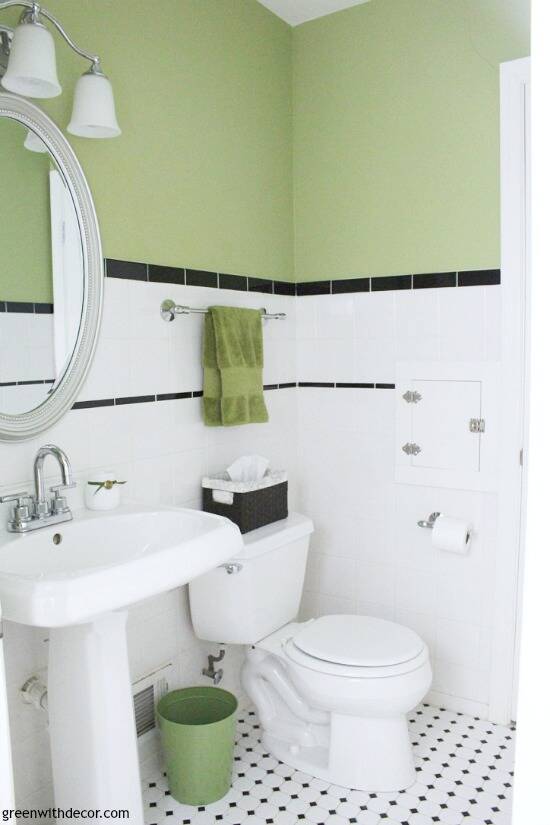 GET THE LOOK: Flooring | Basket
Bathrooms are small, so even if you're planning other, bigger room renovations down the road, think about if you can tackle a bathroom renovation sooner.
Or maybe your bathroom doesn't need a total renovation – just some quick fixes to make it feel new. There are plenty of things you can do to a bathroom that make a huge difference.
Think painting the walls and swapping out the mirror. Check out this post on ways to update your bathroom when you can't renovate for more ideas!
Here's the before and after of our rental house coastal bathroom: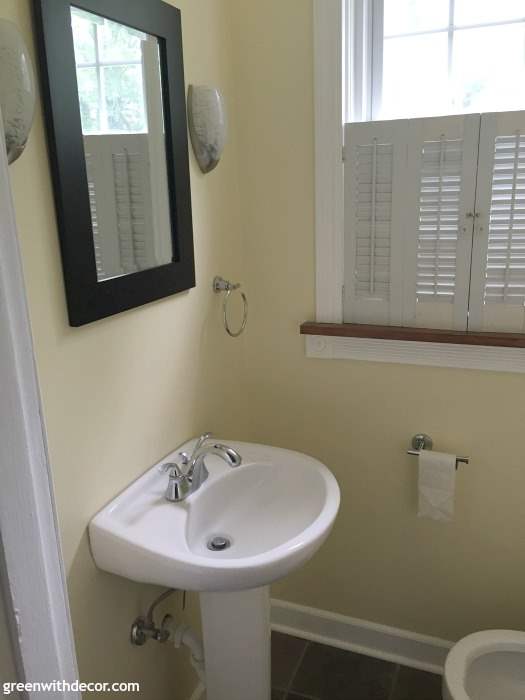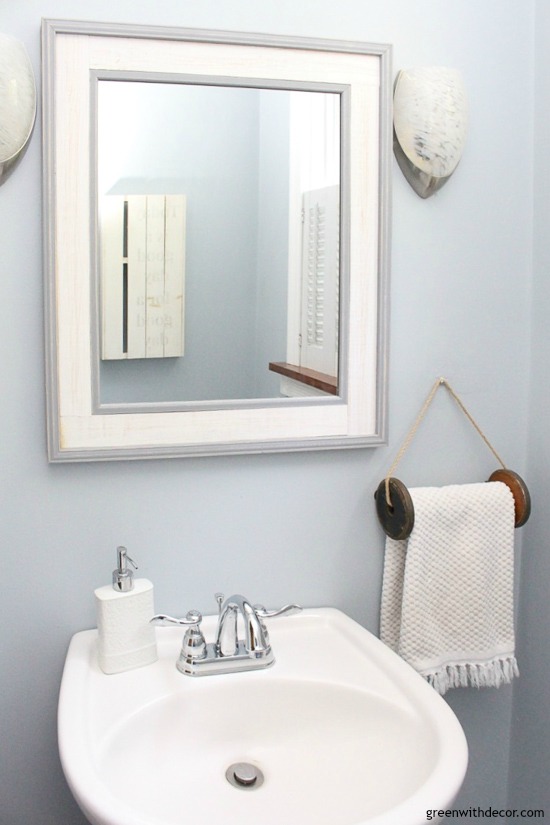 GET THE LOOK: Soap dispenser | Wooden spool towel rack | Hand towel
5. Which rooms can you ignore for now?
Think about which rooms don't need to be decorated for a while and give yourself permission to just ignore them.
It's totally freeing.
Think extra bedrooms, a basement rec room, the front foyer if you only ever use the back door, a second living room … the list goes on.
The front foyer idea totally applied to us at the rental house.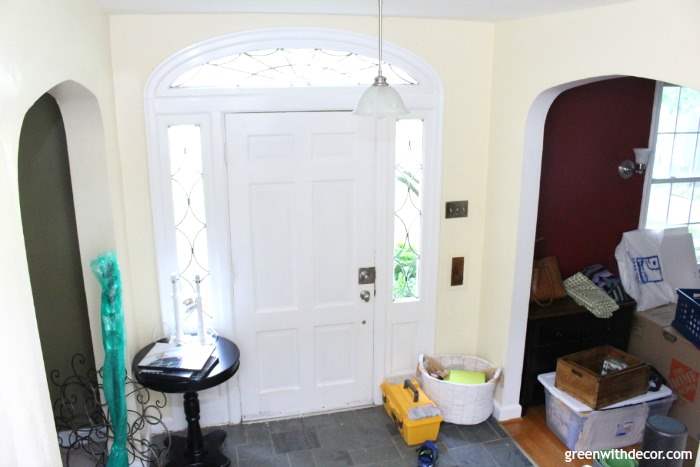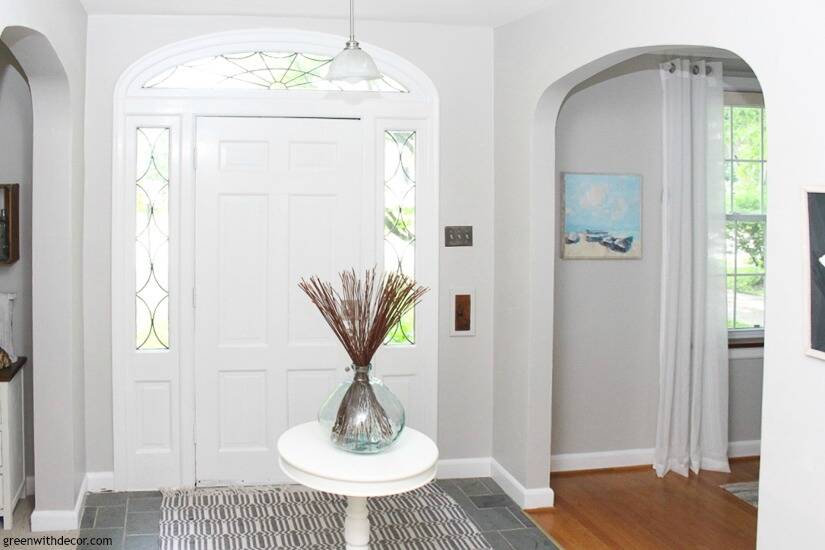 GET THE LOOK: Painted table | Aqua vase | Artwork
We also didn't do much in the dining room until we built the farmhouse table. It just didn't make a lot of sense to decorate a room without the main piece of furniture!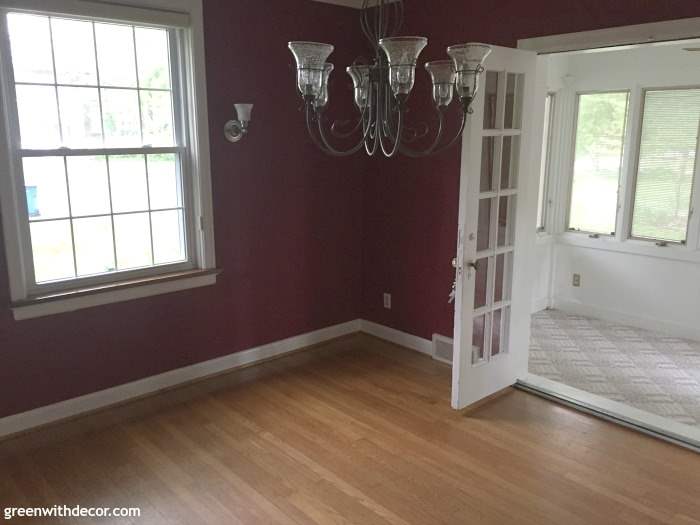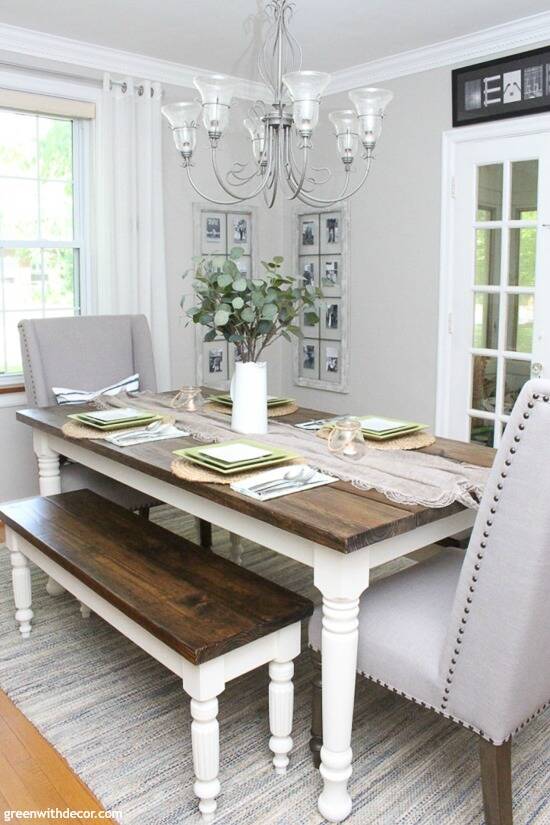 GET THE LOOK: Farmhouse table (DIY) or similar farmhouse tables here | Benches (DIY) | Jute chargers | White plates | White pitcher | Faux eucalyptus | Rug | Curtains
In our Milwaukee house, the home office was pretty low on the list. Neither of us worked from home when we first moved in, so that room was a dumping ground for extra stuff for a LONG time before we got around to it.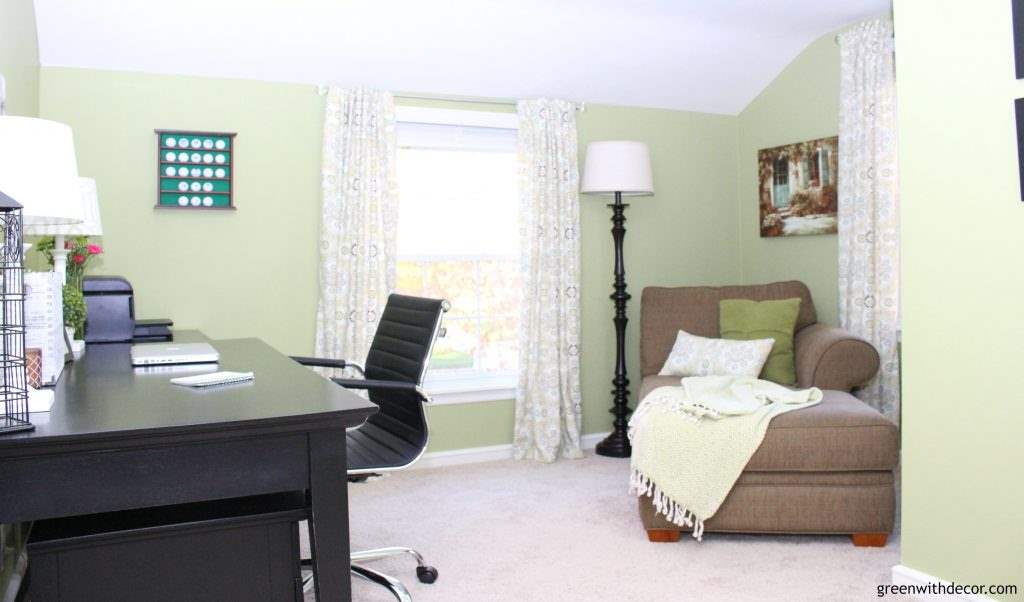 GET THE LOOK: Curtains | Curtain rod | Lamp | Lampshade | Green blanket | Green pillow | Chaise
In our Cincinnati house, we lived with the outdated kitchen for a few years before we tackled the renovation.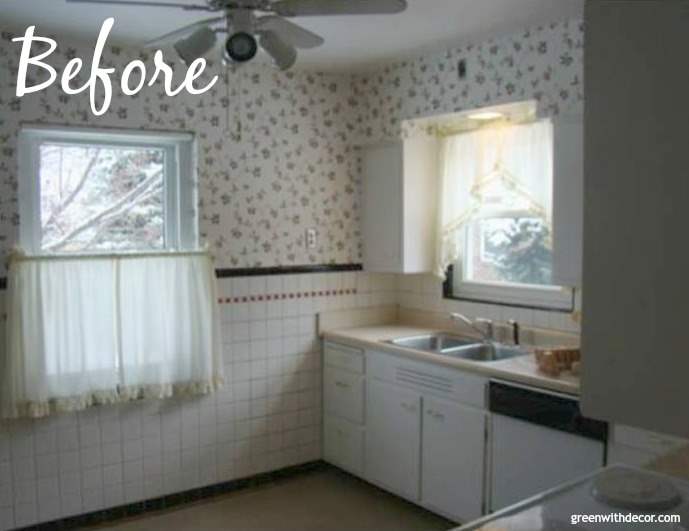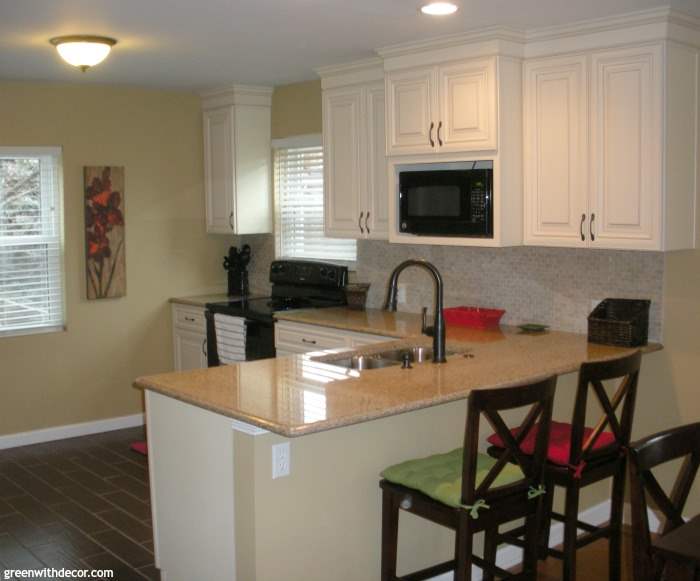 Take the pressure off yourself and just put some rooms on hold for a while.
Remember, decorating is really a process. Rarely do we decorate a room and then never change anything.
So don't be afraid to start. Keep these things in mind and then dive in. You can always make changes, renovate or re-decorate a room later if you decide you don't like it.
Have any other tips when decorating a whole house? What else do you keep in mind when you decorate your own house?
For more decorating ideas, check out these posts:
Remember to bookmark or pin this post if you want to save it for later!


Pin it!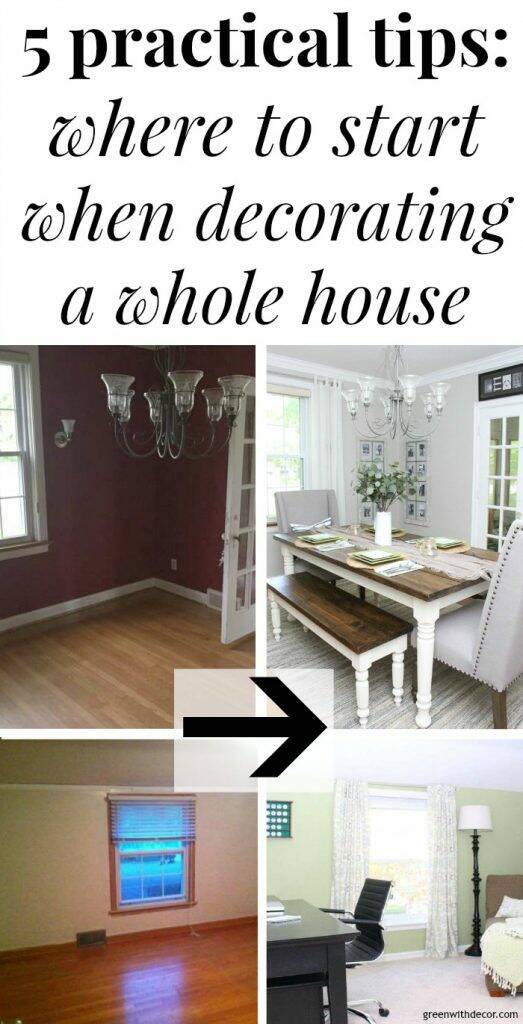 Want to read more posts like this?
Follow along: Get my emails | Facebook | Pinterest | Twitter | Instagram