Disclosure: Wagner covered transportation and accommodations for this trip. All opinions, images and love of DIY painting projects are 100% mine.
If you follow me on Instagram or Facebook, you know I got to hang out at the Wagner headquarters for a few days earlier this month. It was an absolute blast!
Wagner invited a small group of bloggers to their InSpraytional event, and I feel so lucky to have been on that list.
It's really a dream come true in this little blogging journey of mine to get invited to an event with a brand I love as much as Wagner. It was fun to get to spend time with their team and learn even more about their products.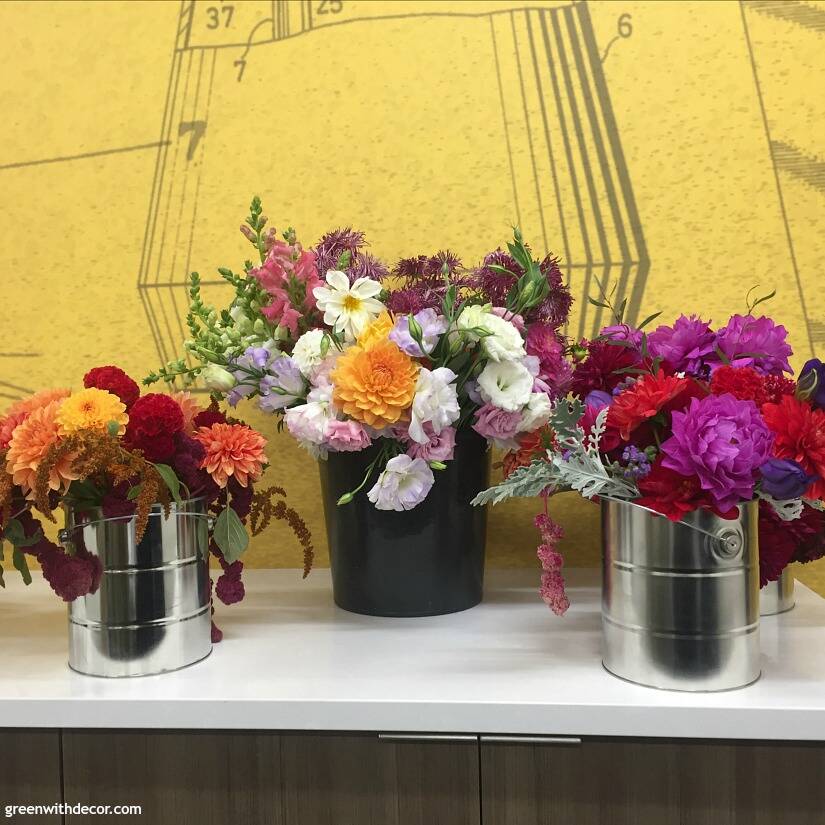 Those are paint sprayer drawings on that yellow wall at their headquarters, isn't that cool!?
Wagner flew us in, took us around to a few hot spots in Minneapolis (more on those below) and had us participate in a design challenge where we each had a few hours to turn two blank walls into a fully painted and decorated foyer.
Painting and decorating are two of my favorite things so this was obviously perfect for me.
The Wagner team was around to help us with whatever we needed – filling a paint sprayer, finding an open extension cord, hanging a mirror, you name it.
Here's my finished foyer: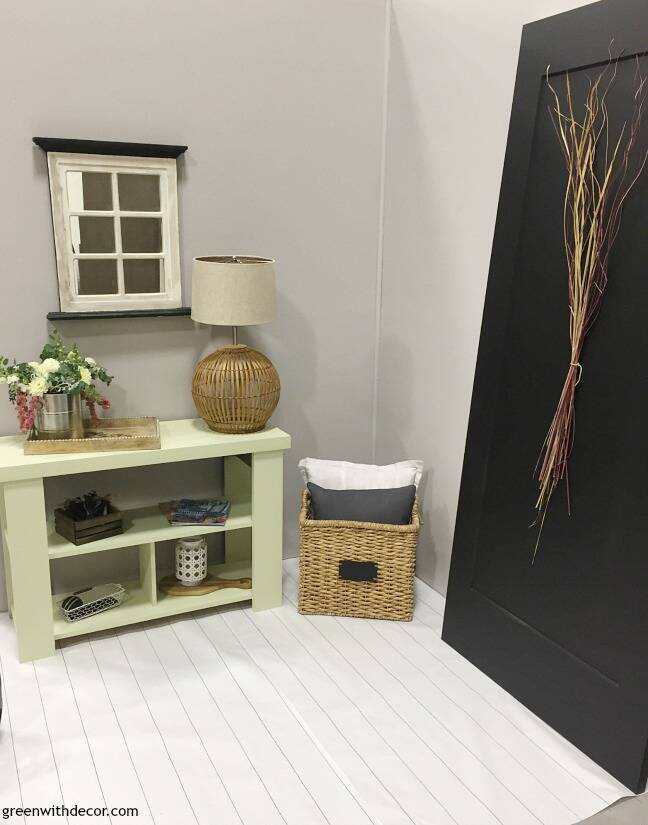 I wanted to do something a little different than my typical decor style since how often do we all get the chance to do that? I just love the black door. I'd never do that in our house, so it was fun to try it out. (Although who knows, I said I'd never paint walls gray either, and we have Agreeable Gray all over the rental house.)
The Wagner team had tons of decorations and accessories for us to choose from to style our spaces. Digging though it all was a blast. I grabbed some things to get started and then went to work arranging them in my space and thinking about paint colors for everything.
Isn't that mirror cute?! I snatched it up right away.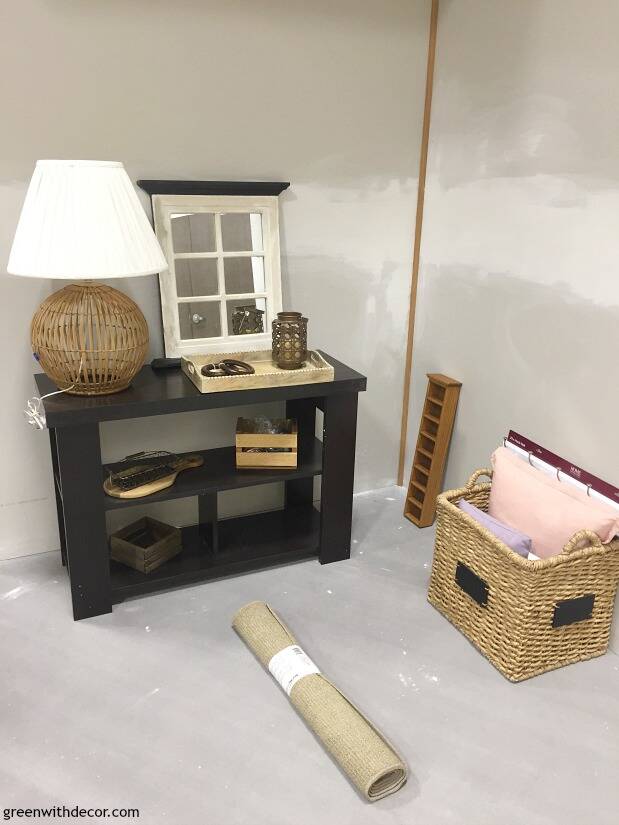 This post contains affiliate links. This means if you click the link and buy something, I may receive a small percentage of sales at no extra cost to you.
I used Wagner's paint sprayers on, oh, just about everything: the walls, door, console table, a tray, pillows, a little lantern and a wire basket.
Painting the walls went SOOOOO fast with the sprayer. Here's a little action shot of me painting my walls with the FLEXiO 3000 Sprayer (available here). Remember if you use a sprayer, you have to get closer to the walls than you think.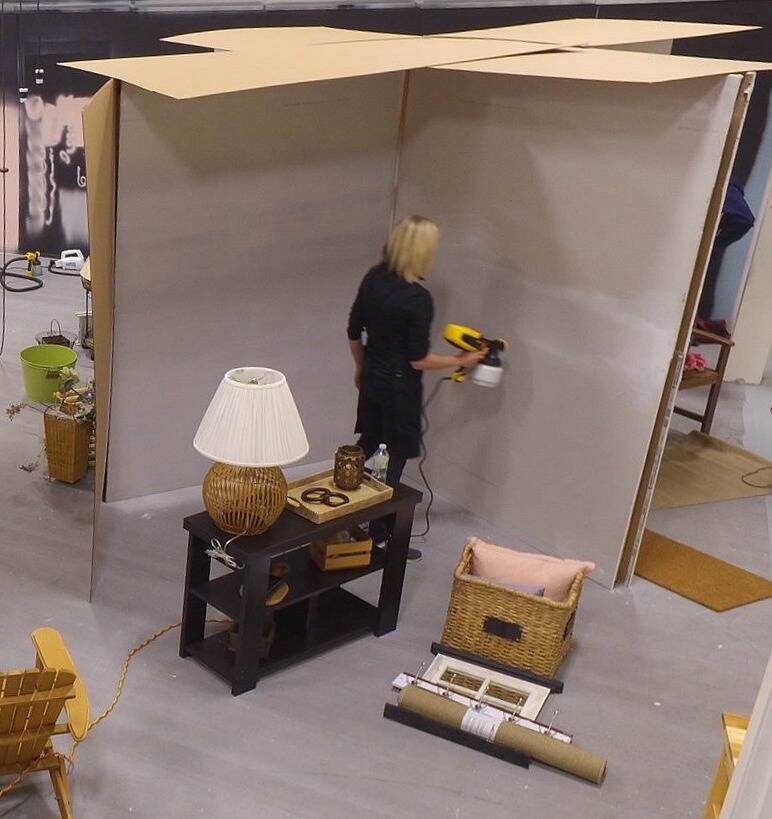 The door was a quick job, too. I did one coat each on the walls and the door, and they both looked great.
Just remember when you're using a sprayer, the paint might look a bit streaky right away, but it will dry evenly so don't freak out!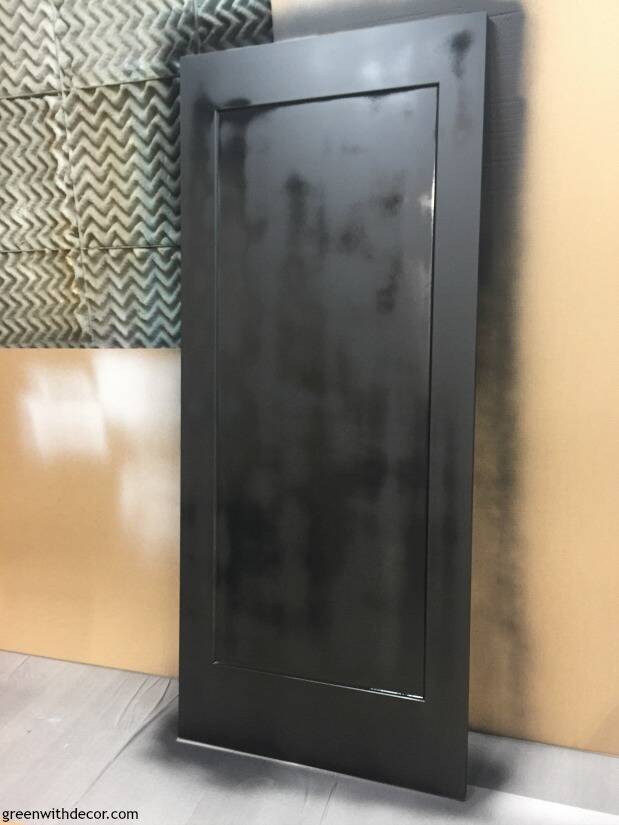 You can see how the door looked after the paint dried: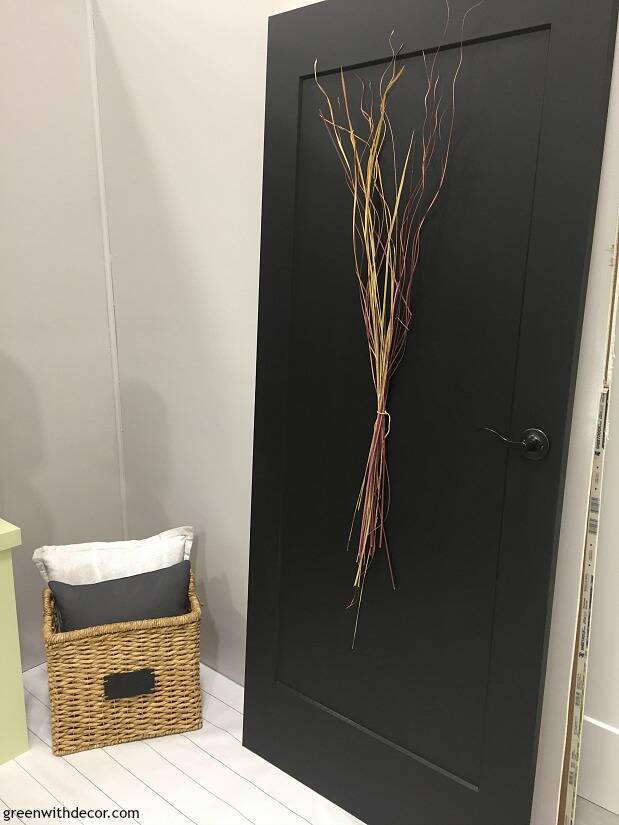 We each had to pick a 'signature color' to incorporate into our design, so of course I had to go with a light green. I figured painting this table green (also with the sprayer) would be a fun pop of color.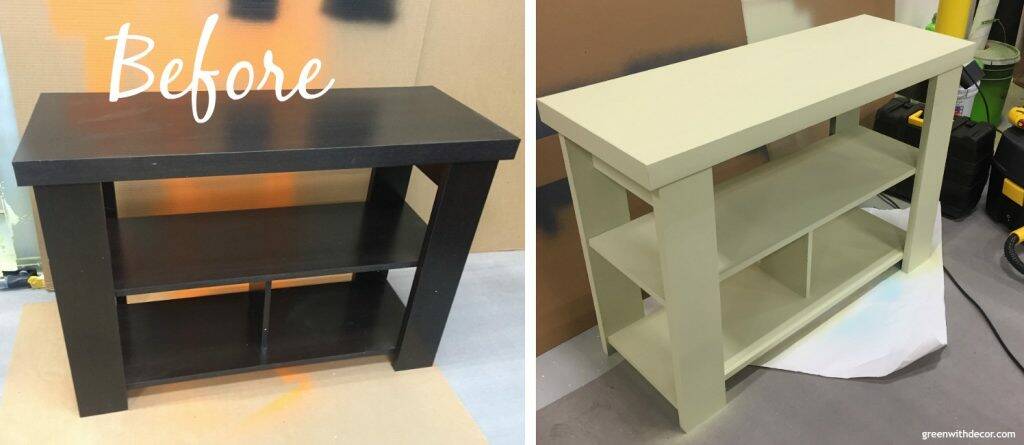 I'd never used the sprayer to do a stencil before (how had I never thought of that?!). This was a faster way to do it than my typical roller method.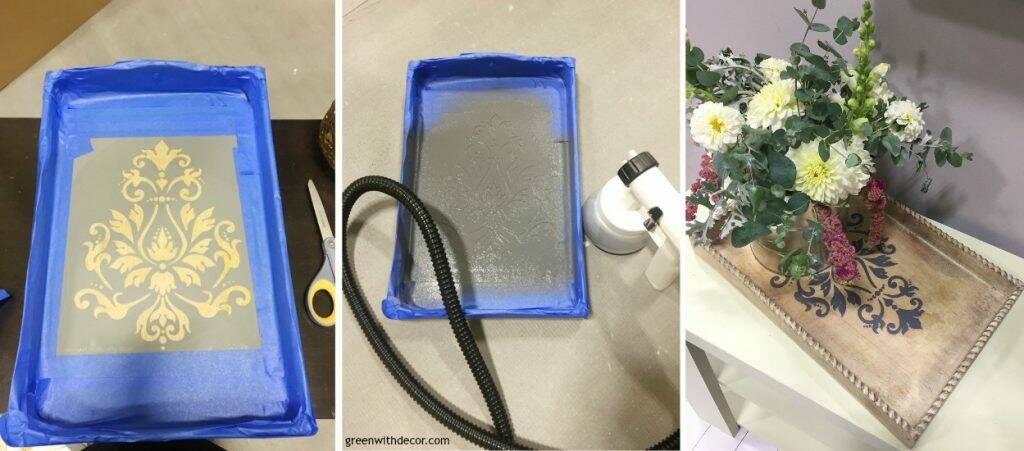 Of everything I used to decorate for this challenge, the tray was my favorite. I just loved the look of the weathered wood with that pretty gray paint. I reaaaally wanted to bring it home with me, ha!
The home decor paint sprayer (available here or here) is perfect for pillows, too. I did a couple coats since the paint was soaking into the fabric, but they turned out great!
Definitely something to keep in mind if you want to switch the colors you're decorating with.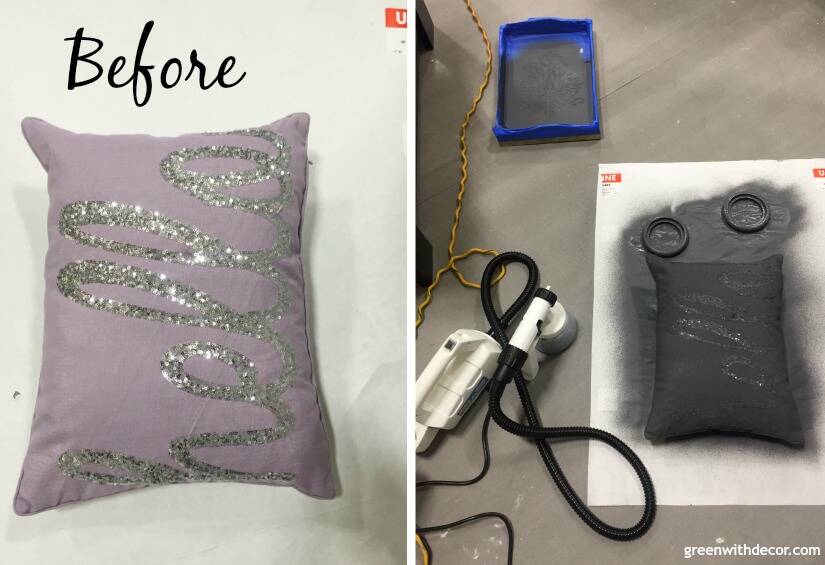 I used the home decor paint sprayer on the lantern and basket, too.

If you haven't used a paint sprayer before, you can read my blog post on how to use a paint sprayer. It's easy once you know what you're doing, and look at everything you can paint with it!
It was fun to knock out so much painting in such a short time!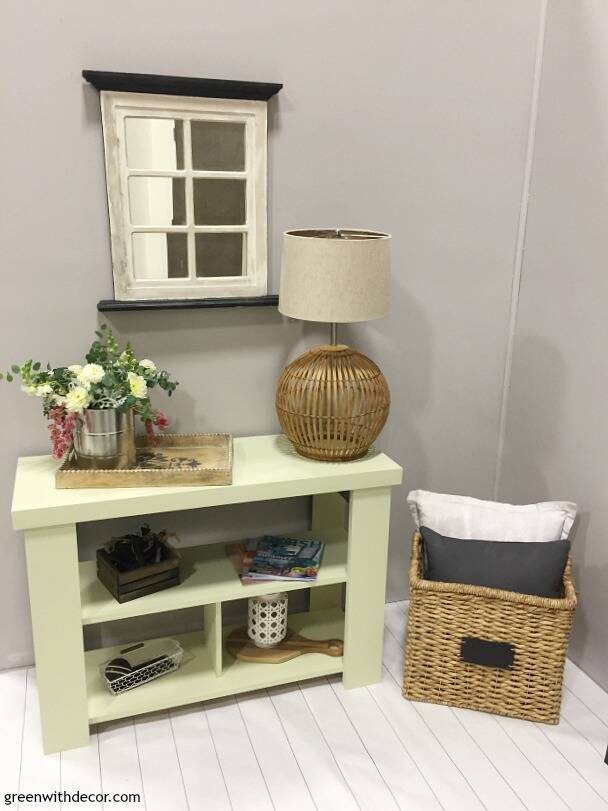 Somehow my outfit ended up matching my room, ha! I promise I didn't plan that.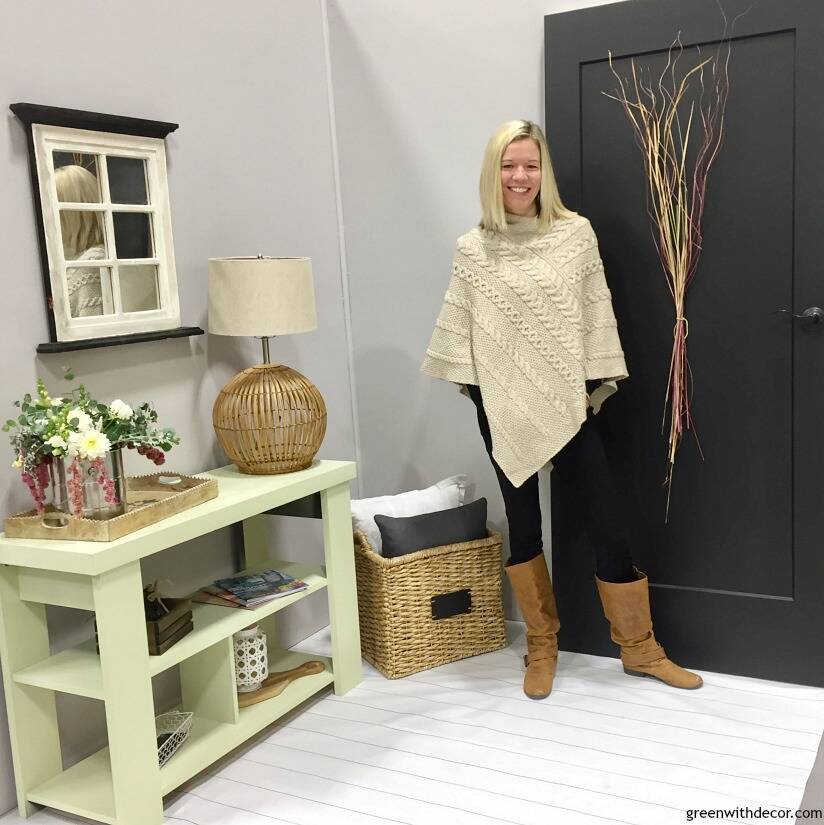 If you want to see the other bloggers' foyer makeovers, head to Wagner's Facebook page.
Throughout the challenge (and the whole InSpraytional event, really), we got to spend a lot of time chatting with different members of the Wagner marketing and product teams.
It was very evident they're passionate about their jobs. It was fun to talk to the people responsible for developing products and hearing about all of the different projects they've done with the paint sprayers and heat guns over the years.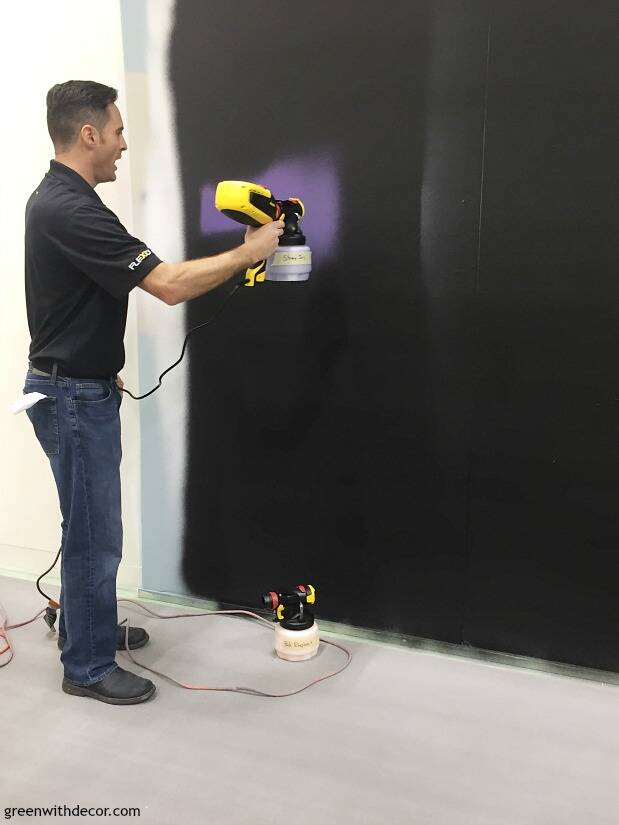 In another life (or a few years ago!), I worked in PR/communications and put together various events like this for brands and reporters/bloggers, so it was fun to see an event like this come together from the other side of things.
Touring around Minneapolis
We spent the day before the design challenge touring around Minneapolis with Matthew Mead to gather inspiration. We started at Foxglove Market, where we walked into a magical room full of so many fresh flowers. It was like a dream.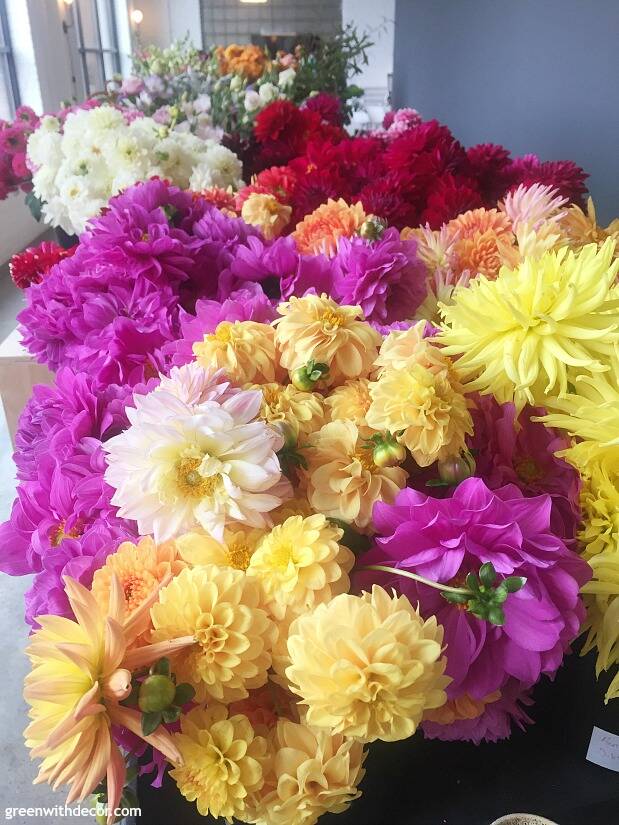 Seriously, how pretty are all of these flowers?!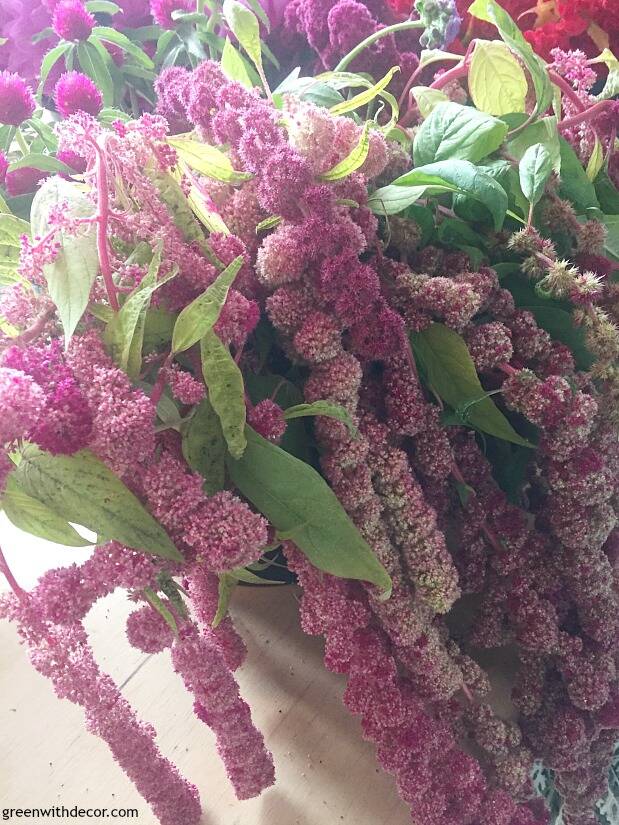 I really would love to have bouquets of fresh flowers around our house all of the time like this, but you know, that would get ridiculously expensive.
We did some flower arranging, which is definitely a skill I need to practice! It was fun though.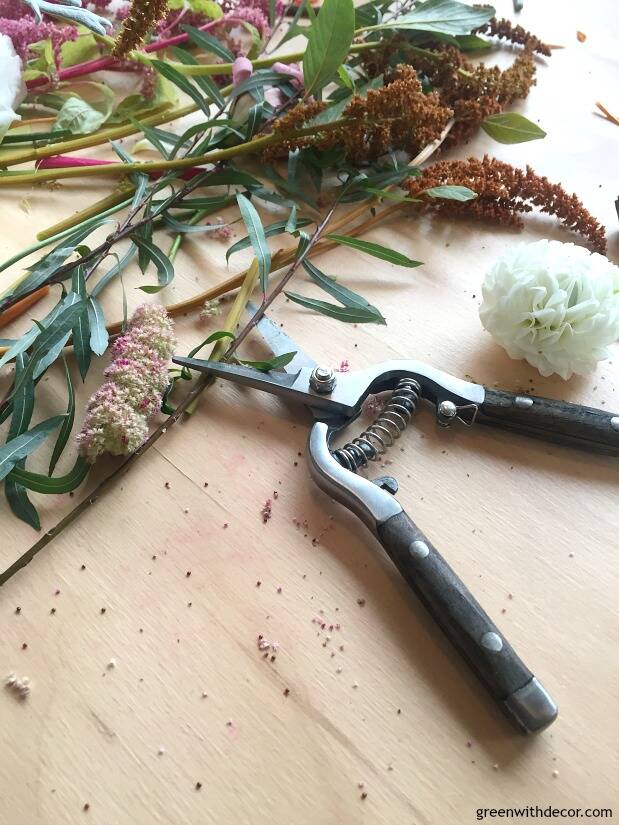 I loved using the silver paint buckets as vases, I might have to use that idea in the future.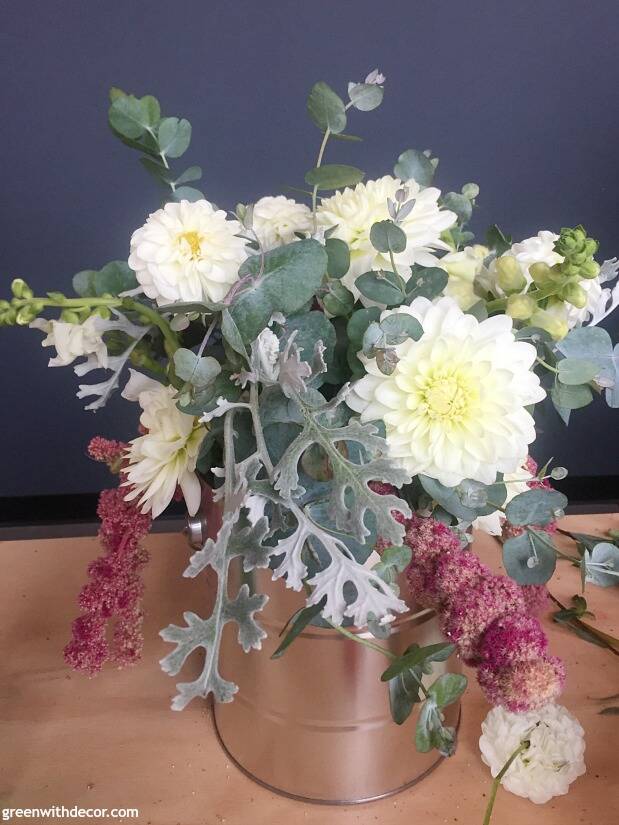 Apparently matching decor to my outfits was the theme of the trip.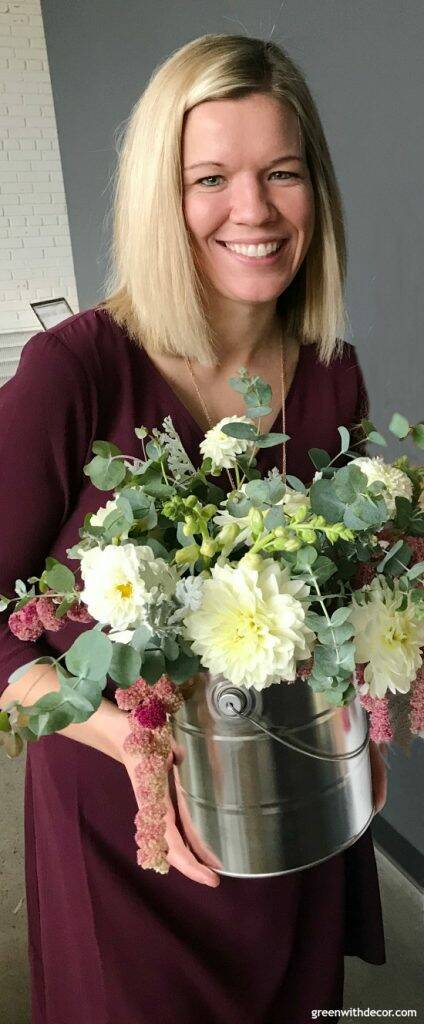 We also visited the Northrup King Building, a big old warehouse where lots of artists and creatives have studios. We met with Anna Palmquist who chatted about her process for creating collage art. My favorite part was of course looking through Better Homes & Gardens to find gorgeous pictures for her next collage.
Our last stop on the inspiration day was Tattersall Distilling. Obviously, this was a great time. The distillery tour was fun. Our tour guide was clearly very passionate about his job, which is always fun to see.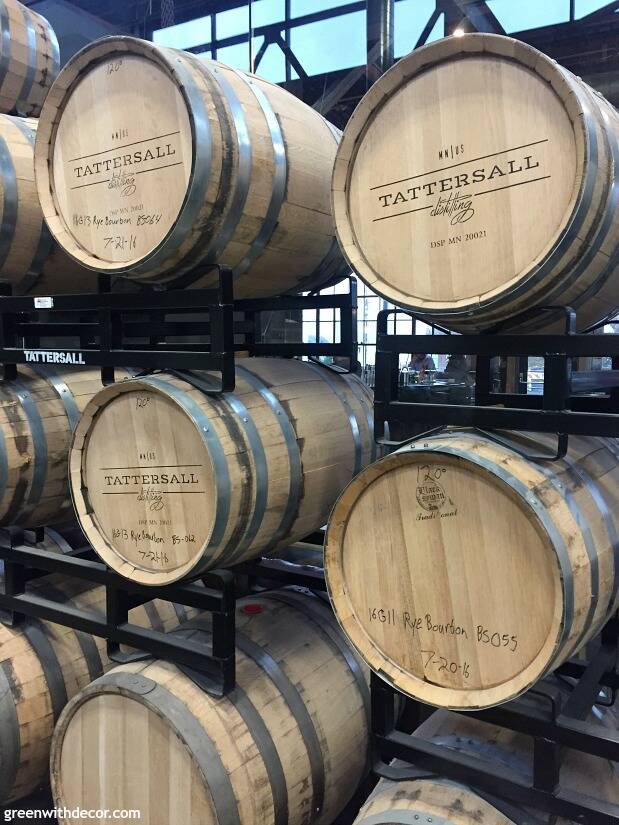 We sampled all sorts of liquors, cocktails and snacks. Yum. If you're ever in Minneapolis, definitely make a stop there.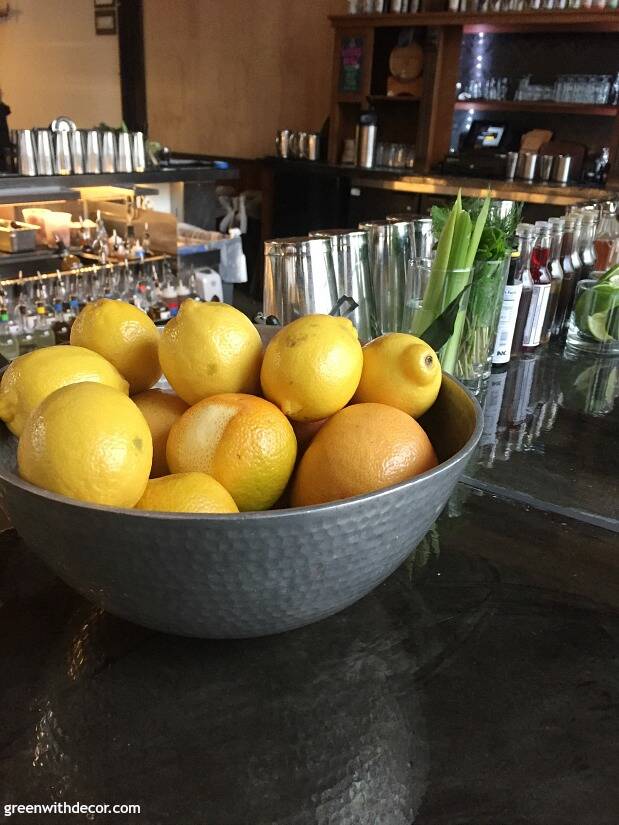 This display may or may not have led me to put these faux lemons on my Christmas list just so I can display them in a pretty bowl on the counter.
Oh and can we talk about the food?!
We went to BLVD Kitchen & Bar for dinner one night, and if you're ever in Minneapolis, you need to go. Order everything, but specifically, the lobster mac and cheese, Brussels sprouts, chopped salad, short rib fettuccine and every appetizer. (But seriously, do it.)
It was SUCH a good meal, writing about it is making me want to book a trip back to Minneapolis.
We also ate at Spoon & Stable. We ordered a bunch of dishes and sampled basically everything (my favorite kind of eating). Definitely order every single dessert, you won't regret it.
Stay tuned for more projects with Wagner coming up on the blog. Kalen and I were working on a fun holiday project with the heat gun over the weekend that will be up on the blog in a couple weeks. (Update: See the project here – How to make DIY Christmas icicle ornaments with a heat gun.)
You can catch up on some of my other projects with Wagner tools here:
Remember to bookmark or pin this post if you want to save it for later!

Pin it!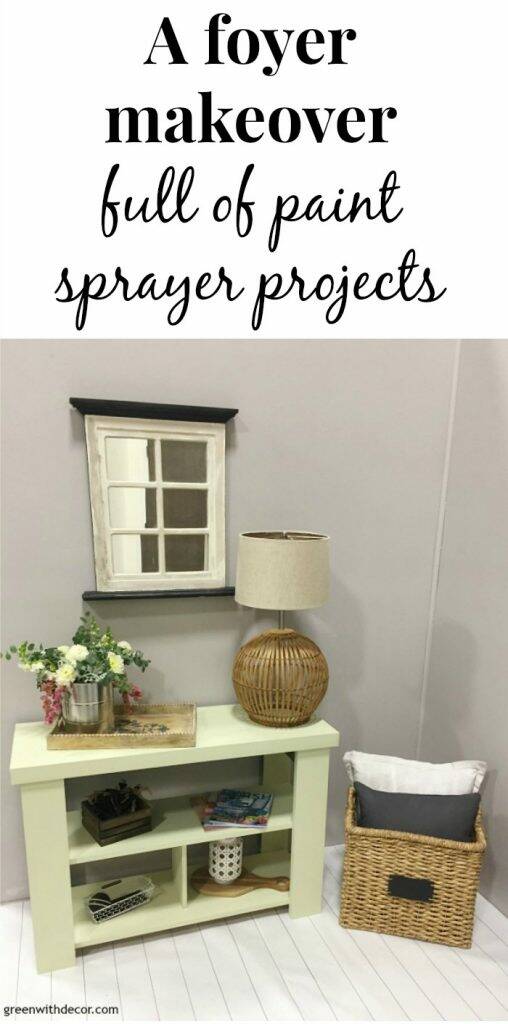 Want to read more posts like this?
Follow along: Get my emails | Facebook | Pinterest | Twitter | Instagram