Disclosure: This post is sponsored by BabbleBoxx. All opinions, images and love of easy spring refresh ideas are 100% mine.
After a long winter at home, we're definitely ready for some spring weather to arrive and stick around!
Life seems a little crazy lately with two young kids and various house projects, but as we welcome spring with open arms, I thought I'd share a few quick ideas to freshen your home for spring.
Because we're all about quick and easy at this stage of life. And I think we've all learned in the past year that quick little updates at home can make a world of difference.
So let's dive into spring already with some fun new finds.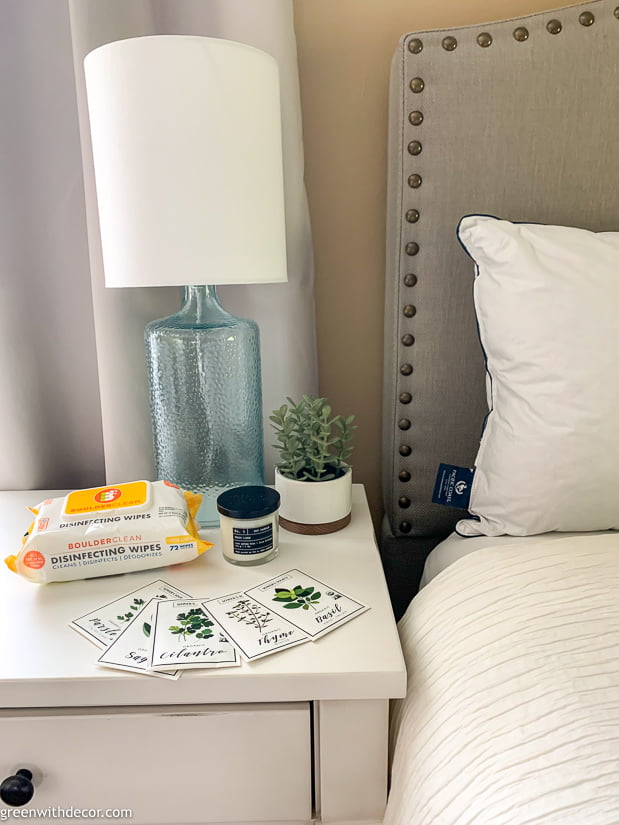 This post contains affiliate links. This means if you click the link and buy something, I may receive a small percentage of sales at no extra cost to you.
1. Get the house smelling fresh
We've all been cooped up way too long. Open the windows on a sunny day to let in the fresh air or light a candle to get your house smelling great.
I love a good white or neutral colored candle so they blend in with other decor, so the Fresh Linen candle from Lulu Candle is a win for me.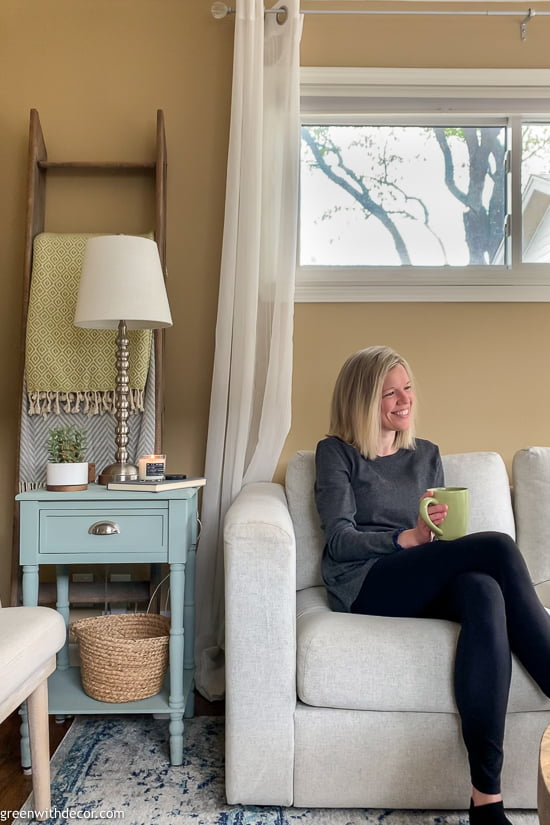 (Don't be fooled… most definitely drinking cold coffee. #momlife)
The candle is made with eco-friendly soy wax, has one of the longest burn times available and is made right here in America.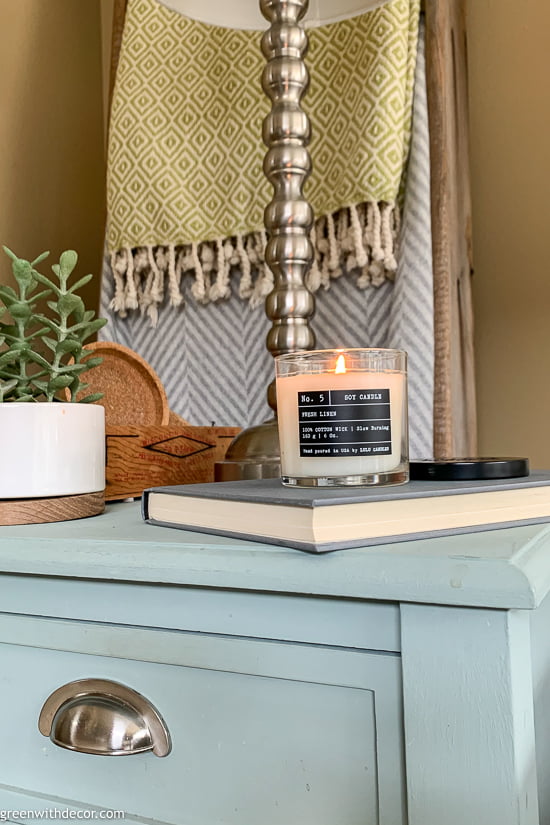 This would make a fun little gift for a friend or family member you haven't seen in a while as we all come out of winter hibernation.
2. Start an indoor herb garden
If you've been a long-time reader, I've talked about starting a herb garden, oh, forever, and guess what?! I'm actually doing it.
This Indoor Herb Garden Starter Kit from Sower's Source is easy to set up and maintain, which is key around here since we're not avid gardeners and our toddler daughter wants to help with whatever we're doing.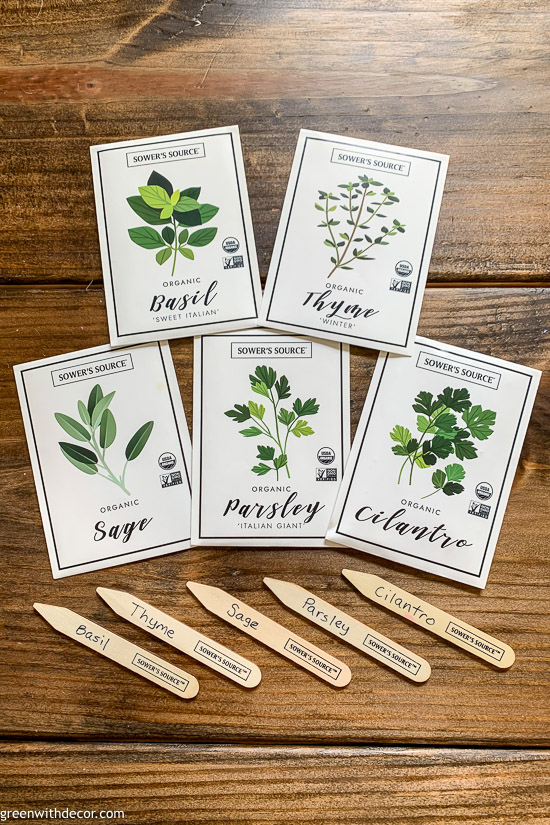 This will be such an easy, convenient way to spice up all of the meals we're cooking and eating at home. I'm most excited to to try the basil in our spaghetti sauce and the cilantro in the guacamole we seem to make every weekend when it's even semi-warm out.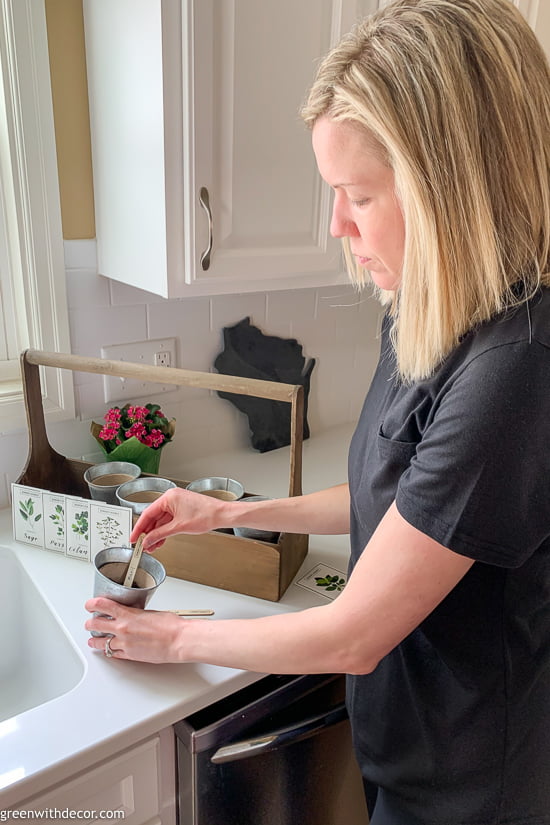 This kit makes it easy. It comes with natural seed packets to grow fresh, non-GMO herbs, (basil, cilantro, parsley, sage and thyme), plus pots, soil, seed packets and spice markers.
3. Upgrade your pillow
It's time, right? Treat yourself to a new, comfy pillow. It's worth it.

The StayLoft™ Organic Cotton Cover Pillow from Pacific Coast is soft and firm, which is a win in my book. Along with being 100% Global Organic Textile Standard Certified (GOTS), the baffle box inner construction is designed to keep the fill in place and prevent shifting so it's comfy all night long.
The firm pillow is specifically woven with a dense weave to keep the down in place and is made to block dust mites. Plus I like the touch of the navy-blue cording along the edge.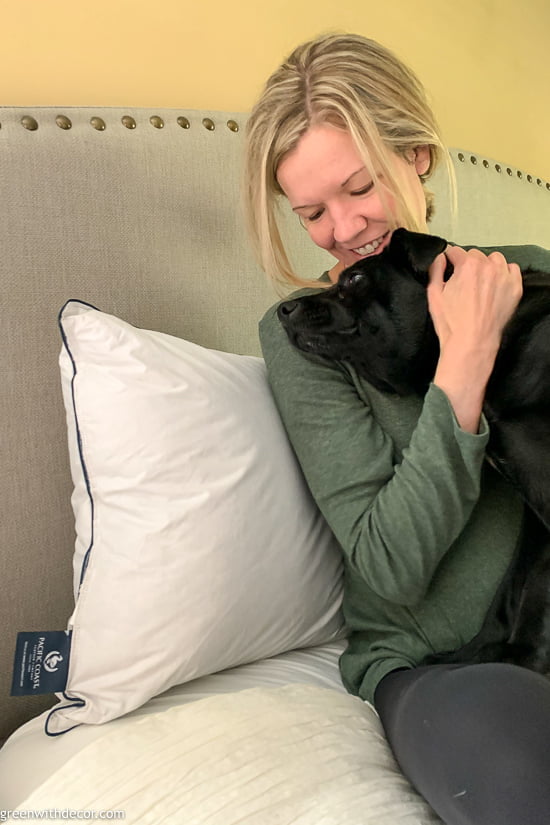 4. Stock up on disinfecting wipes (see discount code below)
Can you ever have enough disinfecting wipes? Not these days.
These Boulder Clean Disinfecting Wipes are great. They're easy to use and eliminate more than 99.9% of household germs, bacteria and viruses. Boulder Clean's eco-friendly wipes use only plant-based ingredients to clean, disinfect and deodorize in one step.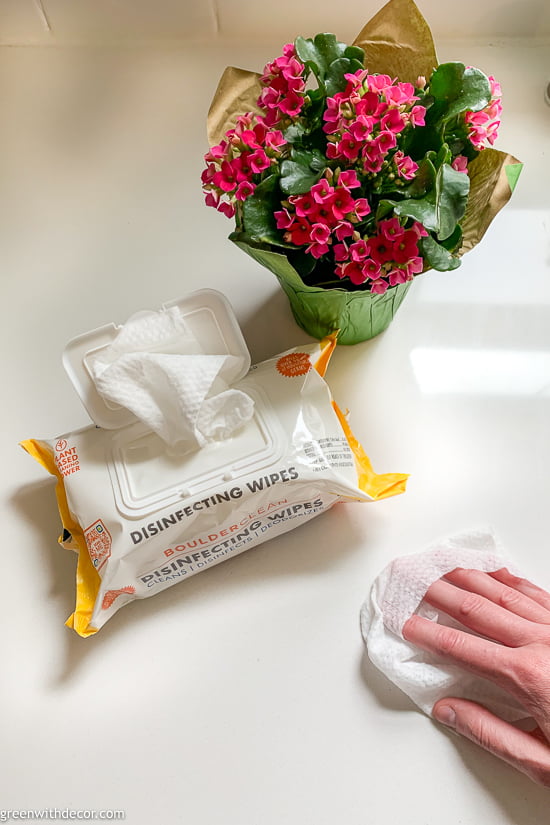 The non-toxic disinfectant wipes don't have any bleach, alcohol, ammonia and formaldehyde. With a baby and a toddler, that's definitely something we're paying attention to these days.
The flatpack is easy to toss in a stroller or bag if you're headed out anywhere, even just to the backyard. (Our most common destination these days.)

We keep a pack along with some sunscreen and kids' hats right back our back door so we can grab them on our way out to play.
Discount code: You can get 10% off your Boulder Clean order with code babbleboxx, valid now through June 1, 2021. Click here to shop Boulder Clean's website.
5. Protect your nice area rugs from outdoor traffic
If you walk from your backyard right into your family room like we do, try this quick trick for keeping your area rug clean: put an indoor / outdoor runner down over the area rug on the days kids and the dogs are running in and out all day.
It works so well! No more worrying about grassy feet ruining our nice rug. I share more details in this post: A simple idea for keeping your rug clean near the door.
6. Hang up a spring wreath
Freshen up your front door with a spring wreath. It's amazing what a quick swap does for making things feel spring-like!
If you need tips on hanging a wreath, check out this post: How to hang a wreath on a glass door.
7. Get a few cute baskets to hide the clutter
Does clutter drive anyone else crazy? Baskets are the answer! They look cute and it's easy to toss clutter inside.
We use baskets for EVERYTHING from toys and shoes to beach towels and papers on the kitchen counter. Do a little spring decluttering and stock up on some new baskets.
I share all of my favorite baskets from around our house plus some others I've been eyeing in this post: The best baskets for organizing around the house.
8. Display spring artwork
There's nothing like new artwork to freshen a space. Print off my free printable 'hello, spring' sign and pop it in a frame for a quick, easy spring touch.
You can grab it in this blog post: Free spring wreath printable.
Do you have any other quick, easy ideas for freshening your home for spring?
Remember to bookmark or pin this post if you want to save it for later!


Pin it!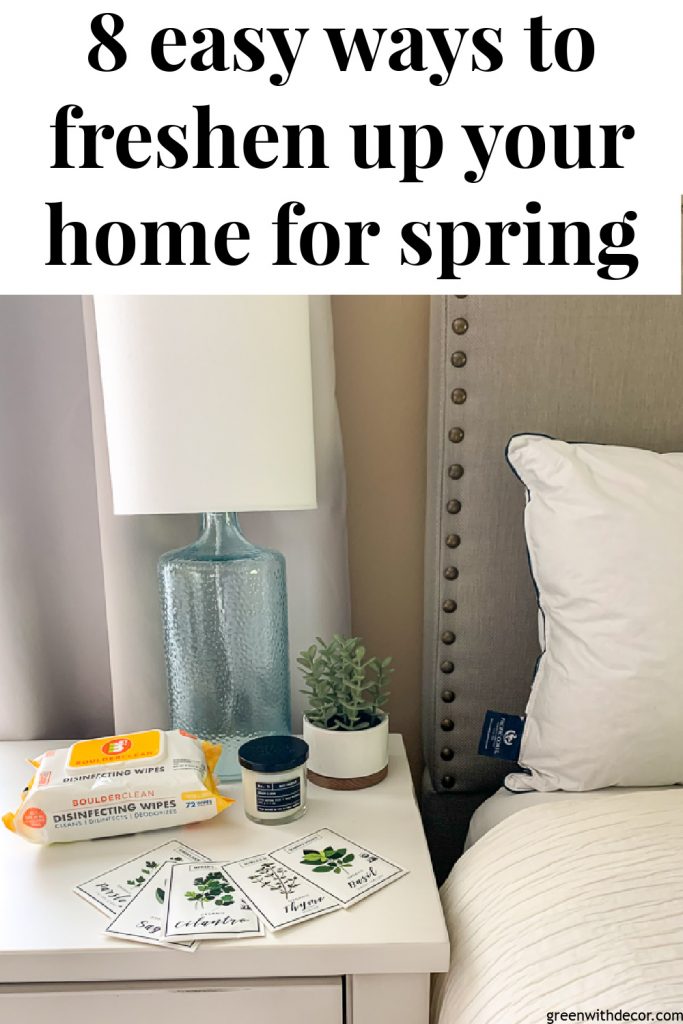 Want to read more posts like this?
Follow along: Get my emails | Facebook | Pinterest | Twitter | Instagram