Basement progress!
I haven't shared much of this space since it's mostly a jumble of fun toys (as playrooms should be) since we finished painting everything, but we have some real furniture down here. And wall decor! Like a real room!
After sitting on the floor down here too often, I realized we needed some sort of playroom adult seating area. And here it is: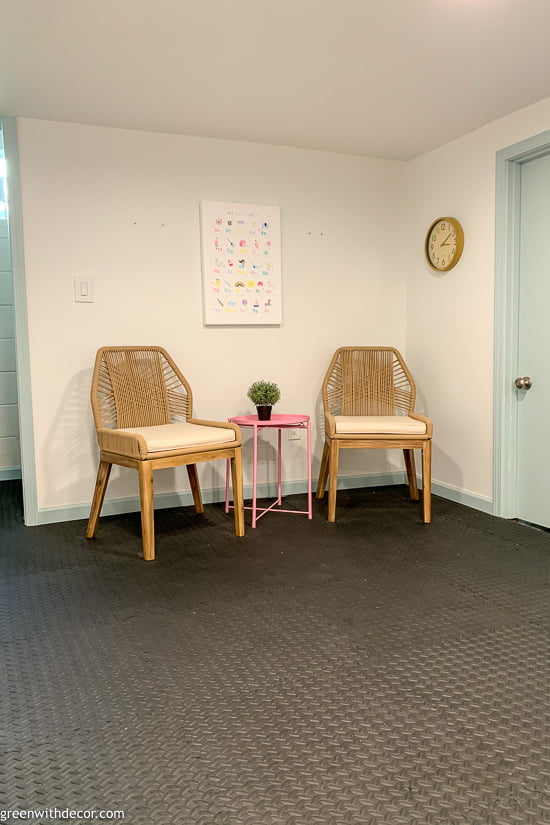 A reminder, the space started like this: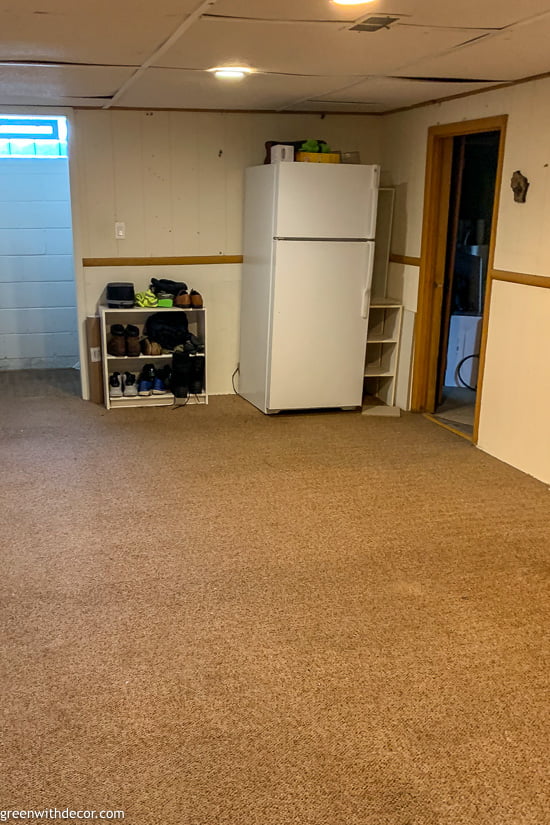 Yikes! Waaaay better now.
The chairs are super comfortable, but since our toddler still mostly instructs us to sit on the floor, I'm actually not sure we'll get to sit in them all that often. But they look good.
This post contains affiliate links. This means if you click the link and buy something, I may receive a small percentage of sales at no extra cost to you.
Chairs
I had a few requirements for playroom chairs:
Comfortable
Stylish
Mostly spill-proof, meaning I really only wanted fabric on the seat part, not a full fabric side chair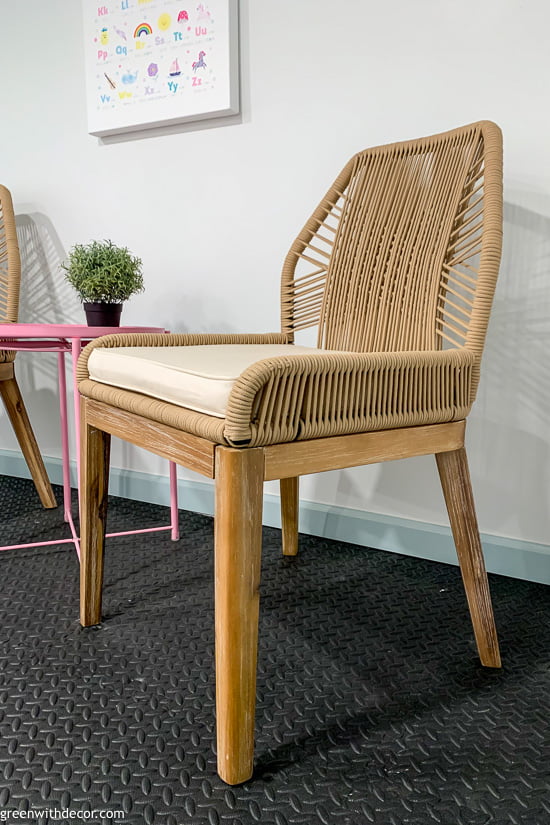 I actually looked to see if the chairs from our family room were still for sale because they would have been perfect, but they're no longer sold. (Actually, they really are perfect in this space. We tested them out but ultimately moved them back upstairs because I love them up there.)
I looked and looked for other chairs, and then these popped up during one of my many random scrolls through Marshall's website, and I knew instantly they were perfect for this space!
I really love the string detail.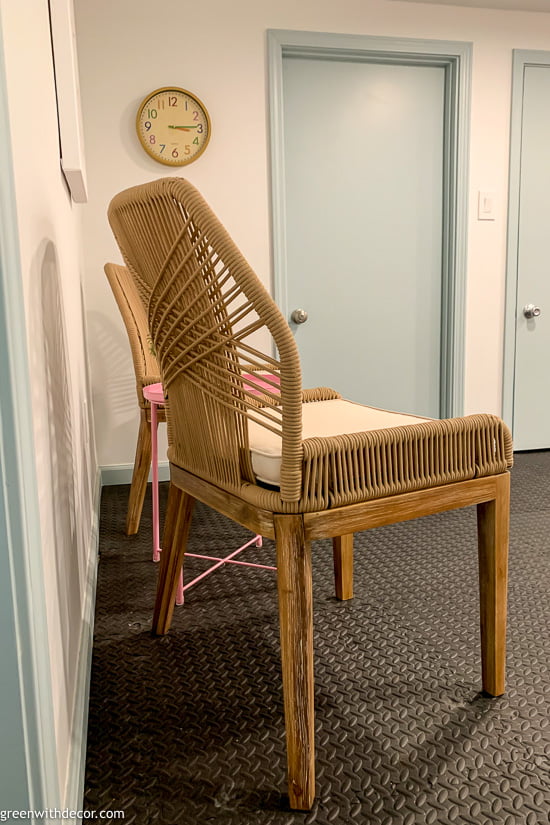 A good reminder not to only shop in specific categories. These are actually dining chairs but I think they're perfect accent/side chairs, too.
If you also want these chairs, they go in and out of stock ALL the time, so just keep checking back here or you can also get them here.
To protect the cushions, I did spray Scotchgard on them. We use it on all of our family room furniture, and it works great among all the toddler spills!
Table
Priorities here were:
Spill proof (common playroom theme) / easy to clean
No coasters required
Fun pop of color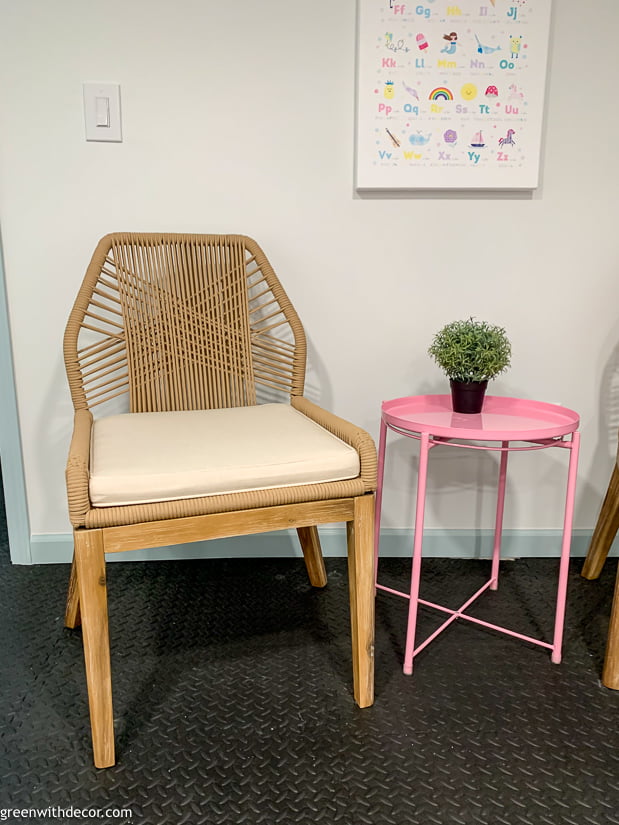 I searched for outdoor tables and found this cutie!
We love it! It comes in multiple colors, too. I may have to get another one for our patio.
Apparently 'shopping outside the living room category' is right up there with 'spill proof' as a theme here. Dining room chairs with an outdoor side table? Yep, totally works.
And yes, that faux plant is in a plastic pot so it doesn't shatter everywhere when it's thrown on the floor so the kids can make a tower on the table.
Artwork
For artwork, I wanted something:
Fun
Kid-focused
Nothing framed with glass given that we have a ball pit and basketball hoop down here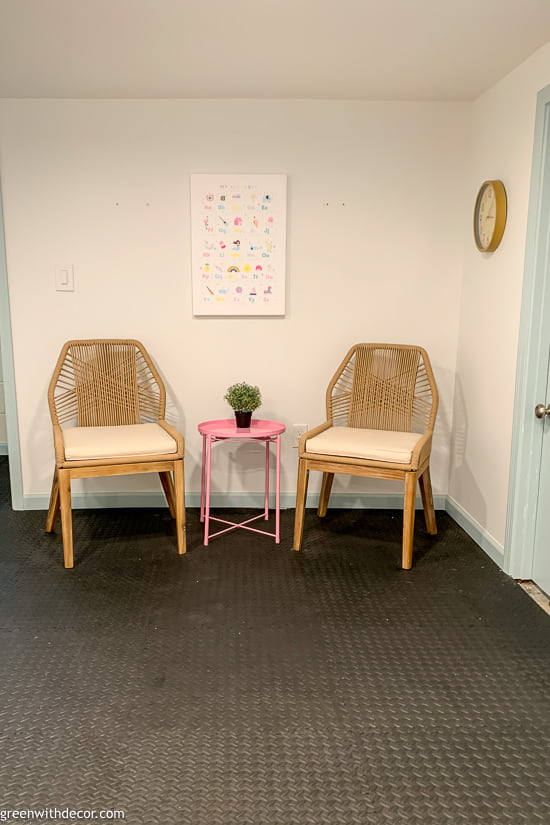 I was thinking of doing an alphabet wall with all of the letters, but after looking into it, it seemed like it would end up being more expensive than I'd thought to get nice-sized letters, plus a lot of holes in the wall so I nixed that.
I found this cute alphabet canvas instead and love it. (And hanging 1 thing versus 26 was, um, way easier. Because we should be playing down here, not spending all day hanging stuff!)
We got the canvas from iCanvas, but I'm not seeing it on their site anymore. Etsy has a lot of similar ones, too.
Clock
If you've ever gotten sucked into a playroom without your phone, you'll soon realize you have absolutely no idea what time it is.
A colorful clock is a much-needed answer! (Ours appears to be out of stock now, but that white one is cute, too!)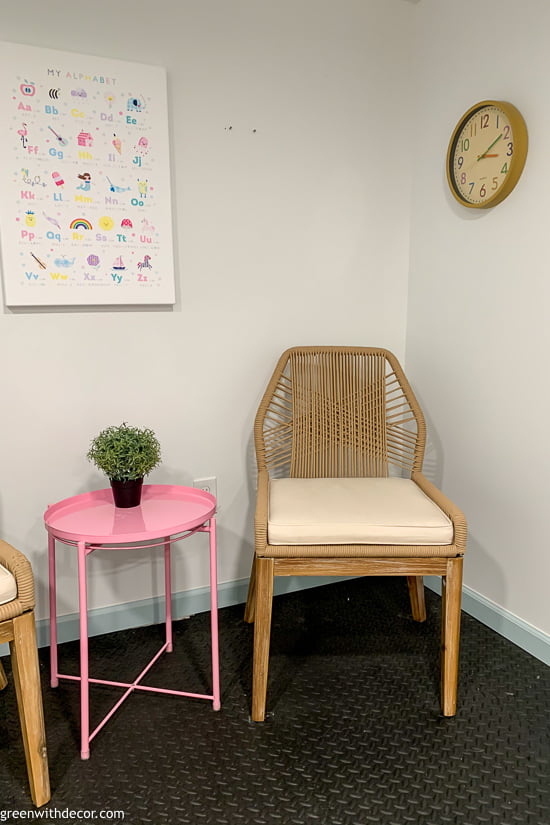 I also ended up buying this little tabletop clock for our living room playroom to avoid the time vortex problem up there.
And that's our playroom adult seating area. I really love how it came together.
GET THE LOOK:
Since a popular question I get is "Where'd you get that?!," here are links to the same or similar sources:
Wall color: Extra White by Sherwin Williams
Trim color: Tradewind by Sherwin Williams
(Remember the Scotchgard!)
Side table (also comes in other colors)
You can catch up on the basement progress in these posts:
Remember to bookmark or pin this post if you want to save it for later!

Pin it!
Want to read more posts like this?
Follow along: Get my emails | Facebook | Pinterest | Twitter | Instagram