Disclosure: This post is sponsored by Rug Studio. All opinions, images and love of rugs are 100% mine.
I gave you guys a sneak peek of our new gorgeous green area rug during our fall home tour. It's no secret that I'm obsessed with it.
We went without a rug in the living room forever, and now that we have one, I can't help but smile every time I see it. It makes the room feel SO much more 'finished' that I can't believe we lived without one for so long.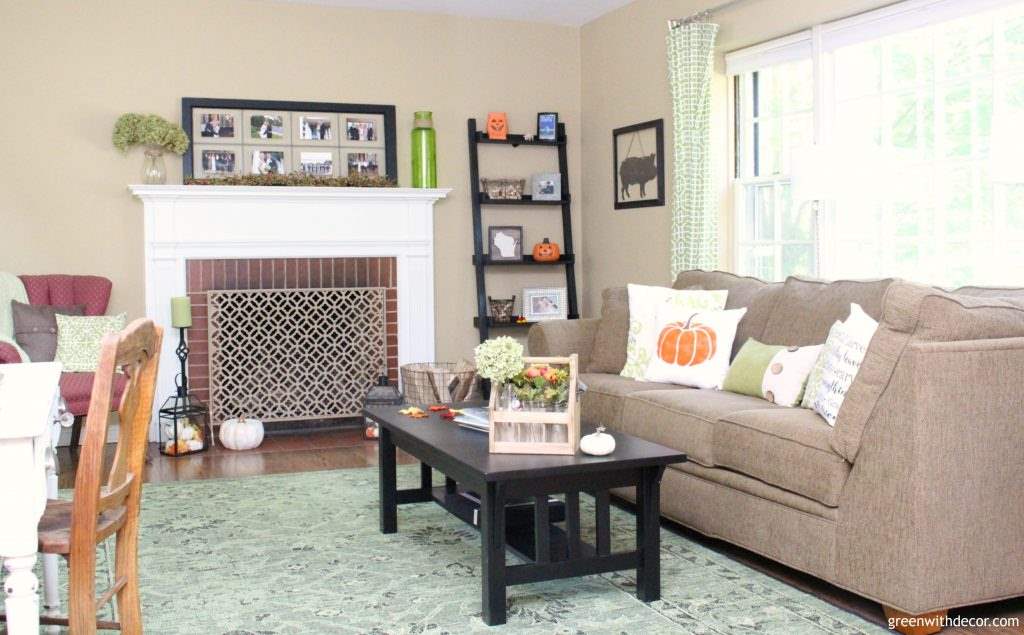 But we did because when it came to choosing a rug for the space, I kept putting it off because I'm still not thrilled with the furniture setup in there.
We're thinking about swapping our two couches (more to come on that), and I mentioned on Instagram the other day that recovering the chair in the corner is on my to-do list.
I kept waiting to get everything done at once instead of just picking a rug. The thing is, whether I picked the rug or the new fabric for the chair first, one was going to have to match the other. So I just dove in.
If you're in a similar situation when it comes to decorating a room, I'm telling you right now to just dive in, too. Start picking stuff out, whether it's the rug or the couch or the curtains. You have to start somewhere and sometimes – due to time or budget – picking everything out as once just isn't going to happen.
I know it can be hard to just go for it though. Here are the factors I thought about when choosing the area rug. It made the decision a lot easier.
COLOR
Decide if you want something neutral or if you want the rug to make a statement tin the room.
When I picked the area rug in our family room, I went with plain tan with a tan border. I love that rug, but I wanted to be a bit bolder in the living room.
I wanted the rug to make a statement in the room. And I wanted something with green, of course.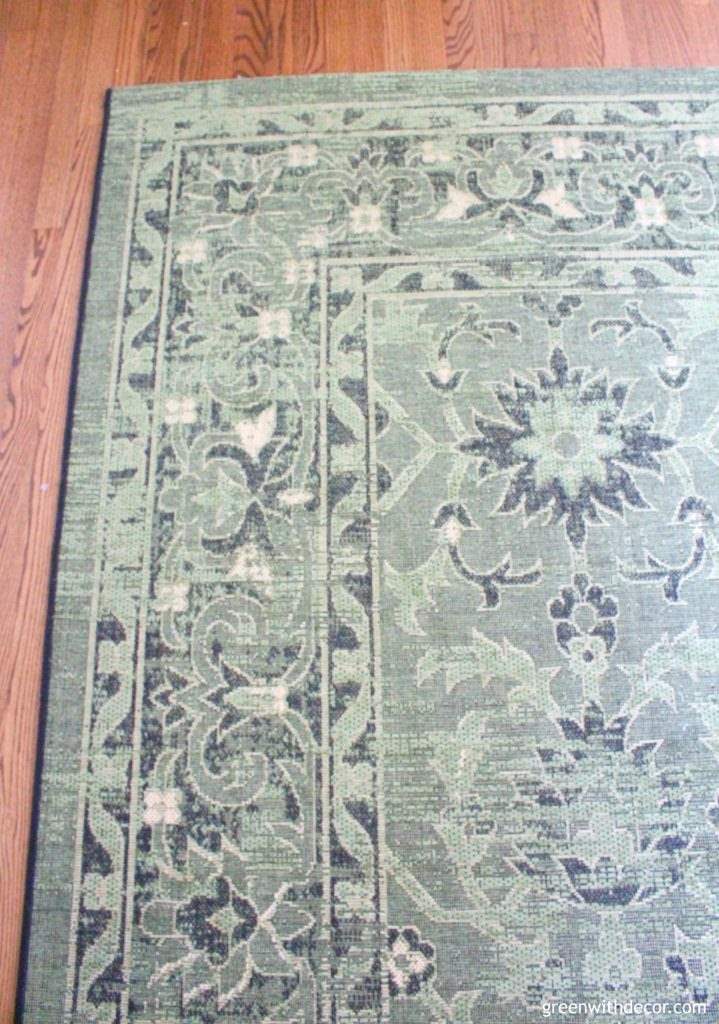 I looked through a lot of rugs on Rug Studio's website with green in them, opening a tab for every rug that interested me. Then I went back and narrowed them down.
Sometimes it's easier for me to start with a lot of options and eliminate them rather than saying 'no' to anything I'm not sure about right from the beginning.
PATTERN
I love the look of the vintage rugs that everyone's buying lately, and I was set on that style. But most of them are so expensive! I was pleasantly surprised by Rug Studio's prices.
When I saw this rug, I knew it was going to be one of my top picks. As I narrowed down my choices, I kept coming back to the pattern in this one.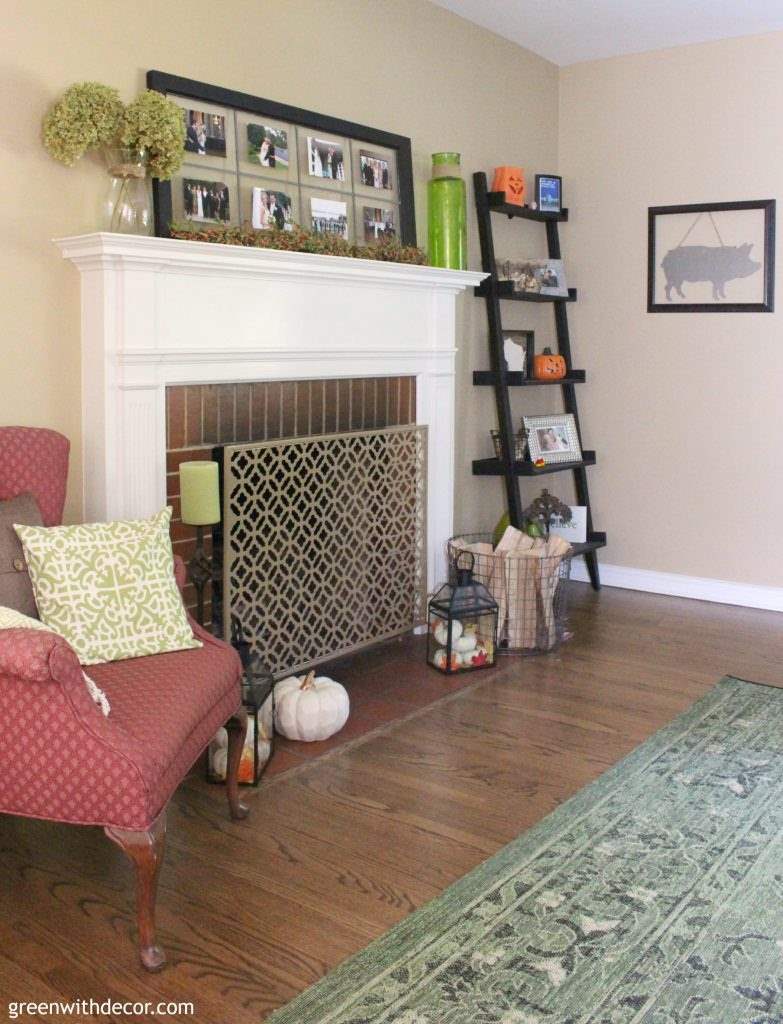 I love that it has a border but that it's not vastly different than the design of the rest of the rug.
SIZE AND ROOM SHAPE
These may sound like the same thing, but in houses with open concepts, that's not necessarily true.
Our living room and foyer are basically one room. You can read more about how we fake a foyer space and separate them into different spaces here.
This new rug helps even more! I love how the rug divides the living room part of the room from the foyer.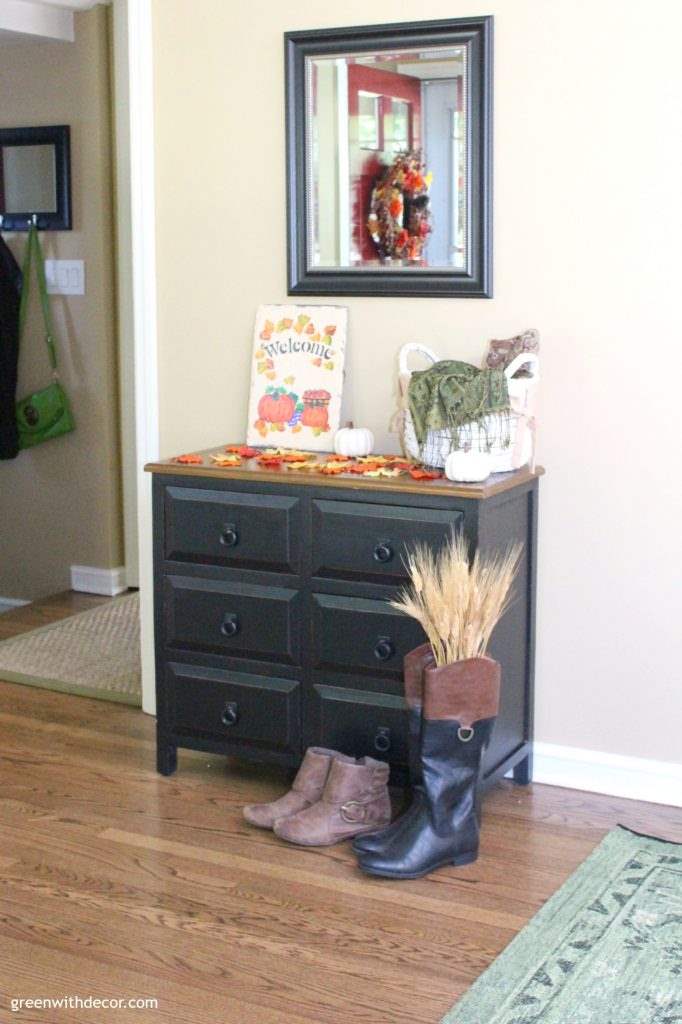 Within the room, I wanted the rug to be centered in the living room portion.
I went with a rug size that would put the coffee table in the center of the length of the rug.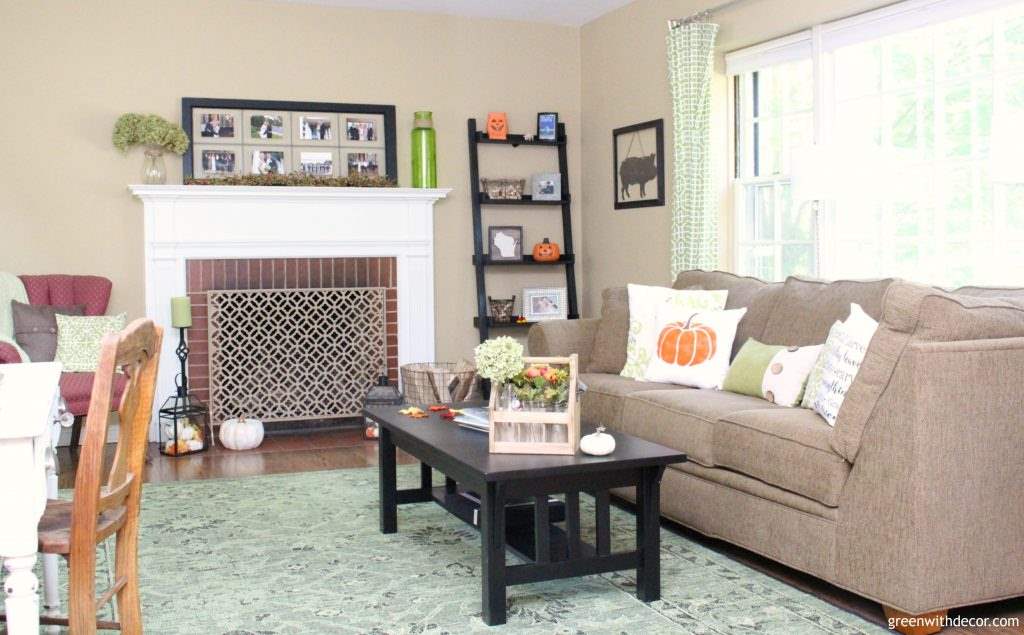 Sometimes a room size can mean choosing between a rug that's a little too large or a little too small. In those cases, I'd always recommend going with the bigger rug. Small rugs can make your whole space feel 'off.'
THICKNESS
Of course, I listed the way the rug looks first. 🙂 Priorities! But in all seriousness, you're going to live with the rug on a daily basis so be sure it's comfortable.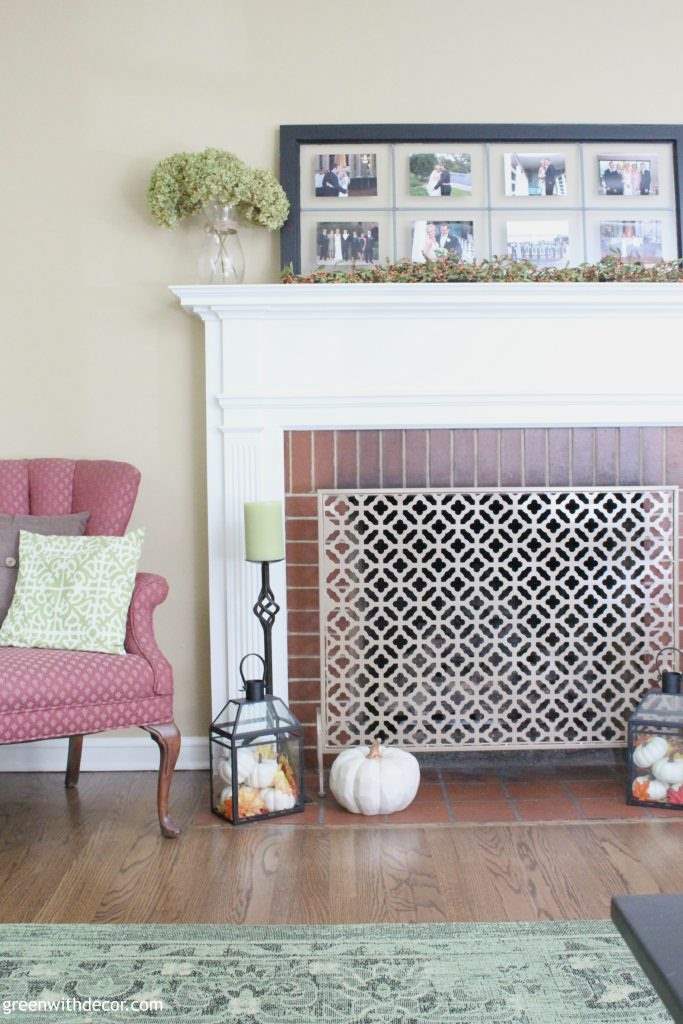 PETS
Another bonus with this rug is that Oakley's dog hair (she won't stop shedding lately, it's driving me crazy!!) blends in a lot better with this rug than the one in the family room, so I'm not constantly wiping the hair up off the rug.
Until you're picking up dog hair on a daily basis, you can't possibly appreciate this – ha!
RUG PAD
Not really a consideration when picking a specific rug, but just a reminder that you probably need a rug pad to protect your floors and keep the rug from slipping. We got this one.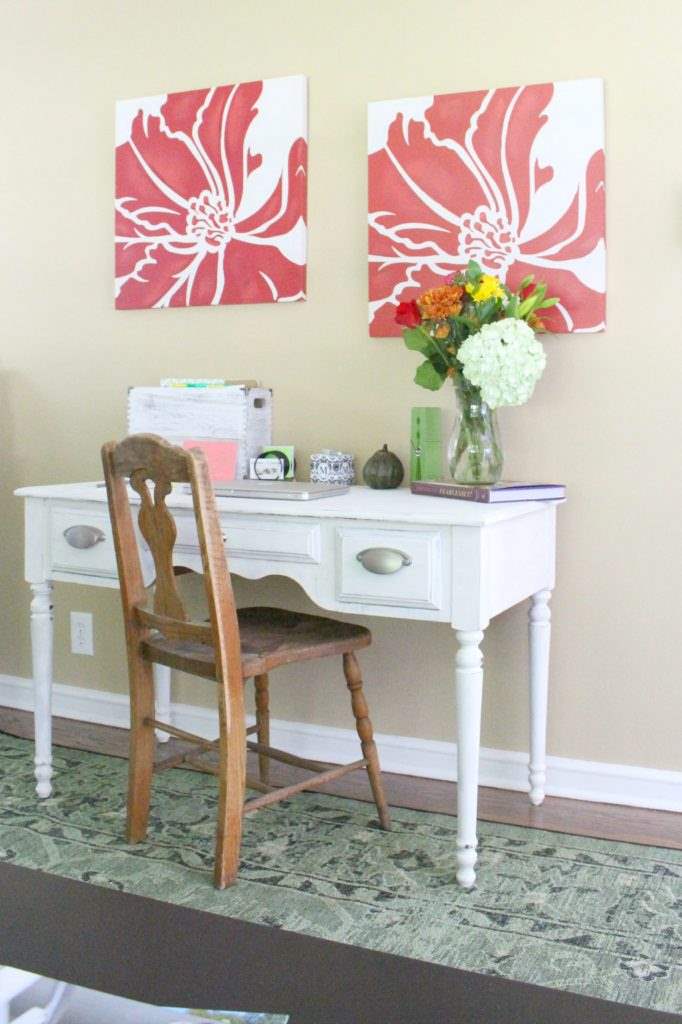 Have you bought any rugs lately? How'd you decide on one?
This post contains affiliate links. This means if you click the link and buy something, I may receive a small percentage of sales at no extra cost to you.
GET THE LOOK:
Since a popular question I get is "Where'd you get that?!," here are links to the same or similar sources:
If you love decorating, you'll want to see these, too:
Remember to bookmark or pin this post if you want to save it for later!


Pin it!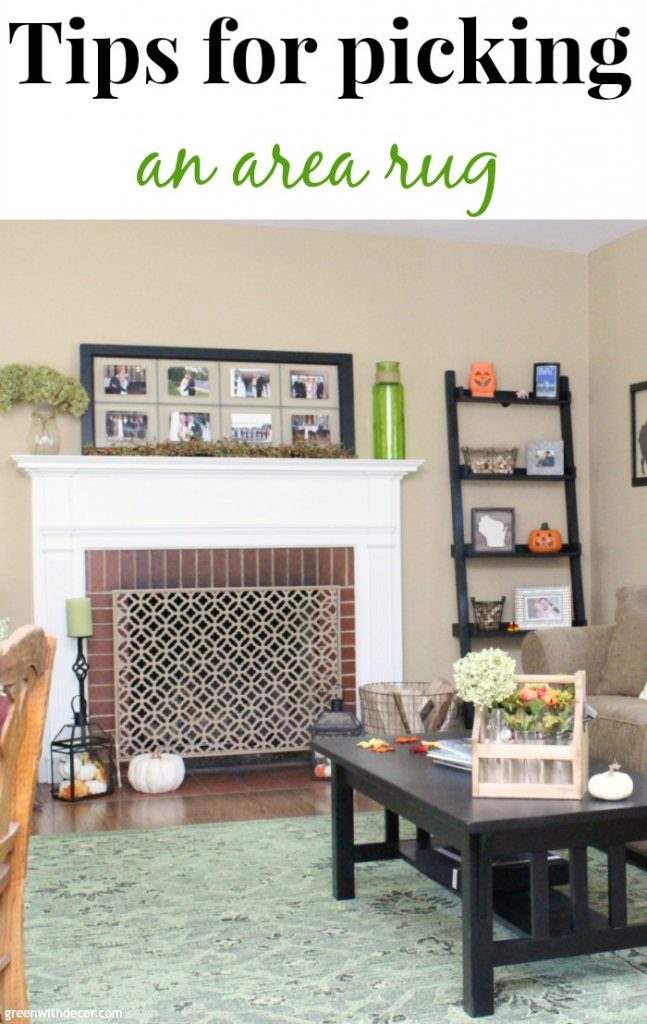 Want to read more posts like this?
Follow along: Get my emails | Facebook | Pinterest | Twitter | Instagram