I'm taking part in a fun design challenge over the next six weeks: the One Room Challenge (ORC), a six-week design challenge that takes place every April and October. Bloggers are challenged to transform a room in just six weeks, and the before-and-afters are always crazy good.
The ORC is hosted by Calling It Home. There are 20 design bloggers that officially participate (see their designs here), and other bloggers (me) are welcome to join as guest participants.
I've followed the ORC for a while, but I've never jumped in. With our big kitchen and bathroom renovations (and non-bathroom renovation) done – and absolutely no plans to renovate those rooms again (I hope I don't eat those words someday) – I felt like we didn't have a room in our house that was in need of a huge before and after.
That's not to say our house is done. There are definitely a few rooms in our house that I feel like are part way there but need some finishing touches.
One room in our house really never even got decorated though, our home office/third bedroom. The before pictures are kind of embarrassing, although they're a million times better than what the room looked like when we bought the house.
I've mentioned here and there on the blog that we're going to finish up the home office and then I'll share it with you guys. Ha, I've been saying that for over a year now, haven't I?
So even though this won't be a huge room renovation like some of the other bloggers' ORC rooms, we're taking on the home office over the next six weeks. The One Room Challenge is just the motivation I need to actually GET. IT. DONE.
The office has turned into something of a storage/walk-in-closet over the past several months and while it's easy enough to shut the door and pretend it is actually a huge (albeit, unorganized) closet, it's not, and as a home decor blogger, I should really have my house decorated, yes? Yes!
Ready for the before?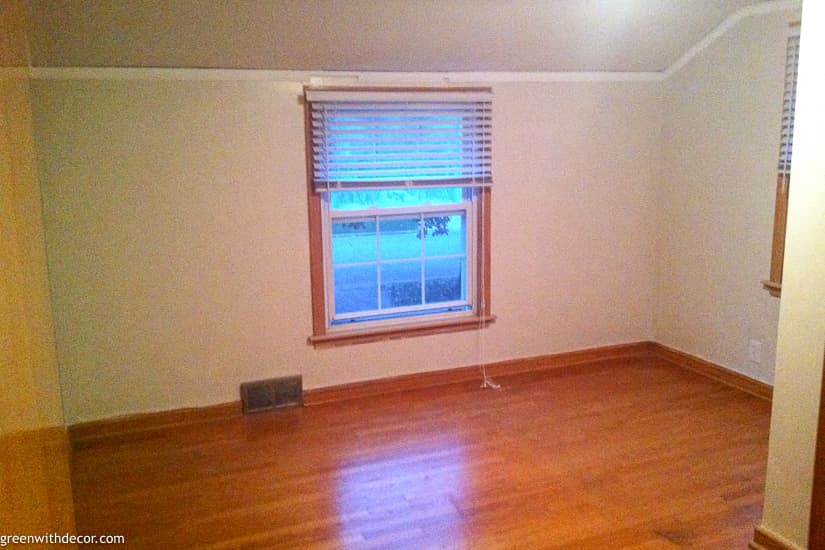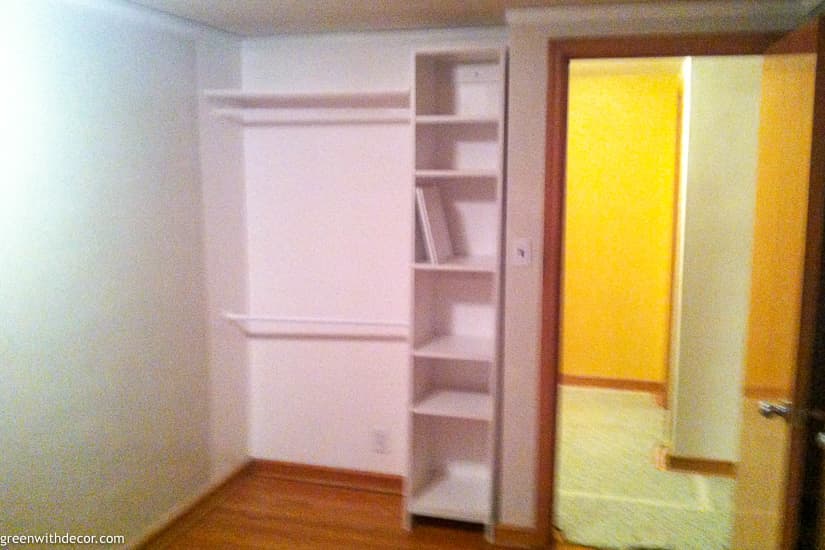 Sorry before I show the 'progress' we've made, I need to say that in NO WAY did I ever think the red lampshades looked fabulous or even okay with those green walls.
They were just the only lamps we had at the time when we moved in, and I hadn't gotten around to replacing the shades yet.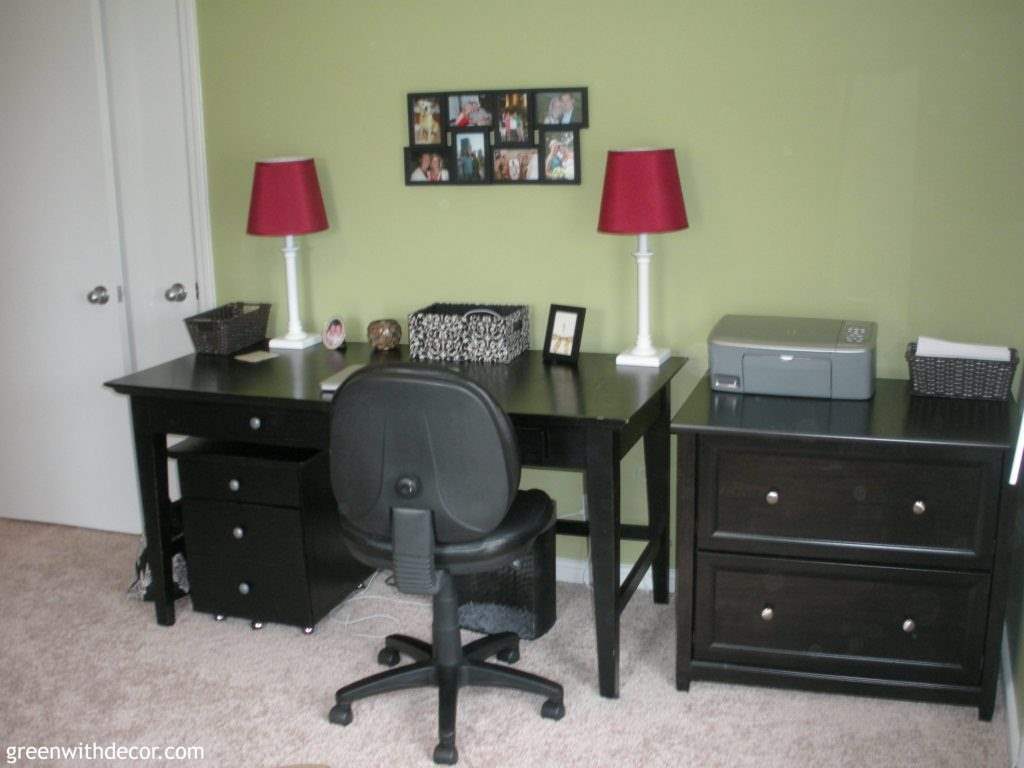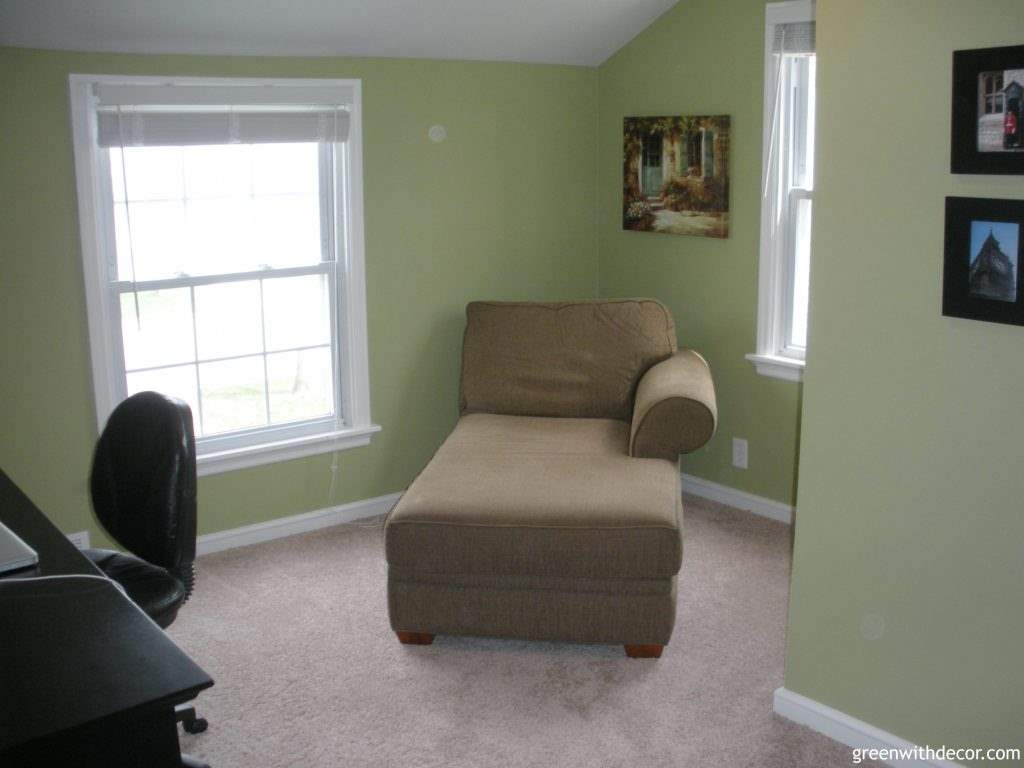 Not terrible (except for that red and green combo mentioned above), but definitely nowhere near finished. I mean hello, I don't even have a throw pillow in there.
This post contains affiliate links. This means if you click the link and buy something, I may receive a small percentage of sales at no extra cost to you.
Here is my design plan for the office:


When we first moved into our house, we painted the walls green and the trim white. We moved in the bookcase, the chaise and the desk and then basically started using the room a dumping ground for things without a home.
A few things on the agenda here:
Fun light fixture
I love room renovations, but we basically renovated our whole house at once, and I think by the time it came to picking out light fixtures, I was DONE.
We needed something close to the ceiling in all of our bedrooms, and I just picked basic lights for the whole second floor. And now I wonder what I was thinking! They all need to be updated.
I like this pretty silver one for the office: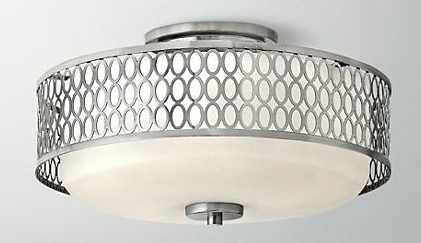 Painting the bookshelf
The black is just toooooo dark in here. I've been on a white painting mission lately, and I don't see it ending anytime soon.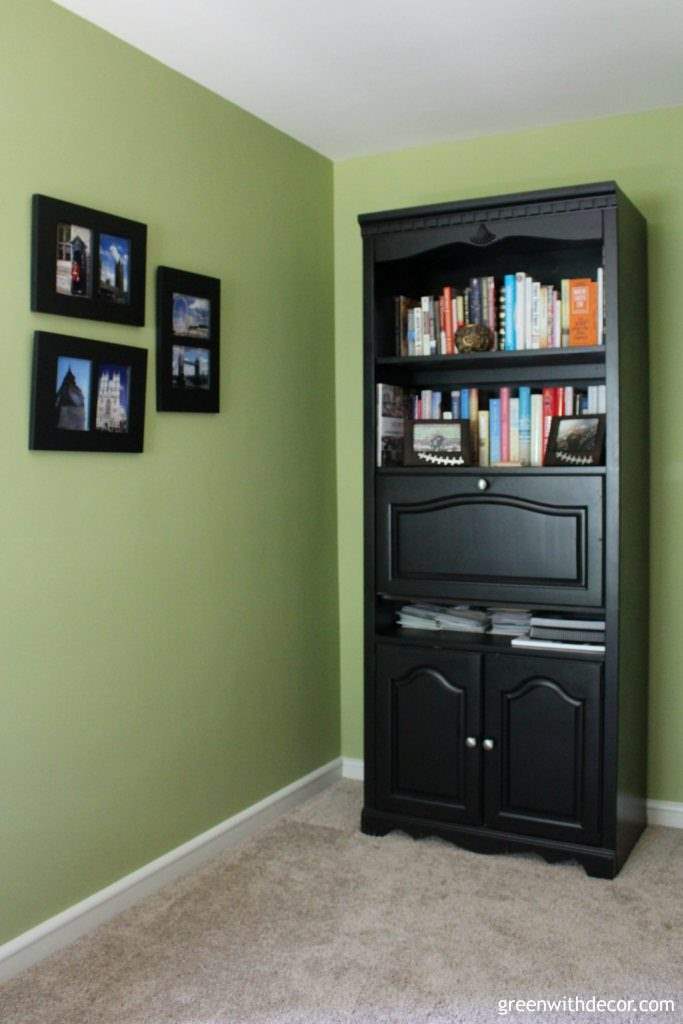 New hardware
I want new hardware on the bookshelf and the file cabinet. I like these crystal knobs.
I really like the hardware on the desk so I'm leaving it. I bought that desk in college, and I love it. Kalen and my brother Stephen who've had to move it from my apartment to our Cincinnati house to this house are big fans, too, I'm sure of it.
New desk chair
I honestly can't even remember where that old awful chair is from, but it's not comfortable.
Curtains
I know, I know. If you've been around the blog, I talked about buying curtains for this room ooh way too long ago. I finally bought some! Of course, I have to hem them because they're too long.
By I, I mean probably my mom (you may know her as The Hand Model if you've been reading for awhile), because she's the sewing queen, and I am not.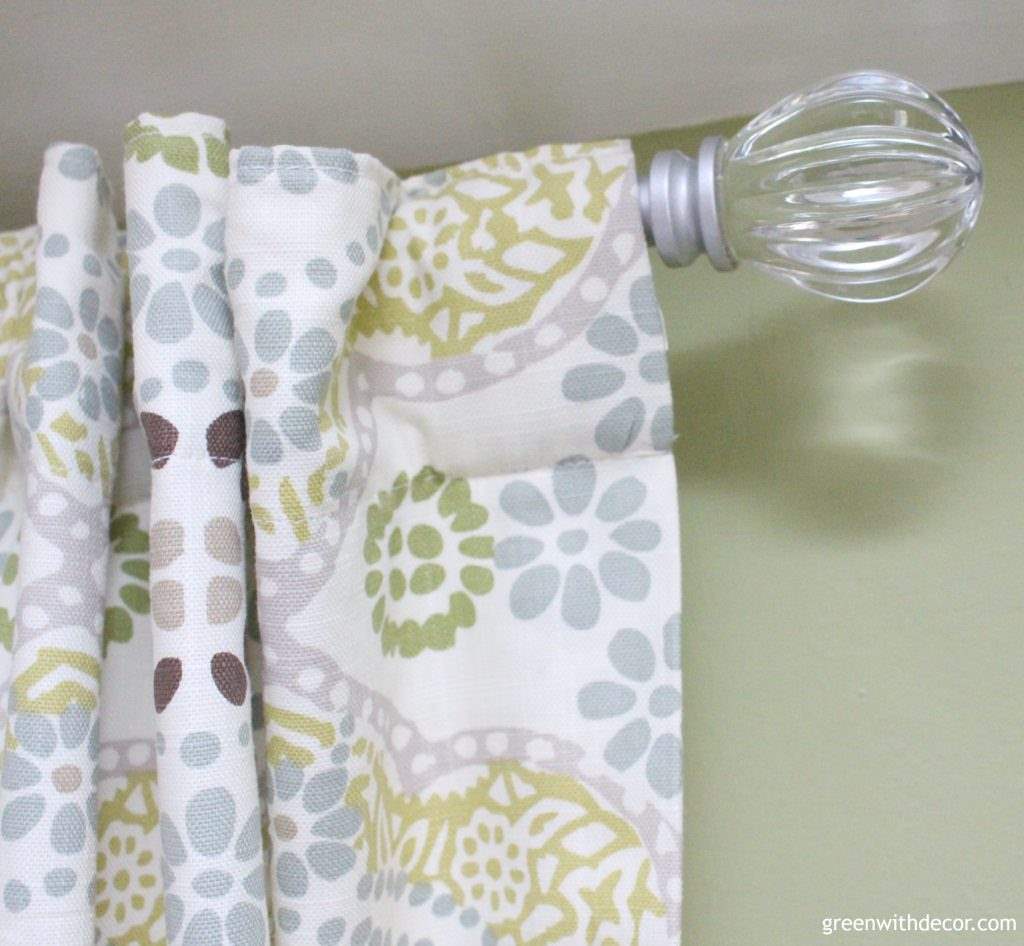 Throw pillows
I realize this is the smallest detail, but it has to be said. Rooms just aren't complete without throw pillows.
Closet organization
This isn't really a design element, but the room won't be finished without it. Much like the rest of the room, the closet was kind of a dumping ground.
When we moved in, I put a bunch of my extra clothes in here. I went on a huge cleanout spree this summer and my clothes hoarding is since under control. All of my clothes now fit in the closet in my actual bedroom. (Seriously, I had stuff I hadn't worn in years, what's the point?!)
We also kept a bunch of extra blankets and sheets in here for guests. Those are moving to the guest room closet. So logical, right?
Here's the before. I can't believe I'm putting a picture of this awful unorganized closet on the internet.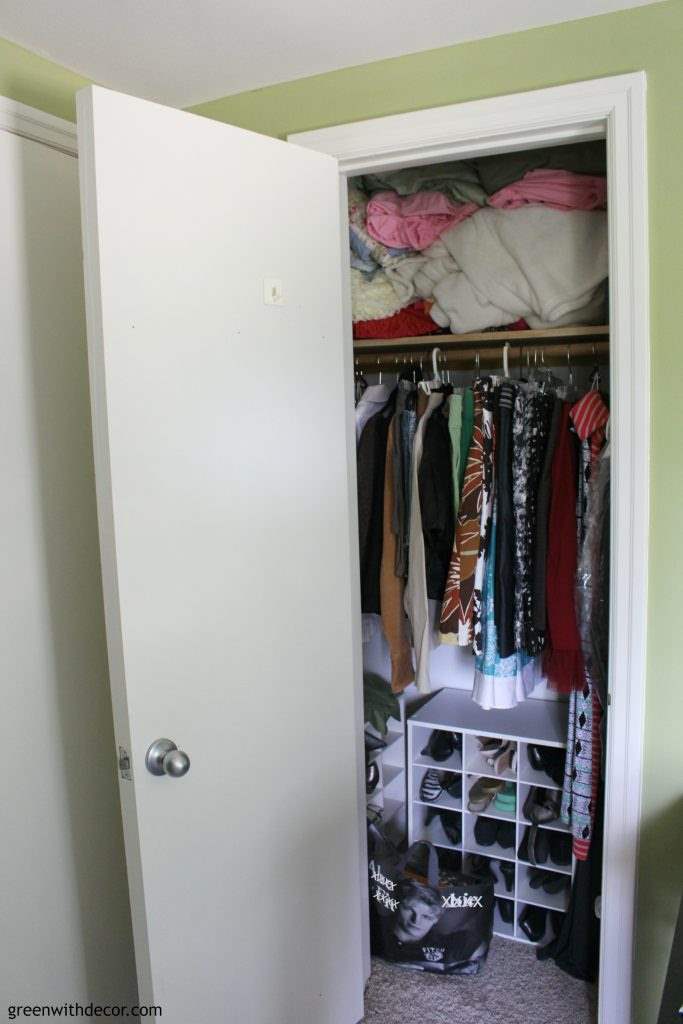 I'm going to use the office closet for my paint (I also have a paint hoarding problem) and other craft/DIY project supplies. It will be SO NICE to have all of this stuff in one place instead of spread out throughout the house.
With that, we're diving in!
Kalen is possibly more excited about the office makeover than I am. I work from home most of the time, but I work downstairs at my grandparents' old desk. When he works from home on occasion, he has to pick between the kitchen counter or moving crap around in this so-called 'home office' so he has a place to work. He's a lucky guy, I know.
A huge thank you to my One Room Challenge sponsors for teaming up with me for this awesome home office makeover! I'm excited to work with these fabulous companies:
Lamps Plus | D. Lawless Hardware | Country Chic Paint
You can see all of the home office makeover progress here:
Remember to bookmark or pin this post if you want to save it for later!


Want to read more posts like this?
Follow along: Get my emails | Facebook | Pinterest | Twitter | Instagram