This quick, easy trick is genius if you're wondering how to organize pot lids to keep your cabinet organized!
Happy New Year!
We're busy enjoying all the newborn snuggles over here, but I do have a really quick, easy, helpful organizing project to share today: how to organize pot lids.
The 'before' of this cabinet was honestly a mess. Not because the cabinet wasn't big enough for all of our pots and pans, but because we'd just never quite gotten around to really organizing this cabinet in a way that made sense for us.
(Yep, 7 years later, we were still struggling with that one … tell me I'm not the only one!)
Finally, we had enough and tackled this quick little project.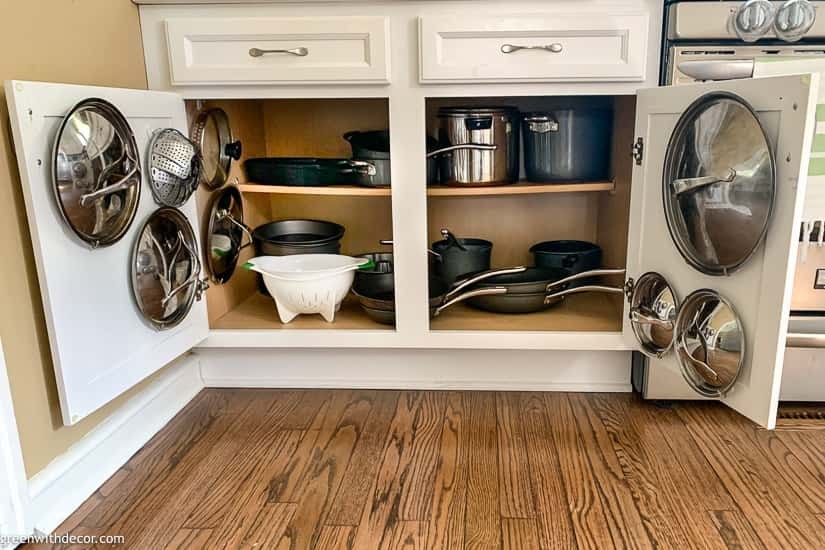 This post contains affiliate links. This means if you click the link and buy something, I may receive a small percentage of sales at no extra cost to you.
Supply list to organize pot lids:
How to organize pot lids:
1. Clean out your cabinet.
Start by taking everything out. Yes, everything.
It's the best way to declutter. I guarantee we all have some random pots, pans, lids, etc. in a cabinet that we no longer need or use.
Look through everything and donate / discard things you never use.
2. Measure your cabinet doors.
3. Map out your cabinet doors with tape.
With masking tape or painters tape, draw out a diagram of your cabinet doors on your floor or counter.
4. Play around with different pot lid layouts.
These taped out diagrams of your cabinet doors makes it SO easy to play with different ways to organize pot lids.
You can see which lids fit where and how many you can fit on each door.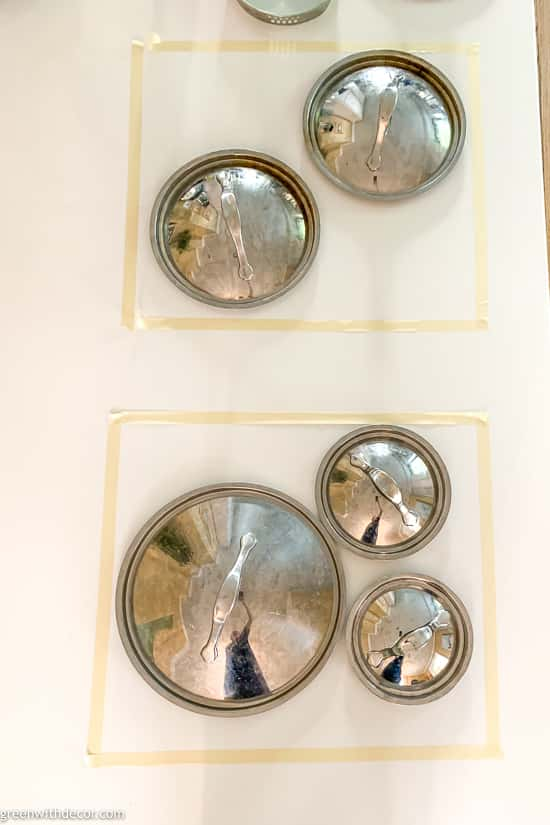 5. Measure how far the pot lids are from the edge of your tape (which will be the edge of your cabinet doors).
6. For each lid, place it on the cabinet door and then determine the best placement for the command hooks.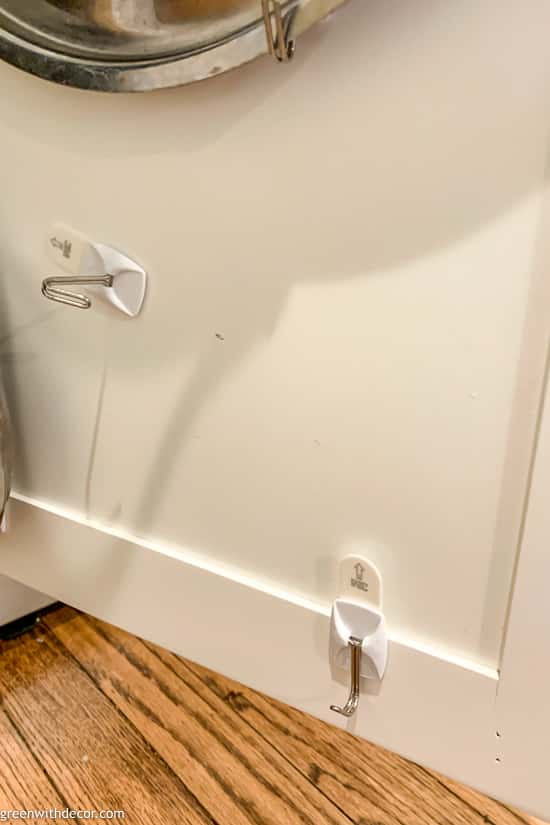 For the most part, small pot lids will need 2 hooks and larger pot lids will need 3 hooks.
7. Follow the easy Command Hook instructions to place each hook where the edge of a pot lid will be.
Such an easy way to organize pot lids, right?! Our cabinet is WAY more organized.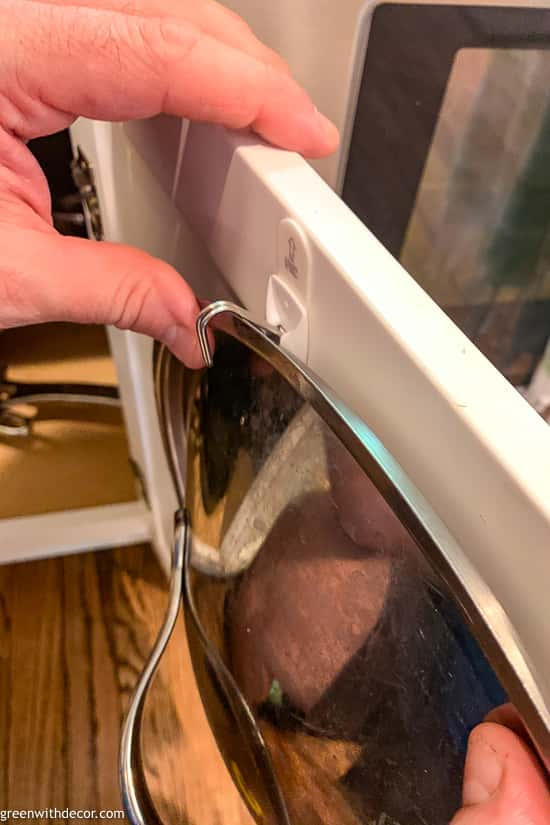 This is yet another reminder that once a cabinet is organized with a place for everything, it's way easier to keep it organized as you put stuff away over and over.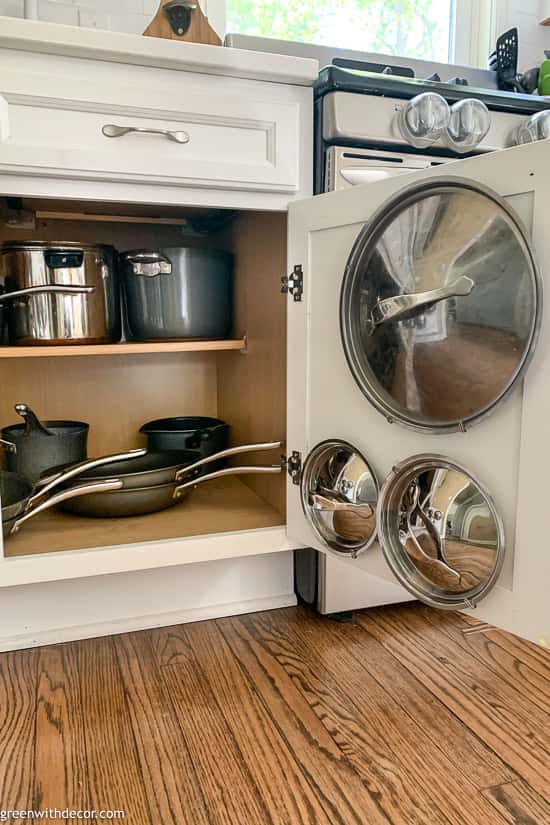 And the other side: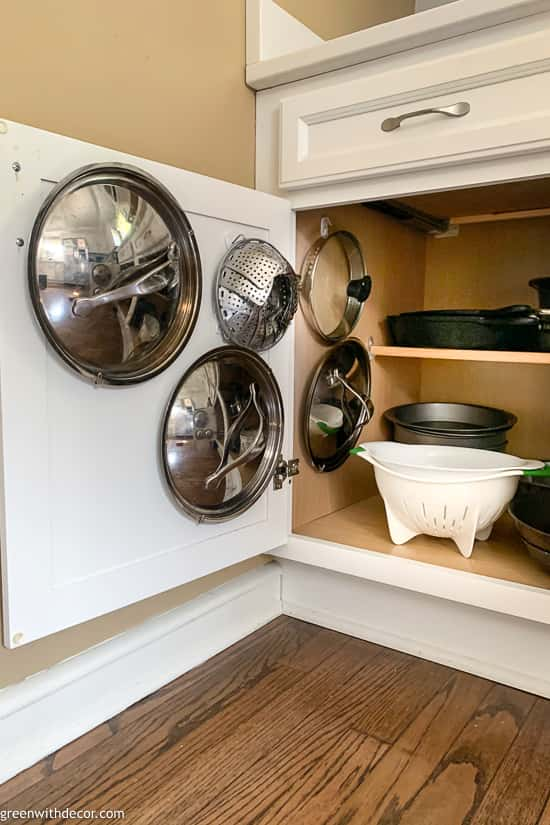 Have any other quick kitchen organizing tips? Now that we have organized pot lids, we're eyeing the rest of the cabinets for some quick organization refreshes!
If you want other easy ways to hang things, check these out:
Remember to bookmark or pin this post if you want to save it for later!

Pin it!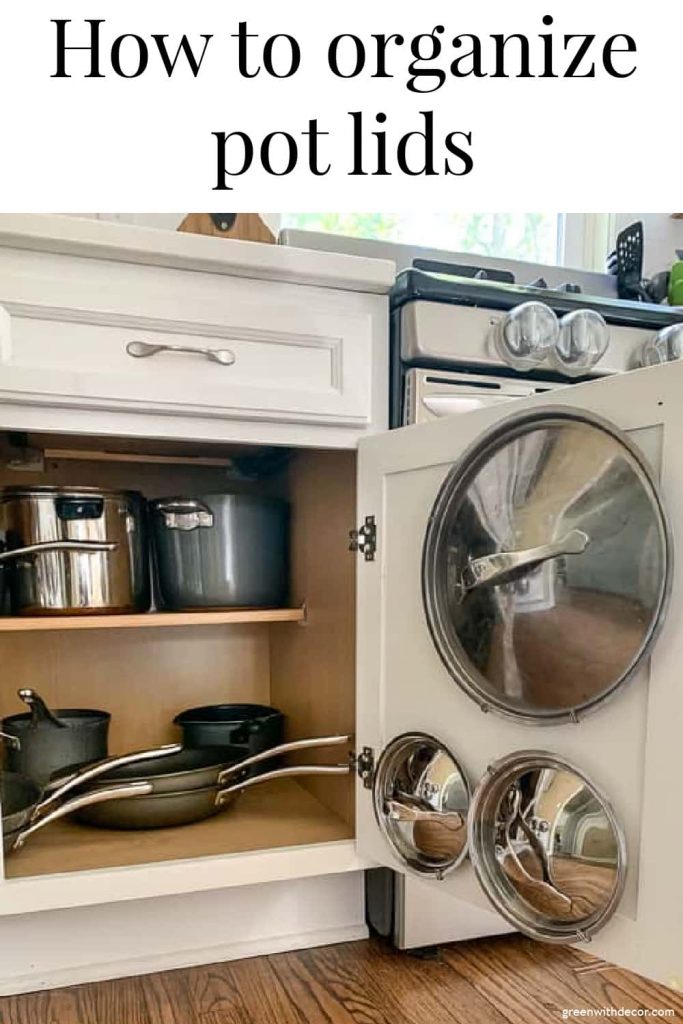 Want to read more posts like this?
Follow along: Get my emails | Facebook | Pinterest | Twitter | Instagram