Tips to plan a gallery wall, including narrowing down artwork choices, how to pick pieces for a cohesive look and how many pieces do use.
Disclosure: Some of the artwork featured in this post was provided by Minted. All opinions, images and love of gorgeous wall art are 100% mine.
Gallery walls are all over the place these days, but planning one can seem a bit overwhelming.
What art to use, how to pair different pieces together for a cohesive look and how many pieces to use. Are you cringing yet figuring out where to start? I know – I've been there, too. Who knew blank walls could give you so much to think about?
We had this huge blank wall over the couch to fill, and I decided to (finally!) do a gallery wall.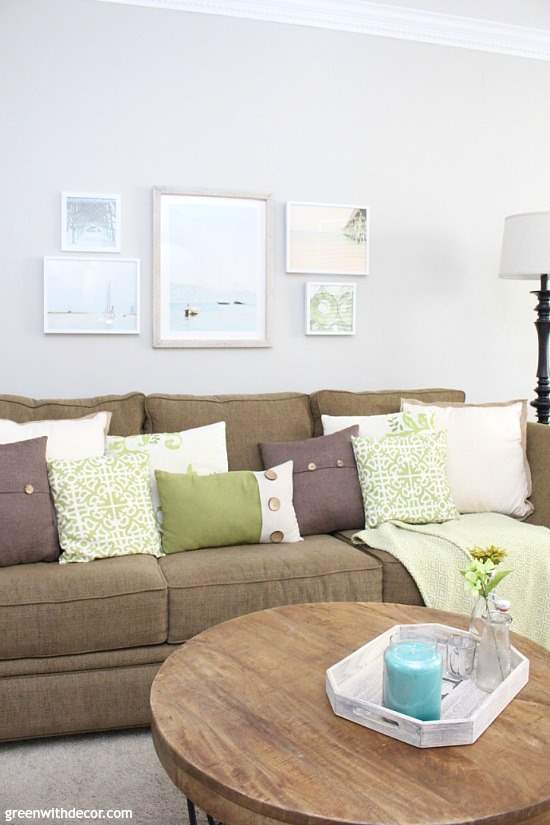 First things first. If you're looking for tips on picking wall art, check out that blog post first, then come back here to talk about how to plan a gallery wall.
This post contains affiliate links. This means if you click the link and buy something, I may receive a small percentage of sales at no extra cost to you.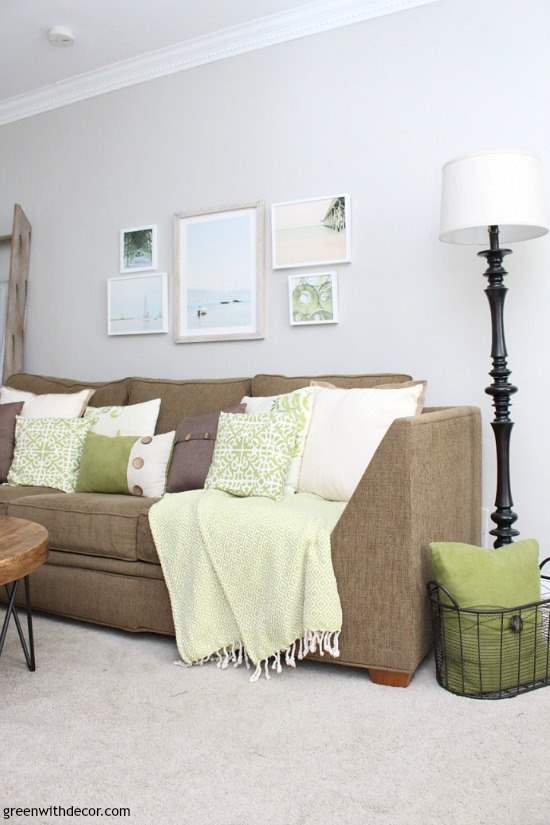 GET THE LOOK: Boat artwork 1 | Boat artwork 2 | Pier artwork | Fishing net artwork | Couch | Cream pillows | Brown pillows | Green + white pillows | Small green button pillow | Blanket | Big green button pillow | Coffee table
I ordered a few blue throw pillows to tie into our new artwork, but they haven't arrived yet. (I know, do I really need more throw pillows? Yes, yes I do.)
Ill take new pictures when they do and share them with you guys! (Update: You can see the new pillows in the post about the coastal rustic living room reveal.)
Here are a few things that helped me come up with the plan for our gallery wall design:
Artwork theme: I wanted water scenes but not necessarily a whole wall of just pictures of water so I picked water scenes for the larger three pictures and then went with the fish nets and pier/sand shots for the other two pictures. Water-like scenes, if you will, but not water. 🙂
Colors in artwork: I went with neutrals, blues and greens. (Big surprise, I know.) I picked green-focused images for the two smaller square images so there was green on both sides. Without both green photos, one seemed kind of out of place among all the blues and neutrals in the other photos.
Objects in artwork: Just like the colors, do a bit of overlap here. I picked two boat scenes and two pier scenes. The fishing nets are kind of off on their own, but the green color ties in perfectly with the green pier so it all works together.
Frames: Minted offers gorgeous frame options. I'm a fan of the Herringbone, we have it on this Afloat picture we have hanging in our foyer. I debated using the Distressed Cottage Wood frame (I love it!), but I wanted the main picture in the gallery wall to have the widest frame, so I went with the White Wood frames for the other pictures.

You can also choose to have the pictured matted. I went with a matte on the center picture only to make more of a statement.

Odd number of pieces: I feel like every decorating book you'll ever read says to use an odd number of things in groupings. I generally try to stick with to this rule.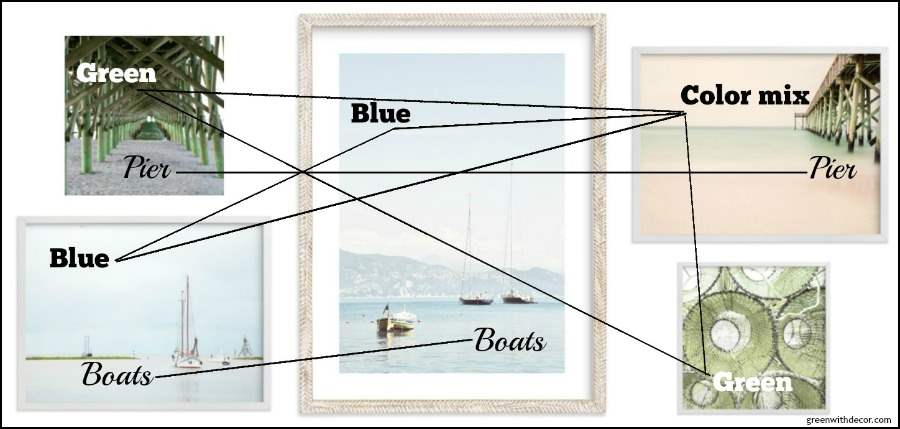 I typically put these design boards together for rooms (or gallery walls) so I can see how everything looks together before I buy a bunch of stuff that I end up not liking together. (You can see how I put together design boards if you want help!)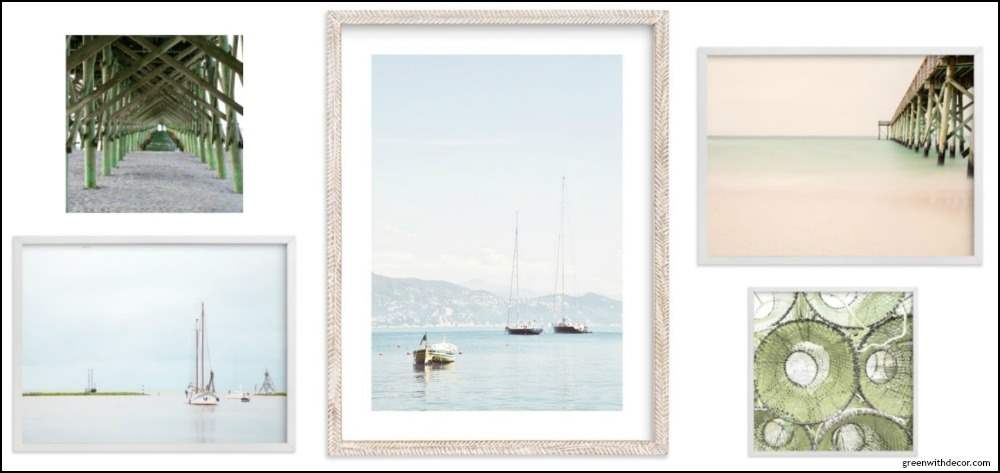 I love the artwork we decided to use. The picture of the green pier (top left) was taken by Kalen on our vacation in Folly Beach.
If you want a higher quality copy so you can download it to print and frame it at home, just scroll down to the bottom of this blog post and you can grab it! Hope it looks good in your home, too! (Send me a pic if you use it!)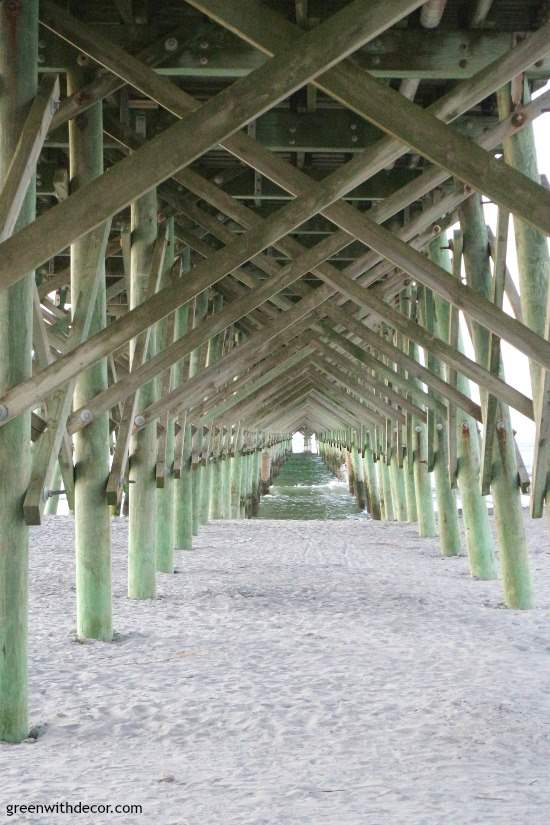 The other four pictures are from Minted's website:
Minted has a lot of great art options. It always takes me a while to scroll through and pick my favorites because I end up with too many. Nothing like getting to shop independent artists from the comfort of your couch!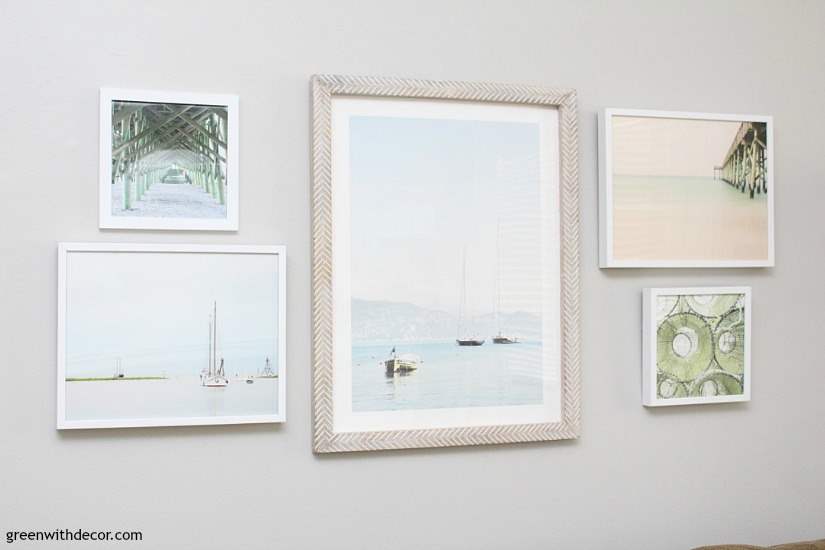 And one more thing since today is about all things gallery walls, I share my favorite tips for hanging gallery walls in my post about this DIY towel rack.
Want a copy of the Folly Beach pier photo?
Sign up in the box below, and the link for the free printable will arrive in your inbox shortly. You'll also be signed up to get blog posts and alerts about new printables moving forward. (If you're already an email subscriber, you won't get added to the email list twice.)
*Please note: All printables and downloads designed by Green with Decor are for personal use only. Please do not alter the files or claim them as your own. These files are not intended for resale, nor are the printed versions of these files.
Note the picture can be printed as an 8×10 or smaller. I printed it as an 8×10 and then cut it into an 8×8 square to fit in the frame I bought. 
You can follow along with our living room progress here:
How to plan a gallery wall when you don't know where to start (you're here!)
Remember to bookmark or pin this post if you want to save it for later!

Pin it!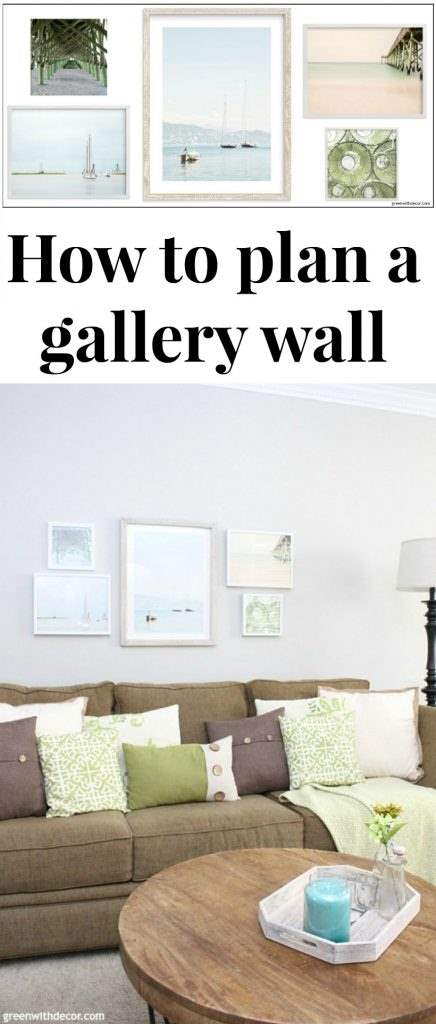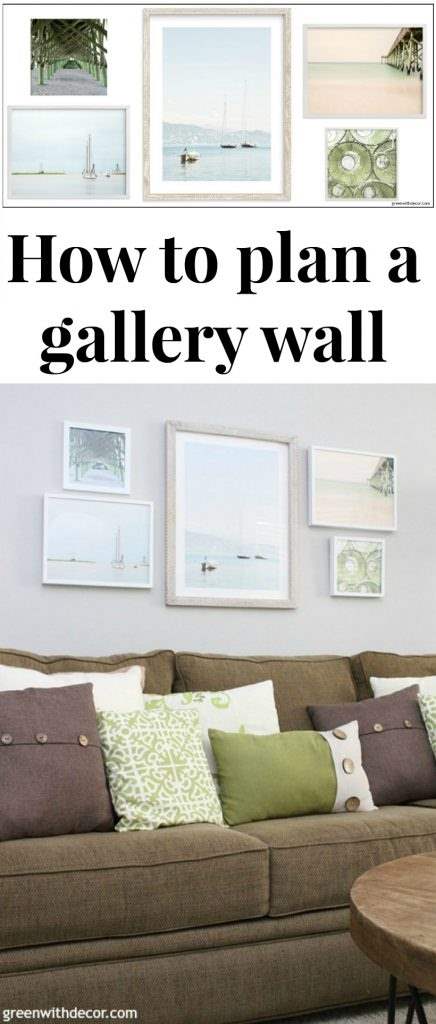 Want to read more posts like this?
Follow along: Get my emails | Facebook | Pinterest | Twitter | Instagram