Disclosure: This post is sponsored by Wagner. All opinions, images and love of painting projects are 100% mine.
I do a lot of furniture makeovers around here, but one thing I hadn't tackled yet was using my favorite clay paint in my favorite paint sprayer.
It's been on my to-do list because I was curious how the two would work together, and I finally tried it!
And, no big surprise, they two worked great together. Good to know, right?!
Just look at this gorgeous table!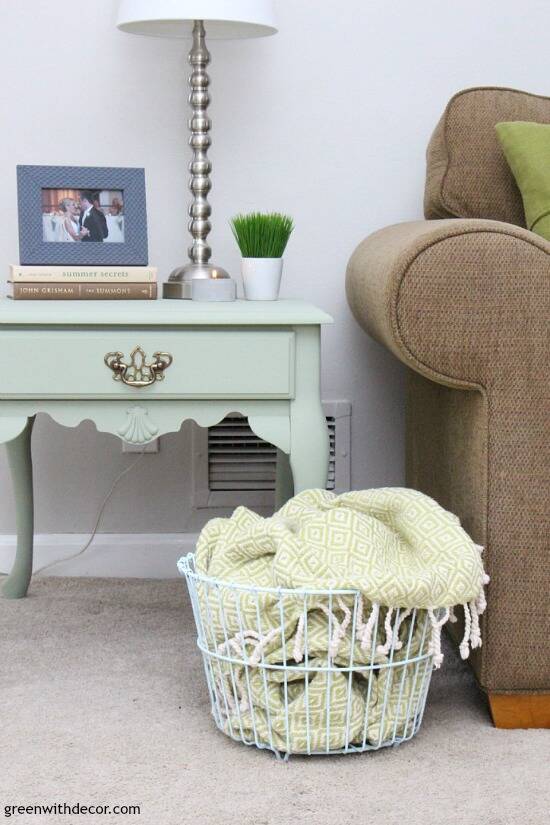 It started like this: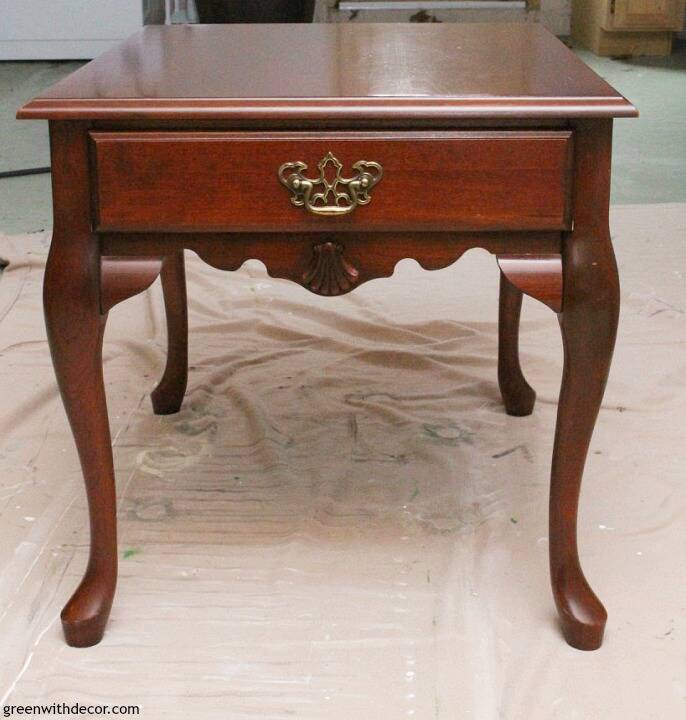 I typically do two coats of paint (with a paint brush) when using this clay paint on furniture, and the Wagner paint sprayer meant I only had to do one coat.
It went SO FAST!
Unfortunately, the winter weather meant we were in the basement instead of outside. (If you're worried about overspray, use a paint tent to make painting inside even easier.)
As long as I had the paint sprayer out, I ended up painting a few decor pieces I'd had sitting waiting to be painted, too. Here's how they all started: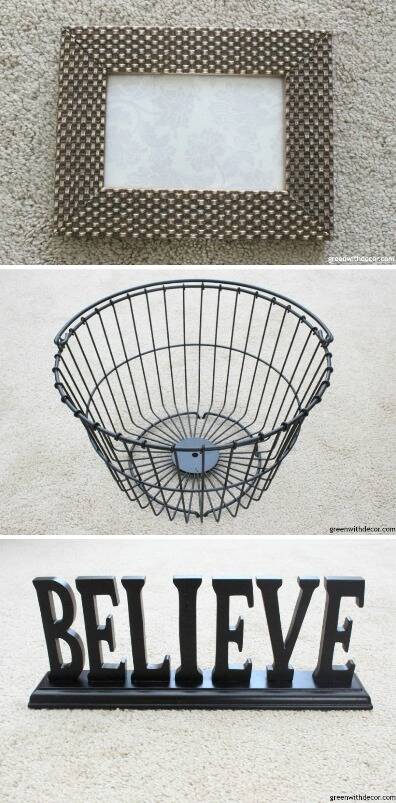 It's amazing how much faster using the sprayer goes than painting by hand, especially for pieces with lots of 'spindles' like that basket or even the letters on the 'believe' sign.
Plus the one coat of paint thing is a time saver all by itself.
(I did end up doing a quick second/touch up coat on that 'believe' sign, but that had more to do with covering a black piece with light paint.)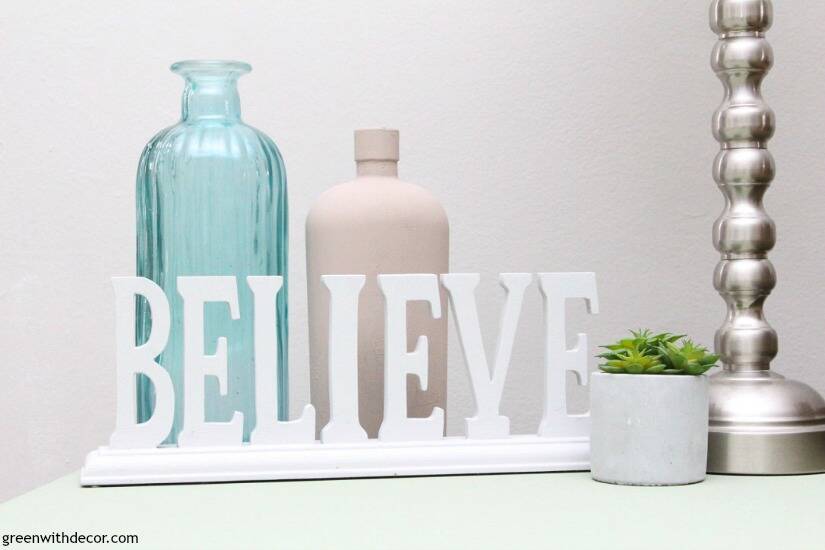 This post contains affiliate links. This means if you click the link and buy something, I may receive a small percentage of sales at no extra cost to you.
Supply list for a quick table makeover:
Drop cloth (or old blankets)
Studio Home Decor Sprayer (you can buy one here or here)
Extension cord (if needed)
Paint

Most paint works just fine in the paint sprayer. I've used various brands and have yet to run into a problem. This time, I used a few Country Chic Paint colors: Sage Advice on the table, Icicle on the basket, Lazy Linen on the 'believe' sign and Hurricane on the picture frame.

Water or other paint thinning material
Screwdriver
New hardware (optional)

This one looks like what's on my table if you want the same look.
How to give a table a quick makeover:
1. Prep your furniture piece.
Like any other furniture makeover, be sure your piece is free of dust and dirt. If there are any big holes or scratches, use wood filler before painting. (More on that in this post about our TV stand makeover if you're curious.)
Because of the clay paint I used (which covers really well) and the fact that the table was in good shape, I didn't do any sanding prior to painting.
Take off any hardware and set it aside. I usually end up replacing old hardware for a fresh look, but I like the charm of this gold pull with the Queen Anne style legs so I decided to keep it.
2. Pour your paint in the sprayer.
Be sure to stir your paint in its original container first so you get a good pour. Then add about 10% water (or paint thinning material) on top of the paint to thin it out, and stir.
3. Put the paint sprayer together.
Wagner's manual is really helpful.
There are a few small pieces, and I referenced the manual the first few times I used the sprayer just because I couldn't remember what order they go in. (My painting obsession has led to me memorizing the assembly order now.)
Line up the suction tube depending if you're going to be painting with the sprayer pointing up toward your piece (the angled part should face the back of the sprayer) or down toward your piece (the angled part should face the front).
Screw the paint container into the sprayer.
Adjust the air cap on the sprayer depending if you'll be painting side to side (the air cap should be horizontal) or painting up and down (vertical).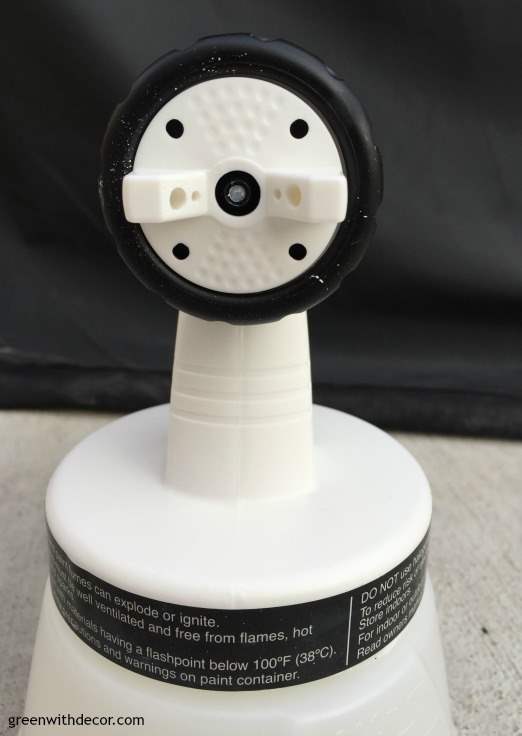 I go into even more detail (and photos) in this post about how to use a paint sprayer if you have any questions before you get started.
4. Time to paint!
If you've never used a paint sprayer before, practice on an old piece of cardboard or scrap wood.
It's not hard, but you have to get close (think 3-6 inches from your piece), which feels kind of funny at first.
Plus practicing will ensure you have the right amount of water/thinning material in with your paint so the paint comes out in a good stream. (After you use the sprayer a few times, you'll be able to just eyeball it.)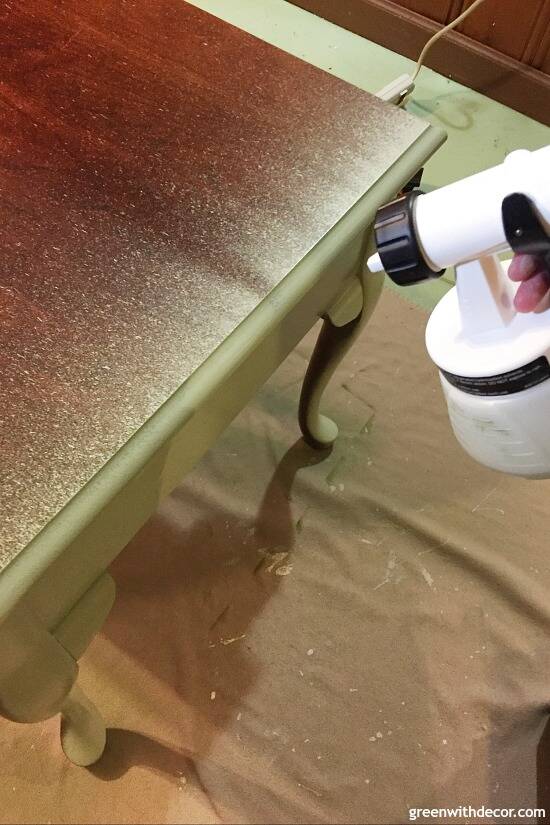 You can adjust the flow of paint by turning the black circle on the top.
As you paint, keep the sprayer moving, going back and forth (or up and down) over your piece.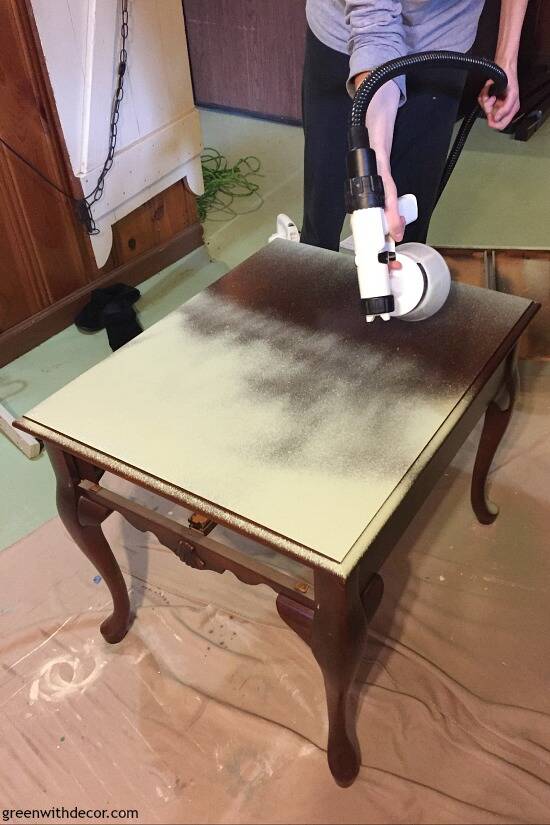 The paint will look a bit splotchy in some areas at first, but it will dry smooth. (I painted a door with the sprayer, and it's amazing what it looked like right away versus when the paint dried!)
Here's a peek at the table top right after painting/after it dried so you can see what I mean.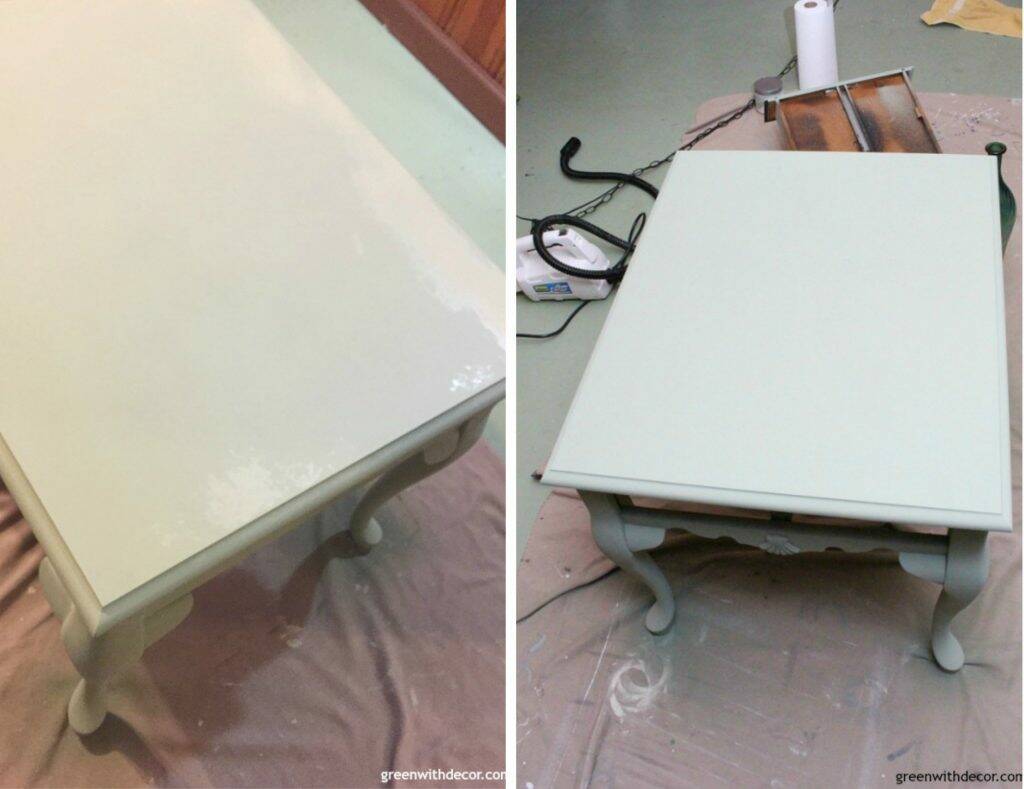 The accessories were really quick paint jobs.
(My mom – we joke she's my assistant since we often do painting projects together – took the further out shots when I was painting the table, but she was busy when I was painting these small pieces so I only have these close-up shots. Good free help is hard to find!)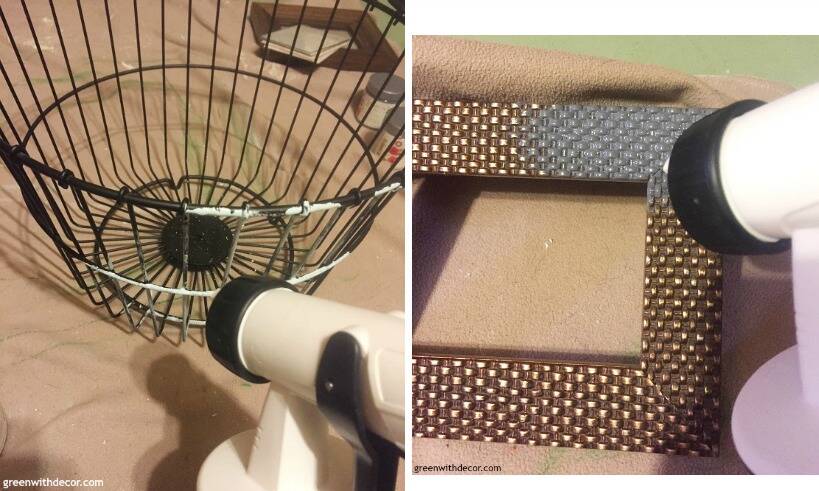 It's amazing what you can paint with the sprayers.
You can see in this foyer makeover, I painted everything from the walls to small decor pieces (all in a few hours!).
6. Clean the paint sprayer.
This sounds harder than it is. It takes longer than washing out a brush, but the time you save painting more than makes up for it.
Run warm soapy water through the sprayer to get rid of any paint residue, then let everything dry.
I keep the small parts in a plastic resealable bag inside the paint sprayer box just so I don't lose them.
7. Once your paint is dry, screw your hardware back on.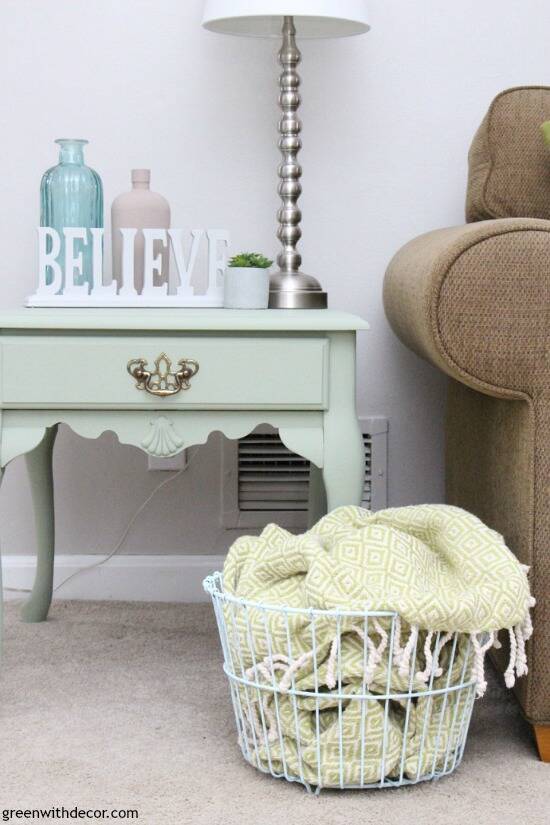 I'm loving this green color!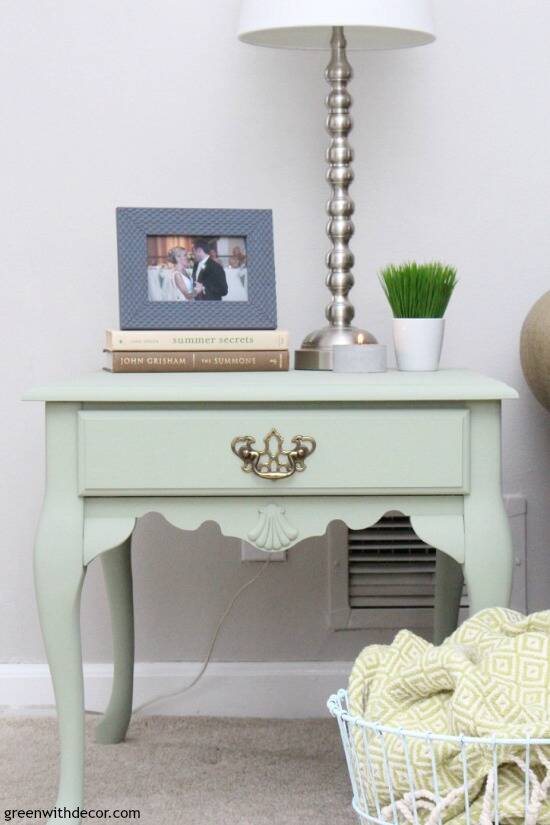 Have you ever used a paint sprayer? It's addicting once you start.
I'm always amazed how fast painting jobs go with it.
You can see more paint sprayer projects here:
Remember to bookmark or pin this post if you want to save it for later!

Pin it!

Want to read more posts like this?
Follow along: Get my emails | Facebook | Pinterest | Twitter | Instagram