I was debating posting this blog since I just posted about our family room design plans a few weeks ago, but we're in all sorts of planning/makeover mode over here so I'm just going with it.
Our living room and foyer are basically one room, but I'll talk about the foyer plans in another post.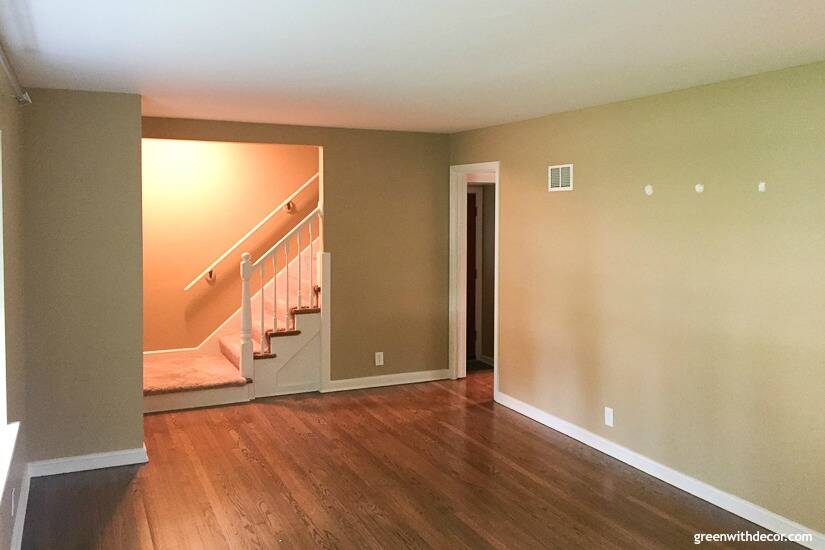 Today's all about the other side of this room: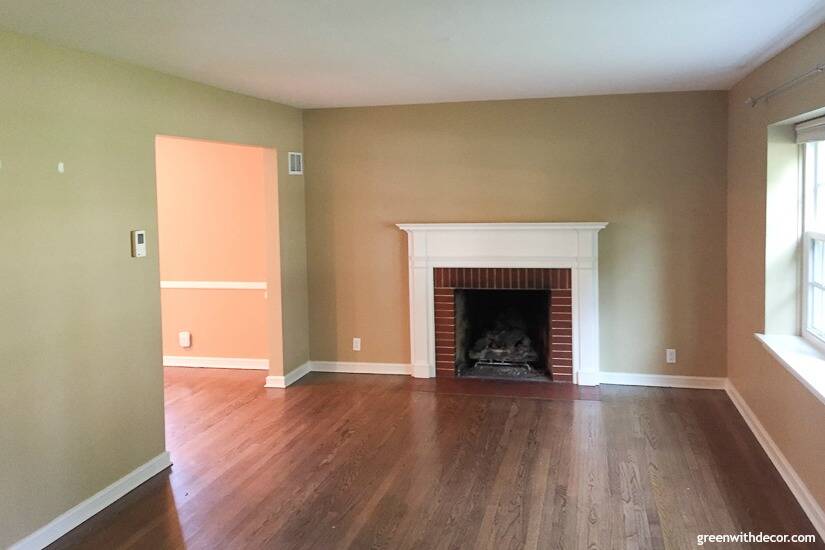 This room has been a dumping ground since we moved back in. I FINALLY got the last box out of here in the past few weeks, which feels SO good and means we can finally move forward with doing something in this room!
And we have something BIG planned for this wall!
But first a trip down memory lane, because that's always fun, right?! Plus it always makes me feel better about how far we've come. Seriously, take pics of your home and look back at them – it's fun!
Here's what the living room looked like after we refinished the hardwood floors, before painting and any decorating: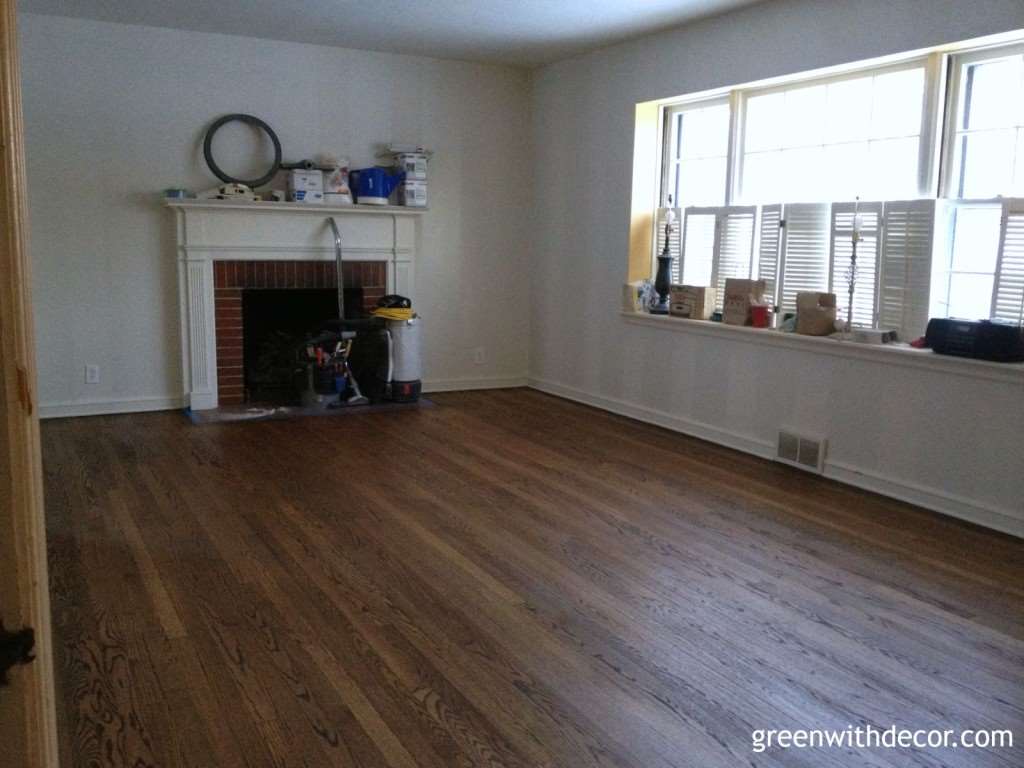 And then: (excuse the blurry photography!)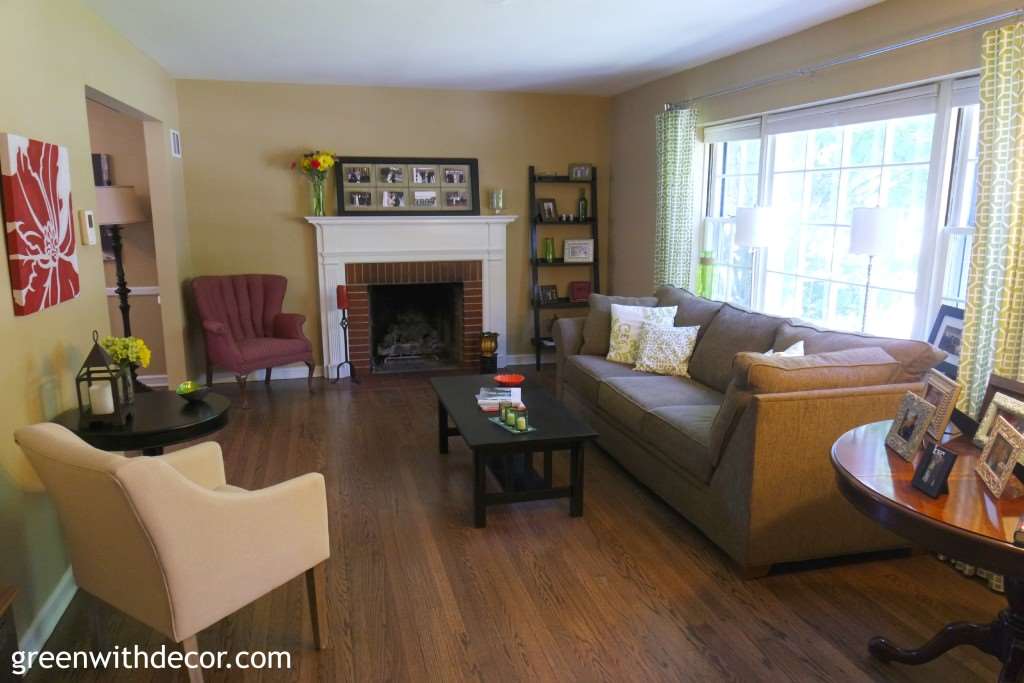 This post contains affiliate links. This means if you click the link and buy something, I may receive a small percentage of sales at no extra cost to you.
And before we moved out: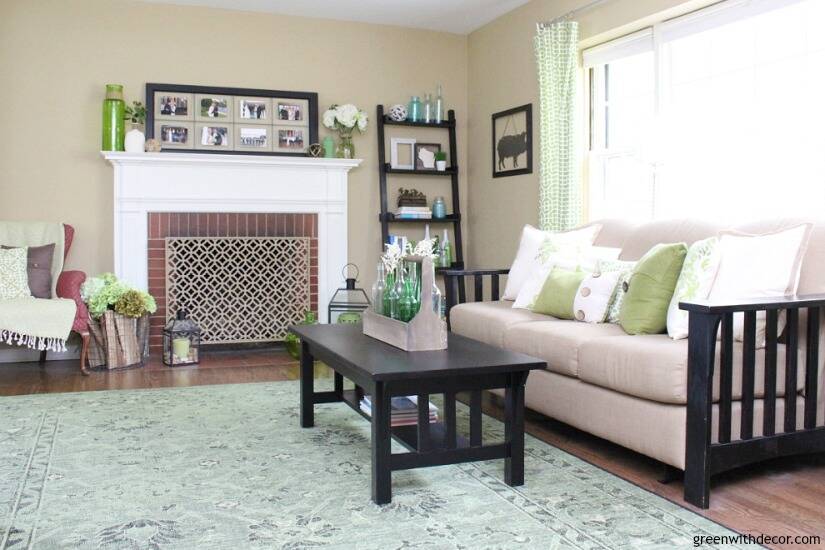 GET THE LOOK: Rug | Window turned picture frame (DIY) | Coffee table | Ladder shelf | Green pillow | Cream pillow
This room will kind of be in flux for several years based on life stages we're at, but I'm good with it. Somehow just accepting that this room will serve a million purposes and not really be 'done' for a long time is … freeing? Weird word, but it is.
I figure most of us deal with rooms that evolve over time anyway when we're trying to cram a playroom, home office, piano room, foyer, sitting room, etc. into a house that doesn't actually have separate spaces for all of those rooms, so let's just roll with it.
Here's our living room plan:
Built-ins/fireplace:
Most exciting of all is that we're doing all white built-in bookshelves around our fireplace!!! I've wanted to do this FOREVER and am so excited it's actually happening!
And, maybe a surprise, but we're hiring them out.
We'd always planned to do them ourselves, but with a new baby and just general busy-ness of life right now, we decided to pay someone to do them, and I've never been happier to write a check.
I mean to just decide what you want to do and then, boom, have a project magically be done? SIGN. ME. UP.
I love DIYing, don't get me wrong, but moving with an extremely colicy baby and not sleeping for months has put us behind on oh, just about everything, so getting a project done just like that? Yes please.
I can't WAIT to decorate the shelves! Hello faux plants, aqua glass bottles and pretty wood pieces. I'm so excited! I'll share the finished built-ins soon!
Above the fireplace, I have a fun wall treatment idea (more to come!), and we'll reuse our gray/gold mirror we had in the rental house: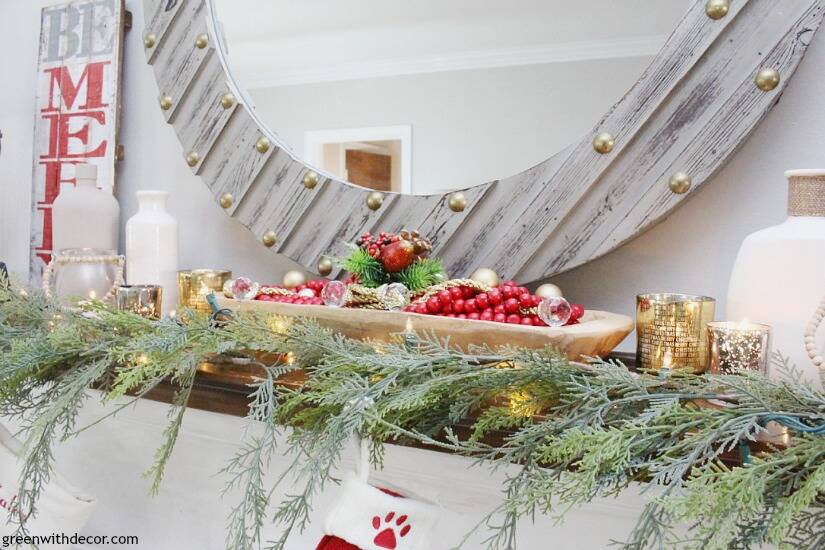 (I realize that's a Christmas picture, but it's the best pic I have showing the detail of the mirror! I often get question on the mirror. It was a lucky local decor store find, and I haven't ever been able to find anything similar online despite looking a million times, sorry!)
I'm planning to paint the red brick and tile in front of the fireplace. I just don't like the red with the rest of our furniture and decor, and I think it will stand out even more when that whole wall is white.
I want to stencil the tile like I did in this breakfast nook makeover!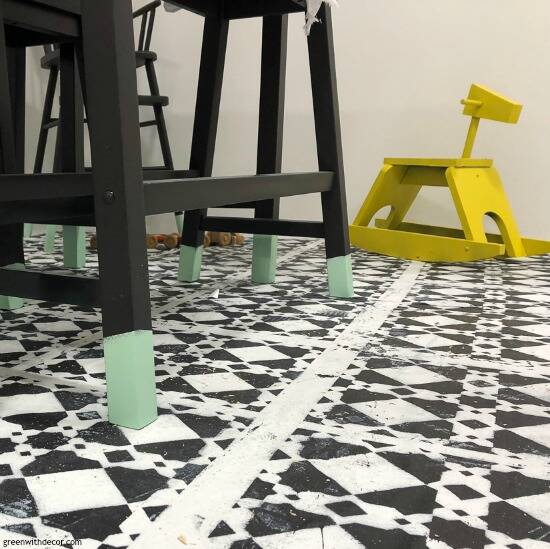 Crown molding:
As long as we're doing the built-ins, we're adding crown molding, too.
Furniture:
This room will pretty much serve as a playroom for the next however many years until we turn the basement into a rec room / playroom. It's right off our dining room / kitchen, which is perfect for little kids.
We're not planning on having much furniture in here for the time being so that it can be a fun playroom with lots of empty floor space for, you know, playing!
But we'll add our gray accent chairs for some seating. We've used them in a few places, but they always stay close to my desk since I love using one as an office chair.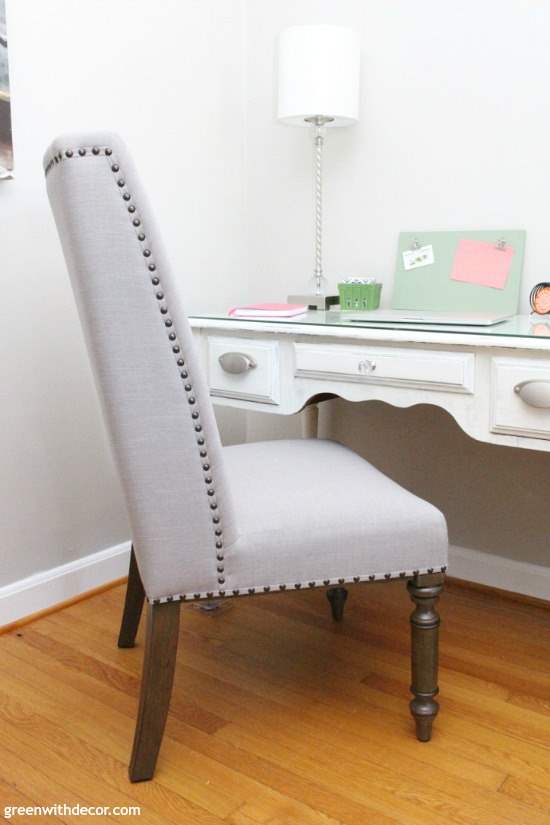 Desk:
Speaking of, my desk is getting bumped to the spot in front of the window, because the wall it used to be on will house our new piano!
(See the painted desk tutorial here.)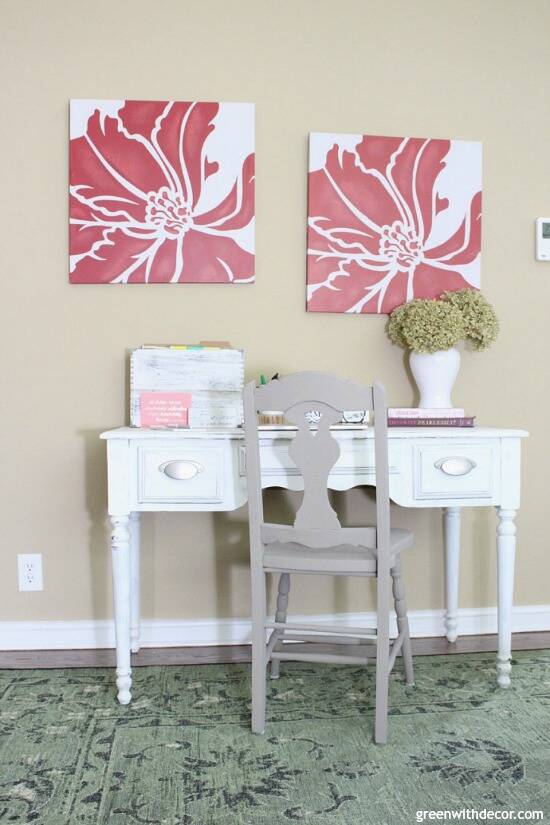 Piano:
We inherited my grandparents' old piano, and I've always wanted my kids to take piano at some point, so it worked out well!
Artwork:
As for artwork above the piano, we'll use some combo of our coastal artwork:
Scroll and click/tap the images below for more info.

Rug:
We'll use our same green rug in here that we used previously.
The multi-color design is already proving to be great for hiding spit up, so I'm thinking it's perfect for playroom messes!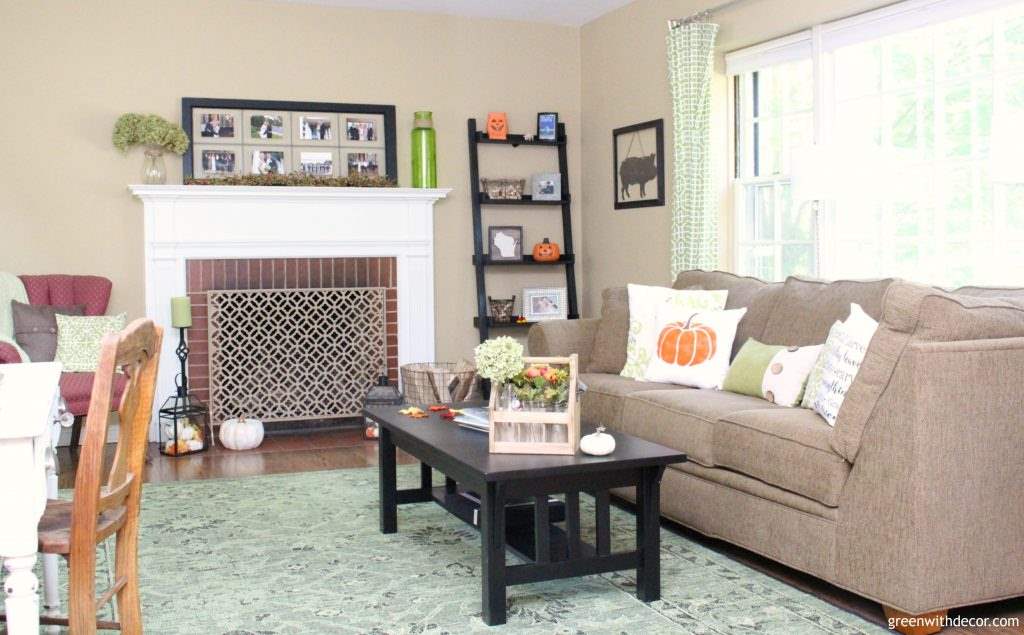 GET THE LOOK: Rug | Window turned picture frame (DIY) | Coffee table | Ladder shelf | Green pillow
Windows:
I'm using my favorite white curtains and curtain rods in basically every room of the house now:

So that's what I'm thinking for this catch-all living room! Stay tuned. Can't wait to share the bookshelves!!
Are you planning any random room makeovers like this one? Home office / music room / playroom / foyer combo? Let's hear it!
Remember to bookmark or pin this post if you want to save it for later!

Want to read more posts like this?
Follow along: Get my emails | Facebook | Pinterest | Twitter | Instagram