This breakfast nook makeover is full of easy paint sprayer projects, including a painted faux tile floor and dipped furniture legs, and fun ideas for upcycled wall decor.
Disclosure: Wagner covered transportation and accommodations for this trip. All opinions, images and love of DIY painting projects are 100% mine.
I am sooo excited about today's post!
If you saw on Instagram (follow me here!) or in my newsletter (sign up here for the inside scoop!) last week, I got to go back to Wagner's headquarters for the second year in a row for their Wagner Insprayational event!
Last year was an absolute blast, and I was so excited and honored to be invited back again!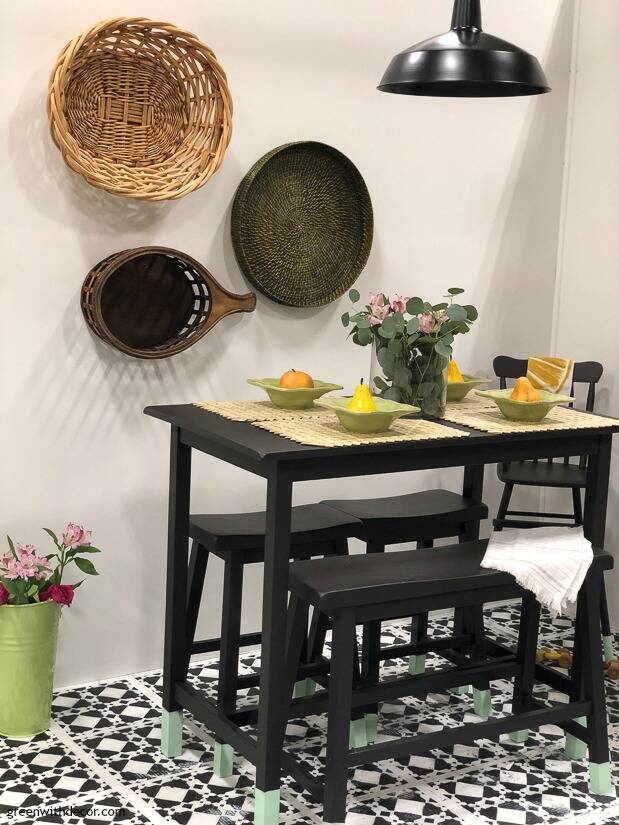 Wagner invited a handful of bloggers to learn more about their products and take part in a whirlwind one-day design challenge using their awesome projects and a whole lot of paint!
It was SOOOO much fun!
Each blogger started with two blank walls plus a table/bench set, and we had a few hours to transform the space into a painted, decorated breakfast nook.
Here's my before and after: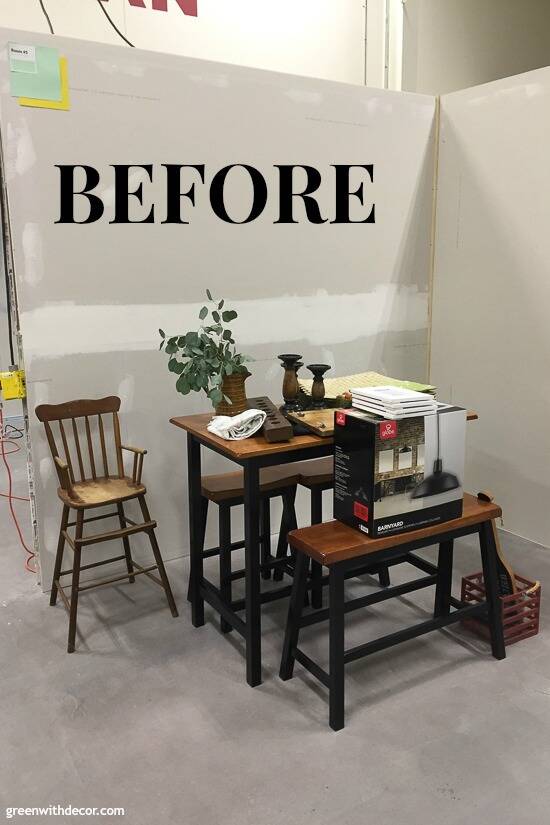 Paint sprayer giveaway:
*Giveaway is now closed.*
This year, you guys get to be involved, too! Wagner is sharing all of the finished breakfast nooks on their website HERE, and you can vote for your favorite space anytime before Nov. 4! Of course, I would love for you to vote for me! 🙂
The best part for you guys is that everyone who votes gets entered to win a FLEXiO 3000 paint sprayer, which is a favorite tool around here! (You might recall we painted the guest room walls, the garage walls and our metal patio furniture with it, just to name a few projects you could use the sprayer for!)
You can vote right HERE! Thank you so much to those of you who vote, this blog wouldn't even be possible without you, my awesome readers!
The breakfast nook makeover:
So let's dive into the details of the breakfast nook makeover, shall we?!
Each blogger was randomly assigned two paint colors from the PPG Paints 2019 Color Trends line. We had to transform our breakfast nook using only those two colors plus black and white.
I got Sprite Twist (a sea foam green) and Crushed Pineapple (yellow). I was into the green, obviously, but the yellow really stumped me because it's a color I never use! I feel like I just kept thinking, thinking, thinking and then just decided to dive right in!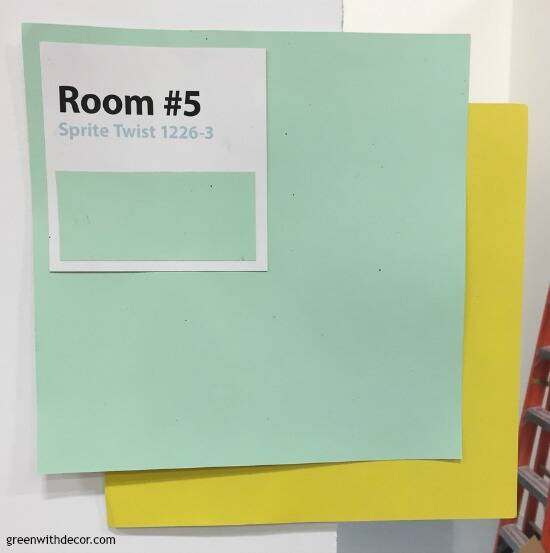 And how funny is this, I ended up with the exact same booth I made over last year for the foyer challenge makeover! I felt right at home painting those walls again!
I used Wagner's paint sprayers for every single thing I painted in my space. I'll call out which sprayer I used for which projects below so you guys can easily recreate anything you love!
I'll also share some of my tutorials for using Wagner's paint sprayers at the end of this blog post if you have more detailed questions on how to use any of them! (Because I have a feeling this blog post is going to be long enough as is!)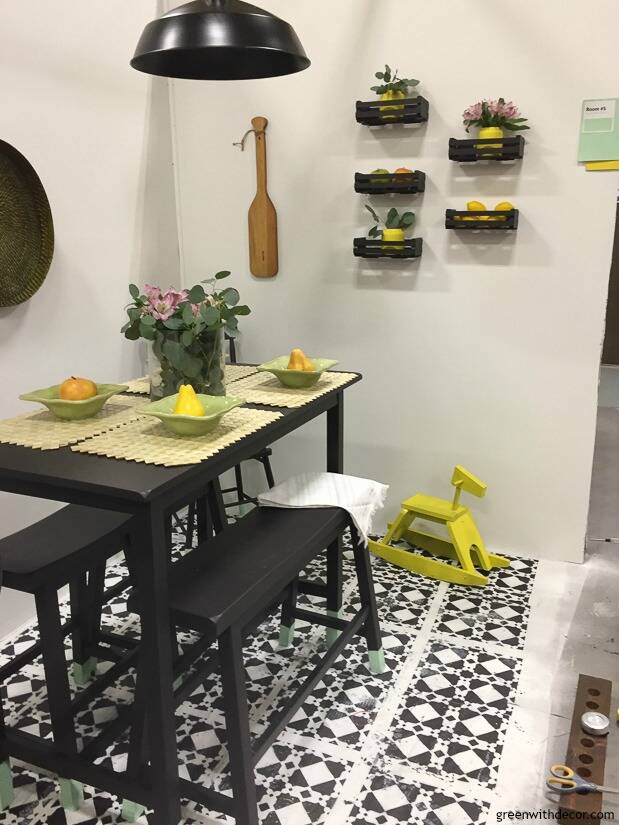 This post contains affiliate links. This means if you click the link and buy something, I may receive a small percentage of sales at no extra cost to you.
The walls:
I used the FLEXiO 3000 to paint the walls. I talk all about how to paint walls with a paint sprayer here if you've never used one!
The biggest things to remember are:
Keep the paint sprayer even with the wall (which means you have to move with it, don't just flick your wrist)
Overlap a bit with the streak you just painted
You have to get closer than you think
Wipe the nozzle with a damp paper towel every once in a while if you're doing a lot of painting.
The floor:
This is my FAVORITE part of the whole breakfast nook! I'm just obsessed with it!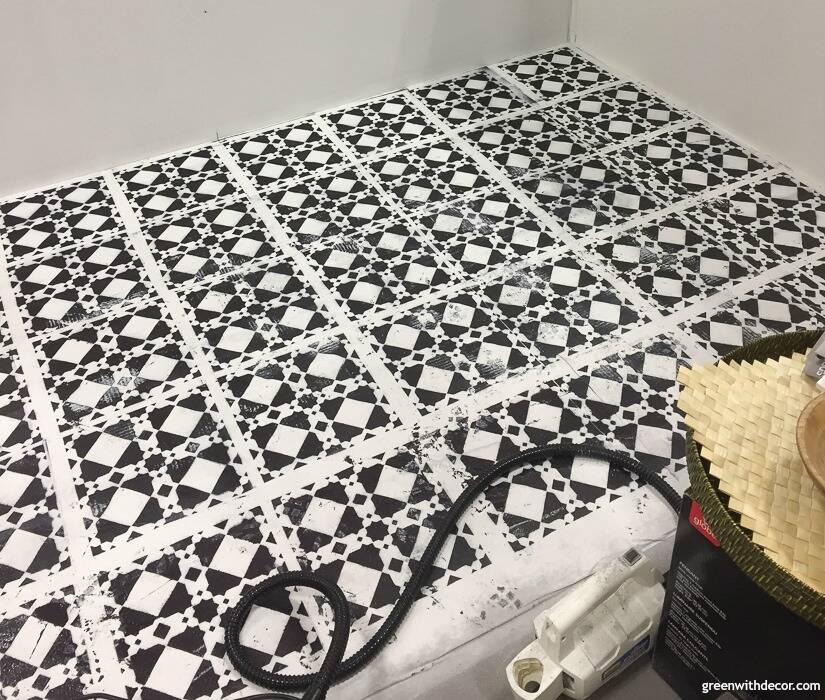 I've been wanting to use paint to create a faux tile look for a while, so this was the perfect opportunity! (The smudges are because we were moving so fast! If you let the floor dry completely instead of walking on it, you wouldn't have to worry about those!)
I painted the whole floor white with the FLEXiO 3000 and then used the Home Decor Sprayer and a stencil (from Royal Design Studios) to paint Onyx (a very dark gray, almost black) by PPG Paints over it.
I learned some tips and tricks for stenciling in the process and am already dreaming up a space or two in our house we're going to paint/stencil for the faux tile look!
The furniture:
I used the Home Decor Sprayer for the table, benches and high chair.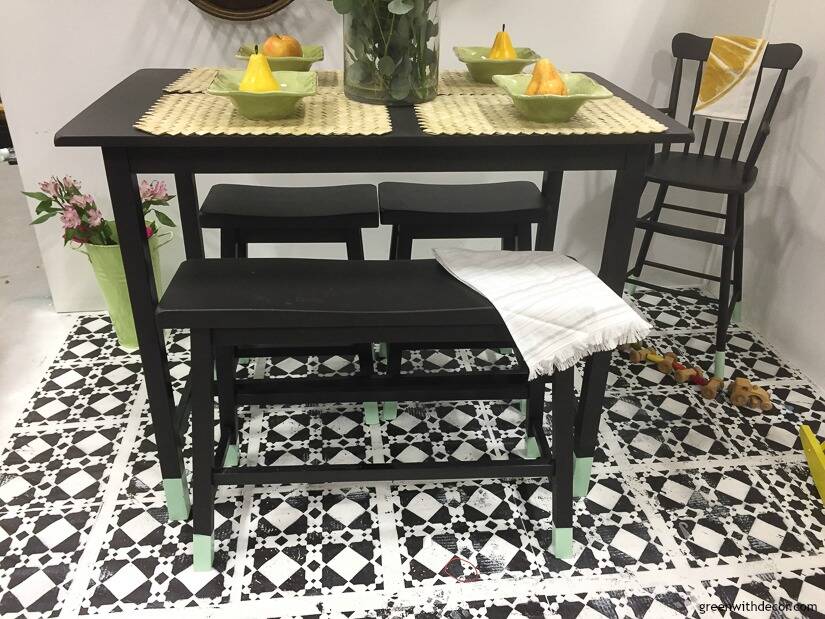 By the way, how CUTE is that high chair?!
The Wagner team had a HUGE stash of decor and accessories ranging from extra furniture pieces to beautiful flowers that we could pick from to use in our breakfast nooks.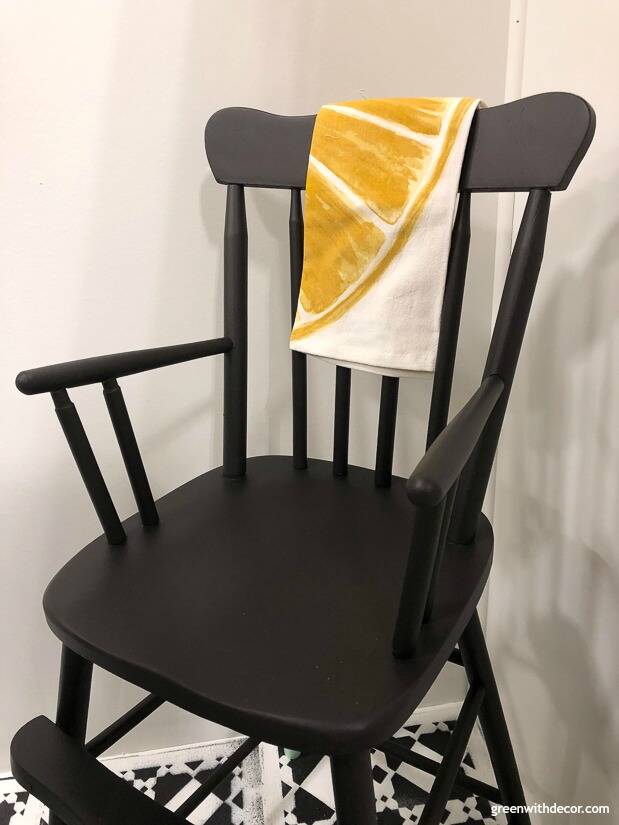 When I saw the high chair, I knew I HAD to use it!
Since my daughter is just a couple months old and still nursing, she and my mom (we always joke she's my design assistant!) came along to Wagner with me, so the high chair was a perfect addition to my space.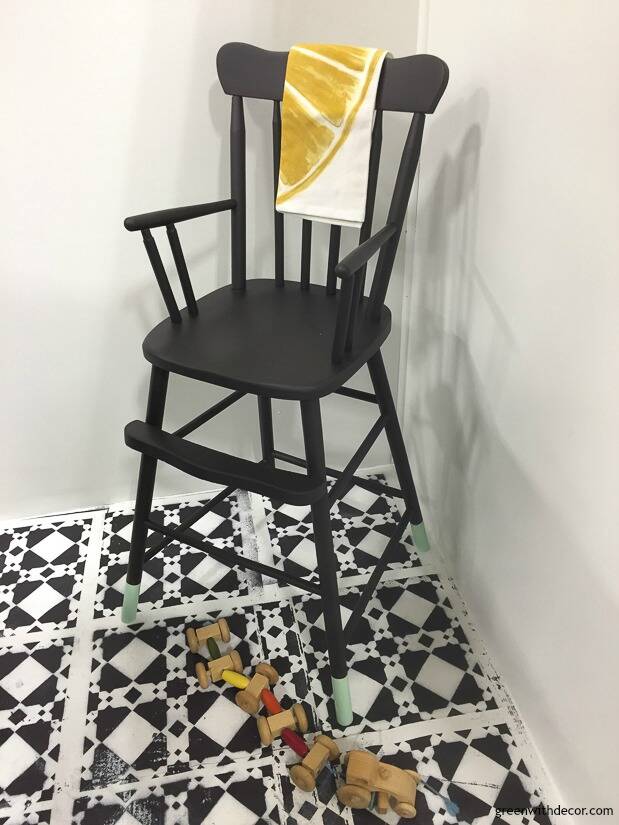 I painted the furniture Onyx, then used painters' tape and the Control Stainer 150 sprayer to get a dipped furniture look with the Sprite Mist paint.
I was thinking I'd use a roller to get the dipped look to avoid overspray, but one of the Wagner team members suggested using the Control Stainer 150, which was awesome! It was my first time using it, and I loved it.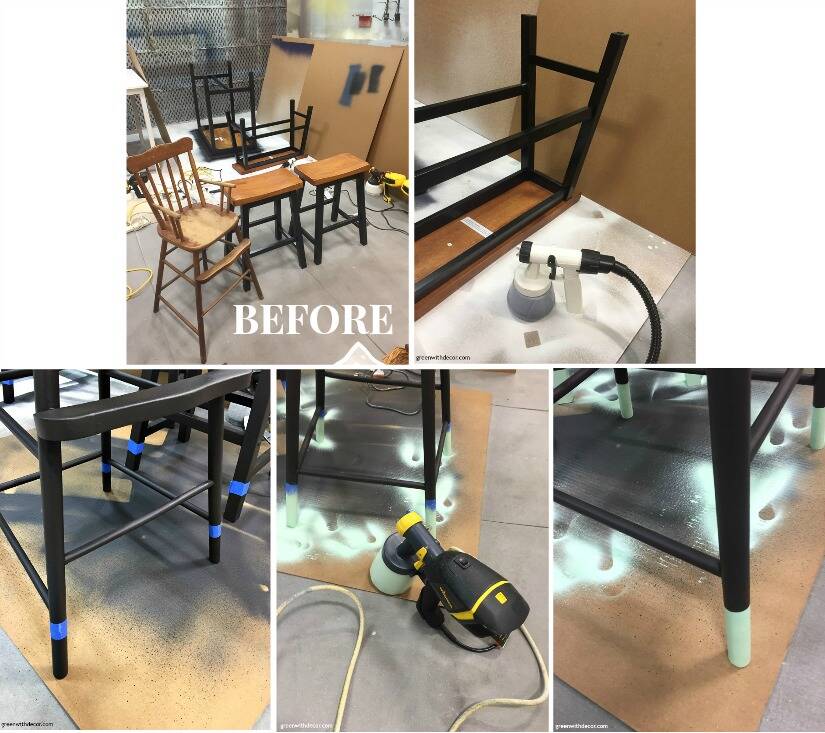 Which brings me to another point, just like last year, we got to spend a lot of time chatting with different members of the Wagner team throughout the event. They're all so nice and clearly passionate about their jobs, as evident that everyone I met last year was still working there! Everyone was helpful, whether it was chatting about which sprayer is best for which project or hanging wall decor up for us as we scrambled to finish.
To get the dipped leg furniture look, I just pointed the Control Sprayer 150 downward toward the bottoms of the furniture legs, so the overspray went onto the painter's tape.
The floor is my favorite part of my breakfast nook, but the dipped furniture look is a close second! I really love how the green pops against the black/white floor. This combo is such a perfect way to show the power of paint!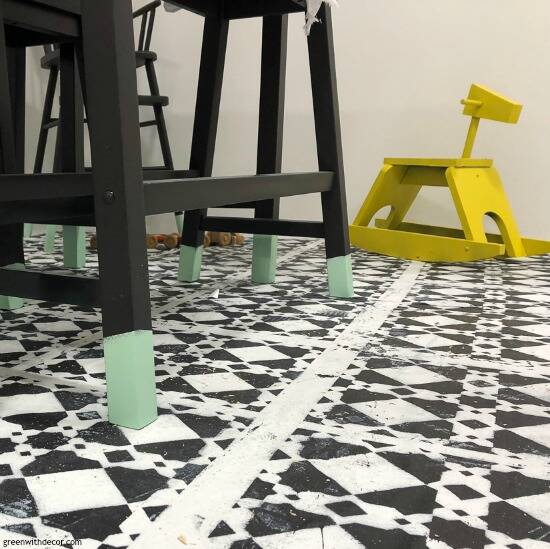 Since I had the high chair, I also snagged this cute little rocking horse from the decor stash and gave it a quick coat of Crushed Pineapple paint with the Home Decor Sprayer.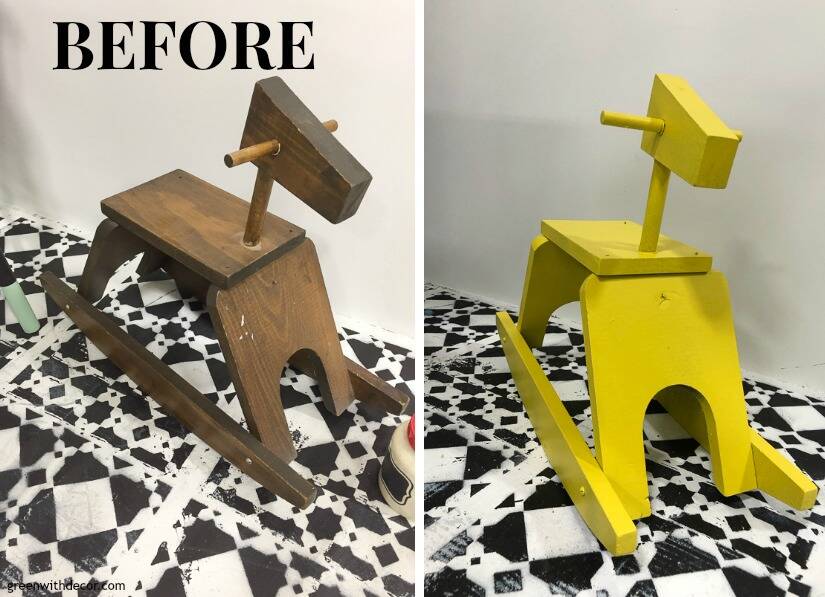 Fun fact, if you paint a rocking horse at the very end of a decor challenge, you can use Wagner's heat gun to quickly dry the paint. 🙂 Or you know, if you're ever painting something last minute before guests come over or something!
I had to grab that little wooden train you see by the high chair, too. I feel like with the high chair, rocking horse and train, my breakfast nook was a pretty accurate representation of our house at the moment! Painted projects next to a bunch of kids' stuff!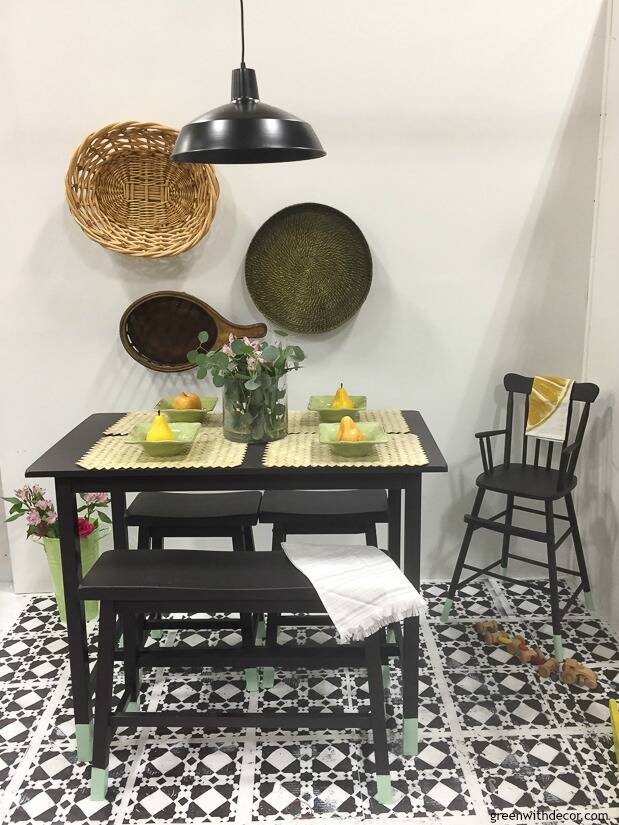 The wall decor:
If you've seen our coastal rustic living room makeover, you know one of our favorite parts is the crates turned wall shelves. So, how perfect was it that these little wooden crates (actually, they're old cassette storage boxes!) were in Wagner's decor stash?!
I used the Home Decor sprayer to give them a quick coat of the Onyx paint and to give these jars a coat of Crushed Pineapple paint so I could use them as little vases.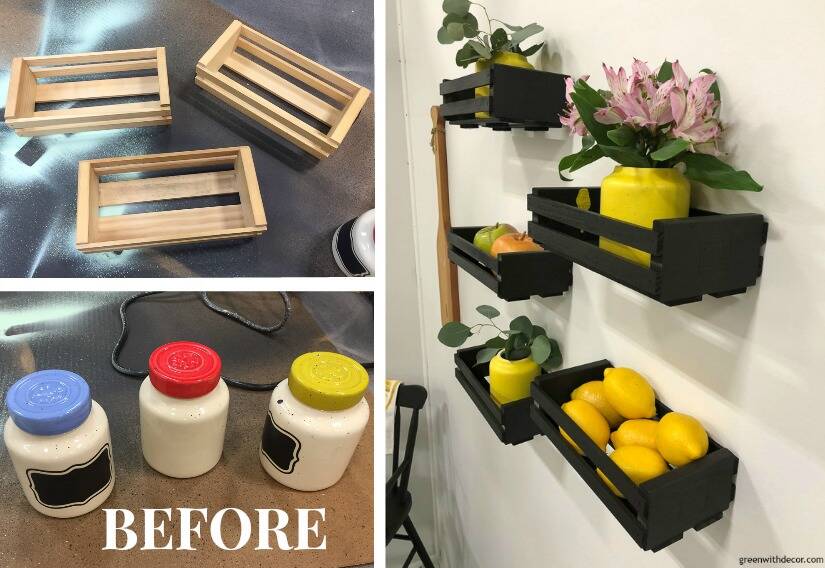 (Yes, one coat of yellow paint with the sprayer covered those black chalkboard labels on the jars. The paint sprayers provide AWESOME coverage!)
Repurposing things as wall decor turned out to be the theme of the wall decor as we raced to finish the design challenge. (I had to step out to nurse my daughter a couple times so the pressure was ON to finish on time!)
I used a few baskets to create a gallery wall, and then hung up a wooden oar above the high chair to finish off that corner.
I love how the one basket was already green. It was a fun way to tie in another shade of green into the space along with the dipped furniture legs and plants!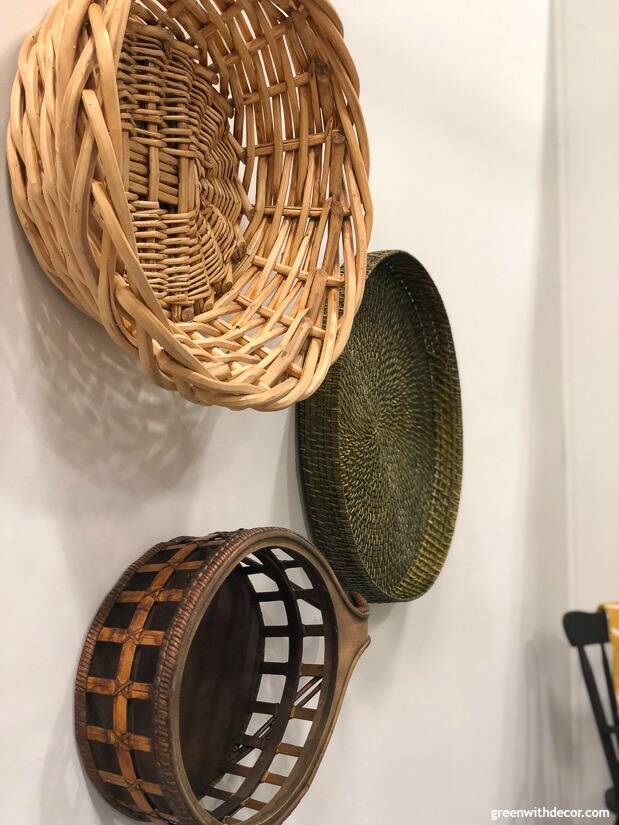 The centerpiece:
I initially painted a pitcher yellow to use as a vase and then decided it was too much yellow so I grabbed a candle holder and used the clear jar inside it as a vase for the eucalyptus and flowers.
It works perfectly, don't you think?!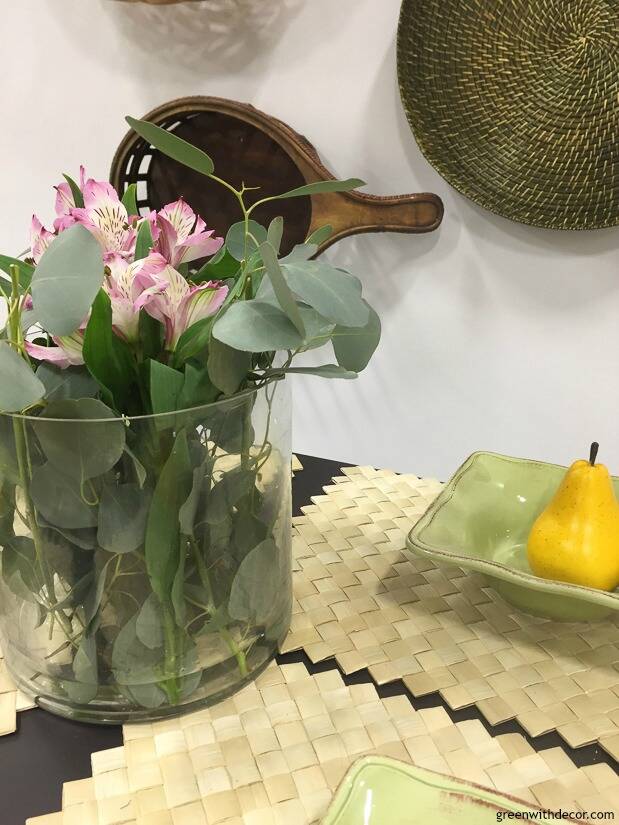 I'm totally stealing this for a centerpiece idea at home sometime! Is eucalyptus ever a bad idea? Nope!
I just love those placemats, too. The green bowls with yellow fruit was a perfect way to tie in the signature green and yellow colors for the space!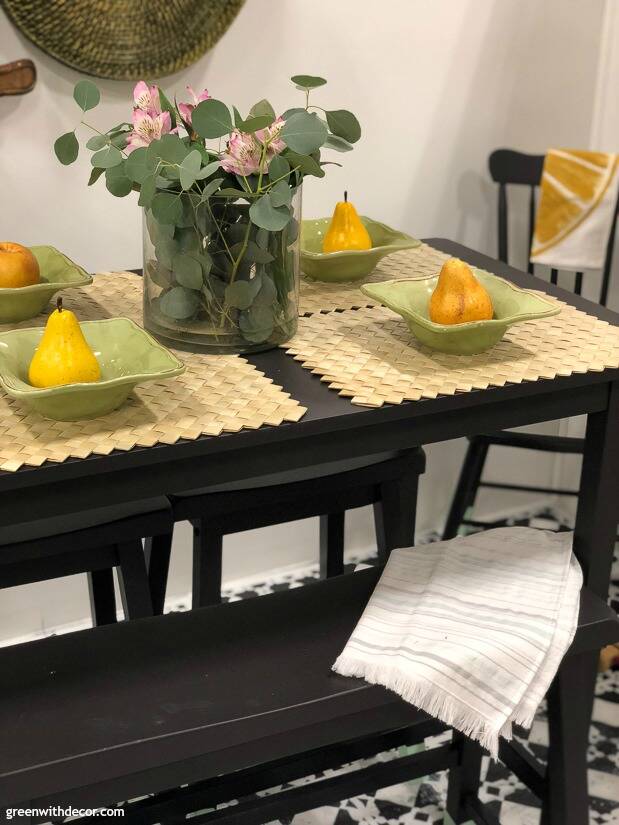 Can we talk about that light fixture, too?! I love it!
And that's my breakfast nook makeover!
It was SUCH a fun day!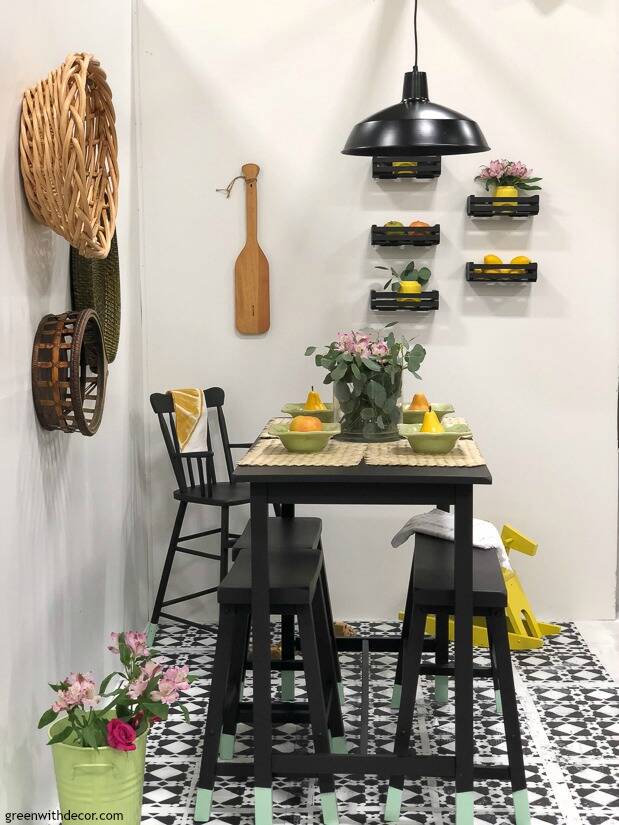 Remember to hop over to Wagner's website to vote for your favorite space (I hope it's mine!) and enter to win your very own paint sprayer! Click HERE to vote!
Thanks as always for following along with the blog and all of the projects I tackle over here! And if you win, please let me know what projects you take on with the paint sprayer! I LOVE seeing readers' projects!
If you want to learn more about projects you can do with Wagner's painting tools, here are some of our favorite painting projects/tutorials:
FLEXiO 3000 paint sprayer projects:
Home Decor paint sprayer projects:
SMART Edge Roller projects:
We also just used the FLEXiO 3000 in our nursery, which I'll post about soon!
Remember to bookmark or pin this post if you want to save it for later!

Pin it!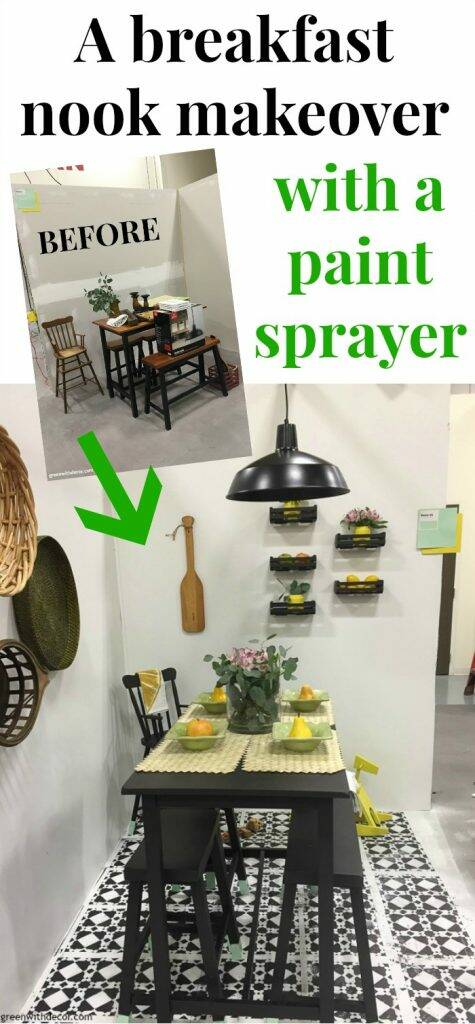 Want to read more posts like this?
Follow along: Get my emails | Facebook | Pinterest | Twitter | Instagram