Christmas decorating is my favorite kind of seasonal decorating. There's just something about having twinkling lights everywhere that makes this time of year seem extra special and magical.
I'm excited to share my family room as part of the One Room Christmas Tour. A whole group of home decor bloggers are sharing a Christmas room from their homes, too, so be sure to pop over to their blogs. The links are at the bottom of this post.
We spend the most time in our family room, so I wanted to be sure this room was decked out and cozy for the holidays!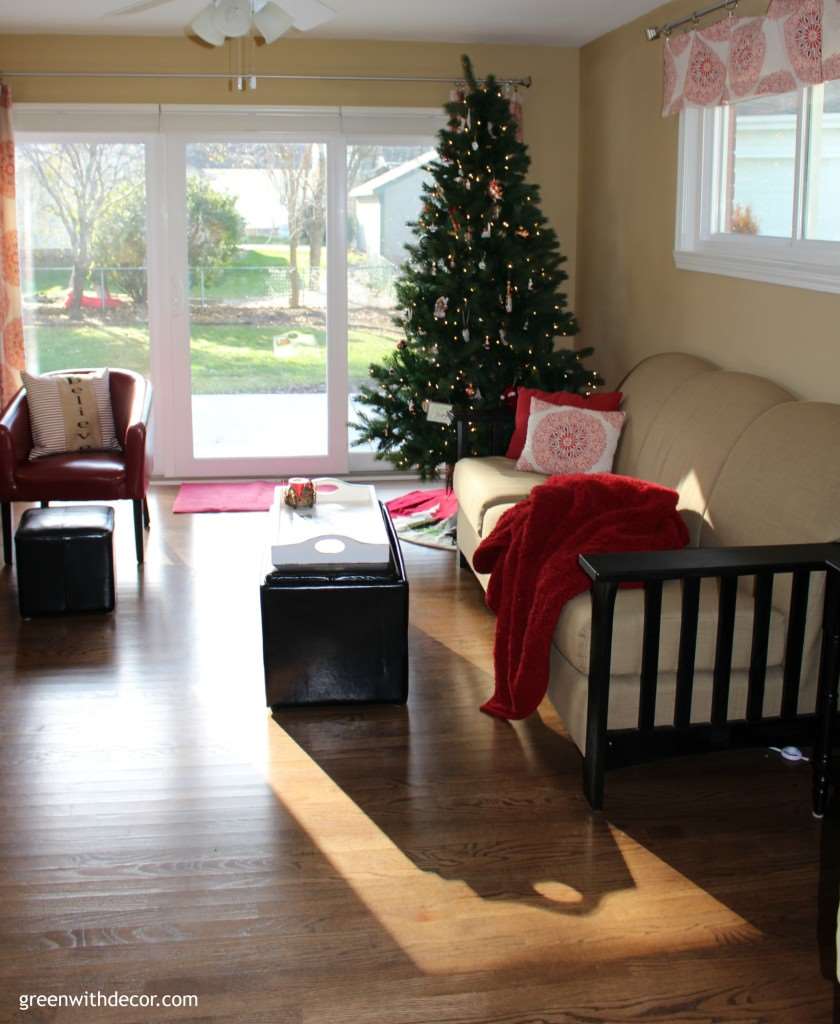 My 5 must haves for Christmas decorating are …
1. A meaningful Christmas tree
I love a Christmas tree with ornaments that mean something.
Growing up, my grandparents gave me and my two brothers each an ornament every year that had held a special memory from the year – a sport we played, a vacation we took, a dog for our first pet … it's so much fun to look through all the ornaments on my parents' tree.
Kalen and I have started a pretty good collection of ornaments that mean something to us. You can read more about our favorite ornaments here!
This post contains affiliate links. This means if you click the link and buy something, I may receive a small percentage of sales at no extra cost to you.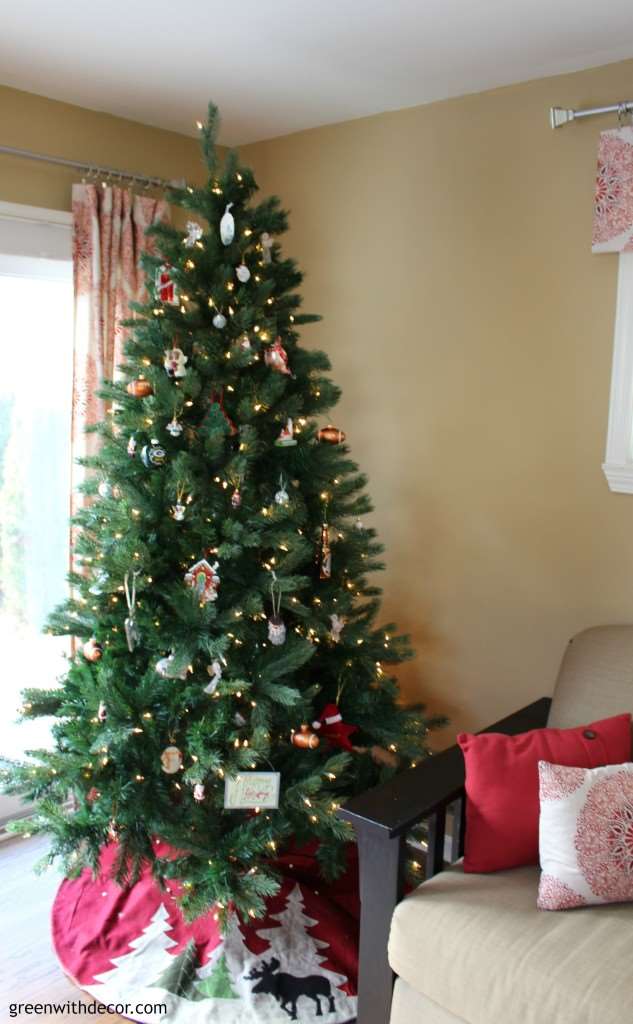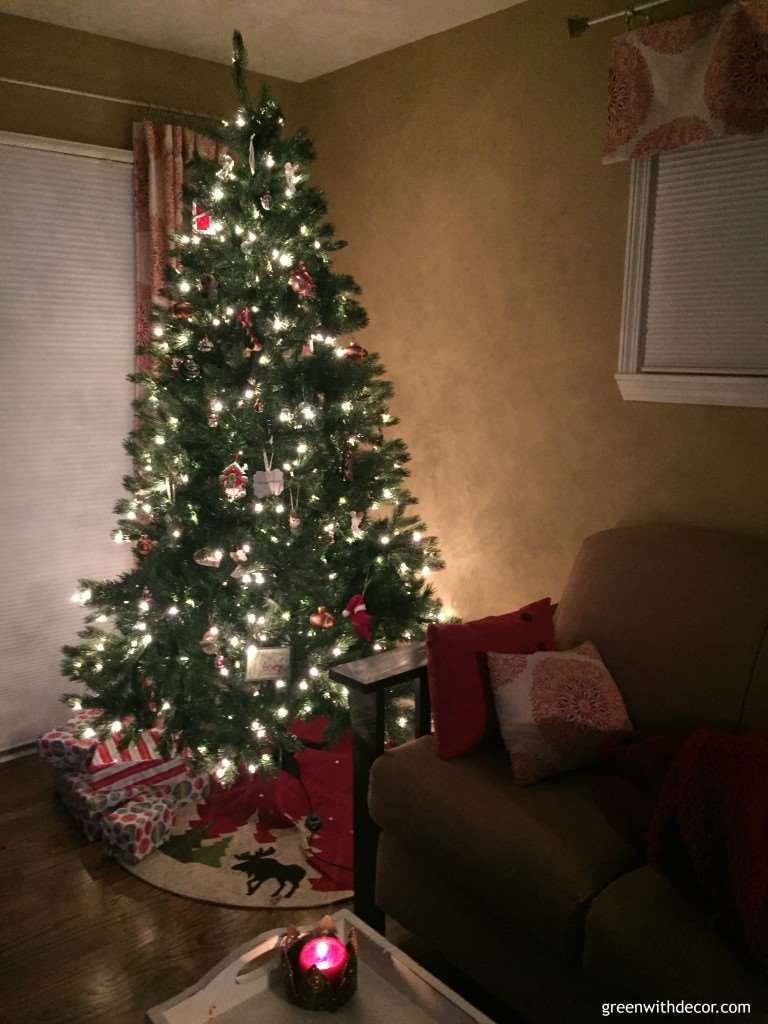 2. Cozy throw pillows
I do love my throw pillows! They are such an easy (and inexpensive) way to add some holiday cheer to a room.
Especially if they're just pillow covers like these awesome ones I bought at TJ Maxx a few weeks ago. Then you can use the pillows throughout the year with different seasonal covers.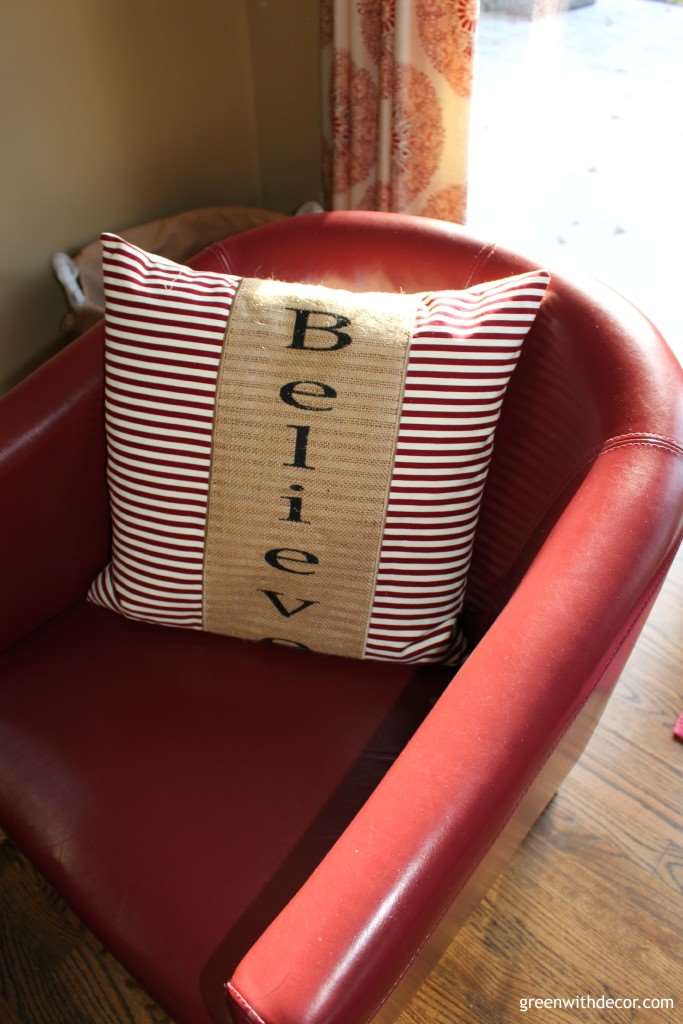 3. Family pieces
I love collecting little trees and Santas, both of which you'll see plenty of in my full Christmas house tour. This little red tinsel tree is one of my faves.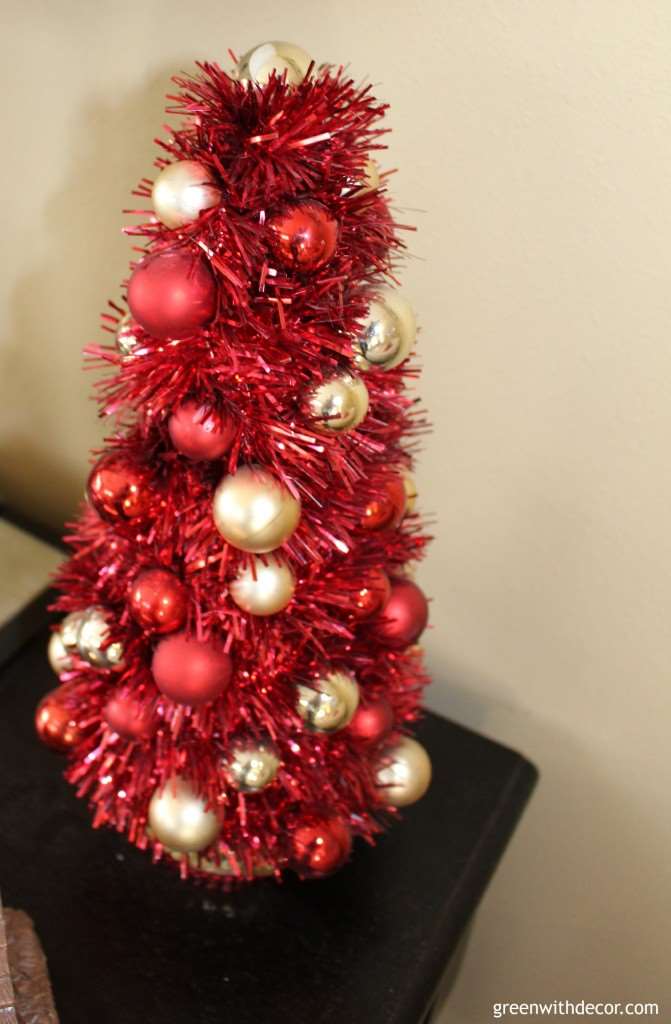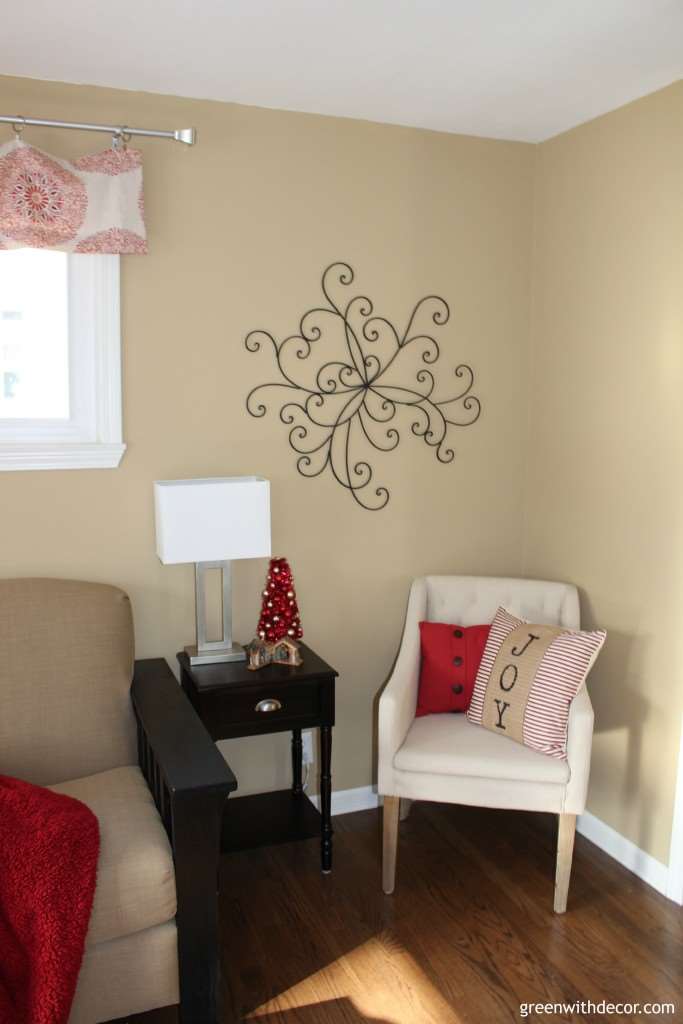 GET THE LOOK: End table | Table lamp | Metal wall decor | Red pillow
Both collections started with pieces from my grandparents, who are oh so special to me, so having pieces they used to decorate their house with makes it even sweeter.
My Grandpop passed away in February, so this will be the first Christmas without him. It'll be weird, so it's nice to have things around the house that remind me of him.
4. Candles
There's something about this cozy nights at home when the tree lights are twinkling that is perfect. Candles give off a similar glow and make the house smell great.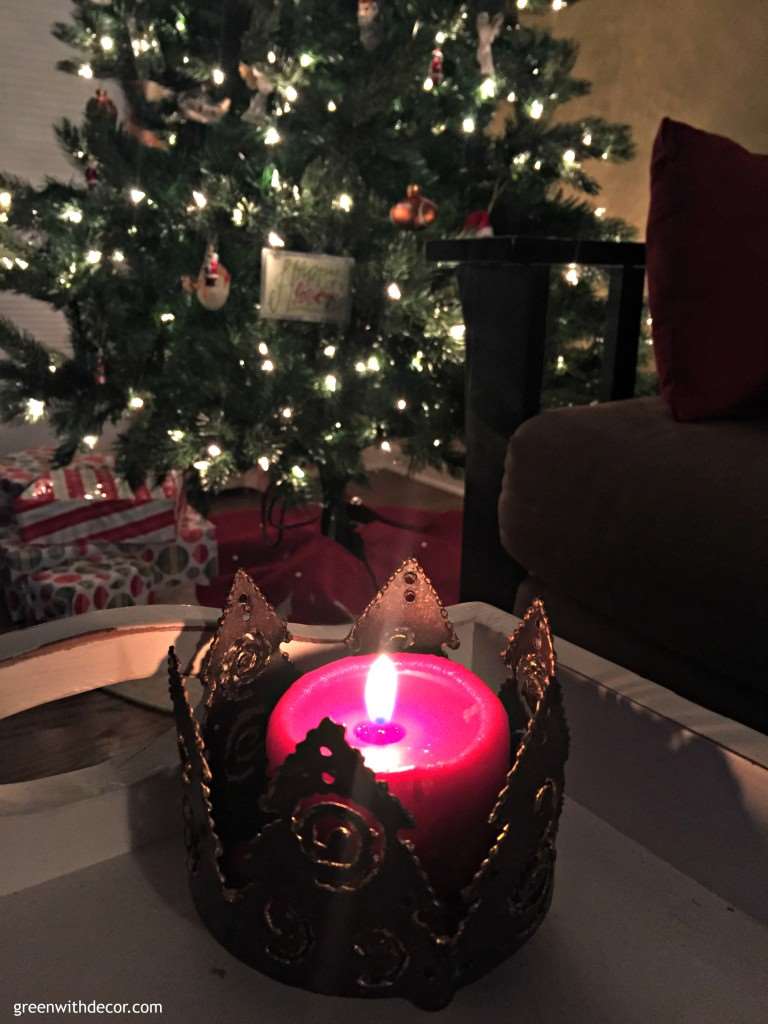 I'm a big fan of the Cinnamon candles. And by big fan, I mean it's the only scent I ever buy. (Is it just me, or do some of the candle scents they come up with these days smell so weird?)
5. Pieces that mean something to you
It's easy to get caught up in the fancy decorations and expensive gifts, but hey, that's not what Christmas is about.
I'm a big fan of the word 'believe.' This is especially apparent around Christmas. Believe in the season!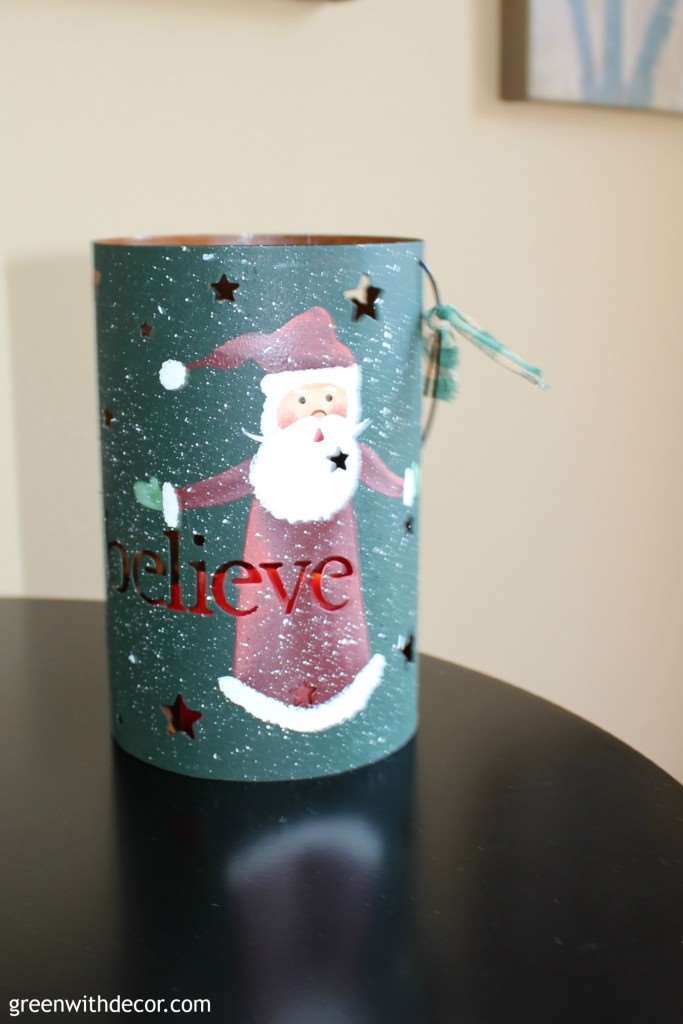 How do you decorate your favorite rooms for Christmas? What are your must haves?
Remember to hop around and look at the other bloggers' beautifully decorated homes!
Casa Watkins – Winter Home Tour
Domestically Creative – Christmas Dining Room Tour
Green with Decor – 5 Must Haves for Christmas Decorating (you're here!)
Twelve on Main – Farmhouse Christmas Dining Room Tour
Creatively Homespun – A Vintage Christmas Dining Room
2 Bees in a Pod – Guest Room Christmas Home Tour
Sew a Fine Seam – Dining Room Decked Out For Christmas
Knock It Off Kim – Holiday Homes Blog Hop: Festive Bedroom
Vintage Paint and More – Christmas Home Tour 2015
Inside the Fox Den – Holiday Home
The Weathered Fox – Holiday Home Tour
Made In a Day – Mini Holiday Decor Tour
Refashionably Late – Holiday Home Hop
Intelligent Domestications – Christmas Traditions Home Tour
Our Crafty Mom – Outdoor Holiday Decor: Front Entry
Lehman Lane – Green and Gold Christmas Dining Room
C'mon, Get Crafty – Holiday Homes Blog Hop
My Pinterventures – Holiday Home Tour
See more Christmas decorating ideas here:
Remember to bookmark or pin this post if you want to save it for later!


Pin it!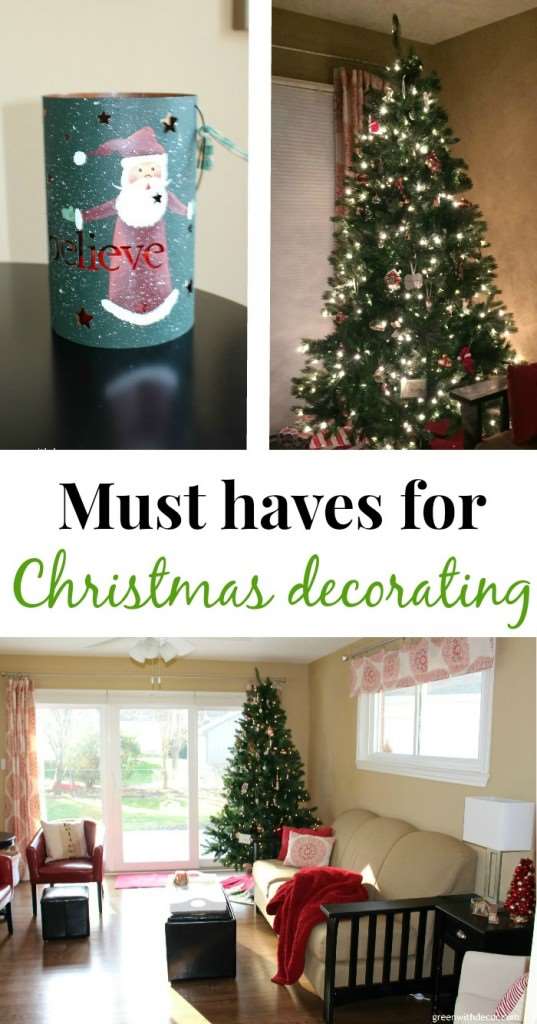 Want to read more posts like this?
Follow along: Get my emails | Facebook | Pinterest | Twitter | Instagram